Klik GAMBAR Dibawah Untuk Lebih Info
Sumber Asal Berita :-
---
Haze update: Indonesia names eight companies investigated for burning
Posted: 21 Jun 2013 11:52 PM PDT
Indonesian Environment Minister Balthasar Kambuaya has identified eight Malaysian-owned companies that are being investigated for burning in Riau and Jambi that led to the haze. 
JAKARTA - Indonesian Environment Minister Balthasar Kambuaya has identified eight of the companies that are being investigated for burning in Riau and Jambi that led to the haze.
The eight companies are:
1. PT Langgam Inti Hiberida
2. PT Bumi Rakksa Sejati
3. PT Tunggal Mitra Plantation
4. PT Udaya Loh Dinawi
5. PT Adei Plantation
6. PT Jatim Jaya Perkasa
7. PT Multi Gambut Industri
8. PT Mustika Agro Lestari
As is the custom in Indonesia with naming those under investigation, he only gave their initials for the media to infer from.
Speaking at a press conference in Pekanbaru on Saturday, Dr Balthasar said all the eight companies are owned by Malaysian investors, and fires were discovered on their concessions.
"If there is enough evidence, we will take them to court," he added. "Our investigators are still on the ground for further investigation."
More companies are expected to be named in the coming days.
Earlier on Saturday, Dr Balthasar told reporters that another 14 companies are also being investigated for burning, but he did not identify them.
Thousands rally in Malaysia for polls reform
Posted: 21 Jun 2013 11:47 PM PDT
About 20,000 Malaysian opposition supporters gathered in the capital Saturday demanding the resignation of the country's Election Commission in the wake of contentious polls.
(AFP) - About 20,000 Malaysian opposition supporters gathered in the capital Saturday demanding the resignation of the country's Election Commission in the wake of contentious polls.
The opposition claims bias by the commission cost them a historic win against Malaysia's 56-year-old ruling coalition and has filed petitions challenging results in some areas, claiming fraud.
The rally in central Kuala Lumpur was the 15th since the May 5 elections, in which the Barisan Nasional clung to power despite losing the popular vote in its worst showing ever.
"We have won the elections," opposition leader Anwar Ibrahim told the crowd.
"So we will continue our protests in parliament and outside."
The rallies had raised the spectre of political instability but fears have ebbed as the opposition has tempered its demands after initially refusing to accept the results.
Turnout on Saturday was far lower than what opposition officials had predicted, perhaps in part due to a recent spike in pollution from forest fires in nearby Indonesia that has also blanketed Singapore.
"The momentum is dying down," rally participant Faisal Ooi, 55, told AFP.
The government, led by Prime Minister Najib Razak, has rejected charges of cheating. Ruling party figures accuse Anwar of risking instability out of sour grapes over the election result.
Parliament opens Monday and the opposition has said it will not boycott.
The opposition says voter rolls for May's elections were full of irregularities. Supposedly indelible ink introduced by the Election Commission to prevent multiple voting also easily washed off.
Barisan developed Malaysia's economy over the decades but many analysts say the country is losing its competitive edge. The opposition has blamed corruption and repressive tactics by Barisan, and pledged to free up society and improve governance.
The opposition says the Barisan-constructed electoral system unfairly favours the ruling bloc.
Anwar points to the May 5 polls -- in which the opposition won the popular vote, but Barisan won more seats thanks to the layout of constituencies -- as proof.
One more person arrested for sedition
Posted: 21 Jun 2013 11:23 PM PDT
(Bernama) - One more person has been detained by police today to be investigated for sedition.
Bukit Aman Criminal Investigation Department director Datuk Hadi Ho said a former Universiti Teknologi Mara (UiTM) graduate was detained under Section 4 of the Sedition Act 1948 in front of his house in Klang, Selangor.
He said the former UiTM student was detained at 5.30pm in connection with a posting on his blog instigating the people to attack the security forces at the rally organised by the opposition at Padang Merbok here today.
Today, police also detained PAS vice-president Husam Musa to be investigated for sedition.
Anwar: We will continue with rallies
Posted: 21 Jun 2013 11:00 PM PDT
The heavy haze was blamed for the poor turnout as Pakatan Rakyat had originally targeted 300,000 to attend the event.
Anisah Shukry, FMT
Anwar Ibrahim vowed today that Pakatan Rakyat will continue to protest alleged electoral fraud and call for the resignation of the Election Commission officers, even as the turnout for today's Black 505 rally was lower than expected.
Speaking to a crowd of about 20,000 rally-goers at Padang Merbok, the opposition leader blamed the poor attendance on the haze that has smothered the nation the past few days.
"I received many requests from our friends to postpone this rally because of the haze. In Brickfields, Nurul Izzah (Lembah Pantai MP) requested that mothers take their children home.
"Many have made the decision to not join us because of the weather. To those who are here, who understand the meaning of freedom, I salute you," said Anwar, amid cheers and applause from the crowd .
The PKR de facto leader was adamant today that the opposition would continue protesting, amid criticism from Barisan Nasional that support for the Black 505 rallies among the rakyat was waning.
"We have won the elections, we have a clear mandate. If there was no massive rigging and fraud everyone knows that we would have received 60% of the popular vote from Malaysians," said Anwar
"This is why we will continue our protest, outside and inside the parliament, within the country and on the international arena," he said.
Anwar also mocked those who urged him to accept the 13th general election results and allow the government to do its work.
"What work? Cheating the rakyat, increasing petrol prices, enriching their cronies?" asked Anwar.
"Is there change? Is there good governance? Is there an attempt to clean the government of corruption and abuse of power? No. So the rakyat must rise up." he said.
He said if the government was serious about changing itself for the better, it would not be defending Election Commission (EC) chairman Tan Sri Abdul Aziz Mohd Yusof and his deputy, Wan Ahmad Wan Omar.
"Why defend them? Aziz admitted that he failed in handling the indelible ink. He is more stupid than a primary school student.
"Wan Ahmad is a liar, he is arrogant, he insults the rakyat. He should be hauled to court," he said.
But Anwar urged supporters today to protest only through peaceful means.
"Regardless of what action we take, we must ensure we do it peacefully, without provocation and fighting, so that we bring change through peaceful means," he said.
He also thanked the authorities for allowing them to gather in the field peacefully.
Crowds desert 'boring speeches'
Posted: 21 Jun 2013 10:53 PM PDT
Despite an enthusiastic march to Padang Merbok, hundreds leave Pakatan's rally an hour into the speeches which many described as boring 
Lisa J Ariffin, FMT
Despite an enthusiastic kick off to Pakatan Rakyat's Black 505 rally, participants were seen leaving as early as an hour following their convergence at Padang Merbok.
Hundreds of participants were seen walking away from Padang Merbok as early as 3.30pm, with many of them citing "heat, haze and boring speeches" as reasons for leaving.
When approached by FMT, one participant who gave her name as Lee said that she was "tired" and "sick from the weather".
"I'm very tired-lah… We are all very tired. We have been here (at the rally) since this morning, we have made our point. We just want to go home now," she said, when asked why she was leaving so early.
Another participant who gave his name as Murugan mirrored Lee's sentiments and said: "It is time to go home now".
"We have come here and shown our force. It's very hot and the people are tired. We are all going home now," he said.
Friends Syah and Zamri from Kuala Lumpur blamed "hijacking of the rally by opposition leaders" as their reason for leaving.
"This was supposed to be a gathering for the people, but Pakatan have turned it into a political platform to criticise BN (ruling coalition Barisan Nasional). We are not here for that," Syah told FMT.
"Many of us were put off by speeches bashing BN and the SPR (Elections Commission). Their speeches belong to pre-election ceramahs, not at a rally for the rakyat," he added.
When pointed out that the rally was organised by opposition political party PKR and that its agenda included speeches by Pakatan leaders, Zamri said he had hoped the leaders would air the rakyat's grievances instead of pursuing their own political agenda.
"For instance, they should have spoken to us or nominated a member of the public to convey what the people want, instead of constantly bashing BN and SPR," he said.
"Moreover, most of them only criticised their rivals but did not come up with solutions to solve the problems faced by majority of the people. I think this is not right," he added.
However, both Syah and Zamri said they would not refrain from attending political rallies in future, but hoped Pakatan would speak out for the rakyat instead of themselves.
"They were only speaking of their own problems faced in their constituencies, and how dirty the election was… We want real change, and real change has to start by solving the people's problems."
Husam arrested while heading to Black505 rally
Posted: 21 Jun 2013 05:51 PM PDT
Chua Sue-Ann, fz.com
PAS vice-president Datuk Husam Musa has been arrested by police while he was making his way to Padang Merbok to attend the Black505 rally.
In a text message to fz.com, Husam confirmed that he is currently held at the Ampang police station.
"The police gave the excuse that the Kelantan police gave instruction to arrest me.
"But I think the real reason is to stop me from going to Padang Merbok," Husam said.
According to Husam, he had given a ceramah in Kelantan two days ago but there was no moves by the police there to approach him or arrest him.
Husam had contested the Putrajaya parliamentary seat in the May 5 polls but lost to Umno strongman and incumbent Tengku Adnan Tengku Mansor. Husam, however, managed to successfully defend the Salor state seat in Kelantan. The opposition politician is also the frontman for pressure group Royalti, which is pushing for more oil royalty payments to Kelantan and other oil producing states.
At today's rally, a group of Royalti activists were marching alongside other rally participants.
Three Chinese ships in disputed waters: Japan
Posted: 21 Jun 2013 03:42 PM PDT
(AFP) - Three Chinese government ships sailed into waters around disputed islands controlled by Tokyo on Saturday, the Japanese coastguard said.
The maritime surveillance vessels entered the 12-nautical-mile zone off Uotsurijima, one of the Senkaku islands, which China calls the Diaoyus, in the East China Sea shortly after 9.30am (8.30am Singapore time), the coastguard added.
Ships from the two countries have been involved in a stand-off as Beijing and Tokyo jostle over ownership of the strategically important and resource-rich islands.
A territorial row that dates back four decades reignited last September when Tokyo nationalised three islands in the chain, in what it said was a mere administrative change of ownership. 
Black 505 rally may turn violent, warn police
Posted: 21 Jun 2013 03:12 PM PDT
TMI) - Police have warned people to stay away from the Black 505 rally tomorrow, saying it could turn violent. They claimed that the rally organisers are planning to ignite clashes with the authorities.
In an immediate response to this claim, PKR strategic director Rafizi Ramli expressed shock, as he is one of the main organisers of the event. He strongly denied these allegations, which he said were seditious.
City police chief Datuk Mohmad Salleh said police have received intelligence that the organisers of the rally have ordered protestors to "provoke" the police and cause chaos at all seven meeting points and at the main gathering place, Padang Merbok.
"The organisers want to see clashes between the police and the protestors," Mohmad said in a statement sent to the media.
Police claimed the rally organisers are expected to create chaos in the city to make waves on social media when the police quell the riots, presenting the cops as the bad guy.
The police chief insisted that tomorrow's event is an illegal gathering as it would breach the Peaceful Assembly Act.
The warning about violence came a day after the Federal Internal Security and Public Order director Datuk Salleh Mat Rashid had said that police will seek the help of the army, if necessary, for crowd control.

Mohmad's statement raised eyebrows as earlier today, PKR strategic director Rafizi Ramli, appeared optimistic that police will ensure that the rally proceeds smoothly.

Rafizi had said that the organisers had been unofficially informed by Dang Wangi police that they will assist, as long as there was no damage caused by the protestors to public property.

"We received this assurance from ASP Ananthan Rajoo from the Dang Wangi district police headquarters, who said that he received instructions from the top to 'help'," Rafizi said in a statement.
"We remain positive that we will get all the help we need," he said.
Posted: 21 Jun 2013 02:57 PM PDT
The occupy activity is done to pressure the members of the Election Commission to resign. 
K Pragalath, FMT
Activists from a coalition of NGOs called Suara Rakyat 505 are making efforts to occupy Padang Merbok and the compound of Parliament once the Black 505 rally ends later today.
A poster posted on social activist Haris Ibrahim's Facebook page stated that the members of the public are invited to join the protest by camping in front of the Parliament House. Some participants have already set up their tents at  Padang Merbok.
Supporters are encouraged to  bring or rent a tent for RM25.
"We will not give up until the Election Commission gives up (their positions).  On June 24 (Monday), in the run up to the swearing in ceremony we will show the world that the election and democracy was stolen from the people. The people will not allow this," said a group called Suara Rakyat 505 in  the poster.
Suara Rakyat 505 is a coalition of 50 plus NGOs that are championing democracy and clean elections in Malaysia.
The coalition of NGOs also accused that the Election Commission is also conducting its redelineation exercise to ensure BN continues to win elections with less than 16% of votes.
Police advises people not to be involved in Black 505 rally as organisers want to create chaos
Posted: 21 Jun 2013 02:41 PM PDT
(Bernama) - Police today advised members of the public not to be involved in the rally tomorrow following information that claims the organisers deliberately want to see clashes between the authorities and the rally participants.
Kuala Lumpur police chief Datuk Mohmad Salleh said based on the tip-off, the organisers had told all protesters to create provocation against the authorities tasked to control the crowd at Padang Merbok, here and seven other locations in the city.
"The provocation is intended to create police anger at the demonstrators and thus create chaos at these places," he said in a statement here today.
He said that according to the tip-off, the organisers were also expected to spark chaos in Kuala Lumpur, in order to show to the world the 'violence' caused by authorities.
Mohmad also stressed that the rally was against the law because it was in conflict with the Peaceful Assembly Act 2012.
He said the police would not hesitate to take stern action against any person who willfully violated the act and any other law enshrined in the constitution.
Rafizi will sue City Police Chief for saying rally organisers had ordered protesters to create chaos
Posted: 21 Jun 2013 02:37 PM PDT
ABN NEWS) - PKR strategy director Rafizi Ramli will be suing the City Police chief Datuk Mohamad Salleh for saying that the organisers of tomorrow's Black 505 rally have ordered protesters to provoke the police and cause chaos.
Mohamad Salleh had said police have received intelligence reports that the organisers of the rally have ordered protestors to "provoke" the police and cause chaos at all seven meeting points and at the main gathering place, Padang Merbok.
Rafizi said he was shocked by the statement and said the allegations were not true and had smeared his image as the rally organiser.
"I have instructed my lawyer to take legal action against Mohamad Salleh," he said in a statement.
He said he had a good working relationship with the police chief of Dang Wangi ACP Zainuddin Ahmad.
'Take action before Anwar destroys nation'
Posted: 21 Jun 2013 02:17 PM PDT
Opposition Leader Anwar Ibrahim is leading the country to chaos and the security forces should act before it is too late, says a Malay NGO. 
Athi Shankar, FMT
Opposition Leader Anwar Ibrahim's post-election politicking has reached a dangerous level threatening to disrupt racial harmony and public order and the security forces should take action, a Malay NGO here said today.
Penang Malay Congress (PMC) president Rahmad Isahak urged the country's security forces to stop Anwar from ruining the peace before it was too late.
He accused Anwar of being less concerned about national unity and nation-building, but rather being too obsessed and single-minded in grabbing federal power at all cost.
He added that Anwar was now stirring up public sentiments through 505 rallies merely to achieve his selfish political goal.
"The authorities should stop him before it's too late," Rahmad said in a statement.
He said the people should know by now that no matter how many 505 rallies were conducted, the results of the 13th general election would not be changed nor the polls held again.
He said the people should reject any attempts to overthrow a democratically-elected government by creating chaos and violence.
He stressed that there were no reasons for the Election Commission (EC) officers to resign as called on by Anwar.
He questioned why Pakatan election petitions were not furnished with solid evidence of electoral frauds that Anwar and Pakatan leaders had claimed in 505 rallies.
If it was true that a sure Pakatan victory was denied by EC through illegal means, he questioned on why Pakatan MPs decided not to boycott the swearing-in of Dewan Rakyat on Monday.
He also asked on why Pakatan so hurriedly formed their state governments in Penang, Selangor and Kelantan if the election was tainted with irregularities as claimed.
Black 505: Rally to go on despite haze, no City Hall approval and police warnings
Posted: 21 Jun 2013 11:31 AM PDT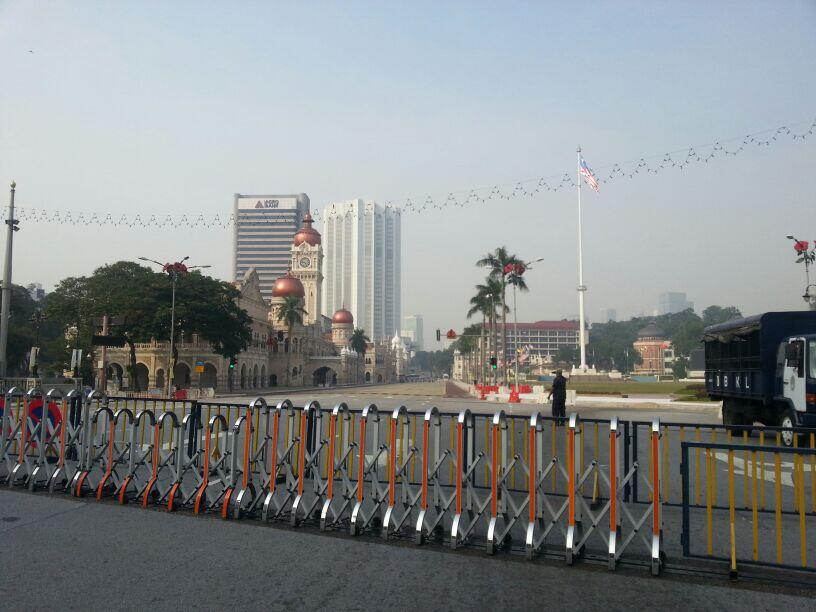 Dataran Merdeka closed off 
(The Star) - 10.10am: Smooth traffic along Jalan Sultan Hishammuddin with minimal police presence and festive mood in front of the National Mosque.
9.35am: Some PAS supporters have started gathering in front of their headquarters on at Jalan Raja Laut. Two stalls were also set up in front of the building with one selling Black 505 t-shirts
9.30am: No one being allowed in the Dataran Merdeka area. DBKL staff turning away pedestrians and tourists. A DBKL personnel said they received instructions on Friday night, "just, in case."
9.24am: No crowd at Padang Merbok, DBKL personnel seen on the outskirts of the field.
KUALA LUMPUR: The Black 505 rally, to protest alleged fraud during GE13, is all set to go on Saturday despite the haze, lack of approval from Kuala Lumpur City Hall and warnings from the police.
City Hall personnel have been in the area with their mobile operations centre and vehicles parked in the parking lot of the field since Friday night.
Participants, mainly supporters of the opposition Pakatan Rakyat and a number of non-governmental organisations, are expected to start gathering at noon before heading to Padang Merbok where the rally is expected to begin at about 3pm.
The seven main meeting points are in Brickfields, Masjid Negara, Pudu, Jalan Raja Laut (PAS headquarters), Universiti Malaya, Sogo shopping complex and Pekeliling.
On Friday night, City police chief Deputy Comm Datuk Mohmad Salleh, in a Facebook posting, had said police had received information that the rally organisers had ordered protesters to provoke the authorities to intentionally create chaos, claiming that the planned provocation was to incite the anger of the policemen on duty during the rally, hoping to elicit some form of retaliation.
In an immediate reaction, PKR strategic director Rafizi Ramli and organiser of all Black 505 rallies denied DCP Mohmad's posting, adding that he had ordered his lawyer to start legal proceedings against DCP Mohmad.
"There was not one discussion that touched on aggressive behaviour towards the police and I have had good discussions with Dang Wangi OCPD Asst Comm Zainuddin Ahmad the whole time," he said in a statement Friday night. 
Malaysia's rulers face rifts and protests
Posted: 21 Jun 2013 10:26 AM PDT
(Al Jazeera) - Once again, they're expecting at least 100,000 people to attend. Najib's response will give an indication of whether Malaysia is headed towards a more open and democratic future - or flirting once again with its autocratic past. 
Three days after the Barisan Nasional coalition was returned to power for a record 13th time, more than a hundred thousand people turned out in protest at a rally led by the opposition Pakatan Rakyat in the suburbs of the capital.
While the mood was festive, the concern was serious: a flawed electoral system that protesters said undermined the result of the May 5 poll.
Since then, thousands of people across the country have turned out for what have become known as the "Black 505" rallies. The opposition, meanwhile, has lodged legal challenges to the results in 25 parliamentary constituencies.
On Saturday, two days before the new parliament sits for the first time, Pakatan will hold its last major protest - a mass rally near the historic heart of Kuala Lumpur - despite objections from the police and the Barisan-led local authority.
"We are going to go ahead," Keadilan Vice President Tian Chua told Al Jazeera. "Our demand is not for Najib to resign or for a change in government. It's simply for the elections commission to go. It's our effort to ensure there's real improvement in the electoral system. It shouldn't be seen as an attempt to start a street revolution."
The opposition's Black 505 campaign is not the only headache for Prime Minister Najib Razak, the man who led Barisan to victory in the hard-fought campaign.
While the coalition won 133 of the parliament's 222 seats, the numbers fell short of internal projections and Najib's own conviction that he would restore the party's cherished two-thirds majority in parliament. His party's non-Malay political partners found themselves all but obliterated and the coalition lost the popular vote for the first time.
Now reliant largely on the votes of rural communities and the Borneo states, Barisan and its race-based constituent parties are struggling with an identity crisis.
For the United Malays National Organisation (UMNO), the coalition's dominant party and the party of every Malaysian Prime Minister since independence, the question is whether to fall behind Najib and his slickly packaged reform agenda or return to the more conservative, nationalist ideology of the past.
"It's hard to get a sense of where the country's going, until UMNO has had its election and we know how the factions align themselves," said Keith Leong, a political analyst with KRA Associates in Kuala Lumpur. "This is a year of two elections. It could well be that the UMNO poll turns out to be more important than the general election."
Already Najib is attempting to appeal not only to the nationalists and the progressives within his own party, but also the reform-minded and increasingly vocal urban Malaysians, who are largely behind the opposition. He is keen to avoid the fate of his predecessor, Abdullah Ahmad Badawi; forced out in an internal party coup amid disappointment over 2008's result.
Claiming victory in the election, Najib warned of a "Chinese tsunami" - Malaysia is majority Muslim Malay but also has sizeable populations of Chinese, Indians and indigenous people - that had turned against Barisan, but spoke also of the need for "national reconciliation".
Hours later, Najib was once again on the defensive after Utusan Malaysia, a Malay-language UMNO-controlled newspaper, splashed its front page with the headline: "What more do the Chinese want?" But while the condemnation from civil society and the opposition was swift, Najib said little.
Khairy Jamaluddin, Abdullah's 37-year-old son-in-law and the leader of UMNO's Youth wing wasn't so reticent. "The ideological lines have been drawn," he tweeted to his more than 300,000 followers, fortified by a resounding win in his own constituency. "Game on."
"The future of this party must be won by those who are committed to a moderate, centrist path," he told Al Jazeera in an interview last month, shortly before being named Minister for Youth and Sports. " Utusan 's headline represents precisely the sort of faction I stand against. If this party is moulded in the image of that headline then I don't think we have a future in the next general election."
Under election rules that will be used for the first time this year, some 146,500 of UMNO's estimated 3.5 million members will vote for the Supreme Council, vice presidents, the heads of the youth and women's wings and, in theory, the party's deputy president and president. Previously, voting was limited to the 2,000 delegates at the party conference, a system that helped create a class of party warlords with the money and influence to keep their favoured leaders in power and to dominate the party's political agenda.
But Ahmad Mustapha Hassan, who worked with former Prime Ministers Abdul Razak Hussein, Najib's father, and Mahathir Mohamad, doubts the new system will have much effect.
"UMNO cannot be changed," he said. "Mahathir created warlords and the warlords will not give up their power. If you try to take away their funds they will go against you and I don't think Najib will want to do that. He wants to keep his position. UMNO is still in the grip of Mahathir."
Read more at: http://www.aljazeera.com/indepth/features/2013/06/2013621182139326174.html 
Appeals Court: Non-Muslim lawyers can practise Syariah Law in FT
Posted: 21 Jun 2013 10:10 AM PDT
(The Star) - Non-Muslim lawyers are now eligible to practise Syariah Law in the Federal Territories, following a landmark decision by the Court of Appeal Friday.
In its judgement on the case of Victoria Jayaseelan Martin's attempt to become a Syarie lawyer, the court ruled that the Federal Territories Islamic Council (MAIWP) had exceeded its powers in rejecting the former's application on grounds that she was a non-Muslim.
Justice Datuk Seri Abu Samah Nordin, who lead the three-member bench that made the judgement, said the law governing the appointment of Syarie lawyers does not specify that applicants must be Muslim.
"If the intention is to prohibit non-Muslims from appearing in the Syariah Court, that should be expressly stated in the legislation," he said when delivering the judgement. 
Indonesia probes eight firms for fires, including Sime Darby unit
Posted: 21 Jun 2013 10:08 AM PDT
(TMI) -
Indonesia is investigating eight firms for causing fires that led to the smoke shrouding parts of Southeast Asia, including Malaysia's Sime Darby and Singapore-listed Wilmar and First Resources, the Singapore Straits Times reported today. 
It said that Indonesian Environment Minister Balthasar Kambuaya revealed the details at a meeting in Jakarta yesterday with his Singapore counterpart Vivian Balakrishnan. 
He did not name the firms, but Indonesian officials working with non-governmental groups separately identified 17 pulp and paper and 15 palm oil companies on whose land fires had been burning over the past nine days. 
The majority of the hot spots in Riau province is inside concessions affiliated to Royal Golden Eagle, of which April Group - with an office in Singapore - is part, and Sinar Mas Forestry, which supplies to Asia Pulp and Paper, presidential delivery unit chief Kuntoro Mangkusubroto told a briefing yesterday. 
The April Group said yesterday that the firm and its third-party suppliers practise a strict "no-burn" policy. 
"The information on concession licences was gathered from publicly available sources and confirmed against satellite images of hot spots," said Samadhi Nirarta, the presidential unit's deputy on moratorium monitoring. Dr Balakrishnan, who travelled to Jakarta yesterday as Prime Minister Lee Hsien Loong's special envoy, welcomed his counterpart's update on enforcement.
"We have got to join the dots and get that trail of accountability back to the companies and the stakeholders who are responsible for this disaster," he told Singapore media. 
"If we don't do that, there will not be sufficient deterrent on the ground." 
On Thursday, PM Lee said his Government will act against Singapore companies found responsible for the fires. 
Read more at: http://www.themalaysianinsider.com/malaysia/article/indonesia-probes-eight-firms-for-fires-including-sime-darby-unit/ 
Govt asked to look into plight of jobless doctors
Posted: 21 Jun 2013 10:05 AM PDT
(The Malay Mail) - THE government has been asked to look into the plight of about 300 doctors who have been left in the lurch because the Malaysian Medical Council does not recognise their foreign universities.
Hindraf national adviser N. Ganesan (pic) said the doctors graduated from unrecognised universities and are seeking the help of the government to resolve their predicament.
MMC conducted the Malaysian Qualifying Examinations (MQE) for doctors who graduated from unrecognised universities to vet their standards.
Universiti Malaya, Universiti Sains Malaysia, Universiti Kebangsaan Malaysia and Universiti Putra Malaysia conducted the six-month course but the doctors now claim the MMC has suspended the MQE without reason.
Ganesan was addressing a press conference with seven doctors who graduated from Romanian universities here yesterday.
A 32-year-old woman doctor, who declined to be named, said she returned in 2009 after undergoing six years of medical training and has been waiting for MMC to recognise her qualifications.
Another 27-year-old male doctor asked the government to give them a chance to serve the country and prove their abilities and skills.
"We have passed the standard set by the European Union and we took the effort to learn medicine in their language. We worked hard to be doctors and we hope the government will resolve our problem," he said.
Ganesan said initially only the public universities conducted the courses but the MMC later allowed several private universities to conduct them since last year before it suspended the examinations in March.
He said the public universities initially charged RM1,850 for the examination but the fee had since gone up. Public universities had raised the fee to RM22,000 before it was suspended.
Ganesan said there were zero passes in the MQE at UM from 2009 until 2011 and there were only seven passes from UKM in 2011.
"The government should find a way to accommodate these doctors and establish a clear path for them," he said. 
Kredit: www.malaysia-today.net