Klik GAMBAR Dibawah Untuk Lebih Info
Sumber Asal Berita :-
---
Posted: 12 Nov 2013 05:12 PM PST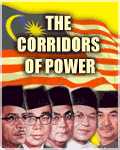 Anwar Ibrahim said yesterday (READ HERE) that the original intent to privatise Bernas was to ensure the fulfillment of the nation's growing rice requirement through management of the National Stockpile and the Padi Price Subsidy Scheme. He also added that privatisation was introduced to ensure the bumiputera farmers, rice distributors and workers at Bernas benefit from the equity ownership.
THE CORRIDORS OF POWER
Raja Petra Kamarudin
ACA probes import of RM60m rice
(New Straits Times, 5 January 2008) -- The Anti-Corruption Agency has started a probe against rice distributor Padiberas Nasional Bhd (Bernas) and the Agriculture and Agro-based Industry Ministry. Investigations centred around 25,000 tonnes of fragrant rice worth RM60 million imported from Thailand without an import permit. A team of ACA officers interviewed several ministry staff on Thursday.
Yesterday, ACA officers went to the Bernas offices in Petaling Jaya where statements were recorded. ACA investigations director Mohd Shukri Abdull confirmed the investigations. "Checks at the two premises are being conducted as part of investigation. So far, only the statements of several officers at the ministry and Bernas have been recorded," he said.
Investigators are also probing whether the rules and regulations regarding imports had been followed. The ACA is also investigating whether there is any hanky-panky going on.Meanwhile, ministry secretary-general Datuk Dr Zulkifli Idris said Bernas officials met ministry officials and Customs officers yesterday. "Bernas apologised for importing rice above the permitted quota without referring to the ministry. It also given assurances that such a mistake will not be repeated," he said.
He added that Bernas claimed it was forced to place an early order for rice because of anxieties that it would be difficult to get supplies of rice as there was currently a shortage in the world market. "In a situation of first-come, first-served, Bernas placed an order for 16,000 tonnes of rice for last year and an additional 19,000 tonnes for this year although the overall quota for 2008 has yet to be decided," Dr Zulkifli said.
He added that an AP had been issued for the rice which exceeded the permitted quota. All parties also agreed on a more effective mechanism for the process of importing rice and to hold more frequent meetings. The ministry also agreed to issue APs immediately for importing rice within the permitted quota and additional APs within a week if the imports exceeded the quota.
Last Monday, Bernas had imported fragrant rice without an AP resulting in 10,000 tonnes to be held at the Pasir Gudang port. An additional 10,000 tonnes could not be unloaded on a ship in the Kota Kinabalu port and 5,000 tonnes at Port Klang.
Bernas is said to have submitted an AP application to the ministry on Dec 20, as soon as the ships carrying the rice docked at the ports. It is an offence to import fragrant rice without an AP as the rules state that the AP has to be issued prior to the rice being imported and not the other way around.
MPs want Bernas to be reviewed
(Bernama, 15 November 2005) -- Syarikat Beras Nasional (Bernas) which has the sole rice importing licence in the country has received much criticism from members of parliament who want its functions and structure to be reviewed. Datuk Badruddin Amiruldin (BN-Jerai) said the government must intervene in the matter as he claimed the company's functions had contradicted its original objectives.
He told the Dewan Rakyat the move by the government in giving the import permit (AP) to Bernas had resulted in the company focusing on importing rice instead of producing rice for the country. "Importing (rice) is easy but processing it entails much problems. What has happened to the conditions imposed on Bernas? What we see now is that Bumiputera-owned rice mills have closed down...where are they now?" he asked when debating the Ministry of Agriculture and Ago-based Industry's Supply Bill 2006 at the committee stage Tuesday.
Badruddin also questioned the national rice stockpile which was 92 metric tons at any one time which was previously located at Anak Bukit. He said it was an offence for the national rice stockpile for use during an emergency to be kept by a private company as it involved national security.
Meanwhile, Datuk Bung Moktar Raden (BN-Kinabantangan) when debating on the same bill said the government must be firm on the country's direction in terms of agriculture, whether to continue to be an importing country or to realise the objective of strengthening the agricultural sector to become a producing country. "Why do we want to be both (importing and producing rice) which would eventually bring us nothing and people see that Bernas is making the profit," he said.
Bernas was making money by importing rice and selling it instead of buying from the farmers, he said. Also touching on the same issue during the debate were Datuk Raja Ahmad Zainuddin Raja Omar (BN-Larut), Mo'kiman Kobran (BN-Hulu Langat), Ir Shaari Hassan (BN-Tanah Merah), Dr Mohd Hayati Othman (PAS-Pendang) and Mohd Razali Che Mamat (BN-Kuala Krai).
Pagar makan padi: The Bernas story
(Free Anwar Campaign, 26 August 2003) -- Padiberas Nasional Berhad, better known as Bernas, wants to retrench a couple of thousand of its staff because, according to the company, it is losing money. And the reason it is losing money, laments the company, is due to the rampant rice smuggling.
Actually there is more than meets the eye and it is not as straightforward as they try to make it appear. In the latest issue of Seruan Keadilan out today, the official newspaper of the National Justice Party reveals what is really going on.
Last year, Bernas made a pre-tax profit of RM60 million on a turnover of RM1.76 billion. No doubt the company could argue that this is a drop of 54% from the figure of RM128 million the year before that. Nevertheless, the 'suffering' Bernas still saw fit to pay its Directors RM4 million in salaries and its shareholders RM21 million in dividends. That's RM25 million in all.
If an austerity drive is necessary, should it not be the Directors and shareholders who suffer the cuts first rather than retrench more than 2,000 staff just because the company is not happy with the lower profit it made? And take note, it still did make a profit, though lower, and not make a loss as they claim.
Bernas' profits have been yo-yoing from one year to another. Three years ago it made a mere RM18 million while the year before that it made RM111 million. Its turnover too fluctuates between RM1.7 billion and RM1.9 billion a year, still an impressive enough figure and not one of a company about to go under. In fact, on average, it made RM80 million in profits a year over the last four years from 1999 to 2002.
Bernas is far from floundering if this is the impression the company is trying to give. Bernas, which was given the rice import monopoly for Malaysia, is actually going great guns acquiring various companies in the food industry. The truth is, Bernas wants to reduce its dependence on the rice industry to 60% by diversifying into other food related businesses. Bernas, to quote what the company says, wants to become another Nestle.
Bernas has set aside RM300 million for these acquisitions. It paid RM55 million to buy a 30% stake in Gardenia and RM14 million for Burger King. It also acquired an interest in Rasa Sayang Food Industries and is said to be making a back-door entry into Kentucky Fried Chicken for RM110 million. It has also entered into 'strategic alliances' with other food conglomerates like QAF Ltd of Singapore and Dewina, a company linked to the Deputy Prime Minister Abdullah Ahmad Badawi's family.
Is Bernas' 'strategic alliance' with Dewina a business move or is it 'investing' in the next Prime Minister of Malaysia?
But is this what Bernas was set up for? Certainly not! Bernas is supposed to ensure that Malaysia's dependence on rice imports is reduced to 35% or less. This is to ensure that, in the event of a war or a major catastrophe in any of the rice exporting countries like Thailand, Vietnam, China, etc., Malaysia will not be starved of rice -- reminiscent of WWII when Malayans then had to eat Tapioca.
Malaysia is the only rice producing country in South-East Asia that is highly dependent on rice imports. Malaysia is at a great security risk and all our neighbours have to do is to stop selling us rice and we will be brought to our knees. And Bernas' role is to reduce this dependence.
But this is not happening. Instead, Bernas wants to transform itself into another Nestle rather than safeguard the needs of Malaysia's rice consumers and padi farmers. If we want another Nestle there are many other trading giants that can play that role. Why must Bernas dabble in affairs it was not set up to be involve in?
By the way, out of curiosity, who are these people who are enjoying this RM25 million per year in Directors' fees and dividends? The Perlis Menteri Besar, Shahidan Kassim, and his immediate family, are these beneficiaries. Incidentally, they are attempting to sell off their stake in the company and may be hundreds of millions of Ringgit richer soon.
Bernas says that rice smuggling is crippling it. If making RM80 million per year is being crippled, then I don't mind being crippled any time. Better being crippled with RM80 million in my pocket every year than walking upright but being broke to boot.
But who are these smugglers that Bernas is complaining about? According to the rice millers association that has about 300 members, it is the rice importers who are doing all the smuggling. And isn't the sole importer of rice Bernas itself. Hmm…maybe Bernas is right about the rice smuggling. The question is, who is the one doing the smuggling? It appears like Bernas is this rice smuggler so why are they complaining?
The Deputy Prime Minister Abdullah Ahmad Badawi says he wants to arrest the rice smugglers under the Internal Security Act. Do I take it there will be a vacancy for the position of Perlis Menteri Besar soon?
The TV stations once showed clips of so-called rice smugglers walking across the Malaysian-Thai border. According to a retired Police Inspector, Mansor, these people are merely couriers. They are paid a certain amount for every sack of rice they carry across the border. 
"I used to be the Inspector of Rantau Panjang," said Mansor. "We didn't bother about these people walking across the border. These people are not smugglers. They are just couriers earning a living. If we stop them from earning a living this way, then they may resort to other means to make a living, like crime."
True enough, these 'smugglers' walk across the border with sacks of rice on their heads right under the very noses of the police, immigration and customs officers. And, to the authorities, they are not committing any crime.
"Sometimes we need to take action just to show we are doing our job," said Mansor. "So we tip off the bosses that we will be making a raid that night. We then agree that they will abandon one or two lorries for us to confiscate."
"The driver will of course 'escape'," said Mansor laughing.
"Once we arrested some of those couriers and guess who came to bail them out?" asked Mansor. "Hussein Ahmad!"
Hussein Ahmad is the kingpin of Umno Rantau Panjang, one-time Minister in Malaysian Prime Minister Dr Mahathir Mohamad's government who achieved 'fame' when he fired his pistol during an Umno division meeting. He was understandably never arrested nor was his pistol confiscated.
"Zaman Khan's family is also involved in this business," revealed Mansor. "His family in fact comes from Golok and they have many businesses there such as hotels and so on."
"How then to take action when the top guns themselves are involved?" laments Mansor. "If I clamp down I might find myself transferred out of Rantau Panjang super-fast. So we just close our eyes and, once in awhile, stage these 'successful' raids and confiscate a few sacks or rice just to keep everyone quiet."
"But these couriers are small-time. They just carry one sack across the border. And how many sacks can they carry in a day? It's the legal importers who are the big-time smugglers. They bring rice in by the containers. And they can do so because they have import permits."
And the question is, how much rice do they bring in? According to some sources, the 'imports' far exceed what their permits allow. This is how the smuggling is done. And, again I ask, who are these permit holders? No prize for the right guess.
The Malays have a proverb for this, 'harapkan pagar, pagar makan padi', which means 'you depend on the fence, but the fence eats the rice' or those entrusted to look after the rice are actually those eating the rice.
How the Shahidan clan acquired the Bernas cash cow
(Free Anwar Campaign, 27 August 2003) -- Lembaga Padi Negara or LPN was privatised about eight years ago into what is known today as Padiberas Nasional Berhad (Bernas). Though it is supposed to be a public company, Bernas is very much controlled by one family, that of the Menteri Besar of Perlis, Shahidan Kassim.
How did Shahidan get his hands on Malaysia's rice monopoly that brings in a turnover of almost RM2 billion per annum and profits averaging about RM80 million per year? The story of Bernas is not a rags-to-riches story but one of richer-to-even-richer.
Shahidan was then the Member of Parliament for Arau, Perlis, the Chairman of Parliament's Back Benchers Club (BBC), Chairman of FAMA, Chairman of Yayasan MARA, Director of MARA, and many more. The then Menteri Besar of Perlis was Dr Hamid Pawanteh who was slotted for 'retirement' due some 'indiscretions' that was threatening to blow up if he continued as Menteri Besar. Shahidan was identified as Dr Hamid's successor.
Malaysian Prime Minister Dr Mahathir Mohamad summoned Shahidan and told him that he and Dr Hamid would have to switch jobs. Dr Hamid would be contesting the 1995 General Election on a Parliament seat while Shahidan would in turn take over his state seat. The reason being, Shahidan would have to take over as the next Menteri Besar of Perlis.
However, much to Dr Mahathir's surprise, Shahidan declined the Prime Minister's 'offer'. He told the Prime Minister he was not interested in the Perlis Menteri Besar's job. He was more interested in getting rich and would rather do business.
And this was what Shahidan discussed with the Prime Minister as revealed by one of his business partners whose company Shahidan was the Chairman of.
"Why should I want to be the Menteri Besar of Perlis?" asked Shahidan Kassim when I met him just before the 1995 General Elections. "What has Perlis got?"
"At least if I am Menteri Besar of Kedah that is something. Kedah is big. There are a lot of business opportunities there. Perlis is so small, it has nothing!"
"And that is what I told the PM," said Shahidan. "I told him I am not interested in being the Perlis MB. I want to do business."
"The PM was taken aback," added Shahidan. "He asked me what business I wanted to do and I told him I wanted to take over the privatisation of Bernas."
"The PM was puzzled. He told me he has offered me the Perlis MB's post and I reject the offer. Other people would jump at the chance."
"I told him I am more interested in getting rich," laughed Shahidan.
"The PM said he will think about it and get back to me later. A few days later the PM told me that he will agree to me taking over Bernas if I agree to become the MB."
"I asked the PM, how is this possible? The PM replied to leave that to him. He will clear it with the Cabinet. He will explain to the Cabinet that the Bernas deal is part of the terms for me accepting the MB's post."
And that was how Shahidan ended up with control of the privatised Bernas.
FAC News spoke to one senior officer of LPN to get his side of the story on the wheeling and dealing of that one-time national rice board. This officer, on being told that LPN would be privatised, decided to throw in the towel and seek early retirement.
"Once I saw what they were going to do, I decided to quit," explained the officer.
"I saw the move to privatise LPN as just one more move to make some people rich and I wanted nothing to do with it."
"I spent practically my entire working life serving LPN. Our only mission in life was to serve the rice farmers and ensure that their welfare was well taken care of. But what they wanted to do to LPN is criminal. So I just left in disgust."
"It's not only what they wanted to do that was so wrong. It is also the people who were behind the whole exercise that was not right."
"I personally know Shahidan so I know what type of person he is. He is just out to make money. And he was going to do so at the welfare of the rice farmers."
"There are 160,000 rice farmers in Malaysia," argued the retired LPN officer. "And most of them live in poverty."
"For example, for the year 2000, an estimated 9% or almost 16,000 rice farmers have incomes below the poverty level."
"The estimated annual average net income from rice cultivation in Peninsula Malaysia for that same year ranged from RM1,500, or RM125 per month, in areas like Telok Intan, Kelantan and Terengganu, to RM6,000, or RM500 per month, in advanced areas like MADA."
"How does one support a family with that low income level?" asked the retired officer.
"It is time the truth is revealed and Malaysians are made aware of the exploitation the rice farmers are being subjected to."
Despite government expenditures for infrastructure development and financial assistance through input subsidisation and price support policies, a high level of poverty still exists amongst rice farmers. The situation did not improve much since the eight years after the privatisation of LPN into Bernas. Under Bernas, the individual shareholders of the privatised entity are now making profits at the expense of several hundred thousands rice farmers, their families, and other public stakeholders.
For example, for the year 2001, Bernas made a RM128 million profit before tax. For the year 2000, it made RM83 million and, in 1999, RM117 million. In 2002, it made about RM60 million.
But who really benefits from this profit? The rice farmers? Of course not! Those who benefit from these hundreds of millions of Ringgit every year are the major shareholders of Bernas.
And who are these shareholders?
One of them is Budaya Generasi Sdn Bhd (BGSB), which owns 34% of Bernas. The single largest shareholder of BGSB is Permatang Jaya Sdn Bhd (PJSB), which has a 44% interest in BGSB or, effectively, 15% of Bernas.
And who are the shareholders of BGSB?
The shareholders of BGSB are Dohat Bin Shafie and his daughter Nur Daliza Binti Dohat. Dohat Bin Shafie is the brother-in-law of none other than Shahidan!
The point is, the Shahidan family of Perlis owns 15% of the privatised national rice entity which is of strategic importance to the country and which the government acknowledged in its National Agriculture Policy 3 (NAP3) to be the backbone of the food security policy of the country!
Then, Sebiro Holdings Sdn Bhd, another shareholder, owns 5.5% of BGSB. A prominent Director of the company is Megat Junid Bin Megat Ayob, the Prime Minister's henchman.
The other four (public) shareholders of BGSB representing the interests of several hundred thousand rice farmers, farmers and fishermen, own the other 34% of BGSB or only 11% of Bernas. These four are:
· Pertubuhan Peladang Kebangsaan (NAFAS)
· Persatuan Nelayan Kebangsaan (NEKMAT)
· Syarikat Perniagaan Peladang (MADA) Sdn. Bhd.
· Syarikat Perniagaan Peladang (KADA) Sdn. Bhd.
Just for the record, Yayasan Pok Rafeah Berdaftar, is the 11th largest shareholder of Bernas. Yayasan Pok Rafeah funds the Pok Rafeah Chair at Institut Kefahaman Malaysia dan Antarabangsa (IKMAS) at UKM. And Pok Rafeah is the mother to Tun Daim Zainuddin, another Umno kingpin and one-time Finance Minister of Malaysia.
Despite being a registered foundation, interestingly enough, the Registrar of Societies apparently did not have any information on Yayasan Pok Rafeah as to its Board of Trustees or any other information.
Last year, Bernas paid its Directors RM4 million in salaries. And, to add insult to injury, it declared a 10% dividend to its shareholders amounting to RM21 million! Just figure out how much the individual shareholders of Bernas are getting out of this?
Presumably, all this was the 'reward' for a 'brilliant performance' of turning in a RM128 million pre-tax profits for 2001 on revenues of some RM1.6 billion -- roughly 7.5% on sales. But then Bernas is about to retrench more than 2,000 employees on the excuse it is losing money.
Bernas is Malaysia's sole licensed rice importer until 2010. In short, it has a monopoly on Malaysia's rice import business and it is continuing to extend its grip on the rice market. Bernas derives most of its profits from cornering the rice industry so it is not that difficult to make money. Why, therefore, the need to generously reward its Directors?
Another very important point to consider is: the government has acknowledged the importance of rice in the food security policy of the country. This is especially so after the 1997-98 currency crisis and the ever-increasing import bills for rice and other food products. Under the NAP3, the Self-Sufficiency Level (SSL) for rice is set at 65% until 2010.
Malaysia, therefore, is still very far from self-sufficiency and needs to import the balance 35% of its needs while other countries surrounding Malaysia not only DO NOT import their rice, but exports it -- to Malaysia. Even China, which needs to feed 20% of the world's population, can export rice.
Why does Malaysia still depend on a high level of rice imports to feed the nation? And why does the government allow this? The answer is simple! This is so that Bernas can have the monopoly for all rice imports into Malaysia until the year 2010 and make tons of money out of it.
However, one has to remember that a 35% reliance on the open global rice market is risky given that rice is thinly traded. Only 5% of the world's rice supply is traded in the open market compared to, for example, 12% for wheat. And, in the event of a bad harvest in one or two of the major exporting countries such as Thailand, Cambodia or Vietnam, or bad harvests in a number of major consuming countries such as India, China or Indonesia, or worse, bad harvests for both exporting and consuming countries as was the case during the el Nino catastrophe -- thus forcing the exporting nations to supply only their domestic needs, and forcing the major consuming nations to buy rice in the open market -- there will not be any rice left in the open market for Malaysia.
The reality is, the cash cow for the whole rice industry in Malaysia is the rice import license and this has been solely awarded to Bernas. Thus, it is high time for Bernas to fulfil its obligations to its other stakeholders and not just focus on enriching its few privileged shareholders.
But Bernas is 'buying protection' in case pressure is put upon it by the incoming administration of Deputy Prime Minister Abdullah Ahmad Badawi. It has just formed strategic alliances with the incoming powers-that-be to ensure that the new administration that will take over after Mahathir retires in October 2003 will continue to look upon Bernas favourably.
And, to achieve this, Bernas has just agreed to distribute and market Dewina Trading Sdn Bhd's products locally and internationally.
Dewina Trading is the sales and marketing arm of convenience food manufacturer Dewina Bhd. Now, who owns Dewina? Isn't this company associated with Deputy Prime Minister Abdullah Ahamd Badawi's family?
Posted: 12 Nov 2013 04:25 PM PST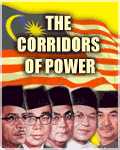 I sometimes wonder whether Malaysians are really concerned about corruption, abuse of power, wastage of public funds, and whatnot, or whether they just want to politicise issues to gain votes and win elections. Is this really about improving the country or about making the other person look bad so that you can get into power?
THE CORRIDORS OF POWER
Raja Petra Kamarudin
"Act now or we'll be left high and dry again," said The Star editorial today (READ HERE). Also read Billions of ringgit and 20 years needed to replace pipes (HERE), a news item by The Star.
Actually, I have been talking about this issue since the 1990s. I even gave a talk to the JKR engineers and directors, arranged by the then Works Minister. (My good friend, Syed Mohd Alhabshi, will remember this because he escorted me to the meeting and was amazed that a non-water engineer like me had the gall/balls to give a talk to water engineers and JKR directors).
I have also written about this matter a number of times but I bet most of you either do not know or cannot remember.
Anyway, what I said back then was that Malaysia's NRW (non-revenue water) is roughly an average of 45% whereas the accepted NRW according to UN-WHO is only 20%. In some parts of Malaysia, such as PJ Old Town, Kota Bharu, Alor Setar, etc., the NRW is as high as 70%.
I also said that it would take 20-30 years and billions of Ringgit to replace all those old and deteriorated AC pipes (which cause stomach cancer anyway -- as proven in Woodstock, USA, in 1985) with ductile iron pipes. Nevertheless, it has to be done because Malaysia is going to lose billions anyway due to the very high NRW. Hence, either way, Malaysia is going to have to spend this money.
I added that if the NRW problem is not arrested then Malaysia would have to spend billions on water treatment plants, reservoirs and pumping stations or else one day the country would face a water shortage.
Today, 25 years later, The Star talks about this same matter. Nevertheless, unless someone from the opposition jumps onto the bandwagon and makes an issue out of it, this matter is going to die off. Only when it is politicised will everyone get hot and bothered about the matter.
The same goes for the Bernas issue that Opposition Leader Anwar Ibrahim started talking about a day ago (read the news item below). Ten years ago, in August 2003, I had written a series of articles concerning this matter -- Pagar makan padi: The Bernas story and How the Shahidan clan acquired the Bernas cash cow. That was long before Syed Mokhtar Al-Bukhary appeared onto the scene.
Yes, that was ten years ago and, again, nothing was done then. But now that Anwar has chosen to turn this very important social issue into a political issue, the whole country is going to be outraged and will demand that something be done about this matter.
I sometimes wonder whether Malaysians are really concerned about corruption, abuse of power, wastage of public funds, and whatnot, or whether they just want to politicise issues to gain votes and win elections. Is this really about improving the country or about making the other person look bad so that you can get into power?
This is why I no longer have confidence in politicians whether they are from the opposition or the government. Must we fight for change only when it can help us gain votes and win elections and ignore problems when they have no 'vote value'?
So, the NRW is an old problem that I highlighted 25 years ago while Bernas is a problem that I highlighted 10 years ago. However, only today has it become an 'important issue' to the opposition because only today can the opposition see that it can get political mileage out of the issue.
The opposition is chewing on the RM250 million NFC matter like a dog with a bone. I really don't bother much about this issue and that is why you may have noticed that I have not written about the matter. And why have I ignored this issue?
Simple! That is because I already wrote about the issue long before NFC came along and the matter was basically ignored.
What I wrote about many years ago was regarding Majuikan and Majuternak. In that expose I talked about the hundreds of millions (or maybe even billions) wasted on failed Majuikan and Majuternak projects. Do you Malaysians who were already around in the 1960s and 1970s remember Majuikan and Majuternak? And do you remember the millions or billions that were spent over decades financing these two agencies, which came to naught in the end?
Yes, so long ago this matter had been highlighted -- back in the days when Anwar Ibrahim was the Agriculture Minister and even before that, when Manan Othman of opposition party Semangat 46 was the Agriculture Minister.
In fact, Majuikan and Majuternak were already around in the 1970s, long before Tun Dr Mahathir Mohamad became Prime Minister in 1981. They continued into the days when those people, who today are in the opposition, were still in the government and were in charge. Maybe that is why they do not want to talk about Majuikan and Majuternak, which cost much, much more money than the NFC.
So you see, these matters will gain prominence only when politicised. Only when the opposition can see that the matter can gain votes and win elections will they talk about it. They will scream, rant and rave about something only if they think there is political mileage in doing so. If not, the opposition will just ignore the matter like they did the NFC when it was not yet called NFC.
Yes, there were many other things that disturbed me 10, 20, or 30 years ago and which I talked about and which the opposition has been ignoring. And they will continue to ignore these issues unless and until they can see that by raising these issues they can gain votes and win elections. Then -- 10, 20 or 30 years later -- it will become the latest hot issue.
Let's see how long it will be before the opposition talks about the high divorce rate amongst the Malays in the Malay heartland, about young girls with children being abandoned and having to resort to prostitution to support their children, about AIDS being highest amongst the Malays in states that are predominantly Malay, and so on (matters I spoke about more than 20 or 20 years ago).
We cannot fight for change only when it can gain votes and help us win elections. Change is not just about the ballot box. Change is about seeing a better society and about seeing good governance. There are so many things we need to change to see this better society and good governance. But the opposition will only fight for change if they can see that this will put them into power.
And this is why the opposition's so-called fight for change is not my fight for change. I fight for change not to gain votes or win elections. I fight for change even when those issues I fight for will not gain votes or win elections. And that is why I raise issues 10, 20, or 30 years before the opposition does.
Some time ago I spoke about non-Muslims not being allowed to use not only the Allah word but also a long list of other 'Islamic' words and phrases that had been 'officially banned' -- even by Pakatan Rakyat states. Today, the Allah word (kalimah Allah) is a hot issue that is threatening to tear the country apart. But do you think Allah is the only word that is the issue?
Wait until the long list of other 'Islamic' words and phrases surface and become a problem. Then the opposition will jump onto the bandwagon and try to gain political mileage from the matter. And that is when an old issue of 10 or 20 years ago will suddenly become a latest hot issue.
************************************************ 
Isu Bernas lebih berkesan dari isu GST
(FMT) - Pakatan Rakyat kali ini mensasarkan serangan terhadap monopoli syarikat Padiberas Nasional Berhad (Bernas) untuk memenangi hati pengundi Melayu golongan bawahan khususnya di sektor pertanian.
Ketua Pembangkang Datuk Seri Anwar Ibrahim berkata, Bernas mampu menjadi isu besar kerana ia memberi kesan kepada ramai golongan berpendapatan rendah dan nasib mereka perlu dibela.
Ini katanya berikutan keuntungan berjuta ringgit yang dikaut taikun Tan Sri Syed Mokhtar Al-Bukhary ekoran dasar penswastaan Bernas, namun tidak membela nasib petani dan usahawan Bumiputera sebaliknya terus memerah keringat orang Melayu miskin demi mengkayakan kroni Barisan Nasional (BN).
"GST, TPPA juga isu penting tapi impaknya tak besar sama seperti pendedahan kes lembu (NFC).
"Pakatan Rakyat kena ambil peluang tangani dan pertahankan isu Bernas ini secara berterusan supaya mendapat tempat dihati orang Melayu termasuk petani Cina di Sekinchan," katanya di hadapan kira-kira 100 pemimpin Pakatan Rakyat dalam satu majlis makan malam, malam tadi.
Syed Mokhtar memiliki 53.7% saham Bernas selain menguasai lesen AP import beras dengan memperoleh keuntungan sebanyak RM3.6 bilion sehingga tahun 2012 dan dijangka meningkat hingga RM3.9 bilion pada 2015.
Malah kerajaan turut memanjangkan monopoli Bernas terhadap pengurusan bekalan beras negara dan monopoli pengimportan beras sehingga 10 Januari 2021.
Pada masa yang sama, Ketua Umum PKR itu berkata isu yang melibatkan kaum lain termasuk minoriti di Sabah dan Sarawak juga tidak boleh diabaikan.
Beliau turut menyeru pemimpin lain menunjukkan komitmen yang tinggi supaya terus kekal relevan dalam Pakatan Rakyat.
Anwar juga sempat berterima kasih kepada Menteri Besar Selangor Tan Sri Abdul Khalid Ibrahim kerana mampu menangani sentimen dalam masa sama mengekalkan prestasi urus tadbir negeri dengan baik tanpa sebarang kompromi.
Sementara itu, Khalid sebagai tuan rumah majlis berkata, kepimpinannya bersedia untuk bekerja lebih keras dan mahu membuktikan peluang yang diberikan kepada rakyat sebagai pemegang amanah sebelum ini diteruskan.
"Walaupun mereka tahu bukan senang nak dapat projek daripada saya tetapi mereka masih menyokong…satu perkara yang tak perlu takut kita akan kekal bekerjasama dan terus bersikap amanah menguruskan wang rakyat," katanya.
Kredit: www.malaysia-today.net