Klik GAMBAR Dibawah Untuk Lebih Info
Sumber Asal Berita :-
---
Malaysia/Israel, Endless Possibilities
Posted: 21 Aug 2013 12:52 PM PDT
We wonder how much money was spent by the consultants in Prime Minister's inner circle for coming up with this new slogan that will 'complement' the previous 1Malaysia slogan. 
Think of all the tax payers' money spent to pay for those consultants in order to produce those two words.
And read the sites below as to where they had copied it from. 
Jebat Must Die 
Please give the world something original. If you can't even sort out a proper slogan and had to copy from other countries, then your implementation and grandiose ideas are doubtful to begin with. Any sane people will sack their advisors. But knowing this PM, he may promote them instead. Or give medals of honour. Even the phrase – Endless Possibilities doesn't give out positive connotations.
What are the possibilities Barisan Nasional to lose the next general election? Endless!
But of course soon we will definitely hear the sorry excuses like – we thought about it earlier than the Israelis, or, it was just pure coincidence, both Prime Ministers of Israel and Malaysia have the same kind of thought patterns etc.
Sometimes, we just cannot rely on advisors who have time and time again proven to be liabilities to the government.
Just a small tip: please google the phrase first before giving it to the PM for him to announce; this might avoid any embarrassment.
Read more at: http://jebatmustdie.wordpress.com/2013/08/21/malaysiaisrael-endless-possibilities/ 
Do not blame the East Malaysians for supporting BN
Posted: 21 Aug 2013 12:34 PM PDT
If certain West Malaysians are perplexed, annoyed or disappointed as to why most of their East Malaysian friends keep on supporting BN when the national coalition appears to have lost its appeal on the mainland, all they need to do is to put themselves in their shoes.
Jaikol Situn, Barrister-at-Law (Gray's Inn); LLM; LLB; BA (Hons)
Political bickering should have toned down by now since the 13th General Election is done and dusted, but as I am still getting all sorts of insinuating and often offensive remarks about my fellow East Malaysians for having thrown BN a lifeline yet again, I am obliged to respond accordingly. If certain West Malaysians are perplexed, annoyed or disappointed as to why most of their East Malaysian friends keep on supporting BN when the national coalition appears to have lost its appeal on the mainland, all they need to do is to put themselves in their shoes.
The East Malaysians account for just 20% of the Malaysian population of 29 million, or roughly equivalent to 7 million people, the majority of which are Dayaks (Iban, Kenyah, Penan,  etc) and Kadazandusun-Muruts, the natives and original people of Malaysia. If you are aware of how minorities in other parts of the world choose their government, they generally keep faith with the incumbent presumably for continuity and political stability, even if misconceived and misplaced, rather than aligning themselves with an untried alternative government with rather grandiose ideals.
You might think my observation is nothing new, but put religious issues into the equation, and you would appreciate a more complicated scenario. This is because at least 75% of these natives are Christians. In Sarawak, Christianity account for at least 40% of the State population, and if you take away the 1.5 million illegal immigrants in Sabah, a similar percentage exists there. To illustrate my point, the election results of P169 Kota Belud perhaps show a typical voting pattern amongst the Christian electorate.
Kota Belud had 51,467 registered voters of which 45% were of the Kadazandusun/Christian ethnicity, 50% Muslims mostly of the Bajau and Sama community and the rest Chinese, Sino-Kadazandusuns and others. The results of the election based on 84% turnout, were as follows: BN 21,768; PKR 16,673; STAR 2,709; Independent No.1 (Muslim) 979; Independent No. 2 (non-Muslim) 185; and spoilt votes 1,109. On the logical assumption that Kadazandusuns/Christians were more likely to vote for either BN or STAR, you can deduce that at least 11,000-12,000 (or 56 - 61% of Kadazandusuns/Christians) voted for BN, whereas the majority of Muslim voters defected to PKR and the Muslim Independent candidate.
My analysis is further corroborated by the fact that Kota Belud is the stronghold of the Sidang Injil Borneo (SIB) Church, a denomination which has a large following in both States and has its headquarters in Lawas, Sarawak. Adherents to the faith have been using Bibles in the Indonesian Language before independence. They are well-known for being highly principled and pious. I know this for a fact having so many Christian relatives and friends in the Kota Belud area. From the vote count breakdown, we can be pretty sure that a lower percentage of Christians voted for PKR on the basis that despite the "Malay Bible" controversy instigated by BN, they were not so keen on PR taking over due to their preference to maintain the status quo as I have earlier mentioned. Contrary to what people like Ibrahim Ali have been barking about, the Christians in East Malaysia are actually staunch supporters of BN much like the Christians in Syria who are loyalists of President Assad, or the Christians of Iraq who once supported Saddam Hussein.
Of course money politics was partly to blame and it cannot be denied that BN have created a society that is over-dependent on Government support and handouts, but to the Christian natives, this too may have a divine explanation. If a BN agent came for a visit to a long house in a far flung tribal village on the eve of an election and gave them RM50 each (who knows, it might have been much more) as alleged, these meagre amounts would be like manna from heaven, and prayers and supplication duly answered, and would therefore gladly return the favour. To these God-fearing Malaysians, they would not have cared less even if the money was negligible. Their religion has taught them to appreciate little things in life and not to expect more. Indeed, a Sarawakian Chinese friend of mine who lived amongst the natives opined that Christianity was one of the major obstacles of PR winning overall in Sarawak.
I have heard people in the national capital venting their frustration and anger on East Malaysians by making unkind remarks such as "Let them rot for supporting BN". Quite frankly, these natives, particularly the Christians, would not mind doing so. They are used to living in harsh and God-forsaken environments in the jungle of Borneo, mind you. Furthermore, those of the Christian faith draw strength and comfort from two or three powerful verses of their Bible. Firstly, that "Man does not live by bread alone, but by every word that comes from the mouth of God", and that it is difficult for a rich man to enter heaven, and secondly, that Jesus actually encouraged his followers to support the government of his day by saying "[His] kingdom [was] not of this world". Do not be surprised if many natives follow these teachings to the letter.
So, our West Malaysian friends who are unhappy with the election results are well advised not to point fingers at their East Malaysian counterparts for PR's failure to wrest control of Putrajaya. If you were in their position, you could not blame them for doing so. Be enlightened on the fact that to most West Malaysians, their political struggle is mainly for equality, fairness, respect and pride, but to most Sabahans and Sarawakians, particularly the natives, their political struggle is for sheer survival. To those of the Christian faith of whatever ethnicity in these two States, their political struggle or understanding is also heavily influenced by biblical teachings. Therefore, the inability to appreciate, understand and deal with the rather complicated political issues faced by East Malaysians would be fatal for any political party vying for their support, as PR have probably now realised or learnt.
'Do Not Pit Umno Leaders Against Each Other'
Posted: 21 Aug 2013 11:54 AM PDT
(Bernama) - Wong was asked to explain the Star's agenda via the article by columnist Joceline Tan entitled "Give up posts, Shahrizat told," published on July 8.
Umno Supreme Council (MT) member Dr Mohd Puad Zarkashi reminded all quarters not to give negative coverage about the party as it will affect its image ahead of elections in October.
He said Umno is a strong party as proven in the 13th general election (GE13) and the Kuala Besut by-election in Terengganu recently.

"Efforts to pit Umno leaders against each other can disrupt the stability of the party. As the MT member, I have the right to defend the dignity and credibility of Umno," he told reporters here yesterday.

He also questioned action by The Star group chief editor Wong Chun Wai who threatened him with legal action via a lawyer's letter dated Aug 6.

Wong was asked to explain the Star's agenda via the article by columnist Joceline Tan entitled "Give up posts, Shahrizat told," published on July 8.
Mohd Puad claimed the Star was pitting Wanita Umno chief Datuk Seri Shahrizat Abdul Jalil against Cheras Umno division chief Syed Ali Alhabshee. 
1.7 Juta Individu Bakal Dibatal Lesen Memandu
Posted: 21 Aug 2013 11:53 AM PDT
(Antarapos) - "Kami mensasarkan penunggang motosikal dan pemilik kenderaan komersil terlebih dahulu berikutan peningkatan jumlah kemalangan maut dalam Ops Selamat III (membabitkan mereka)"
Seramai 1.7 juta individu yang disenaraihitamkan kerana degil membayar saman trafik bakal berdepan tindakan lesen memandu dibatalkan, kata Ketua Polis Negara, Tan Sri Khalid Abu Bakar.
Beliau berkata tindakan itu akan ditumpukan terhadap penunggang motosikal dan pemilik kenderaan komersil yang banyak menyumbang kepada jumlah kemalangan maut pada Op Selamat III sempena Aidilfitri baru-baru ini.

"Kami mensasarkan penunggang motosikal dan pemilik kenderaan komersil terlebih dahulu berikutan peningkatan jumlah kemalangan maut dalam Ops Selamat III (membabitkan mereka)," katanya kepada pemberita selepas menyampaikan surat penghargaan kepada pengguna jalan raya berhemah dan kontinjen/daerah terbaik Op Selamat III di sini, hari ini. 

Beliau berkata polis akan mencadangkan undang-undang dipinda segera bagi membolehkan tindakan itu diambil dengan secepat mungkin. 

Ops Selamat III yang bermula pada 1 Ogos hingga 18 Ogos lepas, secara keseluruhannya mencatatkan 17,831 kes kemalangan yang menunjukkan penurunan sebanyak 106 kemalangan berbanding Ops Selamat II. 

Bagaimanapun kadar kemalangan maut telah meningkat sebanyak 32 kes atau 14.2 peratus iaitu daripada 226 kes kepada 258 kes, dengan jumlah kematian turut meningkat sebanyak 49 kes atau 20.2 peratus iaitu daripada 243 kes kepada 292. 

Khalid berkata mereka yang telah disenaraihitam dan juga mempunyai saman tertunggak dinasihatkan membayar saman mereka bagi mengelakkan tindakan itu. 

"Kami juga akan mengambil penguatkuasaan yang lebih agresif khususnya terhadap mereka memandu laju, melanggar lampu isyarat dan memotong dua garisan berkembar, jadi, esok jangan salahkan polis kerana mendapat saman," katanya. 

Sementara itu semasa berucap pada majlis tersebut, Khalid berkata para pemandu kenderaan, terutamanya penunggang motosikal, perlu mengubah sikap bagi mengelakkan daripada kemalangan maut yang semakin meningkat pada masa ini. 

Mengenai kesedaran di kalangan masyarakat untuk bekerjasama dengan polis dalam membantu menjaga harta benda dan memerangi jenayah, beliau melahirkan rasa puas hati dengan peningkatan penyertaan masyarakat. "Ini dapat dilihat berdasarkan peningkatan penyertaan masyarakat dalam kempen Op Selamat tahun ini iaitu sebanyak 8,592 atau 58.5 peratus, secara tidak langsung menunjukkan tahap penerimaan masyarakat terhadap PDRM semakin positif dalam usaha membanteras jenayah," katanya.  
Crime wave puts laid-back Malaysia on edge
Posted: 21 Aug 2013 11:43 AM PDT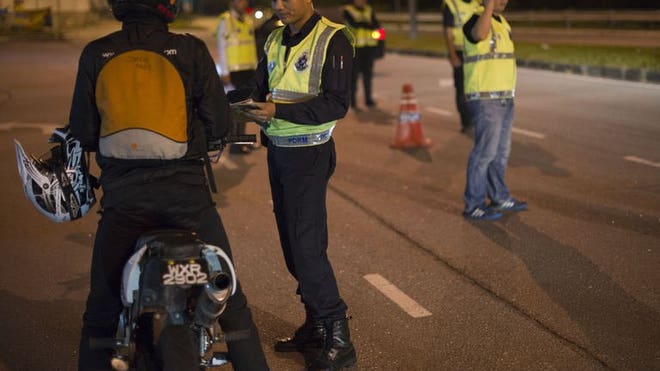 A Malaysian policeman checking a motorcyclist's identification papers at a roadblock during an operation called "Op Cantas Khas" in Kuala Lumpur on August 21, 2013. A wave of lethal shootings is rattling normally laid-back Malaysia and raising new doubts about the much-maligned national police force's ability to protect the public.
(Fox News) - Whatever the causes, citizens are forming community patrols and barricading entrances to neighbourhoods while anti-crime websites feature videos of angry mobs beating suspected criminals.
A wave of lethal shootings is rattling normally laid-back Malaysia and raising fresh doubts about the ability of the much-maligned national police force to protect the public.
Malaysians and foreign residents alike have long complained of burglars, bag-snatchers and other petty criminals operating with apparent impunity in the otherwise peaceful multi-ethnic nation.
But near-daily gun violence in recent weeks in a country with tough firearms restrictions has sown fear and confusion, and triggered a weekend police crackdown widely considered long overdue.
"To be honest, I am really scared," said French expatriate Marthe Buffiere, 29, whose hand was nearly severed last month in a mugging by two knife-wielding assailants in an upscale Kuala Lumpur neighbourhood.
"The image of wealth and safety here is totally untrue," said Buffiere.
Dozens of shootings have been reported since April, many fatal, but the causes and the culprits in the sudden upsurge remain unclear.
Home Minister Zahid Hamidi, who oversees the national police force, believes there is a turf war involving 2,600 criminal suspects released since 2011 when the long-serving government was pressured into abolishing a controversial law allowing preventive detention.
"Each has his hardcore followers. If each of the released detainees had 10 right-hand men, this translated to 26,000 who are with them," he said.
But the opposition dismisses that as a smokescreen to hide police ineptitude, while social media hum with darker conspiracy theories of battles between corrupt police factions and their underworld proxies over criminal rackets.
The crisis is fuelling calls for reform of the Royal Malaysia Police, which has long been dogged by accusations of corruption, incompetence and bias toward the regime which has been in power for 56 years.
"There is not a strong enough deterrent. If it seems you can get away with crime, criminals will try, and they are," said Richard Wee, chairman of Safer Malaysia, a grassroots group pressing for improved policing.
"And (police) corruption is the big elephant in the room."
Read more at: 
http://www.foxnews.com/world/2013/08/21/crime-wave-puts-laid-back-malaysia-on-edge/
Christian Church opens doors to Muslims
Posted: 21 Aug 2013 11:35 AM PDT
St John's Episcopal Church has opened its doors to Muslims for Friday prayers 
(BBC) - Christians and Muslims do not have to agree with one another. 'But they can learn to respect each other's different beliefs and actually come to get along and even like one another.
On a bitterly cold and snowing afternoon in Aberdeen, the doors of St John's Episcopal Church are open to hundreds of Muslim worshippers, arriving for daily prayers.
The familiar sounds of Christian hymns have been replaced with Islamic prayer in the chapel this Friday lunchtime and the church priest with the imam from the neighbouring mosque.
Muslims from the Syed Shah Mustafa Jame Masjid mosque next door share this church with Christian worshippers up to five times a day.
Church leaders believe this may be the only place in the country where Christian and Muslim worshippers pray side by side.
The rector at St John's has opened his doors to Muslims because there was not enough space for them to pray in their own mosque and many were forced to worship outside on the street.
The Reverend Isaac Poobalan, who grew up in Southern India surrounded by Islam, said he would not have been true to his faith if he did not help his neighbours.
"It was a very cold day, like today, and when I walked past the mosque I saw dozens of male worshippers praying outside, on the streets, right near the church.
''Their hands and feet were bare and you could see their breath in the freezing cold.
''Jesus taught his disciples to love your neighbour as yourself and this is something I cannot just preach to my congregation, I had to put it into practice."
Reverend Poobalan adds: ''I felt very distressed when I saw my neighbours praying out in the cold and I knew I needed to do something to help.''
''I know I cannot solve the world's problems, but when there is a problem I can solve, I will.''
Reverend Poobalan asked his congregation for permission to open the church doors to Muslims.
At first, Muslims were reluctant to accept the invite, but they have now settled in well into their new home.
Worshipper Mozhid Sufiyan said: ''We are so grateful to the church for giving us a space for our prayers.
"It was very difficult, especially for the elderly, to pray outside on the floor.
''Father Poobalan has been very kind to us all by inviting us into his church.'
''He has respected all of our beliefs and made us feel comfortable."
Read more at: http://www.bbc.co.uk/news/uk-scotland-21953899 
Make Perkasa pay if rally turns to riots, says Pakatan
Posted: 21 Aug 2013 11:32 AM PDT
(MMO) - "I don't know when and how all these [sic] bigotry will end... but Perkasa, more than others, must be held responsible for heightening religious tension" 
Perkasa has a right to protest the Catholic Church's court claim to "Allah" but the authorities must clamp down on the hardline Malay-Muslim group for fanning religious flames, Pakatan Rakyat (PR) representatives said.
PAS research centre executive director Dr Dzulkefly Ahmad accused Perkasa of being the pack leader in stoking religious sensitivities.
"Religious antagonism has always been a hallmark of Malaysian politics from time immemorial. Of late it has only gotten worse. Politicians from both divides [sic] are all too willing to draw swords at the slightest provocation," he said in a text message to The Malay Mail Online earlier this week.
"I don't know when and how all these [sic] bigotry will end... but Perkasa, more than others, must be held responsible for heightening religious tension," the Islamist party leader said.
The "Allah" issue returns to the legal arena today, with the Court of Appeal set to hear the Catholic Church's application to dismiss the government's appeal against the landmark High Court ruling in 2009 that "Allah" is not exclusive to Muslims.
Dzulkefly, who is also a PAS central working committee member, conceded that it is within Perkasa's democratic right to hold a rally, but pointed out that the matter is already under the purview of the courts and should be left to the courts to come to a decision.
"Surely it is their democratic right to demonstrate. But it is also my democratic right to express my conviction that their presence, much less demonstration is neither necessary nor helpful in out nation's endeavours to have a better Malaysia," he said.
Read more at: http://www.themalaymailonline.com/malaysia/article/make-perkasa-pay-if-rally-turns-to-riots-says-pakatan1 
Church's move to strike out government's appeal lacks merit, says Hishammuddin
Posted: 21 Aug 2013 11:30 AM PDT
(TMI) - Putrajaya has taken the position that the Government's 10-point solution in 2011 has nothing to do with its appeal to reverse a High Court ruling which allowed Christians to use the word "Allah" in the church newspaper, the Herald.
It said the Cabinet decision on April 11, 2011 was only to find ways to overcome problems relating to the import, printing, distribution and the use of the Bahasa Malaysia bible in the country.
"The 10-point solution in no way affects the appeal by the government on the usage of the word "Allah," said former Home Minister Datuk Seri Hishammuddin Hussein in an affidavit in reply to an application by the Titular Roman Catholic Archbishop of Kuala Lumpur to set aside the government's appeal.
The Court of Appeal has fixed tomorrow to hear the Catholic church's application to challenge the government ban on the word "Allah" to describe god in the church newspaper, the Herald.
Malay rights group Perkasa has threatened to hold a rally in Putrajaya tomorrow to support the government ban and called on Muslims to join in.
In his affidavit sighted by The Malaysian Insider, Hishammuddin said based on the 10-point solution, it was clear that the Church's setting aside application was irrelevant, frivolous and lacked merit.
He said the Cabinet, in deciding on the 10-point solution, did not make a decision on the use of the word "Allah".
"When we made the announcement, the government was aware that there was an appeal pending against the Herald," he said.
Read more at: http://www.themalaysianinsider.com/malaysia/article/churchs-move-to-strike-out-governments-appeal-lacks-merit-says-hishammuddin 
Two more Putrajaya men with relatives in the office
Posted: 21 Aug 2013 11:27 AM PDT
(TMI) - Relatives of some members of the Najib administration are on government payroll, in direct conflict with Putrajaya's directive that these family members can only work in parliamentary constituencies.
Minister in the Prime Minister's Department Datuk Seri Shahidan Kassim (pic) has a daughter working in his office while Agriculture and Agro-based Industry deputy minister Datuk Tajuddin Abdul Rahman's son-in-law works for him.
Shahidan declined to comment when asked by The Malaysian Insider.
"Nobody is talking about this and I also don't want to talk about it," he said when met at the Prime Minister's Department's Hari Raya open house in Putrajaya yesterday.
When pressed if his daughter Nur Shafizah was his principal private secretary, a "gazetted position", Shahidan repeatedly said he did not want to talk about it.
"People should stop finding fault with me. I am already having a tough time in Parliament," he said.
Read more at: http://www.themalaysianinsider.com/malaysia/article/two-more-putrajaya-men-with-relatives-in-the-office 
Tanda Putera to screen next week with controversial "urinating" scene
Posted: 21 Aug 2013 10:41 AM PDT
(TMI) - The controversial Tanda Putera movie will begin screening in cinemas nationwide on August 29 with several contentious scenes still intact, including one depicting a young Chinese man urinating in front of the Selangor Menteri Besar's official residence. 
The controversial Tanda Putera movie will begin screening in cinemas nationwide on August 29 with several contentious scenes still intact, including one depicting a young Chinese man urinating in front of the Selangor Menteri Besar's official residence.
The film, directed by Datin Paduka Shuhaimi Baba (pic), was supposed to have been screened last year but was postponed three times due to opposition over its depiction of events surrounding the May 13, 1969 racial riots.
Members of the media, including The Malaysian Insider reporters, were invited for a screening of the movie on Tuesday night in Kuala Lumpur.
And despite protests from DAP leaders earlier, the government-funded film still had controversial scenes which some parties claimed incited the May 13 racial riots.
The RM4.8 million movie is the work of Pesona Pictures together with National Film Development Corporation Malaysia (Finas) and Multimedia Development Corporation (MDeC).
In the film, the director seemed to portray the Chinese community as being responsible for the May 13 riots.
And this was the contention of DAP leaders earlier who had said the movie was a Barisan Nasional (BN) propaganda film which can cause racial disharmony.
Advantage Shahrizat - thanks to new role
Posted: 21 Aug 2013 10:09 AM PDT
The appointment of Wanita Umno chief Datuk Seri Shahrizat Jalil as an adviser with ministerial status to the Prime Minister has been hailed as recognition for the women's wing by her supporters while others have decried it as a disadvantage to her challenger Datuk Seri Azalina Othman Said.
Joceline Tan, The Star
PENGERANG MP Datuk Seri Azalina Othman Said is more athletic compared to the ladylike Datuk Seri Shahrizat Jalil. But the last few days has seen Shahrizat sprint ahead in the race for the Wanita Umno leadership.
It has all to do with the appointment of the incumbent Wanita chief as an adviser to the Prime Minister on matters pertaining to the development of women entrepreneurs and professionals.

It is no small appointment because it comes with ministerial status and perks although it is not equivalent to a seat in the Cabinet.

The appointment has drawn mixed reactions.

Her legion of supporters in Wanita Umno are overjoyed. They think she is getting the recognition she deserves because they felt that she was unfairly penalised for what happened with the National Feedlot Corporation or NFC issue.

Those who contacted her were informed of the appointment which took effect on Aug 15, which was also her 60th birthday. That very day, her close circle had gathered at the National Welfare Foundation (Yayasan Kebajikan Negara) which she is using as her office to celebrate with a simple meal of chicken rice and cake.

But the reaction from the rest of the party has been a little more muted.

Even the Prime Minister, the man behind the appointment, seemed rather taciturn. There has been no official announcement and when asked by the media, Datuk Seri Najib Tun Razak's response was to "just leave it as it is".

The Umno circle does not quite know what to make of it. But what they do know is that a government post carries weight in a party election and the appointment, coming on the threshold of the party election, could be interpreted in a number of ways.

At one level, it simply means that Najib is giving recognition to the Wanita wing.

At another level, it could mean that Najib has no problems with Shahrizat defending her Wanita post or even that he is endorsing her.

Azalina, on her part, finds it "a bit confusing".

"I thought that such advisory posts are only given to those on retirement mode," she said somewhat bitterly.

Whichever way one looks at it, the appointment has lent Shahrizat an unfair advantage over Azalina, who is struggling because she does not have the network or access in the women's wing. Some said the Wanita contest is no longer a level playing field.

The year 2012 had been terrible for Shahrizat. The NFC issue has dragged down her public image, but her support in the Wanita wing is undiminished.

Her new status has given her newfound confidence and she has moved quickly to appoint her loyalist from Perak, Datuk Hamidah Othman, as National Entrepreneurial Group Economic Fund (Tekun) chairman. Another loyalist Datuk Rosni Sohar has been made an appointed member of the supreme council.

These women will help deliver the votes for her and some say, also for Najib.

The Umno election this time will be determined by delegates from 20,342 Umno branches nationwide. Every branch will send five or more delegates, which will include the Wanita head of each branch, to vote for the new leadership line-up. That adds up to more than 20,000 Wanita votes out there.

Najib has seen the extent of Shahrizat's command over the women in the party and he knows that these senior ladies' vote can sway the election.

As such, some think that Shah­rizat's appointment has a lot to do with the Umno president trying to touch the hearts and minds of these women delegates.

Kedah exco member Datuk Suraya Yaakob, who has confirmed that she is contesting the deputy Wanita chief's post, admitted that the Wanita mood is very much with Shahrizat.

Suraya has often been associated with Azalina because they have been part of a tight clique since their Puteri Umno days.

On Monday, after a special briefing on the new election process for the Wanita grassroots leaders, Suraya approached a number of the ladies to inform them that she was going for the number two post.

The first question many of them asked her was: "YB, who are you supporting? If you are with Kak Ijat (Shahrizat), you have our support."

That is the sort of grip that Shahrizat has over the ladies.

During the Johor Umno committee meeting last weekend, Mentri Besar and state Johor chief Datuk Seri Khaled Nordin had declared that Johor will support Johor candidates vying for posts in the Umno polls.

Johor Wanita chief Sharifah Azizah Syed Zain who was at the meeting did not say anything at the time.

But she issued a statement the next day, saying: "Although Azalina is a Johorean, we will elect the Wanita leader based on merit. Parochialism does not have a place in this election."

It was a strong and independent statement from a staunch supporter of Shahrizat.

It will take a miracle for Azalina to beat Shahrizat, but she is still expected to get at least 30% of the vote, which will come from those critical of Shahrizat's leadership, the remnant hardcore supporters of Tan Sri Rafidah Aziz as well as the Puteri girls who have moved into the Wanita ranks.

The Shahrizat-Rafidah fight in 2009 was seen as the Steel Magnolia taking on the Iron Lady. The Shahrizat-Azalina contest has been painted as Wanita-versus-Puteri because Azalina was the former Puteri chief.

The two women used to work as corporate lawyers before plunging into politics, but their temperament and political styles could not be more different.

The ringtones of their mobile phones alone says a lot. Shahrizat's phone sports a soulful nasyid tune whereas Azalina's phone has a catchy hip-hop number.

Both women have their own plans and vision for how the Wanita wing should grow. But as expected, this contest is going to be less about who can really deliver than who the women on the ground can relate to and like more.
Enough of Shahrizat, plead women's groups
Posted: 21 Aug 2013 09:40 AM PDT
(MM) -  Shahrizat's return to the Cabinet has drawn flak from several women's rights groups who viewed her role as redundant, and voiced apprehension that she may dish out conflicting advice on programmes initiated under the Ministry of Women, Family and Community Development now helmed by Datuk Rohani Abdul Karim.
KUALA LUMPUR, Aug 22 — Yet to be announced, Datuk Seri Shahrizat Abdul Jalil's appointment as the prime minister's adviser on women affairs has raised questions among gender equality activists who fear the role will undermine the authority of the incumbent minister.
Shahrizat's return to the Cabinet has drawn flak from several women's rights groups who viewed her role as redundant, and voiced apprehension that she may dish out conflicting advice on programmes initiated under the Ministry of Women, Family and Community Development now helmed by Datuk Rohani Abdul Karim.
Such conflict, they suggested, could disrupt gender advocacy efforts.
"To be honest, if we have a women's minister, an elected one, I don't see why we need another," Maria Chin Abdullah, executive director of Persatuan Kesedaran Komunity Selangor (Empower), told The Malay Mail Online when contacted.
Carving out a special seat on women's issues just to accommodate Shahrizat was unnecessary, she said, highlighting that the Wanita Umno chief had not given much punch during her three years heading the ministry.
"I think it will not bring that much of a trust, there will be doubt over her performance," Chin said, referring to Shahrizat's link to the RM250 million National Feedlot Centre (NFC) scandal involving the former minister's husband and children that hit national headlines two years ago and which remains grist for news mills.
"I think she has done some things during her tenure, but I feel she has not done enough, for example, on the issue of Islamic family law, that till now nothing has been done," she added.
Chin said there have been numerous amendments to the current laws that women's groups have been lobbying for, and which appear to have stagnated.
All Women's Action Society (AWAM) president Ho Yock Lin shared similar views, but expressed concern that Shahrizat's return might undermine the power of the incumbent women's minister.
As adviser to the prime minister, Shahrizat will be conferred full ministerial powers.
Picking Shahrizat was a major policy misstep, Ho said, as the prime minister would be signalling his lack of confidence in the existing women's minister to carry out her job.
"At the same time, if there is a conflict of programmes, who shall the government listen to?" the AWAM president asked.
She said Shahrizat may have done some good during her turn in office, but despite her long tenure she had little to show for it.
It would be more suitable if Shahrizat were appointed Rohani's adviser, Ho suggested, saying a new leader may revitalise the government's efforts on women's rights.
"It is time to for [Shahrizat] to go, time for new people to try [to take the lead]," Ho said.
"If she really wants to, maybe she can be an adviser to the ministry, but not the prime minister."
Shahrizat's help, however, may not be welcomed as her successor Rohani has stressed that her predecessor was not appointed to her ministry.
"It's not adviser to my ministry," Rohani told reporters on the sidelines of the Women's Summit 2013 conference on Tuesday.
Women's Aid Organisation (WAO) executive director Ivy Josiah hoped the news of Shahrizat's appointment was merely a bad rumour.
Shahrizat, the former Lembah Pantai MP, yesterday confirmed with The Malay Mail that she received her appointment letter last Thursday.
Prime Minister Datuk Seri Najib Razak has maintained a resolute silence in confirming Shahrizat's appointment when asked at a news conference on Monday.
Like Chin and Ho, Josiah said an adviser role was not sensible as it would undermine the status of the women's ministry which has a large enough machinery to lead on policy and implementation on women's issues.
"Furthermore if the rumour is true, it will not look good, as perception wise it will appear to be political patronage," she told The Malay Mail Online in a text message yesterday.
Josiah noted that the appointment in an adviser role would mark Shahrizat's return to political power, over a year after the Wanita Umno chief lost her Cabinet portfolio at the height of a national cattle-farming scandal.
Shahrizat was the women, family and community development minister from April 10, 2009 to April 8, 2012 and dropped from Cabinet after she lost her senatorship due to allegations of impropriety after her family was implicated in a RM250 million federal loan for a failed national cattle-farming project.
This is the second time Shahrizat will be given a political lifeline after having won a similar reprieve in the aftermath of Election 2008, when she was defeated by newcomer Nurul Izzah Anwar in the contest for the Lembah Pantai federal seat.
The embattled leader will be defending her post in Wanita Umno in the coming party polls and is expected to face a challenge from another ex-minister, the younger Datuk Seri Azalina Othman Said.
Grand send-off for five killed in shootout
Posted: 20 Aug 2013 08:39 PM PDT
(The Star) - GEORGE TOWN: Some 500 family members and friends of three of the five men killed in a police shootout gave them an elaborate send-off with a funeral procession accompanied by drums and firecrackers.
The three – N. Rakan, 25, M. Suresh, 25, and R. Ramesh, 27 – were cremated in separate incinerators at the Batu Gantung crematorium at 5.40pm yesterday.
Earlier during the last rites, some family members were seen sprinkling rice into the three coffins as they wept openly and circled around the bodies three times.
The funeral procession – to the beats of Indian and Chinese drums as well as a band – had earlier converged in Jalan Yeap Chor Ee before heading to the crematorium, punctuated with the sounds of firecrackers.
The three bodies were sent off in Mercedes-Benz hearses, two of which bore giant floral wreaths depicting the Hindu swastika. The other hearse had a wreath designed in the letter "N" with a small swastika sign and another resembling twin gold coins.
Motorcyclists, revving their engines and throwing flower petals on the road, rode alongside the hearses as they weaved their way through the traffic towards the crematorium.
The grand procession brought traffic to a standstill in Jalan Yeap Chor Ee, Jalan Bukit Gambir and Jalan Tun Dr Awang, watched by curious motorists.
The two other men who were also killed in the shootout – J. Gobinath, 31, and M. Gobinath, 21 – were cremated and buried respectively at a Hindu cemetery in Jalan Siram, Butterworth.
J. Gobinath's hearse – accompanied by another vehicle bearing a "04" banner and a picture of the deceased with the words Perai Gobi – arrived at the cemetery at 4pm, heralded by the release of firecrackers at the entrance. About 100 family members and friends attended the funeral.
Some two hours later, the hearse of M. Gobinath – accompanied by a lorry – arrived with more than 200 people.
A floral wreath designed with the word "GOBI" together with a picture banner bearing the titles of "Gobi Butterworth" and "King of the Ring" as well as a message "We will miss u 4ever Bro" were seen on the hearse.
About 15 people were later seen carrying M. Gobinath's coffin into the cemetery to be buried. A lorry with a "04" flower decoration was also spotted.
Johor resort ordered to demolish surau
Posted: 20 Aug 2013 05:49 PM PDT
Citing the Quran, Johor Islamic Religious Council (MAINJ) advisor Datuk Nooh Gadut explained that if such a sacred place had knowingly been used for activities outside the Islamic faith, it should be taken down. "The most sacred places on Earth are mosques and surau. Accordingly, they  are not allowed to be used to carry out religious activities other than for Islam and if a surau is found to have hosted other religious activities, it can be demolished based on surah At-Taubah verse 107 (in the Quran)," he was quoted saying on Bernama Online on August 13.
(MM) - The Kota Tinggi Municipal Council in Johor served a 21-day notice on the owners of Tanjung Sutera Resort today, threatening legal action if it fails to demolish its surau within the stipulated time frame.

According to news portal Malaysiakini, the August 20 notice said should the resort refuse to adhere to the instruction, the council will proceed to tear down the surau on its own.

"And you (the owner) will be charged for all the expenditure for demolition, without any further warning," Malaysiakini reported after sighting the notice during a visit to the site today.

Tanjung Sutera Resort entered the spotlight recently following media reports on video recordings found on YouTube that allegedly showed Buddhists using the surau for their worship.

The resort owner, a Singaporean, was arrested last week after police reports were lodged over the incident and was subsequently remanded for four days to assist in police investigations.

Last weekend, Home Minister Datuk Seri Zahid Hamidi announced that the man's permanent residence had been revoked over the incident, in a move to deter future religious offenders.

The Johor religious authorities also announced last week that the surau would have to be demolished as it had been used by non-Muslims to host their religious activities.

Citing the Quran, Johor Islamic Religious Council (MAINJ) advisor Datuk Nooh Gadut explained that if such a sacred place had knowingly been used for activities outside the Islamic faith, it should be taken down.

"The most sacred places on Earth are mosques and surau. Accordingly, they  are not allowed to be used to carry out religious activities other than for Islam and if a surau is found to have hosted other religious activities, it can be demolished based on surah At-Taubah verse 107 (in the Quran)," he was quoted saying on Bernama Online on August 13.

Nooh added, however, that the demolition could not be ordered immediately as the surau in question is still considered evidence in the ongoing probe on allegations that Buddhist tourists used the venue for their worship.

Last Tuesday, the Buddhist Maha Vihara — a group representing Malaysian Buddhists — apologised over the prayer session in the surau.

In a brief statement, Chief High Priest of Malaysia Datuk K. Srï Dhammaratana expressed his group's regret while urging followers of the religion to be mindful of others in their worship.

"We would like to apologise to our Muslim brothers and sisters for the actions of a certain Buddhist group from Singapore in having their meditation session at the surau of a resort in Kota Tinggi.

"I advise Buddhists in Malaysia and Singapore to respect the religious sensitivities of other religionists while carrying out our own religious obligations and responsibilities," Dhammaratana said. 
A matter of faith, or wishful thinking
Posted: 20 Aug 2013 05:11 PM PDT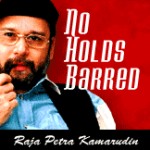 So this is not about us. They are not trying to save our soul so that we can join them in heaven. Humankind is just too selfish for such things. They just want an assurance that they are right. And the only way they can get this assurance would be if we, too, believe what they believe. And this is why Malaysian Malays must be Sunnis and not Shias.
NO HOLDS BARRED
Raja Petra Kamarudin
Practitioners of organised religions regard their beliefs as the indisputable truth. Any disagreement with their belief is regarded as a violation of God's wishes. It is a declaration of war that needs to be met with a hostile and at times a physical response. It is God's punishment on man by fellow man who acts in the best interest and as a legitimate representative of God.
Who appointed them as the legitimate representative of God? Did God officially and legally appoint them? What are their credentials and do they posses any testimonial as evidence that God had legally and officially appointed them as this legitimate representative?
They do not need any legal or official appointment, or any testimonial to confirm this appointment. They speak on behalf of God by the mere fact that they follow God's commands. They are the faithful and their faithfulness is the only testimonial that they need. They are, after all, self-appointed and their legitimacy comes from the fact that they are the faithful.
Hence their belief is called faith. And those who follow this belief are called the faithful. And those who reject this belief are called the unfaithful. They are the infidels -- the non-believers, the disbelievers, the atheists, the rejecters, the heathens, the gentiles, the pagans, the heretics, the non-worshippers, and all sorts of words to describe those who do not follow God's commands and do not deserve to be allowed to live.
Unfaithful comes from not being faithful, basically not being faithful to your faith. It is the breaking of the covenant, your covenant with God. But when did you enter into this covenant with God?
You entered into your covenant with God the instant you were born into this world. That was the agreement between you and God. God gave you life and you, in turn, would be faithful to this God that gave you life. Hence, if you break this covenant, then you no longer deserve to live.
You have broken the agreement to obey God. So God, too, can break the agreement by taking back the life He gave you. And man, who represents God as His legitimate representative on earth, will deliver this punishment to those who break their covenant with God.
Hence you break this agreement at your own peril. You violate God's commands at the risk of losing your life because you no longer deserve to live. You broke the agreement so God, too, can break the agreement. And your agreement was to obey God in exchange for the life that God gave you. So, while you can take back what you gave God -- your promise to obey God -- God, too, can take back what He gave you -- your life.
And that is why, for thousands of years, man kill fellow man whenever they do not keep their side of the bargain that they made with God. And this is perfectly legal and justified because promises to God must never be broken. You take back what you promised God and God, through man, can take back what He gave you. You disobeyed God so you must die.
And this belief is very important to most of humankind. It is important because no one likes to feel that his or her life on earth is in vain. We all like to believe that after this life there is a more meaningful second life that will go on and on forever and will never end. And to be able to believe this, we must first believe that there is a God. If there is no God then when we die we just die. There will be no better and permanent second life after death.
Everyone fears death. Even those who believe that there is a heaven and that they are without a doubt destined for heaven fear death. If there is a heaven, and since you are going to heaven, and since heaven is a far better place beyond the comprehension of mere mortals, then why fear death?
You should welcome death. You should long for death. You should be impatient to die. You should become tired of this life and would want your life to end because when this life ends the other life begins. And this other life is millions of times better than the present one.
If I believe in heaven and if I believe that I am going to heaven then I would want to die now, immediately, without any further delay. Why would I want to prolong my miserable life when a better and permanent second life awaits me?
This life is nothing. This life is useless. This life is a waste of time. This life should have ended the minute I was born so that I need not linger in misery for 63 years while I await the time to go to the better life.
It is like the joke about the Angel of Death visiting you. "I have good news and I have bad news," says the Angel of Death. "The good news is you are going to heaven. The bad news is you are going now."
Why should it be 'good news' and 'bad news'? It should only be good news. Dying NOW and going to heaven are BOTH good news -- if you believe that heaven is a far better place than this world.
It is puzzling that people can believe that there is a better second life in a place called heaven and yet they refuse to die now so that they can immediately go to this better place and prefer, instead, to linger in this terrible first life on earth. Where is your faith -- your faith that when you die you will enjoy a far better and permanent life in a place called heaven?
And that is what faith is all about. I have said this many times before: faith is the word we use to describe lack of evidence. When there is lack of evidence and we cannot prove our beliefs then we call it faith. Faith is basically about believing in something that cannot be proven.
We declare that we have faith. And there is such a thing called the Articles of Faith -- or akidah, as the Muslims will call it. And our faith makes us believe in the unproven.
It will no doubt be proven one day, after we die. Only then will we know whether we are right or wrong. But by then it will be too late to change our faith. We would have made our bed and would now have to lie in it. In the meantime, we hope we are right and that our beliefs are correct.
But that is mainly about oneself and our faith, plus our beliefs. We place our trust in our instinct and cross our fingers and hope we are right. We try to prolong our life on earth as long as we possibly can and when it is no longer possible to do so we close our eyes and accept death, the only way to get to this better and permanent second life.
But if the matter ends there then it is okay. We decide for ourselves and accept the wisdom or folly of our decision, whatever the case may be. However, it does not end there. We not only decide for ourselves, we also decide for others. We tell others what they can and cannot believe. And when they do not believe what we believe we punish them and force our beliefs upon them.
And this has been the problem with organised religions for thousands of years. It is not enough we believe what we believe. Others, too, must believe what we believe. And if they do not then they must be persecuted and punished.
Hence Muslims cannot leave Islam (just like at one time Jews and Christians cannot leave Judaism and Christianity or Romans leave the old Roman religion, etc.). And even if they do not leave Islam and remain a Muslim they must follow only a certain sect of Islam.
Malaysian Malays can only follow the Sunni sect of Islam. They cannot follow, for example, the Shia sect of Islam. If they do then they will be persecuted and punished.
But how do Malaysian Malays know that the Sunni sect and not the Shia sect is the correct version of Islam? For that matter, how do they know that, say, Zoroastrianism is not the correct and true religion of God?
They do not. But you must follow them anyway. And you must follow them because this is what they believe. So you must believe what they believe. If you do not believe what they believe then you are saying that what they believe is wrong. And they do not like to be told they are wrong because they need to go to heaven when they die and if they are wrong they will not go to heaven.
So this is not about us. They are not trying to save our soul so that we can join them in heaven. Humankind is just too selfish for such things. They just want an assurance that they are right. And the only way they can get this assurance would be if we, too, believe what they believe. And this is why Malaysian Malays must be Sunnis and not Shias.
Colourful leader who tells it like it is
Posted: 20 Aug 2013 03:47 PM PDT
Of all the Cabinet members today, he is the most colourful and interesting. His list of controversies is long, including his famous run-in with Tun Dr Mahathir Mohamad. Nazri called the former Prime Minister a "bloody racist" for supporting a government programme said to promote racist thinking in civil servants and public university undergraduates.
The Star Editorial
MAVERICK. Non-conformist. Indepen­dent-minded. Arrogant. Eccentric. All these words have been used to describe Tourism and Culture Minister Datuk Seri Mohamad Nazri Abdul Aziz.
Of all the Cabinet members today, he is the most colourful and interesting. His list of controversies is long, including his famous run-in with Tun Dr Mahathir Mohamad. Nazri called the former Prime Minister a "bloody racist" for supporting a government programme said to promote racist thinking in civil servants and public university undergraduates.
At present, he is entangled in another controversy for appointing his son Nedim as a special officer in his office.
When criticised, pro-Umno bloggers included, Nazri hit right back, calling his detractors "stupid" and said he was rich enough to pay Nedim himself. He was quoted as saying that his son was carrying out youth activities in his Padang Rengas constituency and that "I can call him errand boy or office boy, if that would please people. I am paying him, not the Government".
Yet, no matter how one sees it, Nedim's appointment has led to allegations of nepotism and questions over the kind of access this unofficial officer will have to ministerial documents and information.
While others have come to his defence and according to a source close to the family, his action is simply that of a father who wants to instil responsibility in his child, Nazri must address such concerns.
Perhaps the problem with Nazri is that he was too open and honest about the appointment. Perhaps he thought that by being transparent, it shows he has nothing to hide.
For all his eccentricities, including describing himself (with a touch of humour, we believe) as rich, powerful, good-looking and a celebrity equal to Hollywood star power, Nazri is quite a simple man. He simply tells it like it is and is not one to sidestep issues.
Despite his "fighter cock" reputation, former Sabah Umno Youth leader Datuk Jema Khan, who has crossed swords with him, said Nazri is a true nationalist. "By this I mean that he would protect this country even from itself, in that he would certainly disavow any possible sectarian violence. I am certain that he is liberal in the sense of not wanting to infringe on anyone's civil liberties," said Jema.
True enough, Nazri is the only high-ranking Umno minister who has openly taken on racist groups like Perkasa.
In supporting Prime Minister Datuk Seri Najib Tun Razak's 1Malaysia concept, Nazri declared in 2010, "I am a Malaysian first and Malay next."
Not only that, he threw the challenge: "Does any bigot have a problem with that?", in reference to Perkasa's criticism of him.
In his typically forthright manner, he also waded into the controversial attempt by Malacca Chief Minister Datuk Idris Haron to close the night market at a tourist spot and open it to traffic.
"The name is 'Jonker Walk' … for pedestrians to walk on and not be limited to sidewalks. It is not Jonker Drive," Nazri had quipped.
In the recent issue in Johor where a surau was used by Buddhists to pray, Nazri's view was "What is so bad that it needs to be demolished?", pointing out that the chief monk of Buddhist Maha Vihara and chief high priest of Malaysia Venerable Datuk K. Sri Dhammaratana Maha Thera had apologised to Muslims.
"So let's move on. We are all human," said Nazri.
In such contentious and sensitive times, it is a comfort that we still have leaders who are truly and consistently multiracial at heart and critics be damned.
DAP gives Utusan Malaysia 48 hours to answer letter of demand
Posted: 20 Aug 2013 03:40 PM PDT
Hasbullah Awang Chik, TMI
DAP national legal head Gobind Singh Deo (pic) has given Umno-controlled daily Utusan Malaysia 48 hours to respond to a letter of demand over two defamatory articles.
The two articles headlined "At last the drama has ended" and "Kit Siang manipulated CEC elections?", were dated August 17 and 18.
The first article quoted the Equity Report said to be written by a Father Augustus Chen, while the other report was that DAP adviser Lim Kit Siang had manipulated the party polls last December.
"The article quoting the Equity Report had no verification. Editor Zulkifli Jalil and reporter Kasthuri Jeevendran as well as Utusan Malaysia, have to answer all the allegations," Gobind said at the party's headquarters in Kuala Lumpur today.
DAP also wanted Utusan to reveal who was the real author of the booklet and has demanded for the apology within the stipulated time.
Gobind added that the Utusan editor and reporter should be clear about journalism ethics and should have verified allegations contained in the booklet before publishing the article.
He also said the Registrar of Societies (RoS) was equally influenced by the allegations in the booklet, which claimed that 753 delegates did not receive notices while 547 were phantom delegates.
"We have not determined how many court cases this has resulted in. DAP has been attacked in various ways for months now based on the Equity Report. Utusan must answer and DAP will not remain quiet. We will take this to court if there is no response from Utusan," Gobind said.
The Puchong MP also explained that DAP had no other choice but to hold its re-elections, unless Prime Minister Datuk Seri Najib Razak or RoS declared that the party would not face de-registration.
Rafizi admits Zahid had no role in Boustead land swap
Posted: 20 Aug 2013 03:34 PM PDT
(MM) - PKR strategic director Rafizi Ramli today withdrew allegations linking Home Minister Datuk Seri Ahmad Zahid Hamidi to a share acquisition and land swap deal involving Boustead Holdings Berhad.
In a settlement of Zahid's defamation suit against Rafizi, the latter agreed to withdraw statements he made linking Zahid to the decision by Boustead Holdings Berhad to acquire Astachanggih Sdn Bhd shares and land from Awan Megah Sdn Bhd during his tenure as Defence Minister.

Reading his withdrawal statement before Justice Lee Heng Cheong in open court, Rafizi said he was satisfied with Zahid's explanation that he had not abused his powers or had any role in the Boustead deal.

Zahid filed his suit against Rafizi in January this year, claiming that the PKR man had falsely accused him of abusing his power as Defence Minister in the acquisition of an 80 per cent stake in Astachanggih - previously owned by businessman Deepak Jaikishan - and the purchase of a RM130 million plot of land from Awan Megah, owned by Selangor Wanita Umno chief Datuk Raja Ropiaah Abdullah.

Outside the courtroom today, Rafizi said Zahid had over the course of the case explained his position in the matter and had raised some details that were not previously known to clear himself of the controversial transactions.

"The whole episode is a good development for democracy and accountability, where a public official is subject to public scrutiny.

"Whatever statement that I made (linking Zahid to the Boustead deals) were made with the information at hand at the time, and I did not have any malicious intent behind it.

"However, my withdrawal statement does not absolve anyone of their involvement in the transactions… this goes back to the previous Defence Minister, Datuk Seri Najib (Razak) and the board members of Boustead," he said.

Zahid was also present in court today, and was accompanied by his lawyer Datuk Saseedharan Menon while Rafizi was represented by Razlan Hadri Zulkifli.

The controversy surrounding the Boustead acquisitions surfaced late last year when the company - which is a subsidiary of Lembaga Tabung Angkatan Tentera (LTAT) - stated in a filing with Bursa Malaysia that it would acquire a majority stake in Astacanggih.

The RM30 million deal was on top of a decision by Boustead to purchase a plot of land in Selangor worth RM130 million from Raja Ropiaah's company. 
Ghost of 1997 crisis spooks regional market
Posted: 20 Aug 2013 03:28 PM PDT
(FMT) - Regional stock markets and currencies fell sharply yesterday, a condition expected to persist for some time as jittery investors move funds out of the country to places like the US, which has posted positive economic news.
Analysts warned that the impact on Malaysia could be severe with some already drawing comparisons to the capital outflows that preceded the 1997 Asian financial crisis.
"This scenario is slightly similar to what regional economies experienced before the 1997 economic crisis. In 1997, it started with Thailand economy but today it is the Indonesian economy which is under serious deficit," Inter Pacific Research Sdn Bhd head of research Pong Teng Siew told The Malaysian Reserve yesterday.
Bursa Malaysia suffered losses, along with other emerging markets like Indonesia and India, as investors pulled out capital for safer havens. Yesterday, the FTSE Bursa Malaysia lost 32.94 points to close at 1,745 while the ringgit weakened to RM3.30 against the greenback – the lowest in three years.
Analysts say the economy may face added pressure with a softening ringgit, swelling national debt and a narrowing current account balance, indicating tough times ahead.
"The market is not sure which direction the economy is moving. Growing fiscal deficit and expectation of slower growth in the second-quarter (Q2) is causing uncertainties," said CIMB forex strategist Suresh Kumar Ramanathan.
Fitch Ratings' recent downgrade of Malaysia's economic outlook to negative could further add to its woes.
In addition, the US Federal Reserve (Fed) is planning to limit its financial stimulus programme which has encouraged investors to shun developing markets like Malaysia and divert funds to the US.
"It has caused a reversal of capital flow that once flooded emerging markets. In future, we can expect emerging countries economic growth to slow. There will be pessimism over emerging markets and investors will reduce exposure to these markets," said RAM Holdings Bhd chief economist Dr Yeah Kim Leng.
Meanwhile, chief economist of Royal Bank of Scotland plc Sanjay Mathur said Malaysia will continue to witness capital outflow because of growth in the US and also due to Fitch's downgrade of Malaysia's outlook.
Stop bluffing, Syiah man tells Jamil Khir
Posted: 20 Aug 2013 03:19 PM PDT
The As-Sajjad Movement says the government's assurance of toleration does not reflect the situation on the ground.
K Pragalath, FMT
"Humbug!" That was the reaction of a local Syiah leader to yesterday's claim by a minister that the government was not preventing the practice of Shi'ism in the country.
Husin Sajjad, secretary of the As-Sajjad Movement, said the latest statement on the issue by Minister in the Prime Minister's Department Jamil Khir Baharom was in stark contradiction with what he said less than a month ago and belied the situation on the ground.
"On July 27, Jamil said that severe action would be taken against those found to be followers of Syiah Islam," Husin told FMT.
At a press conference yesterday, Jamil said Syiah Muslims were allowed to practise but not preach their faith. He was explaining Putrajaya's 2005 ratification of the Amman Messages, an international treaty opposing discrimination against Syiah and other non-Sunni Muslims.
"It is not wrong for them to practise Syiah Islam, just like it isn't wrong for Malaysian Chinese to practise Buddhism," Jamil told a press conference. "But they can't spread the ideology to local Muslims, who are Sunnis."
Husin said Jamil's statement did not reflect the standard practice of Malaysian religious authorities.
"How would Jamil explain the recent arrest of Dr Nur Azah Abdul Halim and Mohammad Ridzuan Yusof?" he said, referring to a raid in Kamunting on Aug 6 by the Perak Islamic Religious Department. Besides arresting the two persons, the raiders confiscated books, CD recordings and posters.
Husin also referred to a December 2010 lightning raid on a Syiah community centre in Gombak, in which officers from the Selangor Islamic Religious Department (Jais) arrested more than 200 people, including several foreigners.
"Those people were practising, not propagating, Syiah Islam," he said.
"In short, Jamil's assurance does not hold water."
Husin alleged that the government had political reasons for persecuting Syiah Muslims.
Hong Kong Finds New Maids to Exploit
Posted: 20 Aug 2013 02:47 PM PDT
(Asia Sentinel) - With Indonesians, like Filipinas, having become too aware of their rights, HK turns to Bangladesh
Hong Kong recently began recruiting domestic helpers (maids) from Bangladesh, supposedly as a goodwill gesture towards the poor South Asian nation. To many, however, it is an effort to keep down wages and find a source of maids even less liable to complain than Indonesians, who had already overtaken Filipinas by number. They were considered to be less educated and thus less conscious of their theoretical rights and more willing to accept wages and working hours and conditions less than those stipulated as minimums by the government.
In practice the government, run by officials, many with deeply ingrained racial prejudices against brown Asians (the only ones permitted to be maids) makes almost no effort to enforce its own laws. Those who complain quickly find themselves jobless and with only a very short time to find new employment before being forced to leave Hong Kong. Apart from the low wages, widespread abuse is also made of laws which supposedly guarantee time off, a minimum of private living space, outlaw confiscation of travel documents and require adequate provision of medical treatment, etc. That is not to mention sexual harassment.
Just what sort of attitudes the Bangladeshis can actually expect was indicated by the South China Morning Post of August 19 - a paper whose own once-large South Asian editorial team has been ethnically cleansed and mostly replaced by Chinese with lower standards of English. The paper ran the banner headline "Bangladesh maids settle into city life," carrying a long story quoting a maid and her employer who gushed about how nice the other was, the employer suggesting the maid worked too hard and did not want the stipulated day off. In a separate story by another reporter, another smiling maid was interviewed and quoted elsewhere in the paper as saying "Hong Kongers are quite nice. I feel I am quite lucky".
Both stories were clearly planted by Technic Employment Service Centre, which recruited the two maids. The attitude of the reporter for the main story, Phila Siu, was well summed up by its opening paragraph: "Frustrated with hiring domestic helpers who didn't work out, one Hong Konger took a keen interest in the news the city would bring in maids from Bangladesh."
In other words, maids from the Philippines and Indonesia were becoming too demanding of even a fraction of their rights not to be cheated and abused by local employers. Instead of following up the myriad stories of maid abuse, the SCMP has become the mouthpiece for the recruitment industry and employers looking for ever more abject and obsequious servants.
'S'wak has lot of catching up to do'
Posted: 20 Aug 2013 02:41 PM PDT
Federal agencies are unaware of the ground limitations in implementating projects in the state, said Deputy Chief Minister Alfred Jabu Numpang.
(FMT) - Sarawak is six years behind in the implementation of many approved federal agricultural projects and activities for its rural areas.
According to Deputy Chief Minister Alfred Jabu Numpang although the projects had been approved, the respective federal government agencies were not aware of the many limitations on the ground.
These included the absence of roads which prevented heavy machineries from being brought in, and other local factors, he said.
Jabu, who also heads the state modernisation of agriculture ministry, said this after officiating at the joint Baleh and Pelagus Pesaka
Bumiputera Bersatu (PBB) divisions' party delegates conference here yesterday.
Rural and Regional Development Deputy Minister Alexander Nanta Linggi retained his position unopposed as head of the Pelagus branch.
Jabu said he was happy with the recent appointment of Betong Member of Parliament Douglas Uggah Embas as the new plantation industries and commodities minister.
"Sarawak has a lot of catching up to do as we are now seven-and-a-half years away from 2020, the year when Malaysia aspires to become a fully developed nation," he added.
Hopes are high that Sarawak will see speedier development now that the state has more Ministers at federal level.
In the May 5 general election, Sarawak delivered 25 Parliamentary seats towards ruling Barisan Nasional's total tally. The state together with Sabah ensured the coalition retained Putrajaya.
Post GE13, almost one third of Prime Minister Najib Tun Razak's federal cabinet comprise Sarawakians and Sabahans.
Keep politics out, says Herald editor as Allah issue goes to court
Posted: 20 Aug 2013 02:25 PM PDT
(TMI) - In court tomorrow, the church's stand is that the 10-point solution by Prime Minister Datuk Seri Najib Razak in April 2011, just before the Sarawak state elections, explicitly allowed Catholics to use the word "Allah".
It was never meant to become a major national issue. Whether the Catholics will be able to use the word "Allah" to refer to their god in their weekly newspaper, Herald, will come up again in court tomorrow.
"This was about the weekly using the word 'Allah', it is not about Allah per se, but it has snowballed into something else now. We want politics out of this," said the 68-year-old priest and editor of the Herald, Father Lawrence Andrew (pic).
He is not about to get his wish on that count.
The Malay rights group Perkasa, headed by leaders rebuffed at the general election, has already declared it will turn up tomorrow at the Palace of Justice in support of the government's ban on the Herald's use of the word.
In a statement on Monday, Perkasa called on other Muslims to join it at Putrajaya in great numbers tomorrow morning to "show support towards efforts in defending the word 'Allah' from being used and misused by other religious believers".
So does the priest know what to expect tomorrow, both in court and with the likes of Perkasa supporters waiting outside?
"I leave it in the hands of God, what is there to fear," Andrew said, with his hands clasped.
He added that this was the reason he had told Catholics who had offered to turn up in court to offer support to "stay back where you are and pray".
Earlier, the Sikhs wanted to get involved in the case too as the word "Allah" is contained in their Holy Book.
But Andrew said the church requested for the Sikhs not to get into the court case as they did not want the matter to be blown out of context.
"We were just challenging the government because they threatened to withdraw the permit. We told the Sikhs getting too many parties into the case would not help the situation," he explained.
In January 2008, the home ministry had approved the Herald's publication permit, on condition that the usage of the word "Allah" was prohibited and the word "Limited" (Terhad) be endorsed on its front page to mean that it must be circulated only to Christians.
READ MORE HERE
Pray for 'Allah' appeal, Archbishop urges Catholics
Posted: 20 Aug 2013 02:17 PM PDT
Archbishop Tan Sri Murphy Pakiam urged Catholics nationwide to pray for tomorrow's highly-anticipated Court of Appeal hearing. – Picture by Choo Choy May
(The Malay Mail) - Archbishop Tan Sri Murphy Pakiam has urged Catholics nationwide to pray for tomorrow's highly-anticipated Court of Appeal hearing, when the Catholic Church is scheduled once again to duke it out with the government over its right to use "Allah".
The hearing could see another legal victory for the Church or prolong its legal battle for the right to refer to its God as "Allah", the word in the centre of a protracted legal battle that has put a major strain on religious ties between Christians and Muslims here.
"The Archbishop of KL calls on Catholics to gather in Churches on Thursday, 22 Aug 2013 from 9am-12noon to pray for a just verdict while the Allah case is being heard at the Court of Appeal," read a brief text message forwarded to The Malay Mail Online by Father Lawrence Andrew, the editor of Catholic weekly Herald.
Yesterday, the Catholic Church's Archdiocese of Kuala Lumpur made a similar plea for prayer for "peace and good sense" to prevail, having voiced its concern that recent statements over the "Allah" issue may reignite sentiments that have been simmering since a landmark 2009 High Court ruling.
"We humbly request all parties to respectfully allow the judicial process to take its course and urge the relevant authorities to take necessary steps to prevent any untoward incidence," the Archdiocese said in a brief statement signed by its Chancellor, Rev Fr Jestus Pereira, without specifically naming any individual or group.
Both messages come amid a call by Perkasa for Muslim groups to rally outside the Court of Appeal tomorrow to protest the Catholic Church's bid to protect a High Court ruling allowing it the right to use the Middle Eastern word for god, which some believe to be exclusive to Islam.
Perkasa, a vocal Malay rights lobby, has some 407,000 members throughout Malaysia, according to the group's acting president Datuk Abd Rahman Abu Bakar.
Perkasa's declaration on Monday came after Home Minister Datuk Seri Ahmad Zahid Hamidi said last Saturday that the Arabic word "Allah" is exclusive to Muslims, and that non-Muslims must stop challenging this "absolute right".
Zahid also urged Muslim groups to unite and defend against what he seemed to view as an attempt by non-believers to undermine the country's predominant religion.
The Titular Roman Catholic Archbishop of Kuala Lumpur filed an application last month to strike out the federal government's appeal against the landmark High Court judgment that had sparked a string of attacks against places of worship, including the firebombing of a church.
Father Lawrence told The Malay Mail Online last Thursday that Putrajaya's appeal needed to be struck out because of Prime Minister Datuk Seri Najib Razak's 10-point solution to Christians in 2011.
Najib's 10-point solution was an assurance to Malaysia's Christian population that they were free to bring in and use their bibles in Malay, as well as in other indigenous languages that contained the word "Allah", after shipments of the holy book were banned.
Deep-running anger over the issue was again exposed last month when far-right Muslim groups railed against remarks by the Vatican's first envoy to Malaysia, Archbishop Joseph Marino, on the controversy.
In an interview with the media, Marino had described the local Catholic Church's arguments based on the government's 10-point solution as "logical and acceptable".
Perkasa and Jati, another Muslim group, accused Marino of interfering in domestic affairs and demanded his censure and expulsion from the country.
Marino later apologised for the remarks and denied he was meddling in the matter.
The "Allah" row erupted in 2008 when the Home Ministry threatened to revoke the Herald's newspaper permit for its reference to God as "Allah", prompting the Catholic Church to sue the government for violating its constitutional rights.
The 2009 High Court decision upholding the Catholic Church's constitutional right to use the word "Allah" had shocked many Muslims that consider the word to only refer to the Muslim God.
Christians are Malaysia's third-largest religious population at 2.6 million people, according to statistics from the 2010 census, behind Muslims and Buddhists.
Okay to practice but not to promote Shi'ism
Posted: 20 Aug 2013 02:13 PM PDT
Jamil Khir denies that the government has flip-flopped on its stance on Syiah Islam.
(FMT) - Followers of Syiah Islam are allowed to practice their religion in Malaysia but not to propagate it among local Muslims, Minister in the Prime Minister Department Jamil Khir Baharom said today.
Asked to comment on a FMT report that the government in 2005 had endorsed the Amman Messages, which oppose discrimination against Syiah and other non-Sunni Muslims, he said recognition and permission to spread a religion were two different matters.
"It is not wrong for them to practise Syiah Islam, just like it isn't wrong for Malaysian Chinese to practise Buddhism," he told a press conference. "But they can't spread the ideology to the local Muslims, who are Sunnis.
"Whoever comes to Malaysia is free to practise his own religion.
"We never harass Syiah followers, but it's just that they are banned from spreading the ideology."
The Amman Messages, an initiative of the King of Jordan, are aimed at promoting diversity in Islam and compel signatories to recognise schools of jurisprudence within the Sunni, Syiah, Ibadi and Thahiri expessions of Islam.
Several Malaysian leaders and scholars signed the accord in 2005. They included the then prime minister, Abdullah Ahmad Badawi, and opposition leader Anwar Ibrahim.
The first point of the agreement declares: "Whosoever is an adherent to one of the four Sunni schools of Islamic jurisprudence (Hanafi, Maliki, Shafi'i and Hanbali ), the two Shi'i schools of Islamic jurisprudence (Ja'fari and Zaydi), the Ibadi school of Islamic jurisprudence and the Thahiri school of Islamic jurisprudence, is a Muslim. Declaring that person an apostate is impossible and impermissible."
Signatories are also not allowed to declare the practitioners of Sufism and Salafism as apostates.
The second point highlights the similarities among the various schools of jurisprudence.
The third point pertains to the issuance and limitation of fatwas.
"No one may issue a fatwa without the requisite personal qualifications which each school of Islamic jurisprudence determines [for its own adherents]," it says.
In recent weeks, Malaysian religious authorities have taken steps to curb Syiah practitioners in the country.
READ MORE HERE
Kredit: www.malaysia-today.net