Klik GAMBAR Dibawah Untuk Lebih Info
Sumber Asal Berita :-
---
Father's Day: A sad truth for some
Posted: 15 Jun 2013 11:29 AM PDT
(NST) - "My children rarely call me, of course from time to time I would be the one calling them and never the other way round." 
Walking through the crowded street of Jalan Tunku Abdul Rahman in Kuala Lumpur, one can hear sombre Malay songs being played on a violin by blind 55-year-old Nazrin Adnan.
Most passers-by choose to walk pass him, while some would stop to put money in the open violin case and others sit to watch as Nazrin pours his heart out playing his violin.
Perak born Nazrin started playing the keyboard on the streets of both Kuala Lumpur and Pulau Pinang until 1986 before switching to the violin in 2010 when he lost his keyboard.
"I do this not only because of interest, but also because there is nothing else I can do. It is something that I have to keep on doing to make ends meet."
"Every weekday I would start off busking near Masjid Jamek's light rail transit (LRT). Then at noon, I would come here (Sogo) till late in the evening. And on weekends, I will go to the pasar malam at the Shah Alam Stadium."
This Sunday is another day for Nazrin with no special meaning to him.
As others spend Father's Day with their families, giving out presents to their fathers or taking them out for dinner as appreciation, Nazrin would be in Shah Alam playing his violin among the crowded Sunday market.
His three children no longer wants him. No longer want him in their lives. Not even on Father's Day, he said with tears in his eyes.
"At the beginning of this year, my children decided that they do not need me anymore. They are all young adults, just starting their own lives, they no longer want me in their lives. What can I do about it?"
"Besides, I don't think that they even know it is Father's Day this Sunday, we never celebrated it. I would love to, but it looks like it is not the case."
"Never have there been any kind of celebration, any outings or even any presents for me." Nazrin added as his voice trembled.
With all the technology available nowadays, talking to loved ones is only just a phone call away. 
"My children rarely call me, of course from time to time I would be the one calling them and never the other way round."
Nazrin's youngest is 16-years-old while the eldest is 24, all just starting with their lives, too busy to even call him perhaps, much to his disappointment.
When asked what was the reason for his children to treat him this way, Nazrin replied that it could be because they could not accept it when he scolded or reprimanded them, even though in his defence it was for their own good.
"Like any other father, I care about my children. After all, which father wouldn't want the best for his kids? I only want the best for my children."
"I have forgiven my children for all their wrong doings, for everything they have ever done and I do not expect them to come apologise, but please just don't forget me." he said sadly.
In a golf club, a gamble fails as members revolt
Posted: 15 Jun 2013 11:25 AM PDT
(TMI) - A controversial move by Kelab Golf Negara Subang (KGNS) to lease and relocate its gaming machines outside the clubhouse has offered a peek into the billion-ringgit slot machine industry controlled by a clutch of businessmen closely connected to Barisan Nasional (BN).
Tan Sri Megat Najmuddin Khas and other members of the management committee of the club for the year 2011-2012 were recently censured by club members for negligent and incompetent conduct and a breach of duty, according to documents sighted by The Malaysian Insider.
The Club Captain during that period was Dr Ronnie Yeo. He received a stronger rebuke for being a party to discussions on the relocation deal when he was employed by Waz Lian Recreation Sdn Bhd, the company owned by a tycoon who organised the massive show of support in Port Klang for Datuk Seri Najib Razak with 60,000 people turning up for the dinner.
A handful of Chinese tycoons own hundreds of licences issued by the Ministry of Finance to operate gaming machines. These machines are placed in private clubs around the city but are open to anyone who wants to try their luck. The tycoons with more licences are able to earn a profit of several million ringgit a month, some going as high as RM20 million a month, even after paying taxes to the government.
Because of the Finance Ministry's tight control of licences under the Lottery Act, some of the tycoons have been turning their attention to gaming machines operated by golf clubs and sports clubs around the country, offering the clubs a contract to lease and relocate the machines outside the clubs.
In return, these gaming operators are prepared to pay the clubs a guaranteed amount monthly. And most of the time the guaranteed monthly compensation is more than what the club would have earned had the slot machines remained in its premises and been played only by club members.
But the problem with such sweet deals is that they appear to breach the conditions of the gaming licence set by the Finance Ministry. These include the need to place the slot machines on club premises and make sure that only club members can play.
Read more at: http://www.themalaysianinsider.com/malaysia/article/in-a-golf-club-a-gamble-fails-as-members-revolt/ 
Malaysians to have high-security driving licence from July 15
Posted: 15 Jun 2013 11:18 AM PDT
(The Star) - From July 15 onwards, Malaysians will have new high-security driving licences as part of the Transport Ministry's move to improve the durability and safety of the document.
The Road Transport Department (JPJ) will issue the new licences from that date at all its branches nationwide, while all post offices will follow suit beginning November.
Acting Transport Minister Datuk Seri Hishammuddin Tun Hussein said the old licence was maintained since 1989 without any upgraded technology.
"The old driving licence can be easily damaged and forged. Security issues can be tackled with the new document," he said after launching the new document at the JPJ office here yesterday.
The new high-security driving licence are printed using thermal transfer technology and that the driver's information are protected by a layer of high security holograms.
It will be implemented for all private vehicles owners including car and motorcycle users for both probationary and competent driving licence categories.
It is not compulsory to change to the new licence as long as the old one has not expired.
Hishammuddin said the new licence will strengthen JPJ's database as the photographs of drivers can be uploaded into the system.
On the Automated Enforcement System (AES), Hishammuddin said the ministry will explain the status of the system during the coming Parliament session.
On the KLIA2, Hishammuddin said he will meet AirAsia officials next week to discuss matters including AirAsia's proposal to set up a Government-appointed independent body to determine the KLIA2's progress, completion date and estimated cost.
On the Kawan Mas express boat which sunk at Giam Bungan near Belaga on May 28, Hishammuddin hoped the Sarawak Rivers Board will look into resolving the monopoly of boat operators so that safety could be more stringent. 
Which is which, Datuk Mary Yap?
Posted: 15 Jun 2013 11:11 AM PDT
BH Toh 
One of the earliest statement made by Datuk Mary Yap upon her appointment as Deputy Education Minister was "I believe that one of my roles at the ministry will be to ensure the Malaysia Education Blueprint 2013-2025 is well-implemented"
Today, she was reported saying "the shelving of the policy to teach Mathematics and Science in English is only temporary."
What a puzzling surprise! I do not recall reading or hearing any such statement from PM, DPM, Education Minister or Ministry ever they made the decision to abolish PPSMI. I am very certain because I have been following this issue closely as my son was almost a direct casualty of this decision made in 2009. Just to be extra sure, I even spent the afternoon googling but found zero articles that reported so – nothing from either the online or printed medias.
To top it all, this "temporary" was also not specified anywhere in the Malaysian Education Blueprint!
So, which is which, Datuk Mary?
When Prime Minister Najib announced your appointment, many lauded the decision for it supposedly brought a breath of fresh air very much needed in the education environment of our country.
But within a short few weeks, you appeared to have mastered the oratory skills of a politician. Why did you not just be outright as hoped for by the rakyat and make a courageous decision by talking straight - that the new cabinet (or at least you as Deputy Education Minister) has now decided to re-look this PPSMI issue.
In another three years, a whole cohort of primary school children (beginning from those who started Std 1 in 2011 to those who will in 2016) would have been denied their option to study Science and Mathematics in English.
How long will this "only temporary" be?
It is time our leaders stop attempting to conjure something out of nothing. We parents are very sharp and constantly watching like a hawk.
BH Toh
Posted: 14 Jun 2013 07:35 PM PDT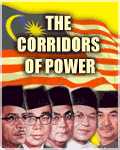 Hence DAP and PAS did not do too badly in the votes versus seats comparison. It is PKR's performance that upset these figures. And this is because DAP contested in the predominantly Chinese areas and PAS in the predominantly Malay areas while PKR contested in the 'mixed' areas. Hence Pakatan Rakyat's performance in the mixed areas was not that good, thus bringing down Pakatan Rakyat's performance.
THE CORRIDORS OF POWER
Raja Petra Kamarudin
However in a show of unlimited stupidity, BN's cybertroopers argue that BN has got more popular votes than either DAP, PKR or PAS based on an individual party basis. Their contention is that the opposition's popular votes have to be pegged to the individual parties and not Pakatan Rakyat as a whole because Pakatan is not a registered entity with the Registrar Of Societies (ROS).
Of course Pakatan is not a registered entity. We do not need to be Sherlock Holmes to deduce who is the one blocking Pakatan from getting registered as a single coalition.
In the realm of social media especially in Facebook, those who are pro-Pakatan have shot down the arguments of the BN cybertroopers with comments such as "Have you taken your daily dose of medicine?" or "Janganlah bergaya sangat nak tunjukkan kebodohan awak tu."
Although BN has won more seats than Pakatan, the fact that they have lost the popular vote must be gnawing at their gut. And this makes them come up with nonsensical and irrational arguments beyond the realm of logic.
Simply put, BN won due to the votes of ignorant voters and due to seat-shenanigans (rural areas having less voters but given more seats). Therefore they are now trying to "recapture" the popular vote via some spin in order to regain some sort of credibility. Nonetheless it is a futile attempt. -- (Selena Tay)
READ MORE HERE: https://www.freemalaysiatoday.com/category/nation/2013/06/15/bns-stupid-moves/
************************************************
That was what Selena Tay wrote today in Free Malaysia Today. And since Selena is a DAP activist and supporter it is quite natural that she wrote the way she did although you may be of the opinion that what she wrote is very biased and one-sided. Nevertheless, to accuse her of lying or of distorting facts would not be accurate or fair because she is merely expressing what she believes to be the truth. And the truth comes in many shapes, sizes and colours.
For example, a staunch and committed Muslim who writes or gives his/her opinion on Islam would say that Islam is the true religion (while all other religions are false) and that the only way you are going to get into heaven is to follow Prophet Muhammad and believe in the Qur'an, Hadith and Sunnah because on Judgment Day only the followers of Muhammad will enter heaven.
On the other hand, a staunch and committed Christian who writes or gives his/her opinion on Christianity would say that Christianity is the true religion (while all other religions are false) and that the only way you are going to get into heaven is to follow Jesus Christ and believe in the Trinity and the Bible because on Judgment Day only the followers of Jesus will enter heaven.
Now, both these people (the Muslim and the Christian) believe what they say to be the truth and would stake their soul on it (which is actually what is happening anyway). They are not lying. They never intended to tell even one iota of a lie. They would swear on their life that what they say is God's truth.
But then how can both be telling the truth when what they say contradicts each other? There can only be one truth while the other has to be a lie. Or can both actually be lies?
Well, that depends on what you believe. If you are a Muslim then you will say the Muslim chap is telling the truth while the Christian chap is lying whereas if you are a Christian you will say that the Christian chap is telling the truth while the Muslim chap is lying. And if you are a Jew you will say both the Muslim and Christian chaps are lying. Both statements are lies.
So you see, truth is very subjective and true and false depends on your belief system. A lie can be the truth and the truth can be a lie depending on what you believe. And belief is very powerful. Belief needs not be about facts or about the truth. It is about what you think is true or what you imagine is the truth. And that, basically, would be how you need to assess what Selena wrote above.
The point I am trying to make is you need to look at the graphics below, which was published today in another DAP leader's Blog (Sakmongkol AK47). Selena is suggesting that Barisan Nasional garnered lesser votes than Pakatan Rakyat and therefore is not the legitimate government although it won more seats than Pakatan Rakyat (133 versus 89).
Of course, this is what she believes and we cannot fault her for what she believes since she is a DAP activist. Those who are on the 'other side' or who are neutral may not see it this way since Malaysia has adopted the British Westminster system of first-pass-the-post, which means majority seats and not majority votes gives you the government (and which has already been explained many times but which has fallen on deaf ears).
Now, is this so strange or weird? Well, look at the graphics below. DAP won 15.71% of the votes and 17.12% of the seats (not too bad in the votes versus seats balance). PAS, however, won almost the same number of votes (14.77%, which is 0.94% less than DAP) and yet it won only 9.46% of the seats (which is 7.66% less than DAP).
So, PAS won 0.94% votes less than DAP but it won 7.66% seats less than DAP. Would Selena regard this as fair or unfair? She did not offer any comment, of course.
PKR, on the other hand, won the highest number of votes (20.39%). Yet it won only 13.5% of the seats (which is lower than DAP but with more votes than DAP). Would Selena regard this as fair or unfair? She did not offer any comment, of course.
Okay, let us look at just DAP and PAS. Combined, they won 30.48% of the votes but they won only 26.58% of the seats. That is actually not too bad and almost balances in the votes versus seats analaysis. It is only when you add PKR's performance that the combined figures (of all three) becomes 50.88% of the votes and merely 40.09% of the seats.
Hence DAP and PAS did not do too badly in the votes versus seats comparison. It is PKR's performance that upset these figures. And this is because DAP contested in the predominantly Chinese areas and PAS in the predominantly Malay areas while PKR contested in the 'mixed' areas. Hence Pakatan Rakyat's performance in the mixed areas was not that good, thus bringing down Pakatan Rakyat's performance.
Hence the problem is not Pakatan Rakyat per se. Pakatan Rakyat -- if only DAP and PAS were taken into consideration -- actually performed quite okay in the votes versus seats analysis. It is only when you add PKR to it that the votes versus seats performance looks miserable.
Let's look at another example. Umno, DAP and PAS combined won 59.8% of the votes and 66.22% of the seats. Then, Umno, PKR and PAS combined won 64.48% of the votes and 62.25% of the seats.
Can you see how the votes go up and the seats go down, and vice versa, when you change the 'mix'?
Let me paint a new scenario. Say, PKR joins Barisan Nasional. What will we now see? The 'new' Barisan Nasional with PKR as a member would have won 67.79% of the votes (more than two-thirds of the votes) and 73.4% of the seats.
Okay, yet another scenario. Say, Barisan Nasional and Pakatan Rakyat both break up and Umno and PAS, for the sake of Malay-Muslim unity, form a unity government. Umno and PAS combined would have won 44.09% of the votes and 49.1% of the seats. And this would mean the Malay-Muslim unity government would now be kicked out unless some Malays from PKR cross over to join Umno-PAS.
And if the 'others' do not pass a vote of no confidence against Umno-PAS in Parliament (because they cannot come to a consensus) then Umno-PAS would rule with only 49.1% of the seats. Now that is what we would call a 'minority government' -- a term that is being wrongly used to describe the current Barisan Nasional government that has 59.9% of the seats in Parliament.
Interesting is it not? And what is even more interesting is if Barisan Nasional and Pakatan Rakyat both break up and Umno and DAP form a unity government then they would have won 45.03% of the votes and yet they would win 56.76% of the seats (which means they would still rule with even lesser votes than the current Barisan Nasional).
Hence Barisan Nasional, in its present form, only has 47.4% of the votes and 59.9% of the seats while a new coalition of just Umno and DAP would be not that far off with 45.03% of the votes and yet they would win 56.76% of the seats.
In short, the real winners in the votes versus seats contest are Umno and DAP. The rest from both sides of the political divide are merely making up the numbers. A coalition of Umno and DAP can actually control the country between just the both of them. They do not need the rest.
Hmm…if Umno were to agree with what DAP wants and both Barisan Nasional and Pakatan Rakyat were to disband then Umno and DAP can take Malaysia forward without the need of the rest of the 'small players'.
That, of course, is never going to happen for very obvious reasons -- which is Umno and DAP are on the reverse side of the same extremist and uncompromising coin. But then, putting personal party interest aside and for the sake of a better Malaysia, that may not be such a bad idea after all although there is no way in hell this can happen.
Selena needs to look at the fine details in analysing the real scenario. The issue of lesser votes and more seats or more votes and lesser seats cuts across both Barisan Nasional and Pakatan Rakyat. To say that Barisan Nasional won less votes and more seats (or vice versa) while ignoring the fact that the same thing also happened in Pakatan Rakyat is not a balanced analysis.
And another unfair statement from Selena is: "Of course Pakatan is not a registered entity. We do not need to be Sherlock Holmes to deduce who is the one blocking Pakatan from getting registered as a single coalition."
Has Pakatan Rakyat submitted its registration application? When was that and why has it not been approved yet? I do not have the details but since Selena brought it up then she should offer some details to support this allegation. And she had better get used to the fact that in the first-pass-the-post system you form the government based on majority seats and not majority votes. To argue otherwise is not only dishonest but demonstrates ignorance as well.
Karpal: Better for PSM to be in Pakatan
Posted: 14 Jun 2013 05:21 PM PDT
The Star - It is better for Parti Sosialis Malaysia (PSM) to be in Pakatan Rakyat instead of being 'on the outside' and creating three-cornered fights in the general election five years from now, said DAP national chairman Karpal Singh.
"I think it is better for the application to be reconsidered. Pakatan should be inclusive.
"If not it doesn't make sense. PSM stood on a PKR ticket and won the Sungai Siput MP seat.
"So I can't see any reason why PSM can't be accepted as a component party of Pakatan," Karpal Singh told a press conference in Air Itam Saturday.
The seat was PSM's only electoral victory, with PSM's parliamentary leader Dr Michael D Jeyakumar retaining his position as MP.
"No reason was given on why the PSM's application to join Pakatan Rakyat was rejected.
"PSM was not happy with PAS president Abdul Hadi Awang's statement that members of PSM promote communism. They are not communist, they are socialist; and it is their right," he said.
Karpal added that PSM should be given the opportunity to be in Pakatan and at the same time have its own ideology.
"As long as there is no serious contradiction. PAS has its own Islamic and hudud aspiration, that is its right. DAP's right is to oppose such aspirations.
"But the bigger picture which is of public interest is that there should be a two-party system," he added.
Police arrest at least 13 people taking part in flashmob outside Sogo, Kuala Lumpur
Posted: 14 Jun 2013 04:51 PM PDT
ABN News - Police have moved in to arrest those taking part in a flashmob in front of Sogo shopping mall at Jalan Tuanku Abdul Rahman here at about 3pm. Tweets have reported the number as 13 to 16, but these numbers have not been officially confirmed.
Student activist Adam Adli tweeted that 16 people were detained and taken to the Dang Wangi police station. Unconfirmed reports have it that a woman and a child were among those picked up.
The flashmob is organised by Solidariti Anak Muda Malaysia (SAMM) whose chief Badrul Hisham Shaharin told Star Online yesterday that the first flashmob would be held near Sogo at 2pm today while the next one would be held at Jalan Tun Perak at 6pm on Wednesday.
"The first flash mob is a curtain raiser towards the main event on June 22, and we expect it to last until about 5pm.
"We will also have a final countdown (to the Black 505 rally) at the Kuala Lumpur and Selangor Chinese Assembly Hall on June 21," he said.
He said participants will gather at various points such as LRT stations and hand fliers to the public.
"The events will be peaceful," he added, Star Online reported.
Badrul Hisham said the activities were aimed at of people for the Blackout 505 rally at Padang Merbok on June 22 to protest the results of the 13th general election.
Take a break before it's too late: Karpal to Dr M
Posted: 14 Jun 2013 04:45 PM PDT
The 73-year-old DAP leader advises the 87-year-old former premier to stop interfering in politics and to spend time with his grandchildren.
Athi Shankar, FMT
GEORGE TOWN: Senior parliamentarian Karpal Singh has advised Dr Mahathir Mohamad to spend more time with his family before it is too late.
Karpal criticised the former premier for continuing his political tirade against the country's opposition leaders and in trying to influence the current federal government to get tough on them.
The veteran DAP leader claimed that Mahathir continued to wield control over the Barisan Nasional government, undermining Prime Minister Najib Tun Razak and his administration.
"Mahathir should stop controlling the government. It's an insult to Najib and his government.
"He should take a walk and rest at home, spend more time with his grandchildren before it's too late," Karpal, 73, told reporters here.
He suggested that Mahathir, 87, take a political break for good to build-up his status of a statesman.
He advised Mahathir to follow the footsteps of other retired political leaders around the world by staying away from active politics and not to influence the government.
He cited an example of how former US presidents stayed retired and stopped interfering in government affairs.
"He should show political maturity for his age. He should act like a former prime minister, like others who have retired. That's how the system works.
"He should go down in history as a statesman, not a politician," said Karpal.
He was referring to Mahathir's latest call on Najib to get tough and not give face to Pakatan Rakyat leaders for insulting the country's democratic system.
Karpal recalled that Mahathir initially played the "good guy politics" by releasing detainees, including opposition leaders under the now repealed Internal Security Act when he assumed the premiership in 1981.
Some detainees released were detained since 1974.
However, Karpal said Mahathir went back to his original position by detaining many opposition leaders and activists during the infamous Ops Lalang in October 1987.
After the 1999 general election, Karpal recalled that Mahathir had decided it was payback time by constituting various charges against opposition leaders, including charging him with sedition.
"Mahathir is renewing the same old tactic," he said.
Posted: 14 Jun 2013 04:32 PM PDT
Sinar Harian - Ketua Umum PKR, Datuk Seri Anwar Ibrahim kini berada di Bali untuk bertemu Presiden Indonesia, Susilo Bambang Yudhoyono. "Saya di Bali bersama Presiden SBY," katanya ringkas melalui media sosial Twitternya, pagi tadi.
Sebelum ini, The Malaysian Insider melaporkan, Perdana Menteri, Datuk Seri Najib Razak dan Anwar akan berada di Jakarta hari ini, terdapat kemungkinan diadakan pertemuan yang mungkin akan membantu perdana menteri mengelakkan persaingan di Parlimen dan partinya sendiri selepas keputusan buruk PRU13.
Laporan itu juga menyebut pertemuan itu telah cuba diaturkan semenjak sekurang-kurangnya seminggu lalu, ketika Najib hampir pasti dicabar dalam pemilihan Umno tahun ini dan berkemungkinan akan berhadapan dengan usul undi tidak percaya selepas Parlimen mula bersidang pada 24 Jun.
Difahamkan, Menteri Dalam Negeri Datuk Seri Ahmad Zahid Hamidi, yang rapat dengan kedua-dua pemimpin, telah ditugaskan untuk mengaturkan pertemuan tersebut.
Beliau kini berada di Jakarta untuk lawatan dua hala.
"Pertemuan telah diaturkan dengan Najib sebelum Anwar berjumpa Presiden Indonesia pada Sabtu," kata sumber kepada The Malaysian Insider.

Pembantu bagi kedua-dua pemimpin tidak mahu bercakap mengenai pertemuan tersebut akan tetapi sumber mengatakan kedua-duanya mempunyai kepentingan bersama untuk mengelakkan pencabar lain untuk jawatan perdana menteri.
Sementara itu, bulan lalu Bernama melaporkan kenyataan bekas menteri undang-undang dan hak asasi manusia Indonesia, Hamid Awaludin yang menjadi saksi pertemuan kedua-dua pemimpin itu.
Beliau mendakwa Anwar telah meminta satu perjanjian diadakan untuk memastikan Najib menyerahkan kuasa sekiranya PR memenangi PRU13.
Hamid berkata, "oleh kerana tidak terdapat sebarang perkara yang boleh membatalkan perjanjian itu, yang dibuat menjelang PRU13 atau pada hari pengundian, maka perjanjian berkenaan terus terpakai".
Bagaimanapun, "keadaan berubah apabila Najib diisytihar sebagai pemenang" katanya sambil menjelaskan bahawa Anwar meminta perjanjian itu diadakan kerana beliau "yakin akan mencapai kemenangan pada pilihan raya itu berdasarkan hasil pungutan pendapat yang sering menyebelahinya dan jumlah hadirin pada majlis ceramah anjuran PR".
   
Hamid, yang pernah berkhidmat sebagai duta besar Indonesia ke Rusia dan Belarus dari 2008 hingga 2011, memberitahu Bernama beliau turut hadir pada perbincangan yang diadakan antara bekas naib presiden Indonesia Jusuf Kalla dengan Anwar dan Najib.
   
"Jusuf Kalla sekadar memenuhi permintaan Anwar supaya beliau menjadi orang tengah.

"Bukan beliau (Jusuf) yang mengambil daya usaha agar perjanjian itu diadakan atau pergi berjumpa Anwar," katanya.

Laporan media baru-baru ini menyebut Anwar menafikan beliau memungkiri perjanjian damai yang diatur Jusuf dan mendakwa bekas naib presiden Indonesia itu menemuinya untuk menawarkan bantuan bagi memastikan urusan selepas PRU13 berjalan secara teratur.
    
Bagaimanapun, satu laporan lain pula menyebut Anwar mengaku beliau ada membuat perjanjian dengan Najib, yang menyaksikan Jusuf sebagai orang tengahnya, tetapi mendakwa BN menjadikan perjanjian itu terbatal berikutan cara parti gabungan itu melancarkan kempennya.
 
Dalam pada itu, Tengku Razaleigh Hamzah dilaporkan telah bertemu dengan ahli-ahli Parlimen BN untuk berbincang mengenai percubaan beliau mengambil alih kepimpinan dalam Dewan Rakyat yang mempunyai 222 kerusi sementara timbalan Najib, Tan Sri Muhyiddin Yassin mungkin menjadi pencabarnya dalam pemilihan Umno hujung tahun ini.
Posted: 14 Jun 2013 04:24 PM PDT
Utusan Malaysia - Timbalan Presiden Pas, Mohamad Sabu bukan sahaja berbohong mengenai fakta kematian ketika dalam tahanan polis malah sengaja mahu 'bermain dengan api' apabila menghasut kaum India membenci kerajaan dan pasukan keselamatan itu.
Timbalan Menteri Dalam Negeri, Datuk Wan Junaidi Tuanku Jaafar (gambar) berkata, kenyataan dikeluarkan adalah keterlaluan kerana kaum India bukan golongan yang mencatatkan jumlah kematian tertinggi berhubung perkara tersebut.
"Itu adalah bohong, yang banyak mati sebenarnya adalah kaum Melayu dan bukannya orang India, apa yang disebut oleh Mohamad Sabu bukan sahaja tidak tepat, malah berbaur hasutan kerana membangkitkan soal etnik dan bangsa.
"Saya nasihatkan semua permainan politik yang tidak wajar ini dihentikan, kalau polis bertindak nanti mereka juga kata polis yang ambil tindakan, tetapi dia sendiri tidak jaga apa yang dia cakap," katanya kepada Utusan Malaysia di sini hari ini.
Semalam, Mohamad atau lebih dikenali sebagai Mat Sabu dalam perhimpunan haram di Padang Majlis Daerah Ketereh, mendakwa lokap polis kini tidak lagi selamat kepada individu yang ditahan, sebaliknya menjadi tempat pembunuhan oleh pihak polis terutamanya kepada kaum India.
Wan Junaidi menegaskan, pihaknya kesal dengan tindakan mempermain-mainkan sentimen perkauman untuk memburukkan kerajaan dan profesionalisme polis.
"Dalam hal ini, tindakan telah diambil supaya kematian-kematian dalam tahanan polis itu disiasat dan saya juga telah bertemu dengan Ketua Polis Negara berhubung perkara ini.
"Selain itu, saya sendiri telah memberitahu Perdana Menteri yang kita kena kukuhkan Suruhanjaya Integriti Agensi Penguatkuasaan," katanya.
Berdasarkan perangkaan, jumlah kematian tahanan polis yang dicatatkan adalah 64 orang Melayu, 30 orang Cina dan 28 orang India.
Don't use education as a political weapon, says Tee Yong
Posted: 14 Jun 2013 04:17 PM PDT
(The Star) - The call by Malay NGOs to the Government to shut down vernacular schools is racist, says MCA Young Professionals bureau chief Datuk Chua Tee Yong.
He urged the police to investigate the comments by the NGOs in order to safeguard national unity.
"I urge all the NGOs and parties to stop making accusations and snide remarks. All of us should work together with the Government in its efforts to enhance nation-building and reconciliation plans.
"Education should not be used as a weapon for one's political interests."
He was responding to reports that 120 NGOs had issued statements urging the Government to close down all vernacular schools to achieve racial unity.
Chua said these groups should listen to the advice by Barisan Nasional chairman Datuk Seri Najib Tun Razak, who had called on all parties to focus on uniting the people and stop racial politics.
Chua said Najib and his deputy Tan Sri Muhyiddin Yassin had emphasised that vernacular schools and mother-tongue education played a vital role in national development, including nurturing talented people in the country.
Gabungan Bertindak Malaysia (GBM) said the call by the Malay-Muslim Consumer Association for a single stream education system is "a new height of the post GE13 blame game".
GBM said it was disheartening that the process of reconciliation post GE13 was being jeopardised by calls from certain quarters to abolish Chinese and Tamil school systems.
Deputy IGP: Police will take action if Black 505 proceeds without proper permit
Posted: 14 Jun 2013 04:14 PM PDT
(The Star) - Police will take action accordingly if the Black 505 rally organisers proceed with the event without proper permits, said Deputy Inspector-General of Police Datuk Seri Mohd Bakri Zinin.
"We already have laws and will enforce those laws. We will take action according to those laws.
"We will look at the situation. If there is a need, we will take action," he told a press conference during the Putra Intelek International College (PIIC) convocation ceremony held at the Putrajaya International Convention Centre on Saturday.
It was reported that the opposition would go ahead with its Black 505 rally at Padang Merbok in Kuala Lumpur on June 22 even if it did not get the go-ahead from Kuala Lumpur City Hall (DBKL).
PKR strategic director Rafizi Ramli said Pakatan Rakyat had insisted on holding the rally at Padang Merbok despite DBKL wanting them to hold it in a stadium.
Meanwhile, at the same press conference, PIIC president and chief executive officer Dr Barathan Muniyandy announced a RM200,000 fund that will provide partial scholarships for members and family of the police force.
"We also want to work with the police force as PICC focuses in courses such as Forensic Computing and Digital Security.
"We are happy to work with the PDRM to produce more graduates in the industry and hopefully more graduates that can join the police force as officers," he said.
Najib, Anwar in Jakarta, speculation mounts of possible meeting
Posted: 14 Jun 2013 04:06 PM PDT
Jahabar Sadiq, TMI
Datuk Seri Najib Razak and political arch-rival Datuk Seri Anwar Ibrahim are in Jakarta today, fueling talk of a meeting that could help the prime minister face down possible rivals in parliament and his own party after poor results in Election 2013.
The Malaysian Insider understands that the meeting has been in the works for at least a week, just as Najib is facing a likely challenge in the Umno elections this year end and a possible motion of no confidence after parliament convenes on June 24.
It is learnt that Home Minister Datuk Seri Ahmad Zahid Hamidi, who is close to both leaders, has been tasked to facilitate the meeting. He is in Jakarta for a bilateral visit.
"A meeting has been set up with Najib before Anwar meets Indonesian President Susilo Bambang Yudhoyono on Satuday," a source told The Malaysian Insider.
Aides to both leaders are tightlipped about the meeting but sources say the duo have a common interest in preventing other challengers for the prime minister's post.
Tengku Razaleigh Hamzah has been meeting disgruntled Barisan Nasional (BN) lawmakers this past week to discuss his leadership bid in the 222-seat Dewan Rakyat while Najib's deputy, Tan Sri Muhyiddin Yassin, has been coy about a possible challenge in Umno polls this year end.
Most political analysts say Najib is too popular, even more than his party, to lose his government and party posts.
"But Najib is facing twin strikes against him, so he needs to find some allies," another source told The Malaysian Insider, noting the irony that Anwar himself wanted the country's top post.
It is not known if the Indonesian president is aware of the talks in his capital city but former Indonesian vice-president Jusuf Kalla mediated between both leaders before the May 5 general elections for a peaceful electoral campaign.
But Kalla had said the deal broke after Anwar began a nationwide campaign to protest the Election 2013 results. The PKR leader said Najib never signed the pact despite a verbal agreement.
Malaysian leaders, especially Umno, have been known to hold private meetings in Jakarta, which is about two hours flight from Kuala Lumpur, to avoid publicity and gossip.
Najib and Anwar are known to have close ties with Indonesian leaders, who are keen to see stability in neighbouring Malaysia which employs some two million Indonesian professionals, workers and housemaids.
Behind closed doors, Dr M keeps his promise on Najib
Posted: 14 Jun 2013 04:01 PM PDT
The country's longest-serving prime minister has been critical of Najib's election strategy, the incompetence of Najib's advisors and the general direction of the administration since the May 5 general election that returned Barisan to power without the desired two-thirds majority or victory in Selangor or Penang. 
Jahabar Sadiq, TMI
Talking to senior Johor Umno politicians behind closed doors weeks before the general election last month, Tun Dr Mahathir Mohamad called for everyone to unite behind Prime Minister Datuk Seri Najib Razak to ensure a big win for Barisan Nasional.

The former prime minister pointed out then that it was not the time to talk about Najib's weak leadership or penchant for not moving on policies until he had a consensus.

But a senior Johor Umno official recalled that Dr Mahathir did make it clear at that forum that once the polls were over, he would speak up and criticise Najib openly if necessary.

Politicians in Kedah too also remember Dr Mahathir speaking in a similar vein about Najib at closed-door sessions before the elections.

Dr Mahathir appears to be keeping his promise.

The country's longest-serving prime minister has been critical of Najib's election strategy, the incompetence of Najib's advisors and the general direction of the administration since the May 5 general election that returned Barisan to power without the desired two-thirds majority or victory in Selangor or Penang.

Dr Mahathir has also made it clear that there should be a contest for the top Umno position, saying that it would show Malaysians that democracy is alive in the dominant Malay nationalist party.

So far, the pugnacious Dr Mahathir has not used a public forum to speak about Najib. But he has done so at closed-door sessions with finance executives and politicians and also in correspondence.

He also repeated the need for a contest for the Umno president's position when speaking to a group of fund managers in Kuala Lumpur yesterday.

Dr Mahathir continues to enjoy some influence in the party and is infamous for leading the charge which eventually led to Tun Abdullah Badawi resigning as PM a year after the 2008 elections.

There is no evidence that Dr Mahathir wants to see Najib hounded out, but there are suggestions that he would like more input into policies and decision-making at the highest level, even the setting up of a new economic advisory body.

Pro-Umno bloggers aligned to the former PM have also slammed those politicians who have said there should be no contest for the top two posts in the party – a move which if endorsed by the party's Supreme Council would see Najib and Tan Sri Muhyiddin Yassin remain as PM and DPM.

One blogger even had an online poll on whether Najib should remain Umno president, with some 75 percent of the respondents not supportive of Najib.
KL should limit its role in Sabah, Sarawak
Posted: 14 Jun 2013 03:52 PM PDT
2013 marks 50 years since Sabah and Sarawak joined the federation, and two NGOS 'fighting for the sovereignty" of the states want a "serious re-look" at the Malaysia Agreement. 
Raymond Tombung, FMT
KOTA KINABALU: The fight for Sabah and Sarawak's rights and autonomy moved up a notch with the sealing of a collaboration between two NGOs from the respective states.
Two NGOs, from Sabah and Sarawak, have called for a 'serious re-look" at history and how the Malaysia Agreement came about.
The NGOs suggest that based on the original spirit of the Malaysia Agreement, the federal government should limit their roles to Defence, Foreign Affairs and the Economic Planning in the two "states".
The NGOs – UK-based Borneo's Plight in Malaysia Foundation (BOPIM) and the Sarawak Sovereignty Movement (SSM) – see 2013 as an opportune year for them to commence with the pursuit of this long-overdue objective especially since 2013 marks the 50th year of the Malaysia Agreement.
Earlier this week, on June 11, BOPIM and SSM signed a joint commitment in Kuching to "fight for the sovereignty of Sabah and Sarawak."
BOPIM president Daniel John Jambun in a joint-statement with SSM's spokesman, Moshidi Abdul Rahman, said that the gist of the joint approach is for the revival of the two states' sovereignty as were achieved on August 31, 1963 for Sabah, and on July 22, 1963 for Sarawak.
"At the same time we want to explore further the deeper nature of the relationship that both Sabah and Sarawak should have with Malaya after the restoration of the sovereignties of the Borneo states.
"One idea is that when it comes to Sabah and Sarawak, the Federal Government should confine itself to defence, foreign affairs and national economic planning.
"We need to seriously re-look at the whole history and arrangement of the Malaysian federation.
"Firstly, we are of the position that there has not been a proper referendum conducted in Sabah, Sarawak, Brunei and Malaya prior to the formation of Malaysia," the joint statement said.
Jambun further explained that the BOPIM-SSM stance is that because of the absence of a referendum, the federal government saw no compelling reason to fulfill the provisions of the Malaysia Agreement, and this had led to a lot of what is now seen as non-compliance.
"We must be aware of the fact that the Cobbold Commission was not a referendum. It was merely a survey and this clearly was an open British and Malayan breach and transgression of the United Nation's Protocols on Decolonization," he said.
Posted: 14 Jun 2013 03:36 PM PDT
'A vote for DAP, is a vote for PAS, is a vote for hudud'. Every time BN wants to weaken Pakatan and frighten the electorate, this trite phrase rattles off the tongues of MCA politicians.
Mariam Mokhtar, FMT
Yesterday, MCA president Chua Soi Lek was again proven wrong. Last April, Chua warned Malaysians, principally the non-Muslims, that a vote for Pakatan would lead to the implementation of hudud law, by PAS, if the Opposition coalition were to win GE-13.
On 13 June 2013 Berita Harian reported that within the past two months, 39 people in Johore, of whom 22 were women, had each received six strokes of the rotan, for committing syariah crimes such as incest and sexual intercourse outside of marriage. Two women had their sentences postponed because one was pregnant and the other was in 'confinement'.
One fact is obvious. More women, than men, are being punished. Why? Are there fewer men because the men had multiple women partners? Are the guilty men still on the run? Who were the witnesses and are they credible? Were the witnesses just seeking revenge?
The rakyat wants to know who represented these women? Were they aware of their rights? Are they first-time offenders?
Our main concern is that religious Islamic bodies fail to act with transparency. On 25 February 2010, it was announced that three Muslim women had been whipped, for committing illicit sex, two weeks earlier. Why was this announcement delayed? Did the government fear a backlash? The Federal Territory syariah court had issued the caning order on these three women, despite the fact that women are supposed to be exempt from caning under Section 289 of the Criminal Procedure Code.
The latest Berita Harian report revealed that the offenders ranged in age from 20 to 50 years old and that the first couple who received their punishment on 4 April, had been guilty of engaging in an incestuous relationship. On 17 May, seven men and nine women, all unmarried, were sentenced. The whippings had been carried out in the Kluang prison. Why was the public not informed earlier?
There is worse news.
The senior assistant director of enforcement of the Johor Islamic Affairs Department (JAIJ), Mohd Zambri Kambari, said that the usual punishment was a fine of RM5,000 or a jail term of three years. He said that this was the first time whipping had been enforced in Johore. Zambri denied that whipping could be termed as punishment. He claimed that caning would make the person realise his crime and he believed that canings were effective in heightening public awareness.
Zambri is contemplating whipping offenders in public or in mosques.
Malaysians have always been proud of their multicultural society and they have no problem with Islam being the nation's official religion. They fear that their secular state is insidiously being turned into a nation which models itself after Aceh, Afghanistan, Saudi Arabia, northern Nigeria or Somalia.
These religious bodies appear to act, for reasons known only to themselves. A few years ago, pig DNA was discovered in Tabasco sauce (a product which contains only vinegar, water and chillies), HP sauce (HP sauce does not contain any meat derivatives at all) and Golden Churn butter (butter is made from cow's milk).
These products were subsequently withdrawn from sale, despite protestations from the manufacturers and halal certificates to prove the absence of porcine products.
Many wives, or former wives of Muslim men, believe that men are treated favourably in the syariah courts. The wealthy Shanaz Majid, former daughter-in-law of the Chief Minister of Sarawak, the billionaire Taib Mahmud  is treated no differently from a poor Muslim woman in the syariah divorce courts.
Many Muslim ex-wives seeking maintenance for their children give up halfway through their lengthy and costly trials. Several women family members have found that they are at the losing end in inheritance matters.
Religious bodies desiring credibility should raid the Five Star establishments and clubs which are frequented by rich Muslim patrons. Islam preaches equality and whipping as a form of corporal punishment for illicit sex and consuming alcohol, should be given to the ministers, senior Umno-Baru politicians, their cronies and the children of these groups of people, who are regulars at these clubs.
Religious bodies craving respectability should exact the most severe punishments on people who are guilty of corruption and stealing public money. Many of our politicians, civil servants and cronies, deserve attention from the religious bodies.
If these religious bodies want to restore public confidence, they should censure people who bribe their way out of punishment. They should also address the problems of men who marry without their first wife's approval, or who circumvent syariah law by going to the south of Thailand to get married. On their return to Malaysia, they live as man and wife, and when they are discovered, pay the paltry fine.
Men who are caught raping underaged children, escape punishment by offering to marry their victims. They pay 'compensation' to the girl's family then leave her after they become bored with her. Religious officials fail to understand that a girl's future is ruined. She is without an education, her health and body are ruined, her psychological scars haunt her for life, she will probably have children to take care of and will end up living in poverty.
The real problem of underaged sex and abandoned babies is not being addressed. Education including sex-education is the answer, not marrying off young children or teenagers just because they are curious about each others' bodies. Marriage should not be forced on them simply to avoid the stigma of society and to avoid illegitimate children being born.
Court dismisses bid to nullify polls results
Posted: 14 Jun 2013 03:31 PM PDT
Judge Ravinthran Paramaguru held that the judicial review action sought by lawyer activist Marcel Jude Joseph had no prima facie case. 
Joseph Bingkasan, FMT
KOTA KINABALU: The High Court here has dismissed with cost an application by a defeated candidate in the last month's general election for a judicial review of Sabah's electoral roll.
Judge Ravinthran Paramaguru in his decision yesterday held that the judicial review action sought by Marcel Jude Joseph should be dismissed because there was no prima facie case.
He then awarded cost RM5,000 to the respondent, the Elections Commission.
The applicant Joseph, who is a lawyer, represented himself while the commission was represented by Senior Federal Counsel Mohd Rahazlan.
Joseph contested and lost as an independent candidate in the Api Api state constituency.
He was also seeking a refund of the sum of RM8,000 paid by him to the respondent to participate as a candidate in the general election which he lost as he failed to capture the benchmark of 12.5% of the votes cast.
Joseph only managed to polled 44 votes.
The seat was won by PKR's Christina Liew Chin Jin who polled 5,853 votes wresting the constituency Barisan Nasional's Dr Yee Moh Chai of Parti Bersatu Sabah (5,058).
Two others also forfeited their deposits – Wong Yit Ming of Sabah Progressive Party (713) and State Reform Party's Felix Chong Kat Fah (152 votes).
Joseph, who is also an activist, was also claiming damages for negligence by the respondent in issuing the Writ of Election and the Notice of Election without the removal of 60,673 dubious entries, or the disclosure by the respondent of 60,673 dubious entries to him prior to his registration as a candidate in Api Api constituency.
Kredit: www.malaysia-today.net