Klik GAMBAR Dibawah Untuk Lebih Info
Sumber Asal Berita :-
---
Breaking Rumours - Badawi Arranged Indonesian "Summit"
Posted: 16 Jun 2013 12:22 PM PDT
Well guess what folks - just received information that it was NOT Zahid Hamidi who arranged the talks in Indonesia between Najib and Anwar Ibrahim. People say it was Abdullah Badawi.
OutSyed the Box
And there was no face to face meeting between Anwar and Najib. Rumour is Indonesian president Yudhyono and his people acted as go betweens. Anwar met Yudhyono in Bali. Najib stayed in Jakarta. Either Yudhyono or an emissary shuttled between them.
The question is the PMO does not deny that Najib was in Jakarta. It was not a State visit. (Because at the same time Yudhyono was in Bali meeting with Anwar.) 
So if it was not a State visit, what was Najib doing in Jakarta? And what was Anwar doing meeting Yudhyono in Bali (which he has not denied either).
I think if the Malaysian Press has any cojones, please ask the PM and Anwar what was their exact itenary in Indonesia. Who did they meet? Why? When? And also throw in the What, where and the how. 
Read more at: http://syedsoutsidethebox.blogspot.com/2013/06/breaking-rumours-badawi-arranged.html 
A hung parliament - can it happen here?
Posted: 16 Jun 2013 12:06 PM PDT
Attacks on the election process and dissatisfaction among some BN MPs have opened up a new front and suddenly the hung parliament may become a reality
Mohsin Abdullah, fz.com 
SOURCES close to veteran politician Tengku Razaleigh Hamzah want to make one thing clear with regards to a series of meetings between the Kelantan prince and several BN members of parliament recently.
And that is "it was the MPs that came to see Ku Li (as Tengku Razaleigh is fondly known) and not Ku Li who called for the meetings".
Regardless, said a political source, the meetings have revived talk of a hung parliament taking shape.
The possibility of a hung parliament surfaced long before GE 13 as many in the political fraternity had then forecast the polls to be very keenly contested and as such, getting a clear cut winner would be extremely difficult.
And according to the source, the name of the Kelantan prince cropped up. "Tengku Razaleigh Hamzah was mentioned as a key player in a hung parliament," said the source.
But close and hotly contested that it was, GE13 somehow produced an "outright winner". The hung parliament did not happen.
"Parliament is obviously in BN control so Tengku Razaleigh Hamzah should have slid to oblivion," said the political source. "But", he went on to say "the continued attacks on the election process and dissatisfaction among some BN MPs have opened up a new front and suddenly the hung parliament may become a reality, albeit belated."
As we now know, the "disgruntled" BN MPs came to see Tengku Razaleigh with the "aim of making him PM". How? Or what should Ku Li himself do to be PM of Malaysia?
Tengku Razaleigh has been silent on the meetings thus far. His aides didn't respond to queries made by yours truly. Yet to political analysts and observers, there are several "options" for him to consider.
One is to go the Umno way. That is to contest the presidency now that being nominated as candidate is "much easier" following Umno's election reforms already put in place by the leadership. Win the Umno presidency, and he will "win" the premiership. To put it simply.
Whilst it's true some (or perhaps many) of the disgruntled MPs might not be able to vote by virtue of not being Umno members, the fact Tengku Razaleigh  has got them on his side is weighty enough to garner votes.
Chances of Datuk Seri Najib Razak being challenged for the top post cannot be dismissed and this even Najib has admitted. The voting system this time would be different from previous Umno polls.
According to a source, the new voting system would be something like this. Umno branches will hold their AGM first where they will pick three representatives to be delegates at the division AGM. The number of branches in a division varies. Some divisions have 300 braches while others can have up to 800.
The division AGM will, apart from electing its own office bearers, propose names for the party supreme council positions, including the presidency and deputy presidency.
The delegates at the division will then vote and the winner or winners will be nominated by the division. The overall winner would be the one with the most number of nominations obtained from Umno's 191 divisions nationwide.
This time delegates to the annual Umno general assembly (some 2,000 of them) will not be voting at the assembly as they had voted earlier at their respective divisions. This is what Umno meant when it said this time the voting involves at least 140,000 members. However this "new system" as revealed by the political source cannot be verified by officials at Umno headquarters as of now.
Nonetheless, like many election systems, this one will "favour" the incumbents. Which is to say incumbents have the advantage. And a seasoned politician like Tengku Razaleigh knows this all too well.
Anyway, many feel Tengku  Razaleigh can or will "incur the wrath" of Umno, at least a good number of party faithful, should he mount a challenge against Najib.
Meanwhile, there are political observers who question if Ku Li still has enough support, if at all, among present day Umno members.
Read more at: http://fz.com/content/hung-parliament-can-it-happen-here#ixzz2WRJztu7r
Jeffrey rejects talk of 'Razaleigh plan'
Posted: 16 Jun 2013 11:55 AM PDT
(FMT) - Prime Minister Najib Abdul Razak 's promise to make further changes in his cabinet later this year to accommodate unhappy BN MPs from Borneo shows how influential the two states are.
Maverick politician Jeffrey Kitingan has thrown a lifeline to beleaguered Prime Minister Najib Razak as word spreads of wheeling and dealing in the upper echelons of power over the direction of the country following last month's general elections
The Sabah State Reform Party (STAR) chairman who has taken a hardline on any relations with peninsula or Malayan politicians interfering in Sabah and Sarwak's affairs, scoffed at the idea of Sabah and Sarawak MPs meeting with Malayan politicians to engineer ways to remain relevant.
Jeffrey, a state assembly representative, made the comments in response to reports that MPs from the two states had met Umno veteran Tengku Razaleigh Hamzah.
He said it was clear that MPs from Sabah and Sarawak held a crucial position ever since the 2008 election as well as in the 13th General Election last month.
This could be seen, he said, when Najib and the earlier prime minister, had a free reign to appoint their cabinets as they pleased. Najib had little choice in the appointment of 21 ministers and deputies from the two Borneo States following the outcomes of the GE13.
He said Najib's promise to make further changes in his cabinet later this year to accommodate unhappy BN MPs from the two states shows just how influential MPs from the two states can be when they use their minds.
Jeffrey pointed out that the people and their leaders in the two states needed to discard their old mentality of depending and relying on leaders from Malaya.
"With due respect to Tengku Razaleigh or better known as Ku Li who is not only eminently qualified and experienced to lead Malaysia and probably will do a better job as Prime Minister than many from Umno, he is in the wrong party and the wrong coalition.
Read more at: https://www.freemalaysiatoday.com/category/nation/2013/06/17/jeffrey-rejects-talk-of-razaleigh-plan/ 
Can There Be A National Unity Government In Malaysia? – Analysis
Posted: 16 Jun 2013 11:52 AM PDT
With the perceived weakening of Najib Razak's position of tenure as Malaysian Prime Minister, there is deep speculation within the country about moves afoot to form a national unity government.
Murray Hunter, Eurasia Review 
Since the Barisan National's re-election on May 5, there has been a distinct shift in stance towards 'Ketuanan Melayu' or Malay privilege, at the cost of 1Malaysia inclusive philosophy. There is now little talk about the Government Transformation Program, and after a relaxed stance towards rallies by the opposition, authorities are now taking stern action towards Anwar Ibrahim's 505 movement with mass arrests of demonstrators over the weekend. Even Najib's calls to make UMNO more inclusive has aggravated many within his party.
According to political pundits, Najib Razak is still prime minister, only because there is currently no other creditable and popular figure who could take the mantle of leadership away from him.
If we go back to pre-May 5 feeling in the community, there was great anticipation that an era of change was about to sweep the country. There was excitement on the streets with an almost carnival atmosphere. But the result on election night disappointed so many people, where denial and claims of massive cheating showed that many refused to accept the result. This has left the country just as divided as it was before the election. Nothing was settled and politicking rather than governance is dominating the national narrative. Anwar Ibrahim is pushing the Government into a corner with his national 505 tour disputing the election result which seems to be directly challenging Najib to take action against him.
Today's political situation is of concern to many of Malaysia's top echelon of businesspeople, politicians, civil servants, and even members of the Royal Families. There is a strong feeling amongst the country's elite that Malaysia needs good governance rather than politicking. Many are very sympathetic to the concept of a national unity government, as a solution to this impasse, as it appears any election will not bring a harmonious result the nation requires. The idea of a national unity government is not without any precedent, as PAS was once a member of the BN back in the early 1970s.
Some feel that although the BN won through the first-past-the-post electoral system, the Pakatan Rakyat's higher popular vote justifies the opposition having some say in government. For these people, a unity government would restore moderate policies and narrative, and keep 'ultra-ism' in check. Some within UMNO, see the possibility of a national unity government as a means to maintain UMNO's long term survival, as the party to many Malays is an icon of political history and development. UMNO's participation in a national unity government would act as pressure for internal reform, something many members want.
From Anwar Ibrahim's PKR party, there are many, particularly those ex-UMNO members that see the party's participation in a national unity government would give it the legitimacy it needs to survive in the long term past the persona of Anwar Ibrahim. They want PKR to stand on its own two feet without the 'Anwar personality cult'.
PAS has been reluctantly romanced by UMNO many times over the years, but the party may favorably consider the concept of a national unity government under certain conditions. Many just feel that it's time to stop talking about race and religion, and address the real needs of the country.
If one looked through the blogs and even the mainstream media over the weekend, so many different scenarios and numbers have been canvassed. Two speculative scenarios exist. One involving Premier Najib himself and the other with a move by Tengku Razaleigh Hamzah or Ku Li as he is known.
Read more at: http://www.eurasiareview.com/16062013-can-there-be-a-national-unity-government-in-malaysia-analysis/ 
Posted: 16 Jun 2013 11:45 AM PDT
Source from one Ku Li's boy said there is a discussion towards a vote of no confidence. PAS and DAP is with Ku Li but PKR could not agree. They insist on Anwar to be the Prime Minister. But that would not attract the UMNO MPs willing to support Ku Li.    
Another Brick in the Wall
The current administration has an obsession with the American President, Obama since Dato Dr Jamaluddin Jarjis was sent to Washington to fill the position of Ambassador to United States.

The whole civil service machinery have been instructed to focus on his upcoming visit in September that no one seemed to be concerned with policy or 2014 budget discussion.

To the common political eyes, it could be Prime Minister Dato Najib's appreciation for Obama's surprise call to acknowledge Barisan Nasional's win. It ends Anwar's post GE propaganda.

However, the astute observer fear that the call of support may have it's price in the form of the Asia Pacific Trade Agreement or seldom referred as Bangkok Agreement. We were made to understand that in this region, it is only Malaysia that has not signed this dreaded agreement.

The neo-liberal advisers in the likes of Omar Ong and Nor Mohamed Yakcop are cheering for Najib to sign. But, it is the death nail to our economic sovereignty and will sent the majority of Bumiputera back to colonial days poverty..

However, the White House rumours we are writing about today is not of Obama's but of Tengku Razaleigh's Jalan Langgak Golf home in Kuala Lumpur.

Kept Alive 

Talks of Tengku Razaleigh aspiring to be Prime Minister has not stopped despite him being in a late age of 76.
The tengkolok that cost him the '90 GE
It is partly because since 1984 (save for his years in Semangat 46 and a near miss in the 1990 general election), Ku Li, as he is seldom called, has consistently offered himself for the position of party Presidency at every UMNO party election.
Nothing less, not even to run for Vice President when he returned to UMNO, even though he has never held the position of Deputy President. 
If there are such positions called Pengerusi Tetap (Permanent Chairman) and Timbalan Pengerusi Tetap (Deputy Permanent Chairman) in UMNO, Ku Li deserve the position of Calun Tetap untuk Presiden (Permanent Candidate for President) UMNO. 
And, in recent years, it was kept alive through great spinning by online news.
These spinning can be as absurd as Ku Li's boy, Jadawi's claim that Tun Abdullah Ahmad Badawi will vacate his position for Ku Li in weeks after he swore in as Prime Minister in late 2003. No politician would ever do that, not even a sleepy one.
During the "reign" of Abdullah, much of the spinning by Ku Li's boys on Malaysia Today came in the form of a theme called National Correction. When Najib became Prime Minister, it was spinned by Raja Petra (not Ku Li's boys anymore) as one of the Third Force.
Playing the same chord was blogger Sakmongkol aka Dato Ariff Sabri who described Ku Li as the only person capable of putting Malaysia on strong footing. [Read 
here
]
The suspicion is DAP's former Pekan assemblymen Dato Ariff Sabri's loyalty is with Aspan Alias's boss Ku Li. Sources claimed that they are parked in DAP to wait for the right moment and there are many of them spread all over in DAP, PKR and PAS.
Read more at: http://anotherbrickinwall.blogspot.com.au/2013/06/rumours-from-white-house.html 
Posted: 16 Jun 2013 11:41 AM PDT
(The Malay Mail) - FAM's RM1k reward to nab misbehaving supporters gets flak 
IT is the role of the police, not the fans, to ensure a trouble-free FA Cup final.
That seems to be the sentiment echoed by football fans when asked of FA of Malaysia's (FAM) decision to reward RM1,000 to fans who "catch" other fans misbehaving during the match on June 29.
The decision was announced by the national body last week to ensure there will not be any crowd trouble in the stands when defending champions Kelantan take on Johor Darul Takzim FC at the National Stadium in Bukit Jalil.
This came about after crowd trouble marred the FA Cup semifinal second leg between Pahang and Darul Takzim in Kuantan on May 28. Host Pahang were slapped with a RM100,000 fine.
Football fanatic Mohamad Fitri Sabriudin said it was wrong to allow an unauthorised person to catch another individual. "The fans are not cops. They have no right to catch or arrest a fellow fan," said Fitri, 19. Fitri said the logical solution is for FAM to tighten security especially within the stadium.
"There should be more police personnel stationed in and around the stadium vicinity. Also, the gatekeepers must be strict to ensure no prohibited items are brought into the stands."
Selangor fan Mohamad Fadli Rusli was of the opinion that FAM's ruling could provoke supporters of the opposing teams to fight.
"The police are supposed to control the crowd, not the public," said Fadli, 34.
Thana Lip and Chula Song from Perlis said FAM's decision was the "joke of the year". "This is hilarious," said Thana, 30.
"It is for the police to play their part in controlling the crowd. How can you ask the fans to police the fans and reward them for it?" said Song. 
Haze situation expected to worsen
Posted: 16 Jun 2013 11:40 AM PDT
(The Star) - The haze, which is affecting several parts of the country, is set to worsen with hotter and drier weather expected over the next few months.
The air quality in six towns in the peninsula dropped to unhealthy levels, based on the Air Pollutant Index (API), compared with just three on Saturday.
The Department of Environment (DOE) detected unhealthy API readings of 100 and above in Malacca (161), Bukit Rambai (135), Port Klang (104), Port Dickson (120), Muar (125) and Kemaman (108).
However, the quality of air at most other places in the country was between good and moderate.
Under the air quality index, readings of between 0 and 50 are classified as Good, 51 to 100 as Moderate, 101 to 200 as Unhealthy, 201 to 300 as Very Unhealthy and 300 and above as Hazardous.
In Malacca, the haze caused the API reading to increase from 68 to 161 over the past three days, the highest recorded in the country.
DOE director-general Datuk Halimah Hassan said the number of hot spots detected by the Asean Specialised Meteorological Centre in Sumatra, Indonesia, had increased from 46 on Friday to 101 on Saturday.
She attributed the haze to smoke from the hot spots in Sumatra being carried here by westerly monsoon winds, which began in early June.
"If the hot spots continue to increase and the direction of winds remains as it is, the situation could worsen," she said.
She said the haze was a trans-border issue that required joint efforts by Malaysia, Brunei, Singapore, Thailand and Indonesia through the Ministerial Steering Committee on Transboundary Haze Pollution.
"The ministers are scheduled to meet in Kuala Lumpur sometime in August to discuss action plans to tackle the problem," she said.
A Malaysian Meteorological Depart­­ment spokesman said the westerly monsoon, forecast to last until September, was expected to bring drier and hotter days with occasional thunderstorms in the evenings.
The temperature is expected to rise to between 34°C and 36°C during the period with the urban areas feeling more of the heat because of buildings and the lack of surrounding greenery.
"During the hot and dry spell, people are advised to drink more water and avoid exposure to direct sunlight," the spokesman said.
Health Minister Datuk Seri Dr S. Subramaniam advised Malaysians to avoid unnecessary outdoor activities.
"We are monitoring the situation and will issue appropriate advisories based on the air quality levels.
"For now, members of the public, especially those with respiratory problems, should keep away from prolonged outdoor activities," he said.
Deputy Education Minister P. Kamalanathan said his ministry was monitoring the situation closely.
"We will make the appropriate announcement when deterioration of the air quality becomes a health risk to students," he said.
Medical officer Dr Norlen Mohamed, who specialises in community medicine, said the effects of haze on health were associated with the severity of air quality status and health conditions of individuals.
She said possible health effects include irritation in the eyes, skin and throat, breathing difficulties, upper respiratory tract infections and even heart attacks. 
Najib reminds Malaysian students abroad not to fall for Opposition lies
Posted: 15 Jun 2013 08:07 PM PDT
(Bernama) - JAKARTA — Datuk Seri Najib Tun Abdul Razak has reminded Malaysian students in foreign countries not to fall for Opposition lies to the extent of not supporting the Government.
The Prime Minister said the slander and lies spread by the Opposition on the recent 13th General Election (GE13) process, for instance, had created a wrong perception of the government to the extent that some students also believed the slander and lies.
"Until today, there is no proof of the opposition's claim that we (Barisan Nasional) had brought in 40,000 Bangladeshis (to vote for BN). This was slander and a very big lie in the general election this time.
"That's why I ask, are people not able to think (that it's illogical)? It has turned out that some people cannot think wisely, even lawyers can't," said Najib, who questioned the people's level of intelligence and rationality over such issues.
He was speaking at a luncheon with Malaysian students in Indonesia at the multipurpose hall, Malaysian embassy in Kuningan, here, Sunday.
Also present were the prime minister's wife Datin Seri Rosmah Mansor, Malaysian ambassador to Indonesia Datuk Syed Munshe Afdzaruddin Syed Hassan and his wife Datin Sharifah Ikhlas Syed Ismail.
Najib is here on a personal visit to meet up with a number of Indonesian leaders who are close to him, and for a rest after the GE13.
He urged the Malaysian students to think rationally whether it was possible for BN to bring in 40,000 Bangladeshis to vote for the ruling coalition as claimed, because it would require 100 jumbo planes to fly them to Malaysia and 1,000 buses to bring them to the polling stations.
He said the opposition's claim was absurd as it would also be difficult for BN to hide Bangladesh nationals in Malaysia as their appearance was different from most Malaysians'.
"I, as the BN chairman, strongly refute that there was cheating by BN (in the GE13) as alleged. The general election was conducted in a fair manner and in accordance with the law and regulations."
Najib said BN had carried out a lot transformation in terms of delivery over the last four years and had validly won the GE13, but it lost in the war of perception because of the slander and lies churned out by the opposition through the alternative media, which many people believed in more than the truth provided by the mainstream media.
"For the next general election, BN must equip itsef well to fight in the war of perception. In reality, we have delivered, as Malaysia is increasingly prosperous and a good example for many countries, but perceived otherwise by some quarters.
"The war of perception is thus the biggest challenge for BN," he said.
The prime minister said he had stressed to the Indonesian leaders close to him that Malaysia-Indonesia relations was very important and should be strengthened through official and personal visits.
Najib said during his visit here this time, he was interviewed by private television station MetroTV and Tempo magazine where, among others, he conveyed the message that Malaysia wished to see deeper economic integration with Indonesia although trade between the two countries was good at about US$18 billion worth.
He added that the target by 2015 was US$30 billion.
"I conveyed the message with the hope that the compatible G to G (government-to-government) and people-to-people relations could be translated into enhanced economic, trade and investment ties which could further strengthen Malaysia-Indonesia relations," he said.
Being politically correct (UPDATED with Chinese translation)
Posted: 15 Jun 2013 07:24 PM PDT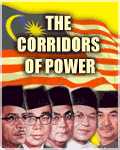 And that is the parody of these people. They give a different public image from what they really are. For example both Dr Mahathir and Anwar are republicans and anti-Monarchy. In private and during closed-door meetings they will whack the Monarchy. Publicly, they will whack those who whack the Monarchy.
THE CORRIDORS OF POWER
Raja Petra Kamarudin
I personally know Ibrahim Ali of Perkasa. In fact, I used to be quite close to him when I was still back in Malaysia and from 2006 to 2008 I worked with him and a few of the Umno plus opposition Bloggers to organise Bersih (1.0) plus to organise various events for Tun Dr Mahathir Mohamad in our bid to oust Tun Abdullah Ahmad Badawi (Pak Lah).
Of course, the game plan was to oust Pak Lah so that Tengku Razaleigh Hamzah (Ku Li) could take over. A few meetings were held with Ku Li. In one of these meetings Rafizi Ramli, Haris Ibrahim, Malik Imtiaz Sarwar, etc., also attended followed by a buka puasa after that. There were also a few meeting between Tun Dr Mahathir Mohamad and Ku Li to discuss the succession plan.
Unfortunately, it is not easy to get two personalities with huge egos to come to an agreement and to 'meet in the middle'. When both sides take a very stubborn 'either my way or no way' stand, the 'alliance' is doomed to fail even as it idles on the runaway. Hence Ku Li was finally bypassed in favour of Najib Tun Razak.
One day Ku Li called us to his office to inform us that the deal was off. He and Dr Mahathir could not come to an agreement so the 'Old Man' was going to support Najib instead. That is it, said Ku Li. Finished!
However, we were not quite finished with the issue. We felt that between Ku Li and Najib, although both may not be perfect, Ku Li was certainly the lesser of the two evils. And do we not always talk about the lesser of the two evils when comparing Barisan Nasional to Pakatan Rakyat?
We had to 'disqualify' Najib, one way or anther. And one way would be to try to link Najib directly or indirectly to the murder of Altantuya Shaariibuu. Pak Lah's downfall was his son-in-law, Khairy Jamaluddin. Hence the reason for the series of articles called 'The Khairy Chronicles' that we ran from 2005 to 2006.
In Najib's case, his wife, Rosmah Mansor, has to be his 'Khairy'. So we embarked upon a 'destroy Rosmah' campaign -- my June 2008 Statutory Declaration being one of those 'shots' that we fired.
Nevertheless, in spite of all the shots we fired against Rosmah, Najib still took over and Ku Li was left out in the cold -- partly Ku Li's own fault for not 'playing ball'. One fundamental issue was that Ku Li refused to accept Dr Mahathir as the 'Minister Mentor', just like Lee Kuan Yew of Singapore, if he were to take over from Pak Lah.
I mean you do not tell Dr Mahathir to go screw himself and still become the Prime Minister of Malaysia. Ku Li should have agreed to everything that Dr Mahathir wanted and then do a U-turn later -- like what Pak Lah did when he took over from the 'Old Man' on 1st November 2003.
But Ku Li is not like that. He is a gentleman and his word is his bond. So he did not want to smile and say yes to Dr Mahathir and then do a U-turn and screw the 'Old Man' once he takes over. I would probably have done what Pak Lah did -- say yes first and then, after taking over, shaft the 'Old Man' good and proper.
Anyway, back to Ibrahim Ali. We would meet in his office at the Grand Seasons Hotel in Kuala Lumpur every couple of days to plot and plan Pak Lah's downfall. And one problem with this was that Ibrahim Ali was never punctual. When we arrived at this office he would be in a meeting with this or that Chinese businessman so we had to wait one or two hours to meet him.
But that did not matter because Ibrahim Ali was an excellent host and we would eat and drink to our heart's delight at the restaurant in the hotel; free-of-charge, of course. Hence that took care of lunch.
The point I am making is that Ibrahim Ali was always in a meeting with Chinese businessmen. Hence Ibrahim Ali is no racist. He is very much Chinese-friendly, a real contradiction of sorts. This 'racist' Ibrahim Ali image that he is intentionally creating is merely a show to be 'politically correct'. It is a 'badge' he wears to garner the support of the Malay nationalists or Malay 'extremists'.
It is just like Anwar Ibrahim and his 'Muslim fundamentalist' image. Anwar is no fundamentalist. He is actually very close to the American Neocons. Anwar is as fundamentalist as Ibrahim Ali is Malay-centric. In fact, Dr Mahathir too is no racist. When he was Prime Minister, one of the grouses that we had with him is that he made too many Chinese and Indians rich. Dr Mahathir, too, is currently playing the race card for a very specific reason (which we will talk about later).
And that is the parody of these people. They give a different public image from what they really are. For example both Dr Mahathir and Anwar are republicans and anti-Monarchy. In private and during closed-door meetings they will whack the Monarchy. Publicly, they will whack those who whack the Monarchy.
On more than one occasion I have personally heard both Dr Mahathir and Anwar say unflattering things about the Rulers. Dr Mahathir once said something unflattering about the Royalty in front of me (he forget I was there) and then turned to look at me and said, "Present company exempted."
I remember back in 1965 (I was in form three then) when our teacher lectured us about the evils of smoking. We looked at the cigarette box in his shirt pocket and sniggered. Realising what we were sniggering about, he said, "You must do what I say, not do what I do."
I suppose the same goes for these people. It is what they do that we must focus on, not what they say. What they say is merely for the benefit of a certain audience. Behind the scenes what they do is the reverse of what they say. So why are Dr Mahathir and Ibrahim Ali playing the race card when behind the scene they are doing deals with the Chinese, left, right and centre?
Ah, that is a story for part two of this series. So stay tuned because something very interesting is going on behind the scenes. 
***************************************** 
政治上是正確的
這就是這些人的'矛盾面具'。他們給大衆的形象和他們自己本身的人品是大不同的。給你個例子,敦馬和安華倆都是共和主義者和很反對皇室制的。在閉門會議裏他們都會干屌皇室,但一旦出現在公開場合他們就會干屌那些干屌皇室的人。
我本身是認識土權會的伊不拉欣Ibrahim Ali的。事實上,儅我還身在馬來西亞時我跟他還走得很近呢,而在06年-08年間我和他還有其他巫統會員曾聚一起策劃Bersih1.0,我們也曾經幫敦馬出籌畫略來推翻前首相阿都拉。
當然,當時的計劃是把阿都拉拉下馬以便能將東姑拉扎利捧上位。我們和東姑開了不少會議,其中一個是在開齋后的,而Rafizi Ramli, Haris Ibrahim, Malik Imtiaz Sarwar等人也有出席。敦馬也出席了當中的幾個會議來討論接班人的事情。
很不幸的,要這兩個高傲的人做出妥協來達到目的是很難的。儅雙方都開出'只有照著我的方法做'時這個'聯盟'在還沒開始前就已結束了。所以東姑拉扎利開始被冷落而納吉則開始'受寵'。
直到有一天東姑拉扎利把我們叫進他的辦公室裏,告訴我們談判已破裂了。他和敦馬無法達成共識,所以那'老人'決定支持納吉。情況就是這樣,東姑拉扎利說。沒戲唱了!
無論如何,我們覺得此事還沒完呢。我們覺得,雖然說這兩人都不是完美的,但比起納吉東姑拉扎利是個較不爛的蘋果。我們不是一直講説民聯比起囯陣來比較不爛嗎?
我們必須'取消'納吉的'資格'。其中一個可行的方法就是把納吉和阿丹杜雅的死間接或直接地扯上關係。我們要阿都拉因他的女婿凱利而倒臺,所以我們在2005年-2006年間寫了一系列稱爲'凱利的記錄史The Khairy Chronicles'的文章。
對納吉來講,他的老婆,儸斯瑪,必須是他的'凱利'。所以我們開始了'消滅儸斯瑪'這個戰略----我08年6月的法定宣誓書就是其中一發子彈。
無論如何,在我們朝儸斯瑪開了許多槍以後,納吉還是上位了----這很多都要怪東姑拉扎利,因爲他不懂得'順著其他人來'。他最大的敗點是他拒絕在他儅首相后委任敦馬成爲'指導部長',就像新加坡的李光耀被委任為內閣資政般。
我的意思是,沒有人能夠告訴敦馬'去吃自己'然後還能成爲首相的。東姑拉扎利應該先答應那些敦馬所想要的,然後再來個大U-轉----就像是阿都拉在03年11月的做法般。
但東姑拉扎利並沒有那麽做。他是個君子,他對他的諾言看的很重。他不想笑著臉對老馬說'是'然後在事後來個U-轉再把老馬給幹掉。我想如果是我的話我應該會像阿都拉一樣吧----先答應,然後上位了以後再好好地來收拾這個老人。
好了,話説回來,我當時和伊不拉欣每隔幾天就會在他位于吉隆坡四季酒店的辦公室見面商討要阿都拉倒臺的計劃。他最大的毛病就是不守時,儅我們到達他的辦公室后他會還在和他的華裔生意夥伴開會,我們往往一等就是一兩個小時。
但這對我們來講並不是問題,伊不拉欣他是個很好的主人,我們能夠在他的地方任吃任喝。所以一般上我們的午餐都是在那解決的。
我要講的重點是和他開會的一直都是華人們。所以說伊不拉欣他並不是一個種族主義者,相反地,他對華人熱情得很。'種族主義'是他特意製造出來的形象,目的是要自己看起來更爲'政治上是正確的'。這是他用來收取馬來民族主義者或馬來極端主義者的支持的'徽章'。
這和安華的'穆斯林基本主義者'的形象是同出一辙的。安華他根本就不是什麽基本主義者,相反地,他跟美國的新保守主義團體走得很近呢。安華的基本主義就和伊不拉欣的種族主義一樣。事實上,敦馬他也不是什麽種族主義者,我們對他的其中一個不滿就是他把太多華人和印度人給養富了。敦馬他現在也因某种原因而打出種族主義這張牌(我們以後會更加一步地細談)。
這就是這些人的'矛盾面具'。他們給大衆的形象和他們自己本身的人品是大不同的。給你個例子,敦馬和安華倆都是共和主義者和很反對皇室制的。在閉門會議裏他們都會干屌皇室,但一旦出現在公開場合他們就會干屌那些干屌皇室的人。
我在不止一個場合裏親耳聽到敦馬和安華對皇室大談不是。敦馬曾經在我的面前(他忘了我有在場)大談皇室的不是,然後再轉身對我說,'(以上言論)不包括在場的人'。
我還記得在1965年(我還是個中三學生)有一位老師向我們闡述吸煙的壞處。我們對著放在他口袋裏的香煙盒咧嘴而笑。他知道了我們笑的是什麽以後,他就說:"你們必須做我講的,而不是做我做的。"
我想這可以用來形容以上這些人吧。我們必須把注意力放在他們所做的事情上,而不是他們所說的事情。他們所說的只是要特定的聽衆聼得舒服而已,他們在後面所做的一切往往都是和他們所說相反的。所以說,正當敦馬和伊不拉欣一直都和華人有往來時,爲什麽他們還要大打種族主義這張牌呢?
對了,這只是兩篇文章的第一篇而已,所以敬請期待下一篇更爲精彩的文章來繼續為你揭露政治的内幕。
Najib and Anwar may seize Jakarta opportunity to talk?
Posted: 15 Jun 2013 05:41 PM PDT
(Daily Express) - Datuk Seri Najib Razak and political arch-rival Datuk Seri Anwar Ibrahim are in Jakarta, fueling talk of a meeting that could help the Prime Minister face down possible rivals in parliament and his own party after poor results in Election 2013.
It was learnt that the meeting has been in the works for at least a week, just as Najib is facing a likely challenge in the Umno elections this year end and a possible motion of no-confidence after parliament convenes on June 24.
It was learnt that Home Minister Datuk Seri Ahmad Zahid Hamidi, who is close to both leaders, has been tasked to facilitate the meeting. He is in Jakarta for a bilateral visit.
"A meeting has been set up with Najib before Anwar meets Indonesian President Susilo Bambang Yudhoyono on Satuday," a source said.
Aides to both leaders are tightlipped about the meeting but sources say the duo have a common interest in preventing other challengers for the Prime Minister's post.
Tengku Razaleigh Hamzah has been meeting disgruntled Barisan Nasional (BN) lawmakers this past week to discuss his leadership bid in the 222-seat Dewan Rakyat while Najib's deputy, Tan Sri Muhyiddin Yassin, has been coy about a possible challenge in Umno polls this year end.
Most political analysts say Najib is too popular, even more than his party, to lose his government and party posts.
"But Najib is facing twin strikes against him, so he needs to find some allies," another source said, noting the irony that Anwar himself wanted the country's top post.
It is not known if the Indonesian President is aware of the talks in his capital city but former Indonesian Vice-President Jusuf Kalla mediated between both leaders before the May 5 general elections for a peaceful electoral campaign.
But Kalla had said the deal broke after Anwar began a nationwide campaign to protest the Election 2013 results. The PKR leader said Najib never signed the pact despite a verbal agreement.
Malaysian leaders, especially Umno, have been known to hold private meetings in Jakarta, which is about two hours flight from Kuala Lumpur, to avoid publicity and gossip.
Najib and Anwar are known to have close ties with Indonesian leaders, who are keen to see stability in neighbouring Malaysia which employs some two million Indonesian professionals, workers and housemaids.
Both Anwar and Najib were part of the Team Wawasan or Vision Team that swept through top posts in the 1993 Umno polls, with Muhyiddin, Tan Sri Muhammad Muhammad Taib and Datuk Seri Abdul Rahim Thamby Chik.
Umno sacked Anwar in 1998 after he was fired on sodomy and corruption charges while Muhammad left the party before last month's general elections.
Zahid was the then Anwar ally and Umno Youth leader who used the Indonesian term KKN for corruption, cronyism and nepotism in a thinly-veiled attack against Malaysia's longest-serving Prime Minister Tun Dr Mahathir Mohamad in the 1998 Umno assembly.
He was briefly held under the Internal Security Act (ISA) while Anwar was fired as Deputy Prime Minister and Deputy Umno President on sodomy and corruption charges just months after that Assembly.
MPs need to show they have more than just talk
Posted: 15 Jun 2013 05:36 PM PDT
Indulging in child-like behaviour and polemics simply because of the party badge has absolutely no place in any Parliament in a mature democracy. We will wait and see what our Yang Berhormats have to offer come June 24. For that will signal whether there will be order or disorder in the House that will last for the next five years.
The Star
THE first meeting of the 13th Parliament on June 24 promises to be exciting, but for all the wrong reasons.
From what we have observed so far, the perfunctory oath-taking ceremony and the election of the Speaker will be anything but dull.
The results of the 13th general election held on May 5 are by no means finalised with both Barisan Nasional and Pakatan Rakyat filing a total of 50 petitions in the Election Court to challenge the results of certain seats.
That is part of the due process and no one will question the right of either side to do what is allowed by the law.
However, it is the antics that are being played out in the court of public opinion that are testing the patience of the public at large.
The briefing for all MPs before the new Parliament sits is a traditional affair whereby MPs are briefed on what is required of them as members of the august House.
Here is where the newbies will learn for the first time about the protocol, the Standing Orders, and what is expected of them in and out of the House.
It is a wonderful opportunity for the newbies to learn from the veterans and get to know one another.
There is a world of difference between the political talk in the heat of the elections and the standard of debate that we expect once these elected candidates don their official suits and play by parliamentary rules.
Yes, there will be the uncouth ones who think there is no difference but in the main, we expect high quality debate with substance. Now is the time for the MPs to show us that they not only have the gift of the gab, but are able to take on their opponents with facts and witty repartee.
The Pakatan MPs seek to score political points by boycotting this meeting. Even the sole DAP MP who attended found himself in the dock for daring to disobey party orders.
So what are these people talking about when they say MPs must be free to vote their conscience and not be bound by the Whip? That the way forward for a mature Parliament is when all are able to engage professionally and at times, rise above party lines, for the good of the nation.
And there was even further grandstanding when there was talk that Pakatan may even boycott the oath-taking ceremony. Fortunately, good sense prevailed though one can expect that even a simple ceremony like this can be turned into an opportunity to play to the public gallery.
As a nation matures, we should also expect the institutions to get better.
True, some of the institutions that are the foundations of our nation, like Parliament, have taken a battering through the years, and are in need of repair.
For Parliament, specifically, the years of a House dominated by one side are gone and the possibility of a full-fledged two-party system is within reach. But it is a work in progress and both sides must show us that they are capable of meeting our expectations.
Partisanship is a given in any democracy, but in all the mature legislative chambers in the world, the spirit of bipartisanship is also strong. And that requires all MPs, whatever their affiliation, to discern when is the time and what are the issues for which the nation expects them to be in one accord.
Indulging in child-like behaviour and polemics simply because of the party badge has absolutely no place in any Parliament in a mature democracy. We will wait and see what our Yang Berhormats have to offer come June 24. For that will signal whether there will be order or disorder in the House that will last for the next five years.
Posted: 15 Jun 2013 05:32 PM PDT
Malaysia must really grow up and not let the divisive and emotive issues long resolved to fester in the present environment.
Malaysians have made their choices. The victors have plenty of work to do and the least of their concern should be to talk about punishing those who did not vote for them. It is the people's right to vote for anyone or any party. A general election in any democracy is about the right to choose.
Wong Chun Wai, The Star
WE are about two months away from National Day. We will be turning 56 years old, which is still relatively young in terms of nationhood. But we are not really that young any more.
The country will once again put on a flag-waving exercise as our leaders wax eloquent on patriotism and nationalism.
Malaysians can expect those inspiring TV commercials extolling how the people of this plural socie­ty have come together and proven the critics wrong that Malaysia would collapse as a country upon independence.
It is now more than five decades and we have remained strong. But wait a minute.
Just glance through the newspapers or read the online postings, and we get another picture – one that gives the impression that we are a country that is terribly torn apart.
Any investor wanting to put money in this country would look for another option because we have been sending messages to the world that we are at each other's throats and the country is waiting to explode, politically. Many of us, including those in the media, are still talking about issues that were emotionally debated in the 1950s, before the nation was born.
We are still talking about race and religion in a terribly shameless and sad way. These contentious issues were settled and resolved by our founding fathers. We should be moving on but instead we seem to be heading in the other direction.
Some of our politicians are even fuelling the political temperature by bringing up, or allowing, these issues to fester, even if it affects the unity of the people.
The Malays, Chinese, Indians and the other Malaysians have made the country what it is today. There would be no Malaysia without the contributions of all these ethnic groups. Go and read the history books.
Blame the British for the divide-and-rule system but the fact remains that the labour of the Chinese and Indian immigrants helped to build the economy.
The Malay farmers and fishermen fed the nation; the Malay policemen and soldiers kept the country safe to allow the Chinese traders to expand the economy; and the Malay-dominated civil service enabled the country to be efficiently administered.
In fact, many non-Malays joined the police force to fight against the communists because they believed in safeguarding their country – Malaysia. Each and every one of our forefathers has made Malaysia to be truly outstanding in the eyes of the world.
Many of the present Chinese and Indians are third or fourth generation Malaysians. We were born, raised and will die here in Malaysia. There is nowhere else and we will not choose anywhere else, because we are proud to be Malaysians.
Many of us, especially those who were educated in English-medium schools, cannot even speak and write in Chinese.
If there are employers who refuse to hire non-Chinese speaking employees, certainly it is not just the Malays and Indians. Many Chinese also fall in this category.
Let no Jurassic racist politician tell us that only certain ethnic groups are immigrants because most of us, if we trace our roots hard enough and are honest, would find that we have ancestors from another part of this world. That is history.
Similarly, the general election is over. We have lost enough productive time on the campaigning, which seems to have clouded the judgment and sanity of many Malaysians, turning them into petty political tyrants.
Malaysians have made their choices. The victors have plenty of work to do and the least of their concern should be to talk about punishing those who did not vote for them. It is the people's right to vote for anyone or any party. A general election in any democracy is about the right to choose.
No one should be made to feel pressured or threatened, in any way, simply because they did not vote for the winning ruling party.
And for the losers, please stop blaming the system and just move on. Come back in five years' time. Surely, both sides have to administer the states they won. For Pakatan, just accept the fact that you did not win enough seats to form the federal government.
While every National Day celebration is about remembering what our founding fathers have done, it should also be a time to review what we of this generation have done or not done. It is now mid-2013 and we have just over six months to another year. Surely, we should be worried about how much we need to catch up.
Young Malaysians, without the baggage of the past, have spoken out loudly during the elections. From the mainstream media to our ministers, surely we must acknowledge that it cannot be business as usual again.
The destiny of this country is in our hands. We need to make Malaysia a liberal, progressive and democratically open country.
Don't let our neighbours, which are starting to open up, catch up with us. Malaysia has to move forward faster and there is no time to waste. We are not young any more. We need to grow up.
Slim majority rattles swing state
Posted: 15 Jun 2013 05:25 PM PDT
Politics in Terengganu is about to get more lively and competitive as the ruling Barisan Nasional prepares to take on the biggest number of opposition backbenchers ever.
Hard as it is to believe, he said the cost of living in Terengganu is quite high and eating out in a restaurant sometimes costs more than in Kuala Lumpur. He also believes that the civil service were not completely with Barisan because they did not have a high regard for the state administration.
Joceline Tan, The Star
MENTRI Besar Datuk Seri Ahmad Said was a worried man as he waited for the results of the last few state seats to come in.
Ahmad had started the day confident of victory but by 9pm, he felt like the ground was about to give way under him. His nerves were frayed and he could hardly sit still, moving about constantly as he took and made calls on his mobile phone.
One Umno official has since described it as a "harrowing night". Terengganu has a reputation as a swing state and many thought that it was about to swing again on the night of May 5. Everything was hanging on the outcome of two seats – Kuala Berang and Bukit Besi.
It was only after 10pm that the official verdict came in. Barisan Nasional had pulled through in Terengganu by a slim majority of two seats. Barisan won 17 seats of the 32 state seats, PAS 14 seats and PKR one. The eight parliamentary seats were evenly split between the two sides.
It was a far cry from 2008 when Terengganu had given Barisan 24 state seats and seven parliamentary seats.
Many are surprised that Ahmad survived the results and was sworn in as Mentri Besar for a second term.
It was one of those ironies of politics. Ahmad's predecessor Datuk Seri Idris Jusoh had led Barisan to a clear-cut victory in 2008 but could not get the royal nod to be reinstated as Mentri Besar.
But as some have pointed out, there were "omens", so to speak, that it would not be smooth sailing for Ahmad.
For instance, shortly before nominations, the Mentri Besar's Lexus, which was following the entourage of Deputy Prime Minister Tan Sri Muhyiddin Yassin, hit a cow and the headlights and bumper were damaged.
A few days later, Ahmad was driving alone and as he turned the corner to his house, a car crashed into the passenger side of his vehicle.
Then, several days before polling, Ahmad was trapped in a stalled lift for about 40 minutes after giving an interview to a radio station.
Three omens over two weeks is no laughing matter and on the eve of polling, Ahmad performed the solat hajat in seven mosques within his state seat, Kijal, to seek divine guidance. But there was, apparently, one more omen to come. Ahmad was on the way from Terengganu to Putrajaya to get the letter authorising his reappointment as Mentri Besar, when the car he was in broke down near Temerloh and he had to continue the journey in the accompanying car.
Generally, most people are quite thankful that there was none of the high drama that had occurred after the 2008 election between the Palace and Umno over the choice of Mentri Besar.
But the question being asked is to what extent is Ahmad to be blamed for the poor showing in the state. Many agree that he works hard, has no airs and is a genuine grassroots politician.
But as one Umno politician put it, his style harks back to the 1970s and it simply does not work anymore.
Ahmad's kampung style has been in stark contrast to the all-systems-go method of Idris who was Mentri Besar from 2004 to 2008. The technocratic Idris had given the state a new airport, modern seafront esplanade, the Crystal Mosque, a Civilisation Park and a stadium although the roof collapsed twice. As a result, the people of Terengganu gave Barisan a big majority in 2008.
Research consultant Dr Azmi Omar, who used to head a Terengganu-based think-tank, had actually predicted to anyone who would listen that Terengganu would fall.
"You could say I was almost right," he said.
Dr Azmi had never been impressed by Ahmad's administration. On nomination day, he could see that not many in the Barisan line-up could be considered as "winnable candidates" and he thought PAS had a more impressive slate.
"PAS had new blood, you could see the transition. But the new faces from Umno were actually recycled faces. One new face was 68 years old. You call that a new face? It's like you went in to lose," he said.
To compound matters, the "old new face" was fighting a medical doctor from PAS. No prizes for guessing who won.
New faces
Dr Azmi said Barisan's place in power was saved by the young, new faces put in the four state seats in Setiu, all of whom won.
"They were fresh faces, degree holders, had no baggage and voters were willing to give them the benefit of the doubt. Otherwise, I would have been right about Terengganu falling," he said.
One Barisan assemblyman put it this way: "We were missing the X-Factor."
Earlier on, there was criticism in PAS that there were too many ulama in the line-up. Party critics said the ulama class is good at saving souls but know little about the economy. A total of 15 ulama were put up to contest and only half of them won. But this is a new breed of ulama who have one foot in the old world and the other in the new world.
All the PAS candidates had university or college degrees. For instance, the new Manir assemblyman Hilmi Harun has a background in Islamic studies but is now reading for a PhD in political science in Australia. His father is PAS Dewan Ulama head Datuk Harun Taib. The new Tepuh assemblyman Hishamuddin Abdul Karim is a handsome Al Azhar graduate and was a religious officer in a GLC.
PAS in Terengganu put up the most number of new and well-educated faces and many credit secretary-general Datuk Mustafa Ali who is from Terengganu for that.
"A number of the Umno candidates were not suitable for the new political landscape. That's why we lost the young and first-time votes," said corporate figure Raja Ghazali Raja Abdul Rahman.
Raja Ghazali said several factors dragged Barisan down in the eyes of voters. Chief among them is the lack of development which had led to a shortage of jobs and business opportunities.
Hard as it is to believe, he said the cost of living in Terengganu is quite high and eating out in a restaurant sometimes costs more than in Kuala Lumpur. He also believes that the civil service were not completely with Barisan because they did not have a high regard for the state administration.
Like many others, Raja Ghazali thought the Barisan line-up included too many poorly-educated people or what the locals call calon cap ayam (ayam brand of candidates).
For instance, everyone is talking about the assemblyman who only studied till Form Three but is now a state exco member.
Yet, it is not as though Barisan does not have quality people. For instance, engineer and Air Putih assemblyman Wan Hakim Wan Mokhtar is educated, smart and sincere. His father is Tan Sri Wan Mokhtar Wan Ahmad who was the Mentri Besar when Terengganu fell to PAS in 1999.
Everyone agrees that Wan Hakim is more than worthy of a state exco post. But the palace has old issues with his father and the son has been unable to move up. However, Ahmad recently made Wan Hakim the Barisan whip in the state assembly.
There has also been much mention of Ustaz Azhar Idrus, a charismatic preacher from Kuala Terengganu as a factor for PAS' near win. Ustaz Azhar does not have any fancy religious degrees but he has three beautiful wives and is a witty and interesting speaker. He is also known as Ustaz YouTube, loves photography and has 1.2mil Facebook friends. He was not a candidate but he was on the PAS campaign circuit.
Religion and Malay politics go hand-in-glove, and PAS in Terengganu still commands the moral voice.
The close race had also caused quite a bit of excitement among state PAS leaders, including party president Datuk Seri Hadi Awang who had gathered at the party headquarters in Kuala Terengganu to wait for the results.
But Hadi also had a heart-stopping moment when a TV station wrongly announced that he had lost in Marang. On the contrary, Hadi came almost within touching distance of the Mentri Besar post.
Not everyone relishes the idea of having Hadi up there again, given his unremarkable track record but he would definitely have had a more qualified team to work with had he won.
Reporters had gone to Hadi's house in Rusila near midnight on May 5, hoping to get a reaction statement. The lights were still on in the house but they were told that Hadi was exhausted and had gone to bed.
There has been all sorts of speculation that Ahmad had threatened to jump if he was not reinstated as Mentri Besar but those close to him dismissed it as "stupid lies". They said he is not like that and that "he is with Umno, heart and soul".
Ahmad has since come across as rather defensive about the election results. On election night, he was clearly annoyed, even angry, when reporters quizzed him about the narrow win.
The jury is still out there as to what exactly went wrong, but many have concluded that unless some radical changes take place, Barisan will have trouble holding on to Terengganu in the next general election.
Some "Chinese" rule Malaysia now
Posted: 15 Jun 2013 05:19 PM PDT
KTemoc Konsiders
Most of us are more than aware of the current and lamentably ongoing UMNO-instigated rage against the 'ungrateful' Chinese, this despite the general election being over. The results are already known and published in concrete where the UMNO-led coalition, being the majority political bloc in power, is back in federal rule for another 5-year term.
Some political analysts suggested that UMNO and its various state, academic, media apparatus and supporters including a former Appeal Courts judge are keeping the rage going as part of the UMNO intra-party manoeuvrings, manipulations and Machiavellian-ism.

There are those of us who have even responded defensively when we needn't be guilty of that fabricated accusation, though of course I appreciate Pakatan politicians have to for the satisfaction of their outraged constituencies.

While it's true that there are those in UMNO and their 'subsidiaries' who truly dislike or even hate the Chinese, the UMNO membership in general from Dr Mahathir, Najib, Muhyiddin, supra-patriot Ahmad Zahid, etc right down to the (UMNO-favoured) village penghulus are more interested in business and personal prosperity together with their Chinese cronies partners.

As always, it's 'business as usual', but only temporary masked by anti-Chinese diatribes until the pending UMNO party election will be over.

Only those so-called 'true believers', on both sides of the political-racial fence, who truly hate the 'other side' are the gullible, manipulated and easily duped, and you can bet they have been.

Mind you, this doesn't meant we should tolerated what are illegal, corrupt or ethically unacceptable, but we shouldn't be so extreme as to hate, especially in believing the words of politicians as if those are from the Gospels (or Quran or Mahabharata).

We saw a lamentable example of that hatred when Tan Sri Michelle Yeoh was vilified, even as far as the interactive forum of a popular Hong Kong entertainment website.
Thinking about the self-interest driven sandiwara of politicians reminds me of an old Chinese kungfu movie which portrayed the battle forces of two warlords engaged in violent battle over dominance of a province. While the warriors were fighting each other in mortal combat to the death, the two warlords were partying together, dining, yamseng-ing, joking, laughing, and womanising in a private cosy retreat.

Then, during their hedonistic indulgences, they dabbled in the trivia pursuit of a cricket-fighting competition (a popular but profligate Chinese past time since the Tang dynasty). They betted on stakes which required the loser to withdraw from the province their troops were fighting over. The movie showed the total hypocrisy and immorality of the warlords when the side which had just won a bloodied battle over the province, at much cost to its soldiers' lives and resources, was instructed to withdraw unconditionally because their warlord's cricket lost.

Yes, they weren't unlike some modern Malaysian politicians.

Once in Facebook I commented on a friend's posting about Ibrahim Ali, where I stated the Perkasa Chief wasn't a true racist, meaning he was a pretend-one, wakakaka – see Malaysiakini's Ibrahim Ali: I'm not racist!
Posted: 15 Jun 2013 05:14 PM PDT
(Bangkok Post) - Militants destroyed a historic house associated with Pakistan's founder Muhammad Ali Jinnah and shot dead a guard on Saturday.
Police said attackers on motorcycles planted bombs at the 19th century residence in the mountain resort town of Ziarat in Baluchistan province, a hotbed of ethnic nationalism.
Jinnah lived in the house before his death in 1948, a year after he led Pakistan to independence. He is also referred to as Quaid-e-Azam, which means "great leader."
Three bombs exploded, triggering the blaze that destroyed the building, said enior police officer Asghar Ali Yousufzai.
The attackers also shot dead a police guard outside the residence, which had been turned into a museum about Jinnah.
Police found six unexploded explosive devices hours later after firefighters extinguished the fire, Yousufzai said.
Baluch nationalist groups in tghe area have been demanding greater rights and a share from gas and mineral revenues. The province has also been home to sectarian insurgent groups and Taliban militants.
Prime Minister Nawaz Sharif condemned the attack and expressed his sorrow over the policeman's death.
The wooden building was constructed in the late 19th century. Pakistan's founder spent his last two months there, and the building was serving as a museum with Jinnah's belongings and other historical artifacts on display
There had been no previous threat to the historical monument, the chief secretary of the province said on television.
"This tragedy happened which is a huge national loss," said Babar Fateh Yaqoo. "The people of Ziarat are protesting over this incident."
Ziarat is about 120 kilometres north of the provincial capital of Quetta.
UAI sifatkan petisyen BN di Kelantan lawak
Posted: 15 Jun 2013 05:07 PM PDT
"Saya kata jangan jatuhkan kerajaan Islam." 
(Harakah) - Penceramah tersohor Ustaz Azhar Idrus menjelaskan kenyataannya bahawa 'haram menjatuhkan kerajaan Islam' yang dijadikan bahan kempen di Kelantan bukan kenyataan peribadi malah ianya sebahagian daripada ajaran Islam.
Katanya, tindakan BN mengemukakan petisyen dengan mengaitkan kenyataannya itu sebagai punca kekalahan mereka di Kelantan adalah tindakan 'kelakar'.

"Saya rasa kelakar sebab tiada kena mengena. Bukan saya berceramah (tetapi) ada dalam buku-buku agama (bahawa) haram kita jatuhkan apa sahaja bernama Islam. Tidak boleh," katanya dipetik Sinar Harian.

Jawapan itu sebagai mengulas tindakan BN Kelantan yang memfaikan petisyen yang mengaitkan kenyataannya itu yang diguna semasa kempen Pilihan Raya Umum ke-13 di Kelantan baru-baru ini.

Mengulas lanjut, Ustaz Azhar juga dipetik berkata, kenyataannya itu dibuat secara umum tanpa merujuk kepada mana-mana pihak.

"Yang boleh buat petisyen (kalau) saya kata 'jangan jatuhkan kerajaan Kelantan' tetapi (saya) tidak kata begitu.

"(Saya kata) jangan jatuhkan kerajaan Islam," katanya.
Gerakan hopes four years enough to turn the tide in GE14
Posted: 15 Jun 2013 04:57 PM PDT
Gerakan is going back to the drawing board as the party seeks to regain lost ground, says acting national president Datuk Chang Ko Youn
Chua Sue-Ann, fz.com
After yet another disappointing election outing, Gerakan is hoping that the next four years is enough time for the party and  Barisan Nasional to turn the tide of popular support in their favour.
Gerakan is going back to the drawing board with the next general election in mind as the party seeks to regain lost ground and the crushing defeats it suffered in the past two general elections.
When officiating the party's post-general election meeting, Gerakan's acting national president Datuk Chang Ko Youn acknowledged that BN had been "overwhelmed" by national issues raised by the opposition.
This effect appeared to override the development and public service route which BN has been campaigning on.
The opposition had largely campaigned on a slew of national issues and scandals such as good governance, human rights, security, crime, transparency and corruption.
"If we start with the first step, second step, third step, I'm sure we can gain back some support if not all (at the next general election).
"I appeal to voters. We do not have revolutions here, we have democratic processes. You can't expect the government to do wonders, wave a wand and have change overnight," Chang told a press conference after his opening speech.
Drawing from his own campaign experience, Chang said he still managed to win 20% votes from the Chinese community in the Beruas constituency on the back of years of public service and networking.
"But that is completely inadequate. There are issues far bigger than services and development," said Chang, who was defeated in Beruas.
According to Chang, Prime Minister Datuk Seri Najib Razak had set the right direction for Malaysia with his transformation plans but voters might have felt like the pace and implementation was not up to par.
BN has taken some concrete steps to address the people's unhappiness on hot button issues like corruption, transparency
These measures include making the judiciary and the Malaysian Anti -Corruption Commission more independent and having an oversight mechanism for enforcement agencies.
Chang noted that the opposition could make all sorts of promises to the people as it was not the incumbent federal government, but added that some of these pledges may not be rooted in reality.
Another problem is BN's issue of credibility, especially amongst young and urban voters, Chang said.
"BN needs a new image and approach to capture the imagination and support of voters," he said.
Chang said BN will need to address the needs and desires of new voters which he said could reach 2.5 million at the next general election.
"If we do not get their support, we can expect our popular votes to go down," Chang said.
Nevertheless, the recent general election also saw an additional 2.4 million first-time voters, about 40% of which are believed to be young voters.
When asked, Chang conceded that BN's strategy to engage new voters may not have been correct.
"We were quite apprehensive, we sensed some doubts ... But we thought what we did was enough to convince them," he said.
Gerakan today held a "brainstorming session" with its national leadership and all its candidates contesting in the recent 13th general election.
The BN component party is seeking to examine the strengths and weaknesses of its party and BN during the hotly contested election campaign.
Philippines plans to tap Israel for missile launchers
Posted: 15 Jun 2013 04:51 PM PDT
Amid rising tensions over territorial disputes with China in the West Philippine Sea, the government is planning to buy anti-aircraft guided missiles from Israel, reliable sources told the Manila Standard Friday.
(Manila Standard Today) - DND plans to  acquire anti-aircraft guided missiles, which will be positioned in the West Philippine Sea (South China Sea) as part of the country's first-ever missile defense system. (photo : Rafael)
Amid rising tensions over territorial disputes with China in the West Philippine Sea, the government is planning to buy anti-aircraft guided missiles from Israel, reliable sources told the Manila Standard Friday.

The source, who spoke on condition of anonymity, said the surface-to-air missiles or multiple launch rocket systems were being offered by Rafael Advanced Defense Systems Ltd. and Israel Military Industries Ltd., both based in Israel.

"SAMs and MLRS are mobile anti-aircraft weapons designed against jet fighters," the source said, adding that these had been suggested some time ago but had not been taken seriously because the defense establishment had no interest in investing at the time.

"Now, here comes the territorial dispute in the West Philippine Sea, and at last they've opened their eyes," the source added.

Another source said Defense Secretary Voltaire Gazmin was planning to go to Israel next week to forge an agreement with the prospective suppliers.

"If you have an agreement this would hasten the procurement process, say in three to six months you would already have the weapons. The agreement gives you the leeway to access all the information you want know about a particular weapon you want to procure," the source said.

Manila Standard tried to reach Defense Undersecretary Fernando Manalo and spokesman Peter Paul Galvez for confirmation, but both did not return calls or answer text messages.

In his first year in office, President Benigno Aquino III had released P75 billion to fund the upgrading of the military's capability through the procurement of ships and aircraft.

Gazmin then said they had some 138 big-ticket defense items that were being considered on a government-to-government procurement basis.

Part of this buildup was the recent procurement of the BRP Ramon Alcaraz, a rehabilitated US Coast Guard cutter introduced in the 1960s.

The refurbished cutter, procured for will be the country's most modern warship and is expected to arrive in July or August.

But Senator Gregorio Honasan seemed unimpressed with the extent of help offered by the United States, and called for a review of the US Visiting Forces Agreement and the Mutual Defense Treaty, which he described as useless.

"We are not getting anything out of it. We have many international economic, military and security arrangements with other nations but why did they not say anything while the Scarborough Shoal standoff was heating up?" said the former Army colonel.

Because of this, Honasan said the country should abrogate all treaties that do nothing to help the country.

At the same time, however, he said a joint fishing agreement with Taiwan would be beneficial because it would afford protection to fishermen from both countries.

His remarks follow the May 9 fatal shooting of a Taiwanese fisherman by Philippine Coast Guard personnel in the Balintang Channel that soured relations between Taiwan and the Philippines.

Also on Friday, the Foreign Affairs Department said it welcomed the filing of a resolution in the US Senate in support of a peaceful resolution to territorial disputes in the South China Sea.

"We understand that the resolution has yet to undergo the necessary congressional process before it is passed by the US Senate, nonetheless, we extend our appreciation on the mere fact that some US senators have deigned it necessary to express their views on a fundamental issue that affects the peace and stability of the Asia-Pacific region," the department said in a statement.

"The Philippines especially appreciates the reaffirmation of the peaceful resolution of disputes, including through arbitration; its condemnation of the use of threat or use of force; its recognition of the significance of the role of ASEAN and of the code of conduct; and its support for the ongoing and deepening efforts of the US in the region relating to ensuring freedom of navigation, maintenance of peace and stability, and respect for universally recognized principles of international law." 
Fifth person surrenders in case of 'les majeste'
Posted: 15 Jun 2013 04:21 PM PDT
(The Star) - The fifth individual, who allegedly insulted the Yang di-Pertuan Agong, has surrendered to police.
The woman went to the Dang Wangi police station at about 1pm with her lawyer to give her statement yesterday.
City CID chief Special Asst Comm Datuk Ku Chin Wah said the woman was later released on bail. Police have previously recorded the statements of four others after a 32-year-old woman was detained for allegedly insulting the Yang di-Pertuan Agong via Facebook on June 6.
"We will complete the investigations and forward the papers to the A-G's Chambers for consideration," Ku said yesterday.
Leslie Lau: 'We left Malaysian Insider because of disagreement over company direction'
Posted: 15 Jun 2013 04:17 PM PDT
(The Star) - Contrary to speculation, the majority of staff at news portal The Malaysian Insider did not walk out on Friday, said its former executive editor Leslie Lau on Saturday.
Lau took to Twitter earlier Saturday to explain that his plans, and that of his sister and managing editor Joan Lau, to leave the company had been planned for months, and Friday was their last day at work.
"Despite some speculation the majority of staff at @tm_insider (The Malaysian Insider) did not walk out yesterday. The current owners were given notice of our departure.
"Our reasons for leaving @tm_insider was because of disagreement over direction of company," he said.
Speculation was rife that the majority of The Malaysian Insider's editorial staff had left the company with Lau, who will join a brand new news portal, The Malay Mail Online, expected to begin operations on July 1.
Lau added that all the editors of the company had planned their departure, but "one decided to stay at the last moment".
"I wish him all the best. We wish people who have been recruited to take over at @tm_insider all the best just as I'm sure they wish us well," he said.
A check on the portal's website listed only five members of the editorial team, including its chief executive officer Jahabar Sadiq.
Lau also stressed that the move was a business decision, and no politics had been involved despite some wild speculation.
"We at http://themalaymailonline.com will strive to practice the same if not better journalism than we did at @tm_insider."
Flash mob fizzles out after arrests
Posted: 15 Jun 2013 04:10 PM PDT
(The Star) - A gathering of a "flash mob" near the Sogo shopping complex at Jalan Tuanku Abdul Rahman here was short-lived after 15 of them were arrested barely an hour after it began.
However, they were released six hours later.
Among those picked up during the incident at 2.50pm yesterday were Solidariti Anak Muda Malaysia propaganda director Edy Noor Reduan and a 10-year-old boy.
Dang Wang OCPD Asst Comm Zainuddin Ahmad said that the participants were arrested for disrupting the peace.
"We had warned them to disperse but they refused to do so," he added. He criticised the participants for bringing children to the gathering.
Earlier, the flash mob consisting of members of SAMM and several NGOs gathered outside Sogo to urge people to join the June 22 rally to be held at Padang Merbok.
Edy Noor said that the participants only want to express the people's dissatisfaction over the 13th general election result.
"We have the right to protest. We do not want to cause trouble," he said before he was arrested.
Later, other participants went to the Dang Wangi police station to show support for the arrested group, who were held there.
Among those seen at the police station were student activist Adam Adli.
In a statement, Gelang Patah MP Lim Kit Siang criticised the police for concentrating on arresting people who are carrying out a peaceful protest rather than fighting crime.
In Putrajaya, Deputy Inspector-General of Police Datuk Seri Mohd Bakri Zinin said that the organisers of the Black 505 rallies would face action if they continued with their plan without seeking proper permits.
"We already have laws and will enforce those laws.
"We will look at the situation. If the need arises, we will take action," he said during the Putra Intelek International College convocation ceremony held at the Putrajaya International Convention Centre yesterday.
It was reported that the Opposition would go ahead with its rally at Padang Merbok even if it did not get the go-ahead from Kuala Lumpur City Hall.
PKR strategic director Rafizi Ramli had said that Pakatan Rakyat had insisted on holding the rally at Padang Merbok despite DBKL wanting them to hold it in a stadium.
Posted: 15 Jun 2013 04:01 PM PDT
Pakatan should concentrate on ensuring a fair delineation of electoral constituencies. 
Zefry Dahalan, FMT
The Black 505 rally scheduled for June 22 in Kuala Lumpur is expected to draw a crowd that is even larger than the record-breaking one that Bersih gathered for its third rally last year.
However, cynics are asking whether the Black 505 series will achieve anything more significant than giving vent to the anger felt by Pakatan Rakyat and its supporters over perceived unfairness in the conduct of last May 5's general election.
Will there be a revision of the results of the 13th general election? Will the government revamp the Election Commission (EC)?
Will the EC chairman and his deputy lose their jobs?
Perhaps the most important question is whether another big rally will ensure a free and fair 14th general election.
Most observers would answer "No" to all of the questions above.
Even if the Election Commission (EC) were to promise to implement new procedures to ensure transparency in coming elections, no reasonable observer is going to take it seriously.
The indelible ink fiasco in the recent election illustrates how the BN-friendly commission can foul up things at the last minute.
Perhaps the best thing for Pakatan to do now is to ensure that it has a significant say in the re-delineation of electoral constituencies so as to prevent the kind of gerrymandering that BN used to do when it controlled more than two thirds of Parliament.
A fair and even delineation will help Pakatan win more seats in the 14th general election.
Except perhaps in Kedah, Kelantan and Terengganu, population increases in most rural areas since the 2003 delineation have not been significant enough to merit the creation of new seats.

Delineation exercise

In many urban and semi-urban areas, however, the numbers of registered voters have far exceeded parameters determined by the EC.
For example, the semi-urban parliament constituency of Kapar in Selangor had 112,224 voters for the 12th general election. This number increased to 144,369 for the recent election. In five years' time, assuming a similar increase, there will be 176,514 voters.
Pakatan should demand that Kapar be split into three parliament seats for the next election.
In fact, in Selangor alone, nine other parliament constituencies now need to be split.
They are Serdang, Subang, Hulu Langat, Gombak, Puchong, Selayang, Kota Raja, Kelana Jaya and Shah Alam. Each has more than 100,000 voters.
Klang is another candidate for re-delineation. In 2008, it had 77,816. The number increased to 97,252 in five years. By the time the 14th general election comes around, it should easily pass the 100,000 mark.
If each of these 11 seats in Selangor were split into two, Pakatan could easily add 11 more to its tally in Parliament.
BN will undoubtedly demand the creation of new seats in the rural areas where it is confident of voter support, but it would not gain much advantage over Pakatan unless EC could come up with a justification to use different parameters for rural areas.
Outside Selangor, there are many more urban and semi-urban seats that need to be split.
These include Gelang Patah (106,864 voters), Seremban (102,507), Johor Bahru (96,515) and Kota Melaka (92,511).
Police Officer Stabbed In Mosque Attack
Posted: 15 Jun 2013 03:55 PM PDT
(Yahoo News) - Four men including a police officer have been taken to hospital after being stabbed in a mosque in Birmingham.
The police constable was responding to reports that three men had been stabbed inside the mosque in the Ward End area of the city when he was attacked.
The four are being treated in hospital for their injuries. They are all said to be "stable".
A 32-year-old man has been arrested on suspicion of attempted murder and is currently in custody.
A West Midlands Police spokeswoman said: "Police were called at 11pm on Saturday night to a mosque in Washwood Heath Road, Ward End, to reports of three men with stab wounds.
"Officers arrived at the incident and whilst the man was being detained, one police officer suffered a stab wound.
"The three people and the officer have been taken to hospital, all are currently described as stable."
Officers are investigating whether the attack was a hate crime.
"We don't know at the moment, it's very early stages in the inquiry," the spokeswoman said.
"We can't rule anything out at the moment."
Mohammed Shafiq, the leader of national Muslim organisation the Ramadhan Foundation, expressed "deep concern" over the stabbings.
He said: "Our immediate thoughts are with the victims injured and their families.
"It is too early to speculate on the circumstances of the stabbings but we must be clear there should be no place for this sort of violence in our country. There will obviously be people who will try to take advantage of this tragedy but we must not allow them to succeed."
A number of mosques have been targeted since the murder of Drummer Lee Rigby close to his barracks in Woolwich, south London, last month.
The killing also sparked a large increase in anti-Muslim incidents in the days that followed, according to the organisation Faith Matters, which works to reduce extremism.
In what were believed to be reprisal attacks, the Islamic Somali Community Centre in Muswell Hill, north London, was burnt to the ground while the Grimsby Islamic Cultural Centre was also targeted by arsonists who threw petrol bombs.
Last week, Muslim groups called on authorities to take serious action against the wave of anti-Islamic attacks.
in London, Metropolitan Police Commissioner Bernard Hogan-Howe responded by saying extra resources would be deployed to sites deemed to be "at greatest risk".
Posted: 15 Jun 2013 03:46 PM PDT
There is nothing wrong in Malaysians criticising the Agong's speech and to question the election results as both actions are their rights guaranteed by the federal constitution. 
Jeswan Kaur, FMT
Have our rulers lost touch with the grassroots reality? The 'glass wall' that separates the rulers from the rakyat so often leads to their failure in listening to the rakyat and their problems.
At best, the rulers as the rakyat see it symbolise the Malay heritage; reality however has proven that politics always supercedes the monarchy, many a times at the expense of the rakyat's welfare.
Apart from the time and again reminders to the people to keep away from the issue of the Malay rights and privileges, the rakyat has yet to recall a subject or issue that has affected the country's rulers to the extent that they make it a priority to raise the matter at the available platform.
One good avenue which avails itself to the rulers is the speech they make in conjunction with the celebration of their official birthday.
Sadly, this platform too has been hijacked by the BN government to push for an agenda of their own.
One example is the speech made by the 14th Yang di-Pertuan Agong, Tuanku Abdul Halim Mu'adzam Shah, which was broadcast live on May 31, the eve of the official celebration of his birthday.
In his speech, the Agong called on Malaysians to accept the 13th general election results for the sake of the country's peace, stability and security.
However, to PKR de-factor leader Anwar Ibrahim, the Agong's speech was in no way going to halt his plans in going ahead with is Black 505 rally to protest against the alleged rigging of the May 5, 2013 general election.
The June 15-planned rally was postponed to June 22 due to the unavailability of the venue Padang Merbok on the previous date.
But to the BN sycophants, Anwar's insistence in executing the rallies is nothing short of his disrespect for the Agong.
Anwar however begs to differ for he believes the Agong's speech was not worth heeding for it was fabricated by the Prime Minister's office.
Anwar alluded that the BN federal government had used the Agong's speech to 'pressure' the rakyat to accept last month's general election results; this stand has gone on to earn Anwar the 'traitor' tag, with some BN MPs going so far as to suggest that an Anti-Treason Act be put in place to 'safeguard' the Agong.
Constitution reigns supreme

The irony of it all however is that the Agong's speech enjoys no immunity and can be questioned, said constitutional expert Abdul Aziz Bari.
Indeed, who better to 'separate the wheat from the chaff' if not Abdul Aziz, the former law lecturer at International Islamic University Malaysia who courted controversy in 2011 when he described the Selangor Sultan Sharafuddin Idris Shah's intervention in a raid by the Selangor Islamic Religious Department at the Damansara Utama Methodist Church as unusual and inconsistent.
And the very Umno MPs who then accused Abdul Aziz of treason are today creating a palaver by crying foul over Anwar's gumption to question the Agong's and labelling the PKR adviser a traitor.
Abdul Aziz matter-of-factly says there is nothing wrong in Malaysians criticising the Agong's speech and to question the election results as both actions are their rights guaranteed by the federal constitution.
"We must always remember that in this country, it is the constitution that reigns supreme and everybody, including the Agong, is subject to it.
"No one, and this includes the Agong, has the power to deny the rights guaranteed under the country's laws and constitution.
"These include the right to question the election results, so long as this is done in accordance with the constitution," he told Malaysiakini.
But then as before, Umno-BN is paying no heed to Abdul Aziz's words, the latter who like many Malaysians holds the view that the Umno-BN government has spared no effort in distorting the notion of the Agong as the symbol of authority even to the point of condemning those MPs who criticised the Agong's speech.
"As in any Westminster system, such a speech is essentially the government's speech and policy even though it is read out by the monarch. As such the criticism is neither disrespectful nor seditious."
Hence, Anwar did nothing wrong by questioning the Agong's speech.
Kredit: www.malaysia-today.net