Klik GAMBAR Dibawah Untuk Lebih Info
Sumber Asal Berita :-
---
Two flash mobs before Black 505 rally
Posted: 14 Jun 2013 11:20 AM PDT
(The Star) - The organisers of the "Black 505" rally will hold two gatherings of flash mobs in Kuala Lumpur, says Solidariti Anak Muda Malaysia (SAMM) chief Badrul Hisham Shaharin.
He said the first flash mob would be held along Jalan Tuanku Abdul Rahman near the Sogo shopping mall at 2pm today while the next one would be held at Jalan Tun Perak at 6pm on Wednesday.
"The first flash mob is a curtain raiser towards the main event on June 22, and we expect it to last until about 5pm.
"We will also have a final countdown (to the Black 505 rally) at the Kuala Lumpur and Selangor Chinese Assembly Hall on June 21," he said yesterday.
He said the participants would gather at various points and hand fliers to the public.
"The events will be peaceful," he added.
Badrul Hisham said the activities were aimed at ensuring the biggest mobilisation of people for the Black 505 rally to protest the results of the 13th general election.
Among other activities planned are debates in Ipoh, Perak on Monday, Sungai Besar, Selangor on Tuesday and Temerloh, Pahang, on Thursday.
City police chief Deputy Comm Datuk Mohmad Salleh said policemen would be on stand-by today as well as Wednesday to ensure the safety and security of the public are maintained.
It was reported that the Opposition would go ahead with its Black 505 rally at Padang Merbok in Kuala Lumpur on June 22 even if it did not get the go-ahead from Kuala Lumpur City Hall (DBKL).
PKR strategic director Rafizi Ramli said the Pakatan had insisted on holding the rally at Padang Merbok despite DBKL wanting them to hold it in a stadium.
"If we give in, it means we cannot hold rallies in open public spaces. So, it's a deadlock between us and DBKL," he said after meeting DBKL officials yesterday.
DBKL had suggested Stadium Merdeka and Stadium Titiwangsa as alternate venues.
Former Inspector-General of Police Tan Sri Musa Hassan, who is also an unofficial member of the Pakatan security advisory council, said holding rallies would only disrupt peace and stability.
Can constructing the international airport in Alor Star cause Pulau Pinang and the DAP to go bust?
Posted: 14 Jun 2013 11:18 AM PDT
Pulau Pinang can go bust. It must be allowed to go bust since the people there do not deserve to be given any preferential treatment over the others, who are the Melayu in Kedah who had to suffer just to accommodate the interests of the Chinese in Pulau Pinang who now have to depend on the Democratic Action Party or DAP for their own economic survival. 
Mansor Puteh
The Chinese in Pulau Pinang when it was under Barisan Nasional had clout, and had then protested vehemently when the government wanted to construct a new international airport in Alor Setar, Kedah.
The Chinese in Pulau Pinang feared if this happened, the economy of the state would go bust.
But what they did not realize was that without the construction of the airport, the economy of Kedah would go bust.
They did not care about Kedah; they only cared about themselves.

And what this also meant was that they only cared for the well-being of the Chinese in Pulau Pinang who then formed the majority in the state.
They did not care about the well-being of the Melayu in Kedah who formed the majority in this state.

The Chinese in Pulau Pinang did not care what the government had done to the state to give it a higher economic profile all these years, that had allowed the state to develop.
They did it at the expense of Kedah and the Melayu.
But then, Pulau Pinang was a stronghold of the Malaysian-Chinese Association and Parti Gerakan Rakyat or Gerakan, so the government had to take heed of what they wanted, and got it.

So Kedah was left behind economically without the airport. It only has a small airport for domestic use.
But now Pulau Pinang has gone to the opposition.

Having done much to the state by the government, the majority of the Chinese in this state chose to vote opposition. It was a wise move.
But it can also be a stupid move. How? If the government revisits the idea of developing a new international airport in Alor Setar and turn Kedah into a new economic powerhouse in the north of the Melayu Peninsula.
If this can be done, Pulau Pinang can go bust.
It must be allowed to go bust since the people there do not deserve to be given any preferential treatment over the others, who are the Melayu in Kedah who had to suffer just to accommodate the interests of the Chinese in Pulau Pinang who now have to depend on the Democratic Action Party or DAP for their own economic survival.
The Chinese there did not care who had caused the state to develop. They only care who should govern the state, now that it has developed. They chose an almost Chinese-majority party who do not care for the well-being of the Melayu.
There is no doubt that the Chinese in Pulau Pinang had made a grave mistake for voting opposition as it can backfire only if the government and especially Umno know how to go about solving the matter, i.e. by constructing a new and larger international airport in Alor Setar and turn Kedah into a new economic powerhouse.

After all, the people of Kedah who had also tried their luck by voting for PAS now realize their own folly by turning their backs against them in the last general elections.
So it is time for Kedah to be given some preferential treatment and to allow the state to develop and directly compete with Pulau Pinang.
Have those in Umno and the Melayu in Kedah forgotten how the Chinese in Pulau Pinang threatened not to support Barisan if the airport was built?
Have the Melayu in Kedah also forgotten how the Chinese in Pulau Pinang did not care for their well-being but only for the well-being of the Chinese in Pulau Pinang?

Those in Pulau Pinang only wanted Kedah and the Melayu majority there to suffer just to allow Pulau Pinang to continue to prosper.

Now that the threat of the Chinese in Pulau Pinang has been released, by them having voted DAP en masse, maybe it is the right time for the Kedah and government to construct the international airport in Alor Setar to spur its economic growth.
So it was good for the Chinese in Pulau Pinang to give the state to DAP so that Kedah can now go on their own way and develop itself, and by doing so can also cause Pulau Pinang to have stiff competition that it did not want to see as the Melayu in Kedah were too innocent to believe that the Chinese in Pulau Pinang would continue to vote Barisan if Kedah chose to remain backward.
Even when Kedah was given to PAS, the PAS government did not do anything to the state, and allowed it to stagnate.
Now that the people of Kedah are smarter and returned the state to Barisan, it is the right time for them to give Pulau Pinang a run for their money and see if DAP is good for Pulau Pinang, that the Chinese there thought they were, now that the DAP are in their second term as government of the state.
Pulau Pinang's economic growth therefore can be said to be dependent on the state of the economy of Kedah, who chose to remain backward simply to look after the interests of the Chinese in Pulau Pinang.

Now that the tables have been changed, maybe the state of the economy of Pulau Pinang too must be changed.
Kedah cannot suffer because they want Pulau Pinang to prosper.
Pulau Pinang must be strong enough to face competition from Kedah so that the DAP can prove to its voters that they are deserving leaders, and their choice to vote them in was not wrong.
Kedah can prove this to be wrong, for them to go for DAP.
Malaysian leader's son to receive another USD 320 million in state contracts
Posted: 14 Jun 2013 11:04 AM PDT
Sarawak Chief Minister Taib Mahmud's son expected to grab 80 per cent of state's rural electrification scheme (RES) contracts
Bruno Manser Fonds
(KUCHING, MALAYSIA) Sarawak Cable, a company linked to Mahmud Abu Bekir Taib ("Bekir"), the son of Sarawak Chief Minister Taib Mahmud, is expected to receive state contracts worth over 1 billion Malaysian Ringgit (USD 320 million) by the end of this year.
 
According to Malaysian investment research firm AmResearch, Sarawak Cable is highly likely to receive 80 per cent of the contracts for the Malaysian state's rural electrification scheme (RES). The expected contracts will be granted by the state-owned power supplier, Sarawak Energy, and include a lucrative 500kV power transmission line. Last week, Sarawak Cable secured a MYR 32.9 million contract from Sarawak Energy for the proposed Tudan-Miri Airport 132 kV transmission line.
 
Sarawak Cable is chaired by the Chief Minister's son, Bekir, who is also the company's largest shareholder (20.7%). Another 18.8% of shares are controlled by the State Financial Secretary of Sarawak.
 
Between 2009 and 2012, Sarawak Energy granted contracts worth over USD 220 million to companies linked to the Sarawak Chief Minister's family. When confronted with these abuses, Sarawak Energy's Norwegian CEO, Torstein Dale Sjøtveit, said: "I have never been corrupt or involved in corrupt practices; not before I came to Sarawak, not while I have been in Sarawak, and I will not be in the future."
 
With an estimated net value of USD 20 billion, the Taib family is one of Asia's richest and most corrupt political clans. The family's assets include stakes in over 400 companies worldwide and properties in Australia, Canada, the US and the United Kingdom.
 
Sources used for this release: 
 
http://www.theborneopost.com/2013/06/01/sarawak-cable-expected-to-clinch-rm1-billion-power-line/
http://biz.thestar.com.my/news/story.asp?file=/2013/6/12/business/20130612184339&sec=business
http://www.stop-corruption-dams.org/resources/BMF_report_complicit_in_corruption.pdf
http://www.stop-timber-corruption.org/resources/BMF_Taib_family_report_2012_09_20.pdf
Sarawak Cable Bhd. Annual Report 2012.
Pakatan-PSM row shows minority voices face "double whammy" struggle
Posted: 14 Jun 2013 11:02 AM PDT
The current first past the post voting system favours big political parties. Small non-aligned political parties like PSM, Star, Kita or independent candidates have to kowtow (bow down) to the big guns for a safe passage to stand a chance of winning in the election. The bigger parties will always call the shots and they are the ones who decide who they prefer as their candidates at the gazetted constituencies.  
Kuo Yong Kooi 
Parti Sosialis Malaysia's (PSM) and Pakatan Rakyat's relationship dilemma is a classic case of a non-reciprocal one-sided relationship. Both parties have got an overarching common objective of ousting the current Umno regime. Other than that, it's a "dog-eat-dog" or "big fish eats small fish" world out there.

The current first past the post voting system favours big political parties. Small non-aligned political parties like PSM, Star, Kita or independent candidates have to kowtow (bow down) to the big guns for a safe passage to stand a chance of winning in the election. The bigger parties will always call the shots and they are the ones who decide who they prefer as their candidates at the gazetted constituencies. 

This is the political reality that the current voting system has created.

Pakatan's true colours were revealed during the pre-GE13 seat allocations kerfuffle between them and PSM in Semenyih, Jelapang, Sungai Siput and Kota Damansara when they did not fully accept PSM as part of their party unless it suited them.

D Jeyakumar and Nasir Hashim were forced to back down on using the PSM logo and run under the PKR ticket during the seat negotiations prior to the GE13. S Arutchelvan and P Saraswathy's candidacies were outright rejected in favour of Pakatan's own candidates. This proves that if they are to join Pakatan, it will be done conditionally.

PAS president Hadi Awang acted unilaterally as he fielded his own party's candidate, thus forcing a three-way fight at Kota Damansara which cost a Pakatan seat.

Pakatan's utter disregard for PSM's dedicated and hard grassroots work in the disputed constituencies in the last GE13 makes it clear that there is not much of a relationship in the first place. The unfortunate part of democracy is that you need to get a sizeable following and are able to win some seats to get an impact and respect.

I suggest PSM should adopt the "save qi" (save your breath) formula in its dealings with Pakatan. After all, there are only limited things that a person can do in one's own capacity as a political activist. The relationship problem will persist as long as we are adopting the current first past the post voting system.

Wasting energy in arguing over who did the right thing; asking more questions on why PSM was rejected; or even if PSM was accepted as part of the Pakatan pact - the same problem of in-fighting over whose party candidate is winnable for a particular constituency will still be there in any given election.

The one question that PSM needs to ask is "What is the political reality at this point in time?"

If this question is asked frequently in all future dealings with Pakatan, then we can all work efficiently to deal with enemy number one: Umno. If we continuously argue over what we have gone through and who is right or wrong, we only harbour ill will against each other and in the long run we will fail dismally in the task of unseating Umno from Putrajaya. Too much energy is wasted in arguing instead of working together.

Mind you the arguments put forth are generally the same. The difference is there will be different players at different general elections that cause the rift when it comes to seat allocations.

Post GE 13 has shown to us that the "political reality at this point in time" is a united front to unseat the Umno regime. Many independents including Saraswathy lost their deposits. Arutchelvan managed to garner a sizeable amount of votes away from the PKR candidate and directly contributed to BN's win at the Semenyih seat.

It is great that Arutchelvan managed to effectively thumb his nose on PKR's Azmin Ali, who called the shots in fielding his henchman in the Semenyih seat. The seat loss taught Azmin a lesson for not respecting Arulchelvan's years of hard work in that constituency. That lesson was the only good thing that emerged from the three-cornered fight. Probably that is the only thing a minority party can effectively do due to their small numbers. 

Insisting to field a PSM candidate that forces a three-cornered fight just to prove a point that you are relevant is akin to political suicide. There are more important areas to focus on, like expanding PSM's membership. 

If PSM believes that expanding the membership is best done through participating in an election to sell the PSM brand and logo, then running as ADUNs in Selangor and Penang is the only viable option as both states seem to be Pakatan's strongholds.

Seat losses suffered by Pakatan may not necessarily have an overall impact on them at the state level. Running in Perak can tip the balance on who wins the state government and can have a disastrous effect on Pakatan's chances to rule the state.

It is best for PSM to save energy and give way if there is a three-cornered fight at the national level because the political reality at this point in time is to oust BN from Putrajaya.

In a future event of a changed government, the political reality at that point in time will be different. The next best campaign for PSM is to form a united front with all the smaller political parties, civil liberty groups and NGOs who sympathise with the idea of "grassroots participatory democracy" to lobby for a preferential voting system. 

The electoral system that we are adopting at the moment is the main cause of this type of problem. In my article "The preferential voting system" on http://www.malaysia-today.net/mtcolumns/letterssurat/55220-the-preferential-voting-system. I briefly described the basic logic of the preferential voting system.

After the successful installation of the preferential voting system, PSM may field as many candidates as they like as it works in favour of smaller parties. Fielding many candidates does not hinder the outcome of the election result because the preferential voting system counts every vote. In other words, no candidate's votes are wasted. The loss votes are reallocated to the next preferred candidate.

It's best to have a preferential voting system because the big political parties will be forced to listen to you when you have sizeable votes that dictate the winner of the contesting seat. It also brings the political horse-trading down to the electorate and grassroots level. 

Waiting for a more accommodating leadership that tailors to the aspirations of small political parties under our current voting system is a waste of time. 

The preferential voting system is more sympathetic to smaller political parties and minorities. It encourages a genuine healthy "participatory democracy" and promotes diversity of political beliefs instead of hegemony.

PSM has set high standards such as declaring personal assets to the public annually for future politicians to follow. They do not allow parachute candidates; their candidates have to work at that particular constituency for a minimum of five years before running for a seat. 

PSM's tireless and selfless service to the poor and marginalised earns them the title of the "real down to earth hard working and honest politicians of our time". Pakatan has a lot to learn from PSM in these areas if they accept PSM. If Pakatan does not accept PSM it is their loss after all we need to gather small waves to make big waves. 

PSM is relevant by virtue of their principles and their consistency in their political stand and beliefs.

There will be no hard feelings if Pakatan rejects PSM as PSM has always worked independently before Pakatan's existence. Their target audience are different. People who are attracted to PSM are hard working quiet achievers.

Kuo Yong Kooi
Posted: 14 Jun 2013 10:43 AM PDT
 Tower of Babel
Instead of talking about the whole solution, they are talking about part solution for an entire problem. Why only talk about harsher punishment for 'hina Raja- Raja Melayu' alone? How about propose to pass a law with harsher punishment for 'hina Raja-Raja Melayu and also for 'hina antara kaum'? I believe the King too will not be pleased to see the people 'hina menghina antara kaum'.    
Michael Zechariah
It is impossible not to address these disrespectful fools before talking about anything that has to do with the mention of God. So, to all Atheists and God haters in Malaysia, who relentlessly vilify those who believe in God and strategically label everything about the mention of God as a load of sanctimonious bollocks and to the kind who always publicly curse God because some anus loving 'clergy' somewhere explored somebody's arse, and to those apostates with confused theology and Satanists who paint the picture of God as a blood thirsty tyrant without any compassion who punished the Egyptians, and to those who address God as 'she' just to show contempt to Abrahamic religions and other beliefs that refer to God as He just to assert your disrespect for those who believe in God, I've got news for you; Malaysia is a country that believes in God.
And to those Malaysians who subscribe to Satanic philosophy and the belief system that "you are your own God and worship self only by doing things that pleases and pleasures you", and go on further to strategically and intentionally blaspheme God as a prick who forces you to do things against your will and giving in to His ridiculous demands makes your life miserable, I've got news for you too; Malaysia still is a country that believes in God.
Believe in God is the first thing in our Rukun Negara (National Principles). Rukun Negara is the basis and the foundation for achieving the Malaysian dream. As such, people who mock belief in God and God should just keep their 'hate' in their atheist circle. If you think you came from a monkey, that's your prerogative. If you think you just live and let die, that's your problem. If you exercise your freewill to go to Hell, please take the earliest transport that is available to you. But this country, Malaysia, is still a country that places belief in God as the number one order in the National Principles. For God haters who are constipated with hate for God and show contempt for those who believe in God, just know that you are disgracefully insignificant in the bigger scheme of things in a country that believes in God. You are nothing more than a time wasting non issue at best or a disrespectful irritant at worse. Malaysia still is a country which has more people who genuinely believe in God compared to God haters like yourselves.
To all Atheists and God haters in Malaysia, who relentlessly vilify those who believe in God, God will not cease to exist just because you don't give a hoot about His existence or because you blaspheme Him. To all both God believing and Atheists, pretenders, liars, lunatics, delusionals, connivers and schemers in all domains who are out there to tear the fabric of the Malaysian society, Malaysia still is a country which has more people who genuinely believe in God and fear God compared to you slimeballs and scumbags. Yes, there are God believing slimeballs and scumbags who engage in all kinds of vile things. Yes, there are Atheists who do good. But Malaysia still is a nation that believes in God.    
Believe in God
It is interesting to note that a multi-racial and a multi-religious country like Malaysia has believe in God as the highest order in the National Principles or Rukun Negara. This intention to honour God as the source of all provision in achieving the Malaysian dream serves as a declaration and an acknowledgement as Malaysians that God is first and above everyone and above all else in Malaysia. Loyalty to the King and country comes next. Our Kings are not Pharaohs therefore they don't demand you to worship them. They believe in God themselves.
If you are descendants of the 'pendatangs' as you are 'lovingly' referred to from time to time again by some lunatics who still don't understand about your lawful citizenship of Malaysia, your loyalty is now to the Raja-Raja Melayu (the Malay Rulers) and to the country, Malaysia. Whether or not in your heart you revere them as your king or whether or not in their hearts they the (Raja-Raja Melayu) actually have any regard for you as you are not Malay, you are still to respect and remain loyal to the Institution of the Malay Royalty. Therefore, you neither wage war against the King nor be dumb enough to hurl any insult at him.  
Today, we have politicians who talk about tightening the laws to punish some stupid, 'don't give a hoot about anything people' who insult the King (Raja- Raja Melayu) instead of finding a workable solution to safeguard all the 5 points in the Rukun Negara.
Instead of talking about the whole solution, they are talking about part solution for an entire problem. Why only talk about harsher punishment for 'hina Raja- Raja Melayu' alone? How about propose to pass a law with harsher punishment for 'hina Raja-Raja Melayu and also for 'hina antara kaum'? I believe the King too will not be pleased to see the people 'hina menghina antara kaum'.    
Our problem started when we say that we are a nation that believes in God but we hardly practice the fear of God in our dealings. We then become hypocrites who only print on paper that we believe in God and hang it on the wall. But the fear of God is not written in our hearts. Have we become lovers of ourselves, lovers of money, boasters, proud, blasphemers, disobedient to parents, unthankful, unholy,  unloving, unforgiving, slanderers, without self-control, brutal, despisers of good,  traitors, headstrong, haughty, lovers of pleasure rather than lovers of God, having a form of godliness but denying its power?
When we don't fear God, we lack seriousness in upholding the constitution, rule of law, good behavior and morality.
How is it possible that we believe in God but we do not fear God? Fear of God does not exist in the air. It is the acknowledgement in our heart of the awesome greatness of God and of the hereafter (akhirat) in all our actions.
Do we view corruption through the lens of acknowledgement of the greatness of God and of hereafter (akhirat)?
Do we view abuse of power through the lens of acknowledgement of the greatness of God and of hereafter (akhirat)?
Do we acknowledge the greatness of God and of hereafter (akhirat) as a nation, when we humiliate and insult other races among fellow Malaysians?
Do we acknowledge the greatness of God and of hereafter (akhirat) in our ambition to achieve a more perfect unity amongst the whole of our society?
Do we acknowledge the greatness of God and of hereafter (akhirat) in the pursuit of preserving a democratic way of life? (although democracy is also an imperfect system)
Do we acknowledge the greatness of God and of hereafter (akhirat) in creating a just society where the prosperity of the country can be enjoyed together in a fair and equitable manner?
Do we acknowledge the greatness of God and of hereafter (akhirat) in guaranteeing a liberal approach towards our rich and varied cultural traditions and building a progressive society that will make use of science and modern technology?
Do we acknowledge the greatness of God and of hereafter (akhirat) when we twist and turn the facts to suit our political agenda at the expense of others? E.g. dismissing a real entity like racism as insecurity or when we justify discrimination for scoring political points?
Do we acknowledge the greatness of God and of hereafter (akhirat) when we scheme and operate every possible way to plunder the country's wealth and dissipate its resources?
Do we acknowledge the greatness of God and of hereafter (akhirat) when we willfully enter into self serving lopsided contracts at the expense of the people?
If we are public servants, do we acknowledge the greatness of God and of hereafter (akhirat) in discharging our duties?
If we are business people, do we acknowledge the greatness of God and of hereafter (akhirat) in the way we operate our business?
Having said that, we cannot escape from some who may ask the questions of whose God, which God and what God are we talking about here?
The God in our Rukun Negara is definitely not money even though more and more people worship money today. It is time we change believe in God in our Rukun Negara (National Principles) to believe in Allah. No religion in Malaysia should have a problem with that. It is debatable, but possible. With some good theologians of all religions we have in this country, it is possible. But with self serving politicians and corrupt clergy, it may be difficult. But it is still possible.
The God in our Rukun Negara (National Principles), is the God Who is; all knowing, all powerful, omnipresent, compassionate, righteous and holy. The Maker of heaven and earth and everything in it, both the seen, and the unseen. This is finding a common ground approach. We can agree to agree or agree to disagree. It is debatable. But we need a common ground for the sake of what we proclaim in Rukun Negara (National Principles).
While the fear of God is not a prerequisite for being sincere with one another and to respect one another it poses no threat to consider hereafter in all our dealings.
For one thing that believers in God, Atheists, God haters and Satanists have in common is that we all certainly will die. Every second spent alive is every second closer to death.  
When consumerism found its way into all known religion under the sun, it has corrupted religions as a multi- million dollar business concern that overflows with cash and with misplaced hope and priorities. Then, there are remnants of the faithful.
When religion becomes an accessory and faith a plus point for status, we tend to play Al Capone and whitewash every wicked decision we make as acceptable and pure. We endorse the perversion of yesterday as the routine and the fashion of today. We in a way become our own god. (Conforming to the Satanist philosophy.) Then it raises a fundamental question if God is only a relic of the ancient times who has relevance to present day reality? We seem to 'undo' all of His 'mistakes' whenever we think He is not politically correct.
Is God a self developed system which has become so obsolete that the men of today do not even require a feature in him to identify and operate this outdated no-use piece of history? Then, we have Rukun Negara (National Principles), which places believe in God as the number one order.
Have we become a nation which excels in manufacturing impressive slogans and songs but the juice of its content never saturates our heart? As the pursuit of prosperity and material wealth become the top priority, has it blurred our sight, distorted our views, darkened our hearts and lost our souls? Has the road that we have walked upon just filled our pockets but have emptied out our souls?
As a nation we declare believe in God in our Rukun Negara (National Principles); What about the fear of God? What about God's judgment? What about righteousness? What about justice? Do we give a damn? Does the message of believe in God reflect in the way we operate as people, leaders and politicians in the Malaysian society, in the way we do business, and in the way we govern? Or is it that we have transformed ourselves as a hypocrite nation which just renders believe in God as merely a nice slogan that decorates the Rukun Negara (National Principles)?
Michael Zechariah is a student of life, former law lecturer and a corporate professional who currently runs a training firm which specializes in helping governments transform their agencies to be more effective to deliver policies that are aimed at nation building.
Tan Twan Eng beats Hilary Mantel to win £25,000 prize for historical fiction
Posted: 14 Jun 2013 10:40 AM PDT
(The Telegraph) - The 2013 Walter Scott prize has been won by the Malaysian author Tan Twan Eng for his second novel, The Garden of Evening Mists.
The Malaysian author Tan Twan Eng has won the £25,000 Walter Scott Prize for Historical Fiction for his second novel The Garden of Evening Mists.
He beat off competition from a strong shortlist, which included Hilary Mantel's Bring up the Bodies, Rose Tremain's Merivel and Pat Barker'sToby's Room.
The Garden of Evening Mists, shortlisted by for the 2012 Man Booker prize, is the first novel by an overseas writer to win the four year-old prize. Last year, books by authors from the Commonwealth were eligible for the first time.
Tan travelled from his home in South Africa to receive his prize this evening from the Duke of Buccleuch, a distant relative of Sir Walter Scott, at the Brewin Dolphin Borders Book Festival in Melrose, Scotland. The award ceremony was presented by the BBC's James Naughtie.
Commenting on the prize, the judges said: "All the authors on this year's shortlist have written wonderful books, illuminating times and breathing life into personalities in a way that is enlightening and which brings lasting pleasure to the reader. However The Garden of Evening Mists is the book that left the deepest imprint on us.
Read more at: http://www.telegraph.co.uk/culture/books/10120534/Tan-Twan-Eng-beats-Hilary-Mantel-to-win-25000-prize-for-historical-fiction.html 
Msians most socially active Starbucks customer - survey
Posted: 13 Jun 2013 08:49 PM PDT
(Bernama) - Malaysians are the most active on social media and twice as active as Americans, according to a survey released Thursday by location-based, social engagement platform, Local Measure.
Local Measure 'Starbucks' Social Index analysed social media conversations that occurred in 60 Starbucks stores across Australia, United States, Philippines, Singapore, Malaysia and Indonesia over the past 24 months. Ten stores were included in prominent cities of each country. 
By identifying location data embedded within publicly available social content, Local Measure was able to identify unique insights, images posted by customers and comments about their experience in Starbucks.     The inaugural Social Index was conducted by Local Measure following its recent expansion into Asia. 
This index illustrates the richness of information Local Measure can surface for brands through social data that customers are posting using their smartphones. 
This index demonstrates how companies like Starbucks can gain a competitive edge in analysing these conversations in real-time.     Malaysians were the most socially active Starbucks customers creating some 209,200 posts and check-ins on Facebook, Twitter, Instagram and Foursquare.
Filipinos generated the second largest amount of content with 188,200 posts and check-ins and Indonesians came in third with 134,000 posts and check-ins at the ten stores.    
Local Measure Founder Jonathan Barouch said the survey highlights the increasing need for businesses to mine social data that can be drawn from the real-time, social media platforms to gain insights from business' premises.    
"Local Measure allows retailers to reclaim that personal customer service so often lost in the business transaction. While some customers may comment to friends or colleagues about weak coffee or poor service, smartphones are also empowering customers to share positive experiences. 
"With Local Measure, retailers can now use this feedback to improve their customer service and make changes to their products or services accordingly," he said.    
In addition, Local Measure enables retailers to build a rapport with their 'super customers', those who are not only repeat customers but also share their experiences with their social followers.  
Local Measure allows brands to identify and reward the super customers for their patronage, creating a deeper relationship with them.    
Some of the key findings from the Local Measure 'Starbucks' Social Index that are specific to Malaysia were that 'Checking in' on Facebook or Foursquare proved more popular than creating updates or photos amongst consumers in all countries.     Nearly 93 per cent of all social media posts within and about Starbucks in Malaysia are check-ins.
Of the 60 Starbucks stores, the most active on social media in Malaysia was at Berjaya Times Square which had 3,391 social posts and over 27,594 check-ins over the two-year period.    
The busiest month for Malaysians was May 2013, with over 1,335 social posts. The most prolific super customer had 'visited' Starbucks stores 49 times and had 774 followers on Instagram.
Razaleigh planning a surprise??
Posted: 13 Jun 2013 07:19 PM PDT
WikiSabah
Tengku Razaleigh Hamzah has been meeting more MPs from both rival coalitions this week in a bid to get elected as Prime Minister after Parliament convenes on June 24, say sources.
The Kelantan prince has initiated the meetings at his White House-styled residence in Langgak Golf here, to discuss strategies to get enough numbers in the 13th Parliament to take Datuk Seri Najib Razak's job.

He would need 112 votes, including himself, if a motion is approved for the 222-seat Dewan Rakyat to choose a Prime Minister. But is still doubtful if he can get the numbers to unseat Najib.

"Some of the MPs agree that Ku Li is the only one who can provide leadership," a source familiar with the meetings said referring to the veteran lawmaker by his moniker.

"We are talking about support from both PAS and DAP too," he added.

PAS and the DAP respectively won 21 and 38 parliamentary seats in the May 5 general election which saw the ruling Barisan Nasional (BN) take only 133 federal seats, down seven from the 140 won in Election 2008.

PKR, the ally of PAS and the DAP in Pakatan Rakyat (PR), won 30 federal seats and its leader Datuk Seri Anwar Ibrahim is seen as the coalition's pick for the Prime Minister's job if they capture Putrajaya.

Another source said Razaleigh was seen as a compromise candidate by the BN MPs who will not support either Deputy Prime Minister Tan Sri Muhyiddin Yassin or Anwar for the top job.

"The choice for the unhappy BN MPs is easy. Ku Li or Muhyiddin but electing the DPM will just mean a continuation of Mahathirist policies. There is no difference between Najib and Muhyiddin. Ku Li as PM will be a break from such policies," the source said.

The Mahathir camp has already put pressure on Najib to drop his advisers whose strategies led to BN's poor performance in GE13. Najib has not re-appointed his political secretaries who lost in the polls but his "war room" strategists remain in office, with two of them made a Minister and Deputy Minister, respectively.

Najib's Cabinet appointments last month riled up several MPs, particularly those from Sabah and Sarawak, who felt they deserved to be given top government posts.

It was learnt that Najib has promised some of them posts in government agencies in the coming weeks.
Posted: 13 Jun 2013 06:59 PM PDT
Today [Friday], Liberal Democrat Leader and Deputy Prime Minister, Nick Clegg is launching the Liberal Democrats' 'A Million Jobs for a Stronger Economy' campaign. The campaign will highlight the successes the Liberal Democrats have had in helping to create more than a million private sector jobs since coming into Government and our determination to help create a million more.
The first phase of the campaign is a major apprenticeships drive. The party's ambition is to double the number of companies offering apprenticeships from 100,000 to 200,000.

Campaigning 'Action Days' will take place across the country tomorrow [Saturday], with MPs and local parties highlighting the work they and the party nationally are doing to help create jobs and apprenticeships in their local areas.

Commenting, Liberal Democrat Leader and Deputy Prime Minister, Nick Clegg said:

"Britain is creating jobs. I know it doesn't always feel like it – a lot of families are still feeling the pinch. But since the Liberal Democrats came into Government in 2010, we've helped British businesses create more than a million jobs. Now we want to help them create a million more.

"That will mean an unrelenting focus from Government for the next two years. The country is on a jobs mission and I'm determined the Liberal Democrats will lead it.

"We want more jobs for young people; more jobs outside of London; more jobs in high skilled manufacturing and the high growth industries of the future; more green jobs and more rural jobs too.

"We've already done a lot – investing billions in science, advance manufacturing and renewable energy, as well as creating work by investing in roads, railways and homes. Our Regional Growth Fund is providing money to firms around the country. And we're offering £2,000 cash back to employers on the tax they pay on their employees, making it easier to take people on.

"But we need to do more – starting with a major apprenticeships drive. More and more young people are learning the skills they need for well-paid careers, not just in a classroom or lecture theatre, but in the office or on the shop floor – and they're getting paid for it.

"It's an old idea to help build a new economy. Not only do apprenticeships create new opportunities for young men and women, but companies get the loyal and capable staff they need to compete and expand. It works for all kinds of industries – from construction to catering; from advanced engineering to accounting.

"Vince Cable and I made this a priority when we came into office and the Coalition is investing record sums in helping firms hire and train apprentices. We're also cutting red tape so it's easier for smaller firms to take people on.

"But there are still firms and young people missing out. We have nearly five million businesses in the UK, but little over 100,000 currently offer apprenticeships. We need to be more ambitious – I want to see that number double to 200,000. Over time, I want to see apprenticeships viewed as a much more mainstream route to work. They're a crucial building block for the stronger economy and fairer society we all seek, enabling everyone to get on in life."
Back to basics: quality of life
Posted: 13 Jun 2013 06:10 PM PDT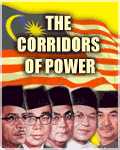 Malaysia cannot depend on just one source of income -- Petronas. But then even Malaysians (Chinese in particular, but Indians and Malays as well) are moving their money to other countries (and not all is 'dirty' money but are legitimate investments). Some are even coming to the UK and billions are being invested here (some of them are my personal friends). How long can this go on before something breaks?
THE CORRIDORS OF POWER
Raja Petra Kamarudin
TV show host attacked and robbed by armed gang
A TV cooking show host was attacked and robbed by a group of men armed with sticks outside a condominium near Tropicana here.
Lim Wei Tiong, 27, who works with Astro, was attacked when he was about to visit a friend at a condominium along Jalan Tropicana Utama on Monday night.
He and a friend had gone separately to a mutual friend's place at about 11pm when the incident occurred.
"It all happened so fast. One minute I had parked my car and got out, the next minute I was surrounded by a group of motorcyclists armed with sticks," he said at the University Malaya Medical Centre (UMMC) yesterday.
Lim said the men hit him on the head and grabbed his bag containing his wallet and handphone.
"I fell to the ground but they just continued hitting me," he said, adding that his friend who witnessed the incident was too scared to come to his aid.
Lim said the next thing he remembered was being in an ambulance. He suffered a broken arm and lacerations to the head.
"Luckily, the robbers didn't take my car keys," he said.
Last October, an Astro Awani newscaster was attacked and robbed when she was being driven home by her husband.
As they got out of the car, three men on motorcycles approached them, one armed with a grass cutter.
A brief scuffle ensued when one of the robbers opened the front passenger door, but they snatched her bag and fled.
The husband gave chase for about 4km before ramming into the suspects' motorcycle near the Maluri Complex. Two of the suspects were caught while one managed to escape.
******************************************************
Since the results of the 5th May 2013 general election was announced about five weeks ago there has been a lot of brouhaha as to whether the election was free and fair (or fraudulent), who should be the Prime Minister (and whether Najib Tun Razak is about to be ousted), whether racism in Malaysia is currently as bad or worse than it was in 1969 (the result of many irresponsible statements being indiscriminately and blatantly issued), whether the Malays are now disunited and split (compared to the Chinese, 97% of them who voted en bloc), and so on.
I suppose there is enough chatter in the media so I really do not need to add to the noise, already deafening as it is. So today I want to talk about what every man and his dog is not talking about. And that subject is very basic, about quality of life.
Now, I am not saying that the other subjects are not important. What I am saying is so many people are already talking about those subjects so I would like to talk about what no one appears to be concerned about: the quality of life in Malaysia.
Elections are about choosing a government. Hence elections are part of democracy or about choosing a democratically elected government. But choosing a government is not the whole of democracy. Choosing a government is one of the aspects of democracy. That is what the shouters and screamers appear to miss.
Choosing a government is not the end game. Choosing a government is not the final destination. It is merely the beginning of a journey. Once we have chosen the government, then this government must work towards and guarantee us quality of life.
Malaysia appears to have serious security problems, both external and internal. Recently Malaysia got a new IGP and DIGP and today we got a new army chief. Are we going to see new brooms sweeping clean or is it going to be same old same old? 
Malaysia is no longer a safe place. Hence while Malaysians demonstrate on the streets and protest the 5th May 2013 general election and file election petitions in court, is anyone addressing the security issue? Will our family now be safer on the streets and in our homes or is crime going to get worse? The reports we are receiving is that Malaysia is getting to be a dangerous place to live.
Then we are arguing about vernacular schools and mother-tongue education and racial quotas in institutions of higher learning. It is all about race. But are we also arguing about the quality of Malaysia's education? Are we mainly churning out quantity but sacrificing quality? Is Malaysia a degree mill that merely focuses on numbers? Can Malaysia's graduates (in particular the Malay graduates) compete internationally?
The focus appears to be regarding race, quotas and numbers but not in the quality of the product.
Then we come to my favourite subject, health. And at my age that is finally what is of concern to me personally. Why do we have so many qualified doctors serving outside Malaysia (in particular non-Malay Malaysians but many Malays as well)? Some of the doctors I spoke to expressed a desire to return to Malaysia even though they are currently paid four or five times what they could earn back in Malaysia.
The problem for these people, though, in particular the non-Malays, is that they have no career prospects back in Malaysia because of the colour of their skin. Less capable and less qualified Malays are promoted above the heads of the non-Malays. Hence we have a serious brain drain in the medical profession and because of that our healthcare system has to suffer.
Security, education, health -- just three of the so many crucial issues. But we do not appear to be concerned about these matters. We appear more concerned about why Pakatan Rakyat, which garnered 51% of the popular votes, is not the government although Malaysia practices the first-past-the-post Westminster system of Parliament. Even if Najib concedes defeat and makes way for Anwar Ibrahim to take over as Prime Minister will all these issues be automatically resolved?
Was not Anwar Ibrahim once the Education Minister and Chua Jui Meng once the Health Minister? If they could not improve the situation when they once had the chance to do something about it what assurance do we have that they can do it now? And have they told us in great detail how they are going to do it if they do come into power? It appears like they are as clueless now as they were when they were in charge of those Ministries.
I was once a central committee member of the Malay Chamber of Commerce and, invariably, interacted with the various Ministries such as Trade and Finance. I 'served' through quite a number of Ministers and was fortunate enough to have sat in many meetings with the government to attempt to resolve many issues.
Of course, I was a businessman then and had dealings with companies and businessmen from all over the world. And I must say that this opened my eyes to many things and allowed me to understand what makes these people tick.
Malaysia was initially a favourites destination for foreign investors. And the reason for this, first of all, was because Malaysia had cheap labour compared to, say, Japan, Korea, Taiwan, etc.
Eventually, Malaysia no longer could provide cheap labour and we received instructions from the Trade Minister to no longer promote Malaysia as having cheap labour (because we were no longer cheap) but instead to promote Malaysia as having skilled labour. And that was why the government gave a lot of incentives and provided a lot of funds for training (so that our cheap labour could be converted to skilled labour).
The other attraction was that Malaysians spoke good English whereas most of our ASEAN neighbours did not. This made it easier for the foreigners to communicate with us.
The third factor was that Malaysia was more stable politically compared to our ASEAN neighbours and Malaysia was a safer place than the other countries.
Finally, for the Japanese in particular, is that Malaysia had plenty of golf courses and a 'vibrant' nightlife.
All these gave Malaysia an advantage over Singapore (expensive), Thailand (English no good), Cambodia, Vietnam, Indonesia and the Philippines (politically unstable), and so on.
Today, Malaysia is way at the bottom of the list of favourites with Singapore, Thailand, Cambodia, Vietnam, Indonesia and the Philippines above us. Maybe Burma will soon be above Malaysia as well -- which will really be adding insult to injury.
Malaysia cannot depend on just one source of income -- Petronas. But then even Malaysians (Chinese in particular, but Indians and Malays as well) are moving their money to other countries (and not all is 'dirty' money but are legitimate investments). Some are even coming to the UK and billions are being invested here (some of them are my personal friends). How long can this go on before something breaks?
Tun Abdullah Ahmad Badawi said that Malaysia is a country with first-world infrastructure but third-world mentality. Soon Malaysia is going to be a country with third-world infrastructure and third-world mentality. Some European 'powers', the UK included, are already moving in that direction. Do you think a puny nation like Malaysia can be spared that same fate?
Malaysia already does not have quality of life in spite of our 'booming' economy. What do you think the quality of life is going to be like once Malaysia becomes like Greece? And why do you think people like me prefer to set up a kopitiam in the North-West of England rather than in the North-West of Malaysia (apart from the fact that I live in Manchester)?
So you people can continue to scream about GE13 and Blackout 505 and whatnot. I am not saying you should not do that. But while you do that I am going to scream about quality of life plus security, education, healthcare and Malaysia's competitiveness as a foreign investor destination, which neither Najib nor Anwar are talking about.
Potensi menang perang media PRU14
Posted: 13 Jun 2013 04:27 PM PDT
Bagi saya, begitu juga anggapan ramai pemerhati politik  - kekuatan Umno-BN masih terletak kepada penguasaan dan manipulasi media. Tentu ramai yang spontan mengangguk lesu, mengiakan hakikat "padang permainan masih tidak sama rata" ... tetapi apa perancangan strategik Pakatan untuk berdepan dengan serangan, ancaman dan pujukan kuasa media ini?
Ahmad Lufti Othman, Harakah
Apa faktor terbesar Umno-BN masih mengekalkan kuasa dalam PRU13 lebih sebulan lalu? Bag iDr Mahathir Mohamad, kuncinya terletak kepada ketakutan majoriti pengundi Melayu terhadap kemungkinan Anwar Ibrahim bersama DAP menguasai Putrajaya. Rasa takut "kehilangan hak-hak Melayu" yang sengaja dicipta ini disuntik melalui propaganda berterusan sehingga membentuk persepsi hodoh kepada Pakatan Rakyat.
Namun begitu, ramai tidak bersetuju dengan pandangan Dr Mahathir itu. Tentulah lebih banyak pihak menyalahkan sistem, proses dan perjalanan pilihan raya di Malaysia. Dan ketempangan amalan demokrasi itu bukan hanya bermula daripada tarikh pembubaran Parlimen, tetapi sudah berakar umbi sejak lama, malah  dianggap suatu kelebihan buat mana-mana parti pemerintah, yang jarang dibantah  secara berkesan.

Saya sedaya upaya tidak mahu mengulangi hujah-hujah basi, tetapi terpaksa juga membawa penekanan hampir sama. Kadang-kadang isu-isu stereotaip terpaksa diulang selagi ia belum ditangani dengan tekun, berhemah dan serius. Kita memang menyenaraikannya sebagai faktor utama kekalahan dalam setiap kali pilihan raya, tetapi ia terus "terbiar" begitu sahaja, dan mengulangi punca-punca itu sebagai daleh tanpa mengatur pelan tindakan lebih bermakna.

Bagi saya, begitu juga anggapan ramai pemerhati politik  - kekuatan Umno-BN masih terletak kepada penguasaan dan manipulasi media. Tentu ramai yang spontan mengangguk lesu, mengiakan hakikat "padang permainan masih tidak sama rata" ... tetapi apa perancangan strategik Pakatan untuk berdepan dengan serangan, ancaman dan pujukan kuasa media ini?

Dalam pada itu, tidak sedikit penyokong Pakatan akan menyatakan, kita sendiri sudah memiliki senjata paling berkesan, iaitu media baru -- termasuk media sosial yang lebih demokratik dan mudah dicapai --  yang dapat menyalurkan maklumat alternatif, menyanggah tohmahan media tradisional dan seterusnya membentuk persepsi masyarakat.

Saya tidak mahu terperangkap dalam polemik tidak berkesudahan ini. Kesimpulan mudah saya, meskipun capaian dan akses internet lebih menyeluruh, namun pengaruh akhbar, radio dan televisyen tetap menyerlah dan menyengat. Kalaupun anda mempunyai perbedaan pandangan - dan tetap berkeras bahawa kian ramai rakyat Malaysia yang tidak lagi melanggan akhbar harian, jarang-jarang sekali menonton siaran berita TV3, apatah lagi terkesan dengan berita radio - ketepikan sekejap. Ya, mengapa kita tidak boleh sama-sama bersetuju bahawa kita juga berpeluang untuk membangunkan "sistem media" sendiri, yang lebih sofistikated atau sekurang-kurangnya setanding dengan BN?

Baru-baru didedahkan dalam satu forum mengenai persempadanan semula, berdasarkan kawasan
pilihan raya sedia ada, Umno-BN boleh mendapat majoriti mudah di Parlimen hanya dengan menguasai kerusi-kerusi yang mempunyai sekitar 20 peratus saja. Dan kebanyakan kerusi terbabit adalah di luar bandar, khususnya di Sabah dan Sarawak. Soalnya, setakat mana pengaliran maklumat secara cepat dan mudah di kawasan tumpuan atau "simpanan tetap" BN itu?

Mungkin DAP tidak menghadapi kesukaran berdepan karenah akhbar-akhbar Cina, sepertimana PAS dan KeADILan yang dianggap oleh harian berbahasa Melayu sebagai seteru yang mesti dimusnahkan. Pemimpin DAP masih diberikan liputan sewajarnya oleh akhbar Cina berbanding rakan-rakan mereka dalam Pakatan yang "dihenyak semahunya" oleh Utusan Malaysia dan Berita Harian.

Okey, saya tidak perlu membazirkan masa melukiskan kembali situasi berat sebelah ini, yang diwarisi zaman berzaman. Kita harus ada pelan bertindak. Semua akur bahawa ketiga-tiga lidah rasmi parti-parti dalam Pakatan, terutama Harakah dan Suara Keadilan, amat tidak memadai untuk memikul tanggungjawab yang begitu besar.

Dengan kekerapan penerbitan yang terbatas - dua kali seminggu untuk Harakah, dan bertaraf mingguan untuk SK - apatah lagi begitu mudah dijejaskan rangkaian pengedarannya disebabkan peruntukan undang-undang sedia ada, pengaruh kedua-dua media ini dapat dihadkan.

Justeru, saya menggesa agar tekanan dapat ditingkatkan bagi memastikan semua lidah rasmi parti politik tidak lagi dibataskan hanya kepada ahli-ahli parti sahaja, dan peraturan "karut-marut" itu dimansuhkan. (Pelik memikirkan, mengapa Pakatan seakan-akan memandang sepi gangguan berterusan - dan sistematik - terhadap pengedaran lidah rasmi masing-masing).

Serentak dengan itu, rangkaian pengedaran harus diperluaskan dengan pelbagai inovasi baru. Pada hemat saya, selama ini, jaringan itu terbina dengan sendiri atau semulajadi, dengan segala kelemahan dan kekurangan. Pimpinan Pakatan seolah-olah tidak memberi perhatian serius untuk meningkatkan jumlah cetakan (rekod semasa masih terlalu jauh daripada target), termasuk memastikan Harakah dan SK, mengetuk setiap pintu rumah pengundi, khususnya di kawasan tumpuan.

"PAS dan KeADILan harus merancang untuk terbit akhbar harian, sekurang-kurangnya kombinasi di antara kekerapan Harakah dan SK," kata seorang bekas editor kanan, yang percaya masih banyak potensi dalam dunia media yang belum diteroka oleh Pakatan.

"Mungkin Harakah tiga kali seminggu dan SK juga begitu, berselang-seli. Bagi Harakah yang ada permit, boleh difikirkan judul lain, seperti Bangkit dan Inikalilah yang diterbitkan masa kempen PRU13 yang lalu," ujarnya.

"Jangan tunggu PRU14 baru nak aktifkan penerbitan, waktu itu sudah crowded, pengundi pun mungkin pening dengan begitu banyak asakan media, ditambah surat layang atau risalah tidak bertanggungjawab. Lebih penting, usaha mempengaruhi pengundi Melayu memakan masa dan perlu dilakukan secara berterusan dan halus seninya," tambah rakan saya itu, yang kini bersara dari alam kewartawanan.

Seorang pembaca Harakah, berkelulusan jurnalisme, memberi komentar melalui emel: "Kualiti akhbar lebih penting. Laporan Harakah dan Suara Keadilan perlu lebih bermutu, tidak mengulangi kesilapan sama, dan harus ditadbir  seperti industri akhbar yang profesional. Karyawannya tidak boleh tangkap muat, mesti hebat dan dihormati, dan pastinya perlu diganjari setanding akhbar-akhbar utama. Brain dan skill terbaik tidak datang menggolek."

Beliau turut menyokong penuh cadangan yang pernah saya luahkan, agar  sistem penajaan percuma kepada audien terpilih dilaksanakan. "Saya yakin ramai penyumbang bermurah hati untuk beramal secara lebih praktikal, menaja terus naskhah Harakah kepada sasaran yang dipilih mereka."

Pengalaman saya membuktikannya. Kutipan dana yang dipelopori Kumpulan Aktivis Media Independen (KAMI) amat memberangsangkan. Saya terfikir, jika inisiatif mengumpul kewangan untuk penerbitan akhbar seumpama Bangkit dan Inikalilah ini dimulakan daripada sekarang, dan disokong oleh pimpinan tertinggi Pakatan, tentu sambutannya lebih menakjubkan.

Apa pun, bukan hanya penerbitan akhbar parti perlu disusun semula, tetapi dimensi lain yang juga begitu penting, misalnya TV internet dan potensi klip video, belum diteroka sepenuhnya. Aspek kandungan media baru juga seperti terabai walaupun penguasaan teknologi begitu baik sekali.

Setakat ini, saya lebih suka menyalahkan diri sendiri jika peluang untuk menyaingi media UMno-BN tidak diberi perhatian serius. Kita seolah-olah membiarkan sekelompok pengundi yang cukup penting dan kritikal - kini, pengundi Melayu dan Bumiputera Sabah/ Sarawak - terus diperbodohkan. Ironinya, kita terus menyalahkan orang lain, tanpa menampilkan gerak kerja luarbiasa untuk memetik hasil yang lebih manis.
Kempen Najib tidak ditentang bermula
Posted: 13 Jun 2013 04:23 PM PDT
Mungkin Muhyiddin dan lain-lain pimpinan Umno yang berada di baris depan tidak mencabarnya. Tetapi tidak mustahil kejadian Tun Huseain Onn tidak dicabar oleh Dr Mahathir dan Tengku Razaleigh. Dia telah dicabar oleh Haji Sulaiman Palestin.
Subky Latif, Harakah
Jika Datuk Najib pemimpin yang bearwibawa dan diterima oleh semua, apa perlunya ketua Puteri dan ketua Pemuda Umno menyeru supaya belilau tidak ditandingi dalam pemilihan Presiden Umno yang akan datang?
Bahkan Tan Sri Muhyidin Yasin juga tidak perlu dicabar bagi mempertahankan jawatan Timbalan Presiden parti itu.

Seolah-olah telah bermula kempen dalam kalangan parti itu supaya jangan ada yang mencabar kedua-dua pemimpin itu untuk mengekalkan jawatan masing-masing.

Apakah telah ada kemungkinan dia dicabar berikut prestasi buruk Barisan Nasional dalam PRU yang lalu, malah pencapaiannya lebih buruk dari PRU 2008 di bawah Tun Abdullah Badawi dulu. Ia bukan sekadar buruk di peringkat Parlimen, bahkan pimpinan langsungnya dalam BN dan Umno Selangor juga lebilh buruk daripada sebelumnya.

Jika prestasi buruk Tun Abdullah Badawi dulu diikuti oleh kebangkitan Umno secara langsung diketuai oleh Najib sendiri, menuntut Pak Lah berundur, maka bukanlah Najib kebal sangat hingga dia dibiarkan saja.

Maka Najib sendiri memahami apa yang dilakukannya terhadap ketuanya dulu, bukan ia mustahil melandanya. Telah pun ada yang mahukan Tan Sri Muhyidin berperanan bagi membangunkan semula kuasa Umno dan BN.

Dr Mahathir selepas dicabar oleh Tengku Razaleigh mengambil tindakan supaya jawatan presiden jangan dicabar kerana ia dikatakan mengundang perpecahan parti seperti yang terjadi selepas pemiliihan yang dia menang tipis. Dia berjaya mengelakkan dia tidak dicabar lagi selepas itu.

Abdullah Badawi selepas prestasi  buruknya itu cuba mengelakkan dia tidak dicabar. Dia membuat rancangan untuk berundur dalam jangka waktu terdekat iaitu supaya  sempat dia dipilih semula sebagai Presiden sebelum melepaskan jawatan. Tetapi Umno tidak menerimanya dan mahu beliau pergi lebih cepat. Itulah yang terhadi kepadanya.

Najib sedar nasib yang menunggunya. Maka sebelum timbul suara supaya dia pergi, dia menyuarakan dulu bahawa dia sedia dicabar. Sebagai seorang pengamal demokrasi, maka dia membenarkan dirinya dicabar.

Dia seperti membuka kepada Umno untuk membuat pilihan sama ada mahu dia dicabar atau sebaliknya.

Tentunya dia tidak mahu dia dicabar. Tetapi dia tidak dapat larang ahli-ahli Umno bertindak.

Sebelum dia dicabar, dia seolah-olah membuka peluang kepada sesiapa dalam pimpinan Umno untuk mencabarnya. Kenyataannya itu adalah mencabar orang yang tidak senang dengan pretasinya mencabarnya.

Mungkin Muhyiddin dan lain-lain pimpinan Umno yang berada di baris depan tidak mencabarnya. Tetapi tidak mustahil kejadian Tun Huseain Onn tidak dicabar oleh Dr Mahathir dan Tengku Razaleigh. Dia telah dicabar oleh Haji Sulaiman Palestin.

Apa pun Tengku Razaleilgh  yang pernah menawar diri dicalonkan dipercayai akan menawarkan diri sekali lagi. Jika Ku Li tampil, maka penampilannya tidaklah seperti penampilan Haji Sulaiman.

Walaupun peluang Ku Li tidak begitu cerah, tetapi dia boleh mendapat perhatian yang lebih dari yang Haji Sulaiman dapat. Orang  tidak mengira Haji Sulaiman sebagai calon Perdana Menteri yang sesuai, tetapi tiada yang mengira Ku Li tidak layak untuk menjadi Perdana Menteri  dan Presiden Umno.

Sebelum cabaran itu berlaku, Najib cabar Umno membuat pendirian. Disuarakannya dia sedia ditentang. Spontan Umno seluruhnya bangun menyuarakan supaya dia jangan dicabar. Bahkan kalau Muhyidin sedia mencabarnya, mereka sarannya dia juga tidak dicabar. Suara itu mencabar Muhyidin jangan cabar Najib.

Kempen sudah bermula supaya Najib jangan dicabar. Orang lain mungkin tidak berani, tetapi tiada yang menghalang Ku Li untuk menunaikan tanggungjawabnya.
Flash mob planned leading to June 22 rally
Posted: 13 Jun 2013 04:17 PM PDT
Badrul Hisham (left) and activist Hishamuddin Rais at the press conference.
Pathma Subramaniam, fz.com
The coalition behind the Black 505 rallies is kicking off the countdown to the June 22 polls reform gathering with flash mob tomorrow.
Badrul Hisham Shaharin, chairman of Solidariti Anak Muda Malaysia (SAMM), which is one of the 50 non-governmental organisations in the People's Voice 505 coalition, said they will proceed with their plans although City Hall has so far refused the use of Padang Merbok.
"We have the right to assemble peacefully especially to voice our grievances about what's happening in this country," he stressed.
The coalition said the countdown will be initiated by student groups with a flash mob at Jalan Tuanku Abdul Rahman near the Sogo Departmental Store at 2pm.
"The final countdown will take place the night before June 22 at the Kuala Lumpur-Selangor Chinese Assembly Hall (KLSCAH). Participants will be given guidance prior to attending the big day on June 22," said Badrul Hisham, who is better known as Chegubard.
"We are also expanding our volunteer base to mobilise them during the rally," he said at a press conference at the KLSCAH. Also present was activist Hishamuddin Rais and SAMM propaganda director Edy Noor Reduan.
Badrul Hisham together with PKR strategist Rafizi Ramli and several other parliamentarians had met with the capital city's mayor Datuk Seri Ahmad Phesal Talib earlier today over the rally venue.
Rafizi told reporters after the meeting that Pakatan Rakyat, which is supportive of the rally, would be setting a bad precedent if it were to concur to the mayor's suggestions of opting for a stadium instead of Padang Merbok.
"If we were to accept the argument and also the precedent, it means there will be not be any other gatherings in open, public spaces after this. It sets a very bad precedent," he said.
Badrul Hisham said that the talks ended up in a deadlock with Ahmad Phesal reiterating "lame excuses" that the field is only used for "light sporting activities".
"First the City Hall said the field has been booked for an official event but once that was proven to be wrong they are giving multiple lame excuses," he said.
"We are determined to gather at Padang Merbok even though it is blocked by the City Hall," he added.
"Taking to the streets is not our choice but the situation in this country is such that we are pushed to wall and have no choice but to do it this way," said Badrul Hisham.
Video Seks Wakil Rakyat DAP Tersebar
Posted: 13 Jun 2013 03:23 PM PDT
(The Kuala Lumpur Post) - Dua video seks berdurasi 1 minit 18 saat dan 3 minit 15 saat yang bertajuk 'Wakil Rakyat DAP Guna Scandal' dan 'Wakil Rakyat DAP Guna Scandal 03' itu dimuat naik di Youtube pada 1 dan 2 Mei lalu.
Video pertama memaparkan seorang lelaki yang didakwa menyerupai Gunasekaran sedang duduk memakai tuala sambil memegang telefon bimbit di sebuah bilik.
Manakala video kedua menunjukkan lelaki itu mula membuka tualanya dan melakukan 'aksi panas' dengan seorang wanita.
Bagaimanapun, wajah lelaki itu kelihatan kurang jelas berikutan suasana yang bilik gelap.
Gunasekaran berkata, beliau dimaklumkan tentang penyebaran video seks itu oleh rakan-rakannya sebelum kempen PRU13 lalu.
"Saya sudah melihatnya dan lelaki dalam video itu, bukan saya. Saya juga tidak kenal wanita dalam video itu.
"Saya percaya kewujudan video ini adalah bermotif politik kerana disebarkan ketika musim kempen PRU lalu," katanya.
Gunasekaran yang juga Timbalan Pengerusi DAP Negeri Sembilan berkata, video itu disebar untuk memfitnah dirinya di samping menjatuhkan karier politik beliau.
"Saya tidak tahu siapa yang buat dan sebarkan video ini. Boleh jadi orang politik yang mahu menjatuhkan karier saya.
"Mungkin ia dilakukan parti lawan dan boleh jadi juga dilakukan orang dalaman parti saya sendiri," katanya.
Menurutnya, satu laporan polis akan dibuat dan dia bercadang melantik peguam untuk bawa perkara itu ke muka pengadilan.
"Saya sedih dengan penyebaran video ini, begitu juga isteri dan dua anak saya.
"Penyebaran video ini telah menjejaskan maruah keluarga saya," katanya.
Katanya, beliau tetap akan teruskan khidmat sebagai wakil rakyat meskipun penyebaran video tersebut telah menjejaskan imej bersihnya sebelum ini.
"Rakyat menjadi keutamaan saya. Mereka kenal siapa saya kerana sudah lama saya terlibat dalam dunia politik," katanya.
Gunasekaran berkhidmat sebagai wakil rakyat di Dun Senawang sejak PRU12 dan berjaya mengekalkan kerusi yang disandangnya pada PRU13 lalu apabila menang dengan memperoleh 9,010 undi mengalahkan calon BN, Choong Vee Hing (4,205 undi) dan calon Bebas, S Karthigesan (120 undi).
Sementara itu, Pengerusi DAP negeri, Anthony Loke Siew Fook mendakwa, video itu sengaja disebarkan sebelum kempen PRU13 yang lalu bagi menjatuhkan imej dan reputasi Adun Senawang itu.
"Video tersebut telah disebarkan sejak sebulan yang lalu dan digembar-gemburkan untuk menjatuhkan imej bersih Gunasekaran.
"Saya percaya lelaki dalam video tersebut bukanlah Gunasekaran dan ia sengaja direka untuk memfitnah beliau," dakwanya.
Siew Fook berkata, beliau telah menasihatkan Gunasekaran supaya membuat laporan polis segera berhubung penyebaran video tersebut.
"Setakat ini kita tidak tahu siapa yang membuat dan menyebarkan video itu.
"Kita serah kepada polis untuk buat siasatan," katanya.
Menurutnya, orang ramai bijak menilai apa yang berlaku.
"Saya fikir rakyat tahu perkara sebenar dan tidak akan layan tuduhan dan fitnah sebegini," katanya lagi.
'Only King can ask us to quit'
Posted: 13 Jun 2013 03:16 PM PDT
(The Star) - ELECTION Commission chairman Tan Sri Abdul Aziz Mohd Yusof has reiterated that the EC leadership will not step down just because some quarters were not happy with the 13th general election process, Utusan Malaysia reported on its front page.
He said he and his deputy as well as five others were appointed according to the Federal Constitution with the consent of the Yang di-Pertuan Agong.
"The EC is an independent body and members cannot be made to step down by force as demanded by certain groups," he said.
Abdul Aziz said only the King could order the leadership to step down.
Rumours persist about Ku Li trying to get support in Sabah, S'wak to challenge Najib
Posted: 13 Jun 2013 03:11 PM PDT
Ian McIntyre, The Star
Rumours are rampant that Umno veteran Tengku Razaleigh Hamzah is canvassing support, especially among leaders in Sabah and Sarawak, to challenge Prime Minister Datuk Seri Najib Tun Razak in Parliament and for the party's presidency post in upcoming elections.
Sources said that Tengku Razaleigh, affectionately known as Ku Li, has been meeting with several Barisan Nasional members of parliament from Sabah and Sarawak to explore possibilities.
He has met about 17 MPs, insiders with knowledge to the issue, sources revealed.
They said that the group of MPs represent politicians who were disillusioned with Najib for not appointing them to the federal cabinet even though most bumiputras from Sabah and Sarawak voted for Barisan in last month's general election.
They claim that some MPs in Sabah and Sarawak were under the impression that Najib had grown weaker because even though he had conceded much to the Chinese community, the community had overwhelmingly rejected Barisan.
They believe that this had polarised the nation and the country could not move forward effectively with such heavy "political baggage in tow".
Sources said they are worried that a weak Barisan would be would not be able to govern decisively in the long run.
These leaders in Sabah and Sarawak want a strong Barisan that could commit more funds and resources to develop the two, largely rural, states, sources said.
Ku Li is seen as a possible "father of national unity" as he has the clout to unite the factions in Barisan with Pakatan, but PKR leader Datuk Seri Anwar Ibrahim is believed to be against it, as the latter feels it is his legacy to one day become the country's prime minister, sources said.
However, Ku Li's 2008 suggestion to form a government based on national unity continues to resonate with certain political groups and observers.
Among the suggestions, is that this group of disgruntled MPs including Ku Li, combine their resources with the 89 MPs from Pakatan Rakyat to file a no-confidence motion against Najib's leadership when Parliament reconvenes its new legislative term later this month.
They need 35 to make it happen.
Ku Li, who is the country's longest serving parliamentarian, as well as his aides, have declined comment and the rumours continue to swirl.
Another element of the rumour is that the Kelantan Prince, who is now 78, might yet again go for the Umno president's post.
Ku Li's friend Datuk Seri Yusoff Latiff, the Penang Malays Association president, said he had not heard talk about Ku Li seeking to go to Parliament to challenge Najib, and said he was inclined to believe that it was not true.
"Ku Li has already stated that his future is with Umno. Why rock the boat."
Kelantan Umno secretary Datuk Md Alwi Che Ahmad believes that such talk could be the work of Pakatan to divide Umno, but stressed that if Ku Li continued to harbour hopes of becoming prime minister, he should challenge Najib during the party elections.
"Najib is open to anyone contesting him as it is part of democracy. To find ways to oust a leader in parliament is not a Malaysian culture, though," Alwi stressed.
'Teladan buruk' jika Pakatan terima tawaran berhimpun di stadium, kata Rafizi
Posted: 13 Jun 2013 03:01 PM PDT
Ida Lim, TMI
Pakatan Rakyat (PR) bertegas untuk menggunakan Padang Merbok sebagai lokasi himpunan "Blackout 505", dimana ahli Parlimen PKR Rafizi Ramli berkata sekiranya mereka menerima tawaran berhimpun di stadium akan memberi "teladan buruk" kata himpunan-himpunan lain di masa depan.
Rafizi berkata orang ramai mahu melaksanakan hak untuk berhimpun secara aman selagi ianya tidak melanggar Akta Perhimpunan Aman 2012.
"Ia memberikan satu teladan yang sangat buruk," kata Pengarah Strategi PKR kepada pemberita selepas mengadakan pertemuan dengan Dewan Bandaraya Kuala Lumpur (DBKL) dan polis di sini hari ini.
Menurut Rafizi, tidak ada perkara baru yang dibangkitkan dalam mesyuarat itu, dengan pihak berkuasa menegaskan pembangkang PR perlu menggunakan stadium dan bukannya ruang terbuka, walaubagaimanapun PR masih mahu menggunakan padang berhampiran mercu tanda Dataran Merdeka di pusat bandar di sini.
"Ia masih buntu. Saya fikir ia adalah status quo," kata Rafizi.
Dua pemimpin PR, seorang lagi ahli Parlimen PKR, Datuk Johari Abdul, dan DAP Fong Kui Lun, juga menghadiri mesyuarat itu kerana telah dipanggil oleh Datuk Bandar.
Pemimpin-pemimpin PR berkata majlis kepimpinan akan membuat keputusan muktamad mengenai perkara ini.
PR telah mengadakan siri perhimpunan "Black 505" besar-besaran di seluruh negara sejak 5 Mei lalu untuk membantah dakwaan penipuan undi pada pilihan raya umum 2013 yang menyaksikan Barisan Nasional (BN) mengekalkan kuasa, walaupun kehilangan undi popular.
Baru-baru ini PR menegaskan mereka akan tetap meneruskan perhimpunan di Padang Merbok, Petaling Jaya walaupun pihak polis dan Dewan Bandaraya Kuala Lumpur (DBKL) cuba melengah-lengahkan himpunan tersebut dengan tidak memberi kebenaran untuk menggunakan Padang Merbok.
Ketua Polis Negara Tan Sri Khalid Abu Bakar turut mengesahkan telah menerima notis pemberitahuan untuk mengadakan Perhimpunan Black 505 Kuala Lumpur daripada penganjur pada 15 Jun ini, tetapi notis tersebut "tidak lengkap".
Raja Mohamed Affandi appointed Army Chief
Posted: 13 Jun 2013 02:54 PM PDT
(BERNAMA) - Army Chief Gen Tan Sri Zulkifli Zainal Abidin today officially handed over duties to his successor Gen Datuk Raja Mohamed Affandi Raja Mohamed Noor.
The handing over of duties ceremony at the Kementah Auditorium, Defence Ministry was witnessed by Defence Minister Datuk Seri Hishammuddin Tun Hussein and Armed Forces Chief Jen Tan Sri Zulkifeli Md Zin.
Raja Mohamed Affandi, 56, a former Armed Forces Chief of Staff was earlier promoted to a full General from his previous post of Lt General.
Zulkifli, 52, was appointed as the vice-chancellor of Universiti Pertahanan Nasional Malaysia (UPNM), effective tomorrow.
In his speech, Raja Mohamed Affandi pledged to carry out his new task in leading the army as an organisation and a team that could perform its responsibilities to ensure national security without any compromise.

Ezam disebut bakal dilantik pegawai Najib
Posted: 13 Jun 2013 02:52 PM PDT
(FMT) Bekas Ketua Pemuda PKR, Ezam Mohd Nor disebut-sebut bakal dilantik menjadi pegawai kanan Perdana Menteri Datuk Seri Najib Tun Razak dalam tempoh terdekat ini.
Pelantikan Ezam sangat penting untuk membolehkan beliau mengendalikan isu-isu pembangkang terutama membabitkan PKR.
Ezam pernah dianggap orang kuat Datuk Seri Anwar Ibrahim sebelum meninggalkan PKR pada 2007.
Najib dikatakan tidak menyambung lima setiausaha politiknya yang kalah dalam pilihan raya umum 5 Mei lalu.
Mereka ialah Datuk Fatmi Che Salleh; Datuk Sahlan Ismail; Datuk Shafie Abdullah dan Datuk Suffian Awang serta Latt Shahriman Abdullah.
Mereka digugurkan ekoran kalah bertanding dalam pilihan raya umum itu.
Pegawai-pegawai Najib itu dianggap telah gagal memberi nilai tambah kepada Umno dan Perdana Menteri terutama dalam pilihan raya itu.
Bekas Menteri Kewangan, Tun Daim Zainuddin juga turut menyalahkan pegawai-pegawai  Najib itu.
Bagaimanapun, dalam perkembangan terbaru, Najib dilaporkan telah melantik Khairun Aseh sebagai salah seorang pegawai khasnya dan sudah pun memulakan tugasnya sejak minggu lalu.
Khairun merupakan Exco Pemuda Umno Malaysia,  anak kepada Tan Sri Aseh Che Mat iaitu Pengerusi Perbadanan Putrajaya.
Ezam tidak dapat dihubungi bagi mengesahkan perkara tersebut. 
DBKL, PKR in deadlock over rally venue
Posted: 13 Jun 2013 02:38 PM PDT
DBKL mayor Ahmad Phesal Talib claimed the Olympic Council of Malaysia (OCM) had applied to use Padang Merbok for their charity run as far back as in December 2012. 
Leven Woon, FMT
Negotiations between KL city council (DBKL) and PKR over the use of Padang Merbok as the Blackout 505 venue has met a deadlock, with mayor Ahmad Phesal Talib today insisting that the field is not available on June 22.
He told reporters that the Olympic Council of Malaysia (OCM) had opted for the venue to organise a charity run on June 23, and not Dataran Merdeka as claimed by the oppositions.
"I have letters to prove that OCM has indeed applied for Padang Merbok since December last year, I have no idea how they (the opposition) came into the conclusion of otherwise.
"I didn't do this after they (the opposition) said they wanted Padang Merbok, but it was indeed what the third party has applied for," he said without showing OCM's letter to DBKL.
Ahmad Phesal's remarks followed claims by PKR strategic director Rafizi Ramli that the mayor had lied about the charity run's venue and used it as an excuse to reject the party's application for the rally, which is slated for June 22.
READ MORE HERE
Posted: 13 Jun 2013 02:33 PM PDT
(Bernama) - The Malaysian Anti-Corruption Commission (MACC) wants additional powers to compel anyone to declare their assets without the need to prove an element of corruption.
To that end, it has submitted a proposal to the government to amend Section 36 of the MACC Act 2009 to empower the commission with such legal authority.
MACC chief Abu Kassim Mohamed said a Special Committee on Corruption had put together the proposal and he wants the government to give it serious consideration.
He said currently the commission does not have any legal provision to compel a person to declare his or her assets without any investigation on a corruption allegation against the person.
Abu Kassim was speaking to more than 30 editors from various media agencies at a MACC management-level dialogue at the Malaysian Anti-Corruption Academy, here, yesterday.
"The initiative, if implemented, would impact positively on the government and would enhance the people's confidence in the MACC," he said, adding that the recommendation had been made in the committee's annual report in 2011.
The special committee, comprising MPs from the government and opposition is one of five special panels set up in January 2009 as a check and balance mechanism on the MACC.
The four other panels are the Anti-Corruption Advisory Board, the Complaints Committee, the Operations Review Panel, and the Corruption Consultation and Prevention Panel.
Abu Kassim said the Special Committee on Corruption would also propose to the government to find the best mechanism, be it from the legal or procedural aspect, to resolve the 'legally right morally wrong' issue.
In this regard, he said the MACC needed the overall support of all parties, besides new and more effective provisions to combat corruption in the country.
Abu Kassim said without such overall support and more effective legal provisions, the fight against corruption would not have the far-reaching impact expected by the people.
"We must be in it together, regardless of political ideology, because corruption is a crime. If the law is insufficient we must make amendments, we must support," he said.
Posted: 13 Jun 2013 02:32 PM PDT
(NST) JAKARTA: Proton will unveil a reduction in the prices of its existing models in Malaysia tomorrow.
Proton executive chairman Tan Sri Mohd Khamil Jamil said the prices would be 10 per cent lower and the models involved were the existing variants in the carmaker's stable. He, however, declined to divulge the models which had been lined up for price reduction, saying that they would only be known tomorrow.
"We are reducing the prices based on value engineering," he said at the launch of Proton's Preve model for the Indonesian market, here, yesterday.
Khamil said although the prices would be reduced, the national carmaker would not compromise on safety and quality.
The lower-priced variants will be unveiled at Proton's Mutiara Damansara outlet in Malaysia and bookings will be open to the public.
Last month, Prime Minister Datuk Seri Najib Razak reaffirmed the government's commitment to reduce car prices in stages.
Barisan Nasional had, in its election manifesto, promised to review the national automotive policy to reduce prices of cars by between 20 and 30 per cent in stages and raise the competitiveness of national cars.
PAS and PSM to meet in a dialogue
Posted: 13 Jun 2013 02:29 PM PDT
(The Malaysian Times) - The PAS secretary general, Datuk Mustafa Ali said leaders of PAS and the Parti Sosialis Malaysia (PSM) are expected to meet next week to discuss issues related to the 13th General Election (GE13).
During the GE13, candidates from Pas and PSM clashed in the Kota Damansaraseat and gave a victory to Barisan Nasional (BN)bin the recent polls
Mustafa said the meeting with representatives of the socialist party will take place at the PAS headquarters in Jalan Raja Laut, Kuala Lumpur, on June 18.
Mustafa said he and two other leaders will represent PAS, namely deputy president Mohamad Sabu and vice president Salahudin Ayub.
"The president (Tuan Guru Abdul Hadi Awang) could not attend as he has to attend the Terengganu state assembly," said Mustafa, adding that Hadi would be represented by his political secretary Dr Ahmad Samsuri Mokhtar.
PSM secretary general S Arutchelvan recently announced that a dialogue would be convened with the Islamic party to discuss thorny issues between them, including on the party's ideology with which some PAS members had expressed discomfort.
Arutchelvan said five represetatives from PSM would attend the meeting.
"We had received a phone call two days ago (about the dialogue), though we have not finalised the date and the people who will be involved," said Arutchelvan.
Differences between PAS and PSM led to a clash of both parties' candidates in Kota Damansara, where PSM president Dr Nasir Hashim was the incumbent. Nasir, who contested under PKR, lost to BN's Halimaton Saadiah Bohan by a majority of 1,527 votes.
The PAS candidate emerged third with 7,312 votes, while three independent candidates lost their deposits.
Dr Mahathir tells government not to be soft anymore
Posted: 13 Jun 2013 02:26 PM PDT
(Bernama) - Former Prime Minister Tun Dr Mahathir Mohammad has urged the government to no longer be soft towards the opposition who continue to insult the nation's democratic system.
"We need to be a bit tough and not give them face," he told reporters after attending a dinner in conjunction with Langkawi International Dialogue (LID) 2013 here yesterday.
He said the opposition who wanted to recognise the people's choice changed overnight when they failed to get majority support in the 13th general election (GE13).
"Initially, they wanted to recognise the people's choice but now they want to topple the government. They reject the democratic system and opt for street demonstration."
LID 2013, which began since Sunday, was participated by six countries - Namibia, Uganda, Kenya, Nigeria, Lesotho and Botswana.
In his speech entitled "Transforming A Nation: The Malaysian Experience", Dr Mahathir said proper implementation and coordination by the government benefited the people and the nation's economy.
Initiatives undertaken by the Economy Planning Unit (EPU) and the Implementation Coordination Unit (ICU) had enhanced Malaysia's competitiveness and economic opportunities.
"During my time, I instructed all the ministers to go to the ground to make sure all the planning were done accordingly," said Dr Mahathir.
Government strategies include providing incentives to local companies and tax free holiday to investors to encourage more Foreign Direct Investment (FDI).
"When we (Malaysia) have more inflow in FDI, the employment rate increases. The FDI also stimulates our economy," he added.
Kredit: www.malaysia-today.net