Klik GAMBAR Dibawah Untuk Lebih Info
Sumber Asal Berita :-
---
The non-Umno Deputy Prime Minister
Posted: 03 Dec 2013 02:38 PM PST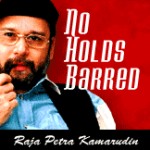 In short, the Tun was never an Umno (lama) member. However, he became an Umno (baru) member. And he was Malaysia's Deputy Prime Minister for two years, an Umno Supreme Council Member for many years, an Umno Vice President, and then the Umno Deputy President, without becoming an Umno member.
NO HOLDS BARRED
Raja Petra Kamarudin
Tun Abdul Ghafar bin Baba -- (born February 18, 1925 – died April 23, 2006) -- became Malaysia's Deputy Prime Minister in 1986. At that time, according to the Tun himself in a 'confession' in front of a few hundred Umno members in Kota Bharu, he was not yet an Umno member. Also, according to the Tun, he became an Umno member only two years later in 1988.
In short, the Tun was never an Umno (lama) member. However, he became an Umno (baru) member. And he was Malaysia's Deputy Prime Minister for two years, an Umno Supreme Council Member for many years, an Umno Vice President, and then the Umno Deputy President, without becoming an Umno member.
I write this in response to what Mohsin Abdullah wrote in fz.com (see below). I'm afraid Mohsin was not correct in what he said regarding non-Umno members being appointed an Umno Supreme Council Member.
In fact, this is not the first time that 'favoured' people have sidestepped Umno's rules. For example, Anwar Ibrahim joined Umno in 1982 and in the same year contested the general election and was appointed a Deputy Minister soon after that. According to Umno's rules, you need to be a member for at least five years before you are allowed to contest the elections.
Anwar became an Umno member, a candidate in the general election, a Member of Parliament, and a Cabinet member, within just one year. And two years later he became the Umno Youth Leader and another two years after that an Umno Vice President -- all within just five years (when you are not supposed to contest anything until you have been an Umno member for at least five years).
I just hate it when people wrongly report or intentionally distort history. And I hate it even more when you say it is right for your friends to do certain things but wrong when your enemy does the same thing.
***********************************************
Mohsin Abdullah: Non-members in Umno Supreme Council – right or wrong?
'The Writest Thing' by Mohsin Abdullah, fz.com
The thing is when Tun Dr Mahathir Mohamad comments on, well, "things," many,  (including yours truly) tend to interpret his words. Did he mean this and not that? Was that remark "loaded"? Was he being sarcastic?
So when Mahathir praised Umno's move in appointing well-known personalities as Supreme Council members – saying it was an inclusive transformation for party development – the "interpreting" began - so to speak.
"They (Umno) also bring in some personalities who are not Umno members to join the supreme council. It was a very good move," said Mahathir also.
Did he mean what he said? That it was indeed a "good move"? Or was there a tinge of sarcasm? After all, he did not do it in the 22 years he was Umno president.
Your guess is as good as mine.
Fact is, Umno president Datuk Seri Najib Razak recently had brought in or rather appointed several people including non-Umno folks to be the party Supreme Council members  - to sit alongside and with the same authority and clout as the 25  members who were voted in during last month's  Umno election.
This is not about "independent" Islamic preacher Kazim Elias – whether he was a PAS member or not when appointed (see Mohsin Abdullah: A PAS Member in Umno Supreme Council?).
The question is this – Is the Umno president allowed to do it?
Firstly, the Umno president is authorised to appoint 12 individuals to join the 25 elected members of the Supreme Council. Thus making it 37  "ahli Majlis Tertinggi" Umno. The appointment is provided for in Umno's constitution.
Following last month's party polls, Najib had appointed – first four, then nine – Umno and non-Umno members – to sit in the council. Making it 38, including the 25 who won the election.
So back to the question – can non-Umno members be appointed to the supreme council? The party constitution is silent on this. Meaning it does specify who appointees should be.
Anyway the question to ask is if the non-Umno member appointees "believe" in the party, why didn't they join Umno in the first place?  Another poser is will their suggestions for the "betterment" of the party be accepted by their Umno "true blood" counterparts?
But a political observer with good Umno links made a random "survey" and came up with this: "Several Umno members welcome the move to bring in outsiders to sit in Majlis Tertinggi. With the purpose of strengthening Umno to face future challenges.
"They must be chosen based on credibility and the field they excel in – not friends or mere supporters who at the end of the day become passengers, or worse, baggage or liability to Umno. There must be proper criteria for selection so as not to discredit Umno members who themselves are capable.
And Umno must target people who can rope in the support of middle class Malays".
However, Umno blogger Shahbudin Husin sees it differently. In particular, the appointment of Kazim. "If it's true that (Umno secretary general) Tengku Adnan (Mansor) said the appointment of Kazim is to rectify the lack of Islamic knowledge in Umno, isn't Ustaz Fathul Bari (Umno ulamak) who obtained the highest number of votes as Umno Youth exco,  the right choice to rectify the problem?"
To the blogger, who is known to be a Najib critic, the move to bring in Kazim "is a slap to the 3.4 million Umno members – it is as if not even one among the millions is on par or better than Kazim."
Shahbudin wrote in his blog that the party constitution stipulates that for a person to contest a committee member's position at division level, he or she must be an Umno member for at least three years. While those vying for a supreme council spot must have at some point been elected a division committee member.
"Hence appointing people for the supreme council must at the least embrace the spirit of the Umno constitution", wrote Shahbudin. Still he acknowledged that  the appointing of members  is the "sole prerogative of the president".
A point to note. Mahathir's son, Mukhriz, has missed out on the Umno supreme council appointments.
Datuk Mukhriz , who was edged out of the race for VP had ( after the VP defeat)  expressed hope "the party president will still consider giving me a place in the Umno supreme council so that I too can contribute towards ensuring we can do better in the 14th general election".
However, the Kedah MB will still "be in" the powerful supreme council. In a capacity known as "ahli yang turut hadir". Or "member present" at supreme council meetings.  In short,  Mukhriz is an "invitee" to the meetings as is the case of  the other Menteris Besar who did not contest the supreme council seats in the November party polls.
To Shahbudin, that …... Never mind how he describes "invitee".
Kredit: www.malaysia-today.net