Klik GAMBAR Dibawah Untuk Lebih Info
Sumber Asal Berita :-
---
Final, big push for outside voters
Posted: 01 Nov 2013 11:48 AM PDT
The reality on the ground is that the Sungai Limau-bred Malay youngsters working in other states favour developments. This could only bring good tidings to BN whose politics of development is its favourite agenda at every election. 
The Ant Daily Team 
PAS, now hard-pressed to retain the Sungai Limau state seat come polling day on Nov 4, is banking on the young voters working in other states to turn the tide in its favour.
With decision day fast approaching, the Islamist party is not too sure it can hold the fort against the relentless Barisan Nasional (BN) onslaught.
In fact, after days of campaigning, there is a sinking feeling that the party is losing ground to a resurgent BN.
The earlier optimism in the PAS camp seems to be evaporating as the battle to keep the bastion is turning into an uphill task. In the May 5 general election, PAS won the seat with a 2,774-vote majority. The question now is: can it win with a bigger majority?
However, both camps cannot be certain that they have already got the votes all sewn up in their bags.
Nevertheless, PAS is taking no chances. In the few laps remaining, it is going for the final, big push. It is playing up the track record of the late Datuk Seri Azizan Razak to keep the seat for a sixth term, and also working hard to woo the estimated 3,300 outside, mostly young voters seen as the key to victory.
These voters are considered as "fixed deposit" just like in Kelantan and Terengganu during every general election.
Recently the party conducted a meeting in Kuala Lumpur for the benefit of these outside voters but only 16 turned up. This has got the PAS top leaders worried because it could signal dwindling support.
Not to be outdone, Kedah Menteri Datuk Mukhriz Mahathir also held a meeting with these voters in Kuala Lumpur recently to woo them to come back and vote for BN.
Although both parties may get an inkling of the degree of support they can expect from these Sungai Limau-born outsiders, it is still difficult to read the minds of this important bloc who will determine the outcome of the by-election.
In the May 5 polls, some 11,800 young and new voters cast their ballots, which is a substantial vote-bank that PAS can ill-afford to lose.
But political observers have noted that the message PAS is trying to convey to these young minds is not getting through. The Islamist party is harping on the evils of development, which it says will destroy the kampung way of life.
PAS leaders have pointed out that if BN wins, it will build an oil refinery in the nearby coastal district of Yan, which will ruin the life of the padi farmers and fishermen. But BN is keeping mum on this project.
The reality on the ground is that the Sungai Limau-bred Malay youngsters working in other states favour developments. This could only bring good tidings to BN whose politics of development is its favourite agenda at every election.
Finally, Wisma Putra chides US, Australia envoys over spying claims
Posted: 01 Nov 2013 11:45 AM PDT
(MMO) - Three days after news leaked that the US and Australia had purportedly used their diplomatic missions here to spy on Malaysia, Wisma Putra finally summoned the US ambassador and Australian High Commissioner yesterday to formally file a protest.
Foreign Minister Datuk Seri Anifah Aman said in a statement today that he had met with Australia's Foreign Minister Julie Bishop in Perth yesterday and told his counterpart that spying against "close friends" is not done as it could "severely damage" relations.
"In response, Minister Bishop informed that it is not the policy of the Australian government to comment on intelligence matters," said Anifah in a statement released by his office yesterday.
However, the minister accepted the concerns raised by Malaysia on the matter and assured that the Australian government places high importance on the close bilateral relations with Malaysia," he added.
Anifah also said that Malaysia's Foreign Ministry, represented by Deputy Secretary-General Datuk Ramlan Ibrahim, handed a protest note to Australian High Commissioner Miles Kupa and US Deputy Chief of Mission, Lee McClenny, representing the US ambassador to Malaysia, Joseph Y. Yun, who was out of town.
Yun reportedly said recently that surveillance activities carried out by the US worldwide was to identify potential leads on terrorism and weapons of mass destruction. 

Posted: 01 Nov 2013 11:40 AM PDT


It will therefore not be surprising if PAS were to lose this seat. In fact they have already lost it even before the campaign started and now they are trying to claw their way back to victory.
Selena Tay, FMT
The by-election campaign in Sungai Limau, Kedah is in the final stage now as polling has been fixed for Monday, Nov 4. This PAS seat has been held by PAS for the past five terms but this time around PAS has found the battle tough going due to the abundance of goodies being dished out to the voters by the BN government.
The population demography from the recent 13th general election shows that Sungai Limau has 93% Malay voters, 6.7% Chinese voters, 0.1% Indians and 0.1% Others.
The total number of registered voters for the by-election is 27,222. In the 13th general election, the voter turnout was 24,349 and PAS won with a majority of 2,774.
This time the PAS candidate, Mohd Azam Abdul Samat, aged 37, just like his predecessor the late Azizan Abdul Razak, is an ustaz too and he will be going up against Dr Ahmad Sohaimi Lazim from Umno, aged 52.
However, this is a rural seat and PAS cannot leverage on the implementation of the GST (Goods and Services Tax) to gain votes as the GST will have little impact on the self-sufficient voters.
Although Sungai Limau does not affect the status quo in Kedah, it is an important barometer to gauge the Malay support for PAS. If PAS loses this seat, will it indicate eroding Malay support for PAS?
This columnist's analyst friend had opined that if PAS loses Sungai Limau, then there will be more voices urging PAS to quit Pakatan Rakyat (PR).
Deputy Prime Minister Muhyiddin Yassin has also mentioned that PAS should merge with Umno and yet BN is doling out a massive amount of goodies in order to mercilessly wipe-out PAS from Sungai Limau.
This shows that it would be unwise for PAS to join Umno as PAS will only be swallowed up and become a non-entity.
"Umno's intention to get PAS to merge is so that Umno can 'sapu' PAS' one million supporters besides putting up a farcical show of Malay and Muslim unity," said PAS Shah Alam MP, Khalid Samad.
Buy-election
Back to the Sungai Limau by-election. Initial surveys revealed that the Chinese voters will vote for PAS while the Malays seem inclined towards BN.
Khalid also remarked that "BN is always doing a buy-election using the rakyat's money to woo the rakyat."
The Election Commission (EC) as usual is turning a blind eye towards all these BN shenanigans happening in Sungai Limau which include BN handing out hampers in the Sungai Dedap voting stream containing expired tins of sweetened creamer, preventing PAS' women from conducting house-to-house visits, having BN ceramahs next to PAS and spreading text messages accusing Mahfuz Omar (PAS Pokok Sena MP) of spreading rumours that the BN candidate has undergone mental treatment.
It begs the question of who is really having mental illness in this campaign.
These rough and unethical tactics are of course nothing new to BN.
The whole weight of the BN machinery is pitted against PAS. In by-elections, PAS has always find it more difficult to win compared to the general election because in by-elections the whole of BN's might is focused in a particular area.
Even PAS' visit to Jamil Khir Baharom's (Minister in the Prime Minister's Department) father who had suffered a stroke three years ago was made fun of by a columnist in a local English daily dated Oct 28, 2013.
If Umno people really loved PAS, why are they attacking PAS with such great intensity? Moreover it has always been PAS' practice to visit the sick and Jamil Khir's father happens to be a PAS member – this fact was conveniently omitted by that daily. Therefore PAS is merely visiting one of their members who is unwell.
With the PAS muktamar coming up on Nov 22 to 24, the result of Sungai Limau will have a huge bearing on the party's direction and roadmap. If PAS loses, then the motion for PAS to leave Pakatan will surely surface at the muktamar.
What more do you want, Paktan Rakyat elected representatives?
Posted: 01 Nov 2013 11:20 AM PDT
If you were to stand as an independent do you think you can win? As far as I know up till GE13 majority of voters have voted along party line and not an individual. 
Richard Loh 
GET DOWN TO WORK! That is what I and the voters would have wanted those Pakatan Rakyat Members of Parliament and state assemblymen/women who have been elected in GE 13 to do. 

You should know better the differences between an elected representative and party position. Know your position and standing inside the party before you decide to stand as candidate. Once you are elected the voters are hopeful that you will perform your duty as an MP or assemblyman/woman of the party you represented and there is no turning back till the next general election. 

You cannot just decide to turn independent and side with umno/bn because you have internal problems with your party, that is your individual problem and not the voters. There is always room for discussion and solution to resolve any internal conflict that you may face inside your party. If you cannot resolved your problem internally and decided that leaving the party and turn independent (but sided with umno/bn)is the way it shows that you are not suitable to be an elected representative. Hence the only way for you is to resign and let voters decide a more suitable candidate in a by election. 
Read more at: http://ousel.blogspot.com/2013/11/what-more-do-you-want-paktan-rakyat.html 
It is a right, not a privilege, so what now?
Posted: 01 Nov 2013 11:12 AM PDT
The PPPA gives the Home Minister the power to grant and revoke publishing permits. But this, as our learned judges have pointed out, is not consonant with the right to freedom of speech, which includes the freedom to publish a newspaper, guaranteed in the Federal Constitution.
Kee Thuan Chye 
Why was Malaysiakini's application to publish a daily newspaper in English of 40,000 copies to be sold only in the Klang Valley rejected?
All Malaysiakini asked for was to publish a daily newspaper in English of 40,000 copies to be sold only in the Klang Valley. But this was not acceptable to the Home Ministry, which rejected its application in August 2010. Why? What was the Government afraid of?
Sure, as an online news website, Malaysiakini had distinguished itself as a provider of news that the mainstream media often hid from the public for fear of offending the Government, and it had won tremendous support from truth-starved Malaysians who wanted to get "the other side of the story", the side that exposed the Government's shenanigans and deceptions. But the number of copies it was asking for its print version was relatively low, and with its distribution restricted to the Klang Valley, where there is a concentration of supporters of the Opposition, the newspaper would be mostly preaching to the converted anyway.
Besides, it was entering a market in which English-language newspapers owned by ruling Barisan Nasional (BN) component parties, like The Star and New Straits Times, were already long entrenched and wielding considerable influence on their readers.
In any case, the Home Ministry did not give any grounds for rejecting Malaysiakini's application. But whenMalaysiakini brought the case to the High Court for a judicial review, the Minister had to state his reasons in an affidavit.
The case was heard in October 2012. The Government's lawyer submitted that the granting of a publication permit was a privilege, not a right. But the judge disagreed.
Justice Abang Iskandar Abang Hashim said freedom of expression was a right guaranteed in Article 10 of the Federal Constitution. And this right included the right to publish a newspaper. He ruled that the ministry's decision was "improper and irrational".
He also considered the minister's reasons for rejecting Malaysiakini's application as stated in his affidavit. One of them stupidly stated that it was because there were already a lot of newspapers in the market and Malaysiakini's entry would affect their profit margin.
The judge rightly pointed out that there was nothing in the Printing Presses and Publications Act (PPPA) that gave the minister power to regulate the market.
But of course! How could it be the job of the Home Minister to ensure that the profit margin of newspaper companies would not be affected?
Was the minister particularly concerned in this case because the newspapers were owned by BN parties, afraid that Malaysiakini might provide competition and affect their sales and therefore their profits? However you look at it, there was no cause for him to be involved in that aspect.
So the case ended with the minister and his ministry getting egg on their faces. Plus the judge quashed the ministry's refusal to grant the permit and asked Malaysiakini to reapply.
But the ministry was not satisfied. It decided to appeal the decision. The appeal was heard last Wednesday.
The Government's lawyer maintained that the granting of a publishing permit was a privilege, not a right, "as you have to apply first to get the permit". He also said the High Court judge might not have considered the reasons given by the minister in the affidavit.
He mentioned the one about there being already a lot of newspapers in the market and therefore the need for control. But this was not a bright move. The High Court judge had already dismissed that reason as being invalid. Why bring it up again?
The lawyer also mentioned the reason the minister had given about Malaysiakini's tendency to highlight sensitive and controversial news on its website. That didn't seem like a bright move either. Because Court of Appeal judge Alizatul Khair Othman retorted that security grounds had not been cited as a reason in rejecting the application. So where's the relevance?
In the end, the Government's lawyer must have failed to convince the three judges. They unanimously upheld the High Court's decision and dismissed the Government's appeal. And of course, Malaysiakini can re-submit its application.
It is highly important to consider that the Court of Appeal agrees with the High Court judge. This reaffirms the dictum that publishing a newspaper is a right, not a privilege, contrary to the Government's thinking.
In acknowledging that, where do we go from here?
Read more at: http://news.malaysia.msn.com/community/blogs/blog-it-is-a-right-not-a-privilege-so-what-now#page=2 
A/The Chinese recommending Tanda Putera
Posted: 01 Nov 2013 11:09 AM PDT
Can Ridhuan Tee Abdullah please move aside please. We have a new man in town to take your place. He is Tan Keng Liang of the Gerakan Party.
KTemoc Konsiders 
Tan is a supporter of, gasp gawd omigosh, the film Tanda Putera 
stating
 that "it's a privilege for the voters in Sg Limau to watch the movie," while admitting he too had watched the film but had had to pay RM10 for presumably that 'privilege'.
A privilege? For a Chinese to see Tanda Putera?
Oh, how Ridhuan Tee has Tan become? Wait, no, my apologies to Pakcik Ridhuan, Tan is worse considering Pakcik is Melayu, wakakaka, whilst Tan is Chinese.
* and if I mention 'Malay' and 'Chinese' frequently in this post, I'm only keeping in line with the spirit of Tanda Putera, wakakaka
But far far worse, Tan has lamentably omitted mentioning that the film's producer, Persona Pictures, had recently apologized to Lim Kit Siang for the reckless and irresponsible bullshit in the official Facebook page of Tanda Putera of a captioned photograph showing allegedly Lim Kit Siang urinating on the flagpole in the Selangor MB's residence on 13 May 1969.
In the film, there is (still) a scene of an ethnic Chinese man urinating on a flagpole at the MB residence. The film's Facebook page had been reckless and irresponsible in seemingly providing details on the identity of the urinating Chinese man in the film.
At that time, Lim Kit Siang (fortuitously) so happened to be in Sabah, yet it did not deter the film-makers from presenting such gross bullshit.
Quite frankly, if Lim KS then wasn't in Sabah and had done what was bullshittedly alleged, I have no doubt he would then have been chopped into mincemeat by the already gathering angry mob.
But the film, released in August, obdurately or sinisterly stillfeatures the scene, that of an ethnic Chinese man urinating on a flagpole at the MB residence.
The Malay Mail Online 
reported
 that 
Tan Sri Yuen Yuet Leng
, a former senior officer with the police Special Branch (and probably the man who won the insurgency war for Malaysia against the Malaysian Communist Party) said that the urination scene in the film is a complete fabrication.
Yuen stated, "I can also confirm with you, as I was on duty at the time, that the urination incident never happened."
He lambasted Shuhaimi Baba, the director of Tanda Putera forstill keeping the fabricated scene in the film, saying that an incident of such provocative nature with the potential for unnecessary tension should have been researched properly, and if I may add to Tan Sri's lambasting, never irresponsibly presented in the film as if it was a historical fact.
I leave it to your intelligence to guess what was the aim of that irresponsible and 'complete fabrication' being still shown in the film.
Is Tan Keng Liang aware of this? Privilege to see the movie eh?
Cornered with that Facebook lie, Persona Pictures apologized,"We, Messrs Pesona Pictures Sdn Bhd, unreservedly apologise to Mr Lim Kit Siang for the embarrassment caused by the aforementioned publication which is devoid of truth."
I hope Tan Keng Liang understand the English term of 'unreservedly apologize'. It would normally be issued when a libellous lie or mistake cannot be conveniently argued away.
But whatever, the credibility of that so-called historical film has been severely tainted, indeed very badly by its sinister aim of presenting not only a provocative and highly inflammable photograph in the film's Facebook page which its producer admitted is devoid of truth and has since apologized for, but also insistently, the urinating scene in the film which demonizes Chinese.
Yet, Tan Keng Liang has lamentably failed to mention a single word on the above 'complete fabrication', one totally 'devoid of truth' about Lim Kit Siang, nor mentioned that Tan Sri Yuen had stated unequivocally there was no such urination incident involving a Chinese at the MB's residence, ...
... but could even bring himself to recommend this film with its fabricated scene which is a gross unmitigated affront to Chinese Malaysians.
While Tan Keng Liang is in BN (Gerakan) and Lim KS is in Pakatan (DAP), both being political foes, Tan's recommendation to Sg Limau voters to enjoy the privilege of seeing a credibility-lacking Tanda Putera does raise issues about Tan's sense of fairness and his credentials to represent Chinese Malaysians.
Read more at: http://ktemoc.blogspot.com/2013/11/athe-chinese-recommending-tanda-putera.html 
What the newspapers do not report
Posted: 31 Oct 2013 09:09 PM PDT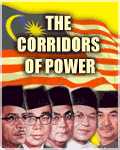 In or about 1998, Musa Hassan and Gani Patail were implicated as having fabricated medical evidence in the "Black Eye" incident involving the assault and injury while in police custody of the then Deputy Prime Minister of Malaysia, Anwar Ibrahim. The Plaintiff will rely on the public statements made by the chief investigator of the "Black Eye" incident who was also the former Officer-in-Charge of Criminal Investigations KL, Mat Zain Ibrahim at the trial of this action.
THE CORRIDORS OF POWER
Raja Petra Kamarudin
If you want the news you read the newspapers. If you want the untold story you read Malaysia Today.
So allow me to tell you the untold story behind former Commercial Crimes Investigation Department (CCID) chief Ramli Yusuff's RM27 million civil suit against 12 individuals that includes former Inspector General of Police (IGP) Musa Hassan and Attorney General (AG) Abdul Gani Patail.
Ramli Yusuff
First of all, why such bad blood between two very senior police officers? Well, I suppose this part of Ramli's 28-page Statement of Claim explains it all:
3.2            In or about 1998, Musa Hassan and Gani Patail were implicated as having fabricated medical evidence in the "Black Eye" incident involving the assault and injury while in police custody of the then Deputy Prime Minister of Malaysia, Dato' Seri Anwar Ibrahim. The Plaintiff will rely on the public statements made by the chief investigator of the "Black Eye" incident who was also the former Officer-in-Charge of Criminal Investigations ("OCCI") KL, Dato' Mat Zain Ibrahim ("Dato' Mat Zain") at the trial of this action.
3.3              Also at about the same time, Musa Hassan, Gani Patail and Nordin Hassan were also involved in the investigation and prosecution of Dato' Seri Anwar Ibrahim which became infamously known as Sodomy 1. These individuals forged a relationship with each other in the face of allegations that they had colluded to fabricate evidence and manipulate the course of justice with regard to the charges brought against the said Dato' Seri Anwar Ibrahim in which Musa Hassan became dubbed as the "Mattress Carrier". The Plaintiff will rely on the public statements made by Dato' Mat Zain at the trial of this action. 
3.4            In or about 2001, Ramli Yusuff was directed by the then Inspector General of Police, Tan Sri Norian Mai, to issue several show cause letters to Musa Hassan concerning breaches of discipline, procedure and protocol. Thereafter, the relationship between Ramli Yusuff and Musa Hassan deteriorated and remained one of guarded enmity. 
Musa Hassan
Musa Hassan then retaliated in the following manner:
3.6            In September 2006, Musa Hassan became IGP and Ramli Yusuff became Director of the Commercial Crimes Investigations Department ("CCID"). To thwart Ramli Yusuff from his candidacy as Deputy IGP, Musa Hassan individually and in combination with the other Defendants either combined together jointly or severally subjected Ramli Yusuff to a series of actions in a manner to implicate him for abuse of power, corruption and other crimes orchestrated to injure him and to cause him to be expelled from the PDRM.
Abdul Gani Patail
And with regards to the AG, this is what Ramli's Statement of Claim says:
3.9            Gani Patail also had enmity for Ramli Yusuff from a case handled by the CCID in the investigation into the massive losses of the national airlines, Malaysian Airlines System Berhad ("MAS Case"). In that case, Ramli Yusuff at the request of the MAS board of directors and management, namely, Dato' Seri Idris Jala, Tan Sri Munir Majid, Dato' Anuar Zaini and Dr. Wafi Nazrin bin Tan Sri Abdul Hamid, had briefed the then Prime Minister, Dato' Seri Abdullah Ahmad Badawi that there was basis to prosecute Tan Sri Tajuddin Ramli ("Tajuddin Ramli") for various crimes. This was contrary to the decision by the AGC not to prosecute Tajuddin Ramli and in fact to mark the case for no further action. During that briefing to the Prime Minister, Ramli Yusuff had even stated that if the AG was reluctant to prosecute Tajuddin Ramli, the CCID would have the necessary resources to conduct such prosecution. This earned Gani Patail's permanent displeasure. 
3.11            In 2007, Gani Patail and Musa Hassan, using Nordin Hassan, Kevin Morais, and various officers of the MACC and the Tatatertib Unit of the PDRM, caused Ramli Yusuff to be charged for various offences described below as the KL Charges, KK Charge and the Summons Charge. When Ramli Yusuff was acquitted of all these charges by the court of first instance, Gani Patail in bad faith caused appeals to be made against these acquittals at the High Court and the Court of Appeal.
Further to that, Ramli's Statement of Claim says:
5.4.3            In March 2007, Ramli Yusuff was directed by Johari Baharom to undertake a special investigation into an illegal money lending syndicate operating out of Tangkak, Johor. It was controlled by one Goh Cheng Poh @ Tengku Goh. Ramli Yusuff undertook the investigation with the assistance of officers of the Commercial Crime Investigations Department ("CCID Officers"), of which Ramli Yusuff was director.
5.4.4            Musa Hassan interfered with the course of the investigations into Goh Cheng Poh @ Tengku Goh by directing ASP Hong Ken Hock so as to taint the integrity of the investigations. Notwithstanding this interference, Goh Cheng Poh @ Tengku Goh was arrested, detained and subsequently banished under the provisions of the Restricted Residence Act 1933.
5.4.5            In retaliation, Musa Hassan acting together with Gani Patail, unlawfully insisted that the CCID Officers who investigated Goh Cheng Poh @ Tengku Goh reveal the identities of confidential informants. Musa Hassan acting with several officers of the Criminal Investigation Department of the PDRM caused further investigations to be carried out to taint the findings and investigations of the CCID Officers.
5.4.6            In addition Gani Patail issued a highly irregular and wrongful order to Ramli Yusuff to handover a case file which is highly sensitive and confidential in nature and commonly known as CICERO which contains information about informants to the MACC which was objected strenuously by Ramli Yusuff but after protracted opposition, Ramli Yusuff was instructed to comply with the said unlawful order by his then superior Deputy IGP Tan Sri Najib Bin Abdul Aziz during a weekly meeting. 
5.4.8            It is believed that the contents in the said file was used by the MACC to "turn over" or neutralize the informants resulting in the retraction of previous statements by the confidential informants;
5.4.9            Thereafter, Goh Cheng Poh @ Tengku Goh challenged his detention by habeas corpus proceedings in which he alleged that he had already been cleared of all wrongdoing by Musa Hassan. Ramli Yusuff will contend that at the behest of Musa Hassan and Gani Patail, the AGC declined to contest the habeas corpus proceedings and instead, in a turn of events, elected to prosecute the CCID Officers for purportedly procuring false statements from confidential informants. This in turn undermined the authority and standing of Ramli Yusuff as Director of CCID and joint Chairman of the Cabinet Committee and Special Task Force.
5.5            Meanwhile, on or about April 2007, Musa Hassan caused Ramli Yusuff to be investigated with regard to allegation of abuse of power. Musa Hassan directed Chew Kam Soon to procure the making of a false report to Sok One of the ACA. Sok One caused investigations to be commenced against Ramli Yusuff by the ACA  by including false particulars of the report that he had taken over the telephone and reduced into writing. The false report concerns an allegation that Ramli Yusuff had abused his power in attempting to evict villagers of Kampung Tanjung, Lahad Datu, Sabah. The said villagers were alleged to have been living on a piece of land said to be alienated to Ramli Yusuff by the Government of Sabah. The Plaintiff will rely on the Notes of Proceedings in the trial of the KK Charge to show the manipulation and fabrication of evidence by the Defendants.
So there you have it. Now you know why the ex-IPG and AG went for Ramli's jugular. You may have read about Ramli's RM27 million suit against the ex-IGP, AG, and ten others. But now you know why all this happened -- a culmination of bad blood over 15 years since September 1998 that involved Anwar Ibrahim, Tajuddin Ramli and the Chinese underworld that controls the drugs, prostitution, loan shark and gambling syndicate.
And has Malaysia Today not told you about this story years ago? Well, today, the shit has hit the fan and the truth finally emerges to vindicate what we told you.
DAP lawmaker claims treated like a criminal by cops during Kg Hakka arrest
Posted: 31 Oct 2013 08:28 PM PDT
(MM) - DAP MP Anthony Loke has complained over his treatment by the police during an arrest for protesting against the demolition of Kampung Hakka in Mantin, Negri Sembilan yesterday.
The Seremban MP claimed that although he was merely conducting his duties as a representative of his constituents, the police treated him like a criminal.

"In discharging my duty as a wakil rakyat, today I was treated like a criminal by the police. Handcuffed, urine test, DNA sampling, fingerprints recording and the worst, photographed with the report number at my chest. Feel humiliated," he said on his Facebook page here.

Two MPs and four assemblymen from DAP were arrested yesterday in Kg Hakka, Mantin for protesting against the demolition of the decades-old village.

Besides Loke, the lawmakers were Rasah MP Teo Kok Seong, Nilai assemblyman Arul Kumar Jambunathan, Bahau assemblyman Chew Seh Yong, Senawang assemblyman P. Gunasekaran, and Temiang assemblyman Ng Chin Tsai.

Another wave of arrests afterwards saw human rights watchdog Suaram's executive director E. Nalini and at least six other activists and villagers detained, reported news portal Malaysiakini.

Their arrests follow an earlier arrest of Parti Sosialis Malaysia's (PSM) secretary-general S. Arutchelvan and an activist from NGO Jaringan Rakyat Tertindas. All of them were brought to the Mantin police station.

The latest report by PSM yesterday alleged 19 people including lawmakers, activists and villagers were arrested and brought to the Mantin police station. All of them had been released by yesterday evening.

On September 30, 11 activists from PSM and Jerit, including Arutchelvan, were arrested for allegedly hindering the development in the village.

According to media reports, there were 40 Chinese families living in the 30-acre area, some of them claiming they had been there for six generations. Their land had then been sold to a developer by the state government for a new township project.

The residents of Kg Hakka had been ordered to evacuate their houses in November 2011 by a developer, but in September 2012 Prime Minister Datuk Seri Najib Razak had interfered against the demolition.

However, the Seremban High Court had issued an eviction notice to the villagers in August this year, causing the developer to start construction in September. 
Dato' Ramli Yusuff strikes back: May the force be with you!
Posted: 31 Oct 2013 08:20 PM PDT
Din Merican
Only two days ago, former IGP Musa Hassan was made to eat the humble pie by having to apologise in Court to Dato Ramli Yusuff for the lies that Musa had perpetuated since 2007. Musa Hassan also had to pay cost to Dato Ramli.
I had commented that the law is an ass if liars and defamers can get away easily by just apologising for their lies and paying nominal cost. Utusan Malaysia and the other mainstream newspapers have been playing this trick for quite some time. Thus, Utusan tried to pull that trick again by apologising to Lawyer Rosli Dahlan after defaming him. But Rosli was wiser to their trick.
After Utusan had admitted to all their lies and wrong doings, Rosli whacked them with a RM50 million law suit. Rosli said that Utusan was never sincere with their apology because they hid it from the public.
See the Utusan apology above. It is so clear that Utusan was part of a conspiracy against Dato Ramli and Rosli Dahlan.
Two days ago, I had suggested that Dato Ramli and Rosli Dahlan should sue Musa Hassan and A-G Gani Patail by filing the mother of all defamation and conspiracy suits against all these rogues in government. I said that they must do it and they owed it to all Malaysians who have supported them to do it, so that the Rule of Law is upheld and the government may be rid of these rogues! I am happy that my suggestion has not fallen on deaf ears.
Today, MKini reported that Dato Ramli has filed a RM128.5 million law suit against AG Gani Patail and former IGP Musa Hassan, the MAACC and all the rogues. So, if Musa had thought that he was getting away cheap, think again.   Like in the Star Wars trilogy where the Empire Strikes Back, now we see Dato Ramli striking back. And, it is so heartening that he is doing this to restore integrity and credibility to the police force that had been eroded by the nefarious activities of Musa Hassan and the circumvention of AG Gani Patail.   To Dato Ramli, I say this – may the Force be with you!
DAP facing ideological transition
Posted: 31 Oct 2013 08:15 PM PDT
Cindi Loo, The Ant Daily
The recent internal strife between DAP state leaders and the central leadership is a signal that the party is going through an adjustment period and is facing an ideological transition.
Political analyst Khoo Kay Peng said the party, which has been historically championing the blue-collar workers and labourers, now has young, educated professionals to fill the leadership ranks.
"The party has grown tremendously since the 2008 [general election] and it faces conflict between the old and new guards, many of whom are aligned to certain party leaders," he told theantdaily.
He said the recent spotlight on the young guns in the party has also given the impression that many old guards were being sidelined.
Khoo was commenting on recent developments in the DAP, especially in Johor where state chairman Dr Boo Cheng Hau has formally announced he will not seek re-election in the upcoming state party election.
Boo reportedly cited growing factionalism and interference from the central leadership as reasons that compelled him to step down.
There were also grumblings from the Kedah and Malacca DAP about interference from the central leadership in their state matters.
High court dismisses Nik Nazmi's application
Posted: 31 Oct 2013 08:11 PM PDT
(MM) - The Shah Alam High Court today dismissed the application by Parti Keadilan Rakyat (PKR) communications director Nik Nazmi Nik Nik Ahmad to drop the charge against him for organising a rally at Stadium Kelana Jaya on May 8.
Nik Nazmi, who was charged under Section 9(1) of the Peaceful Assembly Act 2012 of organising the rally without giving a 10-day prior notice to the police as required under the Act, faces a fine of not more than RM10,000, upon conviction.

In her judgement, Judge Noor Azian Shaari said she disagreed with the applicant's submission that the charge was contradictory to the Federal Constitution.

Noor Azian said Sections 9(1) and 9(5) of the Act did not contravene the Federal Constitution and neither were they unreasonable provisions because Article 10(2) provides that any law necessary for national security can be enforced even though the public have the right to assemble peacefully under the same Article.

She also said that the applicant's allegation that the charge was politically motivated was merely to spice up his story.

She added that this issue should be raised at the Petaling Jaya Sessions Court where he was charged and would be tried and that she believed the police and prosecutors had a valid reason for charging him.

Nik Nazmi had pleaded guilty at the Sessions Court on May 17 and filed an application on Aug 21 at the Shah Alam High Court to set it aside.

He was represented by counsels Eric Paulsen and Syahredzan Johan, while the prosecution was conducted by deputy public prosecutor Wan Shaharuddin Wan Ladin.

The case re-mention is scheduled for Nov 12 at the Petaling Jaya Sessions Court.
Anwar cancels Sydney trip due to clashing court date over Sodomy II case
Posted: 31 Oct 2013 08:04 PM PDT
(MM) - Datuk Seri Anwar Ibrahim has cancelled a visit to Sydney next week due to a court hearing at the Federal Court over his bid to disqualify Tan Sri Muhammad Shafee Abdullah as the lead prosecutor in his Sodomy II appeal case.
The visit would have included appearances at two forums and a debate on Islam, the Sydney Morning Herald website said today.

PKR vice-president Chua Tian Chang, popularly known as Tian Chua, told Fairfaz Media that Anwar's lawyers tried to have the court appearance changed to another date but claimed the judges insisted to go ahead on November 7, the day he was scheduled to be in Sydney.

"The cancellation of the trip will definitely remind the international community that the prosecution of Anwar in fact, the entire opposition, is not over," he said.

Chua later told The Malay Mail Online that despite Prime Minister Najib Tun Razak's promises of a more open democracy, the clashing of Anwar's court date with his visit showed that "Najib can be as autocratic as the old Mahathir", referring to former premier Mahathir Mohamad.

"So the opposition, especially Anwar, cannot expect to enjoy a peace of mind or a level playing field in the political competition," said Chua.

There had been reports alleging that a "student adviser" purporting to represent Education Australia Malaysia in Sydney had sent an email warning students on scholarship from Malaysia's Public Service Department (PSD) against attending the Anwar event in Adelaide on October 20.

Students however ignored the warning and thronged the University of Adelaide for a public interview session with public intellectual Waleed Aly.  Anwar was the headline event on the final day of the four-day festival.

Meanwhile, November 7 will be Anwar's final attempt to disqualify top Umno lawyer Muhammad Shafee from leading the prosecution team to overturn the opposition leader's acquittal for sodomy.

On September 17, a three-men bench led by Datuk Ramly Ali only gave oral grounds as to why it was dismissing Anwar's application to disquality Shafee as ad-hoc deputy public prosecutor.

According to The Malaysian Insider, Anwar's lawyer Karpal Singh said he was notified of the appeal date two weeks ago and is now rushing to file the petition of appeal.

On January 9 last year, judge Datuk Mohd Zabidin Mohd Diah acquitted Anwar, 66, for sodomising his former aide, Mohd Saiful Bukhari Azlan, at a Desa Damansara condominium unit in Bukit Damansara on June 26, 2008.

The verdict ended a trial that lasted over two years, with 27 prosecution and seven defence witnesses called.

Anwar served six years in prison for the first sodomy trial after being convicted in 1998. He was given a nine-year sentence but the verdict was later overturned in 2004.

Today, Chua said Anwar has to face "the reality that they (government) will continue to drag this case to bring him down."

"That is something quite unfortunate that we have to face". 
Ambiga's withdrawal from debate draws scorn
Posted: 31 Oct 2013 06:05 PM PDT
Bersih co-chairperson S Ambiga's excuse that she was not debating is unacceptable, says Senator Mohamad Ezam Mohd Nor.
Anisah Shukry, FMT
Bersih co-chairperson S Ambiga's refusal to debate with Yuktes Vijay, a former aide in Anwar Ibrahim's legal team, on the People's Tribunal has drawn scorn from Senator Mohamad Ezam Mohd Nor.
"The reluctance and hesitancy shown by Ambiga to debate clearly shows that the Tribunal Rakyat was a mere Barisan Nasional bashing exercise," Mohd Ezam said in a statement today, referring to the People's Tribunal by its Malay name.
Ambiga had originally agreed to a debate with Yuktes through micro-blogging site Twitter, but later called it off when she learned the topic was on the People's Tribunal.
"…Have explained. Disagreed with topic of findings of [People's Tribunal] when they are not out yet. Said I disagreed from Day1.." she tweeted on Wednesday.
But Ezam argued today that the debate, scheduled for Nov 16, was to focus on what was submitted during tribunal, and did not touch upon the judges' conclusions.
"Deciphering the excuse given by Ambiga for her withdrawal, it seems like she intends to use the findings of the Tribunal as a reference point to validate her vague and bias (sic) views.
"Perhaps (it is an) indication that she indeed lacks evidence to substantiate her views and allegations about the [general election] and the[election commission]," said Ezam.
He also pointed out that the tribunal was not recognised by law, and thus there was no question of contempt should the debate go on.
"Personally, I was surprised and astounded when Ambiga accepted the challenge of Yuktes Vijay for a debate. In fact, the founding father of Bersih, Anwar Ibrahim would not have been pleased at all with this decision of hers," claimed Ezam.
Too late for Gerakan to jump ship: Analyst
Posted: 31 Oct 2013 06:01 PM PDT
A political analyst says Gerakan missed a golden opportunity to quit Barisan Nasional in 2008 and it is now too late to do so as the opposition pact is a formidable force on its own.
Leven Woon, FMT
Gerakan missed a golden opportunity to quit the ruling Barisan Nasional (BN) in 2008, when it was ridiculed and put-down by Umno post 2008 general election.
Penang-based political analyst Cheah See Kian said it was now too late for Gerakan to walk away from BN or become a third force as this would no longer help revive the party, which ruled Penang until the 2008 general election.
"When Umno leaders trampled on (then Gerakan president and ex-Penang Chief Minister) Dr Koh Tsu Koon's portrait and told the party to quit BN (in 2008), they did not take up the challenge,"
"Now after the second electoral defeat at the 13th general election (in May, this year), they are left with no political capital," he told FMT.
Cheah said the recent general election had made Pakatan Rakyat, the opposition coalition made up of PAS, DAP and PKR, a formidable force and strengthened the notion that the nation was heading for a two party system.
"Gerakan has no role to play in Pakatan Rakyat as the opposition coalition has won all the Gerakan contested seats.
"Even if Gerakan were to emulate the Sabah Progressive Party (SAPP) to form a third force, it won't work. They are going to be wiped-out like what happened to SAPP," he said.
Cheah, the former editor-in-chief of now defunct Sin Pin Daily, said Gerakan was now at crossroads and "I can't see a way out for them."
Former CCID chief strikes back in RM 27 million suit
Posted: 31 Oct 2013 05:56 PM PDT
Former IGP and current AG are among 12 defendants in a civil suit filed by Ramli Yusuff.
Alfian ZM Tahir, FMT
Former Commercial Crimes Investigation Department chief (CCID) Ramli Yusuff today filed in a civil suit against 12 individuals, including former Inspector General of Police Musa Hassan and Attorney General Abdul Gani Patail at the Jalan Duta High Court over charges wrongfully brought against him in 2007.
On this day six years ago, Ramli was charged under the Anti Corruption Act for allegedly acquiring substantial assets amounting to RM27 million and claims of abuse of power.
Speaking to reporters after filing his suit, Ramli said that today was a significant day as he was brought to court on malicious accusation exactly six years ago, before praising the judicial system for clearing his name, and described the legal system as fair.
"On this day 2007 I was brought to court and today six years after I am here to seek justice," he said.
"I am not doing this because of Ramli Yusuff but I am doing this for the men in blue (police personnel).
"I think the police force was demoralised at one stage because the moment the three star general (IGP) (referring to Musa Hassan) was appointed everyone was sacred," he said.
Ramli, also former Sabah police commissioner, claimed exemplary damages amounting to RM27 million against the defendants.
When asked on why he chose RM27 million for damages, Ramli said it was to signify the wrongful charges brought against him in 2007.
"Both dates and figures are so significant to me. The same day when I was charged and the amount they accused me of having…so I claim RM27 million as damages," he said.
Acquitted of all charges
Ramli, in his statement of claim furnished by his lawyers to the media, said the whole things started in September 2006 when Musa was appointed the Inspector General of Police and Ramli became the CCID director.
Ramli claimed that in order to thwart his candidacy as Deputy IGP, Musa with other defendants either combined jointly or individually subjected Ramli to a series of action in a manner to implicate him for abuse of power, corruption and other crimes resulting him being sacked from the police force.
COA upholds ruling against cartoonist
Posted: 31 Oct 2013 05:29 PM PDT
(Bernama) - The Court of Appeal here today upheld a High Court's ruling that the arrest and detention of political cartoonist Zulkiflee SM Anwar Ulhaque, popularly known as Zunar, by police in 2010 was lawful.
A three-member panel led by Abdul Aziz Abdul Rahim also upheld the decision of the High Court which had held that the seizure of 66 of the cartoonist's books and a painting was unlawful and had ordered that damages be given to him (Zulkiflee), with the quantum to be assessed by the High Court.

Justice Abdul Aziz and two other Court of Appeal judges Mohamad Arif Md Yusof and David Wong Dak Wah unanimously dismissed Zulkiflee's appeal to set aside the High Court's decision on his arrest and detention.

The panel also dismissed the cross-appeal brought by ASP A. Arikrishna, ASP Marina Hashim, the then Inspector-General of Police Ismail Omar, the Home Ministry and the Malaysian government against the High Court's ruling that the seizure of the books and painting were unlawful.

Justice Abdul Aziz said the court unanimously found that there were no merits in Zulkiflee's appeal as well as the police and government's cross-appeal.

"Alam Mydin Meera's (the High Court judge concerned) conclusion that Arikrishna was justified in his opinion that there was reasonable suspicion that Zulkiflee had contravened the provision of the Sedition Act 1948, notwithstanding that until today the relevant authority has not banned the book or that no charge for any offence under either the Sedition Act or the Printing Presses and Publications Act 1984 has been preferred.

"We do not think that there is anything wrong with the arresting officer i.e. the 1st respondent (Arikrishna) forming his opinion that the contents were seditious by flipping through the pages of the book Cartoon-o-phobia and by looking at the collage," he said in his 37-page judgment.

Justice Abdul Aziz said the court found that the judicial commissioner was correct in his conclusion that there was no cogent evidence to indicate that Marina had taken him (Zulkiflee) for a ride to various police stations merely to thwart the launch of his books on the same day of his arrest.

"The fact that no charges were ever preferred against Zulkiflee in respect of the arrest and the publication of the books is in our view insufficient evidence to suggest that there was malice in the conduct of the defendants," he said.

He said that Zulkiflee's detention and further detention was lawful and that his (Zulkiflee's) complaint that he was remanded unnecessarily by police for investigation was without merit.

In his judgment, Justice Abdul Aziz said it was the court's view that police investigation into any complaint or reported crime was entirely within the discretion of the police as to methodology or time taken as there were various factors to be considered.

"Whilst we agree that the law does not impose a time limit on the police to complete their investigation and that no law imposes any time frame on the Attorney-General to decide whether or not to prosecute the alleged offender once the investigation is complete, we are constrained to say that what is reasonable in any circumstance depends on the facts and circumstances of each case," he said.

He said the court also shared the view of the judicial commissioner that to further detain the books belonging to Zulkiflee without any further action to ban them for their obnoxious contents that affront the public or to keep them as material evidence by charging him in court for the alleged offence was to deny him his constitutional right to make a living under Article 5 of the Federal Constitution from the sale of those books.

On June 15, 2011, Zulkiflee and his company Sepakat Efektif Sdn Bhd filed a civil suit against Arikrishna, Marina, Ismail Omar, the Home Ministry and thengovernment for unlawful detention.

In his statement of claim, Zulkiflee said that a police team led by ASP Arikrishna raided his office on Sept 24, 2010 just hours before he was supposed to launch Cartoon-o-phobia, arrested him and seized 66 books titled 'Cartoon-0-Phobia' as well as a cartoon drawing.

Zulkiflee claimed that he was taken to several police stations within Kuala Lumpur and Selangor and remanded overnight at the KL International Airport police station for alleged incitement.

He questioned the basis for his arrest, remand and seizure of his works, arguing that the actions were illegal and unconstitutional, and aimed at sabotaging the launch of his book.

Lawyer R.Sivarasa said he would discuss with Zulkiflee on whether to bring the matter up to the Federal Court. Senior federal counsel Normastura Ayob appeared for the government and the police. 
Kredit: www.malaysia-today.net