Klik GAMBAR Dibawah Untuk Lebih Info
Sumber Asal Berita :-
---
Recall all ICs Issued in Sabah and Issue a new Sabah IC
Posted: 03 Nov 2013 11:16 AM PST
The federal government need to be reminded that every Sabahan is a Malaysian but not every Malaysian is a Sabahan. 
Datuk Dr. Jeffrey Kitingan, Chairman, STAR Sabah
"There is now no other viable option available to the federal government but to recall all ICs issued in Sabah if the federal government is serious to overcome the fake ICs problem now growing menacingly in the Peninsula" said Datuk Dr. Jeffrey Kitingan, STAR Sabah Chief on the sudden discovery and increasing number of fake Mykads issued in Sabah and used for crimes in the Peninsula.
The problem of fake MyKads and the weeding out of illegal holders of MyKads can be resolved easily if the federal government is serious to tackle the problem.
All that is need is for the National Registration Department (NRD) to produce the records of every birth certificate and identity card issued in Sabah from 16 September 1963 and verily them.   It may be long and tedious but it can be done and should be considered for the sake of national security.
It has to be remembered that there could be as many as 1.5 million fake MyKads out there purportedly issued to illegals in Sabah since the 1970s.
Considering the tragic murder of an innocent bank office cum mother of two young kids, the goldsmith shop robbery and the discovery of 20 security guards with fake MyKads, the potential threat to the nation is alarming and frightening. They could be just the tip of the iceberg.
With due respect to the innocent victims and their families, these incidents are a blessing in disguise for Sabah as well as for the nation. It has helped to capture the attention of the entire nation of the monster problem festering in Sabah all this while.
With the benefit of hindsight, the fake MyKad incidents and the unsurprising discoveries and revelations at the recently concluded RCI on illegal immigrants in Sabah, one cannot help but point an accusing finger at the federal leaders and the NRD and the Election Commission for their dirty hands involvement.
"Who can we trust now? Can the federal government and the federal agencies be relied upon to protect and safeguard the interests and safety of Sabahans" he queried.
The Sabah government, he said, should seriously consider taking drastic and urgent steps to ensure the better security of Sabah and its people by setting up a HOMELAND SECURITY MINISTRY and DEPARTMENT to complement and supplement the shortcomings of the federal agencies in protecting the people in Sabah.  
"This is the only way to ensure that the security and sovereignty of Sabah are genuinely protected" stressed Dr. Jeffrey.
The rhetoric statements of the then de-facto Minister for Law and Home Minister that the illegal immigrants in Sabah do not pose a security risk are all hogwash to hoodwink the people. It has also create a false sense of security to the people in the Peninsula but not in Sabah where the locals feel the fear and insecurity caused by the illegals many of whom are Umno members.  
The 2010 national census showed that there are 889,770 legal and illegal foreigners in Sabah.   
Looking at the failures of the federal government and the federal agencies, the Sabah government need to take full control of the State immigration and national registration departments to ensure the laws are implemented and to safeguard the sovereignty of Sabah as well as the security and well-being of all Sabahan Malaysians.
The Homeland Security Department can then issue a new Sabah IC for all genuine Sabahans. This way, the federal government will not be able to issue MyKads to illegals as Sabahans.
If the federal government wish to continue issuing the dubious MyKads to illegals and foreigners, they can send all of them to stay in Putrajaya and the Federal Territories of Kuala Lumpur and other States in the Peninsula and they deal with the crime and social problems created by these fake MyKad holders. The federal government need to be reminded that every Sabahan is a Malaysian but not every Malaysian is a Sabahan.
Maybank Improves HTTPS security, joins top ranks while BSN, Affin and Muamalat remain at Grade F
Posted: 03 Nov 2013 10:58 AM PST
Unfortunately Bank Simpanan Nasional, Affin Bank, Bank Muamalat remained at Grade F. AmOnline and Bank Rakyat maintained their B ratings. We remained unable to test RHB. Some people thought this meant that RHB had better security, but this is not necessarily so, it just means it could not be tested due to some error either with the test script or with the website itself.
BolehVPN 
It's been 3 days since we first posted our tests on Malaysian banks which gained quite a lot of publicity. Thanks to everyone who shared and spread the word. Let's see who has taken it to heart and upgraded their security? We are only retesting those sites that scored an F rating which were:
Maybank2u/Maybank2e
Affin Bank
Bank Muamalat
Bank Simpanan Nasional
and also those who scored a B rating which were
AmBank
Bank Rakyat
Maybank now becomes one of the top ranking banking websites in Malaysia and in some cases in case of RC4 support and Session resumption, is even better than CIMBClicks. It is reassuring to see the speed in which this was resolved. It even supports TLS1.1 and 1.2 now!
There were quite a few people who complained that we were paid to do a smear campaign on Maybank but this is far from the truth. Others expressed that Maybank2U required the SSL2.0 support for people who could not upgrade from IE6. We responded to say that IE6.0 with service packs installed did indeed have SSL3.0 support and that insecure protocols should not be tolerated lest it give the false sense of security to users. We have been validated by Maybank  fixing these issues on their site within 2 days.
Read more at: http://www.bolehvpn.net/blog/2013/10/maybank-improves-https-security-joins-top-ranks-while-bsn-affin-and-muamalat-remain-at-grade-f 
Sungai Limau polls a baptism of fire for Mukhriz Mahathir
Posted: 03 Nov 2013 10:38 AM PST
(TMI) - A win, or even a dent to PAS's majority by Barisan Nasional (BN) in this Islamist party stronghold, will burnish the Kedah Menteri Besar's political credentials as a BN and Umno leader. 
Today's Sungai Limau by-election will be a baptism of fire for Datuk Mukhriz Mahathir.
A win, or even a dent to PAS's majority by Barisan Nasional (BN) in this Islamist party stronghold, will burnish the Kedah Menteri Besar's political credentials as a BN and Umno leader.
This is especially so since the 49-year-old needs to overcome his recent defeat at the Umno polls where he narrowly lost his bid for the vice-presidency by 10 votes.
"If BN wins, it will definitely break the psychology barrier and Mukhriz will definitely be praised for it.
"Personally I think it is important for Mukhriz to ensure he can improve on BN's performance not only to boost his image as the MB, but to show something to his supporters, especially after his Umno defeat," UiTM Associate Professor Shaharuddin Badaruddin told The Malaysian Insider.
Voting began at 8am and the final results will be known by 9pm today.
Mukhriz had been working overtime to woo the 27,222 voters in Sungai Limau since the seat became vacant on September 26 following the death of former Kedah menteri besar Tan Sri Azizan Razak.
The Sungai Limau seat, located in the Jerai parliamentary constituency, is a PAS stronghold. The Islamist party has held it for five terms since 1995.
The son of former premier Tun Dr Mahathir Mohamad surprised and won the admiration of people, including his own team of advisers, by spending the night sleeping on the floor of a house belonging to a fisherman in Kampung Seberang Tandop. The village is well known for being a hardcore PAS area.
The soft-spoken Mukhriz had also pledged to be Sungai Limau's adopted assemblyman if BN wins this rural seat where the majority of its residents are paddy farmers and fishermen.
This was in line with PAS's slogan of "kekal" (retain), where the electorate of Sungai Limau were still diligently served by Azizan even after he was appointed as menteri besar after the 2008 general election.
Read more at: http://www.themalaysianinsider.com/malaysia/article/sungai-limau-polls-a-baptism-of-fire-for-mukhriz-mahathir 
Cheap sugar and rice at BN carnivals in Sungai Limau a big worry to PAS
Posted: 03 Nov 2013 10:36 AM PST
(TMI) - Perhaps it is due to the carnival response that Tan Sri Muhyiddin Yassin, the Umno deputy president, expressed confidence that the BN candidate can win the by-election. 
Carnival-like programmes the Barisan Nasional organised in the final hours of the Sungai Limau by-election campaign have got PAS worrying over its chances of defending the seat.
The huge turnout at the carnivals, particularly in Bukit Besar, a PAS stronghold, has caused concern among the Islamist party's leadership.
"For sure our numbers show an increase in voter response but the response the BN programmes are getting is worrying," said PAS Research Centre chief executive Dr Dzulkefly Ahmad, who has been in Sungai Limau since nomination day.
BN organised a shopping-like carnival in Bukit Besar, located 19km from Alor Star. It was packed as word spread that household essentials were sold well below market price.
And while the BN government recently removed a subsidy that caused the price of sugar to go up, a 1kg bag of sugar was only sold for RM1.00 at the carnival.
A 5kg bag of rice was sold for RM5. The sale of the cheap goods caused massive congestion as people in this constituency scrambled to get the items until 11.45pm yesterday.
The usual price of a 5kg bag of rice is between RM18 to RM20.
Read more at: http://www.themalaysianinsider.com/malaysia/article/cheap-sugar-and-rice-at-bn-carnivals-in-sungai-limau-got-pas-worrying 
More Guards With Fake IDs Nabbed In Less Than A Week
Posted: 03 Nov 2013 10:35 AM PST
(The Sun Daily) - Authorities have in the past week detained five security guards in Kuala Lumpur and Selangor for using fake MyKad or identity cards belonging to other people. 
Home Minister Datuk Seri Dr Ahmad Zahid Hamidi said two of those nabbed have been charged in the Sepang magistrate's court for possession of fake MyKad and sentenced to six months' imprisonment.
More security guards who used fake identities were revealed after screening a total of 282 guards in a special operation mounted in Putrajaya, Cyberjaya, Selangor and Kuala Lumpur since Oct 29.

The screening operation, dubbed Ops ID, was launched in the wake of an incident where a bank officer was shot dead by a security guard who had secured employment using a fake MyKad.

Ahmad Zahid also warned the 751 security services companies registered with the Home Ministry to scrutinise their employees' identification documents.

"If the companies fail to do so, they will have to bear the consequences if any of their security guards are found to be using a fake MyKad or an identity card belonging to another person," said Ahmad Zahid, adding that Ops ID will continue.

"We will not hesitate to take immediate action.

"We will revoke the company's operating licence and its other workers will also lose their jobs," he warned.

Security services companies are only allowed by the government to hire Malaysians and Nepalese ex-soldiers to work as guards, Ahmad Zahid told newsmen after launching the My12 and MY18 programmes at SMK Sungai Limau here yesterday.

On the operation to track down the rogue security guard who shot Ambank officer Norazita Abu Talib at its USJ Sentral branch on Oct 23 , he said police believe the culprit is still in the country.

In a second incident, another security guard, who is also believed to have used a fake ID to gain employment, robbed a jewellery shop in Setapak that he was assigned to guard, and made off with 100 gold chains on Thursday.

However, police said two Filipinos – the guard and an accomplice – have since been arrested at the Low Cost Carrier Terminal in Sepang while trying to board a flight for Sabah at 7am yesterday.

Meanwhile, the National Union of Banking Employees (NUBE), voiced concern that banks which had been engaging the services of security company Kawalan Prima Sdn Bhd have been left "defenceless" as a result of the company's operating licence being revoked.

The company – which hired the guard who shot Norazita – had its licence revoked by the Home Ministry immediately after the incident and was ordered to surrender all its firearms to the police.

"This is ludicrous, as the safety of bank workers and customers will be compromised," NUBE secretary-general J. Solomon said.

Meanwhile, Norazita's husband, Irwan Kamarudin, today received a contribution of RM100,000 comprising RM45,599.02 raised by Kelab AmBank Group through a donation drive, RM2,000 from the club, RM10,000 from AmIslamic Bank and a personal contribution of RM42,400.98 from AmBank Group chairman Tan Sri Azman Hashim.

The money was handed to Irwan by Azman during a tahlil ceremony held at the branch, which was attended and the bank's senior management and Norazita's colleagues.

Ambank said more money to be received under the group insurance policy totalling RM352,188.00 (RM149,652.00 from group term life insurance and RM202,536.00 from group personal accident insurance) will be paid to the late Norazita's estate later.
"AmBank Group deeply sympathises with and understands the pain and suffering of the deceased's family and all those who knew the late Norazita. We offer our deepest condolences and support for her family during this difficult time," said Azman. 
Living on high and deadly ground
Posted: 03 Nov 2013 10:34 AM PST
If tragedy happens, victims may not be able to get help
(NST) - CAMERON HIGHLANDS:  MORE than 30,000 people from Kampung Raja right up to Bertam Valley here are living on shaky ground.
Risk analysis obtained by the New Straits Times revealed that at least 17 moderate to densely-populated spots in the stretch were susceptible to landslides, due largely to uncontrolled and indiscriminate land clearing for agricultural activities.
Jalan Tapah-Cameron Highlands, Jalan Tringkap-Kampung Raja, Jalan Blue Valley-Lojing, Jalan Boh Estate Habu, Jalan Sultan Abu Bakar, Jalan Pecah Batu, Batu 33 Shum Yip Leong Estate, the spot behind Tringkap market and Jalan Tanah Rata-Ringlet are among those identified as high-risk zones.
Risk assessments carried out by the authorities also showed that the Trisu Orang Asli settlement, Jalan Tapah near the Perak-Pahang border and Jalan Sungai Palas to Mossy Forest, where the Telekom substation is, and all roads along the rivers here were among the outlying and interior areas that are prone to landslides.
If the unthinkable happens, sources said it would be virtually impossible for first responders to reach the victims in time as the areas would be effectively cut off.
Authorities had also identified threats of flooding and landslides in four densely-populated areas: Kampung Baru Lembah Bertam, Kampung Raja, Ringlet and Kuala Terla.
Recently, debris from land clearing and farming upstream, plus heavily-silted water released from the Sultan Abu Bakar hydroelectric dam, built in 1962, were believed to have caused mud floods that killed three people in Bertam Valley.
At least 80 homes and 100 vehicles were destroyed.
Two years ago, seven people, including a family of three, died in a landslide that hit Kampung Sungai Ruil near Brinchang.
The village is the single largest Orang Asli village in Cameron Highlands with 1,300 villagers.
There seems to be no stopping the farmers, particularly in Bertam Valley, from encroaching on forest land. Almost every nook and corner of the river reserves, and even the roadsides here, are planted with leafy greens. Step out of your vehicle and you'll see rows and rows of vegetables by your side!
Checks by the New Straits Times also showed clear signs of intensive cultivation atop slopes and forest lands going on unabated in nearby areas, including Ringlet.
At the ill-fated Bertam River where the mud flood occurred, hundreds of black plastic bags, farming equipment, not to mention piles of rubbish washed down by the deluge of mud, water, rocks, earth and debris, could be seen all over the riverbanks -- another sign of illegal and extended farming.
"There is nothing much we can do... just too many illegal farms here, especially in Bertam Valley," said Cameron Highlands Fire and Rescue Department chief Yusry Abdullah Sani at his office in Brinchang.
Land clearings, according to Yusry, who was transferred here in 2011, took place almost every day.
"Sometimes, we get several calls about fire on new parcels of land being cleared in one day. Our officers respond, put out the fire and return back to base. But these farmers or their workers will start burning again almost immediately.
 "Normally, if we return to the same site again, especially  on steep slopes, we will seize the equipment used to clear  land, like cangkul.
 "That is the best we can  do (to help stop illegal land clearings) but within a few weeks or one month, you can see a farm there."
As the department is involved in recommending licence applications for new premises, Yusry said those from farm owners which did not have a Certificate of Fitness (CF) would not be supported.
"We will recommend to the  agencies or departments not to approve those  applications."
Since most of the buildings, particularly in Bertam Valley, were heritage ones, they do not have CFs.
Yusry also said while search and rescue efforts for the victims of the recent mud flood had been called off,  small operations involving at least two officers were still  carried out.
"There are many illegal workers here. So, we cannot discount the possibility of more victims."
Regional Environment Awareness of Cameron Highlands (Reach) president R. Ramakrishnan  claimed that syndicates were prepared to "pay" RM50,000 to get  a  permit to clear land on steep slopes.
Of the sum, he alleged that RM30,000 would go to  officers from the district  land office while the remaining would be kept by the middlemen. He said he had sent a letter to Pahang Menteri Besar Datuk Seri Adnan Yaakob and the Malaysian Anti-Corruption Commission but there was no action.
Many of the slopes cleared had a gradient of more than 25 degrees, which posed a high risk of landslide and soil erosion, he said.
 
Pahang MACC director Moh Samsudin Yusof  said there had been no evidence of corruption involving the district and land officers.
"But we are keeping a close watch on all allegations."
Those with information  should come forward and furnish  MACC with details.  

Discovered in 1885 by British colonial government surveyor William Cameron, the highlands, with its highest point standing at 1,500m above sea level, was developed as a hill station in 1925. The cool mountain climate was found to be ideal for farming and large tracts of virgin jungles were cleared.
Re-imagining a truly Malaysian school
Posted: 03 Nov 2013 10:30 AM PST
Imagine a scenario in Malaysian classrooms where primary school children learn the meaning of the word 'peace' and muhibbah in many different languages and dialects: Bahasa Malaysia, Bahasa Jawa, Siamese, Bugis, Bawean, Bangladeshi, Hokkien, Cantonese, Hakka, Tamil, Urdu, Tagalog, Hebrew, Arabic, Senoi, Jakun, Iban, and Kadazan-dusun.
Dr. Azly Rahman
Imagine the children, in weekly language word-study circles, explaining to each other the meaning of the word in their own language.
Imagine the children learning Language Arts and Social Studies exploring the interdisciplinary theme of the language they use at home.
Imagine them translating proverbs from their native language into English, and next illustrating them and next doing class presentations.
Imagine at the end of the year, the children and their parents proudly dressed up in their cultural outfits, singing songs in their native language without being laughed at, sharing food - in a cultural celebration night.
Imagine secondary school students doing their final school project on the meaning of their cultural practices and the relationship to their ethical belief system and how each may teach them to profess universal values of peace and social justice among different races.
Imagine all of them doing a project that analyses the themes of famous cross-cultural movies and using this vehicle to learn the concepts of cultural preservation and continuity.
Imagine, at the community college and university level, when they have had enough exposure and appreciation to linguistic and cultural diversity, Malaysians forming cross-cultural dialogue clubs, engaging in multiple literacies and multiple voices forum, interfaith circles of learning, transcultural network of friends and other innovations in multi-cultural social imaginations - so that we may not need communalism anymore as a basis for our national political design.
Imagine, we then have graduate students forming something called 'Malaysian Transcultural Social Democratic Futuristics' political study groups to dismantle all existing parties that have served their time.
What an exploration in a newer human design we may embark upon to create a society based on a transcultural radical-multiculturalist utopianism. It would be a good experiment we may embark upon for the next 50 years so that we may redefine the meaning of 'progress and development', rethink the solution to corruption, and reconfigure the existing and incoming newer Malaysians.
But let us go back to the present Malaysian classroom.
READ MORE HERE: http://azlyrahman-illuminations.blogspot.com/2013/10/reimagining-truly-malaysian-school.html
Sg Limau by-election: Too close to call
Posted: 02 Nov 2013 09:17 PM PDT
(Bernama) - The result of tomorrow's Sungai Limau by-election appears to be a cliff-hanger with pundits saying if PAS wins, it would be by a reduced majority while not dismissing the possibility of the Barisan Nasional (BN) wresting the seat by a narrow margin.
With campaigning, which started on Oct 23, to stop at the stroke of midnight tonight, the machineries of both parties have gone into "hyper-drive" to win the hearts of the 27,222 registered voters. 
On paper, PAS is said to have the edge, as besides Sungai Limau being its stronghold, the party has 9,499 members there while the BN 9,230 with the remaining 8,493 voters deemed fence sitters.
Despite the constituency being a PAS stronghold since the 1995 general election, many PAS big-wigs like its president Datuk Seri Abdul Hadi Awang, his deputy Mohamad Sabu and both party vice presidents, Salahuddin Ayub and Datuk Mahfuz Omar, apart from Opposition chief Datuk Seri Anwar Ibrahim have been tirelessly campaigning to assist PAS candidate Mohd Azam Abd Samat.
Former popular local artistes who joined PAS such as Aisyah, Bob Lokman and Abby Abadi were also roped in by the party to defend the seat.
Although BN is seen as the underdog, the area saw its machinery working hard led by BN deputy chairman Tan Sri Muhyiddin Yassin, who is also Deputy Prime Minister, by bringing in central political figures to support Dr Ahmad Sohaimi Lazim, the BN candidate.
Sungai Limau, situated in the middle of a rice bowl area, is also home to more than three Islamic religious schools which mostly lean towards PAS.
However, the late Tan Sri Azizan Abdul Razak, who held the seat for four terms since the 1995 GE, is said to have won it because of his credibility as a leader respected by friends and opponents and not due to he contesting on a PAS ticket.
Therefore, the PAS candidate is not expected to have an easy ride, especially since the Kedah administration is no longer under PAS but is led by Datuk Seri Mukhriz  Mahathir, who has a similar personality as Azizan.
This is because Mukhriz, the son of former prime minister Tun Dr Mahathir Mohamad, is seen as a young leader who is able to bring development to Sungai Limau, especially job opportunities and economic activities which is lacking in the area, where the majority of its residents are farmers and fishermen.

Most of the youths there migrate to the urban areas in search of a better life especially from the Chinese community, who make up 6.7% of the voters in Sg Limau. It is also strong possibility that those who voted for PAS in the last general election in May may switch sides this time around.

Azizan's supporters are also expected to do the same as a result of an internal revolt by a group of PAS leaders who wanted to remove him as Menteri Besar of Kedah when PAS was in power in the state for one term after the 2008 general election.

Umno is also banking on the 3,000-odd outstation voters, especially on 1,752 of them who are its members.
The chess game of Malay politics
Posted: 02 Nov 2013 08:15 PM PDT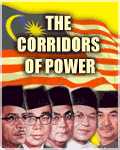 If I were a Malay voter in Sungai Limau I would vote Barisan Nasional so that Mukhriz would become stronger and hence Najib would always be under threat from Dr Mahathir and his team. Giving the seat to PAS would not allow them to take over the state. However, voting Umno would mean Mukhriz would remain relevant and hence Umno can be kept in check with Najib and his team on one side and Dr Mahathir and his team on the other.
THE CORRIDORS OF POWER
Raja Petra Kamarudin
More than 90 per cent of the 27,222 registered voters in Sungai Limau are expected to vote tomorrow as compared to 89 per cent in the 13th general election. Election Commission (EC) secretary Datuk Abdul Ghani Salleh said the percentage was based on the positive spirit seen throughout the campaign period.
"The Sungai Limau by-election campaign is more family-friendly, calm and peaceful. The increase in voter percentage is due to the spirit of comradeship and family ties," he told reporters after checking ballot boxes and voting equipment at Dewan Dato' Madi, here today.
Abdul Ghani said of the 27,222 voters, three were postal votes involving a student in Egypt and two individuals working in Permatang Pauh and Sabah. He said 499 EC personnel, 116 policemen and 58 polling chiefs will be on duty for polling tomorrow, involving 58 polling streams and 17 polling centres.
"These chiefs will take voting equipment back to their locations, while indelible ink and ballot papers will be left at the hall until 6am tomorrow. The police will monitor the equipment and halls to prevent intrusion from any quarters," said Abdul Ghani. He also advised voters to go out in stages from 8am to 5pm and to bring along their identification card.
Abdul Ghani added that the EC expected results for the by-election to be out at the latest by 10pm tomorrow, and ballots will be tallied at Dewan Lukman Al-Hakim, Sekolah Menengah Kebangsaan Agama Yan.
*********************************************
With 93% of the Sungai Limau voters being Malay this basically means it is going to be a 'Malay fight'. However, how you perceive this by-election plus the results -- that we will know 24 hours or so from now -- all depends on how you perceive politics. And different people will perceive it differently.
According to political veteran Lim Kit Siang in his commentary below, he views a loss for Barisan Nasional as a setback for Tun Dr Mahathir Mohamad and a blow to what he calls Mahathirism.
I suppose this is one way of looking at things although, to me, this is a too simplistic a way of looking at things -- but appears to be how most Chinese look at things. Malays, however, have a more complex mind and if the kalimah Allah (Allah word) controversy has not convinced you enough of this then I do not know what will.
There are just too many factors and permutations to take into consideration when it comes to politics and not always is the shortest distance between two points a straight line. Sometimes you need to weave and meander to avoid all sorts of obstacles and roadblocks to get to where you want to go.
And that is how politics work if you can remember the series I wrote late last year called 'The journey in life is never a straight line'.
The last day, in particular the final night, sometimes decides the outcome of a by-election. Hence what happens a few hours or so from now may decide what happens tomorrow. And by midnight it all ends when campaigning, by law, has to stop.
However, although the 'official' campaigning may end at midnight tonight -- in five hours or so from the time I am writing this article (7.00pm Malaysian time) -- the behind-the-scenes maneuvering will still go on right until the polling booths opens tomorrow. And it will still not stop then. It will still go on even as the voters leave their homes to cast their votes.
If money is going to change hands -- and you can bet your sweet ninny it is going to change hands -- it will be done after midnight tonight and all the way until the polling booths close tomorrow. Hence the party that successfully 'locks up' the kampongs to prevent 'bagmen' from infiltrating the kampongs has the advantage.
Furthermore, the party that has the most number of vehicles needed to ferry the voters to the polling stations has another advantage because on the drive to the polling stations many 'deals' can be hatched.
Hence, at the end of the day, the final tally will rest on who has the most financing and logistics support. And if you have deep pockets you can turn the tide, especially in a by-election like Sungai Limau -- which is a neck-to-neck race and there is no clear winner yet at the time I write this article.
The problem with the Malays, if you can call it a problem, is sometimes they are too honest. Chinese and Indians will take your money but that does mean they will vote for you. Malays, however, feel it would be dishonest if they take your money and not vote for you.
Now, as I said, the Malay mind is very complex to understand. If they take your money and not vote for you that is considered dishonest (sort of breach of contract). But is it not even more dishonest to take the money and vote for the one who gives you money? Is this not called bribery and corruption (doing something wrong for money)?
Unfortunately Malays do not think this way. Taking your money and not delivering your side of the bargain is dishonest while taking your money and fulfilling your obligation is honest even though both tantamount to bribery and corruption.
Even PAS spiritual leader Tok Guru Nik Aziz Nik Mat asked the PAS supporters to take the money and not vote for Barisan Nasional whereas he should have said taking the money is still bribery and corruption whether you do or do not deliver. (One chap in Terengganu was found guilty of corruption even though his defense was he took the money but did not deliver what he was paid to do).
Will the voters in Sungai Limau remember the late Azizan Abdul Razak's jasa (service and goodwill) to their constituency and to the state as Menteri Besar, plus honour his legacy? If they do then PAS is going to win.
Will the voters remember that Azizan was too 'Umno-friendly' when he was the Menteri Besar of Kedah? If they do then Azizan's jasa and legacy will not carry any weight because he would be placed in the ranks of PAS leaders such as Hassan Ali, Asri Muda, Nakhaie Ahmad, and so on (even though Azizan did not leave PAS to join Umno).
Will the voters remember Dr Mahathir's jasa to the country in his 22 years as Malaysia's Prime Minister? If they do then they will vote Barisan Nasional since Kedah Menteri Besar Mukhriz is his son. However, if Dr Mahathir is remembered as the Prime Minister who ruined the country -- plus was an 'obstacle' to Islam (who also insulted the Prophet's beard) -- then the voters will vote PAS.
So the by-election is not just about money and logistics over the next 24 hours, although that does have a bearing on the outcome. The late Azizan's jasa, Dr Mahathir's jasa, Islam, kalimah Allah, the perception that the Christians are kurang ajar (insolent) in their demands regarding the Allah word, and so on, also have a bearing on how the 93% Malay voters will think and cast their votes.
Further to that, Malays would take other issues into consideration. If they vote PAS that would mean they agree with Pakatan Rakyat's stand that there is nothing wrong with Christians using the Allah word.
If they vote PAS that would mean they do not support Mukhriz and hence Mukhriz's political career as far as his attempt to win a seat in the Umno vice presidency in 2016 would be in jeopardy and this would also mean Prime Minister Najib Tun Razak and his team (such as Hishammuddin Hussein) would become stronger.
If I were a Malay voter in Sungai Limau I would vote Barisan Nasional so that Mukhriz would become stronger and hence Najib would always be under threat from Dr Mahathir and his team. Giving the seat to PAS would not allow them to take over the state. However, voting Umno would mean Mukhriz would remain relevant and hence Umno can be kept in check with Najib and his team on one side and Dr Mahathir and his team on the other.
In fact, Lim Kit Siang's commentary is quite accurate. The only thing is the Malays might vote Barisan Nasional not because they support Dr Mahathir but because they do not support Najib. Hence the only way to undermine Umno is to not vote PAS but to vote Umno. Then Umno would become split with two warlords fighting for power rather than kill one side (Dr Mahathir's side) and allow the other side (Najib's side) to become too strong, which means Umno too would become strong.
This is sort of like the poisoned chalice or the kiss of death. My vote is not to strengthen you but to kill you. Hence I vote for you so that chaos can reign in Umno when two sides become equally powerful.
And do not underestimate the way the Malay political mind works. When they smile and salam it could probably mean that there is malice in the gesture. Hence a smiling Malay can sometimes mean that your death is near.
Devious people these Malays are, don't you think so?
*********************************************
Will Mahathir and Mahathirism suffer a third and probably final setback in six months in the Sungai Limau by-election tomorrow?
Lim Kit Siang
The Sungai Limau by-election tomorrow will answer the question: Will Mahathir and Mahathirism suffer a third and probably final set-back in six months?
Last week, former Prime Minister Tun Mahathir said that the "lunatic fringe" have taken a hold of Malaysia as the ruling Barisan Nasional struggles to deal with diminished public support despite retaining its hold on government.
Mahathir is right when he claimed that the administration of current Prime Minister Datuk Seri Najib Razak is weak and feels it needs to entertain "unreasonable demands" from extremist groups to remain relevant to the public but wrong when he identified such extremist groups as coming from Pakatan Rakyat.
In fact, Mahathir has himself become the very personification of the extremist "lunatic fringe" holding the "moderate majority" to ransom with their "lunatic" lies and falsehoods, undermining and even sabotaging the country's nation-building, national unity and national development.
In Sungai Limau Dalam on Oct. 21 to announce the Pakatan Rakyat candidate for the by-election, I had expressed the hope that the Sungai Limau by-election would herald a new chapter of Malaysian politics with the by-election as a model of clean, honest and decent politics where there is no campaign of lies, falsehoods, character-assassination or the corruption of money politics.
But this was not to be, as right from the very first day, lies, falsehoods and character-assassination were the staple diet of the UMNO/BN campaign in the Sungai Limau by-election, including the dastardly lies that  the DAP wants to form a Christian state,  abolish the system of constitutional Monarchy and that the DAP is anti-Malay and  anti-Islam.
The lunacy of these lies and falsehoods are no different from the lunacy of the lies and falsehoods perpetrated by Mahathir during and after the 13th General Elections where he made the false, irresponsible and vicious accusations that:
·      I contested in Gelang Patah to cause a confrontation between the Malays and Chinese in Johore as I wanted the Chinese in Johore "to dislike and hate the Malays"; and
·      that DAP rejected the concept of Malay/Chinese/Indian power-sharing as the Chinese want to oust the political power of the Malays.
But Mahathir and Mahathirism suffered a great setback six months ago during the 13th General Election on May 5, when thanks to Malay voters who did not succumb to their  lies and falsehoods, I was able to win in Gelang Patah with a majority of over 14,000 votes.
In fact, my message in the Gelang Patah campaign in the 13th General Elections was the very opposite to the lies of Mahathir and Mahathirism – as I had sought to summon an unprecedented unity of Malays, Chinese, Indians, Ibans and Kadazans under the vision of  a common Malaysian Dream to build a more united, democratic, free, just, competitive and prosperous nation for all Malaysian citizens.
Similarly, in Shah Alam and Pasir Mas,  Mahathir and Mahathirism were  unable to deliver victory for the "lunatic fringe" as represented by  Perkasa President Ibrahim Ali and vice President Zulkifli Noordin in the 13th General Elections.
In fact, the Shah Alam Umno division chief said after the general elections that if Mahathir had not campaigned in Shah Alam, BN might have earned more votes.
The second setback for Mahathir and Mahathirism was in the UMNO party elections last month and Mahathir blamed money politics for his failure to ensure victory of his son Mukhriz Mahathir as one of the UMNO Vice Presidents.
The Sungai Limau by-election on Monday on November 4 falls exactly six months after the 13th General Elections on May 5.
Mahathir today turned up on the UMNO/BN campaign trail in Sungai Limau by-election and has adopted the stance that money politics in Umno party elections against his son Mukhriz was reprehensible but "OK" for UMNO and Mukhriz when practised in the Sungai Limau by-election.
But the more interesting question is whether Mahathir and Mahathirism will suffer a third and probably final setback in six months after the 13th General Elections in the Sungai Limau by-election tomorrow – which will be the case if PAS and Pakatan Rakyat candidate Mohd Azam Samat can secure the constituency, and even better, with an increased majority.
This will be the best political news for the country.
Nasruddin to contest for PAS central committee seat
Posted: 02 Nov 2013 06:45 PM PDT
(Bernama) - PAS Youth chief Nasruddin Hassan today announced that he will contest for one of PAS Central Committee seats at the party's 59th Muktamar (General Assembly) scheduled for Nov 22 to 24.
He said he made the decision to take up the responsibility after receiving support from the delegates.

"I received two offers. One is to contest for one of the Central Committee seat and the other is for vice-presidency. However, I have decided not to contest for vice-president's post and will only go for the Central Committee seat," he told reporters after opening the 30th Annual Muktamar of Perak PAS here today.

Also present were Perak PAS Commissioner Abu Bakar Hussien, Perak PAS Youth chief Mohd Zawawi Abu Hassan and his deputy Raja Ahmad Iskandar Al-Hiss.

Nasruddin said he decided not to contest for the vice-president's post as he believed that other candidates vying for the post had higher credibility and capability to take up the responsibility.

Nasruddin also repeated his stand of not defending the post of Youth chief to give way for new candidates.

"It's now up to the delegates to choose their new Youth leader based on the candidates' track records and performances. The winner will definitely have to lead our youths to continue fighting for our cause, but the losers may not lose all, maybe there are other posts more suitable for them," he said.

Nasruddin, who had held the post since 2009, also hoped that the elected candidate would be prepared to face bigger challenges and do more for the party that he himself could not do during his tenure.

"I'm not satisfied with my performance, that is why I hope whoever takes over my place will continue fighting for our cause in a better way. I have done my best and I just hope that it has done good for the party," he added. 
'DAP's CEC needs RoS okay to be recognised'
Posted: 02 Nov 2013 06:08 PM PDT
(NST) - The DAP's new central executive committee (CEC) must receive the acknowledgement of the Registrar of Societies (RoS) before it can be recognised as a lawful body, said former Kedah Parti Kesejahteraan Insan Tanah Air (Kita) chairman Zamil Ibrahim yesterday.
"DAP national chairman Karpal Singh should remind secretary-general Lim Guan Eng that the new CEC must obtain the recognition of RoS.
"This is in accordance with the Societies Act 1966, which allows RoS to instruct a political party to hold a re-election if its leadership is deemed unlawful," he said yesterday.
He said Karpal should advise Lim against delaying the submission of the party's full re-election report, as well as its list of new office-bearers.
"This report is important for RoS to make an evaluation (on the re-election) before deciding whether the new CEC line-up is valid. Everyone has to abide by this law."
RoS has yet to receive any document on the re-election of DAP's CEC members. The polls were held on Sept 29.
RoS principal senior assistant director Desmond Das said DAP had between 30 and 60 days to submit such a document from the date the party' special congress was held to re-elect its CEC members.
He said DAP should cooperate with RoS so that investigations could be carried out with regard to complaints from party members and former members on the new CEC line-up.
CM slammed for appointing 'lackeys'
Posted: 02 Nov 2013 05:57 PM PDT
(The Star) - DAP secretary-general Lim Guan Eng has come under fire from a Kedah party chief for appointing "lackeys" to resolve internal disputes in the party.
Kedah DAP chairman Lee Guan Aik, who had refused to abide by the party's order to step down and make way for Zairil Khir Johari, said Lim should be on the ground to resolve the issues directly in his capacity as the secretary-general.
He said Lim should take responsibility for the problems plaguing the party instead of hiding behind party publicity chief Tony Pua and organising secretary Anthony Loke, who he said were "mere lackeys".
Pua is appointed as reconciliation committee chairman for Perlis, Kedah, Penang, Kelantan, Terengga­nu, Perak and Pahang while Loke is the chairman for Selangor, Kuala Lumpur, Negri Sembilan, Malacca, Johor and Sabah.
"Lim should meet the state (party) leaders and members, and he must also respect the decisions made by party members," said Lee.
He said the central executive committee (CEC) had undermined demo­cracy by appointing CEC member Zairil as the interim Kedah DAP chairman.
"The Kedah delegates had elected me as the state chairman in 2011. So, how can the committee appoint Zairil to replace an elected leader?" he asked.
Lee said he had lodged a complaint with the Registrar of Societies over the CEC's decision to appoint Kedah interim committee members to replace those who were elected.
DAP adviser Lim Kit Siang shrugged off the complaint as a mere ploy to adversely affect the voting trend in the Sungai Limau by-election.
"The voters are intelligent enough to think as the by-election is not only about the future of Sungai Limau but also the country," he said.
On Friday, the newly-appointed Kedah DAP interim committee deputy chairman, Syed Araniri Syed Ahmad, tendered his resignation effective immediately citing uncertainty over his party membership.
Syed Araniri, who became the Taman Wira DAP branch chief after joining the party in January last year, said he had recently found out that his membership application form was never processed.
He claimed that a CEC member told him that they forgot to process his application and those of 35 others.
"I am disappointed because this shows that DAP's claim to protect the Malays is merely lip service.
"I decided to resign because I am not certain about my membership status and also the status of those appointed as interim committee members," he said, adding that he had sent a message to Zairil about his decision.
Wind of change is evident in Sungai Limau: Muhyiddin
Posted: 02 Nov 2013 05:42 PM PDT
(Sun Daily) - The wind of change is evident in the Sungai Limau state constituency which was held by PAS for the last five terms, said Deputy Prime Minister Tan Sri Muhyiddin Yassin.
He said the BN was confidence of wresting the seat as its election machinery was well received in every area, including PAS stronghold.

"From our meetings with the voters, including the Chinese, they gave us a positive indication that they will help us due to our passion and sincerity.

"If these are anything to go by, I think we can win the by-election," he told reporters after attending the BN machinery meeting at the Sungai Limau Dalam BN operations room here, today.

Expressing his satisfaction over the BN's foray, Muhyiddin urged BN campaigners to continue to meet voters in the last few remaining hours before campaigning stop at midnight.

He said the BN responded positively to issues and grievances raised by residents, including the need to repair 416 dilapidated houses through Felda Foundation and Giat Mara at the cost of RM3 million.

Muhyiddin urged the voters to back Universiti Pendidikan Sultan Idris (UPSI) former senior lecturer Dr Ahmad Sohaimi Lazim of the BN as the latter would be able to provide an effective and efficient service to the people in the constituency.

On the crossover of over 300 Sungai Limau residents, including PAS members and supporters to Umno yesterday, Muhyiddin denied they were bought over to join Umno.

"Many PAS members are becoming irate with the party not only due to what is happening in the party, but also over its weaknesses in administration, governance and idle development.

"They feel that this is the right time to join Umno. We have no problem in accepting them. We don't have to entice them with money," he added.

Muhyiddin also slammed PAS for misleading the voters by claiming that the BN machinery had asked them to boycott the polls. Describing it as a reverse psychology, he said, it was an insult to the voters' intelligence as they would not be easily duped by such antic.

Present were Kedah Menteri Besar Datuk Mukhriz Tun Mahathir, BN secretary-general Datuk Seri Tengku Adnan Tengku Mansor, Minister in the Prime Minister's Department Datuk Seri Jamil Khir Baharom and former prime minister Tun Dr Mahathir Mohamad.

Ahmad Sohaimi of the BN faces Mohd Azam Abdul Samat of PAS in the by-election tomorrow. 
Why get emotional, 'Allah' not exclusive to Muslims, says Oxford theologian
Posted: 02 Nov 2013 05:36 PM PDT
MM) - Only Muslims with an "inferiority complex" would monopolise the use of "Allah" when the Arabic word for God is not exclusive to Islam, celebrated Swiss-Muslim theologian Dr Tariq Ramadan has said.
The Oxford University professor of contemporary Islamic studies, who was hailed by Foreign Policy magazine as one of the top 100 global thinkers last year, took to Twitter yesterday to add his voice to a growing number of prominent Muslims outside Malaysia who have been critical of the government's stand that "Allah" cannot be used by followers of other faiths as it will cause confusion to Muslims.

"Why do we get emotional when others use the word #Allah?" Ramadan asked on his Twitter account, @TariqRamadan handle.

"There is only one God. My God is your God. Allah is not just the God for Muslims," he wrote.

He added: "It is because of an inferiority complex that the word #Allah is monopolized. How about monopolizing good deeds instead?"

Ramadan, who comes from an illustrious religious family—his father, Said Ramadan, was a prominent figure in Egypt's Muslim Brotherhood founded by his maternal grandfather, Hassan al-Banna, while his grand-uncle, Gamal al-Banna, is a famed liberal Muslim reformer—has been a vocal advocate of a progressive and moderate Islam.

In a separate Twitter entry today that seemed a continuation of his critical views on Islam and Malaysia, he remarked that non-Muslims here appear to be sharing the sentiments of Muslim minorities in the West who have been sidelined by the majority in a plural society.

He included the link to an article he had previously penned on religion here, under the hashtag Malaysia.


In the article titled "Malaysia: which challenges towards which modernity?", Ramadan wrote that Hindu, Buddhist, Christian and atheist Malaysian citizens often feel that they are "captives in a debate that marginalises or exploits them".

"Like the mirror image of many Muslim citizens in the West, they may be perfectly respectful of the constitution, of the laws and prerogatives of the civil state, but it is as if they are slightly excluded from the shared narrative upon which the Malaysia nation is founded," said the scholar, who had studied at the Al-Azhar University in Egypt.

"It has proved difficult for them to achieve the fully equal status that would establish their sense of belonging to a pluralist society," Ramadan added.

Ramadan's remarks on the "Allah" controversy in Malaysia follows criticism by other international publications against the Court of Appeal ruling earlier this month that found that the Home Ministry's decision to ban the use of the Arabic word in the Catholic Church's weekly, the Herald, was justified.

The three-judge panel ruled that the use of the word "Allah" was not integral to the practice of the Christian faith, overturning a High Court decision that the ban was unconstitutional.

Prolific Turkish writer Harun Yahya had last week urged Putrajaya to reverse its ban on the use of the word "Allah" by non-Muslims here, saying the decision was "based on illogical and theologically unacceptable reasoning".

The writer—whose real name is Adnan Oktar and who had achieved cult status among Muslim here for his rejection of Darwinism—said such a ban would inevitably lead to an environment of severe oppression, despite Putrajaya's repeated claim that it only applies to local Catholic newspaper The Herald.

"Such a decision cannot be accepted and defended even if it was directed at one newspaper or a single person," Oktar wrote in an opinion piece carried by Indonesian daily The Jakarta Post on October 25.

He added: "This decision, which is completely against Islam, a religion of peace and brotherhood, must be reversed and there must be freedom of expression for everyone."

Another Muslim religious scholar, Dr Reza Aslan, also said recently that the word "Allah" was merely an Arabic term for God.

"Allah is a construction of the word al-Ilah... Al-Ilah means 'The God'. Allah is not the name of God," Aslan told radio station BFM last month.

The American scholar, who has written two books on Islam and one on Christianity, said it was "almost a blasphemous thought to think that Allah has a name".

Local Islamic scholar Datuk Dr Mohd Asri Zainul Abidin has similarly said that the Quran allows ― and even encourages ― non-Muslims to address God as "Allah", as long as they are referring to "The Supreme Being".

The former Perlis mufti said last month that banning non-Muslims from calling God "Allah" is tantamount to "syirik", which refers to the sin of practising idolatry or polytheism and is an unforgivable crime in Islam.

Ramadan is scheduled to speak at a health conference in Petaling Jaya, Selangor on Wednesday. 
Posted: 02 Nov 2013 05:08 PM PDT
There have been so many false alarms about Tan Sri Khalid Ibrahim being replaced as Selangor Mentri Besar that the accounts are starting to resemble a soap opera. But this time it may be for real.
Joceline Tan, The Star
DATUK Seri Anwar Ibrahim knew people had been staring at him in Parliament. He could feel dozens of pairs of eyes checking out his "new look" even when he was sitting quietly in his Opposition Leader's spot inside the House.
There is no denying it, the PKR de facto leader has not looked this young and handsome in years. His eye bags have disappeared, the lines on his face are no longer as pronounced and the pigmentation marks are gone. His once sagging cheeks look firm and plumped-up and his face is now a youthful V-shape.
Reporters have been talking non-stop about his "muka lawa" (handsome face) and some of them joked that he must have discovered the miracle of youth. Their sole complaint is what they termed his "mata sepet" - his eyes seem as though they are pulled up towards his ears.
Anwar has been quite self-conscious about the attention. But he is such a smooth operator and when he settled down for a press conference in the Parliament lobby on Budget day, he defused the curiosity by saying: "People said I am using Botox, but if that is so, surely my feet would not swell up."
He was implying he had gout but he was not limping or in pain when he got up to go after the press conference.
His own party people joked - behind his back, of course - that their ketua umum now looks as young as their deputy president Azmin Ali. The cheekier ones said their president Datuk Seri Dr Wan Azizah Wan Ismail now looks like his older sister and their vice-president Nurul Izzah Anwar looks like his younger sister.
The PKR leader had famously said that the general election would be his last if he failed to make it to Putrajaya. But all that is gone with the wind and it is clear that he is re-inventing himself - looks-wise, at least - for another stab at Putrajaya.
Anwar will be 70 by the next general election and his rival Datuk Seri Najib Tun Razak will be 65. But no problem, Anwar will be the younger-looking one.
In the meantime, he has his hands full with his own party's politics in the run-up to the PKR election in March.
The latest round of politicking surrounding Selangor Mentri Besar (MB) Tan Sri Khalid Ibrahim is said to be related to that. Khalid has landed in the ring of fire again.
When Anwar touched on Khalid's performance a couple of weeks ago, he was actually following up on a memorandum that Pakatan Rakyat assemblymen in Selangor had submitted to Khalid in connection to the state Budget that will be tabled next month.
Alarm bells went off when they learnt that Khalid was planning to slash the development expenditure by RM100mil. Khalid is famous for his prudent fiscal policies and takes great pride in Selangor having reserves of RM3bil.
However, the assemblymen are exasperated by his "save money" approach. They think Khalid has gone overboard and that he needs to spend more in the interest of the rakyat.
The assemblymen are under pressure to deliver because expectations are higher than ever after such a spectacular win in the general election.
Moreover, Selangor needs to implement the promises made in their Buku Jingga manifesto or else they would be accused of making promises they have no intention of keeping.
"The criticism is growing, we can't defend him anymore," said a Selangor PKR official.
The episode over the state Budget has seen Azmin move to centre stage. He chaired two meetings to draft the 10-page memo to object to the proposed Budget cut and to outline what needs to be done.
He has argued that Pakatan needs to increase spending in the areas of affordable housing, environment, scholarships and basic services.
Last Tuesday, Azmin was invited to attend the Selangor Pakatan meeting for the first time.
Azmin's supporters said that despite being the Selangor PKR chairman, he has been excluded from such meetings that were chaired by Khalid in his capacity as the MB. They are of course implying it was Khalid's way of playing politics with Azmin.
Khalid was pressured by the PAS side to include Azmin at the meeting which touched on politics, the state Budget and also administrative matters.
The PAS and DAP side have come around to the role that Azmin can play and they are starting to view him in a new light and to acknowledge his leadership.
Azmin is not perfect and he has his share of enemies after so many years in politics. His supporters say he has been a victim of perception and argue that he is organised, disciplined and can stand up to the Barisan side.
Moreover, he is one of the most watched MPs in Parliament because he speaks authoritatively and does his homework before he talks.
Khalid, on his part, is a decent, clean and hardworking politician who thinks that his way is the best way. He has his own ideas and style of doing things and has ignored requests to let the party play a bigger role in the state.
His critics like to pick on his political secretary Faekah Husin, a strong-willed lady who has stepped on too many toes in the party. How­ever, she is fiercely loyal to Khalid.
Some in the party were startled when Faekah, following the episode over the state Budget, issued a statement to defend her boss' prudent policies and to announce that the state would be building a new hospital and bridge in Klang.
Critics think she has overstepped her role and that a political secretary should not be making such an announcement.
They will be even more startled when they find out that despite their objections, Khalid has allegedly gone ahead to appoint Faekah as CEO of Mentri Besar Inc, the umbrella body for the state GLCs.
Anwar, said one of his aides, thinks Khalid is "uncontrollable" and has given up trying to get the MB to listen to the party. Since 2008, the party has pulled him up several times to give him feedback and instruction and even to reprimand him.
At these sessions, Khalid would sit nodding his head at whatever was said, looking apologetic and chastised. He would not get angry or defensive and his usual reaction would be to thank them for the feedback and that he would try to do better and to improve.
The sight of this former high-flying corporate figure being humbled usually softened their hearts. The only trouble was that Khalid would then go off and continue doing what he liked.
The most recent example was PKR's proposal that their secretary-general Saifuddin Nasution be made the chief-of-staff in the MB's office. However, Khalid watered down the proposal and Saifuddin ended up as the "rural development officer" in his office.
To add salt to injury, he told Saifuddin there was no need for him to be on the 21st floor of the MB's office because they could communicate via email and relegated him to the fifth floor.
The PKR folk did not know whether to laugh or to cry: Saifuddin is the party's secretary-general, he was the Machang MP and he is now a laughing stock.
A post-general election decision to appoint state liaison officers from the different parties to assist the MB also seems to have died a sudden death at the MB's doorstep.
Khalid has described the latest round of criticism as "asam garam dunia politik," meaning that it is part and parcel of politics.
He took to Twitter to say he was not pressured by the memo from his Pakatan colleagues because he has an "open, transparent and responsible" attitude. As for the memo from his Pakatan colleagues, he tweeted that it was normal for him to get memos and he has received 170 on land issues.
His press secretary Arfah Aziz uses Twitter to make sure everyone knows that her boss works from morning to night - chairing policy meetings, attending dinners, officiating at events, meeting the rakyat and even when going to the mosque.
When the Selangor executive council held their meeting in a hotel in Bangkok recently, Arfah tweeted that Khalid was holding a press conference at 12.30am.
As expected, speculation of a change in the MB's office has started again. Anwar has denied that Azmin was taking over from Khalid. Azmin rubbished suggestions of a crisis and also denied that Khalid would be replaced.
Strangely, Nurul Izzah was the only one to admit that there was a crisis.
But party insiders suggest otherwise. They said Anwar has reached the end of his tether with Khalid. PAS and DAP leaders apparently feel the same way and three of PAS' top leaders recently met Khalid to air their concerns.
The other significant thing is that Anwar and Azmin have reconciled. They had a falling-out over the MB appointment in May but are back on the same page.
Anwar has assured Azmin of his friendship and loyalty. He told Azmin the party has no objections to him moving up but that the decision on the MB's post is a numbers game and the numbers had favoured Khalid after May 5. Since then, Azmin is said to have secured the endorsement of the component parties.
The insiders said a change is in the cards and "the ball had started rolling" from as early as after Hari Raya Puasa. Some claimed it will take place after the PKR congress next year. Others said it could be earlier.
But Khalid has survived so many attempts to remove him that few are convinced anything will change in Selangor. Khalid still has the support of Dr Wan Azizah and her daughter Nurul Izzah, both of whom are prepared to do what it takes to block Azmin.
But the problem for this mother-and-daughter pair is that Anwar is not only the most powerful man in PKR, he is also the boss at home. And unlike his wife and daughter, he is unlikely to stand in the way of Azmin.
Anwar has a new look and Azmin is making a new bid for the MB's office. The plot can only thicken from here.
New BEE is from same old mould
Posted: 02 Nov 2013 05:06 PM PDT
There is need for a thorough evidence-based review of Malaysia's affirmative action policies that began with noble objectives 40 years ago.
Zainah Anwar, The Star
THAT the New Economic Policy has succeeded in eradicating poverty and eliminating the identification of race with economic function is not disputed. Malaysia's poverty rate has plummeted from over 50% in the 1970s to only 1.7%, according to the 2012 Household Income Survey.
Bumiputras employed in the professional and management category have outstripped Chinese and Indians, while those qualified as doctors, engineers, and architects are almost proportional to the country's racial composition.
Similarly, bumiputra corporate equity has gone up from only 2.4% in the 1970s to 23.5% in 2011, and according to other measurements, even higher.
These are all laudable achievements. No one is questioning the twin objectives of the New Economic Policy.
However, the debate today remains how best to achieve these objectives in the context of a more globally competitive environment, persistent income inequality over the past 10 years, growing intra-ethnic income inequality and other divides such as rural/urban, and peninsula Malaysia/Sabah-Sarawak.
Given these inequities and the rising intra-ethnic income inequality among the bumiputras and between Malay and non-Malay bumiputras, most of whom live in Sabah and Sarawak, isn't it time for the Federal government to start addressing the needs of poor bumiputras through a differentiated approach?
Can an affirmative action policy targeted at bumpitras continue to treat this ethnic group as one homogenous community when data show increased intra-ethnic inequality as one outcome?
Should a policy designed to build national unity from the ashes of May 13, 1969, continue on the basis of ethnicity when this has resulted in increased communal tensions and undermine social cohesion?
What should be done?
Many Malaysians believe the unexpected announcement of the Bumiputra Economic Empowerment (BEE) programme was more of the same and politically motivated to appease Umno's own Tea Party hardliners in the run-up to party elections.
It is short-term in approach and does not address weaknesses in policy-making and implementation, which has seen billions allocated to bumiputra economic empowerment and dozens of policy instruments and schemes over the decades still failing to build the resilient bumiputra commercial and industrial community and address the needs of those left behind.
What is really needed today is not more handouts to bumiputra but a serious policy review of affirmative action policies of the past 40 years, where they have worked and where they have failed, and what best long-term steps should be taken to address the various inequities in this country.
This review should be based on empirical evidence and data, not on emotions, threats and accusations.
Should the NEP continue to be race-based or needs-based to end poverty, regardless of ethnicity?
A persuasive argument can be made that even if affirmative action is based on need, the bumiputras being the majority population of this country will still be the group that will benefit the most. As reported in the New Economic Model for Malaysia, of the bottom 40% of households that earn less than RM2,000 a month, 77.2% are bumiputras.
In effect, 80% of Malaysian households earn less than RM5,000 per month.
It is no wonder that, according to the Internal Revenue Board, only one million of the 12.7 million Malaysians in the work force are eligible to pay tax, making wages and salaries contribution to Malaysia's GDP very low.
The EPF reported that 78.6% of its contributors earn less than RM3,000 monthly. The low salary can be explained by the fact that some 77% of Malaysian workers have only SPM qualifications.
These are all troubling data in a country that aims to attain developed country status, with per capita income of RM48,000 by 2020.
Even if this is achievable, without addressing the gaping income inequality, this high income country status will remain an illusion for the individuals making up 80% of Malaysian households earning less than RM5,000 a month.
Obviously, the details of the BEE still need to be worked out. A major concern is that the policy announcement made no mention of targeting the bottom 40%, to reduce the inequity gaps between the rich and poor, the urban and rural, the bumiputras in the peninsula and those in Sabah and Sarawak, where poverty rates are higher.
There is also worry that a resort to quotas yet again will further reduce bumiputra competitiveness and resilience in an increasingly interconnected, globally competitive world economy.
Much has been written and debated on the effectiveness of affirmative action policies to redress historical injustices. A new book on the New Economic Policy, The New Economic Policy in Malaysia: Affirmative Action, Horizontal Inequalities and Social Justice (National University of Singapore Press, 2013), edited by Edmund Terrence Gomez and Johan Saravanamuttu, suggests four lessons to be learnt.
> First, the duration of affirmative action. Any such policy based on horizontal inequalities (inequalities based on culturally defined groups, rather than individuals or households) must have a time limit. Research shows that the most successful period of the NEP was its social restructuring phase in the first 15 years.
Significant progress was made to eradicate poverty, increase bumiputra ownership of share capital, increase bumiputras in the professional and management category of occupations, and reduce income disparity between bumiputras and non-bumiputras. The focus on education for bumiputras paid high dividends in creating a bumiputra professional and middle-class group.
The question being asked today is whether the results of continuing affirmative action policies and instruments are worth the billions of resources poured in, and worth the impact on economic growth, efficiency and competitiveness, and bumiputra independence and resilience.
> Second is inequality of access. This has led to growing intra bumiputra income inequality. Who are those who have benefited most from IPOs allocated to bumiputras?
Even then, the government has admitted of the RM54bil worth of stocks allocated to bumiputras since 1971, only RM2bil remains in bumiputra hands.
A clear spatial divide (disparities between beneficiaries in different regions) has appeared where poverty is most severe in the Malay heartland of Kelantan, Terengganu, Kedah and Perlis and among the orang asli and non-Malay bumiputras, with Sabah being the country's poorest state with a poverty rate of close to 20%.
> Third, affirmative action should focus on providing high quality primary and secondary education to better prepare bumiputras to take advantage of the tertiary educational opportunities offered to them.
The high unemployment rate among bumiputra graduates, and the high percentage of local bumiputra graduates being absorbed into Government and statutory bodies show a lack of capacity to acquire a sound education that can lead to more competitive advantage in the labour market.
A study on the impact of exclusive bumiputra admissions quotas and academic performance was revealing.
Of the 271 first semester students studying linear algebra in an engineering faculty, only 13.6% of those who scored an A in matriculation mathematics scored an A in the university course, while 61.6% of those who scored an A in STPM mathematics scored an A in university algebra.
Evidently, the STPM of the national school system prepared the students better for university than the specially set-up matriculation system to improve bumiputra performance in maths and science.
> Fourth, preferential treatment in business to produce a bumiputra commercial and industrial community has failed to propel the growth of a large robust pool of independent bumiputra businesses.
According to a study, in spite of intensive privatisation and a policy of "picking winners", no bumiputra-owned firm appears in the Top 10 lists of companies either by revenue, profit or return on revenues.
State support for development of Malay capital has fostered the expansion of a bumiputra rentier class and a corrupting intertwining of business and politics that undermine economic confidence, growth and competition.
Before more handouts are given out in the name of a presumed homogenous bumiputra community, there is need for a thorough evidence-based review of Malaysia's affirmative action policies that began with noble objectives 40 years ago, now mired in cynicism that the policy has largely benefited and enriched an elite class of hand-picked cronies the most.
Already, questions are being asked on who will benefit most from the RM10bil being pumped into ASB2, when some 75% of unit holders of ASB actually own only an average of RM611 per person.
Perkasa calls video producers 'rude', insists on action over 'Allah' clip
Posted: 02 Nov 2013 05:02 PM PDT
(MM) - Perkasa has described the producers of "That Effing Show" as "rude" youths who do not respect the president of the Malay rights group and the "sensitivities" of others, claiming that they lack knowledge of the country's Federal Constitution and independence.
When contacted yesterday, Perkasa secretary-general Syed Hassan Syed Ali also insisted that the government should take action on those running the online satirical show over their video clip last week on the "Allah" controversy.

"These youths are rude, kurang ajar (lack manners), don't know what is the Constitution, what is independence," he told The Malay Mail Online.

"(They) don't know how to show respect, memainkan (poking fun at) the president of Perkasa," he added, referring to Datuk Ibrahim Ali.

He was asked for a response to the online satirical show's anchorman Ezra Zaid's remarks on Friday in a new video titled "Perkasa Terasa", which mocked Perkasa's Perak chapter for going to the police over another video clip on the "Allah" controversy.

Syed Hassan then took a jab at Ezra's father Zaid Ibrahim, a former Umno minister who had reportedly left politics.

"These kids need to be taught but the problem is the one who is teaching them is also a liberal, someone who dreams day and night...has no place in NGOs and (political) parties," he said, agreeing that he was referring to Zaid.

Zaid himself had called for Perkasa to be denounced and attempted to draw similarities between the group and the German Nazis, but Ibrahim had in reply thanked him for the publicity and recognition given to Perkasa.

Syed Hassan explained that Perkasa had lodged a police report over the earlier video titled "Allah, Apa Lagi?" by "That Effing Show" as it had allegedly insulted a Court of Appeal ruling and Islam.

"We want the government, the authorities to take action. This video insults the court," he said, adding that the video clip contained a line that had also "insulted Islam".

When asked about Ezra's tongue-in-cheek comments that "That Effing Show" and Perkasa shared a lot in common including Ibrahim's alleged liking for comedy, Syed Hassan reminded the show's producers that the Malay rights group had a large membership of around 500,000 people.

He also claimed that Perkasa had over 3 million supporters, citing a survey by Merdeka Center which he said showed that over 70 per cent of the local Malays supported the organisation — despite the pollster's clarification that the poll was on Perkasa's demands for the maintenance of quotas and economic protection for the Malays.

"Don't insult Perkasa, Perkasa is not Ibrahim Ali only," Syed Hassan said, pointing to the group's strength in numbers.

"Don't challenge Perkasa, we will teach all of these budak (kids)," he said.

According to a Bernama report on Wednesday, Perkasa's Perak chapter lodged a police report on "That Effing Show's" 95th episode that was aired on YouTube on October 25, claiming it mocked the Court of Appeal's decision on "Allah".

Its head Mohd Hafez Mubin Mohd Salleh together with 10 other Perkasa members lodged the report at the Ipoh police headquarters in Ipoh, at 1.44pm, the report said.

Mohd Hafez reportedly said that the six minutes, 30 second clip, titled "Allah, Apa Lagi?", showed disrespect to the sensitivities of Muslims here.

Over 30 members of Perkasa's Selangor branch had similarly lodged a police report on Friday over the same "Allah, Apa Lagi?" clip, news portal Sinar Harian reported yesterday.

Selangor Perkasa chief Abu Bakar Yahya reportedly claimed that the video had touched on the sensitivities of the Malays and local Muslim community, saying that he hoped the authorities would take stern action.

Last month, the Court of Appeal ruled that the Home Ministry's decision to ban the use of the word in the Herald was justified, finding that the use of the word "Allah" was not integral to the practice of the Christian faith.

The ruling— which overturned an earlier High Court decision that the ban was unconstitutional — has since sparked confusion over the use of the Middle Eastern word by Christians in their worship, especially with conflicting opinions within the government itself on how far the ruling would affect practising Christians.

Churches in Sabah and Sarawak have said that they will continue their age-old practice of referring to God as "Allah" in their worship and in their holy scriptures.

Several ministers also said recently that the 10-point solution issued by Putrajaya in 2011 — which allows the printing, importation and distribution of the Al-Kitab, the Bahasa Malaysia version of the Christian bible, containing the word "Allah" — should stand, despite the appellate court ruling.

The Najib administration issued the 10-point solution shortly before the Sarawak state election in 2011 to end a Home Ministry blockade of shipments of Christian holy scriptures in the Malay language containing the word "Allah".

The Cabinet, through Minister Datuk Seri Idris Jala, had stated in the resolution that the large Bumiputera Christian population in Sabah and Sarawak could use their holy books in the Malay, Indonesian, and indigenous languages. 
DAP bigwigs come together in bid to help PAS retain seat
Posted: 02 Nov 2013 04:47 PM PDT
(TMI) - PAS roped in its Pakatan Rakyat (PR) partners to organise a dinner last night to meet Chinese voters in the Sungai Limau constituency, which goes to the ballot tomorrow.
Called Super Saturday, the event was attended by top DAP leaders including Lim Kit Siang, Lim Guan Eng, Zairil Khir Johari, as well as PAS's Datuk Mahfuz Omar, Mohamad Sabu, Dr Hatta Ramli and its candidate Mohd Azam Abdul Samat.
Kit Siang in his speech urged the 1,000 Chinese voters who attended the function to help the Islamic party win with a bigger majority.
"This time, let us create history by securing the seat with a bigger majority through our candidate from PAS Ustaz Azam," he said.
Dr Hatta, who is PAS election director, described the event as one of friendship between the PR component parties.
"This is friendship between races in Malaysia. Don't worry because we have a better future even though there are extremists in Malaysia.
We have PR which will protect the rakyat," he said.
Guan Eng meanwhile urged Chinese voters in Sungai Limau to choose the PAS candidate because they share the same agenda of fighting graft.
"Let us together reject bribery and GST," he said, referring to the Goods and Services Tax announced in the 2014 Budget speech on October 25.
Demokrasi lebih subur dalam PAS berbanding Umno, kata Kadir Jasin
Posted: 02 Nov 2013 04:43 PM PDT
(TMI) - Datuk A Kadir Jasin (gambar) menyifatkan kesuburan demokrasi lebih menjadi amalan PAS berbanding Umno meskipun kedua-dua parti politik berteraskan Melayu itu memilih untuk mengekalkan penyandang kerusi Presiden mereka.
Bekas Ketua Pengarang Kumpulan News Straits Times itu dalam blognya berkata, perbezaan wujud apabila jawatan presiden dan timbalan presiden tidak ditentukan akar umbi, sebaliknya oleh anggota Majlis Tertinggi.
"Bagi PAS hanya jawatan presiden tidak dicabar, Abdul Hadi Awang kekal sebagai Presiden. Jawatan Timbalan Presiden yang kini disandang oleh Mohamad Sabu mungkin menyaksikan pertandingan," katanya dalam laman blog miliknya.
Untuk rekod, lima telah dicalonkan bertanding dalam pemilihan PAS, iaitu Mohamad; dua Naib Presiden Husam Musa dan Salahuddin Ayub; serta Ketua Penerangan PAS Pusat Tuan Ibrahim Tuan Man dan juga Ahli Jawatankuasa Kerja Pusat Mohd Amar Nik Abdullah.
"Setakat ini Husam, Tuan Ibrahim dan Mohd Amar belum memberi kata putus," katanya.
Pertembungangan antara Mohamad yang dikenali Mat Sabu dengan Mohd Amar pada 22 hingga 24 November nanti jelas Kadir bakal menyaksikan pertembungan kumpulan ulama dan bukan ulama.
"Sekiranya berlaku, ia sangat menarik. Ia akan mengulang tayang pemilihan 2011, tetapi dengan satu perbezaan," katanya.
PopTeeVee says will cooperate with police after Perkasa reports against 'Allah' episode
Posted: 02 Nov 2013 04:40 PM PDT
(MM) - Producers of "That Effing Show" PopTeeVee pledged their cooperation with the authorities today after Perkasa lodged police reports against a video on the "Allah" controversy.
Hardesh Singh, PopTeeVee founder and executive producer, also said today that PopTeeVee and the Malay right-wing group share "an equal passion in building a better Malaysia", thus showing more proof that "there is even more in common" between the two.

"We have only heard about Perkasa lodging police reports via the press. If this is true we will cooperate with the authorities if and when required," Hardesh said in a statement today.

"Perkasa works for what they believe makes for a better Malaysia. We believe in following the footsteps of our experienced and passionate leaders in doing the same," he added.

After Perkasa lodged police reports against "That Effing Show", the online satirical show aired another video last Thursday, where anchorman Ezra Zaid said tongue-in-cheek that the show had "a lot in common" with Perkasa, such as sharing a love for comedy with Perkasa chief Datuk Ibrahim Ali, whom he said was described by Wikipedia as a "comedian".

Perkasa secretary-general Syed Hassan Syed Ali then described the producers of "That Effing Show" as "rude" youths who did not respect Ibrahim and the "sensitivities" of others.

He also said that Perkasa had lodged a police report over the earlier video titled "Allah, Apa Lagi?" by "That Effing Show" as it had allegedly insulted a Court of Appeal ruling and Islam.

According to a Bernama report on Wednesday, Perkasa's Perak chapter lodged a police report on "That Effing Show's" 95th episode that was aired on YouTube on October 25, claiming it mocked the Court of Appeal's decision on the "Allah" issue.

Perkasa Perak chief Mohd Hafez Mubin Mohd Salleh reportedly said that the six minutes, 30 second clip, titled "Allah, Apa Lagi?", disrespected the sensitivities of Muslims here.

Over 30 members of Perkasa's Selangor branch were reported to have lodged a police report on Friday over the same clip.

Selangor Perkasa chief Abu Bakar Yahya reportedly claimed that the video had touched on the sensitivities of the Malays and the local Muslim community, saying that he hoped the authorities would take stern action.

Last month, the Court of Appeal ruled that the Home Ministry's decision to ban the Catholic Church from referring to God as "Allah" in its weekly, the Herald, was justified, finding that the use of the Arabic word was not integral to the practice of the Christian faith. 
'No Bersih 4.0 rally this year'
Posted: 02 Nov 2013 04:35 PM PDT
Maria Chin Abdullah dismisses talk of a Bersih 4.0 rally this year and says their objections may not be in the form of street demonstration.
Lisa J. Ariffin, FMT
Bersih steering committee member Maria Chin Abdullah has dispelled rumour of an upcoming Bersih 4.0 rally, saying it would not be anytime soon, and may not be in the form of a street demonstration.
Maria was responding to talk on the street that another street rally was imminent, as many had begun selling Bersih 4.0 T-shirts around the nation.
"No, I don't think we are having a rally this year. Also, Bersih 4.0 need not be a rally, but just people moving towards reform," she told FMT.
She said that those selling T-shirts were not related to the movement, but those who expressed support for those who want change.
"They are not related to us, but this shows people are excited and enthusiastic to wear the Bersih 4.0 shirt," she said, adding that the shirts were being sold around the world.
"This shows enthusiasm and that the movement is picking up. It is a good spirit," she added.
Bersih to usher in new committee
When asked on Bersih's current update, Maria said the election watchdog group will be having its internal elections on Nov 30.
"Nominations will be announced by Nov 10. We're now waiting for a new committee to come in and take care of activities," she said.
Pengundi bukan Melayu derhaka kepada PAS?
Posted: 02 Nov 2013 04:32 PM PDT
Pengumuman peruntukan RM2.25 juta kepada tiga sekolah Cina di DUN Sungai Limau akan menyebabkan 1,800 pengundi bukan Melayu beralih arah kepada BN.
Oleh Sobri Ahmad, FMT
PETALING JAYA: Pada PRU-13 lalu, PAS memenangi kerusi DUN Sungai Limau apabila menewaskan calon BN dengan majoriti 2,774 undi, sekaligus mengekalkan rekod tanpa kalah selama 5 penggal berturut-turut.
Apakah pengundian esok bakal mengesahkan PAS terus unggul di kubu kuatnya itu atau sekadar berputih mata, andai BN berjaya merampas kerusi DUN-20 yang pernah diwakili oleh bekas Menteri Besar Kedah, Tan Sri Azizan Abdul Razak sebelum ini?
Berbekalkan rekod kemenangan lampau, PAS dijangka tidak menghadapi kesukaran mempertahankan kerusi DUN Sungai Limau dengan temanya; 'Kekal'.
Sebaliknya, BN terpaksa berkerja keras mendekati penduduk setempat dengan tawaran pakej pembangunan modal insan dan infrastruktur, untuk meraih sokongan, khasnya pengundi atas pagar kira-kira 14,000 orang yang selama ini memihak kepada PAS. 'Berani berhijrah' kah mereka sepertimana slogan BN dalam PRK itu?
Sebelum ini, PAS disifatkan selesa dengan kedudukan 60-40 peratus di DUN Sungai Limau (dulunya DUN Sala), berdasarkan kejayaan PAS meningkatkan undi sebanyak 1,351 kepada jumlah undi 13,294 pada PRU-13, berbanding 11,943 pada PRU-12. Dari satu segi lain, penganalisa politik berpendapat peningkatan itu hanya mewakili satu perempat (25%) daripada 5,255 pemilih baru, bukanlah suatu petanda baik untuk PAS di Sungai Limau kerana kecenderungan 75% lebih memihak kepada BN.
Strategi PAS mempertaruhkan calon muda berusia 37 tahun,  Mohd Azam Abdul Samat, cucu kepada Tuan Guru Haji Hamid, pengasas pondok di Bukit Besar, dilihat sebagai serampang dua mata, bukan sekadar mengekalkan imej kepimpinan ulamak oleh PAS, tetapi juga strategi menawan hati sebahagian 3,904 lagi pengundi muda yang mengundi BN pada PRU lalu.
Pun begitu, imej bersih calon PAS, sedikit tercalar apabila timbulnya isu poster kempen yang memanipulasi gambar Azizan, seorang tokoh dihormati oleh masyarakat Sungai Limau.
Kredit: www.malaysia-today.net