Klik GAMBAR Dibawah Untuk Lebih Info
Sumber Asal Berita :-
---
Sg Limau by-election: It's PAS with reduced majority
Posted: 03 Nov 2013 10:09 PM PST
(The Malay Mail) - PAS managed to keep its hold on the farming constituency of Sungai Limau in Kedah state, but saw its vote majority slashed to a mere 1,084 votes in today's by-election.
The Islamist party's candidate, 37-year-old Mohd Azam Abdul Samat scored 12,069 votes, besting the Barisan Nasional's (BN) Dr Ahmad Sohaimi Lazim who drew 10,985 votes.
The seat fell vacant following the death of its five-term assemblyman Tan Sri Azizan Abdul Razak of PAS. 
Azizan was also Kedah menteri besar for a term after the 13-party BN coalition lost its grip on the northern state in the 2008 general election.
The PAS win, however, does not change the power composition in Kedah, which has returned to BN rule after falling to the three-party Pakatan Rakyat (PR) pact for one term in 2008.
During the May 5 polls this year, a total 24,349 voters turned out and PAS had won with a comfortable 2,774-vote majority.
Many voters, of which 93 per cent are Malays, are still strong PAS supporters with a great respect for the late Azizan but PAS has voiced concern over the enormous amount of allocations being promised and the gifts being handed out in the last few days.
Though Dr Ahmad Sohaimi is a local, many villagers do not know him but Azam, as a protégé of Azizan, is rather well known so PAS may still lead in the polls today due to villagers' familiarity with Azam.  
PAS has also been agressively going from house-to-house, using the direct approach rather than just depending on various programmes and ceramahs, and this may work in their favour too as the rural folks preferred a representative who will go down on the ground to talk to them, listen to their issues and resolve their problems for them.
The Sungai Limau state constituency has 27,222 voters, 25,323 or 93.02 per cent of them Malays, 1,842 or 6.76 per cent Chinese, 15 or 0.055 per cent Indians and 42 or 0.15 per cent other races.
PAS retains Sg Limau, with smaller majority
Posted: 03 Nov 2013 08:07 PM PST
(The Sun Daily) - PAS candidate Mohd Azam Abd Samat has been announced the Sungai Limau assemblyman tonight after beating his competitor from Barisan Nasional Dr Ahmad Sohaimi Lazim in a straight fight, with a majority of 1,084 votes.
Mohd Azam, 37, garnered 12,069 votes while Ahmad Sohaimi 10,985 votes.
The EC said that voter turnout was 85.5% which is less compared to the 89% voter turnout in the 13th General Election in May.
In the previous election, former assemblyman, late Tan Sri Azizan Abdul Razak obtained 13,294 votes to beat rival Mohd Fazillah Mohd Ali from BN with a majority of 2,774 votes.
The by-election results was announced by the Election Commission returning officer Abdul Rashid Othman after the ballot count was completed at Sekolah Kebangsaan Agama Yan here at about 8.55pm.
Two PKR assemblymen become BN-friendly independents
Posted: 03 Nov 2013 06:41 PM PST
(fz.com) - Kadamaian assemblyman Jeremmy Malajad announced that he has quit Parti Keadilan Rakyat (PKR) to become a Barisan Nasional (BN)-friendly independent, reports Bernama.
Jeremmy, who was accompanied by 50 former Kadamaian PKR leaders, made the announcement at a press conference at the Kota Belud Rest House here today.
While Jeremmy was making this announcement, word is out that PKR's Matunggong assemblyman Jelani Hamdan will follow suit.
Jeremmy said he relinquished all his party posts, effective today, in line with Article 29.1.3 of the party constitution.
"As an assemblyman who was recently elected by the rakyat (people), I realise the high hopes of the constituents that I represent to see changes in development in our rural area, particularly with regard to provision of basic facilities like roads, clean water supply, health clinic and more which have become the current issue of concern of the community in Kadamaian," he said.
Jeremmy said he saw the BN government as being successful in tackling various issues in the state that were raised during the 13th General Election campaign including security and poverty, as well as in implementing the planned transformation programmes effectively.
He believed that the people in Sabah, particularly, were increasingly confident in the approaches and seriousness of the BN government, including appointing six leaders in Sabah as full ministers to the federal cabinet.
While stating his commitment to representing the constituents in Kadamaian, Jeremmy said he wanted to be directly involved in realising the various transformation programmes through politics, administration, economic generation and infrastructure development.
In the 13th General Election in May, Jeremmy won the Kadamaian state seat with a 889-vote majority in a four-cornered contest.
Threats don't scare us, says Malaysian Bar
Posted: 03 Nov 2013 06:23 PM PST
The Malaysian Bar brushes aside a threat allegedly made by the Muslim Lawyers Association in regards to the Allah appeal.
(FMT) - The Malaysian Bar today said it was undeterred by threats or intimidation in its task to uphold justice, adding that it was bound to act without fear or favour, and without regard for its own interests.
Responding to a media report on Saturday in which the Muslim Lawyers Association had allegedly warned the Malaysian Bar not to back Christian publication The Herald in the Allah ruling, Bar president Christopher Leong said he was disappointed with the Muslim lawyers association.
"It is strange for an association of lawyers to fear arguments taken in a court of law and to impel them to issue threats. It leaves one to wonder what it is that they are afraid of," he said in a statement.
He stressed that the Malaysian Bar did not back any party, and that access to justice was for all who seek it.
"The Malaysian Bar and the Bar Council are secular bodies. We are not grounded in or partial to any religious belief. The Malaysian Bar does not stand for or against any party.
"The positions that we take are, and will always be, prescribed by the rule of law and premised on the Federal Constitution.
"We act for justice and truth and will not be swayed by partisan politics or religious belief. The Malaysian Bar will not be deterred in upholding the cause of justice by any threat or intimidation," he added.
Kereta calon BN ditendang penyokong PAS
Posted: 03 Nov 2013 06:19 PM PST
(Bernama) - Hari pengundian bagi pilihan raya kecil Dewan Undangan Negeri (DUN) Sungai Limau hari ini dicemari beberapa insiden kekasaran dan perang mulut antara penyokong parti-parti politik bertanding.
Tidak terkecuali, calon Barisan Nasional (BN) Dr Ahmad Sohaimi Lazim turut menerima tempias kekasaran itu apabila kereta yang dinaikinya ditendang sekumpulan penyokong dipercayai daripada pihak lawan.

Ahmad Sohaimi ketika ditemui pemberita di rumahnya melahirkan rasa kesal dengan tindakan kumpulan yang mencemarkan politik damai sepanjang tempoh berkempen, namun yakin ia bukan dilakukan penduduk tempatan.

"Saya kenal orang di sini, ini tidak mencerminkan perbuatan mereka. Ini saya yakin perbuatan mereka yang datang dari luar," katanya.

Beliau berkata dalam kejadian kira-kira pukul 11 pagi tadi di kawasan pusat mengundi Sekolah Kebangsaan Sungai Dedap, sekumpulan penyokong dipercayai daripada PAS menendang kereta yang dinaikinya lebih 10 kali.

Ahmad Sohaimi bagaimanapun menganggap ia hanyalah sebahagian warna-warni politik dan tidak bercadang membuat laporan polis.

"Ini satu daripada perkara yang saya perlu belajar dalam perjalanan politik. Masyarakat juga perlu perbaiki akhlak mereka. Tidak eloklah perbuatan begini," katanya.

Dalam kejadian lain, di Sekolah Kebangsaan Dulang, berlaku sedikit kekecohan apabila penunggang motosikal dari Unit Amal PAS terjatuh di tepi jalan dalam cubaan mengelak sebuah motosikal lain yang dipercayai ditunggang penyokong parti lawan.

Namun kekecohan berjaya dikawal anggota polis bertugas.

Di Sekolah Menengah Kebangsaan Sungai Limau berlaku perang mulut dipercayai antara penyokong BN dan PAS, tetapi tiada insiden serius dilaporkan.

Sementara itu, anggota Jawatankuasa Wanita Bahagian Batu Norsidah Abu Bakar pula didakwa ditumbuk penyokong PAS ketika merayu undi di hadapan Sekolah Kebangsaan Ulu Sedaka di sini hari ini.

Satu laporan polis berhubung kejadian itu telah dibuat di Ibu Pejabat Polis Daerah Yan. 
Posted: 03 Nov 2013 05:37 PM PST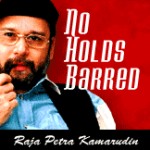 Martin Luther classified Pope Leo X as the true Satan (the Devil) or the anti-Christ and the Church of Rome as the ultimate Kingdom of Hell. Because of his very ferocious attack on the Church, Martin Luther was reprimanded by the Pope and was eventually excommunicated for his protesting. His followers soon became known as Protestors and the movement called the Protestants.
NO HOLDS BARRED
Raja Petra Kamarudin
I have actually said this a number of times before: Islam needs a Martin Luther. But it took 1,500 years before Christianity reformed. Since Islam is only about 1,400 years old, we may, therefore, have to wait till the year 2100 before Islam's Martin Luther comes along.
On Saturday, I wrote an article called 'About the Crusades'. In that article I spoke about the Christian versus Christian Crusade, which eventually evolved into the Catholic Inquisition against 'deviant' Christians.
Let me continue my story from there.
There were actually two Inquisitions. We had the 'Medieval Inquisition' of the early second Millennium soon after the Norman invasion of Saxon England and then there was the 'Modern Inquisition' of the Renaissance period of the 1500s.
Now, the Catholic Inquisition cost a lot of money and it was draining the coffers of the Vatican. They needed to drastically raise money so a scheme was implemented to raise this money through the selling of Indulgences.
This moneymaking scheme was approved by Pope Leo X and basically involved the sale of 'forgiveness', which soon became a considerable source of revenue for the church. This meant that absolution from sins or the pardoning of sins could be bought for a certain amount of money -- meaning trading of salvation for money.
This was one bone of contention for many Christians of that time who believed that there was no such thing as absolution from sins, even by the Pope, and especially not for money.
Further to that, Pope Leo X, the 'seller' of absolution, owned a lucrative brothel in Rome. He also had mistresses or concubines and a number of illegitimate sons. (On the positive side, he was also patron to Raphael and Michelangelo, which saw the Renaissance period emerge in Europe).
This was the second bone of contention.
In fact, Pope Leo's predecessor, Pope Julius III, had three daughters and was known for his passion for prostitutes and boys. He also issued a bull to establish St. Peter's whorehouse in Rome.
Even earlier than that, during the time of Pope Innocent VIII, the Archbishop of Canterbury had complained about the shameless and immoral lifestyle of the people of the cloth but the Pope had replied, "It is so widespread among the priests and the curia, you will hardly find one without his concubine."
The most notorious of the Popes however, was Rodrigo Borgia of Spain, or Pope Alexander VI (Pope Innocent VIII's successor), who had four children. His mistress (he also had a wife) was Gulia Farnese, the 15-year old granddaughter of Pope Innocent VIII. Gulia's brother went on to become Pope Paul III and was nicknamed Cardinal Petticoat because of his many mistresses.
Martin Luther, an Augustinian professor of theology at the University of Wittenberg in Germany, despised the Pope and the Vatican and hated the sheer hypocrisy of Catholicism, which he considered 'the root of all evil'. No seat could be closer to the Devil than the Papal Throne, said Martin Luther. And the resemblance of Hell is the Vatican City, he said.
Martin Luther classified Pope Leo X as the true Satan (the Devil) or the anti-Christ and the Church of Rome as the ultimate Kingdom of Hell. Because of his very ferocious attack on the Church, Martin Luther was reprimanded by the Pope and was eventually excommunicated for his protesting. His followers soon became known as Protestors and the movement called the Protestants.
Martin Luther's attempt to clean out the church rapidly gained international support. This triggered a widespread Reformation movement that saw the birth of an alternative Christian society beyond the control of Rome.
In spite of the effort of the Catholic Church to clamp down on this breakaway movement, the Protestant Reformation completely undermined the authority of the Holy Roman Empire and split Europe into two -- Protestants on one side and Roman Catholics on the other.
This movement soon enough spread to England and the Protestant-Catholic conflict that started with Henry VIII in the 1500s did not end until the English Civil War about 100 years later, but only after the loss of many lives.
It took one man, Martin Luther, to stand up and oppose the corruption and evil in the church. But it took 1,500 years before this could happen and sanity could be restored to Christianity. But the cost to this was that Christianity was split into two with both sides calling each other heretics and apostates (shirik and murtad in Islam).
We hope, one day, a Muslim Martin Luther will emerge and who will also reform the Muslim 'church'. God knows Islam is in dire need of reforms. Will 'mainstream' Islam, one day, be considered the Catholicism of the Muslim world with an alternative or competing Islamic reform movement opposing it?
If it does happen and if it happens, say, by 2100, I will certainly no longer be around. However, it cannot but happen. If Muslims are to continue the way they are currently going, such as what is happening in Malaysia, Islam will one day be seen as what Catholicism was perceived 500 years ago -- the anti-Christ and the Kingdom of Hell.
Yes, we Malaysians talk about change. We scream that we want reforms. But change of the political system alone is not enough. Change has to extend beyond just politics. It must be an absolute cultural, mental, and attitude change that involves more than just politics and touches even religion.
In short, we need an Islamic Renaissance period just like what we saw in Europe 500 years ago.
Wanita Umno branch chief punched in the face
Posted: 03 Nov 2013 03:49 PM PST
(TMI) - Wanita Umno Bandar Baru Sentul (1C) chief Norsidah Abu Bakar was punched in the eye during a scuffle with a PAS supporter in Ulu Sedaka when she went to greet voters during the Sungai Limau by-election today.
The incident occurred when the 50-year-old refused to move away from the spot after being ordered to do so by several PAS members.
Norsidah, accompanied by Seputeh Wanita Umno chief Datuk Azizah Abdul Samad, lodged a police report.
Later at a press conference at the Yan district police headquarters, Kedah police chief Datuk Ahmad Ibrahim urged supporters from PAS and BN to adhere to instructions from the police and the Election Commission.
Kedah Menteri Besar Datuk Mukhriz Mahathir expressed his frustration.
"This sort of provocation, whether by locals or outsiders, will affect the mood of the voters. BN will not to respond to such provocation. There is no need to," he said during a visit to a polling centre at Sekolah Kebangsaan Bukit Besar.
Sungai Limau: Mukhriz calls assault on Umno Wanita member regrettable
Posted: 03 Nov 2013 03:39 PM PST
(Bernama) - Kedah Mentri Besar Datuk Mukhriz Mahathir regrets that an Umno Wanita member was allegedly assaulted during polling for the Sungai Limau state seat by-election.
"The effect of the alleged provocation whether by an outsider or people in the constituency is the same as it impacts negatively on Barisan Nasional voters.

"We won't respond in kind, no need to react. This stand needs great patience. PAS had loudly announced its peaceful political campaign and we had hoped it could be interpreted accordingly but the reverse occurred.

"We were not prejudiced, hoping the by-election will take place in a prudent and courteous atmosphere," he said at Pekan Simpang Tiga, Sungai Limau here today.

Seputeh Wanita Umno Division chief Datuk Azizah Abdul Samad today lodged a report at the Yan District Police Headquarters over the punching of a Batu Umno Division Wanita committee member Norsidah Abu Bakar allegedly by a PAS Youth member at Sekolah Ulu Sedaka.

Meanwhile, Mukhriz said PAS was still using intimidations to deter voters from coming out to vote.

"The situation became uncontrollable. Four, five incidents which took place could have been avoided but they still took place to invoke fear on the voters," he said.

He said another tactic used by PAS supporters was to go out in a big group and park their vehicles by the roadsides so that the place became congested to make it difficult for voters.

Mukhriz hoped police would taken immediate action to overcome traffic problems and prevent congestion.

Meanwhile, he told reporters at Sekolah Kebangsaan Bukit Besar near here today that there should not be any provocation in the by-election.

He urged voters to come out early to perform their duties.

Mukhriz had arrived at the voters checking centre near Sekolah Kebangsaan Bukit Besar at 10.50am.

He then stopped by at a food stall near Bukit Besar which was crowded with supporters of PAS. His presence was well received by them.

The Sungai Limau state seat by-election today saw a straight fight between Barisan Nasional candidate Dr Ahmad Sohaimi Lazim and Mohd Azam Abd Samat of PAS.
In Sungai Limau, Mukhriz claims pro-Pakatan crowds scaring away BN voters
Posted: 03 Nov 2013 03:37 PM PST
(MM) - Datuk Mukhriz Mahathir appeared today to accuse the opposition of orchestrating crowds of supporters to block voters from casting their ballots in Sungai Limau, even suggesting that traffic snarl could cost Barisan Nasional (BN) the state seat.
The first-term Kedah mentri besar who was part of the BN team that culled Pakatan Rakyat (PR) in the rice bowl state during Election 2013, alleged that the crowds, some of which had reportedly turned rowdy, were frightening away Sungai Limau voters from casting their ballots.

"I've heard reports of fights outside some polling centres earlier and that the roads to all polling centres are jammed, both of which are tactics used by the opposition to deter voters from casting their votes," he said in a brief press conference when he visited the BN Simpang Tiga operations centre here, just opposite the SJKC Aik Min polling centre.

He added that it was not surprising for the opposition to use such tactics to scare away voters, pointing out that if more were to turn up to vote, BN would have a higher chance of wresting the seat from PAS.

"I will advise our BN supporters not to react to the opposition's provocation but to be more patient as we hope for the peaceful political atmosphere here to continue even on this last day," he said.

He appeared to accuse PR of starting the skirmishes, even claiming that a PAS supporter had hit a female BN supporter outside one of the polling centres here.

"I had hoped for a peaceful polling day so it is disappointing that this is to happen today, which will negatively impact BN voters," he said.

He also urged the traffic police to take control of the traffic conditions so that voters can get to the polling centres.

"We hope more Sungai Limau voters will come out to vote as the more voters cast their votes, BN will have a higher chance of winning," he said.

As at 2pm, the Elections Commission spokesperson said a total of 18,843 or 69.22 per cent of voters have cast their votes.

Polling closes at 5pm and the EC expects to announce the results by 10pm.

BN's Dr Ahmad Sohaimi Lazim is going up against PAS' Mohd Azam Abdul Samat for the state seat which has been under PAS for five terms.

The seat was vacated after the former Kedah mentri besar Tan Sri Azizan Abdul Razak died on September 26. He had held the seat after winning it in 1995. 
'PKR more than just Anwar's party'
Posted: 03 Nov 2013 03:22 PM PST
In an exclusive interview, PKR leader Nik Nazmi Nik Ahmad explains how PKR's purpose is beyond becoming a platform for Anwar Ibrahim to become prime minister.
Anisah Shukry, FMT
A party formed by Dr Wan Azizah Wan Ismail in the aftermath of husband Anwar Ibrahim's 1998 fall from grace, PKR has had an uphill battle convincing voters that it's more than a vehicle of Anwar's vengeance towards BN.
Within 14 years of its inception, the party suffered through two disappointing elections, saw its "patron" freed from prison, and eventually, with the help of party allies PAS and DAP, dealt a near-fatal blow to Barisan Nasional in the 2013 elections.
Despite its immense growth, critics have accused it as being a "family party" – claims not helped by the fact that its president is Wan Azizah, its de facto leader Anwar Ibrahim, and daughter Nurul Izzah Anwar is a vice-president.
But one of the party's youngest members and rising stars, Nik Nazmi Nik Ahmad, who was only 16 when Anwar was imprisoned, insists he was attracted to the party not because of the Anwar factor, but because of reformasi.
Reformasi was the rallying call of Anwar and his supporters after he was sacked as deputy prime minister in 1998. It sparked several demonstrations against the BN government, before eventually dying down after he was arrested and jailed.
"I joined because I saw reformasi's potential for something that can capture the imagination of Malaysians for new politics that go beyond race and religion – about democracy, rule of law, transparency and all that," Nik Nazmi told FMT in an exclusive interview.
The young leader became active in PKR in 2001, while only 19-years-old, before becoming an official member in 2005. He eventually contested — and won — the Seri Setia state assembly seat in 2008, despite being the youngest candidate contesting in the elections. He retained his position in the recent May 5 polls.
"It's unfair to say that we are Anwar Ibrahim's party. Some people said in 1999 we were established for Anwar's release. But we still carried on (even after he was freed). If it was just going to be about Anwar's release then we would have closed shop."
He said this was why he believed many leaders had since left the party – because they were under the illusion that the party centred on Anwar's release from prison.
"But people like me, the reformasi generation, we got into the party because we believed that the party is about securing justice for all Malaysians," said Nik Nazmi, who has risen from the ranks to become the Selangor State Assembly Deputy Speaker.
Nik Nazmi was not apologetic over the fact that PKR's top positions was filled by Anwar's family, nor that Anwar was given the position of de facto leader.
The former PKR communications director reminded the public that Anwar was only made de facto leader after they learned he was not allowed to run for the party's presidency.
"We were under threat of being de-registered because he (Anwar Ibrahim)…had just been released from prison. A five year gap was needed, and the party elections was held before the five years were up," he explained.
"So the only way for him to lead the party was as de facto leader."
Nik Nazmi pointed out that Wan Azizah had won the party presidency "fair and square" since 1999 and her role in the party must be acknowledged. Similarly, Nurul Izzah garnered the highest number of votes when she contested the vice-president position.
"So I believe that if you ask anyone, many will say that Wan Azizah and Nurul Izzah have proven that they are politicians with their own strengths, appeal and merit," he said.
What more do Pakatan reps want?
Posted: 03 Nov 2013 03:15 PM PST
FMT LETTER, From Richard Loh, via email
Get down to work! That is what I and the voters would have wanted those Pakatan Rakyat MPs and state assemblypersons who have been elected in GE 13 to do.
You should know better the differences between an elected representative and party position. Know your position and standing inside the party before you decide to stand as candidate. Once you are elected, the voters are hopeful that you will perform your duty as an MP or assemblyperson of the party you represented and there is no turning back till the next general election.
You cannot just decide to turn independent and side with Umno/BN because you have internal problems with your party, that is your individual problem and not the voters. There is always room for discussion and solution to resolve any internal conflict that you may face inside your party. If you cannot resolved your problem internally and decided that leaving the party and turn independent (but sided with Umno/BN) is the way, it shows that you are not suitable to be an elected representative. Hence the only way for you is to resign and let voters decide a more suitable candidate in a by election.
Ask yourself why you joined the party and being selected to stand as candidate which you finally won. Is it because of you that voters voted you and not the party? If you were to stand as an independent do you think you can win? As far as I know up till GE13, majority of voters have voted along party line and not an individual.
If you are not happy because you cannot get what you want, be it power, position or monetary, by all means please leave. Or because you cannot accept criticism within your party, then leave, as voters can see that you won't be able to accept their criticism as well.
Posted: 03 Nov 2013 03:11 PM PST
FMT LETTER, From Yuktes Vijay, via email
I refer to S Ambiga's comments published in FMT. Ambiga states her reason for withdrawing from the debate was because it was premature to discuss the tribunal's finding when it was incomplete.
It is a lie. A classic spin.
In my first e-mail to the moderator, I had proposed the following title :
"Title of debate: TRIBUNAL RAKYAT 2.0
Subject: BERSIH's People Tribunal had submitted its findings on GE 13. The findings indicate and suggest that but for a cleaner election the Government would have changed. Was this a fair or a bias finding. Discuss"
It is clearly stated there that "the submitted findings" is what I intend to debate. After the moderator informed me of her reason of not wanting to debate, I clarified with another e-mail that it is not the tribunal findings that I would like to discuss.
The true nature of the so-called Iron Lady can be seen with this quote from her published in FMT:
"But he kept insisting to the moderators later that he only wanted to debate about the findings," she said."
Firstly how can I insist when it was not even what I suggested in the first place?
And I had clarified her wrong presumption (now I know it is an excuse) through my 2nd email via the assigned moderator.
In short it is the "submitted findings" that I would like to debate about. Ambiga is trying to play with the word "finding" here in order to generate an excuse. However, sadly, those very DNA is in me too.
Why would I want to debate about Bersih or more like, what can we both debate about Bersih? Topics on the source of their fundings or the fact that Bersih actually consist of 60 unregistered NGOs does not appeal to me or has any benefit to any Malaysians.
Perhaps, we can debate on the links to George Soros, a convicted criminal and someone who has personally taken credit for creating chaos in various countries. The link to George Soros can be seen with NGOs like WAMI, SUARAM and Lawyers for Liberty who are part of the Bersih coalition receiving funds in the form of grants from George Soros funded NED organization. In fact Ambiga herself has admitted that Bersih itself receives funds from NED.
Sabah PKR defections: Blame Anwar
Posted: 03 Nov 2013 03:01 PM PST
A Sabah party assemblyman claims Anwar Ibrahim had promised to help finance their service centres but nothing has yet reached them.
Luke Rintod, FMT
PKR's de facto leader Anwar Ibrahim's unfulfilled promise to help financially the party's assemblymen in Sabah is believed to be the real reason behind the impending defection of two of its elected representatives.
The two assemblymen speculated to leave PKR this week are Matunggong's Jelani Hamdan and Kadamaian's Jeremmy Ukoh Malajad.
Local party insiders claimed that Sabah PKR might also lose two other assemblymen and its single MP soon, if the opposition party leaders reneged on the promise to give financial aids for representatives to operate their service centres.
A Sabah PKR assemblyman who declined to be named told FMT that Anwar had pledged, post general election, to help financially the party's elected representatives but thus far there's been no news.
The general election was in May.
"Soon after the general election, Anwar promised these assemblymen the party would chip in to kick-start the operation or service centres of Sabah assemblymen.
"Even Lajim Ukin (had since appointed to head Sabah PKR) talked of the same offer of help from PKR," the assemblyman said.
PKR is currently in control of the rich Selangor state in Peninsular, while its counterparts DAP and PAS control the states of Penang and Kelantan respectively.
According to the assemblyman, Sabah PKR leaders started to lose hope and confidence in the PKR leadership which they claimed is embroiled in its own internal bickering both at state and national levels.
"PKR itself has internal problems, not mentioning its difficult relationships with DAP and PAS.
"Anwar's promise to help sounded good but we have not seen any concrete help taking place and there is no sign it is going to be fulfilled, not until PKR assemblymen had left," added the assemblyman.
Kredit: www.malaysia-today.net