Klik GAMBAR Dibawah Untuk Lebih Info
Sumber Asal Berita :-
---
Reverse 'Allah' decision as it leads to 'severe oppression', says Harun Yahya
Posted: 24 Oct 2013 05:31 PM PDT
(MM) - Prolific Turkish writer Harun Yahya urged Putrajaya today to reverse its ban on the use of the word "Allah" by non-Muslims here, saying the decision was "based on illogical and theologically unacceptable reasoning".
The writer — whose real name is Adnan Oktar — said such a ban would inevitably lead to an environment of severe oppression, despite Putrajaya's repeated claim that it only applies to local Catholic newspaper the Herald.

"Such a decision cannot be accepted and defended even if it was directed at one newspaper or a single person," said Oktar in an opinion piece carried by Indonesian daily The Jakarta Post here.

"This decision, which is completely against Islam, a religion of peace and brotherhood, must be reversed and there must be freedom of expression for everyone."

Oktar has achieved a cult status among Muslims in Malaysia for his controversial rejection of Darwinism and the theory of evolution, having claimed the concepts deny the existence of God.

Oktar's books, such as The Atlas of Creation and The Evolution Deceit, argue in favour of Islamic creationism, which believes that all humans are descended from Adam, the first human and a Muslim prophet.

However, his works have been denounced by the scientific community, who argued their lack of scientific evidence.

In his opinion piece, Oktar criticised the views of right-wing Muslim groups in Malaysia by saying that a prohibition on using the name "Allah" does not align with Islamic teachings and the international norms of human rights.

"For Muslims, peace is important because the word "Islam" comes from the Arabic letters "s-l-m" meaning peace. In the concept of peace, there is love, understanding, compassion, mercy and as much freedom as possible: there is freedom of faith, life, behaviour, ideas and speech, even for atheists," he added.

"The religion of Islam supports such freedoms completely. Trying to change this religion of love into a completely different religion of cruelty and violence that has nothing to do with Islam, and trying to make life miserable for people through coercion and oppression, is completely unacceptable."

This week, American religious scholar Dr Reza Aslan told local radio channel BFM in an interview that the world was "laughing" at Malaysia over the court ruling that he described as a "political decision more than anything else".

The Malaysian Communications and Multimedia Commission (MCMC) has since questioned two BFM radio producers over the interview.

The Court of Appeal ruled last week against a 2009 High Court decision allowing the Catholic Church to refer to the Christian god with the Arabic word "Allah" in the Bahasa Malaysia section of its weekly paper, the Herald.

The court adjudged the usage of the word "Allah" as not integral to the Christian faith and said that allowing such an application would cause confusion in the Muslim community.

Churches in Sabah and Sarawak, however, have said that they will continue their age-old practice of referring to God as "Allah" in their worship and in their holy scriptures.

Several ministers also said recently that the 10-point solution issued by Putrajaya in 2011 — which allows the printing, importation and distribution of the Al-Kitab, the Bahasa Malaysia version of the Christian bible, containing the word "Allah" — should stand, despite the appellate court ruling. 
Posted: 24 Oct 2013 04:44 PM PDT
DAP's Zulkifli Mohd Noor has resigned from all positions in the party and GLC's to show that he has lost confidence in the party's leadership.
Athi Shankar, FMT
Zukifli Mohd Noor, who offered himself as a DAP national chairman candidate during the party's recent central executive committee (CEC) re-election, has resigned three party and government-link company (GLC) positions, effective yesterday.
In his press statement here today, Zulkifli said he decided to relinquish his posts due to loss of confidence in the current party leadership, which he claimed as being too self-centred and embarking on selfish political goals.
"I believe the current DAP leaders have swayed far away from the party original struggle based on socialist-democrat ideals.
"This can be seen from their leadership style and policies in both party and state government," said Zulkifli, who joined the party some 26 years ago.
He has quit his party positions as Bayan Baru parliamentary liaison committee head and state DAP committee member, and as director of GLC, Penang Global Tourism, a subsidiary of Penang Development Corporation (PDC).
Earlier this year, Zulkifli also resigned as a councillor in the Penang island municipality (MPPP).
Zulkifli submitted his resignation letters dated Oct 24 to the various related bodies.
He said that the Penang government leadership led by Chief Minister Lim Guan Eng has and never will favour lay public, especially people from lower income group.
He pointed out that the unscrupulous and speculative property price hike in Penang is beyond the reach of ordinary layman and was a fine example to prove that the DAP was not a people-orientated organisation.
He stated that the party has transformed into a dictatorial outfit favouring only the rich, elite and powerful.
"DAP's original democrat struggle has transformed to a capitalist-dictator regime," said Zulkifli, a former party national and state vice-chairman.
Referring to Saidina Umar Abdul Aziz's famous quote of "Aamal Maaruf Nahi Mungkar", he said the words were blatantly misused as a rhetoric propaganda used by Guan Eng, to hoodwink the people.
He pointed out that the current party and Penang government leadership style was in contrast to the famous phrase.
Despite his frustrations, Zulkifli said he will remain as a party member.
Experts laud Brunei for introducing Syariah law
Posted: 24 Oct 2013 01:32 PM PDT
(Borneo Post) - Malaysian experts yesterday praised Brunei's move to introduce Syariah Law with political will coming from the highest authority in the Sultanate as this would give more blessings. They hoped that other Muslim countries would follow suit, Borneo Bulletin reported.
"Muslims should accept Syariah Law which if rejected could lead to apostasy," said an invited speaker from Johor, Malaysia, Dato' Seri Sheikh Hj Nooh bin Gadot, Islamic Religious Council Advisor of the state of Johor, at a premier forum on Syariah Law.
"His Majesty the Sultan and Yang Di-Pertuan of Brunei Darussalam in his titah said it is obligatory to adhere to in order to gain more blessings. Other countries should follow suit," he said.
His Royal Highness Prince Haji Al-Muhtadee Billah, the Crown Prince and Senior Minister at the Prime Minister's Office attended the forum held to mark the Knowledge Convention 2013 in honour of His Majesty the Sultan and Yang Di-Pertuan of Brunei Darussalam's 67th birthday celebrations. Also present were HRH Prince 'Abdul Malik and HRH Princess Hajah Masna.
The chair of the panel discussion, Dr Awg Hj Japar bin Hj Mat Dain @Maidin from the State Mufti's Office said the titah delivered last Tuesday (at the opening of the Knowledge Convention) was a shift in the country's legal system and became a milestone for the nation. The Syariah Criminal Law was gazetted last Tuesday and will be enforced in April next year.
Meanwhile, Dato Seri Setia Ustaz Awg Hj Metussin bin Hj Baki, Syariah High Court Judge, said the nation should be thankful for the titah from a pious monarch. There are two issues that need to be looked into, namely the development of Islamic religion and Islamic law in the Sultanate.
The principles are Ad-din (way of life covering Tauhid). Islam teaches its Ummah for betterment in present life and in the days of the hereafter. What has been said by His Majesty should be upheld.
"The order from Allah the Almighty has its wisdom and such wisdom may not appear now, but will appear in the future," Dato Seri Setia Ustaz Awg Hj Metussin said.
Dr Awg Hj Japar admitted that there are certain sections of society that are against the Syariah Law. '`They are not convinced. Some are prejudiced and think that the Syariah Law is harsh as their minds are solely focused on the forms of punishment such as stoning, flogging, chopping off limbs and so on. There is a teaching behind the law"
Dato' Seri Sheikh Hj Nooh said Syariah Law or Hudud comes from Allah the Almighty and it is not man-made. "Allah the Almighty is perfect and there are no weaknesses or flaws. Hence it is obligatory for us to accept and abide.
"We should be thankful as there is huge blessing in it. It is not only Muslims that would gain but non-Muslims too in the present life," Dato' Seri Sheikh Hj Nooh added.
"I laud Brunei Darussalam and hopes that Allah the Almighty showers the nation with blessings," he said.
Meanwhile Prof Emeritus Dato' Paduka Dr Mahmood Zuhdi bin Hj Abd Majid from Malaysia also lauded Brunei Darussalam for introducing the Syariah Law.
"Introducing such a law is a victory to Muslim countries, be it Muslim countries that are brave to introduce such a law or Muslim countries who are not brave enough to introduce. Brunei has set an example to other countries to implement such a law"
He said the confusion on Syariah Law is due to the liberalism in education found in the Western countries who want all to be ruled in a liberal manner.
Brunei Darussalam is very fortunate in that the political will comes from the top. In other countries, they struggle from the bottom in implementing 'Hudud' or to implement the Islamic Law wholly and there is no political will from the top.
There is a secret behind such a law as it nurtures discipline in society. In the Western world, there is no discipline. For instance in the financial crisis in the West, the community did not want to spend moderately but rather lavishly.
Dato Seri Setia Ustaz Awg Hj Metussin added the law acts as a lesson to the offender and those who have seen the punishments and not solely to punish the offender. Dato Seri Sheikh Hj Nooh added that the implementation of Syariah Law reduces the crime rate as seen in the Kingdom of Saudi Arabia which practises Syariah Law.
Earlier, Their Royal Highnesses were greeted upon arrival at the International Convention Centre by joint chairpersons, Pehin Datu Singamanteri Col (Rtd) Dato Seri Setia (Dr) Awang Haji Mohammad Yasmin bin Haji Umar, Minister of Energy at the Prime Minister's Office and Pg Dato Seri Setia Dr Hj Mohammad bin Pg Hj Abd Rahman, Minister of Religious Affairs and other senior officials.
Ex-minister Dr Ling acquitted of cheating Putrajaya in PKFZ land deal
Posted: 24 Oct 2013 01:22 PM PDT
(TMI) - The Najib administration was left red-faced today after former transport minister Tun Dr Ling Liong Sik was acquitted of charges that he had cheated Putrajaya in the Port Klang Free Zone (PKFZ) land deal.
The government made the headline-grabbing charge against the former MCA president hoping to bolster its anti-corruption credentials, but like a litany of other high profile cases brought against so-called big fish, this too ended in a humiliating defeat.
High Court Judge Datuk Ahmadi Asnawi, in acquitting the former transport minister and MCA president, said the defence had created a reasonable doubt in the prosecution's case.
In a packed courtroom, the judge said he was not reading the 42-page judgment but will only deliver the verdict.
"The accused is cleared of all charges as the defence has created a reasonable doubt in the prosecution's case," Ahmadi said.
His supporters clapped while a cool and composed Dr Ling, the first person with the honorific title "Tun" to be charged with a criminal offence, walked out of the dock and was swarmed by those present to shake his hand.
He, however, declined to speak to the media.
"No comment", he said while placing his finger to his lips, gesturing that he would not say anything.
Counsel Wong Kian Kheong appeared for Dr Ling while the prosecution team was led by deputy solicitor-general III Datuk Tun Abdul Majid Tun Hamzah.
Abdul Majid was not present as he is away to perform his Haj.
Deputy Public Prosecutor Manoj Kurup, who assisted Abdul Majid, said the prosecution will study the judgment before deciding whether to appeal. It has 10 days from today to file the notice of appeal.
Nine witnesses, including former prime minister Tun Dr Mahathir Mohamad, gave evidence for Dr Ling.
Dr Mahathir, who was prime minister for 22 years, was also the finance minister between 2000 and 2003, when Dr Ling was alleged to have committed the offences.
The judgment showed that Dr Mahathir's evidence rebutted the prosecution's case which led to Dr Ling's acquittal.
Read more at: http://www.themalaysianinsider.com/malaysia/article/ex-minister-dr-ling-acquitted-of-cheating-putrajaya-in-pkfz-land-deal1 
Najib's men screwing Borneo's BN support
Posted: 24 Oct 2013 01:15 PM PDT
(FMT) - Sarawak Workers Party claims Prime Minister Najib Tun Razak's flip-flopping has made "some people more equal than others".
Sarawak Workers Party (SWP), which once claimed it was Barisan Nasional- friendly has slammed federal leaders for mocking the loyalty expressed by Sarawakians when they voted to retain the ruling government.
Party vice-president Josephine Mawat said neither Christians nor their use of the term "Allah" was ever a threat to social harmony and national security
"The word 'Allah' was not a threat to the country or national security.
"It has been used all over the world and has not caused any problem.
"It has been used in Sabah and Sarawak for over 100 years, long before the formation of Malaysia and not caused problems.
"It has been used by even the Arab countries and Middle Easts, it has not caused problems" she lamented adding that the term "Allah" is the name of God and "nobody regardless of religion can change the name of God at their fancy, not even governments of the day".
Mawat was voicing the rising concerns in Sarawak, which is a predominantly Christian population.
Sarawakians are bristiling over the recent Court of Appeal decision which overuled an earlier High Court ruling allowing the use of the term "Allah" in The Herald publication's Malay version.
The decision triggered wideranging anti-Christians comments from orthodox Muslims and Malay ultras demanding among others that the Bible be burned
She said while the people in Sarawak and Sabah believed Prime Minister Najib Tun Razak's assurance that the recent Court of Appeal (COA) ruling would not affect them further affirming his earlier 10 point solution allowing for the printing, importation and distribution of the Malay version of the Bible, Al-kitab, his federal leaders were not sincere.
Najib's brag
She also questioned Tourism Minister Nazri Aziz's insistence that Christians from East Malaysia must not use the word in prayer in Peninsular Malaysia.
Thousands of Sarawakians and Sabahans are living and working in Peninsular Malaysia. In Johor alone there are over 40,000 Sarawakians.
"Now it sounds like; since East Malaysia is a power 'deposit', therefore the court ruling can be discounted.
Read more at: http://www.freemalaysiatoday.com/category/nation/2013/10/25/najibs-men-screwing-borneos-bn-support/ 
MCMC grills BFM producer duo over Reza Aslan interview
Posted: 24 Oct 2013 08:52 AM PDT
(MM) - The Malaysian Communications and Multimedia Commission (MCMC) questioned two BFM radio producers today over a recent interview they conducted with American religious scholar Dr Reza Aslan over the "Allah" controversy.
Ezra Zaid said that the country's communications and Internet regulator called him and his colleague, Umapagan Ampikaipakan, up for a statement this afternoon over their interview with Aslan.
"Umapagan and myself were called in today to give a statement," Ezra told The Malay Mail Online today.
In the interview with the business station last Monday, Aslan criticised the recent Court of Appeal ruling that found that the word "Allah" belonged exclusively to Muslims, pointing out that the word was just an Arabic term for God.
"Allah is a construction of the word al-Ilah...Al-Ilah means 'The God'. Allah is not the name of God.
"Frankly, anyone who thinks that Allah is the name of God, is not just incorrect, but is going against the Quran itself. It is almost a blasphemous thought to think that Allah has a name," Aslan had said.
Part of the interview with Aslan, which featured his remarks on the "Allah" issue, did not air, but  was uploaded in a podcast on BFM's website www.bfm.my instead.
Read more at: http://www.themalaymailonline.com/malaysia/article/mcmc-grills-bfm-producer-duo-over-reza-aslan-interview 
Malaysia curbs on use of word "Allah" seen hurting Muslim image
Posted: 24 Oct 2013 08:50 AM PDT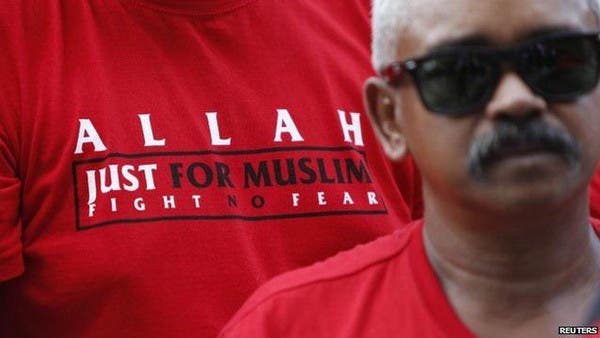 (Al Arabiya) - Malaysia's self-styled image as a global leader of moderate Islam has been undermined by a court ruling that only Muslims can use the word Allah" to refer to God, with a growing number of Muslim scholars and commentators condemning the decision.
A Malaysian court ruled last week that the word was "not an integral part of the faith in Christianity," overturning a previous ruling that allowed a Malay-language Roman Catholic newspaper to use the word.
Since then, confusion has reigned over the interpretation of the ruling, with government ministers, lawyers and Muslim authorities giving widely diverging views on its scope. Critics of the decision have said it casts a chill on religious rights in Muslim-majority Malaysia, which has substantial minorities of ethnic Chinese and Indians.
Commentators in some countries that practice Islam more strictly than Malaysia have condemned the ruling, arguing that the word Allah has been used by different faiths for centuries. Christians in Malaysia's eastern states of Sabah and Sarawak have used the word for generations, as have Christians in the Middle East.
Pakistan's Dawn newspaper said in a commentary that the decision was a "sad reflection on how an otherwise modern country, widely seen as a role model for the Muslim world, is succumbing to the current trend of insularity in matters of faith."
Read more at: http://english.alarabiya.net/en/variety/2013/10/24/The-Allah-monopoly-Malaysia-ruling-tarnishes-Muslim-reputation-say-scholars-.html 
Ambiga calls on government to put Penal Code, Sosma amendments on hold
Posted: 23 Oct 2013 09:50 PM PDT
Viswaree Palansamy, TMI 
Bersih co-chairperson Datuk Ambiga Sreenevasan (pic) wants Putrajaya to put on hold the Penal Code (Amendment) Bill 2013, and to agree not to gazette it until further discussions are held with concerned stakeholders.
She described Section 203A of the Penal Code as a "muzzling provision", referring to the contentious provision that restricts civil servants from disseminating any information gathered during one's tenure of duty or the exercise of one's functions.
"Amendments always warrant further scrutiny," she told reporters at the Parliament lobby today.
The Penal Code (Amendment) Bill 2013 was passed by the Lower House on Tuesday, while the Security Offences (Special Measures)(Amendment) Act 2012 was passed today without changes.
Ambiga said that even lawmakers did not have enough time to pour over the amendments as they only received the copies of the relevant Bills a day before the tabling of its first reading.
"The Bar Council has been asking for Bills in advance for many years and I don't think that is unreasonable if we want to be the so-called 'best democracy in the world'," she said.
Opposition lawmakers had objected strongly to the amendments and warned that the inclusion of two ordinary criminal offences - organised crime and anti-human trafficking - contradicted the government's stand that Sosma was created to curb terrorism activities. Under this law, bail is not allowed and the remand period is 28 days. 
Kredit: www.malaysia-today.net