Klik GAMBAR Dibawah Untuk Lebih Info
Sumber Asal Berita :-
---
Posted: 16 Oct 2013 09:58 PM PDT
The idea was partly that Malays - who were vastly economically disadvantaged - would gain ground on the far wealthier Chinese. When the British drafted this law, the intention was that it would be temporary. Turns out it wasn't, and race has been a constant inflammation point in Malaysian politics ever since, as several race riots demonstrate. 

Waleed Aly, SMH 
Six years ago, Proton - Malaysia's national car maker - teamed up with car makers in Iran and Turkey pledging to develop the world's first ''Islamic car''. Apparently automobiles had hitherto been non-Muslims. If that's not absurd enough, this week we learnt it's a good thing Malaysian cars can't talk, because if they could, they'd no longer be able to use the word ''Allah'' to mean ''God''. That's what a Malaysian appeal court ruled this week, after a Catholic, Malay-language newspaper had dared to drop the A-bomb.
The ''Allah'' controversy has been running for years and isn't over yet. This decision overturned the original finding from 2009 in favour of the newspaper. Now the editor is planning to appeal to the highest court in the country and the government will resist. This immediately reminded me of Proton's Islamic car: strip both these stories of the pious language that decorates them, and they're ultimately about the maintenance of Malay pride. These are symbolic gestures of ethno-nationalism. And that whole issue is becoming increasingly radioactive in Malaysian politics and society.
To see this, consider what precisely makes the Islamic car so ''Islamic'': compartments for storing a headscarf and Koran, and a compass to indicate the direction of Mecca. That's it. As though no car in history has sported a compass or storage. If you're in any doubt about how thin this Islamic veneer is, consider that Proton was considering a ''secular'' version for non-Muslim markets. This is not about function. It's not meeting a consumer need. This is appealing to consumer identity. It's selling a feeling of authenticity. Don't just be a Muslim, be very Muslim. The content of that commitment matters far less than the statement it makes.
The ''Allah'' imbroglio is altogether more serious, but no less strange. Arab Christians, Jews and pagans were using the word before Islam came along. The word has always appeared in Arabic translations of the Bible without controversy. The same ultimately came to be true in the Malay language, which incorporates plenty of Arabic lexicon. So it's hardly surprising that Malaysian Christians have been using the word, too. For longer than Malaysia has existed, as it happens. It's in their Bibles, too.
Why should this suddenly be a problem? The Malaysian court held that Allah ''is not an integral part of the faith in Christianity'' and that therefore its use in a Catholic newspaper ''will cause confusion in the community''. The fear, apparently, is that Muslims will suddenly start practising Christianity if both faith groups refer to God by the same name. Malaysian Muslims therefore need a form of protection from their own ignorance that no Muslim community has needed anywhere at any time.
But this isn't about that. If it were, you'd expect Malaysia's Islamist opposition party (PAS) to be at the forefront of this charge. But it is not. Indeed, it is mildly opposed. This is instead about an old guard of Malays (who are officially always Muslims) confronting the fact that the privileged position they've held for the first 50 years of Malaysian independence simply can't hold for the next 50.
Now they're lashing out, as if trying to resist the death throes of their own supremacy.
That supremacy is a matter of law. Indeed, it's in the constitution, which establishes Malay quotas for entry into civil service, public education and access to federal business licences. The idea was partly that Malays - who were vastly economically disadvantaged - would gain ground on the far wealthier Chinese. When the British drafted this law, the intention was that it would be temporary. Turns out it wasn't, and race has been a constant inflammation point in Malaysian politics ever since, as several race riots demonstrate.


Read more at: http://www.smh.com.au/comment/allah-edict-masks-power-play-20131017-2vpj8.html#ixzz2hz3S5EkE
The Malaysian 'Allah' ban is about putting minorities in their place
Posted: 16 Oct 2013 12:22 PM PDT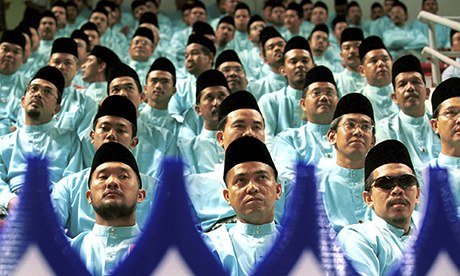 The 'Allah' ruling is as ridiculous as a UK law saying that 'God' is a Christian designation, and other religions can't use it
Nesrine Malik, The Guardian
"Allah" means God, unless you are a non-Muslim Malaysian, in which case you have to find another word. After a recent court ruling in the country, Allah can now be used only to refer to the Muslim God, and non-Muslims (mainly the Malaysian Christian Catholic community and press) have been banned from using it. It is a decision that has inflamed opinion among minority religions and disheartened Muslims. Apart from all the practical implications of this (re-printing Bibles and so on), there are other intangible but more heartfelt grievances. At first glance it looks like a petty scuffle over semantics, but the roots of the dispute go deep into the issue of national identity.
The ruling was flimsily justified by the "risk" of conversion. Announcing the change, the judge said: "It is my judgment that the possible and most probable threat to Islam, in the context of this country, is the propagation of other religions to the followers of Islam." But the ban is less about religion than about putting non-Malay minorities in their place, subordinating their status to that of Muslims, the majority population.
The issue is made more complex by the fact that "Allah" is an Arabic loan-word and, when imported into other languages, can come to be thought of as a proper noun. On my first day at a British school, a teacher going around the class and asked us what our respective non-Christian gods were called. When I floundered, she exasperatedly told me that my god was called Allah, and I couldn't quite explain to her why that felt wrong. To me, Allah just meant "God" in Arabic. It wasn't a name.
Read more at: http://www.theguardian.com/commentisfree/belief/2013/oct/16/malaysian-allah-ban-minorities-in-place 
Wrong to deny fundamental rights just because some will be confused
Posted: 16 Oct 2013 12:17 PM PDT
Having recited that religious sensitivities are a threat to public order and safety, the decision unfortunately serves to reinforce the notion that the use or threat of violence would win the day in court. It is unacceptable that citizens are denied their Constitutional rights of religious freedom and expression on the basis that others who disagree or who are confused would resort to aggression.

Christopher Leong, President, Bar Council Malaysia
THE Malaysian Bar is deeply concerned by the decision of the Court of Appeal delivered on Oct 14, 2013 in what is commonly referred to as the 'Herald' or 'Allah' case.
The concerns arise from the Court's interpretation of Article 3(1) of the Federal Constitution on the status of Islam and other religions and Article 11(1) and (4) on the fundamental right to profess and practice a religion.
Any interpretation of the Constitution must invite the greatest scrutiny as it impacts on the fundamental freedoms guaranteed to all citizens.
We are particularly concerned with the following findings, that:
I. The insertion of the words "in peace and harmony" in Article 3(1) is to protect the sanctity of Islam and "also to insulate against any threat... to the religion of Islam";
Article 3(1) of the Federal Constitution expressly provides that "Islam is the religion of the Federation; but other religions may be practiced in peace and harmony in any part of the Federation".
The Court of Appeal found that this Article was inserted as a byproduct of the social contract by our founding fathers, and that the purpose and intention of the words "in peace and harmony" was to protect the sanctity of Islam as the religion of the country and to insulate it against any threat. This is an unnatural reading of the provisions in Article 3(1). The words in their clear and ordinary meaning provides for the right of other religions to be practiced unmolested and free of threats.
In referring to the social contract, effect should be given to the understanding as at 1957 and not to the numerous amendments that have since been made to the Federal Constitution in violation thereof. Paragraph 57 of the White Paper in 1957 which gave rise to Articles 3(1) and 11(4) of the Federal Constitution provides as follows:
"There has been included in the proposed Federal Constitution a declaration that Islam is the religion of the Federation. This will in no way affect the present position of the Federation as a secular State, and every person will have the right to profess and practice his own religion and the right to propagate his religion, though this last right is subject to any restrictions imposed by State law relating to the propagation of any religious doctrine or belief among persons professing the Muslim religion."
II. The use of the word 'Allah' in the Malay version of the Herald would cause or create confusion amongst persons professing the religion of Islam;
It is unreasonable and contrary to the Constitutional scheme that a fundamental liberty is liable to be denied on the basis that some person or persons would be confused.
The decision does not in any way aid in addressing or resolving the alleged confusion amongst persons professing the religion of Islam, when in fact that word 'Allah' is used by more than one community in this country and by peoples of different faiths in the Arab world and other Muslim countries. 

Read more at: http://www.fz.com/content/viewpoint-wrong-deny-fundamental-rights-just-because-some-will-be-confused 
Posted: 16 Oct 2013 12:13 PM PDT
We can say that most Malays, even those with kopiah (skullcap) who go to surau, have little knowledge of their own religion, let alone of other religions. So, with their belief that only Muslims worship Allah, there is no doubt that a typical Malay reading a Christian article or bible with the word Allah all over would probably think that it is an Islamic text.
Mohd Izzudin Saedon, TMI
It is believed in Malaysia that 'Tuhan' is the general Malay word for the deity of any religion.
The recent Malaysian court ruling banning the word "Allah" from a Catholic newspaper denies religious freedom of the minority Christian community in Malaysia. How true is this?
Christians make up less than 10% of the Malaysian population. Although the percentage is higher than Hindus, the religion is a little uncommon among the native Malay Muslims, especially to those living in the peninsula. As the more familiar religions of Buddhism and Hinduism refer their deity in words alien to the native Malay Muslims, it is unofficially known that the word Allah denotes only the Muslim "Tuhan" or God in Malay.
Most Christians living in the peninsular are of Chinese and Indian ethnicity. While their numbers are relatively smaller than the Buddhists and Hindus, churches of various Christian sects are not rare. These churches do not use the Malay-language bible and no Malay is spoken or written in their sermons and religious stuffs. Instead, they use English or the mother tongue of the followers like Mandarin and Tamil.
God (in the context of Christianity) is never referred to as Allah. Furthermore, the word Allah itself is very foreign to these Christians with some obviously awkward in pronouncing the word. Before the Allah issue, almost all of these Christians would agree that Allah exclusively refers to the Muslim God.
However, things are very different in the other parts of Malaysia, Borneo. Almost 50% of the East Malaysian Bumiputeras (natives) are Christians. These Christian Bumiputeras use their native Iban, Dayak, Penan and other languages in everyday life. All these languages belong to the same group as the official Malay language with many common vocabulary and similar grammar. The use of 'Malayic languages' in their religious matters has lead to a controversial issue just recently. Today these Christians are not allowed to call their "Tuhan" as Allah anymore. Now, must they delete all the Allahs in their circulated Alkitab (Malay or Indonesian translation of the Bible) and think of a new name for their Lord?
The real issue
Christianity is not a new religion in this part of the world. Christian missionaries and traders have long spread their faith here with their gold, gospel, glory thingy ever since the Malay trading ports era. There are many Christian Malays outside Malaysia, maybe within Malaysia too, if one does not constitutionally need to be a Muslim to be considered a Malay.
One of the first men believed to have circumnavigated the world, Panglima Awang, who was baptized and known as Enrique of Malacca, was a Malay. Later in the modern world, there were suspicions that another Malay who sailed around the world, Azhar Mansor, had converted to Christianity. The man eventually denied that accusation. There's this unending, maybe inherited, fear that the Malay Muslims are in constant danger of being converted into another religion (especially Christianity as other religions such as Buddhism and Hinduism are not very popular in this once Hindu-Buddhist society). And there are real situations to base this fear on.
While spreading the teachings of other religions to Muslims is illegal in Malaysia, there are evidences that many Malays were converted into Christianity. Malay Muslims become restless as more and more murtad (apostate) cases are uncovered. Some are even concerned about the Orang Asli community who no Malay Muslim gives a damn about before, being proselytised by Christian missionaries although it is not illegal to do so to the mostly animistic Orang Asli.
Back to the Allah controversy, if non-Muslim non-Malay natives of Borneo have long been Christians and have long been introduced to Yesus Kristus, Ruhul Kudus and Allah as the hypostases in the doctrine of Tritunggal (Trinity), why is it that only recently the non-Islamic usage of Allah becomes controversial nationwide?
Is this not because of all the murtad cases igniting fear among Malay Muslims as I mentioned earlier? Let's not get to the argument over "rights of spreading the truth", "religious freedom", or that "Allah is used in the Arab world", yet. Let us first agree that the sole reason of this controversy is the fear among Malays that their ancient Muslim identity is being threatened by another "Allah-worshipping" religion.
Being born a Malay Muslim myself, like most Malays living in Malaysia, I cannot guarantee that I perform all the compulsory religious duties or that I do not enjoy any religiously forbidden things. What is important is that I believe in God. In contrast to most Malays, I do not believe in "Allah, the Malay God" but in God of the universe. He who creates the worlds but is not in this world. He who I believe has been worshipped by people of religion everywhere post=paganism, maybe earlier.
Read more at: http://www.themalaysianinsider.com/sideviews/article/allah-the-malay-god-mohd-izzudin-saedon 
Kredit: www.malaysia-today.net