Klik GAMBAR Dibawah Untuk Lebih Info
Sumber Asal Berita :-
---
Bahas dan bahas lagi di Malaysia
Posted: 02 Sep 2013 12:12 PM PDT
Kerajaan Malaysia kekal lama dan kerajaan Kelantan dapat bertahan, kerana ada jasa. Perbahasan tidak mengapa, tetapi kemasukan hasutan dan fitnah amatlah memeritkan.
Rahman Shaari, Sinar Harian 
Di negara kita, terlalu banyak perkara yang telah dan sedang dibahaskan. Kita yakin, banyak lagi topik yang menunggu giliran. Perbahasan-perbahasan itu ada yang amat berguna, tetapi ada juga yang gah untuk satu-satu masa, dan hilang apabila dirasakan tiada mileage lagi.

Tanpa membelek akhbar dan majalah lama pun kita dapat mengingati sejumlah perkara yang dibahaskan. Kita telah berbahas tentang baik dan buruknya kerjasama Pas dengan Umno. Isu itu tenggelam dan timbul. Kita berbahas tentang kalimah ALLAH.

Ada pihak mengatakan kalimah ALLAH untuk orang Islam sahaja, manakala pihak lain mengatakan kalimah itu  bebas untuk agama lain. 

Ada antara kita yang membawa idea bahawa polis zaman British tidak usah dianggap pejuang. Kata pihak ini, penyerang polis di Bukit Kepong ialah hero. Ini mengundang perbahasan. Seterusnya ada yang mengatakan Tanah Melayu tidak pernah dijajah.

Inggeris hanya datang berehat di sini. Ini juga mengundang perbahasan, kerana  jika tanah air kita tidak pernah dijajah, mengapakah kita menyambut Hari Kemerdekaan?
Kita juga berbahas tentang PTPTN, sama ada akan diteruskan, atau dihentikan.
Ada cadangkan agar wang diberikan terus kepada pelajar, tanda kerajaan mengamalkan kebajikan. Hal ini pun dibahaskan.

Para pendidik kita  berbahas tentang pengajaran Sains dan Matematik dalam bahasa Inggeris, sama ada bagus atau sebaliknya. Ada yang mengatakan pengajaran demikian  akan menjadikan pelajar kurang patriotik, tetapi ada yang mengatakan hal itu tiada kaitan dengan patriotisme. 

Nama bahasa kita pun dibahaskan: bahasa Melayu atau bahasa Malaysia? Ada yang berhujah mengatakan bahasa Melayu ialah bahasa yang tercatat dalam perlembagaan, manakala pihak yang satu lagi mengatakan bahasa Melayu untuk Tanah Melayu, bahasa Malaysia untuk negara Malaysia.

Kita asyik berbahas tentang perkara-perkara biasa, dan perkara-perkara itu dicari segi sensasinya. Kita tahu bahawa persahabatan Umno-Pas ialah sebaik-baik pilihan untuk kesejahteraan Malaysia, tetapi antara kita ada yang menimbulkan segi-segi lain yang  sensitif. Konsep asabiyah misalnya,  dimunculkan untuk membangkitkan kemarahan.

Jika kita bertolak daripada anggapan suci bahawa umat Islam bersaudara, Umno dan Pas sebenarnya bersaudara. Terlalu kerap orang membacakan surah yang menyatakan 'Berpeganglah kamu pada tali ALLAH jangan kamu berpecah belah'. Itu dikemukakan oleh ahli-ahli agama.
Bagi orang politik, setelah mereka mengatakan 'jangan kamu berpecah belah', mereka jugalah melancarkan semangat berpecah belah melalui perbahasan songsang. Ada yang mengatakan pihak musuh politiknya kurang beragama, atau kurang Islamik, padahal mereka menyedari makna al-Quran surah al Hujurat ayat 11. Pihak menuduh mungkin lebih buruk daripada pihak dituduh.
Berkaitan bahasa Melayu dan bahasa Malaysia, itu ialah nomen clature. Jika kita tidak pernah mengubah daripada bahasa Melayu ke bahasa Malaysia, maka bahasa Melayulah yang betul. Jika perubahan telah dilakukan, maka tunjukkanlah dokumen perubahan itu. Ertinya, perbahasan tidak diperlukan, tunjukkan saja apa yang betul.
Perbahasan yang kita langsungkan selama ini, sebahagiannya merugikan masa dan tenaga. Teruk-teruk satu pihak menjelaskan bahawa Pas elok berbaik-baik dengan Umno,  ada saja hasutan untuk menjarakkan kedua-dua parti tercinta itu. 
READ MORE AT : http://www.sinarharian.com.my/kolumnis/rahman-shaari/bahas-dan-bahas-lagi-di-malaysia-1.198039
Malaysia cuts subsidies on fuel
Posted: 02 Sep 2013 11:52 AM PDT
Malaysia has cut fuel subsidies for the first time in more than two years as it tries to cut its budget deficit. 
(BBC) - Some analysts said that the cut in fuel subsidies was an attempt by the government to boost investor confidence to ensure that they don't pull out of the country.
The subsidy on petrol has been cut by 20 sen (6 cents; 4 pence) a litre and on diesel by 20 to 80 sen a litre.
Prime Minister Najib Razak said the cuts would result in savings of about 3.3bn ringgit ($1bn; £650m) a year.
The government spent 24bn ringgit on fuel subsidies last year, which contributed to a widening budget deficit.
Malaysia's budget deficit, which is the amount the government spent above the amount it raised, was 4.5% of its gross domestic product (GDP) last year.
Ratings agency Fitch cited the high budget deficit as one of the factors that led it to lower the outlook on Malaysia's credit rating to negative from stable in late August.
"It's a process of fiscal consolidation," Mr Najib said. "The market will feel more confident if we can bring down our fiscal deficit."
'Defending the ringgit'
The change also comes at a time when Asia's emerging economies have been hit by an investor pull- out.
The pull-out has been triggered by speculation that the US central bank will soon begin to cut back on the amount of money it is pumping into the economy.
That has hurt currencies and stocks in these countries, including Malaysia, which has seen its currency, the ringgit, decline nearly 10% against the US dollar since May.
Some analysts said that the cut in fuel subsidies was an attempt by the government to boost investor confidence to ensure that they don't pull out of the country.
Should Palanivel stay or go? BN can't decide
Posted: 02 Sep 2013 11:43 AM PDT
(MMO) - "Palanivel must be firm and have his own principles with his decision to step down in 2016 even though he has received overwhelming support from the branch chairmen and members, or else the community will not believe in him as a leader," 
KUALA LUMPUR, Sept 3 — MIC president Datuk Seri G. Palanivel's hint that he may stay on beyond 2016 as party president has received mixed reactions.
MIC strategic director S. Vell Paari said if Palanivel continued to receive huge support from the branch chairmen and members, then he would have to follow the mandate to remain as president to strengthen the party.
"If the majority (of the branch chairmen) wants him to continue, he has the right to do so for the sake of the party," Vell Paari said.
MIC Youth chief T. Mohan said the majority of the branch chairmen had stated their stand.
"We have to abide by the mandate given by the members and will support him to chart the future direction of the party," he said.
He said the new mission was to strengthen the party by building support and creating greater confidence among the public.
Asked whether a decision by Palanivel to stay on would cause a rift in the party, Mohan said there were no factions within MIC.
"There is no Team A or Team B in MIC. The leadership is committed to making improvements to the party collectively," he said.
"We will give him full support as we believe he is a confident and genuine leader."
People's Progressive Party (PPP) national information chief Datuk A. Chandrakumanan said people should not "jump the gun" by quickly judging Palanivel on his statement.
"Palanivel must be firm and have his own principles with his decision to step down in 2016 even though he has received overwhelming support from the branch chairmen and members, or else the community will not believe in him as a leader," he said.
MCA vice-president Datuk Donald Lim Siang Chai said Palanivel should keep his word and step down in 2016.
"No one can stop him from contesting the party's top post again but he must fulfill his promise or people will lose trust in him," he said.
It was reported an understanding had been reached between Palanivel and his deputy, Datuk Seri Dr S. Subramaniam, that he would step down as the president in 2016, and
Dr Subramaniam would lead MIC into the next general election, due in 2018.
However, following mediation by Prime Minister Datuk Seri Najib Razak, a deal was struck between Palanivel and Dr Subramaniam to avert a contest.
Najib managed to pacify both parties and they agreed to a peace deal and an amicable transfer of power in March 2016.
Posted: 02 Sep 2013 09:54 AM PDT
Such a person will have no duty or obligation to help fellow Umno-members and comrades and will not be afraid to upset other "pressure groups" who will always use the Malay cause to get things for themselves. 
Zaid Ibrahim, TMI
The Deputy Prime Minister has called on UDA Holdings Berhad to return to its original aim of helping urban Bumiputera households and traders acquire properties.
Good, but unfortunately we have heard such exhortations and reminders countless times before.
UDA was established in 1971. According to its charter, it had the noble aim of promoting and carrying out urban development projects including improvements to the environment, services, amenities, traffic, parking, recreational and community facilities as well as "other public improvements for the promotion of national unity, health, safety, convenience and welfare".
The immediate policy goal of urban development was to achieve "the distribution of opportunities among the various races in the field of commerce and industries, housing and other activities".
We must remember that all this took place in the aftermath of 13 May 1969 and UDA's mandate was a very important part of the New Economic Policy to address the socioeconomic imbalances that had put the nation in jeopardy.
UDA had several excellent successes. Many of us know Bukit Bintang Plaza and Dayabumi, of course, but how many are aware that UDA was also instrumental in the development of Taman Tun Dr Ismail (including its iconic market), Bandar Subang Jaya, Bangsar Utama and Dataran Maybank, Puduraya (now Pudu Sentral) and Sinar Kota, Plaza Angsana in Johor and the Kuala Terengganu Golf Resort, to name a few.
And lest we get too chauvinistic, let us remember that UDA was a multiracial firm that worked with other multiracial firms.
So what went wrong? How was it that, in December 2011, then-Chairman of UDA Datuk Nur Jazlan Mohamed told Bernama that UDA was "facing problems implementing the Bumiputera Agenda"?
Why did UDA cave in so quickly to the demands of the MRT Corporation on its home ground in Bukit Bintang? Why were there problems with the balance sheet (so said the UDA managing director in June last year)?
Read more at: http://www.themalaysianinsider.com/opinion/zaid-ibrahim/article/let-a-chinese-manage-uda 
Apabila pemimpin Umno tak kenal Sang Saka Merah Putih..!!
Posted: 02 Sep 2013 09:47 AM PDT
Saya setuju dan iktiraf Tunku Abdul Rahman sebagai Bapa Kemerdekaan kita, tapi kenapa mahu nafi jasa kumpulan lain yang telah bergadai nyawa melawan penjajah. Kumpulan-kumpulan ini yang dilabel komunis oleh penjajah British, namun kenapa diteruskan label ini oleh Umno setelah 56 tahun kita merdeka?
Rakyat Marhaen 
Membaca tulisan YB Nur Jazlan di The Malaysia Insider  jelas menggambarkan bukan saja rakyat muda sahaja keliru identiti, malah pemimpin yang berpendidikkan juga boleh sesat dalam realiti.
Yang berhormat mempersoalkan bersungguh-sungguh mengapa seorang Sasterawan Negara dan aktivis mahasiswa tergamak mengibarkan satu bendera 'yang entah mana datangnya' pada malam sambutan kemerdekaan.
Bagi saya jika pemuda gerak gempur Umno tidak kenal sejarah dan bendera Sang Saka itu masih boleh dimaafkan, tapi bila seorang pemimpin Umno, tak perasan bendera Sang Saka (yang kemudiannya diciplak menjadi nama dan bendera Umno), ini sangat memalukan.
Kembali kepada persoalan YB Nur Jazlan, kenapa seorang  tua letih berjanggut dan seorang anak muda yang menggelegak darahnya sanggup mengibarkan bendera pertubuhan kiri pada malam sambutan hari kemerdekaan, jawapnya mudah; mereka dan saya yakin majoriti rakyat rentas generasi umur sudah muak apabila saban tahun hari kemerdekaan itu dibarisan nasionalkan. Pejuang-pejuang kemerdekaan dan semangat cinta negara itu diikat kepada parti pemerintah. 
Thousands Face Deportation in Malaysian Immigration Crackdown
Posted: 02 Sep 2013 09:10 AM PDT
A shadow of a migrant enforcement officer is cast on a makeshift shelter, built by suspected illegal migrant workers, as he tries to break a locked door during a crackdown on illegal migrant workers in Nilai, outside Kuala Lumpur September 1, 2013. 
(Voice of America) - The U.S. Department of State placed Malaysia on its Tier 2 human trafficking Watch List for the fourth consecutive year this year, because the government does not fully comply with the minimum standards for ending trafficking. 
More than 2,000 immigrants in Malaysia have spent the night in detention centers in a nationwide crackdown on illegal immigration that authorities say could deport hundreds of thousands of people.
Home Minister Ahmad Zahid Hamidi told the press the 2,433 detainees were among approximately 8,000 people examined by authorities in dozens of operations that began Sunday.
"This shows the seriousness of the Home Ministry and Immigration Department [to flush out the illegal immigrants]. Ours is not a spur-of-the-moment action," Ahmad Zahid said Monday, as quoted by Malaysia's national news agency, 
Bernama
.
The Home minister told reporters that so far, authorities have detained 717 Indonesian nationals, 555 Burmese nationals, 387 Bangladeshi nationals and 229 Nepali nationals. He said authorities also detained immigrants from Cambodia, Vietnam, India, Pakistan, the Philippines, China, Nigeria and Thailand.
Officials say more than 400,000 immigrants could be affected by the operation. Many of them hold low-paying construction and plantation jobs, while others work as domestic helpers or in massage parlors.
Thanks, but no thanks
Their labor has helped build Malaysia into Southeast Asia's third largest economy. But as the economy has weakened, concerns have grown among some Malaysians that foreigners could push down wages and drive up crime.
The government has vacillated in its approach to illegal immigration over the past decade, from whipping and fining people for working illegally in Malaysia, to registering 1.3 million of an estimated two million undocumented foreigners for an amnesty program in 2011.
Read more at: http://www.voanews.com/content/malaysia-arrests-thousands-of-asians-in-illegal-immigration-crackdown/1742006.html 
Ex-minister blasts The Star for touting low numbers for 'Tanda Putera'
Posted: 02 Sep 2013 08:45 AM PDT
(MMO) - "However, it must be remembered that those who watched the film are society's selected, viewers who are of quality regardless of how small, people who care to understand and judge out nation's history. Among them will be our leaders, small and large, of the future," said the former Utusan Malaysia journalist.
Former information minister Tan Sri Zainuddin Maidin today slammed The Star newspaper for reporting poor turnouts for controversial film "Tanda Putera," alluding it to be a larger trend of alleged "self isolation" by the Chinese community.
Zainuddin also questioned the MCA-owned daily's motives in publishing a report yesterday that claimed there were not many moviegoers who went to watch the film, which is director Datin Paduka Shuhaimi Baba's take on Malaysia's turbulent history surrounding the May 13 riots in 1969.
"It is common for serious films based on true historical fact, that are not based on fantasy, to find it hard to get a response.
"However, it must be remembered that those who watched the film are society's selected, viewers who are of quality regardless of how small, people who care to understand and judge out nation's history. Among them will be our leaders, small and large, of the future," said the former Utusan Malaysia journalist.
Zainuddin, who maintains a blog called "Zamkata", further criticised The Star for allegedly taking a materialistic perspective on the government-funded film that cost nearly RM5 million, claiming that the daily would not have attempted to put down "Tanda Putera" had it not "embodied DAP's spirit and doctrine".
"We should not be concerned over the large production cost and make it a big issue. The value of 'Tanda Putera' in planting the seeds of understanding our national history, of the betrayal and racial development and to instil patriotism, is greater than the value of money," he claimed.
"Tanda Putera" was originally slated to be released on September 13 last year, but its showing was shelved after it sparked controversy over how it allegedly portrayed the Chinese community as antagonists in relation to the deadly May 13 racial riots.
Tourism Minister Datuk Seri Nazri Aziz had categorised the film as "well-researched" and reflects the "reality" of the situation then.
But Shuhaimi has previously clarified that it was a work of fiction despite earlier vouching for its "historical accuracy".
Zainuddin also questioned the patriotism at The Star, saying that while other mainstream newspapers carried front-page splashes on the Merdeka Day celebrations on Sunday, the English daily instead opted to focus on plans to continue with construction of the second Penang Bridge in their Penang edition.
"However, I hope the public do not take seriously the efforts by some parties to isolate themselves from the nation's mainstream especially in the field of education," he said, in an apparent swipe at the Chinese community's fierce defence of the vernacular system.
"Let the Chinese continue to strive through the media and other avenues for self isolation. Leave them with their own identity, but what is important is for the government to strengthen the national mainstream especially in giving a high quality in education," he said. 
Upset Malaysians dismiss Putrajaya cash handout, believe fuel price hike precursor to more bad news
Posted: 02 Sep 2013 08:41 AM PDT
People queue up at petrol station to refuel their tanks in Petaling Jaya. 
(TMI) - Well, the government has got nothing to worry about now because the elections are over.
Thousands of outraged Malaysians queued up for fuel last night ahead of a price hike, venting their anger at Putrajaya for cutting subsidies while promising more cash handouts to offset a 20-sen rise in pump prices.
Most of them when met in petrol stations in the Klang Valley pointed out they are not eligible for Bantuan Rakyat 1Malaysia (BR1M) cash handouts which the Najib government had promised to increase in Budget 2014.
That special handout of RM500 was paid to some five million households earning RM3,000 a month and below
They also felt that the pump price rise was sudden and suspect more bad news in the form of the controversial goods and services tax (GST) will soon follow. The tax has been on the drawing board for the past decade but has yet to be law.
Before Prime Minister Datuk Seri Najib Razak announced the fuel price hike that would save the government RM3.3 billion annually, RON95 was sold at RM1.90 per litre while diesel was RM1.80 per litre. After midnight it was RM2.10 and RM2.00 respectively.
A businessman who wanted to be known only as YK said the price hike will definitely burden those from the lower-income group.
BR1M, he said, will not make a difference as not everyone is eligible for the special handout.
"It does not make a difference to me because I am not eligible for it. The cost of living will still go up for me," the 45-year-old told The Malaysian Insider.
YK, along with insurance agent Nor, 34, were among those who queued up for at least 45 minutes at the Bandar Puteri petrol station in Puchong last night following the prime minister's announcement.
Nor, who is also not eligible for BR1M,  said the hike would really hit those who had families.
"Everyone knows the cost of living will go up when the price of petrol increases. It came as quite a shock to me (the announcement)," said the mother-of-two.
"It is not fair. Not everyone gets the BR1M. Although it won't make a significant change, it is still something."
YK agreed, noting that from today onwards, everything, from food to household items, would cost at least 20 sen more.
Read more at: http://www.themalaysianinsider.com/malaysia/article/upset-malaysians-dismiss-putrajaya-cash-handout-believe-fuel-price-hike-pre 
Police detain Hishammuddin and Adam Adli at Dang Wangi
Posted: 02 Sep 2013 08:38 AM PDT
(Astro Awani) - Political activist Hishamuddin Rais and student activist Adam Adli have been detained at the Dang Wangi District Police Headquarters on Monday to facilitate investigations on the flying of a flag created by irresponsible quarters during the 56th Merdeka Day celebrations at Dataran Merdeka.
Kuala Lumpur CID chief Datuk Ku Chin Wah confirmed the incident to Bernama and said the duo were detained under Section 4(1)(b) of the Sedition Act 1948 and Section 505 (b) of the Penal Code.

The incident occurred last Friday, when a group flew the flags to purportedly replace the Jalur Gemilang, on the night of the 56th independence celebrations at Dataran Merdeka.

Prior to this, Kuala Lumpur police chief Datuk Mohmad Salleh had announced the setting up of a team to investigate the incident.
Undocumented Migrants are not Cockroaches
Posted: 02 Sep 2013 08:17 AM PDT
One would have been forgiven to think that the newspapers were writing about an operation to rid the country of cockroaches or some other vermin: "No place to hide"; "…will be hunted down…"; "to flush out unwanted foreigners"…  
Dr Kua Kia Soong, SUARAM Adviser 
The hypocrisy and injustice of the on-going mass operation against undocumented migrants has been accompanied by the most unfortunate use of language by the mainstream press in this campaign. One would have been forgiven to think that the newspapers were writing about an operation to rid the country of cockroaches or some other vermin: "No place to hide"; "…will be hunted down…"; "to flush out unwanted foreigners"… 
The hypocrisy of this mass operation is exposed when we are reminded of "Project IC", when foreigners were given identity cards so they could vote in elections. The existence of seafront ghettoes all along the Sabah coastline has come about through the connivance of the authorities especially when the government was providing training for the Muslim insurgents who were fighting the Marcos regime. The numbers of undocumented migrants in the peninsula have varied according to the political will of the government. Employers have also made use of migrant labour as it has suited them. 
The injustice of the current mass operation is seen in the failure of the government's "Illegal Immigrant Comprehensive Settlement (6P) Programme to properly register migrants. Consequently, there are those whose work permits are pending renewal; others who have been cheated by the companies tasked by the government to register the migrants. There are also migrants whose work permits have been terminated by their employers because they have brought cases in the Labour Tribunal or the courts. Tenaganita has also reported cases of government-approved companies that have outsourced the dispensing of work permits to "shell companies" which have cheated the migrant workers. 
The Malaysian Immigration Act 1959/63 does not differentiate between migrants and refugees. Unlike migrants, refugees and asylum seekers have a well-founded fear of persecution in their homeland; hence they flee their country of origin and cannot return home. The principle of non-refoulement in  Article 33 (1) of the 1951 Refugee Convention states that: "No Contracting State shall expel or return ('refouler') a refugee in any manner whatsoever to the frontiers of territories where his life or freedom would be threatened on account of his race, religion, nationality, membership of a particular social group or political opinion." 
After 56 years of independence, it is sad that our government has not imbibed the culture of human rights, nor has our mainstream press learnt to use humane language. How ironical that the South African president Zuma should be given a honorary doctorate for humanity (sic) by a local university after South African police had only recently shot dead more than 30 striking miners at Lonmin platinum mine.
Fuel hike - Najib is personally responsible for the consequences of human disaster
Posted: 02 Sep 2013 08:14 AM PDT
In other countries where public transport services are adequately and efficiently provided, petrol price increase will encourage private car drivers to switch to public transport. However, in the case of Malaysia, each fuel hike exercise means more deaths on the road.
Liew Chin Tong
Research has shown that motorcycle fatalities shot up as a result of the March 2006 and June 2008 fuel hikes as the lower income group switched transport modes from cars to motorcycles. A new human disaster of more motorcycle fatalities is imminent, following the latest petrol price increase.  
​ 
Prime Minister Dato' Seri Najib Tun Razak is personally responsible for the failure of the government in providing adequate public transport services ever since he called on Malaysians to "change their lifestyle" when announcing the fuel hike in March 2006 in his capacity as Deputy Prime Minister.
When announcing the fuel hike today, Prime Minister Dato' Seri Najib Tun Razak argued that with a higher amount of 1Malaysia assistance (BR1M) , the impact of the increase would be absorbed.
But what the government is not acknowledging is the human cost of increasing the petrol price without providing adequate, efficient and affordable public transport services.
Malaysia has the dubious record of having the highest road fatality risk, i.e. death per 100,000 population, in the world since 1996.(1) Between 2000 and 2009, 4.5 million road accidents were reported with 58,582 deaths.(2)
Motorcycle fatalities are 3 times higher than car fatalities, 6 times higher than pedestrian fatalities and nearly 50 times higher than bus passenger fatalities.(3)
In other countries where public transport services are adequately and efficiently provided, petrol price increase will encourage private car drivers to switch to public transport. However, in the case of Malaysia, each fuel hike exercise means more deaths on the road.
Najib announced the government's commitment to improve public transport with a RM4.4 billion fund in March 2006 but nothing much happened since then.
Most of the so-called public transport projects such as the long delayed LRT extension project and MRT project are Kuala Lumpur-centric with no national relevance.
These are essentially mega projects designed to feed the big construction lobby than to improve public transport throughout the country.
​In fact, the estimated RM1.1 billion subsidy reduction from this exercise is less than the amount lost due to diesel fuel smuggling.
I call on the Government and Prime Minister Najib to acknowledge the human cost of more motorcycle fatalities as a result of the latest fuel hike and take immediate action to formulate a national transport plan with the focus on providing adequate, efficient and affordable public transport services nationwide. 
Who invented God's house anyway?
Posted: 01 Sep 2013 05:26 PM PDT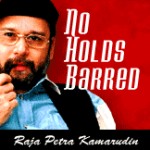 Muslims believe that Satan entered into an 'agreement' with God. And that agreement was that Satan was going to prove to God that humankind is weak and does not deserve to become the vicegerent on earth -- hence Satan was justified in defying God by not kowtowing to humankind. Muslims also believe that God accepted Satan's challenge and told Satan to do his worst. Satan then made it his (or her) mission to lead humankind astray.
NO HOLDS BARRED
Raja Petra Kamarudin
Dr M: Muslims have prayed in churches-turned-mosques
(The Star) - Muslims have prayed in churches-turned-mosques, former prime minister Tun Dr Mahathir Mohamad pointed out in response to the controversy surrounding a surau in a resort at Johor after Buddhist tourists used it to meditate.
"In Malaysia there are churches turned into mosques. In British times, the Terendak Camp in Malacca had a church for British troops. If I'm not wrong, the church was later turned into a mosque (Masjid al-Syuhada) for Malay soldiers," said Dr Mahathir in a recent blog entry on chedet.cc.
He also pointed out that when Constantinople was conquered by Sultan Mehmet II, the church Hagia Sophia was turned into a mosque.
"Similarly, some churches were turned into mosques in Hungary when the country fell to the Ottoman Turks. In Cordoba and Granada, mosques were turned into churches when the area was conquered by Spanish Catholics."
However, Dr Mahathir said that if the congregation of the surau in Johor's Tanjung Sutera Resort rejected the place of worship, then it was their right to make the decision to destroy it.
The surau was demolished last Wednesday, and the Singaporean resort owner's PR status revoked.
***********************************************
There is an ongoing quarrel regarding a Hindu temple in Kuala Lumpur and it appears like this quarrel has united components of the ruling party and the opposition (at least as far as MIC and PKR are concerned). Or maybe MIC and PKR are fighting with each other to become the jaguh kampung for Hindu rights. That is probably more like it -- both trying to outdo each other as the champion of the Indians.
Meanwhile, it appears like the Johor surau (prayer hall) issue is still ongoing as well going by the statement of the ex-Prime Minister, Tun Dr Mahathir Mohamad.
Actually, Dr Mahathir is right. Many churches in the UK have been turned into mosques. In Manchester, many mosques were once upon a time churches. Do you know there were cases where the church authority chose to sell the old and unused churches to the Muslims so that they can be turned into mosques because if not then these churches would be turned into clubs and bars?
Anyway, in the first place, where did this concept of the house of God come from? This is merely the creation of humankind. Somehow humankind needs to place God in a home so we create houses for God. And then we quarrel over them.
Many religions, the Abrahamic faiths in particular, are monotheist in nature. This means these religions believe that there is only one God and that this is the God for everyone. In other words, we all 'share' the same God, so to speak. Your God is also my God. The God who created the Jews also created the Christians, the Muslims, the Hindus, the Buddhists, and so on. There is no separate God for the Jews, the Christians, the Muslims, the Hindus, the Buddhists, and what have you.
This is the monotheist belief. Hence we should all be praying in the same house of God. The Muslims who pray to Allah should share their prayer room with the non-Muslims since this same God also created the non-Muslims. For the Muslims to say that each religion should have separate houses of God would be like the Muslims acknowledging that there is more than one God.
Granted that each religion may adopt different prayer rituals. However, while the rituals may differ, the prayers are ultimately targeted at the same One God. You can pray in any language and in any manner that you believe is the correct form. In the end, you still offer these prayers to the same God that created everyone.
The Abrahamic faith or monotheist belief is that in the beginning there was only one person called Adam. Then God created Eve as a companion of Adam. And from these first two humans came all the rest of us.
In other words, based on the Abrahamic faith belief, every human is a descendant of Adam and Eve. We are all related to one another and are, in a way, distant cousins. In short, we all share the same blood.
We may feel that many of our 'distant cousins' have deviated from the true path and now believe in the wrong thing (in other words have strayed from the true religion of God). But did God not say that He intentionally created humankind in many 'colours' so that we may know one another?
If we believe this and also believe that God does not lie then we must also believe that God purposely created us differently and with different beliefs not so that we can become divided but so that we can get to know each other better. Would not then dividing ourselves go against the very purpose of why God created us differently and would this not be a violation of God's wishes?
Muslims believe that Satan entered into an 'agreement' with God. And that agreement was that Satan was going to prove to God that humankind is weak and does not deserve to become the vicegerent on earth -- hence Satan was justified in defying God by not kowtowing to humankind. Muslims also believe that God accepted Satan's challenge and told Satan to do his worst. Satan then made it his (or her) mission to lead humankind astray.
Maybe this is Satan's mission, to create strife and disagreement amongst humans. And if this is Satan's mission then we must admit that Satan has succeeded. Humankind is so divided and quarrel over God, God's word, God's religion, God's house, and whatnot.
We all believe that we are right and the other person is wrong. And we believe so because we believe we are following the word of God. But we are not really sure whether what we believe came from God or is the work of Satan, as what he (or she) promised God, to mislead and divide us to show God that we are merely weak fools.
When what we believe are 'hand me down' teachings and not the product of well thought out ideas this is what you end up with -- Satan's 'teachings' camouflaged as teachings of God.
In the end, Satan has succeeded in his (or her) mission in misleading humankind into believing silly things and then thinking that this is actually what God wants us to do.
Of course, this all depends on whether you believe in the story of God and Satan and the agreement that Satan made with God. If not then you would consider all this just another myth in the many myths that humankind believes is the truth.
1,000 nabbed as KL begins crackdown on illegal migrants
Posted: 01 Sep 2013 04:22 PM PDT
Malaysia launches nationwide raid, plans to deport 400,000 in largest clampdown to date
(Dow Jones) - The Malaysian authorities arrested about 1,000 migrant workers yesterday as the country launched a large-scale immigration operation to flush out and swiftly deport nearly half a million illegal foreign workers, its largest crackdown to date on low-wage migrant labour at plantations and factories.
The move signals the government's resolve to separate the legal from the undocumented immigrant workforce in an effort to cut surplus labour and trim a huge social cost arising from hosting a large population of foreigners, who make up more than 16 per cent of the total workforce in the nation of 29 million people.
"In the first phase of this operation that will continue until this year-end, we plan to arrest and deport about 400,000 illegal immigrants and arrest about 45,000 employers of such workers," said Mr Saravana Kumar, Deputy Director at Malaysia's Immigration Department.
About 1,000 migrant workers were arrested across the country yesterday, said Mr Saravana, adding that employers who hire illegal immigrants can be fined up to RM50,000 (S$19,400) or face jail time of up to five years or six strokes of the cane, or all three.
Malaysia has telegraphed the raids for more than a week and it is unclear how many migrants may have fled before they began. The country is a magnet for migrants from neighbouring Indonesia, the Philippines, Myanmar and South Asian nations such as Nepal and Bangladesh.
The latest drive is targeting those who had registered under an amnesty programme for illegal immigrants launched two years ago but never showed up for further processing, which could have included legalisation or voluntary deportation. About 1.3 million of an estimated two million illegal foreign workers had registered. Of them, about 500,000 were legalised and 330,000 were repatriated.
Hosting a huge foreign workforce strains public services such as security, health, transportation and education. Malaysia has been tightening employment rules for unskilled foreign workers. Migrant workers totalled nearly 1.6 million in 2011, down 23 per cent from two million in 2007, Ministry of Human Resources data shows.
"The economy is softening, growth is moderating, and this makes it an ideal time to shed the excess illegal foreign workers," said Dr Shankaran Nambiar, Senior Research Fellow at the Malaysian Institute of Economic Research.
A team of 150 officers from the Immigration Department, led by deputy director Saravana Kumar, yesterday went on pre-dawn raids around the administrative capital Putrajaya and detained 71 foreigners without valid documents.
Raids nationwide would include squats, farms, entertainment and massage parlours, he said.
In one swoop on a rickety settlement on the fringes of a palm plantation, the arrival of a convoy triggered a chaotic rush among residents, some of whom tried to escape to a neighbouring forest. Most were soon caught. Groups huddled meekly in handcuffs as their identities were checked.
"I have never experienced such a thing in the past six years that I have been working in Malaysia," said Mr Manik Sheikh, a Bangladeshi, who waited patiently. He was later released.
The often-illiterate workers can find themselves caught between potentially unscrupulous employment agencies and the risk of being apprehended by immigration authorities. This leaves them vulnerable to wage theft and mistreatment.
Hishamuddin Rais yakin kerajaan perpaduan jadi kenyataan
Posted: 01 Sep 2013 04:05 PM PDT
Zulkifli Sulong, TMI
Semua pihak cuba menjauhkan diri daripada agenda kerajaan perpaduan namun bagi aktivis sosial, Hishamudin Rais, keadaan itu ambat laun akan berlaku juga.
"Saya positif, ia akan berlaku," katanya kepada The Malaysian Insider ketika bertemu dengannya, pagi ini.
Asia Sentinel sebelum ini melaporkan, Ketua Umum PKR, Datuk Seri Anwar Ibrahim mengesahkan kepada mereka, Perdana Menteri, Datuk Seri Najib Razak menawarkan pembentukan kerajaan perpaduan dengannya.
Dalam ucapannya sempena Hari Kemerdekaan negara pada 30 Ogos lalu, Anwar berkata, walaupun pihaknya tidak bersetuju dengan cara pengendalian pilihan raya lalu, tetapi pihaknya sedia untuk bertemu dengan Najib bagi membincangkan segala masalah negara.
Sehubungan iu, Anwar turut menggesa pertemuan segera diadakan antara Pakatan Rakyat (PR) dan Barisan Nasional (BN).
"Titik pertemuan BN dan PR perlu segera dicari bagi menyelamatkan negara di samping menyeru melupakan kesalahan masing-masing sempena hari kemerdekaan negara," katanya pada satu sidang media di Ibu Pejabat PKR di Petaling Jaya, minggu lalu.
Namun, Anwar menegaskan dalam majlis itu, ia tidak ada kaitan dengan isu kerajaan perpaduan.
Hishamuddin yang juga penulis berkata, kenyataan Anwar itu jika dibaca daripada yang tersirat bermaksud ke arah menubuhkan kerajaan perpaduan.
Katanya, walaupun ramai aktivis sepertinya tidak akan bersetuju dengan pendekatan ini, beliau tidak akan menentangnya.
"Saya yakin mereka akan marah dengan tindakan ini kerana ia tidak akan menyebabkan perubahan struktur yang kita mahu. Ia akan hanya berlaku perubahan menggunakan 'gincu dan bedak' sahaja.
"Tetapi ini adalah salah satu proses dalam pematangan kepada sebuah negara dan saya faham keperluan kepada perkara ini," katanya.
Rakyat 'suspects everybody and trust nobody'
Posted: 01 Sep 2013 04:01 PM PDT
Aspan Alias, TMI
Banyak cadangan dari banyak pihak supaya Anwar mencadangkan dialog perpaduan yang beliau mahukan itu di Parlimen jika serius untuk melihat perpaduan itu. Ramai berpendapat jika ia dilakukan cara itu, ia jalan paling 'transparent' sekali dan boleh dilihat dan didengar rakyat yang sedang dalam pencarian ini.
Dengan cara itu maka ia bermakna membawa rakyat sekali bersama-sama untuk mengambil keputusan besar itu dan jika hasilnya tidak sebaik mana pun, rakyat akan menerima beban kegagalan itu. Rakyat akan merasakan yang mereka dibawa bersama dalam mengambil satu-satu keputusan besar itu.
Ia tentu lebih baik daripada berunding antara dua orang yang sedang dalam keadaan terdesak dan mahukan rakyat menerima sahaja apa yang mereka berdua putuskan. Berunding cara terbuka ini yang sebaik-baik cadangan daripada perundingan yang dilakukan dalam semak atau di sebalik bukit yang tidak diketahui umum.
Berunding dalam gelap ini, walaupun berdua sahaja mereka akan ditemankan oleh pihak ketiga, iaitu syaitan dan iblis. Syaitan dan iblis akan sentiasa menghasut untuk mempengaruhi segala keputusan mengikut kemahuan batil yang menguasai diri mereka yang berunding itu. Jika dilakukan perundingan hanya berdua sahaja, maka pihak ketiga yang tidak nampak di pandang mata itu akan menghasut sesama mereka berdua sebelum sebarang keputusan diambil.
Iblis dan syaitan akan menasihatkan mereka berdua untuk bersetuju bagi menutup kesalahan mereka kepada rakyat. Iblis dan syaitan akan menutupi segala kesalahan mereka (jika ada) daripada pengetahuan rakyat yang sebenar-benarnya empunya kepada negara dan hartanya sekali. Dua orang yang dihasut iblis dan syaitan itu akan digerakan oleh pengaruh batil itu untuk berjanji melindungi masalah masing-masing dari pengetahuan rakyat khususnya kepada ahli parti masing-masing.
Maka perundingan secara terbuka itu tentu di Dewan Parlimen premis yang paling sesuai untuk matlamat perpaduan itu. Berunding secara terbuka itu akan dapat menyelesaikan masalah rakyat sekali. Jika mereka berunding dalam semak dan belukar mereka akan hanya menumpukan kepada menyelesaikan masalah peribadi mereka sahaja.
Rakyat akan bertanya kepada Najib, sudahkah perundingan itu dipersetujui komponen BN sebelum berunding? Bagitu juga bagi Anwar, sudahkah PAS dan DAP dimaklumkan dan mendapat persetujuan mereka? Rakyat  tidak boleh dibohongi lagi kerana mereka (rakyat) sudah mengenali siapa mereka yang sedang dalam perundingan itu.
Rakyat mampu bersama memberikan input terhadap isu yang dikatakan sebagai isu penting untuk dibincangkan dan tidak akan hanya tertumpu untuk mengatur siapa yang menjadi Perdana Menteri dan Timbalan Perdana Menteri pertama dan kedua misalnya.
Anwar lebih disanjung jika terus melawan
Posted: 01 Sep 2013 03:58 PM PDT
Shahbudin Husin, TMI
Sehingga kini dialog PR dengan BN yang diusulkan Anwar Ibrahim masih lagi menjadi misteri. Misteri dalam erti kata sama ada ia sekadar dialog untuk kepentingan rakyat dan negara atau dialog itu petanda awal ke arah kerjasama dan penyatuan antara Najib dan Anwar. Hanya Anwar yang tahu apa isi hatinya yang sebenar.
Sementara tawaran Anwar itu disambut dingin kebanyakan pemimpin Umno dengan ada yang mempertikaikan niat dan tujuannya manakala ada pula yang mahu cadangan dialog itu dibawa ke Parlimen, Najib sehingga ini masih lagi berdiam diri mengenainya.
Anwar pula, sebagaimana pendirian awalnya, kekal bahawa dialog itu semata-mata membincangkan isu kepentingan rakyat dan negara seperti mengenai agama, kaum, keselamatan dan ekonomi serta menolak sama-sekali menjurus ke arah penubuhan kerajaan perpaduan.
Namun pendirian kebanyakan pemimpin Umno yang menolak tawaran Anwar itu menampakkan kebimbangan mereka terhadap kerjasama Najib dengan Anwar dan juga penubuhan kerajaan perpaduan yang mungkin akan terlaksana kiranya dialog itu menjadi kenyataan.
Di pihak Pas dan DAP pula, mereka juga nampaknya tidak memberi respon dan keghairahan terhadap tawaran dialog yang diusulkan Anwar itu. Pimpinan kedua-dua parti itu belum lagi memberi sebarang kenyataan atau ulasan, baik mengalu-alukan atau pun menolak cadangan Anwar itu walaupun ia dibuat atas nama Pakatan Rakyat.
Mungkin Pas dan DAP mahu berhati-hati dan tidak mahu terjebak dalam percaturan yang masih belum diketahui siapa untung dan siapa ruginya ini.
Tetapi usul atau tawaran yang dibuat Anwar kepada Najib ini, walaupun atas nama menyuburkan amalan demokrasi dan demi kepentingan rakyat dan negara, ia sedikit-sebanyak mencalarkan keteguhan perjuangan Anwar selama ini dan membuatkan ramai orang mulai curiga terhadapnya.
Sesudah 15 tahun melakar tanda aras baru dalam politik Malaysia sejak dipecat pada 2 September 1998, terutama dengan merangsang kebangkitan anak muda serta menimbulkan kesedaran mengenai pelbagai aspek dalam kepimpinan dan kenegaraan, ramai yang mengharapkan Anwar tidak cepat mengalah dan meneruskan apa yang diasaskannya itu.
Slogan reformasi, perubahan, lawan tetap lawan dan sebagainya yang sering menjadi basahan bibir Anwar selama ini sebenarnya masih diperlukan lagi.
Walaupun usaha menubuhkan kerajaan masih belum berhasil tetapi dengan peningkatan kejayaan PR yang jelas ketara sejak 2008 manakala dalam pilihanraya 2013 pula hanya kekurangan 23 kerusi tetapi berjaya mendapatkan majoriti hampir 52 peratus sokongan rakyat, masa depan Anwar dan PR dipercayai lebih cerah dalam pilihanraya empat atau lima tahun lagi.
Pemuda PAS ragui cadangan Anwar
Posted: 01 Sep 2013 03:47 PM PDT
Anwar perlu merujuk sebarang keputusan dengan Majlis Presiden Pakatan Rakyat sebelum mengeluarkan sebarang kenyataan
Jamilah Kamarudin, FMT
Pemuda PAS mempersoalkan tindakan Ketua Pembangkang Datuk Seri Anwar Ibrahim yang mahu mengadakan rundingan meja bulat dengan kerajaan Barisan Nasional (BN) tanpa merujuk kepada pemimpin tertinggi Pakatan Rakyat terlebih dahulu.
Naib Ketua Dewan Pemuda PAS Malaysia (DPPM) Dr Raja Ahmad Al-Hiss berkata, Anwar perlu merujuk sebarang keputusan dengan Majlis Presiden Pakatan Rakyat sebelum mengeluarkan sebarang kenyataan untuk bertemu dengan BN.
"DPPM merasa musykil mengapa Datuk Seri Anwar begitu beriya-iya mengajak kerajaan berbincang sedangkan sebelum ini begitu teruk Presiden PAS dan pimpinan PAS yang lain dihentam ketika cadangan mengajak kerajaan BN mengadakan perbincangan?
"Dalam hal ini, DPPM sekadar mengingatkan Datuk Seri Anwar agar berhati-hati dalam permainan politik musuh
"Apa yang dibimbangkan adalah beliau terperangkap dengan politik individu atau segolongan mereka yang berkepentingan," katanya dalam kenyataan hari ini.
Anwar dalam perutusan sempena Hari Kemerdekaan ke-56 minggu lalu memberi tawaran kepada Perdana Menteri Datuk Seri Najib Razak supaya segera mengadakan rundingan meja bulat antara kerajaan BN dan Pakatan Rakyat bagi membincangkan isu semasa yang semakin kritikal.
Antaranya isu perpecahan perkauman, peningkatan jenayah, defisit fiskal ekonomi dan eksploitasi hal-hal keagamaan.
Beliau turut menyatakan kesediaan untuk mengenepikan perbezaan dan persengketaan keputusan pilihanraya umum lalu (PRU13) demi masa depan negara.
Sudah ada akhbar yang takut kepada Ku Li
Posted: 01 Sep 2013 03:42 PM PDT
Nampak sangat akhbar ini ada motif nak memalukan Ku Li sedangkan Ku Li sudah buat keputusan berundur jadi Ketua Bahagian Jumaat lalu. 
Zabidi Saidi, FMT
Ahli parlimen Gua Musang, Tengku Razaleigh Hamzah atau lebih mesra dengan penggilan Ku Li belum buat pengumuman jawatan apa yang akan ditandingi pada 19 Oktober nanti, tetapi sudah ada akhbar harian milik Umno yang takut kepada Ku Li.
Apa motif akhbar itu menyiarkan berita "Jawatan Ketua UMNO Gua Musang disandang Ku Li dicabar " pada hari ini sedangkan pada Jumaat lalu Bernama sudah melaporkan Ku Li tidak akan mempertahankan jawatan Ketua Bahagian.
Nampak sangat akhbar ini ada motif nak memalukan Ku Li sedangkan Ku Li dalam laporan Bernama pada hari Jumaat lalu telah mengatakan , "Sudah sampai masanya untuk saya berundur dan carilah pemimpin baharu yang lebih jujur dan adil dalam memberi khidmat kepada rakyat".
Akhbar arus perdana itu melaporkan Ku Li yang menyandang jawatan itu sejak 51 tahun lalu akan dicabar pada pemilihan parti itu Oktober ini.
Akhbar itu menulis menurut sumber, nama yang disebut-sebut akan bertanding merebut jawatan itu adalah Ketua Pemuda UMNO Gua Musang sendiri iaitu Datuk Bazlan Baharuddin dan beberapa nama lain.
Sumber tersebut berkata, pemilihan kali ini adalah platform terbaik untuk mana-mana pemimpin muda menampilkan diri selaras dengan hasrat ahli akar umbi UMNO sendiri yang mahu melihat lebih ramai pemimpin muda diangkat naik.
Selain itu, sumber tersebut turut memaklumkan bahawa seorang bekas Ahli Dewan Undangan Negeri (ADUN) di daerah itu akan turut mencabar jawatan Timbalan Ketua UMNO Bahagian yang kini disandang oleh ADUN Nenggiri, Mat Yusoff Abdul Ghani.
Nampak sangat editor akhbar itu tidak membaca berita Bernama Jumaat lalu kerana masih lagi menyiarkan berita yang out of date. Buat malu sahaja akhbar arus perdana itu.
Bernama melaporkan bahawa PRU13 lalu adalah yang terakhir baginya tetapi beliau masih meneruskan khidmat kepada penduduk di kawasan itu sehingga ada pemimpin baharu yang dapat menggantikannya.
Posted: 01 Sep 2013 03:35 PM PDT
At the present going rate, the 2020 targets will likely be missed, says the Oxford Business Group.
Paulius Kuncinas, FMT
Malaysia continues to inspire other nations seeking to avoid the so-called 'Resource Curse'. Yet the country that managed to circumnavigate 'the Paradox of Plenty' struggles to reach escape velocity to break free from the much cited 'Middle Income Trap'.
To be sure, the 'top down' policy cure that has been administered over the last five years has helped to deliver respectable GDP numbers. However there is no running away from the fact that at this rate of expansion, the 2020 targets will likely be missed.
The risks are currently concentrated on the downside.
It seems that structural domestic factors rather than external constraints account for this relative underperfomance. Rather than facing a popular 'Middle Income Trap' paradigm, Malaysia may be in fact experiencing another form of 'Resource Curse'.
Still rich in natural resources, Malaysia relies substantially on manufacturing and legacy low cost advantages at a time when increase in productivity ought to be the dominant engine of growth.
The shift in productivity is taking place but very slowly. At around 4.55% a year, it is behind benchmark countries such as China that regularly posts productivity growth of above 8%.
Nowhere else is this more manifest than in the service sector statistics. Although services attracted the largest volume of approved investments back in 2011, it continues to account for just 54.6% of GDP compared to 70% and above common in advanced economies.
Service sector contribution would need to grow at least three times faster to reach the 70% benchmark by 2020.
The structure of services at a more granular level reveal a structural vulnerability. Some 50% of investment in Malaysia's service sector in 2012 came from the real estate compared to 0.3% in health services and 0.8% in education services.
In a country where already 73% of the population live in urban areas compared to 34.4% in Thailand, this could be seen as putting a lot of eggs in one basket.
Some analysts would argue a great deal of new real estate stock is catering for growing foreign demand in retail and hospitality. However a run up in household debt recently suggests another real estate bubble could be in the works.
Magic ingredient missing
To keep things in perspective compared to majority of Asean countries, Malaysia has run a tight macroeconomic ship with lower inflation and relatively stable sovereign and corporate balance sheets over the last five years.
It has done more to liberalise its transport, telecommunications and financial services sectors punching above its weight in FDI dollars. However the magic ingredient that will propel Malaysia to a higher income status still seems to be missing.
The real concern in the medium term as echoed by the credit rating agencies such as Fitch recently is that the engine of government stimulus and spending is about to be tested.
With debt to GDP at 51.7% compared to 39.8% back in 2008, the public sector has some room for manoeuvre.
However if Malaysia continues to add sovereign debt at the same rate, it may end up at 80% by 2018 roughly where Spain was before the 2008 crisis.
Economists often point out that as a net surplus country with a relatively high savings rate of 35% between 2008-2015 Malaysia has sufficient access to domestic liquidity and therefore does not need to borrow abroad.
The reality is with Malaysia's population aging along with the rest of Asia, its pension liabilities are also growing. Credit analysts also point to another 15% of government contingent liabilities.
The bottom line is that the Malaysian economy can no longer rely on government sector for growth – a central theme of the Economic Transformation Plan (ETP).
In that sense the government is right to say it should not allow its debt to exceed 55% of GDP because this could undermine investor confidence.
To shift away from government driven growth the government should expand the share of government welfare services funded through a broader tax base funded by consumption taxes.
This is in contrast to previous model of government led investment which was largely funded through royalties from the national resource company Petronas that still accounts for a staggering 40% of government's revenue.
But therein lies Malaysia's quandary. What happens when the music stops? What happens when the government leaves the arena and lets private sector fend for itself?
Few companies in the private sector are genuinely comfortable with this prospect especially in the fragile economic recovery the world is still experiencing post 2008 debt crisis.
The imperative of giving a lead to the private sector in economic development was stated already by the 9th Malaysia Plan back in 2006. Yet despite a few temporary surges in private sector activity, the overall picture is still of one of a strong parent reluctant to allow their children to stand on their own feet.
Seri Pristana issue festers, parent insists more have left the school
Posted: 01 Sep 2013 03:14 PM PDT
(TMI) - The school pupils were also subjected to questioning by the police without the knowledge of their parents, a claim which police initially denied but later admitted.
More than one primary school pupil has transferred out of the controversial SK Seri Pristana, a parent has said, rubbishing the education ministry's claim that only one left the school.
The parent, who wanted to be known as Raj, told The Malaysian Insider that to his knowledge, there have already been three transfers.
"There is more. Previously, there was a Chinese parent who had taken her child out of the school at the height of the event, before Guneswari did," Raj told The Malaysian Insider.
Guneswari is the whistleblower on the operation of a makeshift shower room canteen in the school.
Raj said that more will definitely jump on the same bandwagon, with V. Kumancan's daughter being next.
"Her father was arrested after reports were made by the school teachers. How will she study there after this? What guarantee is there for her education?" he asked.
The 31-year-old Kumancan was recently arrested and released by the police on bail for allegedly uttering death threats against the school's headmaster, Mohamad Nasir Mohd Noor.
He is however expected to be charged with criminal intimidation soon.
"I do not understand why Mohamad Nasir does not want to admit his mistake. No matter what he tries to justify or get politicians to side him, he made a mistake and he must be sorry for it.
"The school also constantly comes up with differing stories and clearly any parent would doubt the school for trying to hide a wrongdoing. There has not been any consistency in their justifications," Raj said, adding that he is not going to change his story.
Raj said that due to harassment, his daughter had not returned to the school after the Hari Raya holidays and had begun classes at a new school last Monday.
The angry parent said he suspects that there is a ploy to cover up the whole furore.
"Mohamad Nasir has been bringing in politicians, policemen and carrying out all sorts of agenda to serve his purpose but never apologised. We need justice for our children first."
Selangor Education Department director Mahmud Karim has also refuted allegations that school authorities had photographed non-Muslim pupils.
He also added that his department had yet to be informed of the incident.
Mahmud also refuted claims that the school teachers had discriminated against non-Muslim pupils and called it a misunderstanding.
Ex-RMAF man who was shot dead was head of Batu Gajah Geng 36
Posted: 01 Sep 2013 03:12 PM PDT
One of the police forensics personnel inspecting the Perodua Kancil at Taman Rishah in Ipoh. (Inset) S. Jambu Keshan
(The Star) - The former air force personnel shot dead at Taman Rishah here on Sunday was the head of Geng 36 in Batu Gajah.
Perak CID chief Senior Asst Comm Datuk Mohd Dzuraidi Ibrahim said S. Jambu Keshan, 39, is believed to have been gunned down by rival gang members due to drug-related matters.
"We also believe the shooting is related to a turf war between the victim's gang, Geng 04 and Geng 08," he told journalists here on Monday.
Jambu Keshan was shot dead by a masked assailant near his father's restaurant in Taman Rishah at about 7.15am on Sunday.
SAC Mohd Dzuraidi said police have taken statements from two witnesses and believed that there were more than two suspects involved in the shooting.
"We are still trying to identify the suspects involved and we believe more people could be involved," he said.
He assured that the situation was still under control and would remain so.
Posted: 01 Sep 2013 03:08 PM PDT
Push in the right direction: It is proposed that students be approached based on their abilities and capabilities to hone their talents.
(The Star) - Among the factors that will assist the government to improve the quality of education is to intensify internal and external performance management with a clear Key Performance Index that places high expectations on every individual.
The implementation of the Malaysia Education Blueprint (MEB) 2013-2015 will elevate the country's education system to the top third of the world's best education systems.
National Education Dialogue panellist Datuk Kamal D E Quadra said the plan outlines various aspirations through 11 shifts implemented in three waves to meet the needs of all citizens and to develop the country.
He said the government has taken a bold step to transform the education system for the better.
"It will benefit Malaysia and Malaysians. If everything is put in place as proposed in the blueprint, we should be moving towards the right direction," he said.
Among the factors that will assist the government to improve the quality of education is to intensify internal and external performance management with a clear Key Performance Index that places high expectations on every individual.
The system will emphasise on capability building to help individuals achieve their goals, reward outstanding performance and address the problem of low performance with greater tact.
Kamal, who has 41 years' experience in education, said students should be approached based on their abilities and capabilities.
"There is no point of pushing them too hard because they may just get demoralised when their peers are way ahead of them.
"And when they have reached a level where they can no longer cope, they will continue to fall," explained the Sabahan.
As such, he proposed the introduction of two syllabi – one for beginners and another for the more advanced.
"Who knows through such an approach, it would help create interest among the beginners to move further ahead to a more advanced syllabus.
"Otherwise, they are equipped with the basics, which would allow them to pull through later in life," he said.
Kamal pointed out that while Sabah students often get bad reviews for their poor command of English, "our students are doing very well in other subjects.
"So it is not fair to judge them over one bad subject".
The Yayasan Sabah College Board of Directors chairman made his proposal during the consultation period for MEB 2013-2025.
He said the approach is not meant to segregate the students, but rather to create an avenue for special attention be given to those who need more help.
On a higher level, Kamal said there is a need to further promote vocational and technical subjects and skills in line with current market needs for industrial-based sectors such as the oil and gas industry.
"Take our college as an example, we have a welding course and even before the students graduate a few companies have come to check how many graduates we can produce.
"There is a demand in that field. But sometimes, the problem lies with the parents as some do not see the job prospects.
"Society needs to change their mindset and perception on jobs. It does not mean work that dirties your hands is bad," said Kamal who was the former Sabah Education Department director.
He added that sufficient funding is necessary to ensure that teachers are equipped with the right tools.
"In the case of Sabah, we need a level playing field so both teachers in the urban and rural areas will be able to enjoy the benefits of these changes.
"I also believe that apart from improving student performance, the teachers must also be equally good. The world is changing fast and our challenge is also to modernise the teachers as well.
"They have to be tech-savvy as it would help them progress in their work."
Kredit: www.malaysia-today.net