Klik GAMBAR Dibawah Untuk Lebih Info
Sumber Asal Berita :-
---
Sabah/Sarawak at 50, ignoring history at your own peril
Posted: 10 Sep 2013 10:09 AM PDT
Also, as I understand it, the history textbook was actually written by a historian who also happens to be a supreme council member of Perkasa. Do I need to say more about the sort of history that is being taught in school?
James Chin, TMI 
As we approach the 50th anniversary of the Federation of Malaysia, there will be a lot of articles about three things.
First, Sarawak (and Sabah) did not "join" Malaysia but help establish the Federation of Malaysia. Second, Sarawak (and Sabah) should be treated as equals, rather than merely a state in the Federation.
After all, Sarawak became "independent" or "self-government" on July 22, 1963 while Sabah achieved the same on August 31, 1963.
Third, the promise of autonomy in the "20 Points" was never kept. For example, how many of you know that there was supposed to be a review of the guarantees 10 years after Federation? As far as I know there was no formal review in 1973 although some letters were exchanged.
Where you stand on the three things I mentioned above will largely depend on your political leanings. It is also dependent on how well you know your history.
And this is where the problem starts.
In general, Malaysians do not know their history because the "official" history taught in secondary school is a version of history that is supposed to shape you into a Malaysian nationalist, i.e. do not challenge Malay authority. It is not meant to provide an unbiased view of history.
Also, as I understand it, the history textbook was actually written by a historian who also happens to be a supreme council member of Perkasa. Do I need to say more about the sort of history that is being taught in school?
In short, Malaysians know little or next to nothing about Malaysian history and East Malaysians know even less about the history of Sabah and Sarawak.
Read more at: http://www.themalaysianinsider.com/malaysia/article/sabah-sarawak-at-50-ignoring-history-at-your-own-peril 
'Sorry, We Don't Hire People Wearing Headscarves'
Posted: 10 Sep 2013 09:49 AM PDT
(Malaysian Digest) - Being a country of multiracial background with diverse culture and religions, one may think it is simpler for a person to apply for a job here as companies or employers would have understood the unique 'make-up' of the country.
Unfortunately, this was not the case, especially if you are a Muslim woman who dons a headscarf, looking for a job at retail outlets in the city.
The victim, known as Ira, 24, was looking for a part-time job as a retail assistant at one of the largest retail assets in the heart of Kuala Lumpur, the Suria KLCC, but claimed she was turned down by several branded retail stores for wearing a headscarf.
Speaking to Malaysian Digest recently, not long after she had highlighted her 'predicament' on Facebook, expressed her disappointment that such incident actually took place in Malaysia.
"It was on a Monday, when I went job hunting with my mom, looking for a part-time position as a sales assistant at the retail stores in Suria KLCC. I only approached the stores which had put up job vacancy signages at their window display.
"Since there were job openings, I just went in and asked about them. To my dismay, they frankly told me they not hire people who cover up their hair," she said.
Ira, from Kuala Lumpur, said she went to a number of large retail stores, such as Topshop, Esprit, and Nike, and a few smaller stalls, but eventually gave up her job search as she was disappointed over the same excuse given to her.
"It was really shocking that this happened and I think this matter should be taken seriously. Though I had posted my status on Facebook, I didn't mean for it to go viral," she said.
In the status update which Ira had posted on Facebook, dated Sept 2, a few hours after she went through the ordeal, Ira had highlighted how she was rejected by several stores with the same 'shocking' answer.
She also wrote her biggest disappointment was how she had lived in the United Kingdom for four years and even travelled across Europe, but had never felt disgraced over wearing the headscarf as she does in her own country.
Ira's status update has reached close to 9,000 shares on the social media site, and had caught the attention of the public where many have expressed their discontent over the matter.
Meanwhile, mD checked out some of the stores she mentioned and it turned out to be true.
Overall, the stores claimed they had turned down job applications from women wearing headscarves as it was part of their 'company policy', whereas some which had put up job vacancy signages simply informed that they were not hiring or the post had been filled.
At the Nike store, our reporter, who don a headscarf, was outrightly rejected and the person on duty stated they do no hire a person who covers their hair.
The same answer was given by Esprit and our reporter was told it was the company's policy. The retail supervisor even stated that unless the applicant was willing to take her headscarf off while working at the store, then they would be willing to hire her.
The person said there had also been cases where former employees had previously taken off their headscarves while working in the store by wore it again when they are off duty.
At Topshop, while the answer was not given in a direct manner, the person-in-charge said they do not usually hire people wearing the headscarf, but if the applicant could somehow change her style, they could consider it.
Efforts have been made to contact DNP Clothing Sdn Bhd, Esprit De Corp (Malaysia), and Nike Sales Malaysia Sdn Bhd, which manages the retail stores Topshop, Esprit, and Nike respectively, but at Press time, have yet to received any replies. 
Posted: 10 Sep 2013 09:35 AM PDT
It therefore must come to a complete disappointment to many that after 5 months of BN being voted into power, other than the HINDRAF chair Waytha Moorthy being appointed a Deputy Minister, nothing else has happened.
Paraman Subramaniam 
On 18/04/2013 Malaysian Indians throughout the country were in awe to see PM Najib step up on stage and issue a public apology on the shortcomings as well as the lapses in delivery of the BN government for the Indian community.
He had expressed that 'real change' can only come from within BN. Najib then went on to witness the official signing ceremony of the MOU document between BN and HINDRAF which lays out the specific Government interventions necessary for the improvement of the socio-economic status of the Malaysian Indian poor over the period of the 5 years of the next Parliament from 2013 to 2018.
These 4 major areas are:
Uplifting Displaced Estate Workers (DEW), synonymous with low income Indian households.

Addressing Statelessness among the Malaysian Indian poor.

Increasing Educational Opportunities from Pre-school to University.

Increasing Employment and Business Opportunities.
There was a great sense of relief tinged with joy for many Indians, particularly to the thousands of HINDRAF supporters that had sacrificed blood, sweat and tears during the November 25th 2007 rally, hoping to bring about improved living standards of the Indian community that suffer the lowest demographic index in the country. No Malaysian Government, caretaker or not, had ever signed anything like this in full public view.
It therefore must come to a complete disappointment to many that after 5 months of BN being voted into power, other than the HINDRAF chair Waytha Moorthy being appointed a Deputy Minister, nothing else has happened.
The unit headed by Waytha Moorthy in the Prime Minister's department has yet to be given a name. The charter of this unit has yet to be publicly confirmed. The infrastructure proposal for the unit has not been bought off. The Expert Steering Committee which is supposed to come out with the specific plan for addressing the income opportunities, housing and skills training for the Displaced Estate workers has yet to be even identified. The Budget proposed for 2013 has still not been deliberated upon, not to even mention the planning for the 2014 budget.
If it needs be reminded that Najib did not witness the official signing of the MOU between BN and HINDRAF in his individual capacity. He did so as the chairman of the BN coalition. Najib is also the President of the dominant UMNO party which is the leading party of all Malays in this country. As was seen in the last general elections, Malays in general still hold UMNO very dearly to their hearts. Malays traditionally are noted to be loyal and honest. In the villages, Malays are regarded as self-respecting people who keep their promises and their word most often than not, is their honour. Najib being the leader of the dominant Malay political party in this country, must realise that he carries on his shoulders not just his own words of 'Janji Ditepati' but also that of the integrity of the Malay race. His father Tun Abdul Razak is also dearly revered by the Malay community and as such, promises made must be fulfilled to not bring dishonour to his name. Failure to do so will not only tarnish the good name of his father but also the Malay community that he leads.
Malaysia has already suffered a deterioration in its sovereign credit worthiness by the Fitch ratings that revised the country's credit rating outlook from stable to negative. The last thing the BN government will want to project to the international business community is that it is not credit worthy to any MOU document that it is signatory to.
Hospital Kerajaan Perlu Pemulihan yang Menyeluruh
Posted: 10 Sep 2013 09:24 AM PDT
Kami biasanya tiba di kaunter utama pada kira-kira 08:30 pagi, setelah meninggalkan rumah kami pada jam 6.30 pagi dan sering mendapat untuk berjumpa doktor hanya pada kira-kira 12.30-1.00 petang, kadang-kadang lebih lewat. 

Jelasnya, memanggil pesakit mengikut turutan mereka tiba tidak pernah didengar di klinik ini.

 



Rakyat Biasa
Banyak yang tidak kena dengan hospital kerajaan kita. Adalah diharapkan bahawa Menteri Kesihatan yang baru akan berusaha untuk memperbaiki kemudahan-kemudahan dan perkhidmatan.

Kontroversi baru-baru ini mengenai doktor Cina enggan melihat pesakit bukan Cina perlu dikaji seriously, dan langkah-langkah tertentu mesti diambil untuk mencegah kejadian tersebut. Tetapi harus diingat, kakitangan perubatan Cina tidak adalah satu-satunya penyebab masalah ini. Terdapat epal buruk dalam setiap kumpulan etnik.

Para doktor dan kakitangan kejururawatan perlu peka untuk merawat semua pesakit tanpa mengira bangsa atau status. Sesuatu tugas yang sangat sukar tetapi jika doktor dan jururawat menyedari kerajaan adalah serius dalam hal ini dan tindakan disiplin yang tegas termasuk pemecatan akan diambil terhadap pesalah, banyak masalah saperti ini akan lenyap.

Memperkemaskinkan hospital harus bermula dari pentadbir paling atas, kerana tanggungjawab utama terletak pada mereka. Mereka perlu keluar dari pejabat berhawa dingin dan memantau apa yang berlaku di dalam wad dan klinik.

Sebuah tempat yang baik untuk memulakan akan menjadi Hospital Selayang. Walaupun ini adalah sebuah hospital yang agak baru tetapi tahap kebersihan terutamanya di tandas adalah mengejutkan. Kertas tandas dan sabun sentiasa tidak ada.

Memang diakui, jumlah pesakit di hospital-hospital kerajaan adalah besar. Namun begitu pesakit yang datang pertama perlu terima perkhidmatan pertama kecuali terdapat beberapa keadaan yang amat luar biasa. Tetapi jururawat dan sister di Hospital Selayang tidak memberi perhatian kepada pekara ini. Ini amat ketara di Klinik Urologi.

Semua pesakit diberi nombor kecuali pesakit yang berjumpa Ketua Pakar Urologi. Saya tidak tahu mengapa ini berlaku.
Sister yang bertanggungjawab iaitu Sister K adalah sangat tidak adil dalam hal menghantar pesakit untuk melihat Ketua Doktor.

Saya telah mengambil bapa tua saya, yang berumur 84 tahun selama dua tahun untuk berjumpa Pakar Urologi. Bapa saya perlu menggunakan kerusi roda dan mempunyai banyak komplikasi lain. Saya biasanya mengambil cuti sehari untuk membawanya ke hospital.

Kami biasanya tiba di kaunter utama pada kira-kira 08:30 pagi, setelah meninggalkan rumah kami pada jam 6.30 pagi dan sering mendapat untuk berjumpa doktor hanya pada kira-kira 12.30-1.00 petang, kadang-kadang lebih lewat.

Jelasnya, memanggil pesakit mengikut turutan mereka tiba tidak pernah didengar di klinik ini.
Selalunya bapa saya yang tua dan sakit saya tidak boleh mengambil tekanan tunggu begitu lama. Saya telah mencuba banyak kali untuk menjelaskan ini kepada Sister K kesusahan bapa saya amati. D juga terangkan kepada beliau bahawa kami tiba pada jam 8.30 pagi. Juga, ramai pesakit yang datang selepas kita telah melihat doktor dan pulang ke rumah. Jawapan standard beliau adalah, "Semua pesakit datang pukul lapan". Adakah ini jawapan yang logik atau munasabah?
Saya telah melihat Senarai Nama Pesakit yang digunakan oleh Sister K banyak kali. Nama bapa saya sentiasa di bahagian bawah atau nama yang akhir senarai. Saya gagal untuk faham bagaimana seorang pesakit yang tiba pada jam 8.30 pagi boleh berada di bahagian bawah senarai. Pada kad temujanji ayah saya masa perjumpaan dinyatakan sebagai jam 9.00 pagi.

Jerami akhir, yang mendorong saya untuk menulis surat ini adalah apa yang berlaku semasa perjumpaan lepas ayah saya, lebih kurang dua minggu yang lalu. Kami tiba pada jam 8.30 pagi seperti biasa dan didaftarkan di kaunter utama. Selepas sahaja ayah saya mendaftar seorang 'Datuk' didaftarkan.
Saya tahu dia seorang Datuk kerana saya telah melihat gambar beliau dalam akhbar tempatan. Beliau dilihat pada 9.45 pagi dan bapa saya hanya dapat jumpa doktor pada 1:15 tengah hari.

Bolehkah pihak berkuasa hospital menjelaskan mengapa kejadian seperti ini dibenarkan berlaku?
Saya juga telah mendengar pekerja di kaunter utama enggan mendaftarkan pesakit kerana peraturan adalah bahawa mereka harus datang satu jam sebelum pejumpaan mereka.
Adakah ini satu peraturan yang berpatutan? Ramai pesakit datang dari dari jauh dan ia mungkin tidak untuk berbuat demikian.
Di samping itu, bagaimanapun awal anda datang ia adalah hampir mustahil untuk mendapatkan tempat letak kereta. Keadaan tempat letak kereta adalah hanya dahsyat.
Sesetengah pesakit yang menggunakan pengangkutan awam tidak boleh mematuhi perintah seperti ini. Adakah pesakit itu dijangka berkeliaran di kawasan hospital sehingga mereka boleh didaftarkan? Paling teruk sesetengah pesakit tua dan buta huruf tidak memahami peraturan yang tidak munasabah ini.

Pesakit warga emas dan mereka yang sangat sakit perlu diberikan keutamaan, bukan 'Datuk' dan 'Tan Sri'.

Lebih teruk lagi, beberapa kakitangan kanan hospital dan wakil jual ubat boleh masuk ke dalam bilik doktor sesuka hati, menjadikan pesakit-pesakit menunggu lebih lama lagi.

Hospital perlu mendaftar pesakit mengikut masa mereka datang dan memberikan nombor kepada mereka. Kakitangan kejururawatan saperti Sister K telah membuktikan mereka tidak boleh diharapkan untuk bertindak adil.

Saya ingin menambah bahawa Ketua Pakar Urologi adalah seorang doktor yang sangat berkelayakan, berkebolehan dan penyayang. Beliau telah memberi rawatan dan penjagaan yang sangat baik kepada ayah saya dalam tempoh dua tahun lalu. Kemungkin beliau tidak sedar perbuatan kakitangannya. 

Walau bagaimanapun tingkah laku Sister K tidak boleh diterima sama sekali. Beliau harus dipanggil untuk siasatan dan tindakan sewajarnya perlu diambil. Ini akan menghalang kakitangan lain daripada bertindak sepertinya.

Saya amat berharap taraf rawatan dimeningkatkan di Hospital Selayang.



Basuki More Popular Than Joko, Poll Finds
Posted: 10 Sep 2013 09:16 AM PDT
In many ways, Indonesia and its electorate are liberalising at a rapid pace, beyond Malaysia. It's amazing that a non-Muslim, Chinese politician can poll at 98.3% popularity in Jakarta, and be a lead contender for governorship. Malaysians can learn a lot from Jakarta, in putting policy above race and religion. 
(Jakarta Globe) - Jakarta Governor Joko Widodo may have stolen the spotlight from senior politicians eyeing the presidency in 2014, but his deputy, Basuki Tjahaja Purnama, has proven to be a more popular figure in addressing Jakarta's chronic woes, according to the results of a survey released on Thursday.
Basuki rated favorably with 98.3 percent of the 8,280 respondents polled by the Indonesia Network Election Survey, slightly ahead of Joko, who got 96.9 percent.
"In our findings, the public sees Basuki as the one who has been doing most of the work in solving Jakarta's issues, as well as the person who is moving fast in working on the problems such as the Pluit dam and the relocation of street vendors in Tanah Abang market, among others," Sutisna, the head of data for INES, said at a press conference to announce the findings.
He added that the respondents were all people eligible to vote in the 2014 elections, in which most polls paint Joko as the firm favorite ahead of other more established political figures.
Among those overshadowed by Joko is Prabowo Subianto, the co-founder and chief patron of the Great Indonesia Movement Party (Gerindra), of which Basuki is a member.
The latter's recent high profile and growing popularity has fueled speculation that his no-nonsense leadership style that has led to tangible results may be engineered by Gerindra to undermine Joko and thus boost Prabowo's chances at winning the presidency next year.
Read more at: http://www.thejakartaglobe.com/news/jakarta/basuki-more-popular-than-joko-poll-finds/ 
The Star moves to integrate media platforms
Posted: 10 Sep 2013 12:00 AM PDT
(The Star) - The Star celebrated its 42nd anniversary with the goal to integrate its print and digital platforms.
Star Publications (M) Bhd acting group chief executive officer Datuk Seri Wong Chun Wai said the integration of the company's print, radio, LiTV and digital platforms was important.
"The Star is at a transition point now; although The Star remains the biggest English daily, we must continue to strengthen our digital platform.
"We have to change the way we work and put effort in convergence," he said at the celebration at Star Media Hub, Bukit Jelutong.
Wong added that the way the media delivered news now was also different – it is not just about utilising the online platform but it needed to have the cutting edge to move forward.
The media, he said, must always innovate or it would evaporate.
Wong remembered the scepticism the company faced when it first launched the online portal but was proud to announce that despite competition from other online portals,
The Star Online is still the number one news portal in Malaysia.
Some of the retired key movers of The Star, whom Wong referred to as "Old Warriors" were also invited to the event.
"We must not forget our roots, the past is important," he said.
There was a cake-cutting ceremony to mark the occasion and employees enjoyed performances and a sumptuous spread.
At the anniversary, 29 employees were given the 15-Year Long Service awards in appreciation for their services to the company.
Ads and Support assistant manager Tan Chin Ai, 37, remembered how they had to cover the fax machines with cardboard every Friday before leaving work at the old office in Section 13, Petaling Jaya, in case it rained because the roof leaked.
"The excitement of the job is what keeps me motivated for 15 years, I learn different things every day," she said.
Assistant store keeper Mohd Kamal Mohd Mohd Jan, 40, has only good memories working in The Star.
"The company provides us benefits. I feel appreciated.
"I am proud to tell others that I work for The Star. I hope to work here till I retire," he said.
My take on 'Islam and Democracy'
Posted: 09 Sep 2013 07:57 PM PDT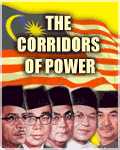 Democracy should not be enjoyed only once every five years. Democracy should not be just about voting in the elections. Democracy should not be just about choosing 798 representatives to sit in parliament or the various state assemblies. Democracy should also be about playing a role in how the country is run and about deciding what laws are formulated.
THE CORRIDORS OF POWER
Raja Petra Kamarudin
First read Enizahura Abdul Aziz's article on 'Islam and Democracy' (HERE) before reading my take on the same subject.
The term 'democracy' originated from the 5th century BCE Greek word δημοκρατία (dēmokratía), meaning 'rule of the people'. Dēmokratía was coined from δῆμος (dêmos), meaning 'people', and κράτος (kratos), meaning 'power' or 'rule'.
This was basically to denote the political system that existed in the Greek city-states about 2,500 years ago.
Basically, democracy is a form of government in which all eligible citizens participate equally -- either directly or through elected representatives (wakil rakyat) -- in the development and creation of laws.
These laws, of course, must include social, economic and cultural considerations that enable the free and equal practice of political self-determination or self-rule. That is why democracy can only exist through independence (meaning self-determination or self-rule) and not if the country is under colonial rule. 
Hence you can also say that pre-Merdeka Malaya was not a democratic state since there was no self-determination or self-rule and there were no elections to send the peoples' representatives or wakil rakyat to parliament and the state assemblies.
The layman's perception of democracy is mainly regarding the elections. And that is why people like Tun Dr Mahathir Mohamad will insist that Malaysia is a democratic country since we have elections in Malaysia. Only if Malaysia did not have elections would it not be a democratic country.
In short, democracy equals elections. And once we fulfil that requirement of holding elections then the democratic process is complete. Then we can no longer say that the country is not democratic.
This is an oversimplified understanding and interpretation of democracy. Whatever comes later, after the elections, does not affect or erode democracy one bit. You send your representatives to parliament or the state assemblies and that is the end of the story. You have achieved democracy. Whatever thereafter does not matter because democracy is still intact in spite of whatever that may happen after the government is formed.
Malaysia has chosen the British Westminster system of government. And that means we choose our government through parliamentary and state elections. We send 222 representatives to parliament and 576 representatives to the various state assemblies. And these 798 representatives are the peoples' voice. Hence we call them wakil rakyat.
If this is all there is to democracy then the people have only one job to do every five years. And once that job is done the people no longer have any role to play. Thereafter it is the job of the 798 people we have sent to government. And if they fail to perform the job we expect them to do then we sack them come the next election and choose a whole new lot of representatives.
Does this then mean democracy has been served? I suppose if democracy is just about going to the ballot box once every five years to vote, then democracy has certainly been served. We have given 798 people the mandate to do what they like. And if we do not like what they do we have to just sit and wait for another five years for the next election to show them we did not like what they did over the five years that we gave them the mandate to run the country.
Democracy should not be enjoyed only once every five years. Democracy should not be just about voting in the elections. Democracy should not be just about choosing 798 representatives to sit in parliament or the various state assemblies. Democracy should also be about playing a role in how the country is run and about deciding what laws are formulated.
The politicians will ask us to not 'interfere' in the party's internal matters (at least that is what some politicians are telling us). But what do they mean by 'interfere'? The candidates who contest the elections do so on a party ticket. The party has to endorse and approve these candidates. And those not endorsed or approved cannot contest the elections unless they want to do so as independent candidates -- and 99 out of 100 times will lose the election.
Hence the party, rather than the individuals, represent the people. The people may appear to be voting for the individual candidates. However, in reality, the people are actually voting for the party. Hence it is not the 798 individuals who are representing the people in parliament or the state assemblies but the political parties that they belong to and who endorsed and approved the candidacy of these 798 individuals.
So, when these 798 individuals make a decision, are these decisions based on what the people want or based on what their respective parties want? Of course it is based on what their parties want. Hence, although we call them wakil rakyat, in reality they are wakil parti.
Can, therefore, elections be considered democracy at work? That is what politicians would like us to believe: that since Malaysia holds elections then Malaysia is a democracy. But democracy is more than just about holding elections. Democracy is also about respecting the will of the people.
And that brings me to the issue of 'Islam and Democracy', the subject I really want to talk about. Enizahura Abdul Aziz and many Muslims would like us to believe that Islam is compatible with democracy. If democracy is merely about going to the ballot box once every five years then I would agree: Islam is compatible with democracy. However, as I said, democracy is more than just about going to the ballot box.
Democracy means the will of the people must prevail. In Islam, only the will of God can prevail. The will of the people have no place in the bigger scheme of things.
Let me raise a hypothetical scenario. Let's say the government does a poll and more than 51% of the people vote in favour of freedom of religion. More than 51% of the people feel that democracy needs to be translated to freedom of religion. So they vote for freedom of religion and, to these people, freedom of religion also means freedom to leave Islam or freedom for Muslims to convert to Christianity.
Will those people who propagate democracy or those who say that Islam and democracy are compatible agree with this? More than 51% of the people voted in favour of this. And since Malaysia is a democracy and more than 51% want this then this should become law. But how many 'democrats' would agree to this when they believe that Islam forbids apostasy?
In the end, God's will and not the will of the people will prevail. Hence democracy needs to be ignored in favour of what they believe God wants. Democracy can only be allowed as long as it does not violate the will of God.
Hence we do not have democracy in all matters. We have democracy in only some matters. Hence, also, we do not have absolute democracy but only partial democracy.
Democracy does not exist in matters involving the political parties. The will of the party comes first. Democracy does not exist in matters involving religion. The will of God comes first. And the list goes on. Democracy needs to be ignored because there is another principle higher than the principle of democracy.
This is the reality of the whole thing and is a reality we have no choice but to accept. We are led to believe that we enjoy democracy in Malaysia. The reality, however, is that there are many things that we are denied because absolute democracy would jeopardise the interests of the government, the politicians, the religionists, the Malays, the Chinese, the Indians, the 'lain-lain', Bahasa Malaysia, Chinese education and language, Tamil schools, and whatnot.
That is what I have been trying to tell you for so many years and is why I am opposed to both Barisan Nasional as well as Pakatan Rakyat. Both do not understand or respect democracy although they keep talking about it and try to portray that they are fighting for and are upholding democracy.
The solution, therefore, you will say, is to change the government. Really? Do you mean 'change the government' or 'change the party in power'? You may change the party in power but that does not mean you are changing the government.
The new party in power will still be the same old government. And this old government led by the new party will still not allow its 798 representatives in parliament and the various state assemblies to become wakil rakyat -- they will still be wakil parti -- and Muslims will still not be allowed to leave Islam or convert to Christianity.
And you call that democracy? And you think that changing the party in power will allow us more democracy? Well, this is where you and I part company in understanding the true meaning of democracy and also in understanding the incompatibility between Islam and democracy. And if you do not think so then ask Anwar Ibrahim and see whether he can agree with the concept of independent wakil rakyat and apostasy for Muslims.
Posted: 09 Sep 2013 05:56 PM PDT
To understand this discourse, one needs to know the point of divergence between Islam and democracy and how certain practices in democracy may not be acceptable to Islam.
The acceptance of democracy in Islam has largely been on its basis as a political process and form of political system. Islamic scholars see no problem in recognising the term democracy in this specific Islamic viewpoint. Even principles of equality, justice and human dignity are not alien to Islam.
Enizahura Abdul Aziz, The Star
THE discourse on Islam and democracy has always been vibrant, whether it is in the Muslim world or even among scholars and practitioners of the democracy in the West.
The reason behind this is that Islam, as a religion, has some basic principles that might not be compatible to the sets of idealisms pursued by democracy. However, in order to understand this discussion, one needs to know the point of divergence between Islam and democracy and can practices in democracy be acceptable in Islam?

Basically, there are three perspectives on the relationship between Islam and democracy.

First, there are those who reject democracy outrightly, claiming that democracy and its secular nature are actually legacies of western imperialism on Muslims states.

Second, there are groups that embrace democracy in its entirety, believing that religion should remain outside the political sphere.

Finally, there are those who differentiate democracy as a political mechanism for forming legitimate governments from it being a set of values and principles for individuals to hold on to.

Modern democracy is a political reality that besieges most free nations today. It has evolved through history since the ancient Greek period, resurfaced in importance and modernised during the revolutions in America, Britain and France and further post-modernised through periods of world wars and the new world order.

Democracy also has many forms ranging from parliamentary, federalism and America's very own. Some may be particular in its process and forms but many modern democracies today are very concerned about the fundamentals of democratic principles: sovereignty of the people, individual liberty and equality.

Leon P. Baradat, in his book, Political Ideologies: Their Origins and Impact, categorises these as process democrats and principles democrats. Baradat explains that process democrats view democracy as a form of decision-making and the rule of majority.

They claim that there is no real philosophy or theory of democracy. Principle democrats on the other hand, argue that democracy has a strong theoretical foundation and the procedure or process of democracy is secondary to the philosophical objectives of democracy.

In Islam, politics remains in the realms of the religion. This reflects the exact feature of the religion as a way of life that encompasses all areas of human interactions including his/her interaction with Allah the Almighty and his/her interaction with fellow human beings.

Therefore, politics in Islam must meet the objectives of the Shari'ah (Maqasid Shari'ah) which includes the preservation of the religion, life, mind, offspring and property.

In analysing the correlation between Islam and politics, Allal Al-Fassi explains that: "The general higher objective of Islamic Law is to populate and civilise the earth and preserve the order of peaceful coexistence therein; to ensure the earth ongoing well-being and usefulness through the piety of those who have been placed there as God's vicegerents; to ensure that people conduct themselves justly, with moral probity and with integrity in thought and action, and that they reform that which needs reform on earth, tap its resources, and plan for the good of all."

Several Islamic scholars believe that the essence of democratic process is actually compatible with Islamic principles. Prof Khurshid Ahmad, in his take on Islam and democracy, argues that Muslims should understand democracy as "rights of a people to self-determination and self-fulfillment" and this is in line with Islam. Meanwhile, Sheikh Yusuf Al-Qaradhawi firmly states:

"The tools and guarantees created by democracy are as close as can ever be to the realisation of the political principles brought to this earth by Islam to put a leash on the ambitions and whims of rulers."

It is further agreed by many contemporary Islamic scholars that democratic tools and principles of elections, consultations, consensus and independent reasoning are also central in Islam.

The acceptance of democracy in Islam has largely been on its basis as a political process and form of political system. Islamic scholars see no problem in recognising the term democracy in this specific Islamic viewpoint. Even principles of equality, justice and human dignity are not alien to Islam.

However, the most important element that should surround this relationship between Islam and democracy is the understanding of the Tawhidic framework that ultimate sovereignty only belongs to God and the roles of human beings as His khalifah (vicegerents) on earth.

Realising this point of departure on the principles of liberalism, secularism and people sovereignty in democracy from the absolute sovereignty of God in Islam, how then can Islam position itself in modern democracy today?

One thing for sure, Muslims must realise that democracy is a mechanism, not a destination and not even a destiny. Although it is a political reality especially in those areas of the Muslim world that were once colonies of Western imperialists, there must be boundaries to the acceptance of this reality.

Throughout history, we have seen failures of democratic governments which brought about discussions on new forms of democracy, hence indicating that countries have freedom to determine democratic practices suitable to them. Even western democracy was born out of the polemics and conflicts that plagued the western world.

Therefore, on positioning Islam in democracy of the Muslim world today, Muslims must be critical enough to adopt the democratic principles that would best suit the conditions, history and heritage of the Muslim world.

On the other hand, Muslims' acceptance of democracy as a tool for effective participatory in politics and means for governance must be acknowledged and respected.

Weaknesses and failure of democracy that we see happening in some parts of the Muslim world today are not about the compatibility between Islam and democracy but more about those who destroy the system under the pretext of democratic rights and liberties.

> Enizahura Abdul Aziz is Senior Research Officer at Ikim's Centre for Study of Shari'ah, Law and Politics. 
Posted: 09 Sep 2013 05:51 PM PDT
(The Star) - A coup has been staged in the Liberal Democratic Party (LDP) with one faction holding a supreme council meeting Tuesday and sacking the party president Datuk V.K.Liew.
In the ongoing leadership dispute in Sabah's oldest Barisan Nasional component party, 29 LDP supreme council members who was sacked by Liew two weeks ago held the meeting where they made the decision.
They sacked Liew as a president and suspended him and his newly appointed secretary general Loretto Padua as members of the party.
They also endorsed party deputy president Senator Datuk Chin Su Phin to be acting president at the meeting held at the Sabah Golf and Country Club here
LDP secretary general Datuk Teo Chee Kang said that they were the legitimate ``original'' supreme council and Liew's move to sack all of them earlier was illegal and not in accordance to the party's constitution.
He also said that following the supreme council decision to suspend the membership of the president and his proclaimed "secretary general,'' the two would be barred from entering the party headquarters to conduct any business in Kapayan.
"Liew's action has brought disrepute to the party and we the supreme council has decided to remove him and Padua pending disciplinary action,'' said Teo, the only state cabinet minister from LDP in Chief Minister's Datuk Musa Aman cabinet.
"Liew is the only elected office bearer in his supreme council, he has tried to sack all of us and set up a new supreme council illegally,'' he said, adding that they had the support of 19 of the 29 party divisions.
Asked how they were going implement their decisions and legitimise their position as the rightful LDP leaders, Teo said that they have their ways and means to do it.
"For, now we can't disclose. It is a secret," he said.
He said that they would go ahead with the Oct 20 party annual congress and will hold an election and form a new disciplinary and election committee.
Teo also said that the supreme council only endorsed to fully support the president and the deputy president in its resolution in June but never supported any resolution for no contest for the two positions.
Liew does not recognise the rival group and has been holding his meetings in Sandakan with none of the party leaders using the party headquarters here to hold meetings. 
Malaysia to invest another RM 160 bill on rail development : Najib
Posted: 09 Sep 2013 05:42 PM PDT
(NST) - Malaysia expects to invest another RM160 billion on rail development by 2020, Prime Minister Datuk Seri Najib Razak said today.
Since 1990, Najib said, the government had invested more than RM50 billion on rail networks and related projects.
Once a dying industry, he said, railroads have made a strong comeback due to their inherent efficiency, whether in terms of land usage, fuel consumption and transportation costs. 
"In an era of scarcity and pressure on costs, there has been and will be a growing focus on efficiency, which plays to the strength of rail. 
"There is also realisation that railways don't just move people and goods but they also also generate and spread prosperity, create jobs, open new markets and support economic growth," he said when launching the Rail Business Asia Conference 2013 here.
Was MBPJ trying to pull a 'fast one' on residents?
Posted: 09 Sep 2013 05:19 PM PDT
Is the Petaling Jaya City Hall (MBPJ) trying to hoodwink residents to push through the Universiti Malaya Medical Metropolis (UMHM)?
That is the impression Section 12 residents are getting following a temper-filled town hall meeting on Saturday, which saw around 100 residents staging a walkout.
Resident and former MBPJ councillor Mak Khuin Weng said MBPJ did not put up notices in the media and only 11 houses received notice for the meeting.
"They quoted Section 12A of the Town and Country Planning Act 1976 in the letter inviting the residents to come for the meeting. However, only 11 houses received the notifications and when we found out, that's when we decided to go for the meeting," Mak told fz.com.
He said even councillor Lee Suet Sen who chaired the meeting admitted it was a mistake to quote Section 12A as MBPJ did not advertise in any newspapers.
"It was also premature to call UM and the developers to make a presentation or have a dialogue with us as it pre-empts the procedures and process," said Mak.
He also questioned the point of having the freedom of information if the residents there are not furnished with any information.
Councillor Derek Fernandez agreed, saying he "will get to the bottom of this" during today's One Stop Centre (OSC) meeting.
"I was not able to attend the previous OSC and the dialogue because I was in hospital. However, I will find out whether or not the proper procedures were observed.
"First of all, I want to find out if it was a statutory meeting. And if it was a statutory meeting, under what power was it called? It is okay to deliver notifications to houses but they should have also advertised in two newspapers for a few days so anyone who wished to object would be made aware," said Fernandez.
As only 11 houses received the notification, it was clear that MBPJ's announcement was "insufficient", he said.
Agreeing that MBPJ's actions over the meeting could leave the impression that the authority was trying to "pull a fast one", Fernandez said he would have put a stop to the meeting if the proper procedures were not observed.
Selangor Menteri Besar Tan Sri Abdul Khalid Ibrahim had expressed support for the project but it was shelved – possibly due to the general election.
Ironically, the OSC had on Dec 7, 2011 rejected the proposed development for contravening basic planning laws as the residential area had not been re-zoned.
Former NST boss: Najib still a hero, but has too many 'Robins', 'Catwomen'
Posted: 09 Sep 2013 04:43 PM PDT
(MM) - Datuk Seri Najib Razak is fully capable of delivering on his reform promises, but the many "Robins and Catwomen" crowding his government could end up tripping the prime minister, Datuk A. Kadir Jasin said today.
Likening Najib to the fictional character Batman, the former New Straits Times (NST) group editor-in-chief said the prime minister's good intentions often get "lost in translation".

"I am sure, he wants to be a hero like the Batman saving Gotham," Kadir said in a blog posting here.

"But the problem with the PM is he has too many Robins – males and females – who are competing with other for his love and affection, money and power."

Najib, the country's sixth prime minister whom many have dubbed a reformist, has often been warned that the greatest hurdle he would have to conquer would come from within his own party Umno.

His predecessor, Tun Abdullah Ahmad Badawi, spoke of this in a newly-released book where he warned Najib that he would face the same resistance that he faced during his time.

"Najib is trying to do many good things. He is trying to transform the economy, the government and make changes.

"But he faces the same problem that I did ― resistance," Malaysia's fifth prime minister said in an interview featured in the 620-page book titled "Awakenings: The Abdullah Badawi Years in Malaysia".

Abdullah succeeded the nation's longest-serving prime minister, Tun Dr Mahathir Mohamad, in 2003.

A year later and riding on the promise of reforms, the man fondly referred to as Pak Lah led Barisan Nasional (BN) to its most dominant mandate in Election 2004.

But a scant five years after, he was hounded from office by the man who put him there, having led BN from the euphoria of 2004 to the despair of 2008 general election when it lost its customary stranglehold on Parliament.

"I was perhaps too idealistic and thought everyone would embrace the changes which could be the good of the country and people," Abdullah said.

During his time, Abdullah had loosened the reins on the media and allowed seemingly open dissent on the Internet, the latter of which is often credited for the unprecedented gains made by the loose opposition pact Pakatan Rakyat during Election 2008.

When it was his turn, Najib embarked on similarly radical changes, even going as far as to repeal old preventive laws like the Internal Security Act (ISA) and the Emergency Ordinance,, promising to do away with Bumiputera quotas and promoting needs-based affirmative action.

The moves earned Najib much criticism from Malay right-wing groups like Perkasa, who lament that these changes would result in the loss of power for the Malays, the country's largest ethnic group.

"Can the Prime Minister be made to change?" Kadir asked in his blog. "Some Umno dreamers and the pro-Umno Malay cendekiawan think it is possible."

But, he continued, what if Najib, the "prime minister of all Malaysians", does not want to change?

"Or he does not see why he should change since he does not think he has done anything wrong?" he asked again.

Kadir said these questions were raised after he received an event invite via text message this morning by the Prime Minister's office.

The event, he explained, was a special announcement by Najib on "strengthening the Bumiputera economy", to be held at Universiti Teknologi Mara (UiTM) in Shah Alam.

Kadir said prior to the text message, several "Umno dreamers and pro-Umno Malay cendekiawan" had told him that since it was so difficult to change the prime minister, they would now move to change the way he runs the country.

But in response, Kadir said he told them that he had seen enough of Najib through his political career to know that this was unlikely to be possible.

"So I told them, if the PM promises me a glass of water, I would not believe in his 'janji ditepati' (promise fulfilled) until I drink the water and not be poisoned by it," he said.

"It sounds harsh," he added. "[But] I am not accusing the PM of trying to poison me. I am not worth wasting the rat's poison on."

"But what I am saying is, many thing that he says, promises and implements are lost in translation." 
No identity cards were issued to illegals in Sabah, says NRD
Posted: 09 Sep 2013 04:34 PM PDT
Lee Shi-Ian, TMI
The director-general of the National Registration Department today denied that identity cards were issued to illegal immigrants under Project M or Project IC, the Royal Commission of Inquiry (RCI) into illegal immigrants in Sabah heard today.
Datuk Jariah Mohd Said, the RCI's 208th witness, admitted she had heard of Project IC or Project M, but denied any identity cards had been issued to illegal immigrants as claimed by previous witnesses.
She admittd that there were cases where more than one person shared the same identity card number.
Jariah said there were policies and procedures which had to be followed in order for identity cards to be issued to illegal immigrants.
She added that an applicant must fulfill all the conditions before their application could be considered and approved.
Azalina backs down from Umno Wanita chief race
Posted: 09 Sep 2013 03:01 PM PDT
(MMO) -  News reports claimed Najib would still want to maintain good relations with the tough Wanita leader and her decision to allow Shahrizat to defend her post without contest will see her offered the chance to lead a GLC.
KUALA LUMPUR, Sept 10 — Datuk Seri Azalina Othman, the woman touted as Datuk Seri Shahrizat Abd Jalil's strongest contender, has been "advised" to stay out of the Wanita Umno chief race, several news reports said today.
The about-turn, which will likely raise eyebrows, comes following a discussion among the ruling party's top leaders who were reportedly concerned that the contest would affect unity in the wing.
Quoting a source close to the former minister, news portal The Malaysian Insider said that Azalina's sudden decision came "after she was advised to do so" while English daily The Star, citing an insider from her campaign team, reported that the move came after a discussion with top party leaders.
"Sources said Prime Minister Datuk Seri Najib Razak had also advised Azalina to reconsider her decision to take on Shahrizat. There was concern that the contest may unsettle the wing, which is seen as the backbone of Umno," the newspaper said.
The Star further reported that Azalina would instead gun for a Umno supreme council post while the online news portal said her backing down from the race would secure her a senior post in the Wanita Umno wing and a leadership role in a government-linked company.
"She loves Umno. She is a party loyalist who listens to the party leadership. She is a fighter and ready to go for it but she wants to respect the advice they give her," The Star quoted the source as saying.
In a text message to The Malay Mail Online today, Azalina did not confirm the news reports but only said that an official statement on the matter will be made on September 20, a day before nominations open for posts in the Wanita, Youth and Puteri wings.
Azalina was the founding leader of Puteri Umno and is the incumbent Umno supreme council member elected from 2004 to 2009. She was appointed to sit in the highest decision making body of the party by then Prime Minister and former Umno president, Tun Dr Mahathir Mohamad.
News reports claimed Najib would still want to maintain good relations with the tough Wanita leader and her decision to allow Shahrizat to defend her post without contest will see her offered the chance to lead a GLC.
Tengku Adnan reminded of MOU signed with Hindraf
Posted: 09 Sep 2013 02:45 PM PDT
The annex to the temple (pix), located at Jalan P Ramlee, was demolished by City Hall on Sept 1 despite pleas from various quarters.
"It is also for this reason that Waytha Moorthy has been inducted into government. He understands the problem best and there are clear ways of resolving these issues in a win-win fashion," Ganesan said.
GEORGE TOWN -  A day after Datuk Seri Tengku Adnan Tengku Mansor defended the controversial demolition of the century-old Sri Muneswarar Kaliyaman temple's annex in Kuala Lumpur, the Federal Territories Minister has been reminded that he had signed an agreement before the last general election to safeguard and resolve issues on Hindu temples and burial grounds in Malaysia.  
Hindu Rights Action Force (Hindraf) advisor N Ganesan today called on Tengku Adnan, who is also Barisan Nasional (BN) secretary-general, to expedite the special committee on the matter as agreed upon in the Memorandum of Understanding (MOU) that he signed on behalf of BN with Hindraf's P Waytha Moorthy.
"Surely Tengku Adnan must have at least read what he was signing," Ganesan, a key aide to Waytha Moorthy who is now a deputy minister in the Prime Minister's Department, said today. 
The signing on April 9 was witnessed amidst the glare of media publicity by Prime Minister Datuk Seri Najib Razak himself. It was a crucial precursor to Hindraf throwing its full political support to BN, and to Waytha Moorthy being made deputy minister after the May 5 election.
Ganesan noted that section three of the MOU stipulated that a new unit shall be established within the PM's Department, chartered to implement Hindraf's blueprint for the upliftment of the marginalised Indian community, and to which full executive authority will be devolved and budgets allocated to carry out the charter.
It also specified that a sub-committee be set up by the unit's head to conduct a detailed audit on Hindu temples, shrines and burial grounds throughout Malaysia, and subsequently to develop detailed proposals to eliminate problems surrounding their locations.
"Tengku Adnan, the solution is there right where you had signed," Ganesan said. "Put Waytha Moorthy to work. He is in Government specifically for that purpose."
The wording in the MOU explained that "the main objective of this programme is to ensure that there shall be no more Hindu temples, shrines and burial grounds located on land other than which has been gazetted for their specific purpose by 2018."
'Waytha understands the problem best'
"It is also for this reason that Waytha Moorthy has been inducted into government. He understands the problem best and there are clear ways of resolving these issues in a win-win fashion," Ganesan said. 
"He should be allowed to function and not be myopically told to keep his silence all in the name of collective responsibility when things are obviously being handled inappropriately."
Waytha Moorthy was recently criticised and told to toe the line by several BN leaders from Umno after he questioned the police's apparent "shoot-to-kill" action in exterminating five Indian men allegedly linked to a gang.
The annex to the heritage temple, located at Jalan P Ramlee, was demolished by the Kuala Lumpur City Hall (DBKL) on Sept 1, despite pleas and resistance by devotees. Reports that deities were forcibly removed also spread in the social media. 
Tengku Adnan yesterday labelled the temple a "shrine" and said the annex was an illegal extension built on DBKL reserve land.
"Why do we always have problems with temples? Not with churches, mosques nor Chinese temples… Why? Ask yourself, don't ask me," he was reported as saying.
The temple had reportedly been occupying 5,000 square feet of land in the city's Golden Triangle business zone since 1911.

Read more at :http://www.fz.com/content/tengku-adnan-reminded-mou-signed-hindraf#ixzz2eSxMXc7d
Looking at the All-Ireland Fleadh in a new light
Posted: 09 Sep 2013 02:17 PM PDT
A culture that wishes to move forward cannot do so by looking back – but a thriving nation will never create a sustainable identity if it leaves the past entirely behind.
Susan Gedutis Lindsay, special to the British Irish Reporter
KUALA LUMPUR, MALAYSIA, and HONG KONG – In August, the Malaysian Ministry of Education announced its Education Blueprint (2013-2025), a plan built upon six attributes, one of which is national identity. Earlier in the week, while in Malaysia on an educational/business visit with the Berklee College of Music, I sat beside Tuan Haji Zainudin Abas, Malaysia's Director of the Department of Curriculum and Arts, at a press conference luncheon at the International College of Music. In informal conversation, he pondered one of his charges under this new plan. He wondered aloud, "How can Malaysia establish formal performance and learning benchmarks in the study of its native traditional music?"
May I humbly suggest: Look no further than Ireland, Minister. Therein may lie your answer.

Today in Malaysia, school music educators, depending on their location, may teach both traditional music and/or Western European music. Malaysia has a lively marching band scene and several universities at which students can study music, and traditional Malaysian music is also practiced actively throughout the nation. Still, as yet, there is no governing body to oversee standards within its traditional music.
Worldwide, there is a centuries-long example of the teaching and learning of Western music, not to mention conservatories on every continent whose curriculum is similar, by and large, regardless of country. Aspiring musicians study theory and harmony, musical analysis and music history, Bach and Beethoven, counterpoint and serialism. They master their instruments using methods tested and proven through centuries of study. Pianists have Hanon; violinists have Suzuki. What do traditional musicians have?
In Malaysia right now, nothing, it seems, at least not from the government. But it appears that the Ministry of Education is interested in establishing benchmarks in Malaysian traditional music similar to those used in the study of Western European music. This would help the national board measure the performance of both students and teachers of traditional Malaysian music, and it may also serve the greater nationalistic purpose of legitimizing traditional Malaysian music and culture as the county establishes its unique identity in the wake of several centuries of British rule.
How familiar this sounds, yes? Sixty years ago, policymakers in an Ireland only recently liberated from centuries of British rule faced a similar challenge. They had been stunted on the world stage by centuries of colonialism that had denied the country its ability to establish a national identity. Fully aware of the implications of culture on national identity and political strength at the dawn of its nationhood in the early 20th century, Ireland's first taoiseach, Éamon De Valera, set national identity on a pedestal beside politics as he crafted an independent government. De Valera saw religion and language as dual crucibles, but many in Ireland still looked to Europe and America for the coveted essence of modernity. As they did so, traditional music and arts began to wane and a small group of pipers in Mullingar began to wring their hands. By the late 1940s, it appeared that traditional music was in decline.
In 1951, these musicians convened a summit of sorts, and together, they founded two efforts that today are the hallmarks of Irish traditional music: first, an organization that was to become Comhaltas Ceoltóirí Éireann and, second, the annual festival, the Fleadh Cheoil na hÉireann. Comhaltas Ceoltóirí Éireann, which literally translates to "Society of the Musicians of Ireland," was founded to promote Irish music and dance in all its forms worldwide, and to foster and promote the language. Over time, Comhaltas established the Scrúdu Ceol Tire, a graded system of 12 progressive exams utilizing teachers certified in a national diploma course to teach Irish traditional music.
Every year, students gather for the Fleadh Cheoil to compete for the All-Ireland, a coveted title that rewards musicians who best represent the performance standards set by Comhaltas Ceoltóirí Éireann. Sixty years later, branches of Comhaltas have been formed in every county in Ireland and in 15 countries and 4 continents. These branches host concerts, offer courses, and sponsor sessions in their local communities, ensuring that the Irish diaspora remains as connected to the traditional ethos and style as it is "back home."
The standards set by Comhaltas have played a pivotal role in the survival of Irish traditional music. Setting standards and awarding achievements for exemplary performance has helped to protect the purity of the central canon, the most traditional aspect of the music, from outside influences. It has also helped to elevate and legitimize the traditional style of teaching, which to some might appear old fashioned. In most cases, worldwide, traditional musics – often also referred to as "folk" musics – are taught and learned through the oral tradition, by ear, directly from teacher to student, with no notation to intervene. Like countless traditional music styles, native Irish music was most often taught in a close master/student "apprenticeship" in which the master is the arbiter who ensures strict adherence to the conventions of performance technique and repertoire. Though many continue to learn in the "old way," over time Comhaltas has established schools, courses, and books that suggest a central repertoire and approach.
If we allow a whiff of Western European musical colonialism to waft in, we may notice that once a music can be written down and learned according to notated, articulated performance standards, it advances its position on the world stage. Dress it up and you can take it anywhere. Do you question this? Well, take seven brilliant traditional musicians, add tuxedos, take them away from the hob, put them on a stage, and voilá: a contract with National Public Radio and a CD/DVD that will be given away to wealthy arts patrons during the next fund drive. This is no longer your granny's kitchen, lads.
In Irish music this attempt at standardization and this glorification of "model" representation of the Comhaltas standard has led some Irish musicians to complain of conservatism and "Machiavellian" tactics in the Ivory Tower of Irish music. Many resent the control that Comhaltas exerts over Irish music as a whole, its perceived role in the dissolution of regional accents in music, and its apparent institutionalized denial of outside influences. Maybe. Maybe not.
But let us remember why Comhaltas was formed in the first place and celebrate its immense successes: It has managed to bring Irish traditional music from the hearth to the world stage and it has helped the music to survive intact, despite the relentess pounding of newer influences, particularly in popular music.
Still, we must leave room for innovation. Prince Charles Alexander, a Berklee professor, music producer/recording engineer, and two-time Grammy winner, was also in Malaysia on the Berklee trip this week. Prince Charles is a thought leader in the world of music innovation, and he came to Malaysia to speak with music educators and young music teachers about music production and innovation. Specifically, he wanted to encourage young Malaysian musicians to explore how they might fuse traditional musical sounds with modern innovations like hip-hop as a way to help bring the nation into the future. He suggests that within every tradition, we should create an "innovation zone" where visionaries can create something that is informed but also innovative—evolutionary but also revolutionary—without fear of retribution from the guardians of the tradition.
Interesting. What would happen to the popularity of Irish traditional music worldwide if we decided we wanted our music to reach not just thousands but millions? What would happen if we sampled a fragment of a concertina riff and gave it a hip-hop beat? (Is there a doctor in the house! Bring your man Paddy here some smelling salts.) What if we allowed ourselves to act on this question, "What if?
I hear you: The rhythm of traditional music is part of what defines it, not just the melodies. And nothing will ever replace the sound of a fiddle and a concertina together in a quiet room, jigs and reels wielded with the same skill Michelangelo used when he painted the Sistine Chapel. If we remove that rhythm and that spirit, do we still have that music? If we only sample two bars out of a tune's typical 16, do we still have the Irish thing? Or do we have something else? And if so, is that ok? Is there room for that? To be fair, some exceptionally talented musicians have attempted to explore that question in their music –Kíla, Damien Dempsey, and Michael McGoldrick's Wired project come to mind—but as yet, the attempts are limited and not genre changing. And perhaps that is as it should be. But it would also be a pity if the vast majority of young Irish people felt that the traditional music was not relevant to their experiences.
What, then, of this national identity? Comhaltas may yet have more to offer. Malaysia can look to Comhaltas as an example of a successful method to standardize, protect, and preserve its traditional music. But to help restore its national identity and to help it emerge on the world stage, it may need more than preservation. It may also need to leave the doors open to "non-members"… to fuse what is most sacred and most essential to its tradition with outside influences. From here, a unique and modern national identity may emerge along the continuum of its own rich history.
If we wish to use music to nation build, we must think differently. If we forge radical, disruptive innovation, we are not selling out. We are buying in. We must celebrate all that Comhaltas has done and will continue to do, but also leave room at the table for the innovators. A culture that wishes to move forward cannot do so by looking back – but a thriving nation will never create a sustainable identity if it leaves the past entirely behind. 


The following post was written by Susan Gedutis Lindsay, Associate Director for Instructional Design (Online Learning) and author of "See You at the Hall: Boston's Golden Era of Irish Music and Dance" (University Press of New England, 2004). It was originally posted in the Boston Irish Reporter. She plays Irish traditional music on flute, whistle, and (gasp!) saxophone. 
Malaysian universities drop in world rankings, lack "highly cited" research
Posted: 09 Sep 2013 02:05 PM PDT
(TMI) - Only seven Malaysian universities made it to QS's list of 800 top institutions for 2013.

Malaysian public universities continue to fall in the QS World University rankings with only Universiti Malaya (UM) still in the top 200 this year, while Singapore's National University of Singapore (NUS) has moved up to 24 in the world.
QS said Malaysian universities do not produce enough cited research although they have quality academics and produce employable graduates.
QS research head Ben Sowter said Malaysian universities' rankings plunged due to deficiencies in research but credited them for the quality of their academics and the employability of their graduates.
"The drop in performance for Malaysian institutions this year reflects the intensity of global competition," he said in a statement.
"But a five-year comparison suggests they have made some significant progress.
"Malaysian institutions are not yet producing highly cited research, but they have developed a solid profile among the world's academics and graduate employers," Sowter added.
Only seven Malaysian universities made it to QS's list of 800 top institutions for 2013. They are Universiti Malaya (UM), Universiti Kebangsaan Malaysia (UKM), Universiti Sains Malaysia (USM), Universiti Teknologi Malaysia (UTM), Universiti Putra Malaysia (UPM), International Islamic University Malaysia (UIA) and Universiti Teknologi Mara (UiTM).
Of the seven, only UM has maintained its position in the top 200 although it dropped from number 156 in 2012 to number 167 in the current list.
But UTM, which was ranked 358th in 2012, was the only one to rise and is now at number 355.
UKM dropped eight spots to number 269 and USM fell 29 spots to number 355. UPM plunged from number 360 to 411-420, but both UIA and UiTM plummeted by 100 points. Last year, UIA was in the ranks of 401 to 450 and UiTM was at 601+.
An overview of the rankings indicated an improvement among Asian universities and a general drop among US institutions.
Of the 62 Asian institutions in the top 400, 70% rank higher this year than in 2007/2008 while 64 out of 83 US universities have dropped in ranking.
The National University of Singapore (NUS) has outshone the University of Hong Kong (HKU) for the first time. NUS is placed at the 24th spot whereas HKU is at the 26th. 
NUS ranked as top university in Asia
Posted: 09 Sep 2013 01:59 PM PDT
The university, which was inaugurated in 1991, said that its rise in the rankings in recent years reaffirms its "standing as the fastest rising Asian university in the world's Top 50".

Today Online 
SINGAPORE — The National University of Singapore (NUS) has been ranked as the top university in Asia in the latest global rankings from higher education information provider Quacquarelli Symonds (QS), with the Nanyang Technological University (NTU) continuing its steady ascent up the standings.
This is the first time that NUS topped all Asian universities in the QS World University Rankings, which was introduced in 2009 after QS ended its five-year collaboration with Times Higher Education.
Globally, NUS was placed 24th this year, moving up a spot from last year when it was second to Hong Kong University of Science and Technology (HKUST) as Asia's highest-ranking university.
NTU climbed six positions to 41 — rising a total of 33 places over the last three years. Its latest ranking puts it ahead of American tertiary institutions such as Brown University and New York University.
The QS World University Rankings evaluates over 800 universities in the world based on academic reputation, employer reputation, citations per faculty, faculty student ratio, and proportions of international students and international faculty.
QS was scheduled to publish the full rankings this morning. NUS said in a press release that it was placed ninth in the world for academic reputation, and 16th for employer reputation. It added that it improved "significantly" in the number of research papers published and citations generated.
NUS President Tan Chorh Chuan said the university's performance was "a reflection of our country's strong support for higher education and the ethos of continually seeking excellence". He added that the university has strived to differentiate itself "through educational innovation, multidisciplinary research and strategic partnerships".
He said: "We will continue to keep a sharp focus on nurturing and recruiting talented academics, staff and students, while providing a conducive environment for this thriving community to pioneer advances in education and research and its application that will have a strong positive impact on Singapore and society."
NTU President Bertil Andersson said it was "remarkable" that Singapore, being a "small city-state", has two universities among "the world's top 41". Adding that the latest ranking was "a boost for us and will help us attract even more top students", Professor Andersson said that NTU "stands out as the 'new kid on the block' when compared to the likes of Harvard, Cambridge and even NUS, which has more than 100 years of history".
The university, which was inaugurated in 1991, said that its rise in the rankings in recent years reaffirms its "standing as the fastest rising Asian university in the world's Top 50".
Read more at : http://www.todayonline.com/daily-focus/education/nus-ranked-top-university-asia 
Kredit: www.malaysia-today.net