Klik GAMBAR Dibawah Untuk Lebih Info
Sumber Asal Berita :-
---
Anwar knew about illegals issue – Dompok
Posted: 22 Sep 2013 04:16 PM PDT
When we applied to join Barisan Nasional, the first person (I spoke to) was Anwar. One of the things I mentioned to him was that one of the issues we were looking to be addressed was the illegal immigration.
(Borneo Post) - UPKO president Tan Sri Bernard Dompok has taken former Deputy Prime Minister Datuk Seri Anwar Ibrahim to task for claiming that he did not have much information about the illegal immigrants issue during his tenure in office.
"It is very fresh in my mind in 1994 when we applied to join Barisan Nasional, the first person (I spoke to) was Anwar. One of the things I mentioned to him was that one of the issues we (then PDS) were looking to be addressed was the illegal immigration.
"He knows it and as parliament at that time was re-delineating  electoral boundaries, Anwar said: 'There is nothing much the federal government can do about this right now but we can see what can be done later on.'
"So he is aware that we are concerned about it. Maybe he has forgotten? It's a long time already… people get older and they forget things," Dompok said after officiating UPKO Beaufort's triennial general meeting here on Friday.
The former federal minister said this when asked to comment on Anwar's testimony at the Royal Commission of Inquiry on the presence of illegal immigrants in Sabah where the latter said: "As I said there was no credible evidence then … I have never seen documents of this nature at that time where information such as names and IC numbers were compiled together."
Anwar told the Commission when the illegal immigrants issue was raised in parliament then, the standard replies from the Home Affairs Ministry would be: 'Yes we are dealing with it', 'No, the allegations as to the huge number of illegal immigrants in Sabah are not true.'
When Commission chairman Tan Sri Steve Shim asked why the issue was never raised and discussed in Cabinet then, Anwar said: "Probably the Sabah ministers in the cabinet then were satisfied with the explanation of the Home Ministry.'
When asked for his opinion on Anwar's statement that revoking the citizenship of those who had obtained it illegally would render them stateless and they would be stuck in Malaysia as their country of origin does not recognize and therefore will not accept them back, Dompok pointed out that what was important was to sort out the issue.
According to him the first on the list was to do the correct thing and that is to revoke anything that was issued fraudulently.
"The first thing we do is to do the correct thing, if somebody has been given something illegally then that has to be corrected first and then we move to the next step and figure out what do we do with them as there must be a solution for this.
"We must first ensure that the process of law is carried out properly and with full compliance of the existing laws. We are talking about integrity of the nation, of our laws. How can we have a country boasting of 50 years of nationhood not being able to address the issue of legality?" he stressed.
On Anwar's claim that there was no credible evidence at that time on the issue for the federal government to initiate action, Dompok said: "That is why I said, let's reset the policies. This is the time, the second half of the century and we must do so.
"This is the time we do it and this is what UPKO wants to do," he stressed.
Mazlan not apologising for mystery letter
Posted: 22 Sep 2013 03:42 PM PDT
(Bernama) - Former Barisan Nasional candidate for the Permatang Pauh parliamentary seat Dr Mazlan Ismail has no intention of entertaining the notice for apology filed by opposition leader Datuk Seri Anwar Ibrahim and DAP chairman Karpal Singh over the mystery letter involving them.
Describing the notice as illogical he said: "I'm puzzled as to why I have received this letter dated Sept 5 last week regarding the mystery letter on bank leaks."

"I've repeatedly stressed that I only wanted an explanation from the two of them. The almost 6,000 voters in Permatang Pauh whom I represent received the letter too and have asked me to seek clarification," he told a press conference here today.  
"Anwar and Karpal's action reflects their double standards, when they speak of integrity, transparency and justice. I have handed over all the letters to the Malaysian Anti-Corruption Commission for further action," he added.  
In August, Mazlan announced that about 6,000 letters titled 'Bank leaks Anwar/Karpal' were sent to his house linking the leaders with a corruption case involving the judiciary and Attorney-General Chambers.  
But Anwar and Karpal denied the contents of the letter and lodged police reports to initiate an investigation into the matter. 
First day back, Kit Siang targets new Bumi agenda, says only for Umnoputras
Posted: 22 Sep 2013 03:35 PM PDT
Jennifer Gomez, TMI
DAP national adviser Lim Kit Siang (pic) fired the first salvo when Parliament's new session began today, saying that the government transformation programmes had failed and that the new Bumiputera agenda went against the grain of the New Economic Model which hinged on merit and not based on race.
He said this after Deputy Minister in the Prime Minister's Department Datuk Razali Ibrahim responded to a question from Lenggong Member of Parliament Datuk Shamsul Anuar Nasarah to state the achievements of the transformation programmes.
Lim pointed out that the new Bumiputera agenda only benefitted a select few "Umnoputras" when there were many other Bumiputeras and non-Bumis who lived below the poverty line and needed government assistance.
"Isn't this evidence that the government programmes have failed?" Lim, the Gelang Patah MP, asked.
He questioned whether Umno leaders were willing to pledge that they were Malaysian first and Malay second.
Razali replied that Lim just wanted to see the transformation programmes fail, adding that they were not about politics but helping the needy.
"Malay Bumiputeras make up 68% of the population but only have about 40% equity stake. For the sake of stability, the government needs to help them increase this equity and we hope to achieve this through the Bumiputera agenda," he said.
Dr Mazlan chides Anwar, Karpal for serving lawyer's notice
Posted: 22 Sep 2013 03:21 PM PDT
(NST) - Former Barisan Nasional candidate for Permatang Pauh, Dr Mazlan Ismail, chided opposition figures Datuk Seri Anwar Ibrahim and Karpal Singh for serving him a lawyer's notice on the 6,000 letters sent to his house last month.
Calling their act ridiculous, Mazlan said he was merely asking them to explain over the alleged claims made in the letter.
"I was merely raising it as a responsible person. I asked for an explanation from them on the matter, and they are suing me for that?
"These two are practicing double standards, while they preach their transparency ideals," he said in a press conference here at his residence in Kubang Ulu, Penanti here.
Mazlan said he received four letters from Karpal Singh & Co., demanding him to issue an apology on NST and Utusan Malaysia over the reports.
Mazlan revealed the letters at a press conference here last month, which contained allegations involving Anwar and Karpal.
The eight-page letter included copies of saving account numbers of various banks allegedly belonging to Anwar and some payment made to Karpal via cheques  since 2008.
In response to the matter, Karpal had refuted the allegations and had warned Mazlan that 'he should prepare for the consequences'.
Posted: 22 Sep 2013 03:12 PM PDT
(The Star) - The final day of People's Tribunal examining the 13th General elections closed Sunday with the head of the legal team Professor Gurdial Singh Nijar due to present his closing statement on Friday (Sept 27).
The panel, consisting of three Malaysians and two foreigners, will be presenting their final reports and proposals as to the improvement of the current election system in three months time.
During the five-day tribunal, Malaysians from all walks of life gave their testimony during the elections, which they felt were illegal or was not right in some ways..
Independent elections watch dogs such as Bersih, Pemantau and Merdeka Centre, as well as political leaders gave their statements and evidences.
Allegations of money politics, bribery, extortion, the lack of credibility of the Elections Commission, flawed electoral system, refusal to submit Form 14 and even murder were among the allegations that were floated during the tribunal.
Pakatan Rakyat leaders including Pantai Dalam MP Nurul Izzah, Klang MP Charles Santiago,  PKR vice-president Chua Tian Chang,  Kuala Selangor PAS candidate Dr Dzulkefly Ahmad and several other Pakatan Rakyat candidates also made their statements during the tribunal.
The tribunal attracted negative comments from many, including the Attorney-General Tan Sri Abdul Gani Patail and Barisan Nasional Secretary-General Tengku Adnan Tengku Mansor.
The AG criticised Bersih chairman Datuk S. Ambiga for organising a tribunal that did not have any legal standings and called the whole thing a publicity stunt. 
Those testifying at the tribunal were also warned of legal repercussions as the statements could be constituted as seditious.
Tengku Adnan, in response to  Bersih's invitation to attend the tribunal and present Barisan Nasional's grouses and evidence, said that he will not attend a tribunal by 'unclean' Bersih.
He alleged that the Bersih brought in foreign voters during to Putrajaya during the general elections to pose as voters.
In response to his allegations, Ambiga said "Does this mean that they admit that there were foreigners that voted during the elections?"
The final day of the tribunal brought some more surprising claims such as that of National Oversight & Whistleblower Centre (NOW) directors Akmal Nasir's allegation that some 24 Elections Commission (EC) officers made a police report against their returning officers for forcing them to hand over their ballot papers in exchange of RM200.
NOW is an organisation formed by Pandan MP Rafizi Ramli, who is also Parti Kedilan Rakyat strategic director.
When questioned if the reports were part of the petition filed by the opposition, Akmal said no, as the party decided to only file petitions for the seats that they lost by small margin.
"Does this mean that your party does not care about elections irregularities but only that they won?" the panel questioned.
Besides the Elections Commissions (EC) and political parties, the role of the media was also questioned, with Centre for Independent Journalism (CIJ) presenting their report on what they said was biased reporting by the mainstream media, especially.
A heated argument erupted between the final witness, Ambiga and penal member Datuk Azzat Kamaludin, when the latter suggested that the duty to keep the elections fair and clean did not just fall on EC.
He insinuated that Malaysians, especially elected representatives, should do their pars to ensure that the whole process is credible, to which Ambiga strongly disagreed.
"As far as I am concerned  it is EC's duty alone. People will not have to be vigilant if they do their job with honesty and sincerity, " she said.
During his closing speech, panel chairperson Professor Yash Pal Ghai, an expert in constitutional law, commended the organising committee on a successful programme and said that the experience will be an inspiration to many other countries.
"I am sure other countries will benefit from this. You have given us much to think about," he said at the end of the tribunal.
He added that the citizens of a country are ultimately the custodians of democracy and human rights and as such he was happy to have been a part of the tribunal.
The other panel members who made up the tribunal were former Indonesian electoral commission deputy chairman Ramlan Surbakti, advocate and solicitor Datuk Azzat Kamaludin, University Malaya Economics and Administrative faculty associate professor Dr Mavis Puthucheary and Councils of Churches of Malaysia General secretary Rev Hermen Shastri.
It will be interesting to see the conclusion that the panel makes. For all that the testimony was one-sided testimonials, there was some evidence that appeared to be convincing.
What was clear at the end of the tribunal was the lack of trust that many Malaysians have in the electoral system and that there are many loopholes that have to be addressed.
PAS member pays respects to Chin Peng in Bangkok
Posted: 22 Sep 2013 02:53 PM PDT
Lee Shi-Ian, TMI
Kedah PAS leader Fadzil Baharom was a late visitor to Chin Peng's wake this evening, arriving at the Wat That Thong temple in Bangkok about 7pm together with several friends to pay his respects to the former Communist Party of Malaya secretary-general.
When met at the wake, Fadzil stressed that he was not representing PAS or PKR but was there in a personal capacity.
Fadzil said he has known members of Chin Peng's family for about five years and felt it was appropriate to attend the wake.
"I will not be staying for Monday's cremation as I have to return to Kedah," Fadzil said, adding that he had long wanted to meet Chin Peng personally but did not have the opportunity.
He said despite the Malaysian government's portrayal of Chin Peng, he considered the latter to be a fighter.
"Malaysia's history has been changed; I am looking for the unvarnished version.
"Even within PAS, not everyone is really familiar with the facts of the nation's history and how events actually panned out," Fadzil said.
"Although my presence here today is nothing great, I am sure in five or 10 years it will be seen as a historical moment because I dared to attend Chin Peng's wake," Fadzil said jovially.
He also pointed out that following Chin Peng's death on Monday, many people had been circulating old stories and reports about the 88-year-old on the Internet.
Zahid insists on blocking return of Chin Peng's ashes
Posted: 22 Sep 2013 02:44 PM PDT
Boo Su-Lyn, MM
With Chin Peng due to be cremated today, Datuk Seri Ahmad Zahid Hamidi has maintained that Putrajaya will prevent the former communist leader's remains from being brought back to Malaysia, despite pleas from MCA and Pakatan Rakyat (PR).
In a report by Umno-aligned daily Utusan Malaysia today, the home minister repeated Prime Minister Datuk Seri Najib Razak's remark that the former communist leader was not a citizen here, and added that his burial here would lead to his veneration.

"The reason is because he was not a Malaysian citizen, based on information from the National Registration Department. Of course we also know that, if his remains or ashes are brought back, there will be people who will glorify him as an independence fighter or create a memorial," Zahid was quoted as saying by the Malay-language newspaper.

"We are firm in our stand. Like what the prime minister said, Chin Peng cannot enter Malaysia."

The home minister said that such actions would hurt the feelings of war veterans and family members who had suffered under "the cruelty of Chin Peng and the communists".

Najib said last Friday that the 1989 Hat Yai Peace Accord - which allowed Communist Party of Malaya (CPM) members to return to their homeland if they laid down their arms - required those who agreed to the terms to apply for citizenship within one year of signing the agreement.

He claimed that Chin Peng, the former CPM secretary-general, had refused to do so and thus, had relinquished his rights.

But MCA, PR and even former Inspector-General of Police (IGP) Tan Sri Abdul Rahim Mohd Noor have told the federal government to respect the three-way peace treaty signed between Malaysia, Thailand and the CPM.

Abdul Rahim - who had led the peace negotiations between Malaysia and the CPM in the late 1980s as the Special Branch director then - said recently Malaysia would become the world's laughing stock if Putrajaya insisted on prohibiting Chin Peng's remains from being buried in his home country here.

Lawyers have also said that there is no specific law that the federal government can use to bar Chin Peng's ashes from being brought into Malaysia.

Chin Peng, 88, died in a hospital in Bangkok, Thailand on September 16, where he had been living in exile before his death.
Chin Peng's kin rubbish claim date of death was doctored
Posted: 22 Sep 2013 02:38 PM PDT
Boo Su-Lyn, MM
Chin Peng's family has denied that the former communist leader's date of death was manipulated to coincide with Malaysia Day.
English daily The Star reported Chin Peng's nephew, Lee Suvit, today as saying that Chin Peng was certified dead at 6.20am on September 16 at a hospital in Bangkok, Thailand.

"We don't wish to respond to such lies, but I can tell you for certain that my uncle died on the morning of September 16," Lee was quoted as saying on the third day of the wake yesterday.

Mingguan Malaysia, the weekend edition of Utusan Malaysia, quoted an anonymous source yesterday as saying that Chin Peng had breathed his last on September 15 in Bangkok, Thailand, and not September 16 as reported.

The Umno-aligned Malay broadsheet further alleged that Chin Peng's date of death on the 50th anniversary of Malaysia Day had been faked to make his passing a memorable event.

In response, the MCA yesterday told Utusan to respect the dead instead of making baseless allegations that could hurt the feelings of Chin Peng's family.

News of Chin Peng's death first broke on Bangkok Post on September 16, with the Thai news portal reporting that he was pronounced dead at 6.20 am and that he had died of old age in a Bangkok hospital.

Chin Peng, whose real name was Ong Boon Hua, was 88 years old when he died reportedly of old age, after spending his final years in exile in Bangkok.

Home Minister Datuk Seri Ahmad Zahid Hamidi reportedly insisted yesterday on prohibiting the former Communist Party of Malaya (CPM) secretary-general's ashes from being interred in his hometown in Sitiawan, Perak.

Zahid was reported by Utusan as insisting that Chin Peng was not a Malaysian citizen, and that allowing his remains into the country would hurt the feelings of war veterans and families who had suffered in the violence perpetrated by the communists.

The MCA, Pakatan Rakyat (PR) and even former Inspector-General of Police (IGP) Tan Sri Abdul Rahim Mohd Noor have told the federal government to respect the 1989 Hat Yai Peace Accord signed between Malaysia, Thailand and the CPM that allowed CPM members, who laid down their arms, to return to their homeland.

Lawyers have also said that there is no specific law that Putrajaya can use to prohibit Chin Peng's ashes from being brought into Malaysia.

Lee said that Chin Peng's family would not smuggle the ashes into Malaysia, pointing out that his uncle was a leader of dignity and that his remains would be treated accordingly with respect.

"We will not use the back door to send him back to his homeland," he was quoted as saying by The Star.

Chin Peng's nephew added that the family did not place any personal belongings in Chin Peng's casket, saying: "He was a simple man and nothing material was precious to him.

"What he cared about was the future, so what he wants to leave behind, he has left behind."

Chin Peng will be cremated in Bangkok today.
Posted: 22 Sep 2013 12:40 PM PDT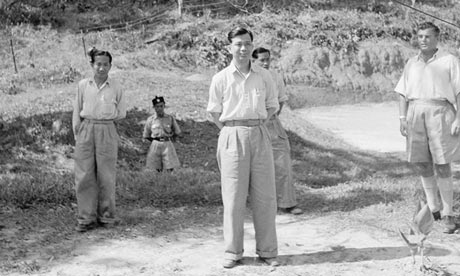 Chin Peng, centre, at the Baling peace talks in Malaya, 1956, which came to nothing.  
(The Guardian) - The 1989 a peace agreement included a provision for Chin and his comrades to return to his native country, which was never honoured. He went into exile in southern Thailand, travelling to Singapore to lecture at the university. His application in 2000 to return was rejected by the Malaysian high court after five years; his appeal failed in 2008, on the grounds that he was unable to prove his citizenship through documents long lost. 
The ethnically Chinese, Malayan political activist and guerrilla leader Chin Peng, who has died aged 89, fought both with the British and against them. For his exploits during the second world war he was appointed OBE, and after it he led the abortive communist campaign to take over Malaya.
Chin was the last of the major guerrilla commanders who fought colonialism in Asia after 1945, a group including Sukarno in the Dutch East Indies (now Indonesia), Ho Chi Minh in Vietnam, Norodom Sihanoukin Cambodia and Aung San in Burma.
When Malaya gained independence from Britain in 1957, and six years later merged into today's Malaysia, Chin continued his struggle for communist control of the new state from exile until a peace agreement was signed in 1989. At this point the Malaysian government flatly refused to allow him to return, a ban which has been extended to his remains.
Chin Peng (his nom de guerre) is said to have been born in 1924 in the Malayan state of Perak. His birth name was Ong Boon Hua and his father was an immigrant from China who set up a bicycle business. He took to politics at the age of 13, joining a new ethnic-Chinese society set up to send aid to China in its fight against Japanese aggression. His first role was to lead anti-Japanese activity at his school. At 16 he became a communist.
In 1939 he transferred from his Chinese-language school to an British Methodist one, but left after six months to escape British domination and become a full-time revolutionary. To evade local British authorities he moved to Kuala Lumpur, the Malayan capital, in July 1940. When he attained full membership of the Communist party a year later, he was already serving on a number of party committees in Perak as well as party labour organisations.
The Japanese invaded Malaya in December 1941, when he was the junior member of the triumvirate running the Perak state committee. His two senior colleagues were arrested by the Japanese early in 1943, leaving Chin in charge. He went back to Kuala Lumpur in a bid to contact the CP central committee, which appointed a new state secretary for Perak in his place – but the new man was arrested as well, leaving Chin in charge at the age of 19.
It was down to him to make contact with a British commando unit operating in Perak in September 1943. Japan was now the enemy and Chin adopted the view that my enemy's enemy is my friend; but the easy defeat of the British in Malaya, culminating in their worst-ever surrender in Singapore in February 1942, had convinced him that they could be driven out in their turn.
For his dangerous work for British forces he was not only appointed OBE (later rescinded), but received two mentions in dispatches. When Lai Tek, secretary general of the Malayan CP, was unmasked as a double agent for the Japanese and the British, Chin was elected to replace him: he was the senior survivor of the party leadership after Lai had betrayed it to the Japanese. He was now 20.
Read more at: http://www.theguardian.com/world/2013/sep/22/chin-peng 
Follow Penang's lead with lawmaker funds, Putrajaya told
Posted: 22 Sep 2013 12:26 PM PDT
Zairil Khir Johari said the Penang government's decision is the right step towards promoting a mature democracy and national reconciliation after the 13th general election last May 5.  
(MMO) - Putrajaya should emulate Penang's move in providing development funds directly to elected representatives on both sides of the aisle, two opposition parliamentarians said today.
First-term MPs Steven Sim Chee Keong and Zairil Khir Johari said the Penang government's decision is the right step towards promoting a mature democracy and national reconciliation after the 13th general election last May 5.
"This should be emulated by all state governments in Malaysia and definitely by the federal government. This year, a total of RM185.5 million was allocated for all 222 parliamentary constituencies. This equates to around RM835,000 for each constituency. Unfortunately, opposition MPs have no power to manage or approve any project using the allocation. This is clear discrimination towards opposition MPs and in violation of democratic principles. It can also be seen as an insult to the rakyat in opposition areas," they said in a joint statement.
Yesterday, Penang Chief Minister Lim Guan Eng announced that the state government would set aside an annual allocation of RM40,000 for each opposition assemblyman to finance small development projects in their areas, starting next year.
National news agency Bernama quoted him as saying that the allocation was discussed and approved by the state executive council last Wednesday, and will be part of the state's 2014 budget.
Lim added that the state government had initially invited opposition benchers to become state executive councillors to give them a platform to serve and receive allocations, but claimed that the state's offer was rejected.
Sim, who is Bukit Mertajam MP, and Zairil, who represents Bukit Bendera, said today that the state's decision was evidence that the Penang state government does not "play politics" and is serious in pushing for national reconciliation.
The DAP elected representatives said it is only right for Prime Minister Datuk Seri Najib Razak to extend the same treatment to opposition MPs so they can fulfil their responsibilities as legally-elected MPs.
"We also hope the prime minister will take this opportunity to act rationally and set aside narrow political interests to make way for maturity of the political process in the country," they said.
Previously, DAP's Sungai Siput MP Dr Michael Jeyakumar Devaraj had filed for a judicial review of the government's RM220 million development fund for federal constituencies.
The funds were allocated at a rate of RM1 million to each federal seat but were managed directly by Barisan Nasional representatives and without the knowledge of Pakatan Rakyat lawmakers.
The bid was, however, rejected by the Federal Court in January.
Forget merging, solve people issue first
Posted: 22 Sep 2013 11:15 AM PDT
(Bernama) - The proposed merger of Gerakan, MCA and the Sarawak United People's Party (SUPP) is not a solution to restore Barisan Nasional's (BN) glory, said acting Gerakan president Chang Ko Youn.
Instead, he said, all BN component parties should help the government to address the issue.

"Why the need for a merger? The important thing is for all BN component parties to play their role by restructuring BN and making it (BN) a strong machinery through discussion and to make changes," he added.

He was speaking to reporters after opening the Kuala Lumpur Federal Territory Gerakan State Liaison, Youth and Wanita annual delegates conference at Menara PGRM here last nigt.

Chang said the important thing was to focus on how the BN component parties could address issues raised by the people.

"Issues raised by the people, like on transparency, governance, delivery system, all this must be settled, including on crime, high cost of living and the quality of live in the urban areas," he added.

He said the new elected line-up of Kuala Lumpur Gerakan leaders should draw up a new strategy aimed at restoring the party's strength.

Meanwhile, Lau Hoi Keong was elected as the Federal Territory Liaison Committee chairman after beating Dr Wong Ruen Yuan while Calven Loke Wai Hoong was elected as the Federal Territory Gerakan Youth chief after beating Simon Sim in the party's state election yesterday. 
Kredit: www.malaysia-today.net