Klik GAMBAR Dibawah Untuk Lebih Info
Sumber Asal Berita :-
---
Honest dialogue needed before 'new social contract'- analysts
Posted: 30 Aug 2013 11:57 AM PDT
Astro Awani 
KUALA LUMPUR: Analysts are split over whether the call by Youth and Sports Minister Khairy Jamaluddin to draw up a new social contract is a good idea.
However, two analysts Astro AWANI spoke to agreed that what is needed is honest dialogue before the country can move forward.

"It is welcomed idea, and I think Malaysia is reaching a stage of maturity where we are reaching Vision 2020. We are a globalised world where we need to move beyond our comfort zones, this might be necessary," said Political analyst Datuk Dr Denison Jayasooria.

Denison said that it that in the interest of Malaysia as a whole, it might be necessary to look at the terms and conditions and also implementation and to see what were the gaps.

"I think an honest review where we can do it first as a consultative process among various stakeholders and then open to public engagement is feasible," he said.

Denison, however, stressed that some things are non-negotiable and historical, while others in terms of specific targets and things can be negotiated together.

He warned that the discussions must not be polarising and should stay away from "Us vs them" and "majority vs minority" debates but has to be "in the context of Malaysians as a whole"

" I think if people are open it is valid to have an actual (social contract) review discussion with an open mind and with a clear rationality... then we can move on to legislative policy and deliberate changes," he said.

Denison said that if there is no political will to have open engagement with all parties, then discussing the social contract might "open a hornets mess".

He said that among the areas Malaysia needs improvement on is its participation on human rights conventions on issues such as torture, anti-racism.

Meanwhile, political scientist Dr Chandra Muzaffar said that the social contract, which was agreed upon by leaders in the 50s, should be defended.

"We should not create a new social contract. This consensus is contained in the Federal Constitution, it is not something alien or anything. I regard the Constitutionas the basis of our unity as Malaysians," he said.

However, Chandra said that honest dialogue on the subject should be trashed out through a unity council as a platform.

"This dialogue it should encourage open discussion and this is something I have suggested 30 years ago," he said.

Chandra added that this council should be held behind closed doors and should also be done through Act of Parliament, it should be a independent body that is not tied to the executive.

Yesterday, Khairy said that a new social contract should be drawn to allow Malaysians 'to do a hard reboot' of the country.

"Such a move will also allow Malaysians to reshape the basis of their union and better reflect the challenges of today's generation," he said that the closing of the Association of Voices of Peace, Conscience and Reason (PCORE) - Asian Strategy and Leadership Institute (ASLI) Forum 2013, entitled 'Unity and Multiculturalism: Building A Future Together'.
Posted: 30 Aug 2013 11:31 AM PDT
(FMT) - Sarawakians respect Aug 31 but it is not their independence day, and 'now Malaya identifies somethings that are not connected with Sabah and Sarawak'. 
KUCHING: As Communications and Multimedia Minister Shabery Cheek compels Malaysians to "display" patriotism by standing up in cinemas to the national anthem and fly the Jalur Gemilang in conjunction with Merdeka Day, newly 'awakened' Sarawakians are taking a 'respectful' stand.
They are saying that Aug 31 is the day Federated Malaya secured its freedom from colonial rule.
And like the United States of America, Federated Malaya had "only much later annexed" then independent Sabah and Sarawak via a Malaysian Agreement signed on Sept 16, 1963.
Righfully then, Sept 16 should be the "more" celebrated national day and Sarawak's July 22 as the day the state received its independence.
If there were arguments over this in the past, Chief Minister Taib Mahmud's presence and endorsement of Sarawak's Independence Day celebrations on July 22 recently has put an end to this, opined some to FMT.
Said Douglas Bujong 34 a technician from Serian: "Aug 31 should be the date of independence for Malaya, not Sarawak.
"That is recognized in our history annals. So Sarawak should not be involved at all with this date.
"I am very happy the state government has recognised July 22 as an important date for Sarawakians.
"Sarawak gained its freedom from the British on July 22, 1963. It's a part of Sarawak identity."
Kuching-based Joseph Gee, 39 shared his view, adding that Sarawak's history has lived in the shadow of Malaya's.
A sales consultant Gee said Sarawak should celebrate its own Independence Day as a "reminder to the new generation of "our true history".
"July 22 celebrations was great, both as a way to celebrate and also to remind the newer generation.
"Once we know our history better, then we can learn from it. It's important that we Sarawakians know our actual history," said Gee.
Edgar Ong, a 50-year-old entrepreneur here, however believes that the apt national conciliation day for Malaysians to celebrate is Sept 16.
"Aug 31, 1957 is Malaya Independence, not for Sabah and Sarawak, for us, we should celebrate on Sept 16, formation of Malaysia. From past experience, Malaya has no interest in us.
We won't allow this election commission to change boundaries, vows Anwar
Posted: 30 Aug 2013 10:59 AM PDT
(TMI) - Pakatan Rakyat (PR) will not endorse any delineation of electoral boundaries by the Election Commission (EC) with its current leadership still calling the shots, said Opposition Leader Datuk Seri Anwar Ibrahim.
Electoral laws allow redelineation exercises every eight years subject to approval by a two-thirds super majority in Parliament. The last redelineation exercise was in 2003 before Barisan Nasional (BN) last won such a majority in 2004.
"We firmly oppose this because the EC, with its tarnished track record and history, cannot be entrusted to carry out such an important task."It doesn't make sense and we will fiercely oppose this," Anwar told The Malaysian Insider in Kuala Lumpur.
As BN currently has a simple majority in Parliament, it would be difficult for the EC to get the changes endorsed without opposition support.
The opposition has in the past inferred that the boundary realignment is skewered towards BN's interests.
And each time the boundaries are redrawn, historically at least, Umno and BN always enjoy sweeping victories.
When the last delineation exercise was carried out was in 2003, PAS had just won big in the 1999 polls, mainly due to the support of the Malays who sympathised with Anwar following his sacking from government.
In the 2003 delineation exercise, the opposition said some constituencies were tampered with, whereby a large number of Chinese and Indian voters were assimilated into areas which were largely Malay-dominated.
Glaring examples include the Kuala Kedah constituency, which was won by Mohamad Sabu in 1999, and Pokok Sena, which was won by Mahfuz Omar.
During the delineation, the states where Umno enjoyed strong support saw more constituencies created. Johor saw its number of constituencies increase to 26.
Due to this, in 2004, BN won by a big margin with a large portion of the victory due to the delineation exercise in 2003.
However, the 2003 exercise was successful due to the fact that at that time BN had two-thirds majority in Dewan Rakyat.
In 2011, the delineation exercise was not carried out due to the fact that BN only had a simple majority, despite EC deputy chair Datuk Wira Wan Ahmad Wan Omar's excuse that it had to be postponed due to the 13th general election.
Opposition leaders described the excuse in 2011 as hypocritical because in 2003 the delineation exercise was carried out a year before the general polls.
For Anwar, the delineation exercise was not a question of two-thirds majority but a question of the EC's credibility, which must be resolved.
"The electoral rolls issue hasn't been resolved until now. Sort that out first," he said, referring to dubious voters in the rolls.
Anwar was also not convinced of changes in the EC despite new secretary Datuk Abdul Ghani Salleh being picked to replace Datuk Kamarudin Mohd Baria who retired.
Malaysia's Need for a New National Narrative
Posted: 30 Aug 2013 10:38 AM PDT
Malaysians must move onto new truths and reconciliations in the belief of one nation Malaysia. Otherwise Malaysia will continue to be divided with increasing frictions.  
Race-based idealism must be replaced with policy-based idealism, where governments work upon a platform based on consensus. 
Murray Hunter
The ritualistic month-long celebrations of Merdeka (independence) activities in Malaysia have largely lost their meaning. Discussion about the roles that different groups played in the road to independence has largely been rewritten to support the current rulers of today.

The celebration of 31st August, the day Malaya gained independence from the British as the major national day, to take place tomorrow, seems to exclude the aspirations of Sabahans and Sarawakians, where on 16th September 1963 they joined Malaya and Singapore in the union called Malaysia. Groups like the Communist Party of Malaya, which fought and lost many lives against both the British and Japanese, are almost totally excluded from the narrative. 

This is all occurring in an environment desperately in need of a narrative of inclusiveness. 

The current Merdeka celebration suppresses the generation of new ideas and a national creativity that could spring up from an environment of inclusiveness. The celebrations have severed any empathetic connections between Malaysia's various elements within the rich and diverse history of the country, replacing it with a single narrative one would find on a cellulose film like "Tanda Putera," which purportedly describes the events of 1969 which led to the country's worst race riots and which even before its release has kicked off a major controversy over Chinese-Malay relations. 

A whole generation now exists who behave according to the beliefs and values incorporated within this narrow narrative. This denies the cascade of alternative realities and their accompanying narratives which stifles national creativity and evolution that Malaysia needs to face the challenges before it. The celebrations fail to incorporate any evolving aspirations that would promote and enhance the semblance of national unity. 

Ironically under the Mahathir years, a strong national narrative existed which at the time appeared to be shared by middle-class society. Malaysia in the 1980s and early 1990s had a deep sense of national pride where any senses of inferiority were thrown out of the window with the catch cry of Malaysia Boleh(Malaysia can). Many people at the time believed it was the best country to live in. Almost 25 years on these feelings have been replaced with a sense of despair over law and order, corruption, religious intolerance and self-indulgence. 

The fact that Malaysia has many domestic issues to solve and that its place in the world is slipping away, according to many international rankings, is largely out of the national discussion and public agenda. Rather it appears division is in everybody's best interests, from school administrations right up to the highest echelons of government. 

Malaysia has lost that true spiritual unity between people that was the catalyst that brought independence in the first place, first with the British during the 1950s and then between the parties that made up the Malaysian union in 1963. 

What is missing today are aspirations about the purpose and dreams the country was founded upon during the struggle for independence, and subsequent search for its identity as a nation. Malaysia as a nation is yet to realize that diversity has a spiritual unity about it. Suppress it and the national narrative becomes one without optimism for a just and equitable society. 

The current national narrative is one captive under the old traditional caste system with little relevance to the needs of contemporary society. Consequently the Malaysian mind is a prisoner of this paradigm, unlikely to break free to enable an enlightened society. 

The rulers have felt insecure with their own values, preferring to adopt a neocolonial development paradigm of unquestioned growth and development and profiteering. Development has been a game for the elite, without any questioning of this occidental paradigm. Greed and intolerance have developed into two of the most important post-Merdeka qualities. 

READ MORE HERE
Khairy Says No Preferred Running Mate
Posted: 30 Aug 2013 10:17 AM PDT
(Bernama) -- Incumbent Umno Youth chief Khairy Jamaluddin said he has no preferred running mate in defending the post at Umno's polls in October.
Khairy, who is also Youth and Sports Minister, said he would be neutral in the matter.
"All four vying for the post (vice head) have their own strengths. They are all my friends.

"Whoever wins, I can work with him," he told reporters when met at the 'Merdeka Raya' Aidilfitri open house hosted by Umno Youth, Wanita Umno and Puteri Umno at the Putra World Trade Centre here Friday.

Prior to this, a local daily had reported that Khairy had endorsed one of the four for the post which will not be defended by incumbent Datuk Razali Ibrahim, who has stated his intention to go for a Supreme Council (MT) seat (at Umno's polls).

The four in the running are Perak Umno Youth chief, Khairul Azwan Haron; Umno Youth executive council member Lokman Noor Adam; Tenom Umno Youth head Jamawi Jaafar and Lenggong Umno Youth head Mohd Iruan Zulkefli.

The report had said that Khairy was in favour of Khairul Azwan to be his No. 2.

On another matter, Khairy said Umno Youth targetted to have two or three Umno Youth leaders contesting MT seats and that a decision on this would be taken on Sept 4.
A month later, tables turn on Seri Pristana students
Posted: 30 Aug 2013 10:07 AM PDT
(MMO) -  Some parents claim there are those in the school now out to learn the identities of those involved in triggering the public storm over headmaster Mohd Nasir Mohd Noor's decision to use a bathroom as a canteen during the Muslim fasting month of Ramadan.
KUALA LUMPUR, Aug 31 — A month ago, parts of the nation seethed at the sight of students made to eat in the bathroom of a Sungai Buloh school.
But now that the controversy has waned, parents allege the children are facing a backlash from those blaming them for damaging the reputation of SK Seri Pristana.
Some parents claim there are those in the school now out to learn the identities of those involved in triggering the public storm over headmaster Mohd Nasir Mohd Noor's decision to use a bathroom as a canteen during the Muslim fasting month of Ramadan.
"Kamu budak jahat, pasal kamu semua, name sekolah terjejas (You are naughty children, because of you all, the school's name is jeopardised)," a parent, who wished to be known only as Raj, recounted a teacher's alleged words to his daughter following the controversy.
He told The Malay Mail Online that the first of many such alleged incidents took place after a morning assembly, when the "Penyelia Petang" (afternoon supervisor) singled out the children.
Raj said this may be because only the non-Muslim students in the afternoon session ― those in Standards Two, Three and Four ― ate in the shower room; he said the older non-Muslim students in the morning session had opted to eat elsewhere, such as at staircases instead of the "smelly and dirty" bathroom.
Another parent, who asked to be known only as Devi, 45, said that while her son has not been harassed, she is seriously considering transferring him elsewhere after the end of this school year, fearing that he would be targeted next.
"But we don't know what about the future, it seems to be that there is no solution to this problem, it will just go on and on," she told The Malay Mail Online over the phone.
"I don't know how the headmaster and the teachers are going to behave with the kids, (there is) no guarantee the teachers are going to be okay with them."
There are fewer than 30 non-Muslim students in the primary school of about 1,300. Some parents have already opted to withdraw their children after one father was arrested for allegedly intimidating Mohd Nasir, fearing they are next in line.
Devi said, ideally, she would transfer her son to a more racially-integrated school, although she has yet to identify the right one.
Meanwhile, Raj said the school has disputed the allegations of harassment, and alleged that students were told to transfer out of SK Seri Pristana if they did not like the school.
He further said the students were told to furnish evidence of the alleged persecution.
This was enough to drive his daughter to a teary bid over two days to convince Raj and his wife to move her to a different school.
She did not return to the school since the Hari Raya holidays and started attending a new school last Monday.
He insists that the reports of students being targeted by school figures were "not lies".
"The education blueprint says it wants to create 1 Malaysia unity among all races, that must start from schools," he said.
For Devi, she only hopes that her son will make it through the rest of the school year undisturbed.
"Just a few months, we don't want any problems, just finish [the year] off and we're moving out," she said.
A firestorm erupted late last month after images of primary schoolchildren eating in a bathroom were shared on social media sites.
School authorities explained that the move was because the canteen had been under renovation. Government figures including Deputy Education Minister P. Kamalanathan accepted the clarification and declared the issue closed following an apology from the school head.
But the matter has continued to simmer since with police reports and threats against various parties.
On Monday, one parent was arrested for allegedly threatening Mohd Nasir, but his arrest led to outcry from others who say 18 police reports had been made against the headmaster with no result.
Razaleigh Wants To Call It A Day As Gua Musang Umno Chief
Posted: 30 Aug 2013 10:03 AM PDT
(Bernama) -- Gua Musang MP Tengku Razaleigh Hamzah said on Friday the time has come for him to hand over to a new leader the post of Gua Musang Umno division chief that he has held for almost 50 years.
He also said that he had decided to forgo contesting in the next general election to enable a younger leader to take over.
The 13th general election last May was the last general election for him, he said, adding that he would continue to serve his constituents until a successor was found.

"It is up to the members of the Umno division to decide on the leader who is most qualified (successor) because there are many eligible individuals," he told reporters after a Gua Musang Barisan Nasional (BN) election victory thanksgiving reception with the Orang Asli in Kampung Lambok, here.

Asked whether he would contest a post in the Umno elections in October, Tengku Razaleigh declined comment.

"I do not wish to comment. Let's see on Sept 28 (nomination for Umno Supreme Council posts) whether to contest or not," he said.

He pointed out that the new party rules provided for anyone to contest any post in the party, and said that could be decided on nomination day on Sept 28.
Why now, sceptical Umno leaders question Anwar on offer to talk
Posted: 30 Aug 2013 06:52 AM PDT
Jennifer Gomez, TMI
Umno Supreme Council members have described Datuk Seri Anwar Ibrahim's offer to open a dialogue with Putrajaya as an act of desperation.
"He wants to talk about this now, after losing in the elections and losing in court on election petitions. To me, he has no credibility to make this offer now. He should just bring this up in Parliament if he is really serious," Datuk Mukhriz Mahathir said today.
He added that the BN government was conciliatory after the general election, but Anwar made all sort of accusations against it.
"But after losing in the election petitions, he is making this offer. We cannot accept this," Mukhriz, the Kedah Menteri Besar, said after the Umno Supreme Council meeting in Kuala Lumpur.
The opposition leader organised a series of rallies dubbed Black 505 following the election to protest the results of the general election.
The opposition parties' election petitions in court, meanwhile, have met with failure.
Anwar had signalled his readiness to meet Putrajaya over several issues for the sake of the nation's well-being and future.
"Notwithstanding our strong protests about the validity of the outcome of the last elections, we are prepared to put aside our differences for the sake of the nation," he said.
"We believe that it is imperative for the prime minister to convene without the slightest delay a round-table meeting between the BN government and Pakatan Rakyat in order to deliberate on the issues raised and formulate a comprehensive solution," he had said.
Anwar, in his Merdeka Day speech, also pushed for a quick meeting between both parties to solve various issues plaguing the country.
"The meeting between both sides must be held immediately to save Malaysia, especially in light of the country's 56th birthday tomorrow," he had said.
The Way of Collective Ministerial Responsibility
Posted: 29 Aug 2013 11:02 PM PDT
This is the first rude awakening for Waythamoorthy, who rather naively thought he could reform the BN single handed. 
Dr Kua Kia Soong, SUARAM Adviser
After 56 years ruling the country, the BN government still does not understand the meaning of Cabinet collective responsibility. Three ministers as well as the Prime Minister have ticked off the rookie deputy minister Waythamoorthy for criticising the police over the slaying of the five alleged gangsters. They have told him that if he does not follow the principle of "collective responsibility" being part of the BN government, he should resign. 
Waythamoorthy had questioned the manner in which the five suspects were killed and had called for an inquest into the deaths of the five youths to dispel the mistrust surrounding the police on probing their own alleged misconduct. He had said that the photos of their injuries seemed to suggest that the five had been shot at point-blank range. He also questioned the nation's top cop's ability to make such a swift conclusion that the five men had been involved in 10 murders and two attempted murder cases. This has been the standard answer given by the police every time they killed criminals. Waythamoorthy further said if it was true that police had been observing the five suspects for some time, there was no reason why they couldn't have been arrested instead of being shot dead at point blank. 
Clearly, Waythamoorthy's criticism was aimed at the police and their conduct. It was not any move or action that embarrassed or threatened the BN government's grip on power. He is not the first member of the BN government to treat the police as a distinct institution separate from the Executive. Remember how Dr Mahathir had claimed that Operation Lalang was initiated by the police and not by the government that he led. Prime Minister Abdullah Badawi also saw fit to establish a Royal Commission to review the workings of the Malaysian Police Force after the many complaints against its conduct. 
The police force, the armed forces and the civil service are clearly separate from the Executive arm of the nation. So what do these ministers and the prime minister mean when they imputed that Waythamoorthy had breached the principle of ministerial collective responsibility?
Know your responsibility
"Cabinet collective responsibility" is a constitutional convention in governments using the Westminster System that ministers, deputy ministers and parliamentary representatives must publicly support all governmental decisions made in Cabinet, even if they do not privately agree with them.
This principle is usually practiced during any voting for the government in the legislature. For example, if a vote of no confidence is passed in parliament, the government is responsible collectively, and thus the entire government resigns. Cabinet collective responsibility is not the same as individual ministerial responsibility, in which ministers are responsible and therefore culpable for the running of their departments. In the Port Kelang corruption case, then Transport Minister Dr Ling Liong Sik has been held responsible although it was clearly a case of Cabinet collective responsibility.
On occasions, this principle may be suspended over such issues as the introduction of protective tariffs, or a referendum on whether the UK should remain in the European Economic Community. In 2003, Clare Short managed to stay in the Labour cabinet despite her opposition to the 2003 Iraq War.
Under the present Conservative - Liberal Democrat Coalition Government, we have seen Liberal Democrat ministers frequently publicly criticising the actions of Conservative Cabinet members.
In this country, the real test will be seen when the government tries to introduce the GST or to take us into the TPPA or when Sarawak or Sabah or both decide to call for a referendum on whether to remain in the Federation. It will be a case of the peoples' representatives voting according to their conscience and political principles. When the time comes and if Dr Mahathir does become a rookie deputy minister again, we will know how he will vote on the question of the TPPA. And when he does, will our three ministers and prime minister deal him a severe rebuke and tell him where to go?
The Way of the NGO Politicians
This is the first rude awakening for Waythamoorthy, who rather naively thought he could reform the BN single handed. Even Gerakan with their many knights of the BN round table ended up being deformed by the BN. We hope he will continue to voice the concerns of all justice-loving Malaysians and follow his conscience…
Servant Leadership 2.0 – Principles of S.E.R.V.A.N.T.H.O.O.D.
Posted: 29 Aug 2013 10:55 PM PDT
Why do we choose leaders? Because the followers expect leaders to advance their cause, simply! 
Lt Commander (R) John Moi, RMN 
"If everything rises or falls on leadership, choosing a servant leader may determine life and death of the people led."
In my previous writings, Servant Leadership 1.0 – Serve to Lead, we saw the concepts of servant leadership, qualities of being a servant leader, the historic and modern perspectives and the model of servant leadership briefly outlined.
This article explores some insights as to how to choose a servant leader based on the qualities and the model of servant leadership written earlier. According to Larry Spears, the Chief Steward of the Greenleaf Centre of Servant Leadership stated that the 10 characteristics of a servant leader are:
Listening

Empathy

Healing

Awareness

Persuasion

Conceptualization

Foresight

Stewardship

Commitment to the growth of others

Building community
For a fuller understanding of the above characteristics, readers are advised to visit the website: www.greenleaf.org
With the understanding that the characteristic of an ideal servant leader is non-exhaustive, I hereby table more distinguishing qualities for your consideration:
Sacrifice – As servant leaders, do not expect the followers to sacrifice themselves for you if you have not shown first that you are willing to sacrifice yourself for them. There cannot be a greater sacrifice for a leader who is willing to sacrifice himself or herself for others.

Example – The old adage, "Leadership by example" is still valid for today's world. Effective servant leaders are those who are not only leading by doing it, they are actually living it! Leaders of today are even coming under greater scrutiny in their sayings and actions with the advent of technology.

Revival – Good servant leaders must learn to bring to life and / or consciousness of serving one another, encouraging one another and standing alongside together.

Vanguard – Real servant leaders lead from the front…..always in the forefront in all activities and leading by example in all they say and do.

Advancing the cause – Why do we choose leaders? Because the followers expect leaders to advance their cause, simply! They see their embodiment of the cause through the chosen leaders.

Nurturing – Servant leaders are expected to nurture or support the follower's individual and group growth at all stages. This is a mandatory requirement. If not, the leader will lose the support of the followers.

Transparency – It is to the advantage of servant leaders if they are easily seen through and understood in all their deeds. They are expected to be open and frank. Leaders who are not transparent will be discarded at the earliest opportunity!

Helping – Servant leaders are expected to be the change agent in cooperating effectively, aid and assist, rescue and relieve the followers' burdens that arise. Effective servant leaders help themselves by helping others first!

Overcoming spirit – Followers admired leaders who never give up despite coming against great odds and adversities. Servant leaders with overcoming spirit will inspire their followers to never giving up in coming against all opposition.

Obligation – Servant leaders and their followers are obliged to honor the binding requirement as to their actions and duty respectively. Servant leaders are to place others before selves in this binding relationship.

Dedication – Effective servant leaders are those who understand the needs to give up wholly and earnestly of themselves to the noble or sacred purpose of the group. The followers would not want it in any other way.
Readers can recall the above distinguishing features expected of a modern servant leader by remembering this acronym: S.E.R.V.A.N.T.H.O.O.D.
Following are some of the scriptural principles gleaned from the mainstream believers and Holy Books to anchor the qualities of a faithful servant leader:
Of Christians, Bible and leadership:
"Where there is NO LEADERSHIP, the people fall, but in an abundance of counselors, there is safety."   - Proverbs 11: 14
"Work hard and be a LEADER; be lazy and never succeed.  – Proverbs 12: 24
"When there is no vision, the people perish."  - Proverbs 29: 18
Of Muslims, Koran and leadership:
"Make your character good for the people."- Al-Muwatta, Volume 47 Hadith 1
"It is better for a LEADER to make a mistake in forgiving than to make a mistake in punishing." – Al-Tirmidhi, Hadith 1011
"None of you truly believes until he wishes for his brother what he wishes for himself."
- Bukhari and Muslim
Of Buddhists, Tipitaka and leadership:
"To live a pure unselfish life, one must count nothing as one's own in the midst of abundance." – Gautama Buddha
"I never see what has been done; I only see what remains to be done."  - Buddha
"We are shaped by our thought; we become what we think. When the mind is pure, joy follows like a shadow that never leaves."  - Buddha's teachings
Of Jews, Torah and leadership:
"One person's candle is a light for many."  - Talmud
"Do not separate yourself from the community."  - Misnah
"Act while you can: While you have the chance, the means and the strength."  - Talmud
Of Hindus, Vedas and leadership:
"One, who earns LEADERSHIP of the masses by working ceaselessly for people's welfare finally realizes that he has been rewarded with many advantages."  - Veda
"Money and mansions are not the only wealth. Hoard the wealth of the Spirit. Character is wealth, good conduct is wealth; and spiritual wisdom is wealth."  - Atharva Veda
"One who acquires knowledge and then pass it on to others, get all his wishes fulfilled and achieves success, happiness and prosperity in his life."  - Atharva Veda
Of Sikhs, Guru Granth Sahib and leadership:
"Often repeated actions are engraved on the heart."  - Guru Nanak
"Realization of Truth is higher than all else. Higher still is Truthful Living."- Guru Nanak
"The world is in agony because of the filth of ego, the word is filthy because of duality; the filth of ego cannot be washed away, even as one bathes at one hundred holy places." - Guru Amar Das, Sri Raga
Of Bahais, Kitab-i-Aqan and leadership:
"The first quality for LEADERSHIP both among individuals and Assemblies is the capacity to use the energy and competence that exists in the rank and file of its followers."  - Shoggi Effendi, Lights of Guidance, page 33
"Put away the garment of vain glory, and divest yourselves of the attire of haughtiness." (arrogance and / or pride, emphasis mine)  - Bahaullah, The Persian Hidden Words 47
"The spiritually learned must be characterized by both inward and outward perfection; they must possess a good character, an enlightened nature, a pure intent, as well as as intellectual power, brilliance and discernment, intuition, discretion and foresight, temperance, reverence and a heartfelt fear of GOD."  - Abdul Baha, The Secrets of Divine Civilization, page 33
On seeking forgiveness from learned people
I seek the readers' forgiveness should I make any mistakes or left out those that have not been quoted here. Some of the Holy Books include compilations of lesser Scripture or minor books  but nonetheless, are equally important. I am starting here with the main "Holy Books" and inspiring quotations from great Leaders of the faiths.
If each and everyone of us (who is a servant leader in default) can take into consideration some, if not, all the values proposed in choosing a capable servant leader to lead us, then the world will be a better place for us and our future generations to come.
In summary, choosing the right leaders who will serve us rather than us serving them is of utmost importance and I believe the Holy Books of the various faiths can guide us in this troubled time. I leave you with this gem: "Whatever actions we are about to do should be thought of with utmost care and concern for people will see them and be influenced by them for good or evil."  (Teachings of Buddha)
Note: Lt Commander (R) John Moi, RMN is a management consultant and writer. A founder / advocate of Scriptures to business (S2b) practices and applications, he can be reached at johnnymoi7@yahoo.com
This is what I want in a government
Posted: 29 Aug 2013 05:42 PM PDT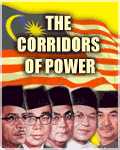 As far as I am concerned, I am not bothered whether the Malaysian Parliament comprises of 222 MPs or 89 opposition MPs and 133 government MPs. To me, all 222 MPs are representatives of the people who have been voted into office by the people. Hence they answer to the people and not to their respective parties.
THE CORRIDORS OF POWER
Raja Petra Kamarudin
Yesterday, I had expected UK's Parliament to vote in favour of military action against Syria. I had expected that mainly because this is what the US wants and what the US wants the US usually gets and Britain will always support what the US wants.
It looks like this did not happen after all. The UK Parliament voted 285 versus 272 against military action. And some Members of Parliament from the Prime Minister's own party voted against him.
"Britain will not be involved in any military action," a spokesman for Cameron's Downing Street office confirmed. Cameron, in turn, told Parliament, "It is clear to me that the British parliament, reflecting the views of the British people, does not want to see British military action. I get that, and the government will act accordingly."
And that is the key phrase here: reflecting the views of the British people.
And is this not what I have always been talking about? The Malaysian Parliament comprises of 222 Members of Parliament whom we call 'Wakil Rakyat'. 'Wakil Rakyat' directly translates to 'the people's representatives'. Hence the 222 Malaysian MPs are the representatives of the voters and not the representatives of their respective parties.
Is this so difficult to understand?
As far as I am concerned, I am not bothered whether the Malaysian Parliament comprises of 222 MPs or 89 opposition MPs and 133 government MPs. To me, all 222 MPs are representatives of the people who have been voted into office by the people. Hence they answer to the people and not to their respective parties.
Hence I am critical of Malaysian MPs. I am equally critical of the 89 opposition MPs as well as the 133 government MPs. To me, it matters not whether they are opposition members or members of the ruling party. In Parliament, they represent the people and not their parties.
Let what happened in the UK yesterday be the yardstick we use in evaluating our 222 Malaysian MPs. The message we must send our Malaysian MPs is that in Parliament they are our voice. And only our voice is what matters.
As what we used to say back in the days of the Reformasi Movement 15 years ago: suara rakyat, suara keramat. And that means the people's voice is sacred. And if our 222 MPs do not understand this then they do not deserve our support.
As what Cameron said, "It is clear to me that the British parliament, reflecting the views of the British people, does not want to see British military action. I get that, and the government will act accordingly."
Will I ever see the day when Prime Minister Najib Tun Razak will say, "It is clear to me that the Malaysian parliament, reflecting the views of the Malaysian people, does not want to see (fill in the blanks here). I get that, and the government will act accordingly."
*******************************************
British MPs reject military intervention in Syria
By a 285 to 272 margin British MPs rejected the government's motion to support in principle military action against Syria. Cameron faced strong resistance from the opposition Labour party and many members of his own Conservative party.
(AFP) - LONDON: British lawmakers voted against military action in Syria on Thursday in a stunning defeat for Prime Minister David Cameron.
The government was defeated by just 13 votes in the House of Commons in its bid for a "strong humanitarian response" to the alleged use of chemical weapons by the Syrian regime.
After the result, Cameron told lawmakers: "It is clear to me that the British parliament, reflecting the views of the British people, does not want to see British military action."
"I get that, and the government will act accordingly."
The defeat for the government raises the prospects that the United States could act alone against the government of Syrian President Bashar al-Assad, which it blames for horrific poison gas attacks that are believed to have killed hundreds of people in the suburbs of Damascus last week.
"Britain will not be involved in any military action," a spokesman for Cameron's Downing Street office confirmed.
Seven hours of impassioned debate in the House of Commons had revealed deep divisions over whether military strikes against the Assad regime would deter the further use of chemical weapons, or simply make the conflict worse.
Cameron had made the case for targeted strikes, insisting that Britain could not stand idle in the face of "one of the most abhorrent uses of chemical weapons in a century".
"If nothing is done, it will conclude that it can use these weapons again and again, and on a larger scale, and with impunity," he had told parliament.
But he faced strong resistance from the opposition Labour party and many members of his own Conservative party, who expressed fear that Britain was rushing to a war without conclusive evidence that Assad had gassed his own people.
Cameron admitted there could not be "100 percent certainty" about who had committed the attack, but said it was "beyond doubt" that the regime was responsible.
Britain's Joint Intelligence Committee released evidence on Thursday saying that certain chemical weapons had undoubtedly been used on August 21 and that more than 300 people had been killed.
It was "highly likely" that the Syrian government was responsible, it added.
The regime has denied it committed the attack, which it blames on rebel forces.
Britain's Labor party had proposed an alternative motion seeking "compelling" evidence that the regime carried out the attack before committing to any form of military action, but this too was defeated.
MPs had been recalled from their summer break for the emergency debate, which saw the government's motion defeated by 285 votes to 272.
Some of Cameron's own Conservatives voted against the motion.
John Baron, a prominent sceptic Conservative, had told a packed chamber that he was "unconvinced" by Cameron's arguments.
"We need more answers," he said.
"Committing to military intervention, potentially committing soldiers to war is one of the most serious - if not the most serious - decisions this house can make, and we need to base it on firm evidence not speculation."
The spectre of the Iraq war came up many times during the long hours of debate.
In 2003, the British parliament gave to go-ahead for then prime minister Tony Blair to join the US-led invasion of Iraq on the basis of allegations that dictator Saddam Hussein had weapons of mass destruction.
The weapons never materialized and Britain became embroiled in the war for years.
But Cameron insisted: "This is not like Iraq.
"What we are seeing in Syria is fundamentally different."
The defeat, caused in part by a rebellion from his own party, will severely shake Cameron's authority.
In a humiliating climbdown, he had already been forced to agree late Wednesday that Britain would not take part in any military strikes before United Nations inspectors report back from the site of the attack - meaning a second vote, possibly next week, would have been necessary.
Opinion polls suggest that the British public are strongly against involvement in military strikes against Syria.
A YouGov poll for The Times found that support for firing missiles against military sites in Syria had dropped on Wednesday to 22 percent, from 25 percent on Tuesday, while opposition grew from 50 percent to 51 percent.
Britain had dispatched six Typhoon fighter jets to its Akrotiri base on Cyprus as a "protective measure" on Thursday, although the defence ministry said the planes would not take part in any direct military action.
Islam before all else, Muslims told in crackdown on minority beliefs
Posted: 29 Aug 2013 04:57 PM PDT
Zurairi AR, MM
Seeing religious attacks in the freedom of expression by non-Muslims nationwide, Muslim Malaysians were called to put their faith above all other considerations, the country's paramount guardian of Islam warned in its Friday sermon.
The Malaysian Islamic Development Department (JAKIM) also reminded Muslims of the sacrifice of heroes who had fought for the sake of the Malay race and Islam in the sermon, which is available on its website.

"Muslims these days seemed to have lost direction and guidance to differentiate what is right and what is wrong, what is fake and what is real. This is the result of the mind and perception games run by our enemies to confuse Muslims.

"Believe it, the moment Muslims lose their belief, their guidance brittle, and lose their sensitivity towards Islam, that will be the moment enemies of Islam have waited for," the sermon said, without elaborating on the identity of its "enemies".

The sermon accused these "enemies" of using "new innovations" such as the mass media, Internet, Facebook, emails, and text messages to spread lies, cultural pollution, and poison the faith of Muslims.

"The insults towards Muslims are continuous, like mocking the exclusive rights of the community such as the 'Allah' word, mosque and so on. Mocking Muslims' practices such as serving a dish made from a haram (forbidden) animal and, even worse, insults against the Prophet Muhammad," the sermon added.

The recent spotlight on Islamic decrees by Malaysian authorities on its followers as well as on non-Muslims has led to heated debate over their enforcement here, with some groups deeming certain provisions under religious law to be regressive while others have voiced concern over a worrying trend of overt Islamisation in a multicultural country.

Yesterday, a painting by artist Anurendra Jegadeva, popularly known as J. Anu, was denounced by some pro-Umno bloggers who accused it of "insulting Islam", resulting in a police report against him.

A surau in a Johor resort was demolished by its management yesterday after it was used by Buddhist visitors in a religious ceremony earlier this month.

The decision has been criticised by former Prime Minister Tun Dr Mahathir Mohamad, who pointed out that Muslims have been allowed to pray in a church in Malacca's Terendak army camp during the British rule.

"This church has now, if I am not mistaken, become a mosque for Malay soldiers," the 88-year-old said in his chedet.cc blog yesterday.

Last week, the local Catholic Church had failed to strike out Putrajaya's appeal against the 2009 landmark High Court ruling that upheld Christians' right to refer to God as "Allah".

Muslim activists have since alleged a global Christian evangelical conspiracy behind the "Allah" row, as they described a clandestine agenda to colonise Islamic souls and countries.

An official sermon for the Aidilfitri celebration early this month had also warned Muslims nationwide against a conspiracy by "enemies of Islam" to manipulate them through ideas like secularism, pluralism, socialism, feminism and positivism.

The warning cames amid several controversial decisions by Jakim in the last few weeks against individuals which it deemed had "insulted Islam", including a non-Muslim blogger couple, four Muslim beauty pageant hopefuls and a Muslim dog trainer.

Four Muslim women were dropped as contestants in the Miss Malaysia World 2013 pageant last month and are now under investigation for allegedly breaching the National Fatwa Council's edict and allegedly insulting Islam.

Meanwhile, in a 105-second video reposted on YouTube, dog trainer Maznah Mohd Yusof is seen walking and bathing her three dogs as the "Takbir Raya", or Muslim call to prayer traditionally reserved for the first day of Hari Raya Aidilfitri, plays in the background.

Maznah has since been arrested and was released from remand in Johor on a court bond.

Maznah's arrest comes after sex bloggers Alvin Tan and Vivian Lee were charged recently under the Penal Code and Sedition Act for posting a mock "Selamat Berbuka Puasa" (breaking of fast) greeting on their Facebook page that showed them eating "bak kut teh", a soupy pork dish. Muslims are prohibited from eating pork. 
Anwar tak setuju Tanda Putera disekat
Posted: 29 Aug 2013 04:47 PM PDT
Hasbullah Awang Chik, TMI
PKR tidak setuju dengan tindakan kerajaan Pulau Pinang menasihatkan pengusaha pawagam di Pulau Pinang supaya jangan menayangkan filem kotroversi, Tanda Putera, kata Datuk Seri Anwar Ibrahim.
Ketua Umum PKR itu berkata, Malaysia adalah negara merdeka dan sesiapa sahaja berhak menyampaikan pandangan masing-masing sambil menyatakan Ketua Menteri Pulau Pinang, Lim Guan Eng hanya memberikan nasihat kepada pengusaha pawagam di negeri itu.
"Guan Eng hanya menasihatkan bukannya melarang untuk menayangkan Tanda Putera. Saya sendiri tidak bersetuju dengan tindakan kerajaan Pulau Pinang itu.
"Apa yang dikesalkan ialah filem itu mempromosikan propaganda Barisan Nasional (BN) malah pengarahnya sendiri Datin Paduka Shuhaimi Baba mengakui filem berkenaan bergenrekan fiksyen.
"Filem itu dilihat memainkan sentimen kaum dan tidak perlu filem berkenaan dipaparkan kepada generasi muda terutama mereka yang mengikuti kursus Biro Tata Negara (BTN) bagi menggambarkan kisah sebenar peristiwa rusuhan kaum 13 Mei 1969," katanya ketika menyampaikan perutusan Hari Merdeka kali ke-56 di Petaling Jaya hari ini.
Beliau berkata, orang ramai perlu faham filem berkenaan adalah agenda BN dan ia digunakan semata-mata bagi menyampaikan agenda politik sempit pemimpin BN.
Posted: 29 Aug 2013 04:34 PM PDT
Fact of the matter is, we are all Africans. Scientists have announced back in 2007 that a skull analysis of 6,000 samples from modern humans show that we all originated from a single point in East Africa.
Zurairi AR, MM
The Malay Mail Online
's story on a condominium in Bandar Sunway, Petaling Jaya banning African tenants received mixed responses from readers.
Chief among the responses has been praise for the decision, lauding it as necessary to ensure the safety of Malaysians.
The responses included anecdotes of crimes allegedly committed by Africans — I am using the term loosely here — and accusations that they are involved in some sort of drug cartel.
However, the dominating feeling has been that of fear. Quite simply, Malaysians are afraid of having so many Africans in their midst.
They related feeling uncomfortable being in the same elevator as them. They did not like the Africans harassing their women. They were afraid of the tall, dark, muscular African men.
Almost none of those who gave such responses admitted that, by supporting a blanket ban on all Africans, it means that yes, we are racist.
It speaks volumes of us Malaysians when a clear-cut racist policy such as this was enacted and nobody even batted an eyelid.
Worse still, is when a senior member of a political party said "since the residents had voted for such a measure, it would be contradictory and ironical if Malaysians are to be accused of racial discrimination."
This, perhaps unsurprisingly, came from the MCA which is one of the few parties left which exclusively fights for the rights of only one ethnic community above all others.
We feel so secure clinging to our ethnic identities. After nearly 50 years of Malaysia's formation, we still pigeonhole ourselves into the various ethnic identities instead of embracing each other as Malaysians.
Just a few days ago, a friend tweeted a photo of an online form that he had to fill. One of the questions was about race.
In the drop-down menu, there must have been dozens of minute ethnic groups. Even "Melayu" was divided into another subgroup, "Melayu Sarawak" (Sarawakian Malay).
In this decade, how would this classification of citizens into races be useful?
We forget that "race" is just a social construct. Nobody was really born Malay, Chinese, Indian, or "lain-lain."
The precious "Malay" identity is perhaps the most flexible of all.
Malay father + non-Malay mother = Malay.
Non-Malay father + Malay mother = Malay.
Non-Malay father + non-Malay mother + convert to Islam = there is a chance you'll be recognised as "Malay" too. Just ask Ridhuan Tee, the most Malay of Chinese there is.
The Constitution even states that for a Malaysian to be Malay, you only need to speak Malay and practise Malay culture, and be Muslim.
If you leave Islam, then you are not constitutionally Malay. Ah, but how can that be if you were born a Malay?
Fact of the matter is, we are all Africans.
Scientists have announced back in 2007 that a skull analysis of 6,000 samples from modern humans show that we all originated from a single point in East Africa.
Around 150,000 to 200,000 years ago, the predecessor of Homo sapiens evolved to modern humans in Africa.
It was then after 50,000 years ago that a branch of humans started venturing out into Europe, Asia, Australia, and started evolving independently.
This branch of humans over time replaced other early human populations such as the
Neanderthals
and
Homo erectus
.
After migrating to the Near East from Africa, the humans spread towards South Asia around 50,000 years ago, and to Australia around 40,000 years ago.
A group of these early humans, the
Cro-Magnons
, reached Europe around the same time 40,000 years ago.
Humans reached Asia some 30,000 years ago, and North America much later, between that and 13,000 years ago.
Genetic evidence shows that humans of different ethnicities are all 99.9 per cent the same underneath.
The difference in build, skin tone, hair colour and so on were products of evolution when humans tried to acclimate themselves to different environments.
Remember that all in all, they only constitute around 0.1 per cent of our genes. That is one-tenth of one per cent, if you still cannot imagine how inconsequential that is.
I leave you with this quote from Dr Spencer Wells, lead scientist of the Genographic Project:

You and I, in fact everyone all over the world,

we're literally African under the skin;

brothers and sisters separated by a mere two thousand generations.

Old-fashioned concepts of race are not only socially divisive,

but scientifically wrong.
Posted: 29 Aug 2013 04:21 PM PDT
The Malays of yesteryear may have been passive, but a spark had been ignited. There may have been no Internet then, but colonisation brought new forms of activities; urbanisation, modern bureaucracy, and these unsettled them. Who were they really? What were they? Were they to be the dogs of the colonialists forever?
Dina Zaman, MM
To understand why we are who we are today, I referred to a few texts (and with a word limit, I would like to stress again that this essay is not a definitive and conclusive one. I read and write to seek answers.).

The Islam that was brought to our shores — was it political? A tool to colonise the Malays into submission? There has been much discussion that in the early days, Islam was Sufistic in nature.

As mentioned in an earlier essay, Husin Mutalib's Islam and Ethnicity in Malay Politics, documented in the first chapter the origins of Islam's arrival into the region. Prior to that, the Malays were followers of animism and Hinduism.

The British Occupation changed everything, especially for the Malays. Realising that the Malays were most observant of their faith, their educational policies "… not only contributed to the relative passivity of the Islamic factor in the life of the Malays, but (also) added a new and unsettling Islamic dimension."

While the average Malay was accorded basic primary Islamic education, it was the scions of the rich and aristocrats who were allowed entry into a privileged world: they had the opportunities to pursue a secular education to the highest level, including "tertiary education in Britain."

The Malays of yesteryear may have been passive, but a spark had been ignited. There may have been no Internet then, but colonisation brought new forms of activities; urbanisation, modern bureaucracy, and these unsettled them. Who were they really? What were they? Were they to be the dogs of the colonialists forever?

Hope came in the form of a group of concerned Muslims: the Islamic reformists. An example would be the Kaum Muda, who are what few know as literalists and greatly influenced by Wahabism.

"At the beginning of the twentieth century pamphleteers and editors in Singapore, then the hub of the regional Malay language media, spread competing Islamic doctrines around the region. They set the stage for a political contest in Indonesia, and later in Malaysia, between the Sufi-influenced practices of Kaum Tua (the traditional establishment) and the Wahhabi-influenced approach of the Kaum Muda (the reformists).

"The Kaum Tua represented the traditional court-centred doctrines in Malaysia and the inclusionist beliefs of the Javanese heartland, which had accommodated pre-Islamic and Sufi practices and beliefs.

"The Kaum Muda represented the modernist, Muslim reformists strongly influenced by the pan-Islamic revivalist movement originating from Egypt. It sought to expunge the pre-Islamic beliefs that had been woven into the fabric and practice of Islam in Malaysia and Indonesia.

"As a result of the large numbers of pilgrims who went on the haj to Mecca and Muslim ulema who had attended madrassahs (Islamic religious schools) in Arabia and India, the austere literal interpretations of the Islamic faith contained in Wahhabi doctrines have had a growing impact on the region since the 1870s."

References: William R. Roff, The Origins of Malay Nationalism (New Haven, Yale University Press, 1967; Robert W. Hefner and Patricia Horvatich eds.), Islam in an Era of Nation-States: Politics and Religious Revival in Muslim Southeast Asia (University of Hawaii Press, Honolulu, 1997).

Many will argue that syirk practices must be done away with. Paganism, seeking the advice of healers per se; yet as we modern-day Muslim-Malay Malaysians pursue our faith, we forget our roots, language and culture.

One authority we should also turn to is Indonesia's Azyumardi Azra who can be considered one of the definitive historians on Islam in Southeast Asia.

He is not verbose but eloquent, and in his essay Islamic Thought: Theory, Concepts And Doctrines In The Context Of Southeast Asian Islam (Islam in Southeast Asia, edited by KS Nathan and Mohammad Hashim Kamali), he wrote in depth about the clashes between Muslim thought and sects. "Southeast Asian Islam is overwhelmingly Sunni since the 12th century." Wandering Sufi teachers, mystics and traders, mostly from Arabia, spread the word of Allah to the people they met in tropical, humid SEA.

He admitted in his essay that literalists such as the Salafis, who are more literal in their outlook and radical in their approach to political and religious matters, have made an impact on the Islam practised today.

However, this is not just the only reason and factor as to why Islam in Malaysia is practised the way it is presently. There are many factors leading to the divide. An erosion of true Islamic education based on compassion, intellect and facts is one contributor.

Another intellectual who echoed similar sentiments was Syed Naguib Al-Attas. The still-living philosopher wrote in his paper, A Preliminary Statement On A General Theory of the Islamisation of the Malay-Indonesian Archipelago, that Islam came to the region "couched in Sufi metaphysics. It was through tasawuf that the highly intellectual and rationalistic religious spirit entered the receptive minds of the people" and this spiritual enlightenment was not just brought to the courts, but to the people. Its egalitarian approach to faith and spirituality was very attractive to the Malays.

In light of the above, my question is how did such a democratic Islam that empowered a people and country become vilified today? Is it the people or the politics? How strong is the Wahabi/Salafi influence, that we have or are losing ourselves?
Muslim group's Merdeka video says Shia teachings, Christianity are threats
Posted: 29 Aug 2013 03:51 PM PDT
(TMI) - Islamic group Ikatan Muslimin Malaysia (ISMA) has produced a video clip for the National Day celebrations tomorrow, criticising several other groups they say are attempting to alter policies that favour Malays and Bumiputeras.
The video also listed the four main threats faced by Malaysia – liberal ideology, chauvinism, Christianity and deviant Shia teachings – all of which, the group said affected the majority Malay population and their identity.
"If the Malay people want to rise and fight back, they will be unable to do so if they don't know what are their identities," ISMA chief Abdullah Zaik Abdul Rahman said in the video and a statement released in Kuala Lumpur today.
The activist who once studied at the Al-Azhar University in Egypt also touched on national issues such as the social contract and Islam's position as Malaysia's official religion.
In the statement, video producer Dr Kamil Azmi Tohiran said these issues had been highlighted as a sign to certain parties to respect the Federal Constitution, especially on matters relating to Islam and the Malays.
ISMA also named human rights group Suaram and Chinese education group Dong Zong for demands and controversies that they said conflicted with national policy.
For example, they criticised Suaram for demanding government university UiTM's policy of being open only to Malays and Bumiputeras be studied again.
Allah is more than just a word
Posted: 29 Aug 2013 03:46 PM PDT
Their Malay language Bible – the Alkitab- uses the word Allah to refer to God. This is the only Bible they have so come what may, they will continue to use their Alkitab which contains this troublesome word. That's their Holy Scripture, their heritage. No court judgment can alter this fact.
Bob Teoh, TMI
It doesn't really matter how the Federal Court will decide on whether non-Muslims, particularly Christians, are allowed to use the word Allah to refer to God. The Home Ministry and the Islamic establishment have already decided the word is exclusive to Muslims. Period.
It makes no difference either to Bumiputera Christians who account for two thirds of the Christian population of two million in the country.
Their Malay language Bible – the Alkitab- uses the word Allah to refer to God. This is the only Bible they have so come what may, they will continue to use their Alkitab which contains this troublesome word. That's their Holy Scripture, their heritage. No court judgment can alter this fact.
The court of public opinion has already made its decision on this issue. There's even a call to burn the Alkitab. Yet all this is beyond sub-judice and contempt of court. Christians too have been making vigorous defence of their right to use this word.
Under these circumstances, the hands of the Federal Court are tied. It is inconceivable it can arrive at any substantive decision.
Even if the apex court of the country can make sense out of the usage of this word, there are more than thirty other words decided by fatwas of the respective states that non-Muslims cannot use.
Compounding the dilemma is the fact that fatwas are Islamic edicts. They cannot be applied to non-Muslims. There are, of course, sharply differing opinions on this.
For instance, on December 11, 2003, the Sabah Mufti made and published a fatwa in the State Gazette prohibiting non-Muslims from using 32 words in Bahasa Malaysia in their teaching and in the propagation of their belief. Some of those words are Allah, Firman Allah (Word of God), Wahyu (Revelation), Iman (Faith), Rasul (Apostle, Messenger), Nabi (Prophet), and Injil (Gospel).
Eighteen days later various government authorities entered and seized several titles in a Christian bookshop. The reason for seizure was that the books contained the word Allah.
Let's not pretend. We are all in deeper trouble than we care to admit. But living in denial is not going to solve the problem. One option is for the government to withdraw its appeal against the High Court judgment, which in effect allows Christian to continue using the word Allah to refer to God. It's time for reconciliation.
Court Strikes Out Four Election Petitions In Johor
Posted: 29 Aug 2013 03:40 PM PDT
(Bernama) -- The Election Court on Friday struck out petitions to nullify the outcome of the 13th general election for two parliamentary and two state seats in Johor, thus maintaining the victory of the Barisan Nasional (BN) in the four constituencies.
Judge Datuk Hasnah Mohammed Hashim dismissed the petitions brought by PKR for the Ledang and Pasir Gudang parliamentary seats and by PAS for the Nusajaya and Gambir state seats.
She struck out the petitions with costs on the grounds that all the petitioners had failed to adhere to regulations under the Election Offences Act 1954, including not having sufficient facts or details to support the petitions.

Hasnah ordered each of the petitioners for the parliamentary seats to pay costs amounting to RM30,000 to Ledang MP Datuk Hamim Samuri and Pasir Gudang MP Normala Abd Samad as well as the returning officers and the Election Commission (EC).

For the state seats, she ordered each of the petitioners to pay costs amounting to RM25,000 to Nusajaya assemblyman Dr Zaini Abu Bakar and Gambir assemblyman M. Asojan as well as the returning officers and the EC.

The petitioners were represented by counsel Muhammad Yazid Mohamad Salim and Rohana Ramli while counsel Syed Faizal Syed Abdullah and Mohd Reza Abu Hassan appeared for the respondents.

Senior Federal Counsel S. Narkunavathy represented the returning officers and the EC.
Posted: 29 Aug 2013 03:39 PM PDT
Datuk Seri Anwar Ibrahim signalled his readiness to hold unity talks between Pakatan Rakyat and Barisan Nasional when he said today that the opposition will accept the results of the 13th general election.
Leven Woon, FMT
PETALING JAYA: Opposition Leader Anwar Ibrahim extended an olive branch to the ruling Barisan Nasional on Merdeka eve, asking for an open engagement between the two rival political coalitions to trash out national issues.
Speaking at a press conference at the PKR headquarters, Anwar said Pakatan Rakyat, the opposition pact made up of PAS, DAP and PKR, was willing to talk to BN despite its strong protest on the validity of the 13th general elections in May, this year.
"We are prepared to put aside our difference for the sake of the nation's well-being and future.
"In this regard, we believe that it is imperative for the prime minister to convene without the slightest delay a round-table meeting between the BN government and Pakatan Rakyat to deliberate issues and formulate a comprehensive solution," said the Permatang Pauh MP.
He, however, stressed that he was not proposing a unity government.
Anwar said at a time when the country is celebrating 56 years of Independence, it is witnessing greater polarisation of the communities and increasing divisiveness on religious matter.
"The tragedy in this is that not only is there a lack of leadership in ameliorating the situation but it appears that the government is allowing this phenomenon to worsen.
"Inspite of protests from concerned citizens and NGOs, the government has sanctioned the nationwide screening of a movie that will only serve to incite animosity even as its artistic value remains questionable," he said.
He was making an obvious reference to Tanda Putera, a film which depicts the 1969 race riots toeing the government's account of events. It features a scene of a Chinese man urinating at the Selangor MB's residence.
Kredit: www.malaysia-today.net