Klik GAMBAR Dibawah Untuk Lebih Info
Sumber Asal Berita :-
---
Action against parent in Seri Pristana issue is unfair and unjust, say politicians
Posted: 27 Aug 2013 01:05 PM PDT
(TMI) - "The arrest has angered the public who want to know when the unfairness and injustice will end," DAP's national vice-chairman M. Kula Segaran (pic) said.
The arrest of a parent for allegedly intimidating the headmaster of SK Seri Pristana has angered the public, with many calling the move "unfair" and "unjust".
Yesterday, police arrested a parent for allegedly threatening Mohd Nasir Mohd Noor, about a month after the school had ordered non-Muslim pupils to have their recess in the shower room.
He had allegedly gone to the school on July 25 at 2.30pm and threatened to kill Mohd Nasir.
The parent denied the accusation, saying he had not gone to the school on that particular date.
The parent had earlier lodged a report on July 30 against Mohd Nasir and the school for allegedly taking photographs of his 10-year-old daughter in school.
This happened twice on July 29, when the headmaster had led a man to take photographs of the girl in school.
Last Friday, two policemen went to the parent's home around midnight and caused a "commotion" but did not reveal what they wanted.
Yesterday, when the parent went to give his statement at a police station, he was told that he was being arrested. They put him in an identification line-up where he was picked out by two teachers from the school.
Politicians from both sides of the divide have lashed out at the police and the Education Ministry, questioning why no action has been taken against the headmaster and the school so far.
"The arrest has angered the public who want to know when the unfairness and injustice will end," DAP's national vice-chairman M. Kula Segaran (pic) said.
"What happened to the report made by the parent against the headmaster? Was there an investigation?" asked MIC's Vel Paari.
The school found itself embroiled in controversy following its directive to non-Muslim pupils to have their recess in the shower room during Ramadan month.
Another parent Guneswari Kelly had exposed the issue after she posted pictures of the students having their meals in the shower room online. She has since taken her nine-year-old daughter out of the school after finding out that she was being subjected to verbal and emotional abuse by teachers and other students.
The whistleblower herself has received death and kidnap threats and has lodged a report over the issue. Kula Segaran noted that so far, police and the ministry have not taken any action on the report made by Guneswari as well as the bullying of her daughter.
Read more at: http://www.themalaysianinsider.com/malaysia/article/action-against-parent-in-seri-pristana-issue-is-unfair-and-unjust-say-polit 
Posted: 27 Aug 2013 01:02 PM PDT
Mohd Amar menerima cenderamata yang disampaikan Nazeri ketika kunjungan semalam 
(Sinar Harian) - Pas Kelantan tidak akan melindungi mana-mana ahli parti mahupun pimpinan yang betul-betul didapati terlibat dengan fahaman Syiah.
Timbalan Pesuruhjaya III Pas Kelantan, Datuk Mohd Amar Abdullah berkata, mereka sedia bekerjasama dengan Jabatan Kemajuan Agama Islam Malaysia (Jakim) dan pihak berkuasa melakukan siasatan terhadap individu yang dikaitkan dengan Syiah.

"Jika ada bukti dan memang terdapat ahli Pas terlibat kita tidak akan halang pihak berkuasa menjalankan siasatan. Orang yang menuduh itu ramai, tetapi secara rasminya setakat ini tidak ada individu mengaku dia Syiah dan kita tiada bukti konkrit," katanya, semalam.

Beliau mengulas pendedahan pensyarah Akademi Islam Universiti Malaya, Prof Dr Mohd Kamil Abd Majid yang menyatakan terdapat calon yang menang dalam PRU13 terlibat dengan ajaran Syiah.

Terdahulu, beliau menerima kunjungan hormat ahli-ahli Gabungan Profesional Menuntut Royalti, Pendaratan Minyak Dan Gas Ke Kelantan (Royalti) diketuai presidennya, Nazeri Deraman.

Mohd Amar, yang juga Timbalan Menteri Besar Kelantan bertegas, walaupun kenyataan tersebut tidak secara terus merujuk kepada Pas negeri, namun pihaknya tidak melenting dengan dakwaan itu, sebaliknya membuka laluan kepada pihak berkaitan untuk siasatan. 
The 'taikos' behind Indian gangs
Posted: 27 Aug 2013 12:59 PM PDT
(Sin Chew Daily) - The 04 gang which blatantly challenged the police's authority of late is like other numbered gangs in the likes of 08, 36 and 18, having its origins in Chinese triads and was once dominated by Chinese. These gangs have now evolved into an Indian-centric presence with Chinese assuming the roles of "gold masters."
Criminologist Dr P. Sundramoorthy told Sin Chew Daily there are more than a hundred secret societies and gangs in the country, many of which have departed from their erstwhile closely-knit organisational structures with many gang members splintering to form independent units, resulting in a single gang splitting into many smaller factions.
Bukit Aman's CID director Datuk Hadi Ho Abdullah pointed out that about 70% of gang members in the country are Indians, with Chinese and Malays making up the remaining 25% and 4.77% respectively.
"There are more and more rival gang factions in the country, especially the Indians, of which 04, 08, 18, 21 and 36 are the more prominent ones."
Taking over
It is understood that Indian gang members started by working for Chinese gang leaders to carry out illicit activities before they slowly took over the dominant roles in such organisations. Today, Indians have become the mainstay of secret societies in Malaysia, making up almost 71% of all gang members.
According to police sources, the most ferocious and violent Indian gang is not the 04 that has made a lot of hoohahs recently, but the 36, considered a splinter unit from the old-time Chinese gang Hong Men.
Chinese members are still found in 36, but they are more like the "gold masters" involved in lawful businesses including real estate investment.
36 started to become active during the 1970s, and along with gang 18, has been said to be among the most active in drug-related activities.
Diversification
The gang 04, five of whose key members perished in crossfire with the police lately, had its origins in Hua Kee, a very active secret society back in the 1980s.
According to police sources, after being taken over by Indian members, 04 broadened its scope of activities from collecting protection money and fighting for areas of dominance initially, to robberies, murders and other serious crimes as well as possession of firearms and weapons.
Some of the 04 members are even professional assassins, including the five killed by the police recently.
04 is currently most active in Penang, Perak and other areas in northern Malaysia while slowly gaining grounds in the coastal areas of Selangor such as Klang, Banting and Kuala Selangor.
The other active secret societies in the country include 77, 24, 44, 969, 08, 21 and the "Five Colours" gang. It has been estimated that there are more than 20 Indian-dominated gangs in the country.
Meanwhile, the gang that is most active in the central region is gang 18 while 04 is expanding northwards from here.
08 is the biggest among the secret societies with members scattered all across the country although they are most active in and around Rawang, Gombak and Selayang in Selangor.
Going online
These secret societies have been using the online media to recruit new members in recent years and Facebook has now become an important tool to rope in youngsters.
Indian secret societies are very influential in the Indian society here. Like Chinese secret societies, they are also closely associated with the economic, cultural and even political spheres of the Indian society, and have far-fetching influences in the day-to-day living of many Indian Malaysians.
These secret societies source their recruits mainly from schools, especially secondary schools. Most of the gang members are in their 20s and 30s, and they run in a pyramidal mode through collecting protection money from students to sustain the gangs' operations.
As a matter of fact, almost six or seven out of ten Indian Malaysians are related to secret societies in one way or another. From this we can see that the gangs have powerful infiltration and influences in the Indian community.
Some of these gangs may organise dinners where old and new members come together and mingle, although few would actually hold solemn induction ceremonies like the Chinese secret societies, as this would only invite the attention of the police.
Protection money
According to some Indian Malaysians contacted by us, secret societies normally would approach the businesses for "protection money" which most businesses willingly offer in exchange for peace.
They told Sin Chew Daily these gangs have their respective areas of dominance and crossfire could take place if one gang is trying to take over another gang's area.
To the Indians, joining a secret society is easy but leaving it is extremely difficult and could cost one's precious life.
According to some familiar with the Indian secret societies in Negeri Sembilan, the most powerful gang there is 18, followed by 36, 21, 08 and 24.
In Perak, Indians also dominate the secret societies which have become very active since the beginning of this year. They are involved mainly in firearms and drug deals as well as sex industry and illegal gambling.
Unproportionally high
Hindraf's national advisor N Ganesan told Sin Chew Daily the police's decisive actions against Indian criminals would not help resolve the crime issue but would instead complicate things further.
Almost 90% of criminal suspects gunned down by the police during the past three months have been Indians, and given this unproportionally high percentage, Ganesan questioned, "Do you think there are only Indian criminals in this country?"
He said the rights of Indian Malaysians must never be denied and it is imperative for the government to probe the police actions, including claims that they had shot the five suspects in Penang out of necessity on self defence.
He said while the Indian society does not endorse crime and agrees that criminals must be brought to justice, the police must also be impartial while carrying out their duties.
When asked whether the challenges posed by the gang 04 in the form of graffiti would serve to aggravate the confrontation between secret societies and the police, Ganesan said he was not sure how things would develop from there, but he feared the issue could only get worse because of this.
He told Sin Chew Daily the big bosses of these secret societies might not necessarily be Indians, and in fact most of the Indian gang members are only minor lackeys, while the police should go after the big fish instead.
Posted: 27 Aug 2013 12:52 PM PDT
(Sin Chew Daily) - The question is, what are the root causes of crimes? Without solving the root causes, crackdown operations would only be palliative moves that would not solve the underlying problems.
In addition to political disputes, public security has become the hottest issue affecting the people of the country over the past few months. A series of shootings, robberies and gang revenge attacks have filled the air with the offensive smell of blood, causing panic in the society after the general election.
Many domestic security problems are caused by the disputes among secret societies. They are engaged in "territory" fighting, drug trafficking, prostitution, smuggling activities, money laundering, fraud, robbery, revenge and killing. As Author of the book McMafia: Crime without Frontiers, Misha Glenny described, the world is not only flat, but it is also dark as secret societies have gone international and national resources of some countries have been dominated by gangs.
The temptation of money has led secret societies to commit a variety of crimes. Misha Glenny pointed out that globalisation and the prevailing Internet allowed secret societies to rapidly expand and become "multinational enterprises" like McDonald's. According to the International Monetary Fund (IMF) and many other anti-crime organisations, the economic output of secret societies have actually accounted for 15% to 20% of the world's GDP today!
Secret societies are international and interracial. However, the quiet evolution of local gangs over the past few decades, particularly the "rise" of Indian gangs, is a phenomenon that should not be neglected.
Indians accounted for 7.3% of the country's total population. According to the figures released recently by the police, Indians have become the mainstay of secret societies in Malaysia, making up almost 71% of all gang members. The huge number of gang members, the brutal means being used, as well as how active they are have shocked the country. For instance, during the funeral of two Indian members of Gang 04, a few hundred of Indian young people, believed to be members of the same party, had actually paraded in the streets with banners bearing the Gang 04 logo. It was reported that they had also lighted firecrackers and ignored the presence of the police. Such an unusual phenomenon has not only reflected the rampancy of gangs, but also how severe the challenges are for the police.
Extraordinary actions are needed in desperate times. Therefore, the police has recently launched a massive crackdown operation, which is generally supported by the public. The question is, what are the root causes of crimes? Without solving the root causes, crackdown operations would only be palliative moves that would not solve the underlying problems.
Seventy one percent gang members are Indians. In the face of the cold and frightening figure, in addition to shock and fear, the people must also be aware of the lessons and potential crisis reflected by the figure. Namely, the plight of the Indian society has gone so serious until is no longer a problem that must be addressed by the Indian community. In fact, it has evolved into a very serious national issue affecting the whole country. The result of lax law enforcement has not only affected the people, but as well foreign investment.
As we all know, the greatest plight of the Indian community is poverty. And poverty is closely related to education and racial policies. An undeniable fact is, the Indians have become the greatest victim of the lopsided polices. Therefore, to relieve the plight of the Indian community and solve gang crime problem, it must be started from policy and institutional reforms. Otherwise, everything is just empty talk!
Unity is in the hands of our kids
Posted: 27 Aug 2013 11:49 AM PDT
Our children must learn to play together and share common experiences, rites of passage and values. Getting our children together is the most effective way in future- proofing the nation, and driving it forward.
Zainul Arifin Md Isa, NST  
NATION-BUILDING: Solution lies in a single education system for all
MALAYSIA, by most accounts, is a young country. This can be both unfortunate or a blessing, just as one would conclude the proverbial glass to be half-empty or half-full.
It is unfortunate because the people who decide on things are generally older, and like me, may be less connected to the demands of the now and can be burdened by the experiences of the past.
But, at the same time, Malaysia is fortunate for its youth -- the majority of the country is under 40. They will inherit the nation, will likely determine how it will be and fortunately, too, they can be guided by the sensibilities and experiences of the older generations.
When Malaya gained independence in 1957, and when Malaysia was formed in 1963, not many gave them a chance for they ticked all the wrong boxes for perfect unions -- they were too heterogenous, too complex to manage, especially with a large migrant population and the whole baggage of urban and rural divide.
We are a country created by circumstances, yet our inherent practicality moved the nation forward against all odds.
Yet, a prolonged period of relative peace breeds complacency and the currency of Merdeka is rather debased when it is taken for granted; a fact buried in history books with the additional bonus of public holidays -- the devaluation is rather complete when shopping malls hold Merdeka Day sales.
Yet, this young nation still faces challenges. The most significant is how to future-proof it -- to make sure it continues to shine and keep chugging along. A nation united by a common purpose and the belief that we are all in this together, goes a longer way.
As a nation, we are defined by our desires and dreams. How then do we make all of us share a common set of desires and dreams, as well as values that are uniquely Malaysian? Datuk Lee Chong Wei or teh tarik?
We must admit that we have drifted further apart these past few years. Political differences, geography, the rural and urban divide, racial identities and religious beliefs are contributing factors.
It seems that we are likely to pin the blame, with some justifications, but not entirely, on politics for the state that we are in.
I think we drifted further apart because we know less of one another. We see each other in stereotypes like Malays must be in government and Chinese in business.
Yet, the elephant in the room that begs our acknowledgement is our education system that is designed to keep our children separate.
These days, by and large, our children in their early years are less likely to encounter children of other races than their parents or grandparents did. Our overly generous education policy inadvertently segregates them, between national, vernacular and religious schools, for example.
Unfamiliarity leads to misunderstanding and misperception, and as they say, also breeds contempt.
There is a simple solution to this issue: the nation needs to have its people together. Political differences are poor excuses for failure to attain national unity.
We have allowed our education to be a victim of our politics, our chauvinism and our insecurities. Would we be less Malay, Chinese, Indian or Kadazan if we were to subscribe to a single education system?
Would we be less politically effective in securing votes and support if we were to look at the national interests rather than narrow political exigencies? But nation-building is never-ending, it requires commitment and sacrifices.
I still subscribe to the idea that the national school is the best agent of unity. But it needs to be able to be as attractive as possible, and it represents the best chance for the nation going forward.
In a week from now, we are set to unveil our new education blueprint. I am sure much effort has been invested to push the national education agenda.
But I would think that, if it is not yet high on the agenda, national unity should be the overriding principle with the national schools the common driving denominator.
What does it take to make the national school be the school of choice?
The government must be bold in addressing the issues. It is not about producing high scorers, but more important, the fate of the nation is at stake.
Our children must learn to play together and share common experiences, rites of passage and values. Getting our children together is the most effective way in future- proofing the nation, and driving it forward.
Perkasa to rap youth chief for telling Najib to quit
Posted: 27 Aug 2013 10:36 AM PDT
Youth chief Irwan Fahmi Ideris's blog posting also caught the main body of the right wing Malay rights group off guard that they now want to call him for an explanation over his statement which he repeated to The Malaysian Insider.
(TMI) - According to Irwan, Barisan Nasional (BN) was voted into power by the Malay community with the help of the Indians, but Najib had failed to defend the two ethnic groups.
Even despite the usual strident rhetoric, the youth wing of Perkasa shocked many with a call, asking Prime Minister Datuk Seri Najib Razak to step down.
Youth chief Irwan Fahmi Ideris's blog posting also caught the main body of the right wing Malay rights group off guard that they now want to call him for an explanation over his statement which he repeated to The Malaysian Insider.
"I did not know that Perkasa Youth had such powers to ask the prime minister to resign," the Malay rights group deputy president Datuk Abdul Rahman Abu Bakar told The Malaysian Insider, expressing shock that Irwan made such a bold statement.
He said he will speak to the Wira Perkasa leader soon to explain himself.
Irwan's statement takes one step further the criticism from his boss, Perkasa chief Datuk Ibrahim Ali, who has been critical of Najib's election strategy, saying recently that the group will not align itself to any party after Election 2013.
Ibrahim had also lamented this to Perkasa patron Tun Dr Mahathir Mohamad in a meeting last month where Najib received brickbats for Barisan Nasional's poor performance in the May 5 general election.
Perkasa officials said Dr Mahathir had understood the group's move to be neutral in coming elections despite a majority of its members being from Umno. But the group has never before asked Najib to step down.
Irwan told The Malaysian Insider this week that at a recent meeting with Najib, Perkasa had urged the Prime Minister to make immediate reforms to protect Malay voters who had elected Barisan Nasional (BN) into government.

Irwan, however, said the Prime Minister has refused to heed the group's call.

"Najib has not changed. We have given him time but now things are getting worse... crime cases, the issue on the use of the word Allah - all these happened in the run-up to the polls when other incidents also took place, like the repeal of the ISA," he said in reference to the government's decision to repeal the Internal Security Act (ISA) and Emergency Ordinance as part of its transformation programme ahead of the 13th General Election.

"The best thing that he can do now is to step down since things are getting worse instead of getting better," he added.

Irwan made the call in a Sunday blog post entitled "Sudah Cukup Segalanya Digadai, Hj Najib Wajar Meletakkan Jawatan" (Enough of selling out, only fair that Najib resigns) and accused the prime minister of failing to manage the country's affairs.

According to Irwan, Barisan Nasional (BN) was voted into power by the Malay community with the help of the Indians, but Najib had failed to defend the two ethnic groups.

"The Malays, with the help of Indians, gave him the power to lead. The Chinese only gave him 8% of the votes.

"This is Wira Perkasa's stand… I do not know what is the stand of the Perkasa leaders. This is the most that we can do. We too contributed to BN's win."

In his blog posting, Irwan had also written, "1Malaysia, BR1M, clearly FAILED by handing out additional provisions to vernacular schools."

"This is because the leaders wanted to win 26% of its votes from the Chinese. It is evident that this failed to work with the Chinese, as although more Chinese voters turned up, only 8% chose the government.

"Meanwhile many Indians supported the government. But the crime rate attributed to the Indians is increasing."

Irwan also criticised the slogan 1Malaysia and the 1Malaysia People's Assistance (BR1M) programme. He called these campaigns "bribery that has been made lawful by the government".
Irwan added, "unfortunately the nation's highest leaders are still appointing people that should not be there. Shouts of 1Malaysia are obviously by their lackeys, so I want to ask if 1Malaysia is successful. In my opinion, it is clear that it failed." 
Altantuya case goes to Federal Court
Posted: 27 Aug 2013 10:28 AM PDT
(The Star) -  Deputy solicitor-general II Datuk Tun Abdul Majid Tun Hamzah (pic) confirmed that he filed the notice of appeal on the day of the judgment last Friday.
PETALING JAYA: The Altantuya Shaariibuu case will go to the Federal Court after the prosecution filed a notice of appeal against the acquittal of two policemen accused of murdering the Mongolian woman.
Deputy solicitor-general II Datuk Tun Abdul Majid Tun Hamzah (pic) confirmed that he filed the notice of appeal on the day of the judgment last Friday.
However, he said that the prosecution team was still working on the appeal petition as they only received the written judgment on Monday.
He declined to comment further, saying that it could be sub judice to the appeal.
When asked which points of the court of appeal judgment that the prosecution would likely appeal against, he replied: "All."
The prosecution was appealing against the Court of Appeal decision to overturn the Shah Alam High Court's guilty verdict in the trial of Kpl Sirul Azhar Umar and C/Insp Azilah Hadri.
Sirul Azhar and Azilah were freed when the three-person bench ruled that there were serious misdirections by the judge who had heard the case.
However, Attorney-General Tan Sri Abdul Gani Patail had stated that the prosecution was dissatisfied with the decision as non-direction or misdirection by the trial court judge was not the fault of the prosecution.
He also disagreed with the Court of Appeal's findings that the prosecution's failure to call former Deputy Supt Musa Safri to testify during the trial had struck a significant blow against the prosecution's case.
"DSP Musa's testimony had no relevance as the whole narrative of the prosecution's case had unfolded in the trial before the High Court," he said in a statement.
At the outset, it was the prosecution's case that former political analyst Abdul Razak Baginda had conspired with the two officers to kill Altantuya.
Posted: 27 Aug 2013 10:20 AM PDT
Bangladeshi workers in queue at Shahjalal International Airport before they leave for Malaysia    
2000 are expected to go each week 
Rabiul Islam, Dhaka Tribune 
Ninety Bangladeshi workers traveled to Malaysia Tuesday under a government-to-government arrangement, which will see them joining work in the country's plantation sector for a migration cost of around Tk30,000.
A Malaysian Airlines flight (MH-103) carrying the workers left Hazrat Shahjalal International Airport at 1.10pm, Md. Zahidul Islam, assistant director at the Bureau of Manpower, Employment and Training (BMET), told the Dhaka Tribune over phone Tuesday.
Eighty-three more workers are scheduled to go to Malaysia on Wednesday, the official added.
"We hope a total of 2,000 workers would go to Malaysia every week from now on," expatriates' welfare secretary Zafar Ahmed Khan told this correspondent at his office on Tuesday.
The secretary said, "We have held meetings with Malaysia's Human Resource Minister and Interior Minister last week, and the labour migration to Malaysia would be expedited under G-to-G system".
Malaysia has also initiated a move to use the same method to recruit from Vietnam, Sri Lanka and Pakistan, Zafar mentioned.
Earlier Tuesday morning, BMET organised an inaugural ceremony for the Malaysia-bound workers at Haji Camp in the capital's Ashkona.
Speaking as the chief guest, Expatriates' Welfare and Overseas Employment Minister Khandker Mosharraf Hossain urged the recruiting agencies not to create confusion among jobs seekers.
He said a section of private recruiting agencies at home and abroad was claiming that the government would not be able to send workers.
The minister said labour migration to Malaysia has resumed and it would continue. Migration cost would not exceed two months' wages of a worker, he added.
Mosharraf also called upon expat workers not to flee their workplaces, as they would become illegal and face punishment.
Earlier, 198 workers went to Malaysia under the same arrangement.
Meanwhile, a lottery has selected around 30,000 workers to be sent to Malaysia.
The government has also created a database of around 1.5 million workers from across the country.
Nation's biggest ever crackdown soon
Posted: 27 Aug 2013 10:11 AM PDT
Once arrested, the illegal immigrants will be deported immediately.  
(The Star) -  The authorities will conduct raids mainly in Kuala Lumpur, Selangor, Penang and Johor which have been identified as the dens for illegals.
PUTRAJAYA: Come Sunday, the authorities will be hunting down an estimated 500,000 illegal immigrants in the nation's biggest ever operation to flush out unwanted foreigners.
The operation will involve some 135,000 personnel from the Immigration Department, police, Armed Forces, Rela, Civil Defence, National Registration Department and local councils.
The Immigration Department is the lead agency.
The authorities will conduct raids mainly in Kuala Lumpur, Selangor, Penang and Johor which have been identified as the dens for illegals.
Once arrested, they will be deported immediately as the Immigration Department does not want its 12 detention centres around the country, each with a capacity of 1,000 people, to be overcrowded.
Employers found hiring illegals could be charged under the Anti-Trafficking in Persons and Smuggling of Migrants Act 2007 (Amendment 2010).
Immigration director-general Datuk Alias Ahmad said the department would seek the cooperation of foreign missions through Wisma Putra to issue the illegals with travelling documents to speed up their deportation.
The operation was targeting those who registered under the Illegal Immigrant Comp­rehensive Settle­ment Prog­ramme or 6P but did not turn up for further processing, including legalisation and voluntary deportation, he told The Star.
During the registration, which was conducted for three months ending in October 2011, about 1.3 million of the estimated two million undocumented foreigners registered.
Of those registered, 500,000 applications for legalisation were processed while 330,000 were repatriated.
"We have given them more than a year to take up the offer.
"It is now time for full enforcement," Alias said, adding that the majority of the targets were Indonesians who would be deported from the Pasir Gudang Port in Johor.
It is understood that the others include Bangladeshis, Myanmar nationals, Vietnamese and Nepalese.
Alias said the operation would be like "a cat and mouse" game, but "we are fully prepared for it".
"We are aware that they know we are coming for them, and come Sunday, they will suddenly disappear."
"They can hide, but how long can they hide?
"This is not a one-off crackdown but a three-month non-stop operation throughout the country," he said.
Alias warned that people found guilty of hiring or harbouring illegals may be fined up to RM500,000 and jailed a maximum of 20 years.
He said the authorities would also come down hard on errant employers because they had been given ample time to register and legalise their foreign workers.
"There is no point in surrendering the illegals now," Alias added. 
Miss Malaysia – Not for Muslims?
Posted: 27 Aug 2013 09:50 AM PDT
When the organiser of Miss World Malaysia Anna Lim said that "As Malaysia is a multi-racial country, we have to show respect to the Muslim community", I wonder: Do we respect Islam or Muslims? In other words, do we respect an abstract concept or living breathing human beings? And what are we doing in the name of prosecuting those who "insult Islam"? 
Nurul Syahirah, patheos.com
Beauty pageants have gotten a bad rap over the years for objectifying women by putting them on parade and privileging their looks over their personality or brains. Some pageants have actively tried to change this idea, by including a talent segment, and making charity work an increasingly bigger part of the winners' duties. One such pageant for Muslim women was the 2011 Indonesian Muslimah Beauty competition, which emphasised women who "don hijab, have Internet and technology capabilities, Qur'an-reciting proficiencies, and accomplishments in sports, academics, and culture."
Miss World is one of the classic beauty pageants, and in an apparent effort to reduce the emphasis on women's external beauty, has dropped the swimsuit component from its competition. In the 2013 Miss World competition, to be held in the Muslim majority country of Indonesia (although not without protests from their ulama), participants would wear sports attire with long pants or beachwear made from a sarong (a traditional textile from the region) during the beachwear segment.
However, earlier this year in July 2013, four Malaysian Muslim finalists were dropped from the finals of Miss World Malaysia. They had competed unnoticed, until the spotlight was shone on them as finalists. Federal Territories Mufti Wan Zahidi Wan Teh had raised the issue of a 1996 fatwa which states that "participating, organising or contributing to any sort of beauty contest is haram and a sin." The reason given for disqualifying them was that as Muslims, they should not "disrespect" or "insult" Islam by joining a beauty pageant.
"Insulting Islam" has been used yet again as a reason for people to "
control public conduct of Muslims in terms of dress and indecency
," according to a local NGO, Sisters in Islam. It has increasingly become a tool of public control, as 
anyone deemed to be "belittling Islam" can be investigated, then fined or jailed
.
Earlier in 1997, two contestants of the Miss Malaysia Petite contest were fined, while three other contestants from the same beauty pageant were brought to trial for violating the same fatwa. They were arrested during the pageant, handcuffed and locked up.
In a similar vein, the four dropped finalists in 2013 were being investigated for criticising the fatwa, which was considered as "disrespecting or insulting Islam," according to an official of the Federal Territory Islamic Affairs Department (JAWI). Under Malaysian laws, anyone found guilty of disrespecting or insulting Islam can be punished with up to two years imprisonment or a fine of 3,000 ringgit (USD900) or both. It was under this pressure that three of the four finalists decided to issue apologies.
The official pageant organiser Anna Lim acknowledged that she knew about the 1996 fatwa against Muslim participation in beauty pageants, but believed it was on the basis of revealing their bodies. Considering that the pageant had changed its rules on clothing to eliminate swimwear,  and that the finals would be held in Muslim-majority Indonesia, she believed that these four women had a chance.
One of the young women, Sara Amelia Muhamad Bernard (20) called the fatwa "outdated". Wafa Johanna de Korte (19) added that she found it disappointing that after 17 years, the perspective that Muslim women should not join pageants "is still out there." The division that these two women have made, pitting tradition against modernity, has not helped the situation because it prevents critics from questioning the very assumptions that underpin these two dynamic concepts.
Despite the attempts at making beauty pageants less about beauty and more about personality, some articles reporting on the incident still focused on the visual beauty of these four women anyway. Following the popular maxim that "mixed kids are always so beautiful," the young women's "mixed parentage" was detailed (German-Iban-British-Malay, Arab-Malay, Dutch-Malay, English-Malay); elsewhere, they were simply called "beauties" (here, here and here) and repeatedly described as "very beautiful."
But I find it interesting that despite their mixed parentage, the "Muslimness" and the "Malayness" of these four women took precedence. Even in Malaysia, where most Muslims are ethnically Malays, and where these two terms are often used interchangeably, these young women were not purely Malay in any case. Even though one's ethnic group or "race" is no longer stated on Malaysian identity cards, the Malay part of their parentage was given precedence in order to justify norms of proper Malay behavior.
Furthermore, being Muslim is described as their primary identity. Their protest at being banned meant that they had to convince others that they were indeed Muslim enough, and that being Muslim and a beauty pageant participant were not mutually exclusive. One of the finalists, Miera Sheikh (19), stated the following:
"To me, Islam will never fade in my life until my last breath because my roots from my ancestors till my parents' generation and mine will still be Islam."
In the bigger picture is the instrumentalisation of religious opinions as state laws. Zainah Anwar of Sisters in Islam (SIS) has previously pointed out that fatwas are giving too much legal power to the opinions of the ulama in Malaysia. In 1997, SIS issued a memorandum to the then Prime Minister, Tun Dr Mahathir Mohamed, as a reminder that the legislative authority to make laws in Malaysia lies with Parliament and the state assemblies, not with fatwa committees:
"We pointed out that in Islamic legal thought, fatwa are mere advisory opinions and do not have the force of law; to make it a crime to challenge a fatwa in force is to equate the opinion of a Mufti to the infallible word of God; the legislative authority to make laws in Malaysia lies with Parliament and the state assemblies, not the fatwa committees; the right to restrict fundamental liberties lies solely with Parliament and thus the provisions in the law that punish indecency amounts to an unconstitutional trespass on federal powers."
The NGO also added that there is the risk of unfairly targeting certain groups:
"Such laws could only lead to select prosecution and victimisation, as they cannot be enforced fully and equally. Don't get me wrong, we can still have a central fatwa-making body to provide guidelines for the people but we don't have to make it a criminal offence to go against a fatwa."
To me, the criminal offence of "insulting Islam" has never made sense. When the organiser of Miss World Malaysia Anna Lim said that "As Malaysia is a multi-racial country, we have to show respect to the Muslim community", I wonder: Do we respect Islam or Muslims? In other words, do we respect an abstract concept or living breathing human beings? And what are we doing in the name of prosecuting those who "insult Islam"? 
A-G files appeal over duo's acquittal
Posted: 26 Aug 2013 09:28 PM PDT
(Bernama) - The prosecution has filed a notice of appeal against the acquittal of two police special action unit personnel on the charge of murdering Mongolian national Altantuya Shaariibuu.
Deputy Solicitor-General II of the Attorney-General's Chambers Tun Abdul Majid Tun Hamzah confirmed that the prosecution had filed the notice at the Court of Appeal registry on Friday.

The notice of appeal was filed on the same day the court handed down its decision on the appeal of the two policemen, he told Bernama.

Tun Majid said the prosecution would file its petition of appeal within 10 days upon receiving the appeal records.

On Friday, a three-member panel of the Court of Appeal chaired by Justice Mohamed Apandi Ali freed Azilah Hadri and Sirul Azhar Umar on the murder charge after unanimously allowing their appeals.

The other two judges on the panel were Linton Albert and Tengku Maimun Tuan Mat.

Azilah, 37, and Sirul Azhar, 42, had appealed against a High Court's decision which convicted and sentenced them to death for Altantuya's murder.

They were alleged to have murdered Altantuya, 28, at Mukim Bukit Raja in Shah Alam between 10 pm on Oct 19 and 1 am on Oct 20, 2006.

Former political analyst Abdul Razak Baginda, 50, who was charged with abetting them, was acquitted by the High Court on Oct 31, 2008 after the prosecution failed to establish a prima facie case against him. The prosecution did not appeal.

In a 47-page judgment, the Court of Appeal said circumstantial evidence adduced by the prosecution were insufficient to sustain the finding of guilt of the two policemen.

It said their guilt had not been satisfactorily proven, thus the court was constrained  to give them the benefit of the doubt.
Left and right versus the centre
Posted: 26 Aug 2013 06:59 PM PDT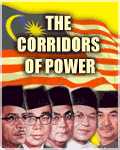 I believe, with the right leadership, the centrist movement can be bigger than the left and right. Umno and PAS will lose a lot of supporters to this centrist movement if it is a credible movement. Then we will see the Ketuanan Melayu and the Ketuanan Islam groups kept in check, which is something Malaysia needs to be able to remain sane.
THE CORRIDORS OF POWER
Raja Petra Kamarudin
Christendom went through this 200 years ago. In fact, it started roughly 500 years ago and was more or less finally 'settled' about 200 years ago. Now it is the turn of the Muslim world.
I am, of course, talking about the church 'shake-up'.
For all intents and purposes, you can even say that the same thing started in the Muslim world about 35 years or so ago. I remember people saying things like "The Islamic Revival". Not many took much notice of the events in Iran or considered how this would eventually shape the Muslim world. Most probably just thought that this was an uprising against a corrupt government or an anti-US thing that does not concern the rest of the world.
But my Arab friend had already cautioned me back in 1980 about what we should expect. Iran is 'exporting' the Islamic revolution to other Muslim countries, he told me. They are 'educating' Muslims in other countries so that one day, maybe by the next generation in 30 years time or so, Iran's revolution would be the revolution of the entire Muslim world.
Saudi Arabia, too, is exporting its brand of Islam, a very uncompromising and restrictive form of Islam. The Muslim world has deviated from the true path, say the hardliner fundamentalists. It must now be brought back to the pure form of Islam, which has been contaminated by 'Western ideals' and liberalism.
And, to achieve this, the Saudi government has been quietly funding this 'silent revolution', to the tune of billions of dollars a year, through organisations like the Muslim World League (Rabita) and the World Association of Muslim Youth (WAMY), which is turn finances organisations like Angkatan Belia Islam Malaysia (ABIM).
Anwar Ibrahim, the man who headed ABIM back in the days of the beginning of "The Islamic Revival", knew what he was getting Malaysia into. He not only sent his people to Saudi but also to Iran to 'observe' the Iran-Iraq War that took an estimated one million Muslim lives. (I remember them telling me that their bus was shot full of bullet holes when they went to the frontline).
Tun Dr Mahathir Mohammad, the man who took over as Prime Minister in 1981, considered Anwar and ABIM (plus their Iranian and Saudi 'allies') too much a threat that he reluctantly agreed to bring Anwar into Umno merely to 'control' him and to 'neutralise' the Islamisation of Malaysia. Dr Mahathir felt that Malaysia's future lay in liberal Islam and not fundamental Islam. And because of that many in PAS and ABIM labelled Dr Mahathir a heretic and apostate and Umno an infidel (kafir) party.
This all happened more than 30 years ago. To be honest, even I was roped in and became a fundamentalist Muslim (which I have written about many times before). I believed in the Islamic revolution and even participated in an anti-Saudi and anti-American demonstration in Mekah back in 1982. I, too, called Dr Mahathir a heretic and apostate and labelled Umno an infidel party. That was how radical I had become more than 30 years ago back in 1980. I even dressed like an Arab to make sure I not only played the part but also looked the part.
I was in my 30s then, half the age I am today. But since then I have changed, as I have also changed regarding my stand concerning the opposition cause -- or rather the deviation of the opposition cause. Well, what can I say, people do change, especially when age catches up with them and they see things differently now.
Many Malaysians perceive the 2008 general election plus the 2013 general election as Malaysians finally 'waking up'. That is only partly true, or true as far as the Chinese and Indians are concerned. As for the Malays, it is more than just that.
What many cannot understand is that Malaysia, as Umno admits, is divided. And I am talking about the Malays here because the Chinese and Indians are very much united, as the 2008 and 2013 general elections have proven. But what many do not understand is that the divide is not so much political as it is fundamental.
Of course, in Malaysia, politics, religion, race, language, education, etc., work hand-in-glove. Hence the reason for my many 3Rs articles and talks -- race, religion, royalty. But it is more than just that. Malays are divided into leftist Malays, rightist Malays and centrist Malays.
When I say 'leftist Malays' I do not mean socialist or communist Malays. I mean the Islamists. Hence maybe 'leftist' would not be the most accurate label to use. 'Rightist' would mean the nationalists while centrists are those who oppose both the Islamists and the nationalists and feel that Malaysia needs to be more liberal and non-racial.
I would like to believe that I fit into the centrist category.
The rightists support Barisan Nasional mainly because Umno is the dominant partner in that ruling coalition. The leftists support Pakatan Rakyat because PAS is a member of the opposition coalition. The centrists like me, however, do not really have a 'home'.
Many centrists support Pakatan Rakyat, like how I used to, because of PKR, the perceived lead partner in Pakatan Rakyat. That may have been true before. However, today, PKR can no longer be considered the lead partner even though Anwar Ibrahim may still be the opposition leader. In fact, PKR is rapidly turning into a liability rather than an asset for the opposition coalition.
We from the centrist community need a new home. And PKR, which once used to be that home, has become a disappointment of late. PKR is rapidly emerging as just another Umno with its very strong Umno culture and Umno-style politics.
The centrists need a new party to call home. I personally had high hopes for DAP being that centrist party when I campaigned for it exclusively in the 2008 general election. Unfortunately, DAP is unable to shed its Chinese identity and image as much as we had hoped it would. If not, then DAP would be that ideal home for the centrists.
In 2009-2010, I spoke to Haris Ibrahim about turning PSM into that new centrist party. I believe Haris did have discussions with the PSM leaders but I do not know what went wrong. Somehow PSM was not too receptive to our ideas (meaning the Malaysian Civil Liberties Movement or MCLM) and nothing much came out of those discussions. In fact, PSM appears to be emerging as an Indian-based party, which is a crying shame.
I believe if a new party emerges that can give an appearance of being a centrist party then the centrists amongst the Malays would support it -- at least I hope. And that would be good for Malaysians, in particular the non-Malays, because the centrists can then keep the leftists and rightists in check.
Currently, there are only two choices, the rightist Barisan Nasional (meaning Umno) or the leftist Pakatan Rakyat (meaning PAS). There is no 'middle' in spite of many believing that PKR (or DAP) is this middle.
Hence the centrists either support Barisan Nasional or Pakatan Rakyat. There are only these two choices and no other choice. The problem, however, is that Malaysian politics is divided into Barisan Nasional and Pakatan Rakyat. So, even if a new centrist party emerges, it would have to align itself with either Barisan Nasional or Pakatan Rakyat.
In short, Malaysia is not yet ready for a third force. Even if a third force does emerge it needs to pledge loyalty to either the left or the right. It cannot stand in the middle and declare that it is neither with Barisan Nasional or Pakatan Rakyat.
And because of that the Malays will forever be divided between the left and the right with the centrists having no say or no voice. It is not that we did not try back in 2009-2010 but I must admit that we failed probably because we were just too early for our time.
But that was three to four years ago back in 2009-2010, soon after the 2008 general election and before the 2013 general election. But has that now changed? Are there enough Malays who do not want to be on the left or the right but would like to be in the centre? I really do not know but maybe we should, again, try what we tried in 2009-2010 and see how far we can succeed this time around.
But first we need a leader, a centrist leader. I cannot be that leader because I am not a politician and do not wish to be one. Someone like Zaid Ibrahim can probably be that leader if he can resist the temptation to be wishy-washy and inconsistent in his political stand. But Zaid must first decide what he wants to be and stick to it. He cannot keep swinging to the left and then to the right while claiming to be in the centre.
I believe, with the right leadership, the centrist movement can be bigger than the left and right. Umno and PAS will lose a lot of supporters to this centrist movement if it is a credible movement. Then we will see the Ketuanan Melayu and the Ketuanan Islam groups kept in check, which is something Malaysia needs to be able to remain sane.
Or maybe this will never happen in our lifetime. Maybe this is something that will happen by the next generation when people like Zaid and I are no longer around. I really don't know. But whether it will happen now or later it will eventually happen. And when it does that would be when many of Malaysia's ills will be cured.
Until then expect the race and religion politics to get worse before it gets better. Let us hope that it never needs to deteriorate to the level of many other Muslim countries where disagreements are settled in bloodshed. Malaysia's politics is dominated by Malay politics. And until and unless the Malay division can be settled and the centrists can check the leftists and rightists, Malaysian politics will continue to be volatile and unstable.
Posted: 26 Aug 2013 03:57 PM PDT
Frankly speaking, the legal system is generally Greek to many members of the public. The verdict has all the more puzzled the public and begs a question: can righteousness and justice be upheld legally? Does the acquittal of the accused uphold legal justice or reveal the impotence of prosecution?
Lim Mun Fah, Sin Chew
The two alleged suspects in Mongolian model Altantuya Shaariibuu's murder were acquitted after they had brought the case to the Court of Appeal. The sentence immediately sparked a chorus of controversy. But Attorney-General Tan Sri Abdul Gani Patail informed that the prosecution would appeal, that said this 159-day trial hasn't yet come to an end.

This trial has since aroused global attention. The reason is twofold. Firstly, Altantuya was a Mongolian beauty with a legendary and murky identity. She was reported to have come all the way from Mongolia to meet her lover in Malaysia but ended up murdered, and her remains destroyed with C4 explosives. This amorous, exciting and atrocious plot of the narrative is arresting at its best to the stalking oriented public.

Secondly, there were three influential accused initially, namely, the then defence analyst from the Malaysian Strategic Research Centre think-tank, Abdul Razak Baginda, Chief Insp Azilah Hadri and Cpl Sirul Azhar Umar.

The trial was tedious and teemed with surprises.

Abdul Razak was acquitted of abetment. Later, the other two accused were also acquitted.

This verdict, to date, has raised an uproar as well as legal controversy.

Former minister in the Prime Minister's Department Datuk Zaid Ibrahim was disappointed with the verdict. To him, the Court of Appeal should have ordered to review the case and not to pronounced acquittal. Furthermore, Pakatan Rakyat officials had called for a royal commission of inquiry for further investigation to restore the reputation of our legal system.

Frankly speaking, the legal system is generally Greek to many members of the public. The verdict has all the more puzzled the public and begs a question: can righteousness and justice be upheld legally? Does the acquittal of the accused uphold legal justice or reveal the impotence of prosecution?

Most common folks are kindhearted. They tend to sympathise with Altantuya despite not knowing who she was. "A murderer must pay with his life" is their logic. When the verdict goes against their expectation, the prevailing sense of disappointment and discontentment should be understood and justified.

Different stance would result in disparate interpretation. No sentence can be made without sufficient evidence and it is to the core an uncompromising principle.

For Altantuya and her family, as long as the murderers are at large and not convicted, her apparition will always linger in the Malaysian sky.

In passing, I recalled the acquittal of Orenthal James Simpson for the alleged murder of his ex-wife and a waiter. After hearing the verdict, the waiter's father said: "Today is not the day prosecution has lost the trial but the nation as righteousness and justice was not upheld."

Indeed, to uphold righteousness and justice is a universal calling. It is also our expectation and hope for each and every trial. 
**************************************
Was the appellate court doing the right thing?
Lam Choong Wah, TMI
The duo accused for the brutal murder of Altantuya Shaariibuu were acquitted unanimously by the Court of Appeal's three member bench on August 23.
The news spread like shockwave across the country. Not only did the verdict disappoint many Malaysians, but it also generated countless condemnations on social media.
Who killed Altantuya? This question has flooded the social media. So if it is not former chief inspector Azilah Hadri and former corporal Sirul Azhar Umar, who else? As a result of this verdict, some people are questioning the credibility of the courts.
Contrary to public opinion, I think the three member bench had done the right thing, and their judgment could compel the prosecutors to carry out more in-depth investigation on this case.
There were several ambiguities that were pinpointed by the Court of Appeal, which should be answered by the prosecutors:
1. The whole case was full of flaws that could easily be used by the defence counsel to counter accusations made by the prosecutors. One of the best examples was the fact that the prosecutors were reluctant to investigate the intention of causing Altantuya's death. In any culpable murder case, as defined by Section 300 of the Penal Code, proving the murder intention of the accused is a must for the prosecutors. Otherwise, the accused can only be charged with culpable homicide not amounting to murder under Section 304 of the Penal Code and punishment upon the conviction is only imprisonment.
2. The prosecutors weren't interested to find out where the C4 explosives came from. Why were the prosecutors not interested in the most important evidence?
3. The court and prosecutors had never subpoenaed Najib Razak's chief bodyguard DSP Musa Safri, or even Najib himself to testify. Without their testimony, one is unable to clarify whether or not the accused received any directive from other parties.
The appellate court judges pointed out that the prosecutors couldn't convict the accused beyond reasonable doubt and that led to the case's judgment, i.e. acquit the accused. The prosecutors have two options now, either appeal to higher court or give up.
If the authority chooses the first option, then they have to answer the doubts raised by the appellate court. In other words, they have to find out why the two police commandos killed Altantuya and more pertinently, where did C4 explosives come from?
If the prosecutors choose to give up, then they will have to be prepared to face gigantic repercussions from public.
Some say the appellate court should send the case back to High Court to retrial, but I think the verdict leaves the prosecutors no more room to escape from finding the truth and to pretend they are serious in this case anymore.
What say you?
Posted: 26 Aug 2013 03:19 PM PDT
RH administrators believe that a compassionate world would not be a reality if we just constantly criticize our fellow humans and distance ourselves from them. It is only by performing our own acts of kindness towards others, we can affirm the kind of world we dream of.
TamilSelvan Ramis
Have you ever thought you have lost all your faith in humanity? While some scholars claim that we are living as better human beings today, we never fail to notice the continued atrocities around the world. I am sure you can come up with a long list of atrocities without me giving any specific examples. Such immorality makes us wonder if humanity is doomed today.
It might be helpful to recall one of Mahatma Gandhi's great advice here:
"You must not lose faith in humanity. Humanity is an ocean; if a few drops of the ocean are dirty, the ocean does not become dirty."
Yes, although no acts of immorality should be trivialized, it is important to always remind ourselves that we should not lose hope in humanity due to a small percentage of wickedness that happens around us. It is also essential to keep in mind that we too are part of the greater humanity and capable of shaping it positively.
It is in this positive spirit, the Restoring Humanity (RH) project was initiated in February 2013. Essentially, the RH project is aimed at promoting humanity around the globe. The project entails:
1. Sharing acts of kindness with fellow RH Facebook page (https://www.facebook.com/restoringhumanity13) followers. Followers are encouraged to do any random acts of kindness (e.g., holding the elevator for someone, paying the toll for the person behind, donating blood, etc) and share the stories with RH administrators. If followers have a story to share, they can send a brief description about what they did and/or a photo capturing the moment of kindness. Alternatively, they may let RH administrators know if someone did something kind to them. Followers may include names in their messages or can make them completely anonymous.
There are more than 200 RH followers and they have shared a number of kindness stories thus far. Here is one of those stories:
"A best friend of mine asked me yesterday, 'I know you listen to others' problems. Do you have someone to talk to if you need help?' I was truly touched. Questions like this can make someone's day, or even better can save a person from a potential tragedy."
This example reinforces Kevin Heath's notion that "No act of kindness is too small. The gift of kindness may start as a small ripple that over time can turn into a tidal wave affecting the lives of many."
2. Operation Restoring Humanity. Through this, RH page followers are provided with suggestions of acts of kindness to perform such as registering as an organ donor, and are encouraged to share their stories of executing the suggestions with RH administrators.
3. Humanity Rangers. This is a recent initiative through which appointed Rangers will plan and execute acts of kindness projects around the globe. Currently, the Rangers are planning a visit to homeless people with some basic items such as food and clothes.
RH administrators believe that a compassionate world would not be a reality if we just constantly criticize our fellow humans and distance ourselves from them. It is only by performing our own acts of kindness towards others, we can affirm the kind of world we dream of.
Thus, if you feel you are losing faith in humanity, why don't you try restoring it? Among many things, you can start by being part of the RH project. You can share your stories, carry out Operation Restoring Humanity suggestions, or apply to be a Humanity Ranger.
Humanity is the one thing that connects us to our fellow human beings. Let's act humane and play an active role in restoring our faith in humanity.
TamilSelvan Ramis shares his thoughts, opinions and dreams at www.facebook.com/selvanztod
At Subang condo, ban against 'African' tenants
Posted: 26 Aug 2013 01:47 PM PDT
Ridzuan Condominium residents had voted against renting their units to 'African' tenants. — Pictures by Choo Choy May
(The Malay Mail) - "African" tenants at a Bandar Sri Subang condominium here have three months to vacate their units after the building's management slapped an unprecedented occupancy ban on them last week.
The decision came after the majority of Ridzuan Condominium residents voted in an annual general meeting (AGM) held on July 6 against renting their units to foreigners from the continent, whom they allege to have "caused a lot of nuisance".
The Malay Mail Online sighted a copy of the memo circulated to Ridzuan residents explaining the ban, which has also been making the rounds online through Facebook.
"We refer to the above matter without prejudice and without malice," the memo dated August 19 started.
"As a result of the decision held in the AGM on 6th July 2013, the majority of the residents voted in the AGM to not letting their units for rental to Africans any more."
According to the memo, the presence of Africans has created "a lot of nuisance and problems to the community", which in turn has driven down the property value of units there.
It further asserts that owners have found it difficult to rent out or sell their units to other prospective customers due to the alleged situation.
The memo on the move banning the renting of units to 'African' tenants affixed to a notice board at Ridzuan Condominium
"It was also resolved during the AGM that any resident who has an African tenant is to cancel the rental and to vacate them from their units within three (3) months from the date of this letter," it added.

It did not, however, specify the course of action — if any — that would be taken by the management should an owner or African tenant fail to comply.

It was also unclear how they plan to enforce the ban, with the only criterion being "African".

The circular neglected to specify if this ban will apply along the lines of ethnicity or nationality, nor does it mention who would be the final arbiter should any party dispute the "African" label.

The memo was signed by a Jerry Low Boon Chay, who was named as chairman of Joint Management Body (JMB) of Ridzuan Condominium.

A member of the JMB, who refused to be named, confirmed the authenticity of the memo to The Malay Mail Online through a phone call last week, and admitted to sending the memo to residents on behalf of Low.

During a subsequent visit to the condominium on Saturday, The Malay Mail Online discovered the same memo affixed to a notice board within the grounds of the property.

Ridzuan is a 14-year-old condominium situated near the PJS10 lake park, with units from 590-sq ft; rental starts from RM1,300 a month.
Posted: 26 Aug 2013 01:41 PM PDT
Penulis memperkatakan mengenai salah sebuah buku yang sedang dibacanya dalam usaha mengenali tokoh-tokoh hebat dunia.
Sebagai seorang individu yang cukup bertuah kerana dilahirkan di negara Malaysia sebagai penganut Hindu serta pengamal inter-faith, saya tidak melepaskan peluang mendalami pelbagai ajaran dan agama sejak usia kanak-kanak.
Uthaya Sankar SB, FMT
"Yes I am a Hindu. I am also a Muslim, a Christian, a Buddhist, and a Jew." – Mahatma Gandhi.
Sebagai seorang individu yang cukup bertuah kerana dilahirkan di negara Malaysia sebagai penganut Hindu serta pengamal inter-faith, saya tidak melepaskan peluang mendalami pelbagai ajaran dan agama sejak usia kanak-kanak.
Satu-satunya tokoh pemimpin Islam yang paling saya kagumi ialah Nabi Muhammad yang juga dikenali dengan nama-nama Ahmad, al-Mahi, al-Hasyir, al-Amin, al-Muqaffa' dan al-Aqib; sebagaimana diriwayatkan oleh Bukhari, Muslim, Abu Dawud, Al-Tirmizi dan Ahmad.
Apabila ada peluang, saya membaca buku-buku berkaitan Rasulullah – selain mengenai Mahatma Gandhi, Guru Nanak, Siddharta Gautama Buddha, Jesus (Nabi Isa) dan sebagainya – untuk belajar menjadi insan yang lebih baik.
Walau bagaimanapun, agak mengecewakan – dan amat memalukan – apabila Ikatan Muslimin Malaysia (ISMA) pada 19 Julai 2013 melihat kekaguman saya terhadap ketokohan dan kepimpinan Nabi Muhammad sebagai alasan untuk "menyeru" saya memeluk agama Islam.
Dakwah negatif yang mereka lakukan bukan sahaja membuktikan kejahilan dan kebodohan mereka, malah memberikan gambaran seolah-oleh Rasulullah hanya "milik" umat Islam dan golongan Bukan Islam (Tidak Islam) tidak berhak mengagumi kehebatan, ketokohan dan kepimpinan Baginda.
Suka saya menyarankan – "menyeru" – orang-orang dalam ISMA membaca buku seperti The 100: A Ranking of the Most Influential Persons in History (2001), Life of Mohamet (1889), Mohamet and Islam (1895) dan Mohammad at Mecca (1953); serta membaca pandangan tokoh dan sejarahwan dunia pelbagai kaum dan agama mengenai Nabi Muhammad.
Atau ISMA boleh juga melaburkan sedikit wang (RM18.00) untuk membeli dan membaca buku Hebatnya Rasulullah: Teladani Peribadi & Pengurusan Kekasih Allah (2013) tulisan Ahmad Zahiruddin Mohd Zabidi untuk memahami betapa kehebatan Baginda bersifat universal dan tidak patut dikongkong atau ditempurungkan seperti dilakukan ISMA dan sekutunya.
Bak kata Zahiruddin, "hanya kesombongan serta kebodohan diri sahaja yang menghalang manusia daripada melihat Baginda sebagai idola piramid kehidupan, dari sekecil-kecil mengurus diri dan hati sehinggalah kepada perkara berkaitan harta juga negara."
Maklumat para isteri Rasulullah

Saya membeli buku berkenaan terus daripada penulis pada 31 Mei 2013 iaitu semasa Pesta Buku Selangor. Zahiruddin sendiri pada mulanya agak terkejut apabila saya menyatakan keinginan mahu membeli buku tersebut.

Buku setebal lebih 300 halaman ini terbit dalam siri "perbandingan agama, kebudayaan, sejarah serta ketamadunan yang mengajak pembaca menyelami dengan lebih mendalam sisi unggul percapaian rohani dan material umat Muhammad".

Zahiruddin mengakui bahawa beliau mendapat pengaruh besar daripada buku Muhammad SAW: The Super Leader Super Manager (2008). Gaya penulisan dan penyampaian yang bersahaja dan mudah menjadikan buku Hebatnya Rasulullah lebih mudah dibaca; apatah lagi oleh khalayak Bukan Islam.

Salah satu "pancing" yang sering cuba digunakan oleh pihak tertentu untuk "memujuk" saya meninggalkan agama Hindu adalah bahawa saya akan berpeluang kahwin empat. Saya biasanya mengabaikan sahaja "dakwah negatif" seperti itu yang sebenarnya mencemarkan kesucian agama Islam.

Dalam buku Hebatnya Rasulullah, disenaraikan maklumat kesemua 12 isteri Rasulullah. Kita biasa membaca dan mendengar mengenai Khadijah Khuwailid yang merupakan janda dua kali. Khadijah dipercayai berumur 40 tahun sementara Rasulullah berumur 25 tahun semasa mereka berkahwin.

Kita juga biasa mendengar dan memperkatakan mengenai Aisyah Abu Bakar, seorang gadis berumur 9 tahun yang dinikahi Nabi Muhammad yang berusia 52 tahun. Aisyah kemudian menjadi antara periwayat Hadis terbanyak, khususnya berkaitan masalah fiqh wanita.

Selain daripada Aisyah, seorang lagi gadis yang dinikahi Rasulullah ialah Mariah al-Qibtiyah yang menurut Zahiruddin adalah "seorang hamba yang dihadiahkan oleh Raja Mukaukis dari Iskandariah, Mesir".

Isteri-isteri lain kepada Baginda ialah Saudah Zum'ah, Zainab Jahsy, Ummu Salamah Abu Amayah, Ummu Habibah Ramlah Abu Sufyan, Juwairiyah al-Harith al-Khuzaiyah, Safiyah Hayyi Akhtab, Maimunah al-Harith, Zainab Khuzaimah Harith dan Hafsah Umar al-Khattab.
We bungled over Islam, admits MCA
Posted: 26 Aug 2013 01:35 PM PDT
(Harakah Daily) - "Maybe after PAS takes over the government, then they will think otherwise."
Chinese-only party MCA has admitted that its method of opposing PAS through fear-mongering tactics among the Chinese electorate has worked against it.
"The cause for the defeat of the MCA was corruption, environmental issues and good governance. These were the issues at the heart of the people, rather than the threat of hudud and PAS's Islamic state," said the party's youth leader Wee Ka Siong (pic) in an interview with news portal Free Malaysia Today.
Both MCA and its sister Chinese party Gerakan were heavily defeated in the last two general elections, following a major shift of support to Pakatan Rakyat among urban as well as non-Malay voters.
The party had hoped to make a comeback by instilling fear of Islamisation by PAS, a key member of PR. Led by its president Dr Chua Soi Lek, the party went on a campaign blitz, even taking up full page advertisements on daily papers with the tagline "a vote for DAP is a vote for PAS's hudud laws".
In his interview, Wee conceded that Chinese voters could no longer be influenced with such a campaign.
"After the general election, I can draw the conclusion that hudud is not a concern and the Chinese are not afraid of this," he said.
Posted: 26 Aug 2013 01:25 PM PDT
(Bangkok Post) - The Miss World beauty pageant will go ahead in Indonesia next month despite objections from the country's leading Islamic federation, an organiser said Tuesday.
"We have obtained support from the government so there are no obstacles," said Syafril Nasution, corporate affairs director for RCTI, the organiser and official broadcaster of the event.
"Since the beginning, we have made it clear that the event will not feature bikinis, or make use of anything that is against religious and cultural values," he said. "So we don't really understand why there are still objections."
Amidhan Sabrah, chairman of the Indonesian Council of Ulema, said it was opposed to the event because it objectified women.
"This kind of events turn women into a commodity and that is against Islam," he said. "Maybe in the West it's not a problem, but it should not part of our customs."
But Sabrah conceded that the council was not a religious police.
"We have the right to object," he said. "Whether the event will go ahead or not it's up to the government."
The semi-official council consists of religious scholars representing the country's various Islamic organizations.
The pageant is scheduled for Sept 28 in Sentul, on the outskirts of Jakarta.
Posted: 26 Aug 2013 01:20 PM PDT
DAP adviser Lim Kit Siang says the money spent to finance Tanda Putera movie will be better used to establish an independent inquiry to find out the truth behind May 13 tragedy.
(FMT) - DAP today called upon the government to establish a royal commission of inquiry to investigate the infamous May 13, 1969 race riots.
Party veteran Lim Kit Siang said that the royal commission should be tasked to find out what transpired on the fateful day, including the identity of the masterminded of the bloodbath.
"This is not the first time I am making such a call. I made the same statement in my first speech in the Parliament on Feb 23, 1971.
"Although 44 years have passed since the tragedy, we need to ascertain what really transpired on that day in order to present the historical truth to the present and future generations.
"In addition, it will also stop irresponsible quarters from raising the spectre of May 13 to blackmail voters from exercising their democratic right to vote freely," said Lim in a statement.
The Gelang Patah MP said this in response to a scheduled release of Tanda Putera movie on Aug 29, which is alleged to depict the opposition, particularly DAP, as the cause of the May 13 incident.
It was claimed that there is one scene in the movie which shows a Chinese man urinating at a flag pole at the Selangor menteri besar's office.
Dr M's objection to TPPA: Is he really anti-US?
Posted: 26 Aug 2013 12:24 PM PDT
Kenneth Lee, FMT
Truth is not what matters to Mahathir but perception. He wants the Malays to see him as pro-Malay and pro-Islam. With the Umno elections round the corner, and Mukhriz, Muhiyiddin and other Mahathir loyalists seeking to control Umno, Mahathir has become very open in his racist attacks of the Chinese. For a while he was quiet about the US but the TPPA has provided him the perfect opportunity for him to mount his usual anti-US song and dance to further garner support for his faction in Umno.
There is ample evidence to show that Mahathir, in reality is anything but anti-US. US was and is one of the biggest investors and trading partners of Malaysia. Mahathir launched the billion-dollar MSC on the strength and support of major US companies such as Microsoft, Oracle, IBM, Cisco, Dell, AMD, DHL, etc.  Malaysia spent billions of dollars on military purchases from the US during Mahathir's tenure as PM. Mahathir  engaged  and consulted American economic advisors and writers such as Jeffrey Sachs and Naisbit.
Mahathir loves Western lifestyle and now lives in a 'Swiss' mansion in the Mines. Mahathir secretly allowed the US military to conduct exercises on Malaysian soil when he was PM  (see Barry Wain's 'Malaysian Maverick'). Openly, however, Mahathir has been a vitriolic critic of the US.  But secretly he has been not just a close ally but a lackey of the US. That is why Mahathir is still around because he remains a lackey of the US and is of use to the US in global Islamic matters and the super-power's interests in Malaysia and the region.
Just consider this. Who is Mahathir compared to the Marcos and Suhartos and other notable dictators of the world in terms of strength, control and influence? They fell or rather the US allowed them to fall when they were no longer of use to the US or their continued dictatorships were no longer tenable. It would have been a kid's play for the US to destroy Mahathir, the PM of a country which has marginal influence on the world stage in terms of military, political, strategic or economic power.
The US's track record shows that they would have most certainly done so in response to Mahathir's regular and often ridiculous out-bursts against the US, unless he served a greater purpose for the US and the open criticisms were merely distractions from the truth that he, Mahathir, was a US lackey.  In order to hide his close links with the US, Mahathir often diverted the people's attention through his harsh and often illogical  rhetoric against the US and would subsequently make up with the US when the rhetoric goes beyond the limits – e.g.,  Mahathir's million dollar payment to the Heritage Foundation to meet George Bush in 2002 to "normalise" relationship.
Mahathir, despite his open vitriol against the Jews, is in fact also a close friend of the Jews. Mahathir's reason for the open animosity for Jews is the same as that applicable to his diatribes of the US – the open animosity is a diversion so that Mahathir's close relationship with the Jews will not be apparent, and he can continue to deceive the Malays and the Islamic world. Let us look at the facts. Mahathir was a close buddy of Soros (a Jew)  in hedge-fund deals and currency manipulation, later blamed Soros for the financial crisis of 1997/1998 and called him a "moron", and subsequently  absolved Soros of any responsibility for Malaysia's financial crisis when Sorosvisited him after his retirement.
Was Mahathir a hypocrite, lambasting first and later embracing and absolving Soros? Mahathir had engaged Saatchi & Saatchi, Goldman Sachs and other Jewish firms for various projects and tasks during his tenure as PM. In fact, he engaged Salmon Smith Barney, a Jewish firm, to advise him on how to manage the financial crisis and implement currency control in 1998.  Mokhzani, Mahathir's son, worked for Lehman Brothers, a Jewish firm.
Another of Mahathir's son, Mirzan, worked for Salomon Brothers, another Jewish firm. Prof Jeffrey Sachs from Harvard, one of Mahathir's top economic advisors, is a Jew. Mahathir (ok, some unknown person) engaged Abramoff, a Jew, to arrange the meeting between Mahathir and George Bush mentioned above. Could Mahathir make an enemy of the Jews (who, according to Mahathir himself, control the world) and still survive, unless he had been granted the leeway?
Mahathir's Oct 16, 2003 speech at the OIC meeting contained some of the most outrageous statements any leader of a country has made publicly against the US and the Jews. Mahathir explicitly labelled the US and Jews as the enemy of Muslims and said that Muslims need "guns and rockets, bombs and warplanes, tanks and warships for our defense."
How is it that Mahathir is still alive and kicking and can even visit the US after having seriously offended the most powerful nation in the world (the US) and the most powerful people in the world (the Jews), not once but repeatedly? Something to think about. Something that must be clearly explained to the Malays so that they will know the real Mahathir.
NFC boss denies clarification linked to Wanita Umno polls
Posted: 26 Aug 2013 12:00 PM PDT
(MMO) - National Feedlot Corporation Sdn Bhd (NFC) chairman Datuk Seri Dr Mohamad Salleh Ismail said the series of clarifications the corporation had launched over the project had nothing to do with the upcoming Wanita Umno elections, in which his wife, Datuk Seri Shahrizat Abdul Jalil, will be defending her post.
He said: "My wife has nothing to do with the project ... it involves my children and myself."
He said PKR leaders Rafizi Ramli and Zuraida Kamaruddin had tried to link his wife to the company.
"Let me just say this, she did not know anything about the project. Not even when we made the pitch to the government."
Mohamad Salleh (picture) said they made two separate police reports against the duo last Sunday. The company has now decided to go out and explain its side in a series of clarifications because the general election is over and it cannot be used as a political tool by the opposition.
His lawyers also advised him to take his time and let them go through the documents before making any clarifications.
"I am only able to come out and make this clarification now because I had spent nearly every day with the police over a four-month period to explain what had happened with the NFC before they charged me."
Mohamad Salleh has been charged with two accounts of criminal breach of trust (CBT) involving RM49.7 million. He has applied to have the charges against him struck out and the hearing is set for this Friday.
The Malaysian Anti-Corruption Commission (MACC) had last year cleared Shahrizat, saying she had nothing to do with the awarding of the NFC contract to her family.
Mohamad Salleh said slanderous statements made by the PKR duo had ruined the reputation of the company.
"Rafizi and Zuraida have been attacking NFC after the 2010 Auditor-General's report was released. There is no basis to this attack.
"NFC is a private company, and the A-G cannot audit a private company. The A-G, through the National Audit Department, had actually audited NFC, which was set up in 2006 under the Agriculture and Agro-based Industry Ministry."
Mohamad Salleh said the continuous slanderous attacks on NFC had been convincing, and the government had decided to freeze the company's accounts.
"Because we were unable to access our accounts, we could not import cows and operate as a normal company. There was no money and there was nothing we could do.
"We decided to sell the company to a Malaysian-Japanese joint-venture company, even though there were many companies interested in purchasing us."
He said at the moment they have no plans to take legal action against Rafizi or Zuraida.
Mohamad Salleh said the paid-up capital of NFC was RM1.1 million and the rest of the money was in the form of soft loans to the company, which it was still paying back. 
Indonesian clerics call for ban on Miss World
Posted: 26 Aug 2013 11:52 AM PDT
A Muslim woman wearing a veil walks past foreign tourists wearing bikinis on Kuta beach near Denpasar on Indonesia's resort island of Bali 
(Asian Correspondent) - "The Miss World pageant is only an excuse to exhibit women's body parts" 
One of Indonesia's most influential Islamic groups is urging the government to cancel the Miss World pageant scheduled for next month, saying the exposure of skin by women in a competition violates Muslim teachings, an official said Monday.
A top-level meeting of clerics was held earlier this month by the Indonesian Ulema Council to respond to protests from some groups over Indonesia's hosting of the event, even after organizers agreed to cut the bikini competition and instead outfit contestants in more conservative sarongs, council chairman Amidan Shaberah said.
"Our position is clear, we reject Indonesia being the host of Miss World," Shaberah said. "Because exposing their bodies in a contest is against Islamic teachings."
The council is an influential Islamic body that often issues fatwas, or edicts, including controversial rulings against smoking and yoga. Though not legally binding, many devoted Muslims follow such decrees because ignoring them is considered a sin.
Shaberah said the council will not officially demand that the government cancel the event, but will instead recommend that it be stopped. The pageant is scheduled to be held partly on the resort island of Bali, with the final round on Sept. 28 near the capital, Jakarta.
Read more at: http://asiancorrespondent.com/112527/indonesian-clerics-call-for-ban-on-miss-world/ 
Posted: 26 Aug 2013 11:48 AM PDT
The Youth and Sports Minister's ability to reach out and explain a moderate Malay standpoint without losing his credibility with the Malay heartland goes to show that there's still 'some' hope in Umno.
Watching Khairy at the recently concluded Malaysian Student Leaders Summit (organised by the United Kingdom and Eire Council of Malaysian Students or UKEC), I was struck by the extent to which he's gained from his time in the political "wilderness".
Karim Raslan, The Star 
KHAIRY Jamaluddin (pic) has and always will be different. He's taller, more handsome (in a dark way), smarter and sharper than most if not all, Malaysian leaders.
Only Rafizi Ramli (who desperately needs to lose weight) can match him blow for blow – intellectually and politically.
The others whether they're in Pakatan or Barisan are merely on-lookers in what is shaping up to be a major battle for the future leadership of the Malay community and by extension, Malaysia.
Needless to say, PAS' hapless Youth chief, Nasaruddin Tantowi is fast becoming an irrelevance, leaving the two young men locked in political combat for many years if not decades to come.
Watching Khairy at the recently concluded Malaysian Student Leaders Summit (organised by the United Kingdom and Eire Council of Malaysian Students or UKEC), I was struck by the extent to which he's gained from his time in the political "wilderness".
Just over three months into his Cabinet post, the 37-year-old seems to have settled well into his Youth and Sports Ministry portfolio.
The fact that he came to represent the Government and the Prime Minister at the prestigious conference underlines the level of trust placed upon the Umno Youth leader by the current administration (notwithstanding his prominent detractors).
Of course, it also helps that Khairy, a father of two, looks and sounds like most of the young men in the audience.
He's definitely the kind of guy who knows all the latest apps on his iPhone.
Indeed, his youthfulness and intelligence has enabled him to build a degree of trust and mutual respect with the UKEC's members whose annual gathering in KL has become one of the most important dates in the Malaysian political calendar.
Suited-up and in front of a tough and yet thoroughly Malaysian audience, Khairy was confident, articulate, frank and witty (a rarity in Umno) – navigating adeptly through a range of thorny questions posed to him from the floor.
As a veteran student activist, Khairy's responses were well thought through and astute – ideal for the twitter generation.
Having watched him debating with Rafizi earlier last year in London (also at a UKEC event) it was good to see that he'd raised his game.
Eighteen months of constant campaigning and ceramahs in between has made him a far more polished performer, confident enough to show a little vulnerability in the face of tough questions, thereby earning mounds of sympathy from an distinctly ambivalent crowd.
For example, when he was asked what he admired about Pakatan, he paused before answering and very graciously – "their camaraderie".
Needless to say his candour and honesty (neither of which are Umno traits) won further points.
Moreover, the Rembau MP who more than tripled his constituency majority in the 13th general election was straight-forward enough to admit to his Government's shortcomings and brutally frank when he outlined the three C's that were needed to be tackled in order to win back younger voters – corruption, crime and cost of living.
Indeed, if the 3Cs are addressed effectively, it may even solve Barisan's conundrum in getting back urban support.
More importantly and despite being in an Umno election season – where contenders for top posts are expected to sound extremely pro-Malay – Khairy was able to balance the demands of the party's right wing with the broader Malaysian agenda.
He didn't ask those who disagreed with him or his Government's policies to opt to live elsewhere.
Instead, he offered a well-reasoned explanation of the moderation at the heart of the grand old party while acknowledging the more conservative elements.
Much to the excitement of the 500 plus crowd, he also criticised those who labelled the recent Metallica concert as hedonistic and a threat to one's faith.
It's refreshing for "Middle Malaysians" such as myself to have Khairy centre-stage.
He has his weaknesses – there's an arrogance and a meanness – but in an environment where brutishness dominate, his studied confidence and sheer brain-power is reassuring.
In a way, Khairy's ability to reach out and explain a moderate Malay standpoint without losing his credibility with the Malay heartlands goes to show that there's still "some" hope in Umno.
I especially appreciated his tact and razor-like pointedness when he was pressed by a questioner to choose one word that best summed up the Head of the Opposition.
Instead of picking something insulting and vulgar as most in Umno would do when discussing Anwar Ibrahim, Khairy chose the word "inconsistent" that neatly summed up the former ABIM leader's disappointing vacillations. In short Khairy was withering and dismissive without being rude: Malay elegance, understatement and disdain all in one.
Judging by Khairy's performance over the weekend, he's really benefited from his years in the political wilderness. He has gained humility and a real sense of grassroots sentiment. Now if only there were a few more like him...
Kredit: www.malaysia-today.net