Klik GAMBAR Dibawah Untuk Lebih Info
Sumber Asal Berita :-
---
S'gor MB acknowledges race-based policies
Posted: 07 Aug 2013 09:45 PM PDT
(Sun Daily) - Selangor Menteri Besar Tan Sri Khalid Ibrahim explained that there will few changes to race-based policies even if Pakatan Rakyat (PR) wins Putrajaya due to the reality of the country's demographic structure.
Khalid also noted that the race-based structure of the country must be accepted by the public, but how it is translated into equity for all is a different matter.
Referring to excerpts from Lee Kuan Yew's book 'One man's view of the world', Khalid said, "He is telling the truth, because if the Malay community makes up 60% of the country's population, the political inclination will be to try and get the support of the Malays.
Khalid also disagreed with Lee's mention that it is impossible for Prime Minister Datuk Seri Najib Abdul Razak to win Chinese and Indians support without losing Malays' votes.
"I dispute his hypothesis. If it were true, there would be no situation where a nation of multi-racial composition can live together. If the Prime Minister were to solve the problems in rural areas, I'm sure he will get the support of the Malays, Indians and Chinese," he said.
Khalid said Malaysia cannot be viewed as a heterogeneous country but as one isolated by different activities.
He explained that isolation by activity happened prior to Merdeka established by the British.
"Lee Kuan Yew still does not understand that and was trying to reduce the divide and rule policy when he started the People's Action Party (PAP)," he said.
Khalid also expressed how former prime minister Tun Abdullah Ahmad Badawi's book "Awakening: The Abdullah Badawi years in Malaysia" will be able to assist politicians in running the country.
"I have not read the book yet, but I have seen comments through portals. I would say that it is a good book as it shares previous experiences with the people about the challenges of governing the country.
"We can learn lessons from these experiences. More of such books written can help politicians improve their leadership in the country," he added.
Khalid wishes to see efforts put into creating a balance in allocating ownership of equity among races in Malaysia by taking affirmative action through an economy policy.
Khalid referred to one of the chapters in the book that said the prime minister will have difficulties in pushing economic reforms because of the UMNO and Malays' fixation on the 30% Bumiputera equity.
"During both Tun Mahathir and Badawi's governance, the introduction of private sectors does not solve issues in active ownership allocation in the Bumiputera community.
"Private sectors only produce licenses, not jobs. In result to that, the existence of private sectors in the Malaysian economic industries have increased rentier class but not owner operators.
"I hope Pak Lah writes that in his book, if not I will write it."
'I won't attack PM - thanks to Dr M'
Posted: 07 Aug 2013 07:09 PM PDT
(The Star) - Former Prime Minister Tun Abdullah Ahmad Badawi said that his predecessor's attacks on him had strengthened his resolve to allow Datuk Seri Najib Tun Razak to carry out his policies without interference.
"From the experience I went through, I knew it would not be fair if I were to interfere with Najib because I want him to establish himself as the Prime Minister. Let his voice be heard and let him decide the course he should take without having me saying something else or contradicting him," he said.
"That is why I have remained silent all this time. I believe that once you retire, you are retired," he said in "A Conversation With Tun Abdullah Ahmad Badawi" in a soon-to-be-released book titled Awakening.
The "Conversation", conducted with Prof Bridget Welsh and Prof James U.H. Chin, is found in Chapter One of the book, which contained writings from contributors such as Mohamed Khir Toyo, Liew Chin Tong and Edmund Terence Gomez.
Abdullah said he did not like what his predecessor had done.
"I gave (Tun Dr Mahathir Mohamad) the opportunity to give me his views. I went to see him but he chose to be public in his attacks against me and my administration. I don't know what he wanted."
Abdullah also claimed that Dr Mahathir was fully aware that he suffered from a sleeping disorder, yet chose to deride him in public about it.
He said he had been diagnosed with sleep apnea during his tenure as the fifth Prime Minister, which caused him to often doze off without realising it.
"I did tell Dr Mahathir of my condition. So, for him to say that I doze off because I'm not interested in the job is most unkind."
Abdullah said he had flown to Australia in 2007 to undergo surgery to remove the polyps in his nose which had caused him to experience difficulties breathing while sleeping and caused the disorder.
During his tenure from 2004 to 2008, there were accounts of him apparently dozing off during meetings, causing him to be the subject of some ridicule.
Abdullah said Dr Mahathir's strained relationship with him following his ascendancy to the top post was due to his "inability to accept any other view except his own".
He also spoke about the attacks against his son Kamal and son-in-law Khairy Jamaluddin, "particularly by Mahathir".
Kamal, he said, had been a businessman long before he even became Deputy Prime Minister, with the bulk of his business overseas, and that he had never benefited from his father's position in office.
Abdullah said Khairy, as well as the other "fourth floor boys" – the team which allegedly helped him run the country – had neither been his advisers nor influenced his decisions.
"After the 2004 results, we recruited people from outside of Government, people who believed in the changes I wanted to make. But the establishment, which resisted these changes, instead of working with these boys, proceeded to demonise them," he said.
Prof Chin said Awakening was the first serious study to chronicle Malaysia's political history during Abdullah's tenure and how he had changed the political landscape.
"The interview with Abdullah runs only 38 of the 606 pages. The book features rich perspectives from a diverse range of over 30 experts in their fields including academicians, journalists, politicians and public intellectuals, about his term in office."
Prof Chin said it was vital that readers read the introduction to gain an understanding of what the book was about, stressing it had "nothing to do with Pak Lah attacking Mahathir".
Dr Mahathir amused by Kuan Yew jibe, says will respond to Pak Lah's remarks
Posted: 07 Aug 2013 04:03 PM PDT
(The Star) - Former prime minister Tun Dr Mahathir Mohamad says he will respond to scathing remarks by his successor Tun Abdullah Badawi in the book, Awakening: The Abdullah Badawi Years in Malaysia, in due course.
"I am studying the book.
"I will make some reference about it along the way," he told reporters at the Prime Minister's open house in Seri Perdana here Thursday.
Abdullah, in the book, attributes Dr Mahathir's strained relationship with him following his ascendancy to the top post to his (Dr Mahathir's) "inability to accept any other view except his own."
The remarks are found in the soon-to-be-released book's first chapter, A Conversation With Tun Abdullah Ahmad Badawi, conducted with Prof Bridget Welsh and Prof James U.H. Chin.
The book contains writings from contributors such as Mohamed Khir Toyo, Liew Chin Tong and Edmund Terence Gomez.
Abdullah was not the only political heavyweight who threw a punch Dr Mahathir's way the past week.
In his latest book, One Man's Views of the World, Singapore's founding father and former premier Lee Kuan Yew questioned if Malaysia was well on its goal to become progressive as a Muslim nation.
Dr Mahathir, 88, was swarmed by reporters at Thursday's open house, all eager for his feedback on criticism against him by two of his prominent old friends.
But the ever-witty Dr Mahathir took Lee's criticism in his stride.
"He's 90 years old. We give allowance, allowance like people would give to me also.
"He is entitled to his opinion where there is free speech, especially in Singapore," Dr Mahathir said.
Among other things, Lee said Malaysia was once a "relaxed" country but has now become "much more orthodox under the influence of the Middle Eastern states".
"They used to serve liquor at dinners and drink with you.
"When I was there, the Tunku would invite his friends over and drink whisky and brandy with them.
"Now, they toast each other in syrups," Singapore's former Minister Mentor was quoted saying in the book.
The enemy will come from within, Pak Lah tells Najib
Posted: 07 Aug 2013 03:49 PM PDT
Melissa Chi, MM
Prime Minister Datuk Seri Najib Razak's biggest roadblock to reforming the country will come from his own Umno, according to Tun Abdullah Ahmad Badawi in a new book due out next week.
"Najib is trying to do many good things. He is trying to transform the economy, the government and make changes.

"But he faces the same problem that I did ― resistance," Malaysia's fifth prime minister wrote in the 620-page book titled "Awakenings: The Abdullah Badawi Years in Malaysia".

Abdullah succeeded the nation's longest-serving prime minister, Tun Dr Mahathir Mohamad, in 2003.

A year later and riding on the promise of reforms, the man, fondly referred to as Pak Lah, led Barisan Nasional (BN) to its most dominant mandate in Election 2004.

But a scant five years after, he was hounded from office by the man who put him there, having led BN from the euphoria of 2004 to the despair of 2008 general election when it lost its customary stranglehold on Parliament.

"I was perhaps too idealistic and thought everyone would embrace the changes which could be the good of the country and people," Abdullah wrote.

During his time, Abdullah had loosened the reins on the media and allowed seemingly open dissent on the Internet, the latter of which is often credited for the unprecedented gains made by the loose opposition pact Pakatan Rakyat during Election 2008.

"Unfortunately, there are still people in Umno and Barisan Nasional who refuse to accept that we did badly in 2008 because we did not meet the people's expectations in carrying out reforms.

"They think we did not do well because we allowed too much discourse and openness to the people and the opposition.

"And it is these people who are set in doing things the old way," Abdullah said.

"This, I believe is Najib's biggest challenge."

Najib, the son of Malaysia's second prime minister Tun Abdul Razak, took over from Abdullah in April 2009 ostensibly to lead the ruling coalition towards reversing its losses.

But he has since led BN to an even worse electoral showing in Election 2013, losing seven more parliamentary seats from the 140 it had won in 2008; the coalition also lost the popular vote for the first time since it began contesting as BN.

Najib also has more to contend with as he heads into the Umno election later this year.

Last Wednesday, ratings agency Fitch Ratings downgraded its outlook on the country's debt to "Negative", piling the pressure on Najib to speed up the very reforms that may put his Umno presidency — and, ultimately, his office as prime minister — in jeopardy.
Racial policies enforced Malaysia's brain drain, admit BN leaders
Posted: 07 Aug 2013 03:40 PM PDT
Ida Lim and Boo Su-Lyn, MM
Senior Barisan Nasional (BN) leaders admitted today that race-based policies had contributed to Malaysia's brain drain problem, which the country needs to plug if it is to join the ranks of high-income nations by 2020.
They were responding to former Singapore Prime Minister Lee Kuan Yew's remarks in his new book that Malaysia's acute loss of talent was due to Putrajaya's insistence on promoting "one race" above all others.

MCA deputy president Datuk Seri Liow Tiong Lai said that the rise of "Ketuanan Melayu" or Malay supremacy had previously caused local talents to quit the country.

"I will say in the past the issue of Ketuanan Melayu in fact caused some migration of people from the country but we want to emphasise that Malaysia is a multiracial country and we preserve harmony and unity in this country.

"So we don't want to see any race dominant against other races," the former health minister told reporters at the prime minister's Hari Raya Aidilfitri open house celebration here.

Liow said Malaysia's plural society is seen to be unique and a role model for other countries to emulate.

"So I think we are not forcing the people to leave the country and our policies will continue to ensure a multiracial society," he said.

Asked about the claim that racial polarisation was caused by the government's policies, Liow said the MCA was playing a key role within BN to ensure multiracial policies are carried out.

MCA president Datuk Seri Dr Chua Soi Lek agreed that race-based policies contributed to the country's brain drain problem, but pointed out that there were many contributing factors.

Asked about Lee's comment that brain drain was caused by the promotion of a single race, Dr Chua disagreed, appeared to point at Singapore's higher wages and better infrastructure as also having lured Malaysians to leave the country.

"I would not totally agree with that. People look for better pay, better infrastructure. In Singapore, you can travel without a car," the former health minister said, adding that Singapore itself has a brain drain problem.

Kelantan Umno chief Datuk Seri Mustapa Mohamed appeared to share Dr Chua's views.

"I admit that some people may have left the country for that reason but to say that's the sole reason, I think the allegation is unfounded," the minister of international trade and industry said.
Mahathir on Lee Kuan Yew's tough talk on Malaysia: He's just old
Posted: 07 Aug 2013 03:25 PM PDT
Elizabeth Zachariah, TMI
Former Prime Minister Tun Dr Mahathir Mohamad has said his Singapore counterpart during his time in office, Lee Kuan Yew, should be excused for his remarks about Malaysia in his latest book due to old age.
"I excuse him. He's 90 years old so we give him allowance for age. Like how I expect people to give me allowance also. I'm also old. I'm 88 years old," he quipped after attending the Prime Minister's open house in Putrajaya today.
Malaysia's longest-serving prime minister said that Lee had no need to apologise for his scathing remarks about the country in his book "One Man's View Of The World", which was launched earlier this week.
"He's entitled to his own opinion. We live in a free world where there is free speech, especially in Singapore," he added.
However, Dr Mahathir didn't want to be drawn on a book on his immediate successor Tun Abdullah Ahmad Badawi – "Awakening: The Abdullah Badawi Years in Malaysia".
He said, "I have not read the book yet. I will make references to it as we go along."
In the book, Abdullah said that if he had given in to the pressure from Dr Mahathir to continue with his pet mega-projects, Malaysia would be bankrupt by now.
In the book, edited by Bridget Welsh and James Chin, Abdullah also said that when he left office in 2009, he was determined not to be like Mahathir.
Abdullah explained that he also wanted Datuk Seri Najib Razak to establish himself as the prime minister.
"That is why I have remained silent all this time. I believe that once you retire, you are retired. You should not interfere with your successor. If there is anything you are unhappy with, you can always offer your views privately. Why bring it up in public and make life difficult for him?"
In Lee's book, the former Singapore prime minister was more scathing in his comments on Malaysian leadership. In a chapter in the 400-page volume, Lee said that unlike Singapore, Malaysia is prepared to lose homegrown talent to keep one race dominant.
Pope Francis' Ramadan Greetings For Id Al-Fitr Sets Interfaith Example
Posted: 07 Aug 2013 02:56 PM PDT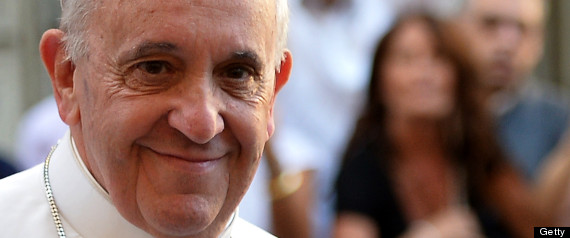 Pope Francis salutes as he arrives at the Chiesa Del Gesu' in Rome on July 31, 2013. The Pontiff celebrates a mass for St. Ignatius of Loyola, founder of the Society of Jesuits.
His sincere and friendly greetings will hopefully be warmly received by leaders of the Muslim community, many of whom felt uneasy with the last pontiff, Pope Benedict XVI, after he quoted an anti-Islamic remark in his 2006 Regensburg lecture and sparked worldwide outrage.
By Yasmine Hafiz, The Huffington Post
Pope Francis personally reached out to Muslims around the world with Id al-Fitr greetings for the holiday that concludes the holy month of Ramadan. While the message has been traditional since 1967, usually the greetings are sent by the Pontifical Council for Interreligious Dialogue, except for Pope John Paul II's similarly personal good wishes in 1991.
Pope Francis explained that he wanted to personally write this year's message as a mark of his "esteem and friendship" for all Muslims, citing the example of his namesake Saint Francis, who "loved every human being deeply."
Addressed "To Muslims throughout the World," the message is an important call to action for peace and tolerance as he proposed reflection on the theme, "Promoting Mutual Respect through Education." As sectarian and religious tensions continue worldwide, the pope emphasized the importance of respect and need to educate Muslim and Christian youth in a tolerant and loving manner. He said, "We all know that mutual respect is fundamental in any human relationship, especially among people who profess religious belief. In this way, sincere and lasting friendship can grow."
The pope also offered good wishes to Muslims at the beginning of Ramadan during a visit to the island of Lampedusa in Italy on July 8, saying in a speech, "I also think with affection of those Muslim immigrants who this evening begin the fast of Ramadan, which I trust will bear abundant spiritual fruit. The church is at your side as you seek a more dignified life for yourselves and your families."
Interfaith efforts wrecked by misunderstanding, says Pak Lah
Posted: 07 Aug 2013 02:53 PM PDT
(The Malay Mail) - Plans for an Interfaith Commission of Malaysia (ICM) were derailed by resistance from those who conflated it with support for pluralism, former Prime Minister Tun Abdullah Ahmad Badawi says in his upcoming book.
In 2005, civil society, professional and political groups had banded together to advocate the ICM as conciliatory and advisory body among the country's various creeds.
But detractors quickly attacked it as an attempt to usurp Islam as the religion of the federation, claiming it that it would lead to a proliferation of Muslim apostasy.
"People do not really understand what interfaith dialogue is, especially the muftis," Abdullah (picture), popularly called Pak Lah, wrote in his book "Awakenings: The Abdullah Badawi Years in Malaysia".
The move was one of many reversals that earned the Abdullah administration the "flip-flop" label.
Initially supportive, Pak Lah shelved the plans for the commission following outcry from Muslim groups, especially from within Umno.
"It's not been easy to get interfaith dialogue going. It's not that I did not meet people (of other faiths). I did but there is still a lack of understanding what interfaith means.
"Just like plurality, there is misunderstanding when talking about pluralism," said the chairman of the Institute of Islamic Understanding Malaysia, the federal government's main religious think-tank.
Also, despite the idyllic image of multicultural Malaysia presented to the rest of the world, race issues were among those that weighed the most on Abdullah.
"... our issues are compounded by managing race relations, managing expectations of the majority and minority groups," according to an excerpt from the 620-page book which will be out in major bookstores next week.
The 73-year-old said he tried the approach of moderation through Islam Hadhari, which has principles intended to create a common platform for all Malaysians, based on the principles of tolerance, justice and equity.
"Like I said, it was not easy to get the buy-in even from my own colleagues in Barisan Nasional, but after much explanation and efforts, they agreed.
"Further, there were then, as there are now, elements within and outside Umno that failed to understand it and even went as far as accusing me of starting a new religion.
"And this included (Tun) Dr Mahathir (Mohamad) who has a habit of ridiculing things he does not understand," he said.
But the Abdullah administration is also responsible for one of the country's most controversial religious quagmires. In 2007, then Home Minister Tan Sri Syed Hamid Albar issued a ban against the local Catholic Church using the word "Allah".
This led to the Church challenging the ban in court and subsequently winning a landmark ruling in 2009 upholding its right to use the Arabic word.
The decision shocked Muslims who considered the word to only refer to the Islamic God. It also led to Malaysia's worst religious strife, with houses of worship throughout the country coming under attack.
To this day, the matter remains unresolved.
Abdullah was prime minister from 2003 until 2009 after having served as Dr Mahathir's deputy beginning in 1999.
Although handpicked by Dr Mahathir to be his successor, Abdullah later came under relentless attack from the nation's longest-serving prime minister and ultimately was forced to relinquish his presidency of Umno and position as prime minister to Datuk Seri Najib Razak in April 2009, after BN lost its customary two-thirds parliamentary majority in Election 2008.
Formula One Joins Legoland in Plan to Remake Malaysia's South
Posted: 07 Aug 2013 02:42 PM PDT
Some high-profile projects, including the Legoland Malaysia amusement park and Pinewood Iskandar Malaysia Studios -- a franchise of the U.K.-based company where James Bond films were made -- are done or nearing completion in a flagship development zone called Nusajaya.
By Yoolim Lee and Chong Pooi Koon, Bloomberg
Robert Pick, the former deputy head of the U.K.'s Marlborough College, recalls the day in 2009 when he stood atop a hill at the southern tip of Malaysia and scanned an endless sea of green palm oil trees. He strained to see the spot among the massive plantations where the private boarding school would build its first overseas branch three years later, Bloomberg Markets magazine will report in its September issue.
"It was a leap of faith," says Pick, who's now the founding master of Marlborough College Malaysia, in his new office with a floor-to-ceiling window and a view of vast cricket and rugby fields. "You wouldn't have believed then what it is now."
Today, the 90-acre campus boasts more than 30 low-rise buildings divided by green lawns and tennis courts and is traversed by 376 students.
The college is a flagship project in Iskandar Malaysia, an economic development zone spanning 2,217 square kilometers (856 square miles) -- three times the size of neighboring Singapore to the south -- in the mostly rural state of Johor.
The government of Prime Minister Najib Razak has ambitious plans for the area, which offers investors 10-year corporate tax exemptions, cheap land and low-cost labor. Najib, 60, has pledged to attract 75.5 billion ringgit ($23.4 billion) in investments to Iskandar from 2011 to 2015 on top of the 69.5 billion ringgit the zone pulled in from 2006 to 2010.
In Shah Alam market, locals moan of Bangladeshi takeover
Posted: 07 Aug 2013 02:37 PM PDT
This Bangladeshi trader (right) enjoys good sales at the Plaza Sri Muda wet market in Shah Alam. — Picture by Firdaus Latif
(The Malay Mail) - Businessman J. Singgam, a regular customer at the market, said many of the Bangladeshis were married to Malaysians and this made it easier for them to obtain buisness licences as they used the names of their spouses to obtain them.
The wet market in Plaza Sri Muda here has turned into a mini Bangladeshi enclave as it has been dominated by workers from that country.
"Before this, they used to be stall assistants but now they run the stalls themselves," said K. Gunasekaran, who drew the attention of The Malay Mail to the problem.   
The 43-year-old tuition teacher claimed the situation has worsened over the past three years.
"Nowadays, you hardly see any Malaysians shopping here. Soon, the Bangladeshis are going to monopolise the area," he said.
"After work on Sunday evenings this market becomes their meeting place. The residents are afraid to even come to this area during that time."
Another issue which irks Gunasekaran is the fact that beef is sold and cows slaughtered openly in the market.
"Previously, the slaughtering of cows was done in an isolated area at the back of the market. That is not the case with the foreigners who do not respect the sensitivities of the Hindus here," he said.
Sundry shop owner M. Vanisri, 25, who has been operating in the market for six years, said her business had been affected.
"We pay rental and have licences to operate here. All of a sudden, others have come and taken over the market," she said.
Vanisri said the foreigners sold their vegetables cheaper because they grew them at their own farms.
"We cannot compete with their prices as we buy our stock from suppliers. For instance, if I sell a bunch of spinach for RM2.30, they sell it for RM2," she said.
Businessman J. Singgam, a regular customer at the market, said many of the Bangladeshis were married to Malaysians and this made it easier for them to obtain buisness licences as they used the names of their spouses to obtain them.
A Bangladeshi trader, Mohamad Shahalam Hossen, is married to a Malay and even showed The Malay Mail his licence which appeared to be registered under his wife's name.
"I have been operating here for the past eight years. Business has been good and my customers are Malaysians and foreigners," claimed the 38-year-old.
However, only Bangladeshis seemed to be frequenting his sundry shop, which took up four lots at the crowded market.
A chicken seller, V. Guna, said foreigners only purchased items from traders of their own nationality.
Customer May Ng, 33, avoids shopping at the stalls manned by Bangladeshis as she feels intimidated.
"I feel safer buying groceries from Malaysians, as I will not get cheated. I noticed the Bangladeshis sell items cheaper to their own countrymen," the housewife explained.
Traders in the old market located behind the plaza are also feeling the pinch.
Norazah Mohd Nasir, a vegetable seller, claimed foreigners find it convenient to buy from other Bangladeshis as they speak the same language.
"Sometimes, Bangladeshi customers would ask the price of vegetables at my stall, but they never buy anything," said the 35-year-old.
A wholesaler, who wanted to be known as Segar, urged the authorities to take action against foreigners before the situation gets out of hand.
"When I first applied for a licence to operate here 15 years ago, one of the requirements was that traders had to be from Shah Alam. It's puzzling how these foreigners can obtain licences without much hassle."
A customer, who wished to be known as Robert, felt local employers should be blamed as they are the ones renting out the lots to foreigners.
Spoilt Malaysians and economic realities
Posted: 07 Aug 2013 02:16 PM PDT
Malaysian consumers think that it's their birth right to be able to buy chicken and everything else at low prices all the time.
If consumers use their own money without subsidies (taxpayers' money) they will be prudent with consumption.
By James M Alin, FMT
Smugglers are convenient scapegoat for the witch hunters in time of diesel crisis. Smugglers violate the laws by avoid taxation and bribing officials (at the borders), they threaten sovereignty of the nation by using boats by night illegally crossing international waters and by bring in weapons, drugs, endangered animal and plant species, harmful goods like cigarette, pirated audio-visual or even trafficking human.
By smuggling out subsidised goods from Sabah and Sarawak they are literally undermining our domestic policy.
One can also argue that smugglers perform a useful economic function of supplying goods to the consumers – untaxed cigarettes to Sabah's habitual smokers or pirated CDs to lower income people who cannot afford the expensive original or the middle income who prefer the uncensored pirated movies.
Smugglers also use for themselves and sell MyKads and passports to illegal immigrants who during an election go to vote.
Some people even think that smuggled drugs can speed up the life expectancy of drugs addicts, therefore saving public money.
Without the smugglers, poor communities in border towns such as Sabah- South Philippines, Sabah-Tarakan or Sarawak – Kalimantan Barat will have to pay import taxes on essential goods.
Kredit: www.malaysia-today.net