Klik GAMBAR Dibawah Untuk Lebih Info
Sumber Asal Berita :-
---
Malaysia's crime wave clouding investors' perception
Posted: 14 Aug 2013 11:40 AM PDT
(TMI) - Investors regard the rule of law as one of the most important requirements of deciding on the destination of their investments and Malaysia has been a favourite spot since the 1970s.
A spike in drive-by shootings and gangland killings in Malaysia has got foreign investors worried about the state of security in the nation in recent months.
There have been at least 35 reported shootings nationwide since May which left 22 people dead. The high profile daylight killing of banker Ahmad Hussain Najadi last month attracted attention and sent a signal to the business community that all is not well in terms of safety.
Canadian Business Council of Malaysia president Roger Poulin said the rise in violent crimes was a concern to investors.
"We hope the government has a handle on it," Poulin told The Malaysian Insider in Kuala Lumpur this week.
American Malaysian Chamber of Commerce (AMCHAM) past president Datuk Nicholas Zefferys (pic) said members were concerned but not to the extent of considering to pull out their investments from Malaysia yet.
"As long as there are continuous measures to fight crime, I think the investors will be assuaged.
"Things are bad but it has not boiled over," Zefferys told The Malaysian Insider in Kuala Lumpur this week.
The British, German, Japanese and Korean Chambers of Commerce declined to comment on the matter. Businessmen from all four countries have a sizable investment and presence in Malaysia.
One of the executive directors of these chambers of commerce said that she did not want to comment as her job was to promote investments into Malaysia and the hike in crime would ruffle the feathers of investors.
Investors regard the rule of law as one of the most important requirements of deciding on the destination of their investments and Malaysia has been a favourite spot since the 1970s.
DAP appoints Kok to head anti-crime task force
Posted: 14 Aug 2013 11:36 AM PDT
(The Star) -  DAP has appointed Seputeh MP Teresa Kok to head the new crime action task force set up to help restore public safety.
Party secretary-general Lim Guan Eng, who announced Kok's appointment in a press statement yesterday, said the task force would work towards getting the police to increase the number of CID personnel.
Presently only 10,150 or 9% of the total police force of 112,583 are in the CID.
"The DAP want the numbers of CID officers to be increased to 56,000 or half the force, in order deal with the rise in violent crime.
"The deteriorating crime situation is developing into a full-blown crisis in Malaysia, with adverse impact not only on personal security but also on tourism and the business climate," said Lim.
He added that the Government could not attribute the spike in cases to the repeal of the Emergency Ordinance.
He pointed out that the repeal of the law, which allowed for preventive detention, could not explain why firearms were now so readily available.
"Only the omnipresence of the police can deter criminals and bring down the crime rate," he said.
Posted: 14 Aug 2013 11:30 AM PDT
NST Editorial
Border criminals are getting serious and so should we
SMUGGLING is big business. If there   ever was any doubt of that, the shooting of an army border patrolman mending a hole in the fence along a smuggler's route last Saturday  and revelations that 20 out of 27 border surveillance cameras along the Perlis-Kedah stretch have been deliberately knocked out, ought to be a clear indication of how high the stakes are. Weapons, drugs, wildlife, humans,  whatever is in demand is deliverable and anyone who gets in the way had better watch out. With the escalation of shooting incidents in the country, aided by what is believed to be a lucrative gun-running industry, Malaysia should be asking itself: are we doing enough to protect our borders?
The United States Border Patrol, for instance, started out in 1924 as a means to keep out illegal immigrants, but has grown to cover the smuggling of arms, drugs and currency, and its priority mission now is "to prevent terrorists and terrorist weapons from entering the United States". Its investment in tactical infrastructure, intelligence and patrols bears rich harvest. Last year, it apprehended 364,768 people and seized 1,043  tonnes of marijuana in 14,396 seizures.
Over the years in Malaysia, there have been numerous reported cases of organised groups of poachers from neighbouring countries, coming in on social visit passes, and going into our protected forest reserves to harvest various endangered flora and fauna. Arrests by the Wildlife and National Parks Department (Perhilitan)   in the reserves and near the border have turned up poachers armed with machetes, axes and  guns. Some of these guns were home made, some were powerful enough to fell an adult elephant  and many were of a higher calibre than that carried by rangers, whose sorry job it is to apprehend these criminals. Whether it be pangolins, tigers, agarwood, weapons, drugs  or humans, and as long as it is illegal, these people will be armed.   In 2009,   then Terengganu Perhilitan director Rozidan Md Yassin said: "For villagers living on the fringes of the jungle, coming across illegal poachers from neighbouring countries with high-calibre weaponry, including M16s, is not an unusual occurrence."
Where are these weapons coming from?  It is just as well that there are now plans to build a concrete wall along parts of the Malaysia-Thai border, for chain link fences are hardly a deterrent. Ideally, the entire 96km stretch from Perlis to Kelantan should be walled up. In any case, the real battle in securing our borders rests with stepping up enforcement and alertness at border crossings, increasing Customs intelligence, and making sure that there are no   "holes"  at checkpoints. As an up-and-coming transit country for various contraband, Malaysia should waste no time in evolving with the challenges.
Tread carefully on religious matters, says Ikram sec-gen
Posted: 14 Aug 2013 11:18 AM PDT
Astro removed the earlier disclaimer on the documentary on Pope Francis following complaints by viewers. — The Malay Mail pic
(The Malay Mail) - He also advised the public to be sensible and hold people responsible for their own actions without generalising based on race or beliefs as this would focus and minimise issues.
Recent allegations of insults against religions are causing unease among locals and could go down an ugly road if they are not dealt with tactfully.
Activists say such cases would be better countered with knowledge instead of the authorities coming down hard on religious offenders.
Muslim non-governmental organisation Pertubuhan Ikram Malaysia (Ikram) secretary-general Zaid Kamaruddin said education rather than punishment could be a good way out.
"It is better to educate the public than stoke the fire.
"A better understanding through education is preferable to enforcement. Laws should be the last resort."
He said this did not just refer to religious tolerance and respect being taught in schools, but also through socialisation.
"People are living apart and not engaging enough (with others of different backgrounds).
"I hope in our mixed community, leaders should come together instead of taking sides," he said.
Zaid said people are living apart and not engaging enough.
He also advised the public to be sensible and hold people responsible for their own actions without generalising based on race or beliefs as this would focus and minimise issues.
"If you draw the trajectory, it looks like this (religious tension) is building up and it makes people uptight," he said.
Zaid said one of the main causes leading to the recent trend was the speed by which information circulated.
"It is almost instantaneous. This means anything that happens anywhere will get reactions, especially religious issues.
"Thirty years ago, whatever people chatted about in coffee shops often wouldn't even leave the table," said Zaid.
He said some issues touched on the raw nerves of Muslims, especially if taken without a pinch of salt.
"A buka puasa with bak kut teh may have been meant as a joke," said Zaid, referring to the case of Alvin Tan and Vivian Lee who shared a Ramadan greeting featuring them eating a dish made of pork.
However, he said Muslims were generally forgiving once a mistake was acknowledged but education was the best panacea.
He said in the case of Tan and Lee, although the two were of a certain ethnicity or religion, only the two individuals should be held responsible.
Regarding the surau in Johor being used by Buddhists, Zaid said it was good of the Buddhist high priest to come forward and apologise even though he should not be held responsible.
"The Buddhist group asked for permission and was given permission. How did they know if it was against Islam?" he asked.
Muslim NGO Sisters in Islam said a different picture would be painted if the authorities practised selective prosecution along with excessive use of power.
Civil liberties lawyer Shahredzan Johan told The Malay Mail Online yesterday that the crackdown by religious authorities was going to create a climate of fear in which "people would not want to say what they want to say."
He even painted a possible future scenario where non-Muslims find themselves thinking twice before inviting a Muslim into their homes, fearing that even this would upset them.
They also quoted Centre for Policy Initiatives (CPI) director Dr Lim Teck Ghee who said non-Muslims were alarmed at the "growing trend of religious fundamentalism" and noted that businesses would become more wary of Muslim sensitivities
The Malay Mail Online had on Monday highlighted a letter by a viewer Patricia Anne Martinez who complained of a visual warning displayed repeatedly during a documentary on Pope Francis, the head of the global Catholic Church.
Shown four times during the documentary, the message read: "This program portrays depiction of religious figures and represents views other than Muslims'. Viewer discretion is advised."
Martinez, who is Roman Catholic, labelled the warning as "insulting" and "insensitive", saying it was akin to portraying a show on the head of one of the world's largest religions as similar to pornography.
She questioned "how threatening or offensive to Muslims' views could a biography of such a man of God and peace," noting that Pope Francis was the first head of the Roman Catholic Church to personally greet Muslims for Hari Raya Aidilfitri.
Many echoed her sentiments and following the uproar Astro reworded the disclaimer at noon yesterday during a rerun of the documentary. The new disclaimer read: "The following programme may contain religious views, statements or scenes that may require viewer discretion."
Several people, approached by The Malay Mail yesterday, were reluctant to comment over the matter for fear of a reprisal.
Malaysia mulls return of strict laws to fight crime
Posted: 14 Aug 2013 05:13 AM PDT
Malaysia is considering the return of strict laws that allow for detention without trial, to clamp down on violent gun crime.
(CNA) - Malaysia is considering the return of strict laws that allow for detention without trial, to clamp down on violent gun crime.
This comes after a recent spate of killings sparked concern among the public.
Since mid-April, more than 30 shooting cases have been reported across the country.  
Most of them were said to be linked to the illegal drug trade or turf wars between rival gangs.  
Malaysians are jittery over the unprecedented level of gun violence in the country.  
They want the police to double their presence on the streets, and they want tighter controls to stem the flow of illegal firearms from across the border.  
"It's quite worrying to go out now at night, especially at night, because you don't know what's going to happen. It may not happen to me, or my friends, but someone else in the same area," said a local resident. 
The Kuala Lumpur city police have again tried to allay public concerns.
Ku Chin Wah, CID Chief of Kuala Lumpur, said: "Rest assured that there is no random shooting of innocent bystanders. If you are targeted to be murdered, you can be killed anywhere, you don't have to come to KL to be killed."  
The government and the police have blamed the surge in violence on the abolition of the
Emergency Ordinance two years ago, which was said to have returned some 2,600 hard core criminals or well connected gangsters back on the streets.  
The Home Ministry is now mulling bringing back preventive laws that allow for detention without trial.
All state police CID chiefs have been tasked to personally handle investigations into the shooting incidents.  
Meanwhile, the opposition parties have set up their own crime task force.
They said at least half of the entire police force ought to be patrolling the streets, and getting involved in criminal investigations. Currently only less than 10 percent of the 112,000 strong police force are doing that, they added.
Khairy slams Sarawak DAP leader
Posted: 14 Aug 2013 05:03 AM PDT
(Bernama) - Umno Youth strongly condemned Sarawak DAP chairman Chong Chieng Jen who allegedly claimed in a statement to the Borneo Post on Monday that rampant shooting cases in the country are part of the drama by the Barisan Nasional.
"Umno Youth strongly condemns Chong's dirty political statement and hopes it will open up the eyes of the people on the quality of thinking and political struggles of the opposition leaders," said movement head Khairy Jamaluddin on Wednesday.
Chong had claimed that the murder cases involving firearms were allowed to spread to enable the Barisan government to formulate a new law to replace the Emergency Ordinance (EO).
Commenting further, Khairy said Umno Youth had also lodged a police report against Chong so that legal action could be taken against him.
Meanwhile in KUCHING, Minister in the Prime Minister's Department, Nancy Shukri also criticised Chong, saying that his statement was irresponsible.
 "It was so irresponsible of Chong to make such statements. As a responsible government, we are working very hard to ensure peace and stability in the country, perhaps it is also a strategy to divert people's attention from their political crises," she said.
Nancy said everyone should work together in tackling criminal cases instead of pointing fingers at others.
"We should work together to monitor serious crimes and make sure the situation does not worsen," she said.
Posted: 13 Aug 2013 05:16 PM PDT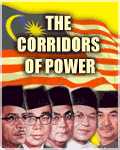 Hence to attack Pak Lah would not bring him down because there is nothing to hit him with. So we had to look for another target (bomb the water to bring down the dam strategy). And this target was his son-in-law, Khairy Jamaluddin.
THE CORRIDORS OF POWER
Raja Petra Kamarudin
Much has been written about this subject over the last seven years since 2006. Some, no doubt, have been able to connect the dots. Most, however, treat what they read as sheer entertainment and do not understand the relationship or link between one article and another.
And this is why we constantly need to resurrect old articles and say, "I told you so!" If not, many would not understand that what they are seeing today is merely something that has been predicted a number of years ago.
It is not easy to change things or to bring someone down. It takes time for that to happen. And sometimes you need to hit a different target. During WWII, when they wanted to destroy a dam, they did not drop the bombs on the dam. The dam would never be brought down that way. They would drop the bombs into the water so that they could bounce on the surface of the water and hit the dam.
In 2006, when we wanted to bring down Tun Abdullah Ahmad Badawi, it would have been futile to hit him. The March 2004 general election result that saw Barisan Nasional perform its best in Malaysian election history proved that Pak Lah had good support. Hence if you wanted to defeat him in the next general election expected in 2008/2009 it would have been impossible.
So how do you bring him down? You bring him down from the inside, not from the outside. And for that to happen the Umno leaders themselves must turn on Pak Lah.
But then Pak Lah was Mr Nice. He was considered holy who could lead prayers as an imam. He hardly had any faults other than a medical problem (which Tengku Razaleigh Hamzah or Ku Li also suffers from) called sleep apnea.
What is sleep apnea? This is what the NIH says:
Sleep apnea is a common disorder in which you have one or more pauses in breathing or shallow breaths while you sleep. Breathing pauses can last from a few seconds to minutes. They may occur 30 times or more an hour. Typically, normal breathing then starts again, sometimes with a loud snort or choking sound.
Sleep apnea usually is a chronic condition that disrupts your sleep. When your breathing pauses or becomes shallow, you'll often move out of deep sleep and into light sleep. As a result, the quality of your sleep is poor, which makes you tired during the day. Sleep apnea is a leading cause of excessive daytime sleepiness.
And that is why Pak Lah sleeps during meetings and so on. He is not lazy or disinterested in his job. He has a medical ailment like many other people also have (Ku Li included). And Tun Dr Mahathir Mohamad knew that Pak Lah suffers from this when he appointed Pak Lah as his successor.
Hence to attack Pak Lah would not bring him down because there is nothing to hit him with. So we had to look for another target (bomb the water to bring down the dam strategy). And this target was his son-in-law, Khairy Jamaluddin.
So, in 2005/2006, we launched a 'Get Khairy Campaign'. And this started with the series that was carried in Malaysia Today called 'The Khairy Chronicles', which was later translated into Bahasa Malaysia and published into a book. And that did the trick. People, in particular the Umno leaders (Dr Mahathir included), became very angry with Pak Lah because of what Khairy was said to be doing. And that was the beginning of the end for Pak Lah.
But our target was not really Pak Lah. In fact, Pak Lah is a nice man, as is his wife Jeanne Danker whom I knew since back in school in the 1960s. So it was nothing personal. It is just that Pak Lah was the Prime Minister and one anointed by Dr Mahathir on top of that. So we had to attack the Prime Minister if we wanted to hurt Barisan Nasional in the next general election expected in 2008/2009. And to hurt Barisan Nasional we had to hurt the Prime Minister through his son-in-law, Khairy.
Our hope, of course, was that Barisan Nasional would be defeated in the general election expected in 2008/2009. Failing that, and if Barisan Nasional still remains in power, then we wanted a new Prime Minister. And, of course, this new Prime Minister will have to come from Umno.
If we cannot defeat Barisan Nasional and if an Umno man was still going to be the Prime Minister, then at least that man must be someone from the 'middle', not a rightist (Malay nationalist) or a leftist (Islamist). And this man has to be Ku Li.
So, to ensure that Ku Li and not Najib Tun Razak becomes the Prime Minister, we had to sabotage Najib. And, just like how we sabotaged Pak Lah by hitting his son-in-law, Khairy, we had to sabotage Najib by hitting his wife, Rosmah Mansor.
Hence, soon after the 2008 general election, we launched a 'Get Rosmah Campaign' -- similar to the 'Get Khairy Campaign' in 2005/2006. I had nothing personal against Rosmah. She just happened to be the wife of the man who would most likely become the next Prime Minister after Pak Lah. And we did not want her husband as the Prime Minister. We wanted Ku Li in the event Barisan Nasional cannot get kicked out.
However, there were two factors that we had no control over. The first factor was Dr Mahathir. Just like Dr Mahathir decided who would succeed him, Dr Mahathir would also decide who would succeed Pak Lah. And Dr Mahathir had a choice between Najib and Ku Li, with Najib as his first choice.
The 'Get Rosmah Campaign' in a way succeeded, just like the 'Get Khairy Campaign' did. And Ku Li now became Dr Mahathir's first choice and Najib dropped to second choice. But it was the second factor that gave Najib the edge and brought him back up to first choice.
This second factor was that both Ku Li and Dr Mahathir had huge egos. And with the 'history' that they had between them, their egos stood in the way of any possibility of reconciliation. If Ku Li wanted to become Prime Minister he would have to kowtow to Dr Mahathir. But Ku Li would not. He wanted Dr Mahathir to kowtow to him instead, which would never happen. And because of that Najib instead of Ku Li became the Prime Minister.
In short, Ku Li refused to become a Dr Mahathir 'nominee' and a 'rubber stamp' Prime Minister. And that would have been too dangerous for Dr Mahathir to allow. Pak Lah has shown how dangerous an 'independent' Prime Minister who refuses to listen to advice can be. So Dr Mahathir is not about to allow it a second time.
And that screwed Ku Li's chances and Najib became Prime Minister instead. But then Najib too proved he is hard at listening. He was told to call for the general election in 2011/2012 when Barisan Nasional was still strong. But he waited until May 2013 instead when the 'window' had been closed somewhat.
He also chose the wrong candidates to contest the general election (mostly those from his inner circle), against the advice of the 'experts'. Najib was proving to be as difficult as Pak Lah was in taking advice. And just like what happened to Pak Lah when he refused to listen to advice, the same thing may happen to Najib as well.
So now we are seeing the Umno people making their move against Najib. What happened to Pak Lah five years ago in 2008 is now happening to Najib. The pressure is on for Najib to take responsibility for the May 2013 election disaster and to hand over the reins to his Deputy. But maybe we can talk about that in the next episode.
Posted: 13 Aug 2013 03:58 PM PDT
Presumably the Najib gambit opens another front against Mahathir, who has been allowing surrogate bloggers to attack the wounded prime minister ever since the election, in addition to delivering his own blistering attacks on Malaysia's ethnic Chinese, who make up about 25 percent of the population, making allegations that they are trying to take over the country politically as well as economically.
Hornbill Unleashed
Anwar confirms Malaysian PM's feelers for a unity government
Malaysian Prime Minister Najib Tun Razak, beset on his right flank by an implacable former Premier Mahathir Mohamad critical of his performance in the May 5 general election, has been making quiet overtures to opposition leader Anwar Ibrahim to explore the outlines of a unity government.
The overtures, made through former Indonesian Vice President Jusuf Kalla, are a long, long shot at best. However, they have included three visits by Kalla to Kuala Lumpur, the latest in mid-July. Kalla earlier this year acted as an intermediary between Anwar and Najib at Anwar's initiative to seek to broker a commitment for a peaceful result in the May 5 general election.
Kalla, now a businessman and head of the Indonesian Red Cross Society, has emerged as a major Southeast Asian peacemaker, brokering peace agreements in various conflicts across Indonesia during his time as vice-president from 2004 to 2009; he also played a role in attempts to settle conflicts in Thailand and Sri Lanka.
While the pre-electoral contacts were made public in mid-May, with Kalla accusing Anwar of breaking a written agreement to accept the outcome of the election, the contacts have continued, according to sources in Kuala Lumpur.
Anwar confirmed the new contacts, saying they had been initiated by Najib, who emerged from the election severely weakened within the United Malays National Organization, the country's largest ethnic political party, which he heads. The overtures were made via Ahmad Zahid Hamidi, the Home Minister in Najib's cabinet, a source told Asia Sentinel. Ahmad and Anwar were friends before Mahathir fired Anwar as finance minister and had him arrested and jailed in 1999.
It is unsure if the contacts will go anywhere. They would require the three components of the opposition Pakatan Rakyat all to sign off. The idea of reaching out to the opposition, particularly Anwar's Parti Keadilan Rakyat, is likely to drive Mahathir into a fury and energize whatever followers the septuagenarian former leader still has in UMNO.
Anwar, in an interview, said he had sent word through intermediaries that the incendiary racist attacks by the UMNO-owned broadsheet Utusan Malaysia on the Chinese and Indian communities would have to stop, and that the racial temperature in the country would have to cool before any progress could be made.
"I said the fundamental issues must be addressed, ending the racial stuff, there has to be a clear understanding and commitment to reform and change," Anwar said. "I made it clear that discussions must deal with this first and that the racial rhetoric must not escalate. The UMNO president has always had a direct say in running Utusan."
He said so far no answer has been forthcoming.
Presumably the Najib gambit opens another front against Mahathir, who has been allowing surrogate bloggers to attack the wounded prime minister ever since the election, in addition to delivering his own blistering attacks on Malaysia's ethnic Chinese, who make up about 25 percent of the population, making allegations that they are trying to take over the country politically as well as economically.
Posted: 13 Aug 2013 03:53 PM PDT
There's no need to wonder who should rule in Putrajaya: what's more important is how they rule.
June H. L. Wong, The Star
LEE Kuan Yew got it right. Whether it is Barisan Nasional or Pakatan Rakyat in Putrajaya, this country will still be under Malay rule.
So what, this aunty would like to ask?
For this citizen of Chinese descent, it is a given due to our history, racial composition and politics.
To quote Deng Xiaopeng, it doesn't matter if it is a black or white cat, as long as it can catch the mice.
Similarly, I can accept Malay rule, regardless which side is in power, as long as it provides good government.
But as a voting citizen, I do have my hopes and expectations from my leaders.
You see, I am fine with Malay rule as long as the leaders cherish and respect the Constitution and continue to abide by the provisions in this document and not to tinker with it as they like.
I have no problem with Malay rule as long as those in power upholds Islam's position as the official religion but will also respect other religions and protect the rights of all Malaysians to practise their faiths without discrimination, harassment or fear.
I am really okay with Malay rule as long as those who rule are not afraid of the past; who understand history should not be reinterpreted to make one community look better than others and who will acknowledge the contributions of other races in the building of this nation.
I will defend a leadership that will not use other races to invoke fear in the Malays by insinuating that these ungrateful interlopers are greedy and grasping and will steal the nation from under them if they are not careful.
I will support leaders who are strong and courageous to stand firm against those who preach hate and divisiveness and punish them appropriately, regardless of who these hate-mongers are.
I will cherish a Malay-led government that is fair to women and believe in gender equality; that will end all laws that continue to discriminate against women and treat them like simple-minded creatures.
I will admire a leadership that recognises the competition is beyond our shores and if we don't stop bickering among ourselves and trying to frighten each other, our country might be left far behind, even within the region as all our neighbours get their act together and grow from strength to strength.
Hence, I will rejoice to have leaders who embrace meritocracy and will fight to nurture and retain all its talented citizens to benefit our society and nation and give us the edge on the international front.
I am all for a principled government that upholds the rule of law and that means, as defined by thefreedictionary.com, the government exercises "its power in accordance with well-established and clearly written rules, regulations, and legal principles" and "no branch of government is above the law, and no public official may act arbitrarily or unilaterally outside the law".
In other words, a leadership that enforces laws with fairness, morality and justice.
I will support those in power who believe in educating and empowering its people and not keeping them stupid and poor in order to control them and making them dependent forever.
I will happily live under a leadership that nurtures a thinking society and does not fear dissent or those who challenge its authority through peaceful expressions be it in words, or through art, performances, music and film.
I will cherish a leadership that is inclusive with a consistent message to all, actively promotes true racial accommodation and acceptance and not play lip service to mere tolerance.
That is simply intolerable.
I will be in awe of leaders who can articulate and defend their policies by speaking with intelligence, backed up with quality research, facts and figures, and not insult the intelligence of others, especially those who question them.
And I can cheer them on proudly when they promote or defend Malaysia's interests abroad because they can speak in crisp, clear English with authority, knowledgeably and wittily.
I will respect leaders who understand that becoming Yang Berhormats does not automatically elevate them to a status that demands obeisance from others.
Rather, they understand they are the people's servants and respect must be earned.
I will honour a government that is led by leaders who are morally clean and upright, with zero tolerance for corruption and will not use underhanded means to enrich themselves and to keep themselves in power.
I am all for Malay rule as long as my leaders are committed to and believe in a multiracial, multi-cultural and multi-religious Malaysia and want to keep it this way.
Book on Pak Lah meant to threaten Umno unity, analysts say
Posted: 13 Aug 2013 03:43 PM PDT
Melissa Chi, MM
The timing of a book on Tun Abdullah Ahmad Badawi's tenure as prime minister was meant to create discord in Umno ahead of the annual general assembly in December, according to two political analysts yesterday.
In a report by Umno-owned Utusan Malaysia, Geostrategist at Universiti Teknologi Malaysia Dr Azmi Hassan said the editors and publisher of "Awakening: The Abdullah Years in Malaysia", have been accused of portraying the book as based solely on Abdullah's opinion, which was not the case.

"Abdullah's view was not out of the ordinary but what was controversial was the editors had painted a bad perception of the former prime minister, especially on the part where it touches on his relationship with the fourth prime minister of Malaysia, Tun Dr Mahathir Mohamad.

"It was clear that they had used Abdullah to ruin the unity in Umno, especially ahead of the annual general assembly," he told Utusan Malaysia yesterday.

The 620-page book was a collection of multiple views from different personalities, including politicians across the divide and academic observers as well as exclusive interview where the usually quiet man finally speaks out against his detractors.

In the short few days following its release, the book dominated headlines in the media, with heavy focus given to Pak Lah's words on Dr Mahathir and what the former prime minister described as "unwarranted attacks" on his person that eventually led to his ouster.

The books two editors, Professors Bridget Welsh and James Chin, have insisted the book was miscategorised as "Pak Lah's book" in the media.

Further in the Utusan report, Azmi alleged that the book's editors will use any medium to create a false perception of Abdullah and Umno.

"One of their strategy is to use someone within Umno and not the opposition to criticise the party," he said.

Meanwhile, senior lecturer at Universiti Sains Malaysia Prof Dr P. Sivamurugan said the onus was now on Umno to counteract any confusion that may arise from the book's contents.

"It has created a new dilemma as to whether Abdullah's interview which spoke about Umno's leadership after his time, were based on facts or it was only the writer's perception," he said.

Following the furore stemming from reports based on the book, Abdullah came out to deny that he was part of a conspiracy to attack the Malay nationalist party.

In it, the usually-reserved politician takes aim at predecessor Dr Mahathir  and what the former prime minister described as "unwarranted attacks" on his person that eventually led to his ouster.

The controversy also moved Welsh and Chin to postpone the Kuala Lumpur launch on August 16 and cancel the Singapore launch on the 30th, citing concerns over its "politicisation" and sensationalisation by media organisations in their reportage of portions of the book.
An 'Awakening' conspiracy? Unlikely, say analysts
Posted: 13 Aug 2013 03:37 PM PDT
"The book confirms what's already known out there ― it provides details and evidence of the policies and choices made by Abdullah Badawi... [as well as] evidence of conservative and ultra nationalists within Umno and their resistance to any reforms or changes or status quo, either in politics or economics," he told The Malay Mail Online.
Malissa Chi and Boo Su-Lyn, MM
Political analysts have dismissed suspicions that Tun Abdullah Badawi's hard-hitting comments published in a book of his years as prime minister was timed to coincide with the upcoming Umno election.

Speaking with The Malay Mail Online, the analysts said Abdullah, fondly known as Pak Lah, merely took the opportunity to share his thoughts and experiences as well as provide insights behind the policies and choices he made during his five-year term, in the book "Awakening: The Abdullah Years in Malaysia".

"A former statesman like him is in the position that people would want to hear his thoughts," Centre for Public Policy Studies Director Ng Yeen Seen said, stressing that the book was not written by Abdullah.

Last week, editors of the book Prof Bridget Welsh and Prof James Chin postponed the Kuala Lumpur launch on August 16 and cancelled the Singapore launch on August 30, citing concerns over its "politicisation" and sensationalisation by media organisations in their reportage of portions of the book.

They also said the book was mislabelled as "Pak Lah's book", and explained that it was a collection of essays on the tenure of the country's fifth prime minister.

Ng said it was unclear what bearing the timing of the book's release this week will have on the political landscape, despite conjecture that it was deliberately sandwiched between the 13th General Election and the Umno election.

"The entire society has been very political since two years ago.

"First, it was the speculation as to when the general election would be held, then it is how long will this administration last.

"And then, whether Najib will survive the Umno election," she said.

The upcoming Umno election will be the first since the party amended its constitution to allow a total of 146,500 grassroots members from its 191 divisions to directly elect the members of the supreme council, namely the president, deputy president, three vice-presidents and 25 ordinary members.

"We don't know how many of the members will have a good look at the book or which quarters will use the book as a campaigning tool.

"It can be taken in any way depending on who will use it and how they are going to use it," she said.

Centre for Policy Initiatives Director Dr Lim Teck Ghee said the book will not have an impact on political developments in the country.

"The book confirms what's already known out there ― it provides details and evidence of the policies and choices made by Abdullah Badawi... [as well as] evidence of conservative and ultra nationalists within Umno and their resistance to any reforms or changes or status quo, either in politics or economics," he told The Malay Mail Online.

Universiti Malaya's Dean of Arts and Social Sciences Prof Dr Mohammad Redzuan Othman also agreed that the book will not influence the Umno election in October as the book did not specifically talk about the party's politics.

"I don't think it will have any impact because Pak Lah had not shown interest in the current political scene since his retirement, unlike Mahathir.

"I think there won't have an impact because Pak Lah is already retired and it's probably not his intention to create such a hoo-ha since he hasn't interfered in politics since retirement," he said.

The professor said the people were more concerned about the legitimacy of the government, as well as a finding by the Merdeka Center that postal and advance votes gave Barisan Nasional victory in 22 parliamentary seats.

Without those votes, the ruling coalition would have tied with Pakatan Rakyat's 111 parliamentary seats.

Under fire from pro-Umno bloggers, Abdullah has since denied that the release of the book was a conspiracy to attack the Malay nationalist party.

Datuk Dr Shamsul Amri Baharuddin, of Universiti Kebangsaan Malaysia Institute of Ethnic Studies (KITA), also came to Abdullah's defence, dismissing accusation that his involvement in the book was malicious.

"Pak Lah's motive was rather simple and straightforward to correct and elaborate all the misunderstandings and criticisms people have about him.

"He was willing to be interviewed based on his principle of 'keterbukaan' (openness) which he promoted during his tenure as PM," Shamsul said.

"As far as I could understand, Pak Lah's statement has nothing to do with Umno or (PKR's) Nurul Izzah (Anwar). That has been opinions or interpretations by self-appointed analysts who eagerly wish to see the Umno-connection to Pak Lah's statement," he added.

PKR vice-president Nurul Izzah, the daughter of Opposition Leader Datuk Seri Anwar Ibrahim, was due to officiate the book's now-cancelled launch in Singapore.

Meanwhile, Prof Madya Dr Samsul Adabi Mamat, a political analyst also from UKM said, the points brought up by Abdullah in his interview should be taken positively.

"Maybe the issues can be [debated] during the annual general assembly... so that the party can improve and give a breath of fresh air toward the renewal of Umno for the next general election," he said.

In the short few days following its release, the book earned loud headlines in the media with heavy focus given to Pak Lah's words on Dr Mahathir and what the former prime minister described as "unwarranted attacks" on his person that eventually led to his ouster.

Handpicked by Dr Mahathir to be his successor, Abdullah later came under relentless attack from the nation's longest-serving prime minister and ultimately was forced to relinquish his presidency of Umno and position as prime minister to Datuk Seri Najib Razak in April 2009, after leading BN to its then-worst electoral showing in Election 2008.

Following the reports, Dr Mahathir said he will study the book before responding, leading to belief that hostilities between the two former prime ministers are set to be renewed. 
Revisiting the "unity government" idea in Malaysia
Posted: 13 Aug 2013 03:30 PM PDT
In the past few months, the idea of a unity government is rearing its head again, but from the BN's side, especially among supporters of Prime Minister Datuk Seri Najib Razak, as first reported by The Malaysian Insider.
Zulkifili Sulong, TMI
After campaigning tirelessly in several by-elections before 2013, PAS president Datuk Seri Abdul Hadi Awang was featured in political weekly Siasah in a front-page report headlined "Country without Opposition".

In an exclusive interview at his Parliament office, the PAS leader had suggested setting up of a unity government although his Pakatan Rakyat (PR) scored the biggest upset in Election 2008, winning 82 seats.

"This government is one without an opposition and is formed with the involvement of all political parties, working for a common good of the country.

"He suggested taking the cue from the unity government of Indonesia's Habibie after the Suharto regime was brought down," Siasah reported.
But Hadi's suggestion was met with resistance from within his own party, and was labelled as an attempt to unite PAS and Umno, for the sake of Malays and Islam.

It was based on the political scenario at that time, which saw certain people in the PAS leadership wanting to form a government with Umno.

However, none of the proponents of the idea are in PAS now.

Yet, until today, there are those in PAS who still fear the idea, labeling those who support it as the "unity government gang" especially leaders from Terengganu.

But the PAS presidnent's statement then was clear, the unity government needed to involve all parties in both the Barisan Nasional (BN) and Pakatan Rakyat (PR).

In the past few months, the idea of a unity government is rearing its head again, but from the BN's side, especially among supporters of Prime Minister Datuk Seri Najib Razak, as first reported by The Malaysian Insider.

It is understood that he had sent feelers to PR chief Datuk Seri Anwar Ibrahim through some representatives. Anwar has confirmed it in an interview with the Asia Sentinel portal.

However, this unity government proposal is quite different from Hadi's idea.

It is Najib's offer to Anwar to form a government together, by way of bringing Anwar and his supporters into the current administration.
PKR leaders say Najib is offering the post of deputy prime minister to Anwar, and for four key party leaders to be made ministers.

The irony is Anwar used to be the deputy prime minister to Tun Dr Mahathir Mohamad until he was sacked in 1998.

"Datuk Seri Anwar rejected the suggestion because he does not want to leave his Pakatan friends behind,"  Datuk Saifudin Nasution Ismail (pic) told The Malaysian Insider before the Hari Raya holidays.

According to Saifudin, Najib had tried to meet Anwar in his two visits to Indonesia in June, but Anwar avoided it.

"Anwar arrived in Indonesia a few days before Najib. They were supposed to meet in the airport when Anwar was to leave for Malaysia and Najib had just arrived in Indonesia.

"However, Anwar avoided it by going into the aircraft 15 minutes earlier," Saifudin said.

Why does Najib want a unity government with Anwar?

According to the Asia Sentinel, "This is Najib's effort to start a new court to fight Dr Mahathir, who has allowed bloggers under his control to attack the 'wounded prime minister'."
Support for Pakatan soared, says UMCEDEL
Posted: 13 Aug 2013 03:18 PM PDT
BN only manage to maintain its support base in the region of 40% to 49%.
K. Pragalath, FMT
According to a study by a university research centre, the support for Pakatan Rakyat has increased tremendously since 2011 till the 13th general election; where else Barisan Nasional's support base is somewhat the same.
A series of surveys conducted by University Malaya's Centre for Democracy and Elections (UMCEDEL) since 2011 revealed that Pakatan only had 18% support in 2011 compared to BN's 43%.
BN's support base was highest during the first quarter of 2012 at 49% but Pakatan only received 21% during the same period.
The third survey carried out during the first fortnight of September 2012 revealed the beginning of BN's support declining to 44% whereas support for Pakatan rose to 30%.
During the last quarter of 2012, BN had 42% support compared to Pakatan's 37%.
The number of undecided voters reduced from 39% in 2011 to 21% in the last quarter of 2012.
On nomination day for the 13th general election that was held on April 20, Pakatan had the majority support of the people. A total of 5% of the undecided voters supported Pakatan.
That gave an edge for Pakatan against the ruling coalition with 48% support. BN was trailing with 43%. Nine percent of the voters were still undecided.
On May 5 polling day, BN received three percent support of the undecided voters and obtained 46% votes. On the other hand Pakatan received a boost of five percent vote swing to gain 53% of the popular vote.
However the final outcome of the 13th general election saw BN winning 133 parliamentary seats. Pakatan only clinched 89 out of the 222 parliamentary seats in total.
'KDN ignored my ideas to help ex-cons'
Posted: 13 Aug 2013 02:53 PM PDT
Malaysian Crime Preventive Foundation vice-chairman Lee Lam Thye says his numerous suggestions to the Home Ministry to help rehabilitate former prisoners were brushed aside. 
Alfian ZM Tahir, FMT
The Home Ministry's impotence in helping former prisoners obtain a new lease of life is among the factors that has contributed to the recent escalation in crime rate.
Malaysian Crime Preventive Foundation vice-chairman Lee Lam Thye said for the past 10 years he has written numerous letters to the ministry (KDN) on how to help rehabilitate former prisoners.
"Since 2000 I have given my views on these issues but I've not received a single feedback from the authorities. I've given up," he said in a phone interview.
Lee said the government should be the one to lead the initiative to help create job opportunities for these former prisoners.
"The government should have come up with a plan. The problem now is when prisoners have served their sentences and are released, the private sector is unwilling to offer them jobs.
"So, instead of depending on these private companies, why not the government create projects and offer job opportunities to these former prisoners?" asked Lee.
"By doing this, it will definitely give an impression to the private sector that these former prisoners are capable of performing jobs just like everybody else.
"This was my idea back in 2000 but until today the authorities have yet to be hear me out or review my suggestions," he said.
Unnecessary Censorship in Malaysia
Posted: 13 Aug 2013 01:00 PM PDT
Perhaps by easing the rules and regulations on what is acceptable for us to see, hear and think, we as a society will have the space to discuss these matters in a mature manner and grow. I am not a parent, but I am sure as hell glad that my parents gave me the sex talk when I was a teenager.
by Chin Guo Heng
I remembered two things from watching The Wolverine: when no other outlets are available, it is always possible to perform impromptu chest surgery on oneself; and the amount of cuts and bleeps in the film.
Admittedly, this was my first time catching a film at a local cinema after spending the last few years abroad, where censorship is a lot more laissez faire. The censored scenes were pretty jarring to me until a friend reminded me that liberal application of cuts and bleeps are part and parcel of the Malaysian cinema experience, besides the awesome cineplexes and delicious popcorns.
Growing up a film buff, I've always wondered if film cuts compromise the artistic integrity of the film (not that The Wolverine was brimming with artistic merit) and the vision of the director. Imagine how Yasmin Ahmad's Sepet would feel like without the eight cuts imposed upon it. Complaining about cuts in films may seem petty but aesthetics and annoyance aside, film censorship, like all other forms of censorship, underlies what we are allowed to see, experience and by extension, think.
The watchman setting and implementing the guideline that defines the social, religious and moral values the rakyat are allowed to be exposed to in the cinema is the Film Censorship Board, operating under the jurisdiction of the Home Ministry. An updated guideline for film censorship came into force on March 2010 espousing the regulations in which films are expected to follow under four categories: public safety and harmony, religion, culture and manners, and morality, including a list of words deemed too rude for the rakyat to hear or see. According to the Board, the rules contained in the guidelines are of prime importance as films exert influence on the mind-set and actions of society, especially children and teenagers.
It seems reasonable that the Censorship Board adopts the monkey see, monkey do view towards public mores, but is there solid evidence to justify heavy-handed censorship in the name of defending the public morality? The significant body of research into the issue unsurprisingly offers conflicting conclusions. A segment of studies and meta-studies suggest that exposure to media violence – movies and video games – increases the propensity of violent behaviour due to desensitisation and increase in aggression-related thoughts. Critics argued that those papers are biased and methodologically flawed, and do not take into account issues beyond exposure to media violence such as family environment, peer delinquency and depressive symptoms as a predictor of youth aggression or violence. A 2008 study found that exposure to media violence is not even a predictor of youth aggression compared to the factors above, suggesting that the correlation between youth aggression and media violence is not necessarily the causation. Furthermore, longitudinal and cross-national studies yielded more non-supportive results over supportive results. A recent analysis of the data for youth sexuality and the initiation of sexual intercourse concluded that exposure to sexy media may not actually exert any significant impact compared with other well-established factors such as parental permissiveness and having sexually active peers.
Polis kesal orang ramai kurang kerjasama
Posted: 13 Aug 2013 12:57 PM PDT
Mohd Jasmani menunjukkan borang yang diedarkan kepada orang ramai setiap kali menjelang cuti sempena hari perayaan.
(Sinar Harian) -  Sambutan dingin dan kurangnya kerjasama orang ramai terhadap usaha polis membanteras kejadian curi dan pecah rumah di daerah ini dikesalkan.
Ketua Polis Daerah Kuantan, Asisten Komisioner Mohd Jasmani Yusof berkata, beliau secara peribadi kesal dengan sambutan diberikan sedangkan pihaknya bersungguh-sungguh cuba melindungi harta dan rumah penduduk daripada menjadi mangsa penjenayah.
Menurutnya, lebih dikesalkan apabila kejadian curi atau pecah rumah berlaku, pihak polis yang dipersalahkan kononnya 'tidak bekerja' dan lambat bertindak.
"Bagi saya perkara ini berlaku bukan disebabkan kurang maklumat sebaliknya lebih kepada sikap segelintir masyarakat yang ambil lewa terhadap keselamatan harta benda masing-masing," katanya di sini, semalam.
Mohd Jasmani berkata, pengenalan borang balik kampung yang diperkenal sejak beberapa tahun lalu terbukti berkesan apabila rumah yang ditinggalkan di bawah pengetahuan pihak polis selamat.
"Kita memberi perkhidmatan secara percuma untuk masyarakat namun peluang yang diberikan itu langsung tidak dimanfaatkan," katanya.
Beliau berkata, daripada lebih 3,000 borang diedarkan, hanya 168 atau kira-kira enam peratus yang mengembalikan dengan maklumat lengkap.
"Kita mengadakan perjumpaan dengan pelbagai pihak termasuk Kawasan Rukun Tetangga (KRT) institusi kewangan, pusat perniagaan dan sebagainya namun maklum balas berhubung perkara ini tetap mengecewakan.
"Kita tidak menganggap sambutan dingin masyarakat sebagai kegagalan usaha yang dijalankan ini sebaliknya akan pengagihan borang itu akan diteruskan setiap kali menjelang perayaan utama," katanya.
Menurut Mohd Jasmani, pihaknya akan melipat gandakan usaha dalam menyedarkan masyarakat terhadap usaha itu termasuk mengadakan kempen berterusan di sekolah, agensi kerajaan, swasta dan NGO.
Christian Church opens doors to Muslims
Posted: 13 Aug 2013 12:39 PM PDT
St John's Episcopal Church has opened its doors to Muslims for Friday prayers
(BBC) - Reverend Poobalan adds: ''I felt very distressed when I saw my neighbours praying out in the cold and I knew I needed to do something to help.''
On a bitterly cold and snowing afternoon in Aberdeen, the doors of St John's Episcopal Church are open to hundreds of Muslim worshippers, arriving for daily prayers.
The familiar sounds of Christian hymns have been replaced with Islamic prayer in the chapel this Friday lunchtime and the church priest with the imam from the neighbouring mosque.
Muslims from the Syed Shah Mustafa Jame Masjid mosque next door share this church with Christian worshippers up to five times a day.
Church leaders believe this may be the only place in the country where Christian and Muslim worshippers pray side by side.
The rector at St John's has opened his doors to Muslims because there was not enough space for them to pray in their own mosque and many were forced to worship outside on the street.
The Reverend Isaac Poobalan, who grew up in Southern India surrounded by Islam, said he would not have been true to his faith if he did not help his neighbours.


Reverend Isaac Poobalan grew up in Southern India surrounded by Islam
"It was a very cold day, like today, and when I walked past the mosque I saw dozens of male worshippers praying outside, on the streets, right near the church.

''Their hands and feet were bare and you could see their breath in the freezing cold.

''Jesus taught his disciples to love your neighbour as yourself and this is something I cannot just preach to my congregation, I had to put it into practice."
Does Kuan Yew fear a Pakatan rule?
Posted: 13 Aug 2013 12:30 PM PDT
It is in Lee Kuan Yew's interest for BN to hold on to power forever as he has seen what Pakatan can do in Penang and Selangor, and this would challenge his Singapore.
He would most definitely not want Pakatan to helm the nation because he is shrewd enough to know that if Pakatan is the federal government, Malaysia can compete with Singapore and give the island nation a run for its money.
Selena Tay, FMT columnist
Lee Kuan Yew in his new book 'One Man's View of the World' has described Pakatan Rakyat (PR) as "an opportunistic and ad hoc group not held together by even a vaguely coherent set of ideas but by a common desire to unseat the government" (as reported in an English daily on Aug 8).
He is absolutely wrong as all of Pakatan's three component parties are championing the cause of good governance and that is the main ideology that holds the opposition coalition together.
Lee of course would love Barisan Nasional to go on controlling Malaysia so that Singapore can surge ahead in terms of economic prosperity. As long as BN is in power, Malaysia cannot hope to catch up with Singapore. Therefore Lee is certainly a great fan of BN.
This columnist's Singaporean cousin who was in Malaysia for an aunt's 80th birthday dinner last September had made this insulting remark about Malaysia:
"As long as BN continues winning general elections, I am very happy. With BN at the helm, you guys can only chase after the dust we left behind."
Another Malaysian cousin of mine defended Malaysia by saying that Prime Minister Najib Tun Razak's Government Transformation Programme (GTP) and ETP (Economic Transformation Programme) can challenge Singapore but this Singaporean cousin only laughed it off.
Thus Lee's remark talking bad about Pakatan is certainly a great boost to BN. Many Singaporeans think that Malaysia is far behind Singapore in terms of economic progress.
Singaporeans brag that many Malaysians find greener pastures in the republic especially in terms of jobs and education.
This columnist's friend who works in Singapore but stays in Johor is earning well and benefiting from the cheaper cost of living in Johor although he mentioned that he had to face the daily hassle of travelling across the causeway to his workplace.
Lee prides himself on building Singapore to what it is today and it is in his interest for BN to hold on to power forever as he has seen what Pakatan can do in Penang and Selangor.
Kredit: www.malaysia-today.net