Klik GAMBAR Dibawah Untuk Lebih Info
Sumber Asal Berita :-
---
Did Umno really scare up strong Malay support? Not quite, shows study
Posted: 12 Aug 2013 12:42 PM PDT
In GE13, Malay votes in favour of Barisan Nasional increased in most states, a Merdeka Center study revealed. TMI pic, August 13, 2013.
(TMI) - Umno's election strategy of ratcheting up fear among Malays over the loss of political power actually yielded only a slight increase in Malay support in the past general election.
In contrast, right-wing rhetoric, unresolved issues of race and religion as well as the belief that Pakatan Rakyat should be given a shot at running the country saw a 20% swing of Chinese voters and 5% swing of Indian voters away from Barisan Nasional, compared with 2008.
In fact, what really did help Umno tap the rural vote was its strong political machinery there as well as the villagers' continued dependence on government aid and services. Cash handouts under BR1M also played a part.
These facts were revealed by a Merdeka Center study of voting patterns in the past election. To determine the voting pattern by ethnicity, the independent pollster analysed 9,000 polling districts.
The study isolated polling districts with over 90% of a particular community and then compiled the lists according to the state and rural areas versus an urban setting.
Pak Lah: I only gave an interview
Posted: 12 Aug 2013 12:38 PM PDT
(The Star) - Former prime minister Tun Abdullah Ahmad Badawi has clarified that the newly-published Awakening: The Abdullah Years In Malaysia has nothing to do with him beyond an interview he gave to the authors.
"The book is not written by me. It is a compilation of a number of articles from various writers compiled by academics Prof Bridget Welsh and Prof James UH Chin.
"Some articles are rumoured to be positive, many are negative and critical," the former Kepala Batas MP said in a statement yesterday.
"I am not sponsoring or endorsing the book, or asking for it to be published.
"It is normal for academics to analyse the political history of a nation and of course, I cannot escape from scholarly study. I only agreed to be interviewed so my opinions and explanations are included in the book," said Abdullah, who emphasised that his only involvement was the interview.
"I do not intend to attend the book launch, because I do not want people to assume that this book was written or sponsored by me. I just answered the questions asked.
"News that Opposition party leaders were invited to launch the book in Singapore — even if its true — is the publisher's decision, not mine," said the former premier, adding that he was not told about any launches or invitations to discuss the book.
Awakening made headlines after excerpts of Abdullah's interview, in which he was critical of his predecessor Tun Dr Mahathir Mohamad, were leaked.
He had criticised some of Mahathir's policies, and said the latter was incapable of accepting "any other view except his own".
Abdullah also said his predecessor's attacks had strengthened his resolve to not interfere with the work of his successor, current Prime Minister Datuk Seri Najib Tun Razak.
"That is why I have remained silent all this time. I believe that once you retire, you are retired."
The book attracted further controversy after it was announced that PKR vice-president Nurul Izzah Anwar would be launching the book in Singapore. Still, the former premier has no regrets doing the interview.
"Like it or not, agree or not, I adhere to the principle of openness as the axis of a mature democracy. Although I was told this book will have critical and possibly unflattering articles about my leadership, I agreed to be interviewed in the spirit of openness."
Posted: 12 Aug 2013 12:00 PM PDT
This job is very important. I keep telling my wife and nine kids that I guard society's morals. I don't like to angkat bakul, but fact is fact. Audiovisual mediums embed a strong imagery into people's minds. Those that are gullible and naive will easily follow what is onscreen. So people like me do a national service in protecting citizens from moral corruption.
by Aerie Rahman
A censor speaks his mind.
During my 20 over years in the censorship board, I've never faced so many attacks coming in.

In the good old days, when films were banned, no one will make noise. Why? Because when something is banned, it isn't heavily publicised. It was discreet. Just like when we banned Schindler's List. A decision I'm still proud of.

Nowadays with social media, people start to drill in questions as to our decisions to censor. So irritating lah. I wish I could just respond and silence them by outlining the ciri-ciri as to what gets censored. But I find 140 characters so complicated… it's not easy being a censor you know.

Okaylah, as a pegawai kerajaan there's a lot of security. A lot of teh tarik sessions as well, at 9.30 am and 3.00 pm. But people don't understand our contributions. So I want to clarify the misconceptions. I'm sure my rakan-rakan at the Kementerian Penerangan would understand my outspokenness.

People seem to think that as a censor, my job is just sitting down and watching films in the dark all day long. I arbitrarily decide what others can or cannot watch. I get paid to watch films. Everyone wants that, kan? That is incorrect. There's a lot of paperwork also. Laporan this, laporan that. So many laporans just to justify one scene that is censored. It can be stressful.

Currently, we have to justify to the top as to why we didn't ban a certain local movie from being screened. We have to review it. More work. But I cannot talk about it here. Sulit.
100 days later, Malaysia remains stuck in Election 2013
Posted: 12 Aug 2013 11:46 AM PDT
Should we wait for these politicians to work out their leadership issues while we watch the clock wind down the 1,727 days left in the current mandate?
News Analysis by Jahabar Sadiq, Editor
Today, 100 days ago, the ruling Barisan Nasional (BN) won Election 2013 with 133 federal seats but Pakatan Rakyat (PR) won nearly 51% of the popular vote.
But one would be forgiven to think that Malaysian politicians are still on the stump from the fervent politicking and one-upmanship going on between and inside the dominant political parties.
Umno is in election mode, so are PAS, PKR, MCA, MIC and Gerakan. The DAP is staring down the Registrar of Societies (RoS) over whether the last party polls is legal or otherwise.
Which begs the question, who is minding the country? Where is the 100-day plan of a new government?
Is the government mute or just morose that it lost the popular vote? Is the opposition sullen or just sore because it nearly won Putrajaya?
A 100 days after GE13, we live under a government unsure of its mandate and pandering to fringe voices that threaten to tear us apart and an opposition already auditioning for the next elections without working on bi-partisan solutions or shaping public policy.
A 100 days after the May 5 general elections, we are staring at a growing Muslim orthodoxy intolerant of Shiites, against Muslim beauty queens or those bathing dogs, and Buddhists meditating in a prayer room.
A 100 days after the polls, we are listening to the growing chorus of politicians and policemen who lament losing their security blanket of preventive laws rather than take the prime minister's challenge of ensuring citizens and residents live peacefully and securely without selective persecution or judicial oversight.
A 100 days after casting our ballots, we still can't trust the Election Commission to run any polls if they can't even get the indelible ink right or that each person's vote is equal to another.
Johor resort operator to face action over use of surau by Buddhists - Bernama
Posted: 12 Aug 2013 11:42 AM PDT
The Buddhists group are seen here in the surau at the resort in Kota Tinggi. August 13, 2013.
(Bernama) - The Johor Fatwa Committee will decide on the action against a resort operator in Sedili Besar, Kota Tinggi, which allegedly allowed its surau to be used for other religious services.
Johor Mufti Datuk Mohd Tahrir Samsudin said a decision would be made after an investigation is carried out under Section 7(a) of the Syariah Criminal Offences Enactment 1997 for insulting Islam or causing Islam to be looked down upon.
"Based on monitoring and surveying of the surau, we find there is doubt in terms of its design. It does not face the Kaabah (in Mecca, as required) but faces outside of Masjidil Haram," he said.

He said this after visiting the surau at a resort near Sedili Besar here today, which was believed to have been used for Buddhist religious activities.

Also present were Johor Religious Council Adviser Datuk Noh Gadut and Kota Tinggi District Officer Mohd Noor Azam Osman.

Mohd Tahrir reminded all quarters to abide by the law and not belittle the sanctity of Islam.

Meanwhile, Noh said, based on his observation, there were errors in the Quranic verses and writings found in the surau area which gave rise to doubt and tarnished the sanctity of Islam.

He stressed that the issue would cause problems if not tackled, especially in the light of Malaysia practising a multi-racial policy.

Newspapers today reported that residents in the fishing village of Sedili Besar were upset when a surau in a resort was found to have been used for other religious services.

Meanwhile, Johor police have detained the resort manager to facilitate investigations.

State police chief Datuk Mohd Mokhtar Mohd Shariff said the 45-year-old man was picked up at the resort today at 2pm.

He said a special team headed by his deputy, Datuk Ismail Yatim, was investigating the matter.
Posted: 12 Aug 2013 11:32 AM PDT
One online news editor said "if you can cover about 70 percent of your operating expenditure, that's already a good operation." That's how dire it is. Whether your investor is an "angel" or a political backer, at some point, there's only so much someone is willing to bleed.
Shannon Teoh
In the early bluster and upheavals of the Reformasi movement, deep fissures began to open up in Malaysian society. As with all things geopolitical, the real key was the impact on urban centres – hubs of commerce, power and information. If it didn't happen there, it didn't happen at all.
It was in these days of the Multimedia Super Corridor, infatuation with Angelina Jolie – God bless her chest – in Hackers and pop philosophy in the Matrix, that Malaysia was introduced to "alternative media."
Putting aside pedantic definitions of such a term – which in contemporary Malaysia, should perhaps be confined to social media given the eyeballs and influence that online news sites boast nowadays – Malaysiakini provided a sensational new lens to view the political nation.
Fast forward to 2008, and the seismic changes pre, during and post the general elections resulted in a mushrooming of online news sites, variously claiming that they caused or were the result of, or are responding to the call for change in the country.
That was in 10 years, a pretty quick revolution in such a tightly-controlled media space. But in about half that time, we see that these noble or chest-beating claims were all slightly disingenuous.
A few have fallen by the wayside – The Nut Graph famously proclaimed to be good journalism and pretty much begged for donations, but still ran out of cash and turned into a blog – while others opened to pomp and splendour only for the reading public to find that the emperor has not much more than a g-string on.
But a small number managed to keep their heads above the water.
Malaysiakini actually turned in a "profit" some years, and their editor loudly compared his site to mineral water, while the rest were tap water – you'd pay the subscription because it was better, apparently.
Minister backs 'Shia conversion'
Posted: 12 Aug 2013 11:14 AM PDT
Separation: Shiite refugees (right side of the blue cloth) participate in Idul Fitri prayers at a mosque near their camp in Sidoarjo, East Java, on Thursday. The Shiite followers are saying their prayers without prayer mats, because they were not allowed to participate in the prayers along with other Muslims. (JP/Indra Harsaputra)
Weeks after the Shiites were evicted from their home villages in Sampang in June this year, President Susilo Bambang Yudhoyono assigned the Religious Affairs Ministry to lead the reconciliation process in cooperation with the Sunan Ampel State Islamic Institute (IAIN) in Surabaya.
Margareth S. Aritonang, The Jakarta Post
Religious Affairs Minister Suryadharma Ali has again come under fire for allegedly supporting the forced conversion of Shia followers to Sunni Islam in a reconciliation program the government claimed was meant to end the conflict between the two Islamic denominations in Madura, East Java.
Human rights activists accused the minister of failing to put aside his personal beliefs in the reconciliation process and demanded that President Susilo Bambang Yudhoyono disengage him from the efforts to return the Shia refugees.
"The government should instead involve people like [former vice president] Jusuf Kalla or Catholic priest Franz Magnis Suseno, for example, in the reconciliation process instead of SDA, who is obviously unable to take a distance with his personal religious belief," Hertasning Ichlas, executive director of Universalia Legal Aid Institute (YLBH Universalia) and an attorney for Sampang Shia community, told The Jakarta Post on Sunday, referring to Surydharma with his initials.
Weeks after the Shiites were evicted from their home villages in Sampang in June this year, President Susilo Bambang Yudhoyono assigned the Religious Affairs Ministry to lead the reconciliation process in cooperation with the Sunan Ampel State Islamic Institute (IAIN) in Surabaya.
However, Hertasning said that Suryadharma and his fellow United Development Party (PPP) politician, Djan Faridz, who is also the Public Housing Minister, attended meetings where the Shiites were forced to denounce their faith if they wished to safely return to their villages.
Such meetings were also supported by Sampang Regent Fannan Hasib, who was nominated by two Islamic parties, the PPP and the Prosperous Justice Party (PKS), Head of Sampang's Municipal Political and National Unity Office (Kesbangpol) Rudi Setiadi, local police officials and a number of Sunni clerics.
According to Hertasning, 34 out of around 235 Shiites evicted from Sampang have returned to their homes by Aug. 7 as they finally agreed to sign a pledge of nine points which included willingness to return to "the true teaching of Islam" as well as to condemn of the teachings of Shiite cleric Tajul Muluk, who is currently imprisoned over blasphemy.
Posted: 11 Aug 2013 05:33 PM PDT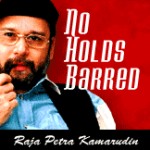 A surau is a prayer room or hall. It is not quite a mosque. You can even have a prayer room or surau in your home or place of work. But even if it is a mosque what is wrong if non-Muslims use it to pray as long as they take off their shoes and cover themselves decently?
NO HOLDS BARRED
Raja Petra Kamarudin
"On YouTube, yet another religious row stirs", said The Malay Mail report today.
Malaysians are again picking up their well-worn pitchforks after a video surfaced on YouTube yesterday allegedly showing a Muslim prayer room in Johor being used by Buddhist tourists for worship.
The 85-second-long video titled "Surau dijadikan tokong???" (A surau turned into a temple?) begins with an external shot of a small building and a close-up of what appears to be a sign in Arabic script over a doorway.
A surau is a prayer room or hall. It is not quite a mosque. You can even have a prayer room or surau in your home or place of work. But even if it is a mosque what is wrong if non-Muslims use it to pray as long as they take off their shoes and cover themselves decently? Anyway, in the first place, they would not be allowed into the mosque if they were indecently dressed.
All over the world prayer rooms are 'shared' by those of different religious persuasions. This has never been an issue for either Muslims or non-Muslims. So why is it an issue in Malaysia?
It is reported that after the Muslim army's siege of Jerusalem in 637, Patriarch Sophronius refused to surrender except to the Caliph Omar himself (the Second Caliph after Prophet Muhammad) and Omar travelled to Jerusalem to accept the surrender.
He then visited the Church of the Holy Sepulchre where Sophronius invited him to pray inside the Church. However, Omar declined so as not to set a precedent and thereby endanger the Church's status as a Christian site. Instead, he prayed outside in the courtyard, in a place where David was believed to have prayed.
Around 550 years later the Mosque of Omar was built on that site, opposite the southern courtyard of the Church of the Holy Sepulchre in the Muristan.
Omar refused to pray in the church not because it was unsuitable for prayers but so that there would be no conflict later as to whether the church has now been turned into a mosque. In other words, Omar respected the status of the church and wanted it to remain a church.
Many churches in England have been turned into mosques and/or Islamic cultural centres. No one regards this as an insult to Christianity or Islam.
So, no, today, I do not want to write a long-winded cheong hei article. I just want Muslims to reflect on this and not see everything as an insult to Islam. So what if all religions share one prayer room or hall? Do we not all pray to the same God? And if Muslims subscribe to the doctrine "there is no god but God" then for sure we all pray to the same God -- just that we do so in different ways.
Posted: 11 Aug 2013 04:43 PM PDT
Anwar confirms Malaysian PM's feelers for a unity government
Najib's next test is the UMNO annual general assembly, scheduled for later this year. For the first time, as a result of reforms instituted by Najib, all 160,000 UMNO delegates are to vote on the party's leaders instead of the 2,500 leaders of the 191 divisions. The widened electoral contest is likely to be less controllable than the previous brokered assembly.
Asia Sentinel
Malaysian Prime Minister Najib Tun Razak, beset on his right flank by an implacable former Premier Mahathir Mohamad critical of his performance in the May 5 general election, has been making quiet overtures to opposition leader Anwar Ibrahim to explore the outlines of a unity government.

The overtures, made through former Indonesian Vice President Jusuf Kalla, are a long, long shot at best. However, they have included three visits by Kalla to Kuala Lumpur, the latest in mid-July. Kalla earlier this year acted as an intermediary between Anwar and Najib at Anwar's initiative to seek to broker a commitment for a peaceful result in the May 5 general election.

Kalla, now a businessman and head of the Indonesian Red Cross Society, has emerged as a major Southeast Asian peacemaker, brokering peace agreements in various conflicts across Indonesia during his time as vice-president from 2004 to 2009; he also played a role in attempts to settle conflicts in Thailand and Sri Lanka.

While the pre-electoral contacts were made public in mid-May, with Kalla accusing Anwar of breaking a written agreement to accept the outcome of the election, the contacts have continued, according to sources in Kuala Lumpur.

Anwar confirmed the new contacts, saying they had been initiated by Najib, who emerged from the election severely weakened within the United Malays National Organization, the country's largest ethnic political party, which he heads. The overtures were made via Ahmad Zahid Hamidi, the Home Minister in Najib's cabinet, a source told Asia Sentinel. Ahmad and Anwar were friends before Mahathir fired Anwar as finance minister and had him arrested and jailed in 1999.

It is unsure if the contacts will go anywhere. They would require the three components of the opposition Pakatan Rakyat all to sign off. The idea of reaching out to the opposition, particularly Anwar's Parti Keadilan Rakyat, is likely to drive Mahathir into a fury and energize whatever followers the septuagenarian former leader still has in UMNO.

Anwar, in an interview, said he had sent word through intermediaries that the incendiary racist attacks by the UMNO-owned broadsheet Utusan Malaysia on the Chinese and Indian communities would have to stop, and that the racial temperature in the country would have to cool before any progress could be made.

"I said the fundamental issues must be addressed, ending the racial stuff, there has to be a clear understanding and commitment to reform and change," Anwar said. "I made it clear that discussions must deal with this first and that the racial rhetoric must not escalate. The UMNO president has always had a direct say in running Utusan."

He said so far no answer has been forthcoming.
Task force set up to probe FB posting insulting religion
Posted: 11 Aug 2013 04:38 PM PDT
(The Star) - Police have formed a special task force to investigate an online greeting which featured a picture of lemang, ketupat and a roasted pig head.
Johor police chief Senior Deputy Comm Datuk Mohd Mokhtar Mohd Shariff (pic) said the task force would be headed by Johor deputy CID Asst Comm Nor Azizan Anan.
"The incident is being investigated under Section 298 of the Penal Code for insulting a religion," he told reporters at the launch of the Coun­try Garden Danga Bay property deve­lopment here yesterday.
He said the police had also recor­ded a statement from the alleged victim Alan Tang.
The greeting was posted on the Faceboook page of Tang, who is the assistant to Stulang assemblyman Andrew Chen Kah Eng.
Tang lodged the first police report over the greeting on Aug 8. He claimed that his Facebook page had been hacked into and made it look like he had posted the greeting.
The other three police reports were lodged by representatives from the state Umno Youth division, the Johor Baru district youth council and Pasir Gudang MCA division at the Seri Alam district police station in Pasir Gudang yesterday.
Senior Deputy Comm Mohd Mokhtar said the police had also recorded a statement from Tang.
On YouTube, yet another religious row stirs
Posted: 11 Aug 2013 04:34 PM PDT
(MM) - Malaysians are again picking up their well-worn pitchforks after a video surfaced on YouTube yesterday allegedly showing a Muslim prayer room in Johor being used by Buddhist tourists for worship.
The 85-second-long video titled "Surau dijadikan tokong???" (A surau turned into a temple?) begins with an external shot of a small building and a close-up of what appears to be a sign in Arabic script over a doorway.

The video's maker then approaches the building to record what appears to be a prayer session by a dozen white-clad people led by a monk in red and saffron. At the front of the room, the video briefly displays a Buddhist poster below a plaque with Arabic script.

According to reports by several local dailies today, the surau (prayer room) is located within the grounds of Tanjung Sutera Resort, but the resort's manager has clarified that the tourists were allowed to use the Muslim prayer hall as the other locations were unavailable due to over-booking.

Still, the angry responses are pouring in.

Johor Islamic Religious Council (MAIJ) adviser Datuk Noh Gadut said the group of tourists should be banned from Malaysia, accusing them of violating the sanctity of a Muslim place of worship.

"We should be stricter by using existing laws including blacklisting that group from re-entering the country.

"That incident should not have happened. They have to understand Malaysia's laws because that action does not only mengguris perasaan (hurtful), but also insults Islam," he was quoted as saying by Berita Harian.

The Johor Religious Department will also probe the incident before action is taken, the Malay-language daily reported.

Perak Mufti Tan Sri Harussani Zakaria also weighed in, saying that the resort management was at fault for allowing the incident to happen.

But Tanjung Sutera Resort manager Syed Ahmed Alkaff explained that permission was given to the tourists as the resort had no knowledge that they would be using it for worship.

"We gave them permission to use the surau because the other halls were already full.

"They told us only for meditation, not worship," he was quoted as saying by Malay-language daily Kosmo.

Berita Harian also reported the resort manager as saying he did not expect the offer to lead to the controversy now.

"I do not think the action of giving permission to believers of other religions to use the surau is wrong. This is because they only wanted to use the surau for meditation.

"I have no intention of hurting anyone's feelings. My intention is to show that Islam is universal and tolerant," said the Singapore-born Muslim with permanent resident status in Malaysia.

Kota Tinggi district police chief Supt Mohd Nor Rasid confirmed that the police will investigate reports lodged over the matter.

The incident is the latest case of local Muslim outrage over what the group perceives to be insults to Islam.

Last month, bloggers Alvin Tan and Vivian Lee were charged with sedition, among others, after they posted a photograph of themselves eating "bak kut teh" (a pork broth), together with a Ramadan greeting on Facebook.

Days after that, a Muslim dog trainer, Maznah Mohd Yusof, was also arrested and probed under the Sedition Act over a video she made three years ago in which she is featured celebrating Aidilfitri with her three pet dogs. 
High time to bin the race card
Posted: 11 Aug 2013 04:18 PM PDT
If the government is sincere in wanting to pursue its national reconciliation agenda, it should strive to promote a true Malaysian identity.
Respect must be earned and not imposed especially on a weaker party. It must be on civil and socially accepted mutual grounds with ample negotiating boundaries.
FMT Editorial
In the past month, we have witnessed two hyper charged incidents that have touched every Malaysian one way or another. Both revolved around the issues of religion and race. The first incident that sparked an outrage among non-Muslim parents was when their children were made to have meals in shower rooms during breaks in school. Apparently the headmaster had instructed them to do so in respect to the fasting students. This was not a move expected from a school headmaster in the manner young minds are treated. It not only instills the thought of "separation on racial lines" but demeans and castigates those not fasting.
The second incident also occurred in a school. This time the principal in anger had asked the non-Malay students to either go back to India or China, igniting another round of anger, disgust and apprehension among parents and society. The principal was clearly unjustified in making such remark in public. As an entrusted individual, she should have been more sensitive and thoughtful before hurling such verbal abuse in the open. No amount of apology can repair the damage done, especially to her.
Respect must be earned and not imposed especially on a weaker party. It must be on civil and socially accepted mutual grounds with ample negotiating boundaries. It is unfortunate that after more than 50 years of independence, we as a society are growing apart rather than converging into a more homogeneous entity. We boast to the world of having highly diversified cultures, traditions and foods but sadly we have lost our sense of being truly tolerant to one another.
In the 70s to late 90s, the spirit of friendship and neighbourliness was based on sharing and respecting each other regardless of social, economic and religious leanings. It was the way of life. We played, studied, camped and visited each other with no worries and qualms of hurting with our actions. Chinese New Year, Hari Raya and Deepavali were celebrations for all. Truly Malaysian in every sense.
What has happened to us?
Islam is a beautiful religion and so is Christianity, Hinduism, Sikhism, Buddhism, Baha'ism and many other religions of the world. All encourage their followers to do good, be courteous, humble, honest, respectful, and above all not to hurt another even unintentionally. Unfortunately we have deviated far from these virtues. Every event is being skewed along the lines of race or religion.
Joseph Kurup: Minister of unity or disunity?
Posted: 11 Aug 2013 04:12 PM PDT
FMT LETTER: From Ravinder Singh, via ee-mail

Speaking at the 30th anniversary dinner of the Malaysian Consultative Council of Buddhism, Christianity, Hinduism, Sikhism and Taoism (MCCBCHST) Joseph Kurup, Minister in the Prime Minister's Department in charge of National Unity, said: "We can't allow issues that might just be a storm in a teacup to take a turn for the worse, abruptly turning it into a perfect storm, destroying what took us years and years to build." – Beautiful words!
He also said the government has "taken a zero-tolerance approach and sometimes contentious position on religious bigotry". Empty words, at least until now!

Racial and religious provocations by the likes of Ibrahim Ali (burn the Bibles), Ridhuan Tee (about Thaipusam); Zulkifli Nordin (Hindu deities), and some other Muslims have been going on not for days, but for years. Yet not a murmur from the Minister of National Unity until the chest beating at the dinner.

The Minister should state openly his stand on racial/religious bigotry – what does it mean to him? Does it mean, to him, that racial bigotry by Muslims is not only acceptable, but also encouragble by not stamping it down?

Does racial/religious bigotry only mean the non-Muslims hurting the feelings (sensitivities) of the Muslims? Does racial/religious bigotry mean intolerance by the non-Muslims of the insults thrown at them by the Muslims in the likes of those mentioned above?

Joseph Kurup owes the non-Muslims a proper explanation, case-by-case, why all the incidents of insulting their sensitivities on religious matters by the Muslims such as the above have been coolly tolerated by the government. Why are they being protected from the same laws that would be applied swiftly if any non-Muslims were to do or say similar things concerning Muslims and Islam?

The "zero-tolerance approach" is an eyewash until we see the likes of those mentioned above being charged under Chapter 15 of the Penal Code, i.e offences relating to religion.

Instead, what we have seen is the government bending backwards all the way to defend these racial/religious bigots. Yes, Ibrahim Ali was saying the right thing for holy books with mistakes should be destroyed by burning and not by dumping in the dustbin. The Bibles had a mistake as they used the word "Allah". So said Dr Mahathir, and echoed by the rest of the government. By defending them, the government is encouraging not only them but other like minded bigots, to boldly take up the mantle of driving wedges between the Muslims and non-Muslims.

Joseph Kurup, tell us if you dare go against Dr Mahathir, the de facto Prime Minister, by charging Ibrahim Ali or any of the other Muslims who have brazenly insulted the non-Muslims, not once, but over and over again?

To my Muslim friends and all good Muslims, I do not mean to offend any of you. I am aware that Your Holy Book does not license the Muslims to berate the non-Muslims and make fun or insult their beliefs and cultures. It is those who do not follow the teachings of the Quran that cause problems.

Joseph Kurup, your name suggests you are a Christian. If so, please be reminded one of the Ten Commandments is "Thou shalt not bear false witness against thy neighbour". As a layman, what I understand from this is – be honest. Are we, the non-Muslims, not your neighbours? Don't say you don't tolerate racial/religious bigotry and the same time don't take action against the likes of Ibrahm Ali.

So Joseph Kurup should be honest with his "zero tolerance approach" and throw the Penal Code at Ibrahim Ali and the like, without proffering any "explanation" as to why their actions do not come within the ambit of the law.

Or, tell us honestly, if positions were reversed and Ibrahim Ali and his ilk were non-Muslims, and they did what they did to Muslims, would you not be quick to throw the same book at them? What is needed is the removal of bigotry in the enforcement of laws. We not only have racial and religious bigotry, but also law-enforcement bigotry.
The other side of PM Najib Tun Razak
Posted: 11 Aug 2013 04:09 PM PDT
FMT LETTER: From Huan Cheng Guan, via e-mail

Which Prime Minister in the country has never uttered negative words against political parties or people? It is Najib who took over as PM at a political crossroad during GE12. Even though the Opposition has been going for the jugular to weaken his repute and prestige,  Najib has delivered his promises in his commitment to serve the country and people.
He approved the Economic Transformation Programme, the Government Transformation Programme, and the 1Malaysia concept not because of glitz or glamour but for long-term progress beyond his reign of power.

His effort to repeal ISA and the Printing Presses and Publications Act shows his sincere belief in democracy. He could have clamped down on NGOs and activists in the post-Bersih period but chose otherwise to uphold freedom of expression and assembly.

Today, his timely reminder that Umno members should avoid money politics to protect the party's image during its internal elections this October is evidence of his stand against corruption.

Poisoned by opposition propaganda, many have a negative perspective of our PM despite the fact that the government has distributed the Bantuan Rakayt 1Malaysia twice since its inception and the third disbursement coming later this year (to be gradually increased to RM1,200). More than 5.2 million households or 79.5% of all households in the country have benefited from this scheme. Opposingly, the Opposition has only given broken promises to the rakyat and brickbats for the government.

The latest Global Economic Conditions Survey (GECS) revealed Malaysia is enjoying improved economic conditions and rising business confidence following the surge in infrastructure spending. In fact, the recent general election has lifted Malaysia's economy in the second quarter.

The report also stated that Malaysia is experiencing an improvement investment opportunities while cash flow pressures eased. Apart from that, 37% of businesses (up from 32%) reported confidence gains spelling a more robust recovery for the country.

While critics lambast the Prime Minister's spending for the rakyat no thanks to Opposition propaganda, Malaysia ACCA head Jennifer Lopez said much of the capacity growth was fueled by government spending.

Globally, many are ignorant that the GECS found both business confidence and optimism on the economy continuing to rise in the second quarter of this year, with nearly half of the GECs (47%) feeling that the state of the economy was improving.

This is the highest level of optimism on the national and global economies in two years and the strongest year-on-year improvement in three years. Do you hear PM Najib boasting about this? His elegant silence stems from the fact that all he did has been for the rakyat.

When things go wrong, all fingers point to our PM but when the country enjoys growth, many choose to look the other way. It is time we see the other side of Najib – the real Prime Minister and not the image painted by his enemies – and give him credit and respect.
Lying to God for political survival
Posted: 11 Aug 2013 03:46 PM PDT
Why do Umno leaders consistently bring up the issue of threats to Islam close to Umno party elections?
CT Ali, FMT
There is greed in every one of us. Arrogance too surfaces every now and then as we go about the business of life. At times we speak half-truths at times we tell lies.
We try to live life as true to our convictions as we can but few can do so without the occasional lapse in ethics and morality. Whatever the truth, each and every one of us has erred – some more than others.
It would also be true to say that the majority of us are mindful of our collective responsibility to others and we try to live our life accordingly. Rare are those amongst us that will breach that responsibility on pain of censure from our peers – which for some, is a fate worse than death.
But the curse of leadership failure amongst our politicians now brings our nation perilously close to a place we do not wish to go – that of racial and religious strife.
The truth is that our political leaders, by the time they leave office and after their leadership has been weighed in the balance, have been found wanting! Embezzlement of public funds is endemic. The curse of corruption is systematic in a government that has lost its way.
Economic mismanagement is a common curse of selfish leadership and bad governance is now a fact of life. All this now burdens not only our people but also our country and our future.
The stench that reeks within the corridors of power is overpowering. The inability for these leaders to understand their own failings compounds the stench.
In their pursuit of personal wealth and political power, Umno leaders have exhausted almost all avenues available to them. They have served the rakyat, our nation and our king but not too well.
They have created vast economic opportunities, built massive infrastructures that our nation need and embarked on a multitude of economic initiatives that should serve the needs of our nation well into the next century, but corruption and inept management of our nation's resources and wealth have resulted in the proliferation of this odious practice of rent seeking and national debts of astronomical proportions that will burden our nation to the tune of RM 1 trillion by 2020.
The education of our youth has been a priority – not in making ready our youth for multi-racial future but in serving the needs of a government that wants to divide and rule this multi racial nation of ours through race and religion.
What else ails our nation today?
After the 13th general election, the Umno-led Barisan Nasional government rules without a popular mandate from the people.
Our Deputy Prime Minister Muhyiddin Yassin feels it is his duty to warn the non-Muslims to not insult Islam – this in a country where even Muslims fear to make any comment for or against Islam on pain of being labeled a heretic or be 'fatwaed" against.
A video made three years ago by a Muslim preparing kuih raya for her dogs becomes a video that insults Islam.
Headmasters and headmistresses are also now co-opted into the frontline of these racial and religious skirmishes.
The police are powerless to prevent the killing of our people on our streets and of suspects in their custody by their own men.
And 'kongsi' is no longer a noun but a verb – and a very critical verb if our Tun Mahathir is to be believed. A verb that he tells us the Chinese have failed to do to his satisfaction.
In the world that we live in today people sometimes lie to avoid shame, safeguard honor and status. At times to exploit opportunities for personal and financial gains.
The Chinese hawker that short-weight you at the markets and the mamak that serves you three quarters of an egg when charging you for one for your rojak are merely being human – taking what he can for himself.
Even subjectively claiming that Islam is a 'religion of peace' is permitted if it protects and furthers the interests of Islam as long as one remains faithful to Islam in one's heart.
But what is behind Umno leaders preoccupation of playing the role of being the protectors of Islam when no threat to Islam and Muslims exists in Malaysia?
Why do Umno leaders consistently bring up the issue of threats to Islam close to Umno party elections?
Is it to confuse, confound and to divide the enemies of Islam, or is it to rev up their credentials as defenders of the faith in the eyes of Umno members for their own political gains?
Opposition ran smart campaign against BN
Posted: 11 Aug 2013 03:06 PM PDT
Umno man lauds Pakatan Rakyat's campaign against Umno-BN as "very smart" and "very successful".
(FMT) - "With a very heavy heart, I have to say that it (Pakatan's campaign) has been successful. It is a very smart campaign. Now BN looks like a Malay party," Saifuddin told FMT in an exclusive interview.
PETALING JAYA: Umno's Saifuddin Abdullah has praised Pakatan Rakyat's campaign against ruling coalition Barisan Nasional as "very smart" and "very successful".
The former Temerloh MP credited the opposition's success on their campaign against Umno, "and not the Malays", which gave rise to the movement Asalkan Bukan Umno (ABU) – Anything But Umno.
"With a very heavy heart, I have to say that it (Pakatan's campaign) has been successful. It is a very smart campaign. Now BN looks like a Malay party," Saifuddin told FMT in an exclusive interview.
"So I feel there must be changes starting from structural changes in BN," he added.
Saifuddin said there was a need for a new platform in BN for direct membership, where "youths regardless of race can be a member of BN without having to join a component party".
"At the same time, we must assist MCA and the others. Umno as leader of the coalition has to be moderate now and help component parties that are in trouble," he said.
However, he stressed that Umno would not interfere in party matters but "whatever assistance must be given" when required.
"Umno must take that leadership. If MCA is weak, ABU will be more potent on the next round," he said.
"Strong Umno is good but weak component parties will make BN look bad and we cannot go to the next election like that," he added.
What army of criminals on our streets? DAP pours scorn on Home Minister's logic
Posted: 11 Aug 2013 03:01 PM PDT
(TMI) - "Then these right-hand men have their own set of right-hand men. Multiply this with the earlier 26,000 and you have 260,000," the Umno vice-president told the paper while reiterating that the repeal of the EO had brought about this situation.
Going by the Home Minister's logic, the Malaysian armed forces and the UN peacekeeping force should be called in to help police combat 260,000 criminals who are roaming Malaysian streets, said the DAP.
Secretary-general Lim Guan Eng (pic) said this is what the government must do if Datuk Seri Ahmad Zahid Hamidi is to be believed.
"If this outrageous number is true, then resuscitating EO-like laws will not help the police, but the army and United Nations peacekeeping force would be necessary to be brought in," Lim said a statement today.
"This shocking 260,000 army of criminals is more than the combined numbers of police personnel of 112, 583 and the Malaysian armed forces of 124,000."
On Sunday, Ahmad Zahid told Umno-owned Mingguan Malaysia that the police had reached this statistic based on 2,600 detainees released from Simpang Renggam detention centre.
"Each has his hardcore followers. If each of the released detainees has 10 right-hand men, this translated to 26,000 who are with them.
"Then these right-hand men have their own set of right-hand men. Multiply this with the earlier 26,000 and you have 260,000," the Umno vice-president told the paper while reiterating that the repeal of the EO had brought about this situation.
Posted: 11 Aug 2013 12:37 PM PDT
I feel insulted because the statement shows a deep insensitivity, as if a program about the life of the head of my Church is something on par with pornography or material of dubious ethical and moral value.
Patricia Anne Martinez, TMI
As an ordinary Malaysian Christian, specifically a Catholic, I want to place on record that I am deeply INSULTED.
I just watched the program "Pope from the end of the world" on the Astro History channel. It is a biography (and nothing else) of Pope Francis. Perhaps it was featured before, but it was the first time I watched it.
Before the program was aired, the following appeared on the screen: "THIS PROGRAM PORTRAYS DEPICTION OF RELIGIOUS FIGURES AND REPRESENTS VIEWS OTHER THAN MUSLIMS'. VIEWER DISCRETION IS ADVISED."
The disclaimer - if it can be called that, was shown FOUR TIMES throughout the program.
I feel insulted because the statement shows a deep insensitivity, as if a program about the life of the head of my Church is something on par with pornography or material of dubious ethical and moral value.
There is no such cautionary statement before the repeated showing of programs such as the Victoria's Secret Lingerie collection, or for that matter Miss Universe or Miss World (and there is a fatwa against beauty pageants in Malaysia!), to advise Muslims that 'views' other than their own are being aired, and 'discretion' is advised.
The statement advising Muslims about exposing them to views other than their own and that viewer discretion is advised, intimates therefore that aspects of the program COULD BE OFFENSIVE to Muslims' point of view.
Since when is Pope Francis, who on August 7 2013, offered Eid greetings to Muslims, offensive to Muslims?
I would like to point out that it was the first time a Pope himself was greeting Muslims for Eid or Hari Raya Aidul Fitr, because in the past, the greetings from the Vatican came from the Pontifical Institute for Interreligious Dialogue.
Pope Francis' statement included:  "I wish to emphasise the importance of dialogue and cooperation"; "I reiterate my hope that Christians and Muslims may be true promoters of mutual respect and friendship in particular through education" and concluded with, "I send you prayerful good wishes that your lives may glorify the Almighty and give joy to those around you. Happy feast to all."
Just how threatening or offensive to Muslims' views could a  BIOGRAPHY of such a Pope's short tenure be?
Apart from what I have quoted above, early into his papacy before Easter this year, Pope Francis performed the ritual of washing the feet of human beings – a replication of what Jesus Christ did, and which is a symbolic ritual of profound humility by the clerics in the Catholic Church. This Pope chose to go and wash and kiss the feet of men and women in a Juvenile Detention Centre, INCLUDING WASHING AND KISSING THE FEET OF AT LEAST ONE MUSLIM.
Frankly, there is much an ordinary person – Muslim or otherwise -  could learn from such a human being, just as I am willing to learn from the Dalai Lama, the Prophet Muhammad (PBUH), and others.
Pope Francis espouses and LIVES humility. The program showed many examples of it from the early hours of his papacy when he appeared without the expensive accoutrements of his office.  The program showed Pope Francis BEFORE the traditional blessing of the ecstatic crowd below his balcony, bowing before them and ASKING FIRST FOR THEIR BLESSING INSTEAD. This was one of his first actions as the new head of millions of Catholics around the world.
Kredit: www.malaysia-today.net