Klik GAMBAR Dibawah Untuk Lebih Info
Sumber Asal Berita :-
---
Govt's appeal in Kugan's case politically motivated and unjust
Posted: 12 Jul 2013 12:48 PM PDT
N. Surendran
The government has today filed a notice of appeal against the June 26 decision of KL High Court Judge V T Singham who had found that the IGP and police force had covered up Kugan's death in police custody. The notice of appeal is dated 12 Julai 2013 and was served upon me this afternoon as the solicitor for Kugan's family.
The appeal is unnecessary, unjust and causes further suffering to the family of Kugan, and particularly his grieving mother Madam Indra Nallathamby. Home Minister Zahid Hamidi has now ruthlessly carried out the threat he made on June 30 2013 that he would appeal the Kugan decision. It is obvious that Zahid and the government are indifferent to the terrible suffering of Kugan's family and to the fate of countless Malaysians who are victims of torture and abuse in police custody.
In Kugan's case, there is clear evidence of torture and murder by police. In the post-mortem report UMMC pathologist Dr Prashant Samberkar had recorded 52 horrendous injury marks on Kugan's body and concluded that Kugan had been beaten to death. Despite this, Zahid, the A-G and the government have obstinately proceeeded with the appeal.  It is clear that the appeal has political motives and is related to the ongoing public clamour for the IPCMC to be set up. Justice Singham himself had called for the setting-up of the IPCMC in his landmark judgement.
We call upon Prime Minister Najib and the government to accept full responsibility for Kugan's torture-murder and to withdraw this appeal. More than 4 years after the killing of Kugan, the suffering family is entitled to some measure of closure.  
What exactly is RPK driving at?
Posted: 12 Jul 2013 12:43 PM PDT
Whenever Mosque Al-Aqsa is mentioned in the media, it shows the picture of Mosque (Dome of the Rock). 
Zionist Conspiracy
In the first place the 3rd holiest place is not the Dome of the Rock but it is the Masjid Al Aqsa which is close to the Rock.  It is the Jewish propaganda to portray the Dome of the Rock to misguide all, especially the Muslims, into believing it to be the Masjid Al Aqsa to divert their attention from it as that is the real Holy place that is being claimed by all the 3 religious groups.
This is quite evident from the article itself "The Dome of the Rock was built in 691 by the Umayyad Caliph, Abd al-Malik". If it was built by Caliph Abd al-Malik then how could it be a holy place that is mentioned in the Quran?
So the incriptions on the Dome of the Rock has no significance to the issue. Nor does it have any effect on the Judeo-Christian and Islam conflict in thought. The simple truth is that the Jews and Christians, despite knowing fully well what their respective Scriptures have mentioned, refuse to accept Prophet Mohammed (SAL) as a prophet and Islam as the religion of Allah. This has been ascertained by Allah in the Quran. So it is not surprising that a conflict exists. In any case, I believe, the conflict has to be there in order for Muslims to be aware of their religion and do their duty and not go astray.
Rather than worrying about the Judeo Christian enmity towards Muslims, it would be more pertinent for Muslims to worry about the conflicts brewing among themselves and the enmity they are creating for themselves. Once that is resolved then the other external conflicts will be resolved too in no time. Insha Allah. 
Muhyiddin warns of Terengganu turmoil if BN loses Kuala Besut
Posted: 12 Jul 2013 12:36 PM PDT
(The Malay Mail) - A loss will give a great slap to the government's legitimacy
Terengganu will face massive upheaval to the state Constitution, the position of its Sultan and the existing administration should Kuala Besut fall to PAS in the July 24 by-election, Tan Sri Muhyiddin Yassin (picture) warned voters yesterday.
Speaking after nominations in Kuala Besut, the Barisan Nasional (BN) election director said rivals PAS and Pakatan Rakyat (PR) were aiming to win Kuala Besut with the ulterior motive of destabilising the state government.
BN won Terengganu with a two-seat majority in Election 2013, but the death of Dr A. Rahman Mokhtar, which triggered the by-election, meant it is hanging on by just one seat. A PAS victory would see 16 seats on opposite sides of the aisle, leading to possibly the first hung assembly in local history.
"If you do not vote BN, there will be other consequences from the aspect of the state Constitution, the position of the Ruler, and the necessity to hold a new state election," Muhyiddin was quoted as saying by Berita Harian on its website yesterday.
"I know many want to avoid a 16-16 situation. The answer is simple: Just vote BN."
Kuala Besut is considered an Umno stronghold, as it has won there by over 2,000 votes in the previous two elections. But the party and the larger BN coalition are sparing no effort to ensure that it does not fall into PR's hands.
Beyond the crisis that a hung assembly will trigger, a defeat there could have disastrous fallout at the Umno election later in the year, given the BN coalition's new low of Election 2013.
"A loss will give a great slap to the government's legitimacy ... Anything can happen, so the impact will be huge because we have just finished the 13th general election," Roslan Mohamad, the secretary-general of Kelantan rights NGO Pakatan Darul Naim, told The Malay Mail Online last week.
Talk of rival factions within the state Umno has heightened fears of internal sabotage, forcing BN to mobilise its big guns for a relatively minor by-election.
Read more at: http://www.themalaymailonline.com/malaysia/article/muhyiddin-warns-of-terengganu-turmoil-if-bn-loses-kuala-besut 
The Economist: Arab spring no failure, Malaysia shows Islamists can have democratic leanings
Posted: 12 Jul 2013 12:34 PM PDT
Arab Spring gone wrong? 
(The Malay Mail) - Malaysia has been singled out by the Economist as a country which shows Islamic parties can accept democracy and reforms, with the influential international news magazine suggesting that the stuttering Arab Spring has not failed despite recent setbacks.
"Many secular Arabs and their friends in the West now argue that because Islamists tend to regard their rule as God-given, they will never accept that a proper democracy must include checks, including independent courts, a free press, devolved powers and a pluralistic constitution to protect minorities.
"This too, though, is wrong. Outside the Arab world, Islamists — in Malaysia and Indonesia, say — have shown that they can learn the habit of democracy," the magazine said in an editorial this week entitled 'The Arab spring. Has it failed?'"
The recent military overthrow of the democratically elected Egyptian President Mohamed Mursi of the Muslim Brotherhood has also been used in Malaysia by right-wing elements in Barisan Nasional (BN) to suggest the failure of the Arab Spring.
During Election 2013 many BN leaders as well as security forces in Malaysia had worried about the effect the Arab Spring would have on Malaysia.
A grassroots movement to plant paper flowers at traffic roundabouts and in neighbourhoods during the election campaign had also been viewed suspiciously by the police and other authorities because it was labelled as the "Malaysian spring."
Pakatan Rakyat (PR) party PAS had also been the target of an MCA campaign during the elections in an attempt to label the Islamist party as extremists ready to take away the rights of non-Muslims, in particular that of the Chinese.
But the advertising campaign failed miserably with voters from the Chinese community voting overwhelmingly to support PR parties.
PAS has frequently been hampered by its image of being a party dominated by ultra conservatives with views on sex and women that are seen as outdated by many Malaysians.
But the party has moved in recent years to the political centre, and has managed to attract many moderates as well as professionals and corporate figure into its fold.
With its strong ties with the DAP in particular in the PR coalition it has also grown to be accepted by many non-Muslim voters who had previously turned away from the Islamist party.
Arguing that democratic reforms are often a lengthy — and even violent — process, the Economist said in its editorial "those who say that the Arab spring has failed ignore the long winter before, and its impact on people's lives.
Read more at: http://www.themalaymailonline.com/malaysia/article/the-economist-arab-spring-no-failure-malaysia-shows-islamists-can-have-demo 
MCA and MIC point to lower number of Chinese and Indians
Posted: 12 Jul 2013 12:32 PM PDT
(The Star) - Students with CGPA of 4.0 should not be given courses which they had not opted for, as they are a talented group. If these students with excellent results fail to get the course that they want, they might just take up offers from other countries like Singapore.
MCA has questioned the record low intake of Chinese students for public universities this year, saying there were top scorers who were also not offered courses they had chosen.
Its education bureau chairman Datuk Dr Wee Ka Siong revealed that Chinese students formed a mere 19% of the 41,573 successful applicants for the new academic term.
He said it was unacceptable and unfair for some students with cumulative grade point averages (CGPA) of 4.0 to not get places in the universities.
"The hardest hit are students with CGPA of 4.0 who applied for medicine, pharmacy and dentistry and were yet not offered any place or given any course in the eight options applied for," Dr Wee told a press conference at Wisma MCA here yesterday.
During the IPTA application process, students are required to fill in eight options and must also state whether they would accept offers outside their eight choices.
Dr Wee, who is also MCA Youth chief, pointed out that the enrolment of Chinese students in institutions of higher learning (IPTAs) since the implementation of the meritocracy policy in 2002 had always been above 25%.
"Even within the 19%, there are many students who are unhappy with their offers,'' he added.
Of the seven complaints that MCA had received since Thursday, Dr Wee said all seven students had a CGPA of 4.0 and had not been given a course of study within their chosen options.
"Students with CGPA of 4.0 should not be given courses which they had not opted for, as they are a talented group. If these students with excellent results fail to get the course that they want, they might just take up offers from other countries like Singapore," said Dr Wee.
He urged the Government to make the selection process for the IPTA student intake transparent and to ensure that students with a CGPA of 4.0 be offered courses of their choice.
MIC Youth Higher Education Bureau chief Mahaganapathy Dass said the party had complaints from 10 students, who had scored a CGPA of 4.0, who had not been offered any course of study.
"This is demotivating to students, especially those who see education as a way out of their family's socio-economic situation,'' he told reporters at the MIC headquarters here.
He also questioned the decrease in the number of students offered places at Universiti Malaya's Indian Studies Department to just seven this year, from 13 in 2012.
On Thursday, Higher Education Department director-general Prof Datuk Dr Morshidi Sirat said that 41,573 students were offered places in the 20 public universities for the 2013/14 academic term. 
Private varsity operators voice concern over Titas
Posted: 12 Jul 2013 12:30 PM PDT
(The Star) - Operators of private universities have voiced their concern over the move to make the Islamic and Asian Civilisation Studies (Titas) subject compulsory in private institutions of higher learning (IPTS).
National Association of Private Educational Institutions president Assoc Prof Elajsolan Mohan said the subject should instead be made an elective for students, who are interested in learning more about the topic.
"In tertiary education, students should be more focused on subjects that are related to their future careers. Being forced to study another subject will add more stress on them," said Elajsolan when contacted yesterday.
He added that students would also be burdened by the extra cost incurred for Titas since fees at IPTS were paid according to the number of credit hours they were taking.
Deputy Prime Minister Tan Sri Muhyiddin Yassin announced in Parliament on Thursday that Titas would be made compulsory for new intake of local students in IPTS from Sept 1.
Muhyiddin had said the move was part of an effort to standardise requirements between private and public universities, by taking into account the study needs of local and international students.
Titas was one of the three subjects that has to be taken by every local private university student. The others are Ethnic Relations and Malaysian Studies.
Education Ministry Higher Education Department director-general Prof Dr Morshidi Sirat said Titas was not about studying religion.
"It is about comparative Asian civilisations as well as the good and common values," said Prof Morshidi.
Sunway Education Group senior executive director Elizabeth Lee said the subject's curriculum had to be reviewed to ensure more objectivity if it were to be embraced by all Malaysians.
"I am concerned about the three compulsory subjects for the Malaysian students, which will be taught in Bahasa Malaysia.
"Our IPTS take in many Malaysian students who have not attended schools in the national system," said Lee.
Taylor's University vice-chancellor Professor Datuk Dr Hassan Said welcomed the move to introduce Titas in IPTS, saying it would lead to the harmonisation of higher education in the country.
Meanwhile, MCA education bureau chairman Datuk Dr Wee Ka Siong said making Titas compulsory in IPTS would not directly improve the quality of higher education in the country.
"If the subject is English, then we can see how students can benefit from it.
"But if students are interested in Titas, by all means, they should be allowed to take it up. However, making it compulsory will not encourage them to be inclined towards the subject," said Dr Wee. 
Twitter Yields to Pressure in Hate Case in France
Posted: 12 Jul 2013 12:22 PM PDT
(New York Times) - The French Union of Jewish Students and SOS Racisme had sought the identities of the users, who had used pseudonyms, and in January a French court ordered Twitter to hand over the data. Twitter appealed, and lost, in June. 
Twitter, which has assiduously branded itself as an advocate of free speech, has agreed to identify several users who posted anti-Semitic comments on its service, and whom French authorities are seeking to prosecute for violating that country's anti-hate laws.
The case shows how challenging it is for Silicon Valley companies to champion the free speech rights of users while complying with the laws of countries where they do business. It also highlights Silicon Valley's Europe problem: the Continent represents a large and lucrative market, but its lawmakers, regulators and courts have hounded the industry in recent months on issues as varied as privacy and antitrust law.
For months, Twitter had fought a court order obtained by a private French citizens' group demanding that the company turn over the user information. But on Friday, the company said it had handed over the information to a prosecutor in Paris, in response to a law enforcement request. By turning over the information, Twitter said, it had ended a lawsuit related to the court order brought by the private group.
In a statement Friday, the company said: "in response to a valid legal request, Twitter has provided the prosecutor of Paris, Presse et Libertés Publiques section of the Paris Tribunal de Grande Instance, with data that may enable the identification of certain users that the Vice-Prosecutor believes have violated French law."
The statement took pains to note that Twitter was providing the information to law enforcement through a legal request, not to the private group.
The case has important implications for Twitter users worldwide, as governments increasingly try to extract user information from the service. Legal experts say Twitter could have insisted that the French authorities seek to extract the user data by filing a claim in the United States, where the company is based.
Read more at: http://www.nytimes.com/2013/07/13/technology/twitter-yields-to-pressure-in-hate-case-in-france.html 
Tanjung Bungah rep appoints transgender as political secretary
Posted: 11 Jul 2013 07:56 PM PDT
(The Star) - The newly-appointed political secretary of Tanjung Bungah assemblyman Teh Yee Cheu hopes that her appointment to such a post would pave the way of equal treatment for the transgender community.
Hezreen Shaik Daud, 33, a transgender, admitted feeling nervous but excited at the same time when she officially begins work on Monday.
"I am grateful to YB for offering this job to me and I am looking forward to the challenge.
"It is difficult for us to be hired by companies so I hope that with my appointment, we can show that we are as capable in our work as others," she said when contacted on Friday.
Hezreen, formerly employed as a project officer with the Penang Family Health Development Association, said certain companies had refused to employ her as they were worried that she would not be able to fit in to the working place, which has male employees.
"I am asking to just please give me a chance and I will try my best at work.
"We need the acceptance as we are also human. We want to be treated the same as the others.
"YB had offered a job to me early this year and again last month. He explained to me the duties and job scope as a political secretary so I would understand better," said Hezreen who speaks Bahasa Malaysia, English, Mandarin and Hokkien.
The former Heng Ee High School student said she had worked with Teh on several projects since she was in the association.
She holds a diploma in Information Technology from Informatics College.
Though she also hopes to open her own fashion boutique selling bags and shoes of her designs, Hezreen said she would continue working for Teh as long as she can.
She was appointed by Teh to be his political secreatary and also to oversee the transgender community welfare.
In the recent Penang State Assembly, Teh had said (transgender) community were a discriminated lot and requested for a special committee be set up to look into their issues and problems.
Teh could not be reached for comments at press time.
State Youth and Sports, Women, Family and Community Development Committee chairman Chong Eng could not be reached too.
MCA wants action taken against 'incredibly insensitive' sex blogger duo
Posted: 11 Jul 2013 07:27 PM PDT
(The Star) - The Negri Sembilan MCA have filed a police report on sex bloggers Alvin Tan and Vivian Lee after the duo allegedly posted a Selamat Berbuka Puasa greeting with a picture of themselves eating bak kut teh on Facebook.
State MCA chairman Datuk Dr Yeow Chai Tiam said the duo were incredibly insensitive to the feelings of Muslims and what they did could create unnecessary problems.
"What they did was totally uncalled for and not amusing.
"This is a multi-racial country and we must respect the religious beliefs as well as traditions and cultures of all Malaysians," he told reporters after lodging a report here.
Dr Yeow said necessary action should be taken against the pair to serve as a lesson to others.
"They are university grads and they should know that an act is totally unacceptable.
"They should be able to tell what is a joke and what isn't," he said.
NGO Islam-Melayu desak usir Duta Vatican
Posted: 11 Jul 2013 07:19 PM PDT
Tindakan ini perlu diambil kerana beliau mencampuri urusan hal ehwal Islam dan pentadbiran 
Tindakan ini perlu diambil kerana beliau mencampuri urusan hal ehwal Islam dan pentadbiran - See more at: http://www.freemalaysiatoday.com/category/nation/2013/07/12/ngo-islam-melayu-desak-usir-duta-vatican/#sthash.EIwX2Sdp.dpuf
(FMT) - Gabungan NGO Islam-Melayu mendesak kerajaan mengusir Duta Vatican City ke Malaysia, Archbishop Joseph Marino kerana menyokong penggunaan kalimah Allah bagi penganut Kristian di negara ini.
Ketua Sekretariat Publisiti, NGO Melayu-Islam, Dzulkarnain Taib berkata, tindakan ini perlu diambil kerana beliau mencampuri urusan hal ehwal Islam dan pentadbiran negara.

"Tindakan biadap dan kurang ajar Duta tersebut secara jelas membuktikan kehadiran beliau di negara ini bukanlah dengan niat yang baik tetapi tersirat agenda yang lebih licik," katanya dalam satu kenyataan media hari ini.

Menurut Dzulkarnain, seharusnya Duta yang dilantik membantu menjalinkan hubungan yang baik di antara negara tetapi perbuatan Marino sudah tentu melampaui batas bidang tugasnya sebagai Duta dan berniat jahat.

"Kami bimbang jika perbuatan di luar batasan diplomatik ini tidak ditangani dengan segera dan tegas oleh Kementerian Luar maka ini akan menjurus kepada campur tangan yang lebih serius termasuk mendokong gerakan Kristianisasi yang disasarkan kepada umat Islam di negara ini.

"Marino sudah melangkaui bidang tugasnya sebagai seorang diplomat yang mewakili Paus Francis dengan mengeluarkan kenyataan yang berbaur hasutan serta memihak kepada penganut Kristian di negara ini dengan menekan umat Islam," ujarnya.
Booklet on DAP polls irregularities surfaces
Posted: 11 Jul 2013 05:07 PM PDT
A booklet has surfaced in Penang on the DAP polls irregularities and how the father-and-son team of DAP secretary-genaral Lim Guan Eng and party adviser Lim Kit Siang are using under-hand tactics to hold on to power.
Athi Shankar, FMT
A 16-page booklet on the alleged irregularities and internal politics in the DAP polls, held last December, is being widely distributed here.
The booklet, entitled The Equity Report (CEC Election Fraud), is writen by one, Father Augustus Chen, and printed in Malay, English, Tamil and Mandarin.

It reveals the irregularities in the party elctions and the subsequent investigation by the Registrar of Societies (ROS).

Penang Chief Minister and DAP secretary-general Lim Guan Eng and his father, the party adviser Lim Kit Siang, have come under fire in the booklet.

The writer accused the two Lims of manipulating the vote tabulation during the 2012 party polls on Dec 15 to get their cronies elected to the central executive committee (CEC).

He also alleged that Petaling Jaya Utara MP Tony Pua Kiam Wee and Seremban MP Anthony Loke Siew Fook were tasked to carry out the dirty job.

When the election results was announced at 8.30pm, some three and half hours behind schedule, Vincent Wu Him Ven received 1,202 votes to finish in joint fifth-sixth position with Anthony Loke for the 20-elected CEC positions.

Now Bukit Bendera MP Zairil Abdullah finished in 39th position with only 305 votes.

But following a revised result a month later, Zairil suddenly received 803 votes to leap to 20th position, while Wu was relegated to 26th place with a mere 669 votes.

DAP claimed a technical glitch in the Excel spreadsheet which caused the tabulation mistake.

The author dismissed the technical glitch and blamed it on vote-counting manipulation to strengthen and safeguard the Lims' political interests.

He claimed that Kit Siang had manipulated previous DAP elections to maintain power and control over the party.

The author said nearly 1,300 delegates did not receive notices of meeting while another 547 illegal ones, mainly from Penang, voted in the elections.

Even those who were issued the notices are said to have received the letters less than 10 days before the congress.

According to the author, the Lims had planned to rig the elections to prevent the rise of prominent party leaders, known as the "five tigers."

The five are Penang DAP chief Chow Kon Yeow, Perak cousins Ngeh Koo Ham and Ngah Kor Ming, Johor leader Dr Boo Cheng Hau and Selangor stalwart Teng Chang Khim.

The author claimed that Kit Siang,72, sensing that this could be his last term as MP, planned to ensure a safe passage for his son to helm the party in a strong position.
'Bumi only 'dropped from matriculation form
Posted: 11 Jul 2013 05:00 PM PDT
The Education Minister after criticism from the public and education groups has altered its online application form.
B Nantha Kumar, FMT
The  Education Ministry has dropped the "Bumiputera Only" sentence on the online matriculation application form.
This came after heavy criticism from public and Indian education groups.
Yesterday, FMT reported that Education ministry's  online application has blatantly stated only Bumiputera students can apply for matriculation places for next year students enrollment.

The ministry was insisting in the Applicant's Qualification (Kelayakan Pemohon) that the applicants must have Bumiputera status (Pemohon mestilah pelajar bumiputera warganegara Malaysia) to apply for the seat .

A check by FMT today showed that the ministry had taken down the word bumiputera in the Applicant's Qualification and now it states that all Malaysian students are eligible to apply for the matriculation seats for next year's enrollment.

However, the ministry still maintaining that matriculation is a programme for SPM Bumiputera students (Program Matrikulasi Kementerian Pendidikan Malaysia merupakan program persediaan bagi pelajar bumiputera lulusan Sijil Pelajaran Malaysia).

The applicants also have to fulfill another requirement which they must identify themselves as Bumiputera or non-Bumiputera.

A Thiruvengadam (picture), the president of Malaysian Indian Education Awareness and Welfare Association (PKP-KIM) thanked the public for applying  pressure on the  Education ministry .

He added that he believed the "Bumiputera" tiff is a drama by Education ministry to divert the public attention from the real issue where the matriculation department still   mum on the status of 333 qualified students name list sent by his NGO.

"The department promised to update us on the matter on Monday. But, today is Friday and there response on the status of the students," he said.
Battle for Malay hearts and minds
Posted: 11 Jul 2013 04:09 PM PDT
Infighting among local Umno warlords (remember the fate of former Malacca chief minister Datuk Seri Mohd Ali Rustam who may have lost all with a totally unexpected defeat) and a general rethinking of political positions among locals who are known to be indeterminate in their political allegiance makes the Kuala Besut by-election a chancy outing for the BN.
Balan Moses, The Sun
THE battle for political supremacy among the Malays is being taken into what can be deemed the quintessential Malay heartland: Kuala Besut.
It cannot be anything other than this in a state constituency where almost 100% are Malays representative of a state-wide electorate that has been engaged in a tug of war for decades over whether they want a secular or Islamic party to lead them.
The Barisan Nasional and its precursor, the Alliance, have ruled the state since independence save for two periods – between 1959 and 1962 and 1999 and 2004 – when PAS was in power.
But the equation has changed somewhat in recent times with PAS claiming qualified political ascendancy after the March 5 general election when it added seven seats to its final tally.
From BN 24-PAS 17 before the general election, the seat count stood at BN 17 and PAS 15 on March 6, giving the BN a razor-thin majority of one (or is that two given that the speaker has the casting vote).
Altogether an untenable position for the BN, and for that matter PAS as well, with neither able to carry out their political agendas as they watch their backs for knives coming out of "friends" who may be tempted to jump ship.
This can, indeed, work both ways if PAS has "frogs" within itself. Both the BN and the opposition have seen instances of diehard elected representatives crossing the political floor for the flimsiest of reasons.
A defeat for the BN in the July 24 by-election will mean a 16-16 equation that may require a snap state election.
This may just be the thing that Terengganu needs at the moment to clear the air on which party – BN or PAS – that the people want to lead them.
Things in the state are in a state of flux with uncertainty hovering over the heads of politicians on both sides of the divide on whether they have the mandate to rule.
Infighting among local Umno warlords (remember the fate of former Malacca chief minister Datuk Seri Mohd Ali Rustam who may have lost all with a totally unexpected defeat) and a general rethinking of political positions among locals who are known to be indeterminate in their political allegiance makes the Kuala Besut by-election a chancy outing for the BN.
Anything is possible in the political equation in Terengganu as can be seen in PAS's shocking victory in 1999 when it won 28 seats to the BN's four. Four years later, BN came back in force with an equally brain-numbing reverse in numbers.
Therefore, if anyone were to say that we live in thoroughly exciting political times, it would really be an understatement.
Ever since the results of the 2008 general election stunned Malaysians into acceptance of the fact that the politics of the country was facing inexorable change, little can be deemed shocking in the political arena.
Then, March 5, 2013 came and confirmed this as a fact, with PAS losing Kedah to the BN but with the Pakatan Rakyat winning a whopping 89 seats in Parliament to the BN's 133 seats.
Today, with the national spotlight on Kuala Besut, an idyllic seaside town that has probably never seen the kind of attention it has been getting since its assemblyman Dr A. Rahman Mokhtar died on June 26, things have changed for sure in Terengganu.
The BN candidate, Tengku Zaihan Che Ku Abdul Rahman, a Drainage and Irrigation Department engineer, will take on PAS's Endot @Azlan Yusof, in what is expected to be a no holds barred fight.
But if anyone thinks that the dynamics centre around issues in the constituency or even the state, they are sorely mistaken.
To be sure, the BN and PAS candidates go into the polls against the backdrop of a larger political drama playing out in the national theatre between the ruling government besieged by a new-found independence among its non-Malay components and a sometimes clumsy Pakatan occasionally fumbling with its structure and priorities.
In the BN's (and PAS's) first by-election after the 13th general election, the ruling party enters the fray a mite more diffident than it did on March 5 given PAS's ability to add seven seats to its final tally at the recent hustings.
I believe PAS may be able to swing some votes away from the BN on July 24 but for the Islamic party to expect to win the state seat may be chimerical at best.
But again given the nature of Terengganu politics, anything is possible.
Balan Moses is executive editor (news) at theSun.
Posted: 11 Jul 2013 04:04 PM PDT
(The Star) - Sex bloggers Alvin Tan and Vivian Lee stirred up a controversy with a Selamat Berbuka Puasa greeting uploaded to their joint Facebook page last night.
The picture depicted them eating bak kut teh and describing it as 'wangi, enak, menyelerakan' (fragrant, delicious, appetising).
Tan confirmed that they posted the greeting for "no reason. Just a joke, I guess".
However, the post has earned over 500 comments, mostly chiding the couple for their insensitivity.
One user commented: "You have freedom to post whatever you want to post. But this freedom is not absolute. I have no problem with your erotica but this is too much."
Others decried their action by calling it a "disgrace" and one "looking for glamour", while some wondered if they knew the history of May 13.
When asked if he regretted posting it, Tan said "not yet...".
"Yeah, in a way. I don't know. I was just curious to see how people will perceive it. It seems not everybody is on the same page as us. It is dark humour. It is just our attempt to see how it will be perceived.  It is just trying to be humorous on the matter," he said in a phone interview with The Star Online.
To him, the unfavourable response shows that "people don't see the humour, people are mostly angry and upset".
As to whether he will delete the posting, Tan said he would probably take it down, but "by now, many have shared the picture."
Posted: 11 Jul 2013 03:16 PM PDT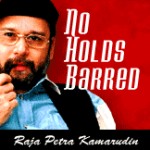 Today, all these religions have a structure, system, houses of worship and a hierarchy (Rabbis, Popes, Cardinals, Bishops, Priests, Muftis, Imams, etc.). They have also abrogated, amended, added, etc., laws, rituals and doctrines. Furthermore, they have redefined what each religion means. And by redefining the religion, the religious leaders managed to separate one religion from another by giving the religion an 'identity' it never used to have.
NO HOLDS BARRED
Raja Petra Kamarudin
There are no exact dates for when the various religions first came into being -- except for maybe Christianity and Islam. However, archaeologists have cited these as the dates the various religions first emerged:
Judaism 2,500 years BC, Hinduism 1,500 years BC, Zoroastrianism 1,000 years BC, Roman religion 750 years BC, Greek religion 650 years BC, and Buddhism 500 years BC.
Now, the roots of the two 'living' religions would have to be Judaism and Hinduism (we shall not talk about the 'dead' religions although some still exist). It is believed that Hinduism 'gave birth' to Zoroastrianism and Buddhism, while Judaism 'gave birth' to Christianity.
(You are free to disagree with me, as I know many will).
Okay, then which religion 'gave birth' to Islam? This is where the discussion begins to become sensitive as well as interesting. Even the use of the term 'gave birth' would be considered objectionable to most Muslims because then it gives the impression that Islam is not original.
You see, Muslims believe that Islam 'came down' from God, through the Angel Gabriel, to Muhammad, by revelation (the Qur'an). No Muslim who fears hell who dare say otherwise. Hence, to say that some other religion 'gave birth' to Islam would suggest that the revelation DID NOT happen. And to suggest so would be to question the source of the Qur'an (whether it was from God or from Muhammad).
Therefore, I may need to sidestep this subject lest someone passes a death sentence on me.
The issue of whether the Qur'an is created or uncreated has pitted religious scholars against one another since the beginning of Islam (some have even literally lost their heads because of this disagreement).
Some scholars say the Qur'an was created (in other words it 'came down' from God in response to certain situations that needed to be addressed) while some scholars say it was uncreated (in other words it had always existed since the beginning of time but was revealed to Prophet Muhammad in stages and in bits and pieces). 
Now, this is a very crucial debate because the nature of the Qur'an will depend on whether Islam is an original religion and is independent of all other religions, or whether Islam has 'borrowed' certain elements -- meaning borrowed beliefs and rituals from the other religions before Islam.
The question of whether the Qur'an is created or uncreated can never be resolved. In fact, most Muslims never even bother to think about this because it is such a complicating matter that even the best brains in Islam cannot seem to agree on. However, if I were asked to take a stand on this and state whether I believe that the Qur'an was created or uncreated, I would say that it was created.
Now, if you were to ask me why I take the stand that the Qur'an was created when even the best brains cannot seem to agree on this debate, my response would be to look at chapter 24, Surah An-Nur (the Chapter of the Light) of the Qur'an.
There is a story behind this chapter -- which 'came down' to address a problem that the Prophet Muhammad was facing at that time. Hence I believe that this chapter was created to solve a problem and hence cannot be uncreated or have existed since the beginning of time.
Of course, there are those who argue that God intentionally created the incident so that this chapter could be revealed. That is certainly another argument. Hence the chapter was not created. The incident was -- to justify (as an excuse) revealing that verse, which already existed. 
However, I also go by the argument that Prophet Muhammad was reported to have said that he is not introducing a new religion but is correcting or strengthening the old religion of Abraham. And the Qur'an strengthens this argument by saying that the true submitters are the followers of Moses and Jesus who follow the way (adeen) of Abraham.
That, of course, is my opinion, but an opinion based on an incident in history. But I am sure many other Muslims would disagree with me regarding how I have rationalised the debate regarding whether the Qur'an was created or uncreated.
Another interesting viewpoint by some scholars is: "On the other hand, Allah of course, always has known what would be in the Qur'an. Therefore, it is both created and uncreated."
So this viewpoint cancels the debate regarding whether the Qur'an is created or uncreated. It is both created and uncreated since God had always known that one day the Qur'an was going to be written.
Okay, putting aside the matter of the nature of the Qur'an (which can never be resolved anyway), let us now talk about the nature of Islam vis-à-vis the other religions.
I believe that there is no 'original' religion. I believe that all religions borrowed from one another at some point of time (a lot of cross-pollination as well). Humankind has existed for a long time (archaeologists say for billions of years) and since the beginning of time humankind has always had some form of religion.
And this theory of mine would not be at odds with Islamic beliefs. While the Qur'an mentions only 25 Prophets by name, Islam also says that there were 124,000 Prophets since the beginning of time and that ALL communities had a Prophet.
Hence, by Islam's own admission, religions had always existed since humankind existed and these religions grew, changed, mutated, transformed, merged, died, etc., over time. Hence, also, that would mean the surviving religions of today can't be original but are 'improvements' or 'mutations' of earlier religions.
If you were to do a comparison study between Muhammedanism (before it was called Islam) with Judaism, Zoroastrianism and Nazarenes (before it was called Christianity), but based on how it used to be during the medieval period and before all the adulterations, modifications and deviations crept into these religions, then you will be hard-pressed to detect the differences in all these religions.
Today, all these religions have a structure, system, houses of worship and a hierarchy (Rabbis, Popes, Cardinals, Bishops, Priests, Muftis, Imams, etc.). They have also abrogated, amended, added, etc., laws, rituals and doctrines. Furthermore, they have redefined what each religion means. And by redefining the religion, the religious leaders managed to separate one religion from another by giving the religion an 'identity' it never used to have.
Hence, over 1,500-2,000 years, so much has been changed, removed or added that it appears like we are talking about many different religions. And then we argue about whose religion is true and whose is false and then we go to war to settle this argument.
And that is what happens when you allow politicians to politicise religion. And every religion has been subjected to this at some point in history although many would say this only happens in Islam and not in any of the other religions.
Let us look at some examples on how the three Abrahamic faiths actually came from the same mould.
Females are supposed to cover themselves other than just the face, feet and hands. The clothes must cover the head/hair, arms till the wrist, and legs down to the ankles.
Judaism, Christianity and Islam all share this view.
Men are not allowed to go to public baths because they are not supposed to bath naked. They are supposed to cover themselves from the top of the belly button to below the knees.
Judaism, Christianity and Islam all share this view. 
Adultery and apostasy are punishable by death.
Judaism, Christianity and Islam all share this view.
Slavery is allowed.
Judaism, Christianity and Islam all share this view.
This world is our temporary abode -- so we need to live, eat and dress in the simplest manner, bordering on a life of poverty. In fact, we are supposed to 'hate' this world for fear that it may imperil our soul.
Judaism, Christianity and Islam all share this view.
We must weep for our sins but not bewail any misfortune or misery that may befall us. In the latter case, it is our duty to resign ourselves to our misfortune and to praise God amid our sufferings.
Judaism, Christianity and Islam all share this view.
The list goes on and on. Judaism, Christianity and Islam all share the same view on so many things. Of course, if you compare the three faiths today, these similarities will not be seen. And this is because so much has changed over more than 2,000 years and people have become more liberal. You will only see these similarities if you compare the three religions back in medieval times.
The popular argument is that the world has changed and has become more modern and liberal. Hence we cannot apply the strict medieval form of religion to today's modern world.
That is certainly an argument that is oft repeated. So, today, you can cycle naked all over London (in fact they did that recently simultaneously in many 'Christian' countries all over the world). But that does not mean the Torah, Bible or Qur'an allows it. The Torah, Bible and Qur'an still do not allow it. It is just that the people violate the Torah, Bible and Qur'an and do it anyway. And that is why gay unions are now allowed, even amongst the clergy, when in the past they would have been put to death as God has commanded.
You can research the 'rules and regulations' of Judaism, Christianity and Islam, say, in the year 700, and you will find that there is very little difference between one religion and another. These changes and differences came later and that is why, today, you see the glaring differences.
Take the issue of the Afterlife and Paradise. Though there is no official Jewish concept of the Afterlife, Jewish sources do provide images of a torturous hell and heavenly paradise.
Many faiths have definite teachings about the Afterlife. But in answer to the question -- "What happens after we die?" -- the Torah is surprisingly silent. Nowhere does it discuss the Afterlife in detail.
Over the centuries, a few possible descriptions of the Afterlife have been incorporated into Jewish thought. However, there is no definite Jewish explanation for what happens after we die.
No one knows exactly why the Torah doesn't discuss the Afterlife. Instead, the Torah focuses on 'Olam Ha Ze', which means 'this world'.
But then Christianity and Islam are very clear about the Afterlife plus about Paradise. Now, if Jesus, who followed the religion of Abraham and Moses, did not teach Christians about the Afterlife and Paradise, where did this concept come from?
This concept actually came from the ancient Persian religion. And Paradise is a Greek word that the Greeks borrowed from the Persians -- meaning an orchard or hunting park in Persia -- and used in Septuagint to mean 'Garden of Eden'. In the New Testament of Luke, it translates to 'heaven' -- a sense (attested in English from c.1200) to mean 'place like or compared to Paradise'.
Hence, Christianity, and then Islam, borrowed this concept not from Judaism but from the Greeks, who in turn borrowed it from the Persians. And the 25th December celebration -- Dies Natalis Solis Invicti -- is adopted from the ancient Roman religion, the 'Birthday of the Unconquered Sun'.
Today, 25th December has transformed into the birthday of Jesus Christ.
To write about how religions borrowed from each other would require a whole book and which this article of mine cannot cover in great detail. Even the Islamic rituals are not original and much has come from ancient Arabic customs and traditions as well as from Persia, in particular Zoroastrianism.
In short, there is nothing in Islam that is original. You can find Islam in Hinduism, Zoroastrianism, Judaism, Christianity and whatnot. For all intents and purposes, as what the Prophet said, Islam is an 'improvement' (meaning amalgamation) of all the earlier religions. And this is something that Muslims need to come to terms with.
PAS wants to wield 16:16 magic in Kuala Besut by-election
Posted: 11 Jul 2013 01:47 PM PDT
(The Star) - PAS is determined to ensure that the Kuala Besut by-election ends in a "hung legislative assembly". This, said its secretary-general Datuk Mustafa Ali, was because there were different legal interpretations of the number of seats between Barisan Nasional and Pakatan Rakyat in the assembly was equal and also on the voting power of the state Speaker.
"What is important now is for PAS to win in Kuala Besut to equal the number of seats that Barisan has in the state assembly," he told The Star.
"Then, we will get legal experts to give their views on the situation."
The 13th general election saw Barisan securing a slim win in Terengganu with a two-seat advantage over Pakatan's 17 seats. Should the Opposition win the Kuala Besut by-election, Barisan and Pakatan would have the same number of seats —16 — in the state assembly.
While some view this as a hung assembly with a possibility that a re-election must be called for the entire state, there are also those with the opinion that Barisan still has the advantage of ruling the state as the Speaker has the right to vote.
State PAS commissioner Mohd Abdul Wahid Endut said the party's machinery was focused on winning the by-election and making history despite disputes over a possible hung state assembly.
He said a "balanced" assembly was unheard of, thus it would be one of the motivations to win the Kuala Besut seat.
"Seats locked at 16:16 will be the first of its kind. We want to be the first to do so," he said.
"We have won the seat before so it is not impossible for us to win again this time."
He added that the "magic number of 16:16" was also one of the party's campaign mottos for the by-election.
"We have chosen our best candidate with the goal of locking the assembly at 16 seats each."
Barisan Nasional has more to lose in battle for Kuala Besut
Posted: 11 Jul 2013 01:38 PM PDT
Rasvinjeet S.Bedi, The Star
The Kuala Besut by-election will be one of the most-watched as voters will decide if it leads to a hung Terengganu state assembly.
Banners and flags of both parties are already fluttering in the cool east coast wind ahead of polling on July 24, a scene replayed soon after the May 5 general election.
The seat fell vacant following the death of Umno's Dr A. Rahman Mokhtar who passed away on June 26. 

The by-election is a straight fight between engineer Tengku Zaihan Che Ku Abd Rahman, 37, of Umno and businessman Azlan Yusof, 48, of PAS.

Even though it is the holy month of Ramadan, thousands gathered outside the Kompleks Rakan Muda nomination centre here on Friday to support the two candidates.

While Kuala Besut was once well-known as a fishing town, it is more famous now as the departure points for the Perhentian Islands, popular with tourists from all over the world. 

Located at the Kelantan-Terengganu border and about 110km from the state capital Kuala Terengganu, the idyllic town will be in the intense spotlight for the next two weeks.

Regardless of whether the Speaker has the deciding vote in deciding the fate of the state, the assembly will have equal numbers on both sides should PAS wins this time round.

In the May 5 general election, Barisan won with a majority of 2,343 votes against PAS.

As it stands now, Barisan has 16 seats and the opposition 15.  Both Barisan and PAS will now have to do their utmost to ensure victory.

Barisan is confident of retaining the seat and former Mentri Besar Datuk Seri Idris Jusoh, the Besut strongman, even targeted a 4,000 majority on July 24.

A confident Idris, who is Besut MP and Education and Higher Learning Minister, had even suggested to PAS to concede the by-election to "lessen the politicking".  

PAS however has hit back calling Idris arrogant and even declared that they stand a chance of winning the seat they last won in 1999.

Barisan is fielding Tengku Zaihan, a former Department of Drainage and Irrigation engineer. While his father is a well-known religious leader in Kuala Besut, not much is known about 37-year-old Zaihan who worked in Putrajaya previously.

PAS on the other hand is relying on popular businessman Azlan.  Also known as Che Long to the locals, the 48-year-old runs a saw milling business along with his other ventures. 

Azlan, the Besut PAS treasurer, is said to be a big funder of PAS' campaigns in the area.

At first glance, both candidates seem unprepared to contest this by-election and not very media savvy.

Knowing what's at stake, the big guns from both Barisan and PAS have already made their way here to win the hearts and minds of the 17,683 voters, including 1,149 absent voters.

The locals here definitely know what is at stake and some believe that there might be instability should there be equal numbers of Barisan and opposition members in the assembly.  

Some think that fresh state-wide elections, coming just over a month after the May 5 polls, could become a reality.

Or even if Barisan loses the seat but retains the state because of the "Speaker advantage", there might be problems if another by-election had to be called.

One thing for sure is that Barisan has definitely more at stake in this by-election.  
It takes two to tango - or convert
Posted: 11 Jul 2013 01:33 PM PDT
The recent move by the Government to pass a Bill to allow any one parent to convert an underage child could have led to many problems. It's a good thing that cool heads prevailed and a solution acceptable to all is now being sought.
Dorairaj Nadason, The Star 
THIS is the true story of a relative. Many years ago, she was a young, attractive and impressionable girl.
And she fell in love with a handsome, dashing young man who drove flashy cars and had money to throw.
One thing led to another and they were married. In due time, a son was born.
And then came the nightmare.
The man decided he did not love her any more.
So, there was the divorce and a custody battle.
It went to court and the court gave custody to the mother.
One day, though, he came to the house, took the child and disappeared. A frantic search for the child began.
A few days later came the striking blow. He had converted to Islam and converted the child as well – and people were telling the girl that she had no more rights over the child as she was not a Muslim. She is a Hindu.
She was not going to be denied, though. She went back to the civil court – and won a ruling that she still had custody over the boy, because he had, in fact, been kidnapped from his legal parent.
Still, she could not afford to smile. The man and the child were missing.
For a year, using friends and private investigators, she scoured the country from Penang to Johor and in little towns like Kampar to find him.
The boy, meanwhile, was missing pre-school, being kept locked up indoors in various homes and being moved around the country.
To cut a long story short, she finally managed to get him back, and in school.
And both mum and boy are happy together now.
It was this story that came to my mind when the recent Administration of Islam (Federal Territories) Bill 2013 was introduced.
It was scary that any one parent could convert a young child arbitrarily.
It may be okay if it is done with good intentions – but what if it is done just to spite the other party?
Spite, I believe, should not be and is not part of any religion.
There are also other converts I know. Back in my school days, an 18-year-old classmate was bent on embracing Islam.
His parents tried very hard to stop him. And classmates had long chats with him.
But he was adamant. He had read up on the religion and had had discussions with knowledgeable Muslims.
He felt the religion was a wonderful one and that he knew what he was doing. And he became a Muslim.
Now, that, we all have to respect.
Another friend, also a Hindu, chose to become a Christian after seeing the good work that churches did.
His wife and children chose to follow.
In fact, I think it was the children who got the whole thing going. Nothing wrong there, either.
But it seems wrong in cases of people like Siti Mariana Abdullah.
This 24-year-old claims she was converted by her mum, who had remarried a Muslim, when she was just 15. All her siblings remain Hindu.
She fled her mother and stepfather after a couple of years and lived with her siblings.
With a family like that, she claims she acted as a Hindu in all matters and even married one.
Now, with a child on the way, she is in limbo.
She is Muslim because she was converted as a child and, thus, her child will be Muslim. But the father of the child is Hindu.
Unless he too converts, he cannot claim the child as his – or even have his name on the birth certificate. That's a real quandary.
There is more to my relative's story. She remarried and had another child – a daughter.
That marriage, too, ended in divorce. And guess what, the second husband has since become a Muslim.
However, in this instance, he made no move to convert the daughter.
Now, his Muslim wife's children and his Hindu daughter are friends.
In fact, now that the long, acrimonious tussle has been over for many years, the children of the first husband who brought so much tears are also on good terms with their half-sister and half-brother.
They are all growing up happily. So, there can be a happy ending, if only there is a bit of compromise.
Which is why I am glad that the Bill that faced much opposition has been withdrawn for now.
The Deputy Prime Minister has promised that the Bill will stay withdrawn until the agreement of all stakeholders is received.
With that little bit of compromise, there can be a happy ending in Parliament too.
There is just one twist to the story. The first husband? He had never converted. It may well have been an elaborate hoax to deny the mum custody. Now, that would be spiteful.
You can't teach an old politician new tricks
Posted: 11 Jul 2013 01:18 PM PDT
Those who have been elected are only there to serve that purpose, which is to represent those who elected them, with their best interests at heart.
Zan Azlee, TMI
What happens when an elected representative does something in office that is against the wishes of his electorate?
To be more specific, what if he does something without consulting his constituency and is mainly for his own personal benefit?
Well, in most cases around the world, this would be unethical and the elected representative would come under heated pressure and probably lose in the next election.
But in Malaysia, it happens to be quite all right. Because, you see, in this country, elected leaders are one step higher than normal people.
What they say is like gospel for everybody. Don't believe me? Then check out our newspapers. It is filled with elected leaders saying this and that as advise for the people.
Take for example, the new Home Minister, Datuk Seri Zahid Ahmad Hamidi, who recently said that the Sedition Act should not be abolished.
He says this with full aplomb as if his judgement is the right one and should be the decision best for the country.
In truth, the Sedition Act is as archaic as the ISA and a sack of fosillised mammoth bones that is about to turn into petroleum and then processed by Petronas.
At the moment, the Sedition Act cover is just too wide and vague that it allows the authorities a lot of leeway for manipulation. So, it deserves at least an update.
Even the Prime Minister, Datuk Seri Najib Razak, announced much earlier (many times, even) that the act would be abolished.
And it is not just Ahmad Zahid who is against the abolition of the Act. Many other BN leaders are too. So, I guess this just shows that many leaders are still too entrenched in old politics.
This old politics is the one that makes them think they do not have to answer to anyone and that they were elected through divine intervention.
An elected representative needs to listen to what the public wants because they need to realise that it is this public that holds the fate of their political career.
As it is, the popular vote has already been lost by the Barisan Nasional. They cannot afford to further alienate this segment of the population.
It does not take a genius political analyst to deduce that the Malaysian public wants an immediate change. If it is not a change of the guards, then at least a change within.
Kredit: www.malaysia-today.net