Klik GAMBAR Dibawah Untuk Lebih Info
Sumber Asal Berita :-
---
Home minister denies cops behind murder attempt on crime buster
Posted: 28 Jul 2013 12:29 PM PDT
(The Malay Mail) - I know Sanjeevan personally and I will make sure that there are no police involved in the incident 
Datuk Seri Ahmad Zahid Hamidi rubbished today talk of the police being responsible for the shooting of crime watchdog activist, R. Sri Sandeevan, who is now battling for his life in a Negri Sembilan hospital.
The home minister, who oversees the police force, was prompted to defend the men in blue after a their former boss, retired Inspector-General of Police Tan Sri Musa Hassan had suggested dirty officers were behind yesterday's shooting incident in a bid to silence Sanjeevan.
"I know Sanjeevan personally and I will make sure that there are no police involved in the incident," Ahmad Zahid (picture) was quoted by The Malaysian Insider news portal as telling reporters after breaking fast at the Sungai Buloh prison.
The minister vowed he would step up investigations on the shooting and haul in the culprits that had put a bullet into Sanjeevan.
Read more at: http://www.themalaymailonline.com/malaysia/article/home-minister-denies-cops-behind-murder-attempt-on-crime-buster 
Screening of "The New Village" suspended
Posted: 28 Jul 2013 12:25 PM PDT
Utusan Malaysia had published an opinion piece questioning why this film could be approved for screening when the film 'Tanda Putera' on the struggle for Malaysia's independence had been postponed numerous times. 
(The Malaysian Insider) - The home ministry has suspended the screening of a local Chinese movie, "The New Village", which was set to open in cinemas on August 22, pending another review by the Censorship Board.

The movie is said to promote communism.

Home Minister Datuk Seri Dr Ahmad Zahid Hamidi (pic) said the decision was made following a furore created by social media bloggers and non-governmental organisations on the movie's content.

"We have to postpone the premiere date pending another thorough look into the movie's plot," he said today in Sungai Buloh.
The movie was  to open on August 22.
Ahmad Zahid said the Censorship Board which is under the purview of his ministry, will also look into claims by some that the movie carries strong elements of communism.
"The board will review the plot and the hidden messages in the movie.
"The new release date will be decided once the second review is completed."
He said the ministry, however, will not hesitate to revoke the approval of the movie's screening should the film be found to be hero-worshipping the Malayan Communist Party (PKM) and humiliating the country's defence forces.
Ahmad Zahid said the Censorship Board received a review application from the producers on Sept 6, last year.
"It was viewed and censored by a three-man panel from the board and approved three days later."
He said a Certificate of Admittance A (permission to screen) was issued on November 9 last year.
The movie was rated as "Lulus Bersih" (no censorship) with a P13 classification.
"The censors felt that the scenes in the movie contained action shots which were not overdone to maintain its story flow."
Ahmad Zahid said the movie also contained impressive battle scenes between the communists and camp commanders, which was also not overdone.
He noted that reports and comments published in newspapers and blogs about the movie were done based only on the trailer of the film, which was uploaded onto the internet.
Ahmad Zahid's decision comes following a stinging weekend piece in Mingguan Malaysia by Awang Selamat questioning how Putrajaya allowed the release of "The New Village", which it said, glorified communism.
Awang Selamat, the moniker representing the paper's collective editorial voice, said another locally-made movie on nationalism, "Tanda Putera", on the events surrounding the May 13 riots, had triggered widespread criticisms after snippets of the movie were leaked online
Read more at: http://www.themalaysianinsider.com/malaysia/article/screening-of-the-new-village-suspended 
Activists: Legalising gay marriages in Asia won't solve Malaysia's LGBT issues
Posted: 28 Jul 2013 12:20 PM PDT
(The Star) - Presently, our communities are taught to hate, misunderstand and reject, based on the fear we absorb through state policies and political discourse around who is acceptable as a citizen and who is not.
Thailand and Vietnam may become the first Southeast Asian countries to legalise same-sex marriages, but Malaysia is far from adopting the same accepting attitude.
While Justice for Sisters co-founder S. Thilaga (applauded the countries' initiative to promote and protect lesbian, gay, bisexual and transgender (LGBT) rights, she hastened to add that it would not solve local LGBT problems.
"It's great that those who want to get married now have a nearer option to do so. However, the condition in Malaysia is completely hostile, so I don't understand how people getting married abroad would help to solve that," said the 26-year-old activist in a phone interview with The Star Online.
Beyond the prospect of individual happiness, a marriage certificate for same-sex couples would also open and advance debates on adoption rights, inheritance law, spouses' rights at the workplace, and more.
"Marriage should not be the only definition of victory for the gay community. There is still bullying in schools and hate crime, so people still can't express themselves openly," she added.
In Thailand, homosexuality was decriminalised in 1956, and now a draft law seeking to offer lesbian, gay, bisexual and transgender, inter-sex and queer couples the same legal rights as heterosexual couples is reportedly being readied.
Meanwhile, in October, Vietnam's national assembly will also debate new proposals to modify the law on marriage and family to include same-sex marriages.
As Malaysia does not have a receptive environment for LGBTs, Syariah lawyer Nizam Bashir thinks that the possible availability of same-sex marriages in the region holds little meaning for homosexuals here.

"The Penal Code and Syariah Criminal Enactment have provisions criminalising certain consensual sexual activities.

"With provisions in various states (in relation to Syariah law) affecting Muslims, how can we talk about gay marriages? We are far from that as Malaysia is not prepared to recognise same-sex unions," said the 39-year-old when contacted.

Section 377A of Malaysia's Penal Code prohibits carnal intercourse against the order of nature, which includes oral and anal sex. According to Section 377B of the same, offenders can be punished with up to twenty years in prison and are also liable to whipping.

The Syariah Criminal Offences Act (Federal Territories) 1997 (Act 559) also states that those found guilty of sodomy (liwat) or lesbian relations (musahaqah) are liable to a fine of up to RM5,000, imprisonment for up to three years, whipping not exceeding six strokes, or any combination thereof.

"We need to consider whether there is a way to reconcile our views in terms of their existence. It's a bit more difficult accepting it from a religious perspective, but due recognition must be given in civil law," he said.

"No one should be made to feel 'excommunicated' or suffer a social death after coming out," he added, noting that mainstream Islamic scholars like Tariq Ramadan have called for introspection on such issues.

According to activist, artist and arts consultant Pang Khee Teik, such a ruling in the Asean region would not only affect homosexual societies, but also everyone concerned about such developments.

"For those against LGBTs, marriage equality is a sign of society's decline. For those in support, it is a sign of progress," said the Masters student in Gender, Sexuality and Culture at Birkbeck, University of London in an e-mail interview.

However, there are also many parties who are not bothered about the issue.

According to Pang, while some Malaysian LGBTs have managed to live openly among their friends and families, many others have more pressing things to worry about.

These include being discovered and getting fired from work, being disowned by families, and getting arrested.

"Whether gay or straight or bisexual, there are many who see marriage as nothing more than a social pressure to marry, a legal officiation of a personal relationship," he said.

To him, the issue transcends sexuality, as legal, economic and social privileges afforded to married people create an inequality between married and unmarried individuals that many no longer question.

"It is great when adults are allowed to marry each other, and this right should be celebrated wherever people realise that it should be.

"But it is neither the most important right presently for LGBTs in Malaysia, nor should it be the only socially desirable destination for everyone, whether gay or straight," he said.

Pang feels that the state has no business regulating private relationships, and stressed upon the importance of encouraging parents and communities to respond with equal respect and love.

"Presently, our communities are taught to hate, misunderstand and reject, based on the fear we absorb through state policies and political discourse around who is acceptable as a citizen and who is not," he said."I long for the day when people are simply given the choices to determine who they are, who they love and who they want to tell that to, while their families and communities are allowed to support them. And that together, we are recognised through our love for each other rather than our hate," Pang added. 
Seri Pristana headmaster to return to work tomorrow
Posted: 28 Jul 2013 11:39 AM PDT
(TMI) - Parent-Teacher Association (PTA) officials of the Saujana Utama primary school said there has been no decision to transfer Nasir to another school as it would only heighten the controversy surrounding the school further.
Headmaster Mohamad Nasir Mohd Noor will report to work tomorrow after being ordered to take a week's leave to calm the furore over asking his SK Seri Pristana students to have their recess in a shower room.
Parent-Teacher Association (PTA) officials of the Saujana Utama primary school said there has been no decision to transfer Nasir to another school as it would only heighten the controversy surrounding the school further.
"We heard that he will be coming back on Tuesday and no news has reached us about him being transferred or any new headmaster ... nothing. So, we take it he will be in the school come Tuesday," PTA committee member Major Hardeep Singh told The Malaysian Insider.
PTA chairman Hussein Mohd Ariff confirmed Nasir's return but said he was still unsure about the possibility of Nasir being transferred out to another school.
"Things in the school are slowly returning to normal and we hope to get back on track fast," he said.
Hussein said the PTA was planning to organise a dialogue session with parents soon to address problems which arose from using the shower room for recess.
"We were not able to hold one at the height of the controversy and since things are beginning to settle, we want to ensure that we have cleared the matter for good," he told The Malaysian Insider.
Hussein said, this time, circulars would be issued to each and every parent to notify them formally about the session.
Read more at: http://www.themalaysianinsider.com/malaysia/article/seri-pristana-headmaster-to-return-to-work-tomorrow 
Of 'no further action' ... and still awaiting action
Posted: 28 Jul 2013 11:33 AM PDT
Part of the July 1, 2011 mob that blocked the Penang Bridge in which a reporter was allegedly hit when covering the incident. According to the Home Ministry, investigation into the alleged assault has been completed and investigation papers submitted to the deputy public prosecutor's office for "advice and decision."
(fz.com) - One can't help but wonder why it takes so long to decide on action to be taken on something so blatant and which had been heavily publicised in such a manner.  
TWO years ago, on July 1, 2011, a somewhat rowdy street demonstration, reportedly by members of Perkasa and Umno, held in George Town, Penang to show disapproval towards the Bersih 2.0 rally, took an unexpected turn when some of the protesters decided to take their feelings to the Penang Bridge.  
Not contented to just drive towards there, in a mob-like frenzy, the protesters decided to stand in the middle span of the bridge that connects the island to the mainland, blocking traffic and resulting in a jam that extended for miles.
At least one reporter was allegedly hit by the mob. Photographs of the incident were splashed in the media for days after that, including the faces of those who participated. 
Two years on, action has yet to be taken against the alleged perpetrators. 
We are now told that the investigation following a police report lodged on the alleged assault has been completed, and has been passed on to the public prosecutor's office for "advice and decision".
This was recently revealed in a written parliamentary reply by Home Minister Datuk Seri Ahmad Zahid Hamidi to a query on the progress of the case by Chief Minister Lim Guan Eng, who is also MP of Bagan.
One can't help but wonder why it takes so long to decide on action to be taken on something so blatant and which had been heavily publicised in such a manner.  
But the case was just one of six involving Perkasa members that were outlined by Zahid in his reply and which are either still awaiting action, or have simply been given the NFA (no further action) stamp.
Questions inevitably arise on why there are no actions yet on these cases. This is because there is a perception that cases of protests that involve Pakatan Rakyat members or civil liberties activists are acted upon relatively quickly.
Lim was more forthright in commenting on Zahid's revelation. Why is there a need to wait two years, he asked, without any prosecution made on the violence against journalists and also the threats made on the safety of the Penang chief minister?
"This selective attitude and double standard of the public prosecutor's office and the federal government is clear, where in certain cases which are against opposition leaders prosecution can be made in two months," he said.
But in cases where the offence sees violence and force used by BN supporters, it is not only delayed but may be closed as well with the 'NFA' (no further action) stamp, Lim added. For the record, here are the six police reports outlined by Zahid on the cases that are said to involve Perkasa members. 

Read more at: http://www.fz.com/content/no-further-action-and-still-awaiting-action#ixzz2aOkBnSow
Opposition will resist any government attempt to control internet
Posted: 27 Jul 2013 06:05 PM PDT
(TMI) - The opposition will resist any attempt by Putrajaya to restrict use of the internet, calling it a selfish attempt to undermine freedom of information so as to perpetuate Barisan Nasional's (BN) hold on power.
DAP secretary-general Lim Guan Eng (pic) said that the desperate attempt by BN to maintain its status quo would not succeed as the people had already spoken in the 13th general election by giving Pakatan Rakyat the popular vote.
He labelled the attempt as a violation of BN's very own Multimedia Supercorridor Bill of Guarantees against internet censorship.
Lim questioned if this new "draconian" move was yet another failure of the ruling coalition's policy following the abandonment of national reconciliation and 1Malaysia.
"The double standards and selective prosecution of punishing only those who attack Muslim sensitivities but not when non-Muslims are attacked is now followed by attacking internet use," he said in a statement today.
Lim, who is also Penang chief minister, said the move was no different from "autocratic dictators desperately trying to cling on to power".
"How can internet bans help to prevent confusion that may arise as a result of internet defamation as mentioned by Ahmad Shabery, especially when there are double standards in punishing only opponents of BN but not when PR leaders are clearly defamed," he said, referring to Communication and Multimedia Minister Datuk Seri Ahmad Shabery Cheek's statement.
Ahmad Shabery said at a Ramadan gathering yesterday that internet defamation and similar ill-intentioned actions must be curbed before the situation deteriorated.
He added that his ministry would not hesitate to revise the internet facilities and access accorded to users in Malaysia, iterating that such move was to prevent confusion that might arise as a result of imprudent use of the internet.
Posted: 27 Jul 2013 04:45 PM PDT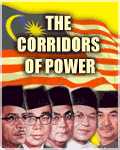 Hence the identity of Jasbir Singh Chahl was not clear and no one could confirm whether the restaurateur Jasbir Singh Chahl is the same Jasbir Singh Chahl who was involved in the submarine matter or whether there is another man with the same name.
THE CORRIDORS OF POWER
Raja Petra Kamarudin
Why is the Scorpene "architect" surfacing now?
The Malaysian Insider Editorial (28 Jul 2013)
Jasbir Singh Chahl got his 15 minutes of fame yesterday, nearly seven years after Altantuya Shaariibuu was killed and her murder linked to the Scorpene submarines purchase.
Now known as the architect of the submarine deal, Jasbir was quoted in the New Straits Times yesterday as saying there was no links between the Mongolian interpreter and the negotiations, and it was a business arrangement that did not involve corruption.
"I am willing to swear on my holy book, Guru Granth Sahib, that I did not know this person, that she was never part of the team, had never met her, that she was never in France during the entire time we were there trying to close the deal.
"I only knew about her when I read the papers in 2006 that they had found her body," he told the New Straits Times in a special report entitled, 'Scorpene: The Untold Story', published in Kuala Lumpur today.
According to the report, Jasbir was a former staff of Thomson-CSF International (M) Sdn Bhd, the wholly-owned Malaysian subsidiary of France's Thomson-CSF (now Thales), on the Royal Malaysian Navy's Offshore Patrol Vessels project, the Crotale man-portable Shorad (short range air defence) system, and other projects of interest to Thomson-CSF and its subsidiaries.
So he should know the deal inside and outside but has decided to only spill the beans now.
Why now? Why didn't Jasbir say all this the days before three men were charged for Altantuya's murder or when the submarines had problems diving - which is what they are supposed to do from time to time.
This is a bit like dragging out the New York jeweller months after the so-called diamond ring controversy in Malaysia last year. Like an afterthought.
Has it got anything to do with the French probe into corruption in the deal? And that public opinion perceives the deal to be less than clean?
While it is commendable that Jasbir wants to clear the air over the deal that has been linked to a murder, one thing is clear - he is is doing this because he has a vested interest in the deal.
So why should Malaysians believe what he says when he is an interested party in the deal?
He should explain that, too. Or the NST report ends up as another after thought to cover the tracks of interested parties rather than really clearing the air about the Scorpene purchase.
*******************************
Those are very valid questions raised in The Malaysian Insider editorial today. However, valid as they may be, this gives the impression that someone in The Malaysian Insider has not been paying attention.
The French government investigation into the behind-the-scenes goings-on regarding the Malaysian government's purchase of the Scorpene submarines did not commence until after Suaram had launched a complaint with the Tribunal de Grand Instance.
First they needed to establish Suaram's locus standi in this matter and Suaram's lawyers managed to convince the court that Suaram is an international NGO involved in human rights work. Later, of course, it was proven that Suaram is actually a registered company.
The court then instructed the French police to start the investigation but to just focus on the corruption element. Altantuya Shaariibuu's murder was not part of this investigation. The French government was merely concerned about any acts of corruption perpetuated by French companies.
The French police then began to interview and record the statements of various people whom Suaram had identified as being involved in this matter (French as well as Malaysians). Private investigator P. Balasubramaniam, Jasbir Singh Chahl, Prime Minister Najib Tun Razak, Razak Baginda, and a few more, were amongst those Malaysians on the list.
P. I. Bala happened to be in London at that time when we received word that the French lawyers would like to see him. So we arranged to send him to Paris where his statement was recorded. (In fact, a friend in London helped pay for that trip plus I gave him some spending money).
Suaram then announced that the French police were looking for Jasbir Singh Chahl. However, Suaram was not sure who this person is. There is one man named Jasbir Singh Chahl who runs a restaurant in Kuala Lumpur and he said that he is not the Jasbir Singh Chahl that they are talking about.
Hence the identity of Jasbir Singh Chahl was not clear and no one could confirm whether the restaurateur Jasbir Singh Chahl is the same Jasbir Singh Chahl who was involved in the submarine matter or whether there is another man with the same name.
It appears like finally they managed to track down the real Jasbir Singh Chahl who was involved in the submarine deal. And the statement of this Jasbir Singh Chahl was finally recorded. And hence only now are we hearing the story from Jasbir Singh Chahl's mouth, which had remained untold for a number of years.
So, in reply to The Malaysian Insider's question, "Why now?", that is why now -- because only now has Jasbir Singh Chahl finally been found.
Tengku Abdullah: Pahang to gazette fatwa banning Syiah teachings
Posted: 27 Jul 2013 03:40 PM PDT
(Bernama) - Pahang will gazette a fatwa (edict) that bans Syiah teachings in the state to prevent it from confusing Muslims and diverting their faith from the true teachings of Islam.
The Tengku Mahkota of Pahang, Tengku Abdullah Sultan Ahmad Shah, who is also State Islamic Religion and Malay Custom Council president, said gazetting the fatwa was in line with the banning of Syiah teachings in the state that was announced some years ago.
"There is a need to gazette the fatwa. We had banned Syiah teachings in Pahang some time ago as we are followers of the Sunnah wal Jamaah (Sunni) teachings of Islam, which must be maintained.
"This is because Syiah teachings are different from Sunnah wal Jamaah, and we don't want Muslims to be confused and their Islamic faith to go astray by those propagating Syiah teachings."
He said this after gracing a state-level Rakan Muda Ramadan Khatam Al-Quran event, here, last night, following Kedah's decision to gazette a fatwa banning Syiah teachings which was announced by its Mentri Besar Datuk Mukhriz Mahathir on Thursday.
Tengku Abdullah said Syiah teachings must not be allowed to spread in this country as it already had adverse impact on Muslims in some countries with Syiah followers among their populace.
On today's event, he said it had been going on for 17 years and should be continued to produce more proficient Quran readers in the state.
Tengku Abdullah said khatam Quran should also be a platform for Muslims in the state to improve their reciting of the Holy Book and Islamic knowledge.
Also present were Tengku Puan Pahang, Tunku Azizah Aminah Maimunah Iskandariah Sultan Iskandar and their son, Tengku Hasanal Tengku Abdullah.
Muslim NGO under fire for beauty pageant defence
Posted: 27 Jul 2013 03:33 PM PDT
(MM) - Sisters In Islam (SIS), a non-government Muslim organisation comprising mostly women, drew flak from a conservative Muslim columnist today for purportedly putting civil liberties ahead of their religion's glory.
The women's group had recently waded into a row over the rights of Muslim women to take part in the Miss Malaysia World 2013 beauty pageant, and raised its concern on the overreach of fatwa (religious edicts) by Islamic officials here beyond the faith's intent.

In an opinion piece in Malay paper Mingguan Malaysia, columnist Ku Seman Ku Hussain lashed out at the women's group for what he viewed to be an attempt to undermine and denigrate Islam by one of its own by persistent questioning of the religion's authorities here on the grounds the edicts were not legislated into civil law.

"It seems for SIS, fundamental rights freedoms are more important than prohibiting Muslims against insulting their own religion," he said, in the article titled "Apabila Sisters In Islam mempertikai mufti [When Sisters In Islam dispute the mufti]".

The columnist noted the group saw itself as a champion of Muslim rights, but criticised SIS for its advocacy of fundamental freedoms that ran counter to what he said were Islam's teaching.

He stressed that such statements issued by SIS on the fatwa against Muslim women joining beauty contests must be clarified as the group persisted in speaking out under the name of Islam, "to save Muslim women from being trapped in an agenda that blackens Islam".

"It is unfortunate because SIS defends the human rights of the four Muslim women because the Federal Territory Mufti has forbid them from taking part in the Miss Malay World.

"But at the same time SIS does not fight for Islam because it does not see the mufti's prohibition as an effort to preserve Islam from being tainted," Ku Seman said.

He advised Muslims to drop those matters he said did not contribute to Islamic development, singling out beauty contests as an example.

"We should not wait for SIS because the recommendation for Muslims not to be beauty queen organisers is not gazetted under the law.

"SIS will never support this suggestion as long because as it is not made into law, it is a violation of human basic rights," the columnist said.

Four Muslim women were dropped as contestants in the Miss Malaysia World 2013 pageant and are now under investigation for allegedly breaching the National Fatwa Council's edict and allegedly insulting Islam.

The council had issued an edict in 1996 prohibiting Muslim women from taking part in beauty pageants, and the fatwa was gazetted as law, making it an offence punishable with a three-year jail term or a RM3,000 fine or both.

The recent spotlight on Islamic decrees by Malaysian authorities on its followers as well as non-Muslims has drawn much debate over their enforcement here, with some groups deeming certain provisions under religious law to be regressive while others voice concern over a worrying trend of overt Islamisation in a multicultural country.
Dozens shot dead, US tells Egypt to pull 'back from the brink'
Posted: 27 Jul 2013 03:25 PM PDT
(Reuters) - CAIRO: The United States urged Arab ally Egypt to pull "back from the brink" after security forces killed dozens of supporters of deposed Islamist President Mohamed Mursi and opened a dangerous new phase in the army's confrontation with his Muslim Brotherhood.
Thousands of Brotherhood supporters were hunkered down in a vigil at a Cairo mosque on Sunday, vowing to stand their ground despite a threat by the authorities to disperse them "soon".

Saturday's bloodshed, following huge rival rallies, plunged the Arab world's most populous country deeper into turmoil following two turbulent years of transition to democracy with the fall of veteran autocrat Hosni Mubarak in 2011.

Egypt's Health Ministry said 65 people had died. The Brotherhood said another 61 were on life support after what it described as a ferocious dawn assault by men in helmets and black police fatigues. The ambulance service put the death toll at 72.

Bodies wrapped in white sheets were laid on the floor of a Brotherhood morgue, their names scrawled on the shrouds.

Washington, treading a fine line with an important Middle East ally and recipient of over US1 billion in military aid, urged the Egyptian security forces to respect the right to peaceful protest.

US Defence Secretary Chuck Hagel spoke by telephone with Egyptian army chief General Abdel Fattah al-Sisi, who led the July 3 military overthrow of Mursi and whose face has appeared on posters across the teeming capital, Cairo.

US Secretary of State John Kerry spoke to two senior members of Egypt's army-installed interim cabinet, expressing his "deep concern."

"This is a pivotal moment for Egypt," he said in a statement. "The United States … calls on all of Egypt's leaders across the political spectrum to act immediately to help their country take a step back from the brink."

Saturday's violence, and the threat of more, has deepened alarm in the West over events in the country of 84 million people, a vital bridge between the Middle East and North Africa.

Over 200 people have died in violence since Sisi deposed Mursi on the back of huge popular protests against his rule, ending a one-year experiment in government by the Muslim Brotherhood after decades spent in the shadows under successive Egyptian strongmen.

In the early hours of Sunday, the state-run Al-Ahram news website reported fresh confrontation in the western Helwan district of Cairo between what it described as marching Brotherhood supporters and angry residents.

The report said several cars were destroyed and gunshots heard, but there was no information on casualties.

Saturday's killings followed a day of rival mass rallies, triggered by a call from Sisi for a popular mandate to confront "violence and terrorism."

Denying police culpability, Interior Minister Mohamed Ibrahim said the vigil outside the Rabaa al-Adawia mosque in northern Cairo would "God willing, soon … be dealt with."

A public prosecutor is reviewing complaints from local residents unhappy with the huge encampment on their doorstep.

Ibrahim said angry residents had clashed with Brotherhood protesters in the early hours of Saturday, and police intervened with teargas.

Brotherhood activists said they would not be cowed and warned of worse bloodshed if the security forces did not back down. Thousands were packed into the area as night fell.

"We will stay here until we die, one by one," said Ahmed Ali, 24, as he helped treat casualties at a makeshift field hospital on Saturday.

Brotherhood spokesman Gehad El-Haddad said they would remain until their demands are met and Egypt's first freely elected president is reinstated. He accused Sisi of issuing a "clear, pre-determined order to kill."

Mursi has been held in army detention at an undisclosed location since he was deposed. Ibrahim said he would likely be transferred shortly to the same Cairo prison where Mubarak is now held, after authorities launched an investigation of him on charges including murder stemming from his 2011 escape from jail during Egypt's Arab Spring uprising.

The European Union and major European powers condemned Saturday's bloodshed, the second mass killing since Mursi's ouster. On July 8, more than 50 Brotherhood supporters died when security forces opened fire on them outside a Cairo barracks.

The events have led US President Barack Obama last week to delay delivery of four F-16 fighter jets, part of some $1.5 billion a year in mainly military aid from Washington to Cairo, though US officials have indicated there will be no cut-off in support to the pivotal ally.
Ahead of screening, vernacular pre-Merdeka film draws Malay paper's ire
Posted: 27 Jul 2013 03:18 PM PDT
A still from the film "The New Village" — Picture courtesy of facebook.com/thenewvillagemovie
(The Malay Mail) - Awang lashed out at the makers of "The New Village", whom it branded as "racist" and suggested they may have used strong-arm tactics to push the film through.
"The New Village", a locally-made film depicting the historical resettlement of the Chinese community during the communist years in Malaya, came under fire today from right-wing Malay paper Mingguan Malaysia ahead of its August 22 release.
The weekend edition of Umno-owned daily, Utusan Malaysia, heavily criticised the Chinese-language film in an opinion piece written by Awang Selamat — the moniker representing the paper's collective editorial voice — which accused its makers of using it as a medium to glorify communism.
It claimed the film presented a "skewed perspective" of history, and contrasted it to another locally-made movie on nationalism, "Tanda Putera", which has also similarly sparked controversy after snippets were leaked online.
"While 'Tanda Putera' was pressured relentlessly, it seems someone else had produced quietly the film 'The New Village' which carries a skewed perspective.
"Rumour has it the film glorifies the Malayan People Anti Japanese Army (MPAJA) [sic] that has ties with the Parti Komunis Malaya (PKM) as an independence fighter," the columnist wrote.
It added: "Awang believes this is part of an effort to recognise PKM's struggle including its main leader, Chin Peng."
While Malaysia today recognises and accepts the communist governments of republics like China and Vietnam, its past dealings with communism at home is shrouded in controversy.
In its chequered history, the country then known as Malaya had waged a long guerrilla war with communists that led to a period of emergency being declared in 1948, after a rift in cooperation between PKM members and the colonial British government at the end of the Second World War.
The cast of "The New Village" — Picture courtesy of facebook.com/thenewvillagemovie
Perak-born Chin Peng, whose real name is Ong Boon Hua was the PKM secretary-general and had been the liaison between his party and the MPAJA brigade.
The then Malayan government had mounted a large-scale exercise to move hundreds of thousands of Chinese, including squatters and especially those living on the jungle fringes where PKM members often hid, into some 480 new villages as part of security measures to curb the communist influence from spreading.
In a separate news report today, Mingguan Malaysia had highlighted the concerns of a hardline Malay website in which the blogger questioned the vernacular film's approval by the authorities.
In its Sunday editorial, Utusan Malaysia's Awang also questioned the country's main film authority, National Film Development Corporation Malayisa (Finas), for allowing "The New Village" to be screened publicly during the month celebrating Malaya's independence from colonial British rule and ahead of "Tanda Putera", which is due to open in cinemas nationwide a week later on August 29.
"Awang finds it curious how such a film could have so easily been approved by Finas what more during the Month of Independence celebration.
"Even more illogical, the film will be screened before 'Tanda Putera' which had been long completed but was left to stew," it said.
Awang lashed out at the makers of "The New Village", whom it branded as "racist" and suggested they may have used strong-arm tactics to push the film through.
"Apparently in Malaysia, those who are actually racist besides aggressive will get more attention and have his wishes fulfilled," it said.
A still from the film "The New Village" — Picture courtesy of facebook.com/thenewvillagemovie
Directed by Datin Paduka Shuhaimi Baba, "Tanda Putera", depicts events during the May 13, 1969 riots, focusing on Malaysia's second Prime Minister Tun Abdul Razak Hussein and his deputy Tun Dr Ismail Abdul Rahman.
Produced in 2011 by Persona Pictures Sdn Bhd, the RM4 million film carries a PG13 rating and was supposed to be screened from November 15 last year but had been delayed by Cabinet as it was concerned it would cause conflict among communities.
"The New Village" is produced by Yellow Pictures and directed by Wong Kew-Lit, a prolific filmmaker whose works have been broadcast on both terrestrial and satellite television networks.
The 42-year-old Malaysian has also scooped up a number of awards including for best documentary director at the 6th Malaysian Oskar Award for a series called "My Roots", and best TV documentary for "Malaysia My Home — Story of Sabah & Sarawak" at the Anugerah Seri Angkasa 2010.
The trailer for "The New Village", which has spawned 38,336 views since it was uploaded on YouTube last month, drew 1,247 thumbs down compared to the 137 likes, as at the time of publication.
Mufti: Amend Articles in Constitution to exclude Muslims
Posted: 27 Jul 2013 02:37 PM PDT
(The Star) - The Perak Mufti has called for an amendment to be made to the Federal Constitution, which will exclude Islam from provisions that grant mothers equal rights to raise children according to their religious beliefs.
Perak Mufti Tan Sri Harussani Zakaria said that Articles 3, 5 and 11 of the Constitution in relation to religion, liberty and freedom must therefore be amended to exclude Muslims.
"The provision (on child's religion) should be amended or added to exclude Muslims," Utusan Malaysia quoted him as saying.
The issue of non-Muslims' dissatisfaction over such an amendment should not arise in view of the existing pre-Independence social contract, he said.
Harussani said that this was following a recent High Court ruling that granted a plea by M. Indira Gandhi to reverse her estranged Muslim convert husband's unilateral decision to convert their three children, now aged 16, 15 and five.
Such cases, he said, should be heard in a Syariah court by a Muslim judge.
"(It) should have been heard in a Syariah court but because it involved a Hindu, the case could not be heard in the Syariah court, thus causing disarray," he said.
He added that the people should ask the Attorney-General how the Constitution did not allow the Syariah court to bring non-Muslims to trial.
He said that Islamic laws should be applicable in the country because Islam was the official religion, although other religions were allowed to be practised here.
Under the existing Constitution, he said that the legal aspects of Islam were not implemented and, therefore, laws that were in conflict with the Constitution were dropped.
In a landmark ruling on Thursday, the High Court had quashed the conversion certificates of Indira Gandhi's three children based on grounds that it was unconstitutional to unilaterally force a minor to embrace a different faith. The National Fatwa Council had in 2009 passed a resolution that when one of the non-Muslim parents embraced Islam, the underaged child should be placed in the custody of the Muslim parent. 
Naming the 3 elephants in Seri Pristina
Posted: 27 Jul 2013 02:28 PM PDT
People of the same ethnicity DO NOT think the same way. 
write2rest
Instead of "Indian", I could have said "Neighbour," because that is how I try to identify myself in every situation.
Instead of "Neighbour", I could have said "Christian," because my focus on being a good neighbour is rooted in my acceptance of the most fundamental Christian teaching: "Love the Lord your God with all your heart and soul and mind, and love your neighbour as yourself."
Instead of "Christian", I could have said "Engineer," because I am obsessed with meaningful work and efficiency: I am unable to accept waste, whether of money or space or time. [See for example my essay "
When doctors walk with their patients
."]
Instead of "Engineer", I could have said "Malaysian," because it's cool to talk about a new race, "Bangsa Malaysia," like a Phoenix risen from the ashes of racism.
However, I chose to say "Indian." Let me tell you why.
I chose to say "Indian" because I challenge the racist view that all people of the same ethnicity think the same way about everything.
People of the same ethnicity DO NOT think the same way.
That is why there are opposing views even in countries with superficially homogeneous populations, e.g. Indonesia, Japan, Korea, Taiwan, Thailand: unlike Malaysia and Singapore, none of these countries have been ruled by the same party since "liberation."
Why shouldn't I say that I'm an Indian?
I grew up speaking Tamil, one of the dominant languages in India.
I grew up with many friends whose mothers didn't cook thosai and chicken curry.
I grew up in a neighbourhood where someone's radio was always blaring Indian songs.
I live in a country whose constitution was the result of bartering between groups who were at the table because they claimed to represent different races.
I live in a country whose natural resources were exploited through racial selection.
I live in a country which classifies me as an Indian and treats me like one.
Can I not be an Indian and a good neighbour? Can I not be an Indian and accept punishment at the hands of a Chinese teacher? Can I not be an Indian and accept that a Malay headmaster could have been acting in the best interests of his school?
I identified myself as an Indian because I wanted to focus on one of three elephants in the Seri Pristina changing room. This is how 
The Phrase Finder
 defines "elephant in the room":
"An important and obvious topic, which everyone present is aware of, but which isn't discussed, as such discussion is considered to be uncomfortable."
Elephant # 1: Sensitized Indian. Any Malaysian looking at photos of the Seri Pristina changing room recognizes an obvious and uncomfortable fact: it seems to involve only Indians. The issue was raised by an Indian; Indians rushed to condemn the school; Indian political parties and NGO's joined the fray. One of the elephants in the room is "Sensitized Indian."
Elephant # 2: Coercive Malay. Art Harun pointed out another obvious and uncomfortable fact: the assumption that every Muslim student will fast every day of Ramadan. Art reminded us that not long ago many Muslim students didn't fast until they were in year 5. Art didn't say it, but for Seri Pristina, this could mean up to 400 non-fasting Muslim students in each session. A second elephant in the room is "Coercive Malay."
[We also recall that some Muslim students and teachers may not be able to fast, e.g. for health reasons, ritual impurity, etc. and therefore need a place to eat quietly.]
Elephant # 3: Resigned Chinese. Art and Zaid pointed out yet another obvious and uncomfortable fact: many Chinese have abandoned public schools. Instead of challenging religiosity in public schools, they have reverted to Chinese schools which are devoid of religious elements. They thus avoid dialogue and avoid frequent public vilification by the likes of Perkasa. A third elephant in the room is "Resigned Chinese."
[I could not make out any Chinese students in the photos. To-date, I've not seen complaints from any parents about schools 'compelling' children to fast.]
When I looked at photos of those who came to the school to register their protests, I noticed most of them were Indians, members of my community. Therefore I chose to view the incident from the perspective of a good Indian neighbour.
Read more at: http://write2rest.blogspot.com/2013/07/naming-3-elephants-in-seri-pristina.html 
Uncomfortable but practical idea
Posted: 27 Jul 2013 12:28 PM PDT
The idea behind jailing convicts is to deprive them of privileges and pleasures such as voting that law-abiding citizens take for granted.
But what can politicians promise prisoners?
Azmi Anshar, NST 
A proposal to allow prisoners to vote merits much thought
THERE are two ways to perceive the suggestion bandied by Home Minister Datuk Seri Dr Ahmad Zahid Hamidi allowing prisoners -- all 35,000 languishing in prisons for various crimes -- to vote in, presumably, a general election.
One, it is a practical idea that bodes well for their total rehabilitation and preparation to re-enter society, which they had forsaken after a spell in criminal activity that got them locked up in the first place.
Two, it is an uncomfortable suggestion, in that the primary idea of putting criminals away in prison is to punish them and part of that punishment is to deprive them of creature comforts, privileges and pleasures that law-abiding citizens take for granted.
Like the old saying goes, if you can't do the time, don't do the crime. If you insist on doing the crime, then be prepared to face the music.
Sure, some prisoners, despite understanding the adversity, deprivation and stigma associated with prison time, still commit the crime although enough literature, pop culture and media exposure have warned them that cynical breaches of the law have grave consequences.
We are not talking about traffic offences, jay-walking, illegal demonstration or certain white-collar crime, which can be settled by an obligatory court appearance leading to moderate to heavy fines.
We are talking about the violent crimes of murder, rape, assault, thievery, robbery, drug dealing and smuggling, human trafficking and high-level corruption that affect public order.
Offenders often suffer from the megalomaniacal delusion that they are above the law, untouchable and invincible, so they continue with their disorganised, and organised, crime spree -- until they get caught. Just think of the monumental effort put up by law enforcement to catch these criminals.
Then they have to be charged and tried (think of the long and arduous court due process) before they can be convicted according to the Penal Code provisions and locked up in a prison system that's getting to be more expensive to maintain by the year as the criminal populace grows.
A nominal inquiry into Malaysia's prison system show they are building more and bigger prisons. In fact, a sense of pride and accomplishment emanate in constructing these new prisons when the epiphany should be that we have failed to curb crime but improved in catching criminals.
Finally, there's the long-term prisoner rehabilitation process -- uneasy, laborious and uncertain. Real pride shines if jailbirds turn over a new leaf and contribute positively to society after serving their sentences.
Unfortunately, the hardcore will return to their old ways, unable to shake off the temptation to thievery, conniving and violence, and they land straight back in the slammer to restart the whole rehab process all over again.
Having stated that, prisoners still retain their constitutional right to legal representation to appeal convictions, but they cannot expect an easy ride, just as they cannot expect to live in a five-star hotel inside the prison, what more to vote.
Still, let's say Zahid's proposal is agreeable to lawmakers who ease up on all legal variables and circumvent mechanisms blocking prisoner vote. How would they allow prisoners to cast their ballots?
Let's start with campaigning. Seeing that prisoners are deprived of TV and Internet time, they can't be Facebooking, tweeting, texting and emailing, can they? So, would the authorities open this access first because without multimedia exposure, how would prisoners know whom or which party to vote?
Would prospective candidates be allowed to campaign inside prisons, say before a mini rally of whooping and pumped-up prisoners who love the idea of being wooed because by their standards, they get to have a little festivity and maybe good food served.
But what can politicians promise prisoners? It won't be the usual offerings, but from a prisoner's real-world point of view, they would want better food, from takeaways and fancy restaurants, more family visiting hours, conjugal rights and more cash and perks injected into their prison pensions for them to spend when they do get out.
Certainly, prisoners can't mingle with civilian voters in a general election (unless you are one of the 3,500 parolees) and queue for ballots. So, a postal ballot system has to be employed the same way members of the police and armed forces vote.
British prisoners voted in the 2010 general election for the first time in 140 years after a British convicted killer won an application to vote from the European court. In the United States, only prisoners on parole or probation might be allowed, provided they pay taxes or abide by strict conditions.
These are just the intriguing quirks that Zahid must contemplate when he talks to the security and prison authorities and experts in the prison system. But if he gets his wish, he will write a historic new chapter -- the unprecedented prisoner vote -- in the annals of socio-politics, civil liberties and human rights.
CID Director will supervise investigations into shooting of Sanjeevan
Posted: 27 Jul 2013 12:07 PM PDT
(ABN News) - The IGP Tan Sri Khalid Abu Bakar has assigned the Director of CID to supervise the investigations into the shooting of MyWatch chairman R Sri Sanjeevan.
MTadmin - Speculation on whether his below tweet could be the cause of his attack
Seriously thinking to expose on a top leader of @PDRMsia where his son is under payroll of kingpins and some syndicates. Interesting piece!

In a tweet today from Setul, Seremban, Khalid posted: "BAman wll be closely monitoring investigation of Sanjeevan's shooting case in Bahau. Director CID will personally supervise." 
In other tweets, the IGP posted: "I assure the family and public that our investigations will be thorough and will look into all aspect including those alledged by SS earlier"
"Allow us to investigate thoroughly, including making arrests to facilitate our investigations. @PDRMsia"
"I wish Sanjeevan's quick recovery to assist us in our investigations@PDRMsia"
The police force expressed their wish for Sanjeevan to have a quick recovery. Polis Diraja Malaysia (@pdrm) tweeted:
"@SanjeevanSS We are sorry to hear the unfortunate incident happened on you. We sincerely wishing you a speedy recovery."
Yesterday,  Sanjeevan was in his car with a friend and had stopped at a traffic light near Taman Cempaka in Jempol at 4.30pm when two men on a motorcycle stopped beside his car and the pillion rider fired several shots at him.
He was rushed to the Jempol Hospital, but later underwent surgery at the Kuala Pilah Hospital. Late at night, he was transferred to the Seremban General Hospital.
Sanjeevan had tweeted at 8.17am yesterday: "A @PDRMsia cop told some syndicate fellow that he'll get them firearm & told them to fire few shots at my house to scare me/family!" 
Have Al Qaeda threatened to kill Thaksin?
Posted: 27 Jul 2013 11:58 AM PDT
(Asian Correspondent) - Security agencies estimate that it is a result of politics in Malaysia as the former PM [Thaksin] has clearly expressed support for Najib which has caused those support Anwar to not be satisfied.
Just before 7pm last night, ASTV Manager had an article about a clip posted on YouTube entitled "Al-Qaeda video against former Thailand Prime Minister Thaksin Shinawatra."  The clip is about 2:45 long and was posted on July 26 (Thaksin's birthday). Below is a screenshot from the clip:
The Bangkok Post:
The 2-minute, 45-second video is entitled "Al-Qaeda video against former Thailand Prime Minister".

It showed three men in Arab-type clothing, one armed with either a rifle or a replica, with the "leader" reading a death threat.

The third man held a photo of Thaksin.

….

There was no other context provided in the video. The first upload to YouTube was removed after a few hours with the notice: "This video has been removed as a violation of YouTube's policy on violence".

It appeared again from a different uploader several hours after that.
BP: Video 1 is here and video 2 is here (this has also been removed). Was going to transcribe the video, but it got pulled before could go through it word-by-word.
The Bangkok Post on its contents:
The English language commentary included threats to kill Thaksin, "to avenge the killing of Muslims in the South in 2004". …

"We will get you any time, anywhere in the world," said the threat. 
She self-proclaimed militant denounced policies toward the Southern region conducted by the government of Mr. Thaksin′s sister, Ms. Yingluck Shinawatra. He warned that Mr. Thaksin′s time is over, and that Al-Qaeda′s "Dead Squads" would always hunt him.

"We will try to assassinate you at any time and any place. You will no longer be safe in any corner of this world," the man promised.
BP: This is a clear threat directed against Thaksin, but by who?
Lt.Gen. Paradorn Pattanatabutr, secretary-general of the National Security Council, told Khaosod that the "amateurish" video is clearly not a work of Al-Qaeda or any other Islamist organization.

"The people who made this clip are no other than the same group who want to overthrow Mr. Thaksin," Lt.Gen. Paradorn declared.

….

Asked if the Thai government would have to clarify details about the videoclip with Malaysian government – who is mediating a ceasefire between the Thai security forces and the insurgents – Lt.Gen. Paradorn said the Malaysian government is well aware that the troubles in Southern Thailand are not related to Al-Qaeda.

"They are also aware that right now there is anti-democracy movement campaigning against the government," Lt.Gen. Paradorn said tartly.
Isra News reports that  Thai security agencies viewed the clip was not a doctored clip and the poster users the user name mansoor ahmed volvo. There is a person named Mansoor Ahmed, who is the Vice-President of Strategy and Communication for Volvo in Selangor, but it is unsure whether this person actually made the post. In addition, "Volvo" is the name used by anti-UMNO groups in Malaysia. When looking at the Facebook post of a person sharing the same name [Mansoor Ahmed?] of the poster of the clip, they have made very strong critical posts of the Malaysian government.
BP: Should note that the Mansoor Ahmed at Volvo is actually an Indian who previously worked for Volvo in India and China and has only been in Malaysia since August 2011 – seehere and here. Also, "mansoor ahmed volvo" has a Google Plus account (which started sharing the clip at 2:36 a.m. on Saturday) and clicking on his 16 friends, most of them are from Peshawar and other places in Islamabad. Now, how many Indians who work around the world in a senior corporate position have social media accounts with their only friends being from Pakistan?  You can also find his YouTube account and you can see that most of his comments have been on videos related to Pakistan and Peshawar in particular.  He may just been the sharer of the video which circulated elsewhere online.
BP's summarized translation of the Isra News article continues:
However, the same security source said that there are still some questions regarding the clip, particularly on how many people are in the clips for sure. In one clip, there is someone with their face showing, but in the other they are covered. Also, is the gun real? Also, from Thai security sources throughout they confirm that Al Qaeda has never been interested in the problems in the southern border provinces or unsatisfied with Thaksin at all.
Read more at: http://asiancorrespondent.com/111170/have-al-qaeda-threatened-to-kill-thaksin/ 
Businessman claimed he had created phantom members for MCA
Posted: 27 Jul 2013 11:48 AM PDT
(Sin Chew Daily) - He felt guilty when the MCA claimed to have more than a million of members but was supported only by 180,000 Chinese voters in the May 5 general election.
A local businessman recently claimed that he had helped the MCA to produce tens of thousands of phantom members for a living.
The businessman made the shocking confession on his Facebook and apologised to those who had unknowingly become the phantom members of the MCA in the 1990s.
In addition to explaining how the "phantom member manufacturer" worked, he also claimed that he did it under the instructions of his superior. He was required to submit a thousand or two of names every month but he had no idea how the name lists were distributed.
He told Sin Chew Daily that the purpose of creating phantom members were to consolidate the power of those who were in power.
However, he said that he did not know who was the mastermind behind it.
He said that Tun Dr Ling Liong Sik was the then MCA president, Tan Sri Lim Ah Lek was the deputy president, Tan Sri Ting Chew Peh was the secretary-general, while Tan Sri Ong Ka Ting, Tan Sri Dr Fong Chan Onn and Datuk Seri Chua Jui Meng were the vice-presidents and Datuk Seri Ong Ka Chuan was the national organising secretary.
He revealed that it happened after he left the press on June 1, 1995 and joined The People Insurance.
The now-defunct People's Insurance was a subsidiary of the then listed Kuala Lumpur Industries Holdings (KLIH) and Selangor MCA Treasurer Tan Sri Teong Teck Leng was the executive chairman of KLIH.
"Under the big boss' instruction, the Chief Executive Office of the People's Insurance wanted me to to perform a mysterious task, namely to assist the MCA to recruit new members", he wrote.
"With the help of a manager of the People's Insurance, I initiated a 'MCA phantom member manufacturer' and created tens of thousands of phantom members for the MCA", he added.
He felt guilty when the MCA claimed to have more than a million of members but was supported only by 180,000 Chinese voters in the May 5 general election.
He said that he must bear the historical responsibility of creating phantom members for the MCA.
Posted: 27 Jul 2013 11:35 AM PDT
(The Star) - Voicing his gratitude to Sabahans for giving the Barisan 22 of the 25 parliament seats, Najib said the people had displayed their political maturity.
A military camp is to be built at Felda Sahabat in the east coast Lahad Datu district not far away from the site of the Sulu gunmen intrusion in February.
Datuk Seri Najib Tun Razak said this was among the various measures needed to boost Sabah's security that included improving intelligence gathering networks as well as providing sufficient security personnel and deploying the latest technology.
The security boost was among the three priority areas for Sabah, the Prime Minister said at the breaking of fast with state Barisan Nasional component party leaders and members here yesterday.
He said the other thrusts for the state were accelerating development programmes, especially in rural areas, apart from safeguarding the people's welfare and interests.
''In terms of development, we realise Sabah has to play a catch-up game. We want to see the development gap between the state and peninsula being reduced," Najib added.
''We will give due attention to Sabah and provide the necessary financial allocations within our capacity."
Voicing his gratitude to Sabahans for giving the Barisan 22 of the 25 parliament seats, Najib said the people had displayed their political maturity.
"Sabahans have shown that it is not simply a matter of changing the government but changing the lives of the people and this is what Barisan has done and will continue to do,'' he added.
Earlier, he said the momentum of support that the ruling Barisan enjoyed in Sabah during the 13th general election must be maintained.
He added that the Barisan component parties in the state should thus be making the necessary preparations for the next polls.
This was among Najib's advice given to senior Sabah Umno leaders during a 90-minute meeting with them at the start of his two-day visit to Sabah.
Umno vice-president Datuk Mohd Shafie Apdal said Najib had also voiced his appreciation to the people of Sabah and Sarawak for their solid support for Barisan.
He is scheduled to be in Kuching today. 
Police misconduct revelations led to shooting, says ex-IGP
Posted: 27 Jul 2013 11:31 AM PDT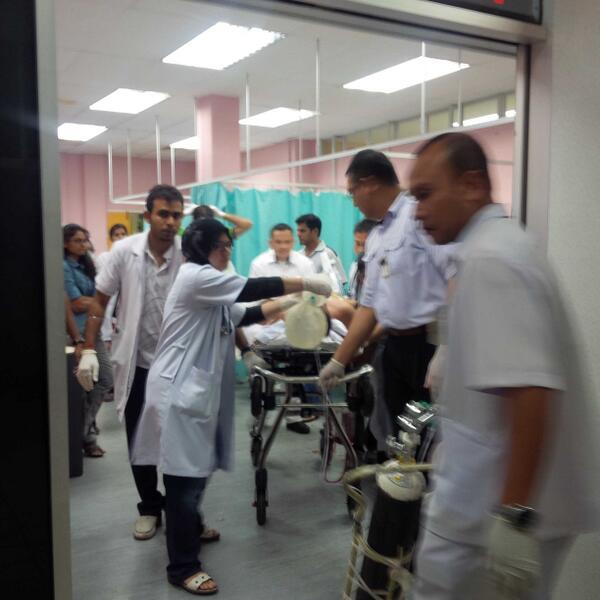 Sanjeevan being brought to Seremban GH 
(The Malay Mail) - All signs seem to indicate that the shooting of anti-crime activist R. Sri Sanjeevan is linked to his recent revelations on police misconduct, Tan Sri Musa Hassan said in a series of tweets last night.
The former inspector-general of police said via his Twitter account @TSMusaHassan, "I hope the police will do a through (sic) investigation to trace suspects as he had received several threats."
He also added, "(As a result of) his revelation on police involvement with activities of syndicated crimes and illegal activities."
The head of the MyWatch crime watchdog was shot by a man riding pillion on a motorcycle that pulled up beside his silver BMW when he wound down his window to smoke a cigarette while at a junction near Taman Awana Indah in Jempol, Negri Sembilan at about 4.30pm yesterday, several news portals reported.
"Two assailants on a red motorcycle pulled up next to him. The pillion rider then fired a shot at Sanjeevan's right rib," Jempol police chief Supt Hamzah Alias was quoted as saying by the New Sunday Times.
Sanjeevan managed to drive off despite being badly injured, leaving his assailants behind, but stopped some 300 metres from the scene where his friend who was in the car with him, Ramesh Balakrishnan, 35, took over the wheel to take the victim to Jempol Hospital, the newspaper reported Hamzah as saying.
Sanjeevan was later reported to have been rushed to the Kuala Pilah Hospital for surgery, according to The Star Online news portal.
He is said to be in a stable condition but is not yet out of the woods.
Sanjeevan made a similar allegation yesterday morning on his Twitter account, among the last messages he posted before getting shot.
"A @PDRMsia cop told some syndicate fellow that he'll get them firearm & told them to fire few shots at my house to scare me/family!" he tweeted in @SanjeevanSS.
[MTadmin - B Ramesh, Sanjeevan's childhood friend who was with him in the car during the shooting has apparently been arrested this morning]
Kredit: www.malaysia-today.net