Klik GAMBAR Dibawah Untuk Lebih Info
Sumber Asal Berita :-
---
Posted: 28 Jul 2013 03:18 PM PDT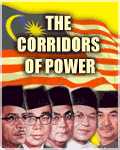 Yesterday, in 'An interesting question', we talked about the confusion surrounding the identity of Jasbir Singh Chahl. Maybe these news reports from last year can shed some light into this confusion. It was reported a few days ago that the French police were in contact with Jasbir since 2011 but in 2012 Suaram said it did not know who this Jasbir is while Jasbir himself denied he is the man in question.
THE CORRIDORS OF POWER
Raja Petra Kamarudin
French court wants Jasbir Singh Chahl the Terasasi director, not restaurateur
Cynthia Gabriel said she did not know if Jasbir the restaurateur was the same person as the Terasasi director of the same name.
Debra Chong, TMI, 19th June 2012
A French court investigating the multimillion ringgit Scorpene submarine scandal issued its first subpoena to Jasbir Singh Chahl, a director in a Hong Kong firm owned by Abdul Razak Baginda, and not a restaurateur, human rights group Suara Rakyat Malaysia (Suaram) said today.
Abdul Razak, a former think-tank head who was at the centre of a 2006 investigation into the murder of Mongolian translator Altantuya Shaariibuu, is listed as a director of Terasasi with his father, Abdul Malim Baginda.
The company was previously incorporated on June 28, 2002 as Kinabalu Advisory and Support Services Ltd, according to the Hong Kong Companies Registry.
"He's actually a director of Terasasi, not Perimekar," Cynthia Gabriel, who is on Suaram's board of directors, told The Malaysian Insider late this evening.
The activist had earlier identified Jasbir as a director in Perimekar Sdn Bhd, a Malaysian naval support services company owned by Abdul Razak, a former political analyst and associate to Prime Minister Datuk Seri Najib Razak.
"We have just [reconfirmed] with our lawyers that the subpoena has been issued. We don't have further information on when it will be served," Gabriel said.
She added that she did not know if a restaurateur named Jasbir Singh Chahl was the same person as the Terasasi director, saying she was unaware of any other details surrounding his life.
"We are not in contact with the witness," she said.
Gabriel added that Suaram had been informed about the subpoena last week from their French lawyers, Joseph Breham and William Bourdon, and would not have dared make such public statements without being able to substantiate them.
"We were surprised the subpoena had been sent out to the first witness," she said, noting that the court process tended to be time-consuming affairs.
The prominent activist had come under fire earlier today from one Jasbir Singh Chahl who runs an Indian restaurant, Gills, in the upscale Damansara Heights neighbourhood where Abdul Razak used to live.
The former head of local think-tank Malaysian Strategic Research owned Perimekar, which was reported to have received RM574 million for providing co-ordination and support services to the government in the submarine procurement deal that is now being investigated by a Paris-base court for corruption alongside French defence giant, DCNS.
Malaysia paid RM6.7 billion in 2009 for the two submarines.
Suaram had filed a complaint against DCNS in a French Court in April this year.
Abdul Razak, now believed to be based in Britain, is reportedly being sought as a witness in the French inquiry.
Jasbir the restaurateur had admitted to knowing Abdul Razak but denied he was the man subpoenaed to testify in the French case.
He also demanded Gabriel and Suaram retract their "false and distressing" allegations against him, which he added was a deliberate attempt to undermine his reputation and credibility.
"There aren't many sharing my name. In fact, I think I am the only one," Jasbir the restaurateur told The Malaysian Insider when contacted this evening.
"I was never a director of Perimekar," he stressed.
But he declined to disclose how he knew Abdul Razak when asked, saying he had been advised by his lawyers against furnishing details of their relationship.
Gabriel said she was surprised by the restaurateur's statement.
"It's news to me that he's got a restaurant," the activist told The Malaysian Insider.
News portal Free Malaysia Today had reported Gabriel calling Jasbir Singh Chahl a "central figure in the negotiation and procurement process" before a 1,000-strong dinner crowd at its fundraiser at the Petaling Jaya Civic Centre on June 15.
The non-government organisation (NGO) had successfully filed a formal complaint with a Paris tribunal in April this year against Malaysia's failure to address the serious allegations of kickbacks involving government officials, suggesting a deliberate suppression of information to keep the issue under wraps.
Gabriel also claimed that Jasbir had confirmed he would co-operate with the French panel and reveal information on what had transpired in the Scorpene deal from 2002.
Suaram had submitted a long list of potential witnesses when it filed its complaint at the Tribunal Grande instance de Paris on April 19.
Apart from Jasbir Singh Chahl of Terasasi, Suaram had proposed Abdul Razak; PM Najib; Defence Minister Datuk Seri Ahmad Zahid Hamidi; private investigator P. Balasubramaniam; the father of murdered Mongolian translator Altantuya Shaariibuu, Dr Setev Shaariibuu; and chief executive of Lembaga Tabung Angkatan Tentera (LTAT), Tan Sri Lodin Wok Kamaruddin Lodin, who is also Boustead Holdings Berhad group managing director and deputy chairman.
Abdul Razak had been the late Altantuya's lover. During her murder trial, he was acquitted of a charge of abetting two Special Action Squad members — Azilah Hadri and Sirul Azhar Umar — to commit the murder in 2006.
Last April, Setev told a press conference in Petaling Jaya that he had offered himself as a witness in the Scorpene submarine probe, claiming that his testimony would be able to "connect the dots" between her death and the case.
*************************************
Scorpene deal: 'I did not receive any subpoena'
Central figure to the deal, Jasbir Singh Chahl, has denied reports of a French court subpoena in relation to the Scorpene investigation.
G. Vinod, FMT, 19th July 2012

The original negotiator of the Scorpene submarine deal, Jasbir Singh Chahl, has dismissed reports that he was subpoenaed by the French court in regard to the submarine purchase in 2002.
In a two-paragraph statement today, Jasbir said that the report was false and claimed it was an attempt to discredit his reputation and credibility.
"These are false and distressing allegations made by someone whom I don't know and have never met," he said.
On Friday, Suaram director Cynthia Gabriel said that Jasbir is the first Malaysian to be subpoenaed as witness for the Scorpene purchase case going on at Tribunal De Grande Instance in Paris.
Claiming Jasbir to be the central figure in the submarine deal, Gabriel said the former would be compelled to reveal details on the procurement which was done via French submarine maker, DCNS.
Reacting to Jasbir's claim today, Gabriel said she had information from Suaram lawyers that a subpoena was issued.
"We don't have any further information on how long it will take to be served," she said.
France is currently investigating the case following Suaram's complaint in 2009, claiming there were elements of corruption in the purchase.
It is said that Razak's company, Perimekar Sdn Bhd, received kickbacks worth 550 million euros in the deal and is closely linked to the death of Mongolian translator, Altantuya Shaaribu.
Prime Minister Najib Tun Razak was serving as the Defence Minister at the time of during the transactions.
The French-Malaysian Submarine Scandal: the Documents Collection
Kredit: www.malaysia-today.net