Klik GAMBAR Dibawah Untuk Lebih Info
Sumber Asal Berita :-
---
New constituencies: Both must agree says EC
Posted: 08 Jun 2013 06:46 AM PDT
K Pragalath, FMT
The Election Commission (EC) is hoping that politicians from Barisan Nasional and Pakatan Rakyat would put the nation's interest first when weighing in new constituencies.
Speaking at a Bar Council organized seminar on Constituency delineation- Knowing where to draw the line – EC deputy chairman Wan Ahmad Wan Omar said: "We are very worried. Both sides have to agree for the sake of the country.
"The government doesn't have its two third majority. I don't want to explore this matter now."
Under the law, creation of new constituency, is done under Article 46 of the Federal Constitution.
Approving the creation of  new constituencies would require the consent of two thirds of the legislators.
This is because Article 46 would need to be amended. This is in contrast to alterations of boundaries which can be done with a simple majority in parliament.
In the recently concluded 13th general election, BN only obtained 133 parliamentary seats whereas Pakatan Rakyat clinched 89 seats out of a total 222 seats.
Wan Ahmad confirmed that delineation process would take place end of this year and would include creating new parliamentary constituencies.
"We will create new seats in urban areas, especially in Selangor, Johor and Negeri Sembilan," he said.
In the event BN and Pakatan failed to compromise on the forming of new constituencies, then the EC would look another option.
"If we cannot create parliamentary seats, we will create more state seats," he said saying that the state seats can be merged into existing parliament seats.
Karpal surprised by PSM's rejection from Pakatan Rakyat
Posted: 07 Jun 2013 03:50 PM PDT
(The Star) - DAP chairman Karpal Singh has expressed surprise over a statement by PKR that Parti Sosialis Malaysia (PSM)'s application to join Pakatan Rakyat has been rejected.
Karpal said so far there was no official statement by Pakatan or decision on PSM's application to join the party.
"In my opinion, PSM's application should be considered favourably.
"For Sungai Siput MP Dr Michael Jeyakumar to contest under a PKR ticket in the recent general election already shows that PSM regards PKR as its ally," he said in a press conference at a coffee shop near the Air Itam market here Saturday.
On Friday, it was reported that PSM's application to join opposition coalition Pakatan Rakyat had been allegedly shot down by the component parties.
According to PKR secretary-general Datuk Saifuddin Nasution, PAS, PKR and DAP had met before the general election to discuss PSM's application.
Saifuddin claimed that the matter was discussed before elections and that the decision was negative.
When asked for the reasoning behind the decision, Saifuddin declined to comment.
On a different matter, Karpal urged the Registrar of Societies (ROS) to expedite the DAP Central Executive Committee (CEC) elections investigation.
He hoped a decision could be made before the next parliament sitting, which is scheduled for June 24.
He said the ROS should not be influenced by any comments or criticisms made against the DAP on the matter.
"The DAP has furnished the ROS with all evidence required.
"The matter should not be further prolonged and a decision should be made without any further delay," he said.
IGP warns those who insulted the King on Facebook to surrender to police
Posted: 07 Jun 2013 03:32 PM PDT
(Bernama) -  Inspector-General of Police Tan Sri Khalid Abu Bakar has warned individuals who insulted Yang di-Pertuan Agong, Tuanku Abdul Halim Mu'adzam Shah, that they cannot escape the long arms of the law.
"I urge the individuals concerned to surrender to assist the police in the investigation before we come to detain them," he told reporters after witnessing the handover of the post of Bukit Aman CID Chief to Datuk Hadi Ho Abdullah by Deputy Inspector-General of Police, Datuk Seri Mohd Bakri Mohd Zinin.
Hadi Ho who took over from Mohd Bakri as Bukit Aman CID Chief was Bukit Aman CID Deputy Director (Intelligence/Operations).
Khalid said the police would not compromise with individuals who insulted the Malay rulers and the country's leaders via the social media.
"The use of insulting words is not a culture of Malaysians. The police will take appropriate action," he added.
On Tuesday, a woman was detained to help police investigation for alleged use of insulting words against the Agong via Facebook.
She is being investigated under Section 233 of the Communications and Multimedia Act 1998.
Asked about the planned opposition rally on June 15, Khalid said the police had rejected a notice from the organiser as it did not meet the conditions.
"It was rejected because the organiser failed to get approval of the property owner. We will allow it if the property owner gives approval as required by the Peaceful Assembly Act 2012."
Padang Merbok, the venue for the planned opposition rally is under the jurisdiction of Kuala Lumpur City Hall (DBKL).
SUARAM seeks UK's help to stop Pakatan crackdown
Posted: 07 Jun 2013 03:01 PM PDT
Clara Chooi, TMI
Local rights group Suara Rakyat Malaysia (SUARAM) sought intervention today from the United Kingdom with a letter urging Prime Minister David Cameron to help stop Malaysia's crackdown on the opposition.
The letter, sent today to Cameron's address at 10 Downing Street, asked the British PM to appeal to his Malaysian counterpart Datuk Seri Najib Razak and his Barisan Nasional-led (BN) government to stop the ongoing security dragnet that against Pakatan Rakyat (PR) leaders and their supporters.
SUARAM insisted to Cameron that those hauled in so far to face police action had not violated any criminal law in their attendance or organisation of mass rallies to protest electoral fraud.
"We call on the UK Government to show moral and political leadership to address Malaysia's recent crackdown on Malaysian human rights activists and opposition politicians," the group said.
Among others, SUARAM said Cameron should urge Najib to proceed with his earlier resolve to abolish the Sedition Act 1948, as well as drop all charges under the Act against activists Adam Adli, Muhammad Safwan Awang, Haris Ibrahim and Hishammuddin Rais, and politicians Chua Tian Chua and Tamrin Ghafar.
The group also urged for the abolition of the Peaceful Assembly Act, the 2011-enacted law to regulate public gatherings, and drop all charges under the Act against several politicians, including Nik Nazmi Nik Ahmad and six others.
SUARAM echoed the views of civil society groups and PR leaders here that the just-concluded Election 2013 was marred by irregularities and widespread cheating, including electoral malpractices like the alleged use of phantom voters and the ineffective indelible ink.
"The UK can and must play a critical role in ensuring a close UN member, Commonwealth friend and ally like Malaysia heeds its democratic obligations and respects the rights of its citizens without resorting to widespread violence, intimidation and electoral fraud," SUARAM said in the letter.
Immediately after the May 5 polls, PKR's #siasatPRU13 team made a series of exposes on what it claimed was proof of polls fraud as the opposition moved to pressure Putrajaya to implement polls reform, starting with the complete overhaul of the Elections Commission (EC).
PKR strategy director Rafizi Ramli also recently revealed that all three PR parties have confirmed plans to file 41 election petitions ― three by the DAP, 20 by PKR and 18 by PAS ― before the June 12 deadline is up.
According to Rafizi, at least 30 seats should undergo a re-election due to the high probability of vote manipulation in these constituencies. PR had won 89 seats against BN's 133 in May 5 polls.
But apart from the court petitions, PR and other civil society groups have been hosting mammoth rallies to since May 5 to push their agenda for reform, outlining three main conditions with the first being the resignation of all EC members for its failure to ensure a free and fair Election 2013.
The "Black 505" rallies as they are called, were also created as a movement of protest against PR's claims of irregularities during the polls, which saw the ruling BN retain power despite losing the popular vote.
Uthayakumar changes his mind, appeals against jail sentence over sedition conviction
Posted: 07 Jun 2013 02:40 PM PDT
(The Star) - Despite saying he was willing to face jail time, lawyer P. Uthayakumar, who was jailed for sedition, has applied to appeal against the Sessions Court's decision.
Uthayakumar, 50, was jailed two years and six months on June 5 for letters he addressed to the former British Prime Minister six years ago, which amounted to sedition.
Despite dragging on the trial for over three years, to a point that the court allowed deputy public prosecutor Noorin Badaruddin prolix application to control the length of proceedings, the Hindraf leader had chosen not to submit any form of defence.
Within the context of the law, prolixity is defined as unnecessary and superfluous statement of facts in a case.
Hindraf leader Uthayakumar had refused to submit a defence or mitigation, claiming that it was in protest over how Indians in Malaysia were being treated.
Counsel M. Manoharan told reporters Uthayakumar had decided to appeal after Manoharan advised him to do so.
Manoharan filed the notice of appeal to the Session Court registra here at 3pm Friday.
The former Internal Security Act detainee was charged on Dec 11, 2007 with publishing a seditious letter on the "Police Watch Malaysia" website, dated Nov 15, 2007, addressed to then-prime minister of Britain, Gordon Brown.
Uthayakumar had made the declaratory application (to declare the Sedition Act unconstitutional), in a bid to have the charge against him under the Act revoked and the prosecution in the proceedings in the Sessions Court struck out.
DAP's Ubah Network reaches out to overseas Malaysian voters
Posted: 07 Jun 2013 02:36 PM PDT
(The Star) - The DAP is seeking to connect with overseas Malaysians over the voting process in a measure known as the "Ubah Networks".
Party secretary-general Lim Guan Eng said the move would see the DAP reaching out to Malaysians in places such as Singapore, Europe, America, Australia and the Asia-Pacific region.
"This has gained importance following the concession by the Election Commission to allow overseas voting during the (13th) general election," he said in a statement Friday.
Lim, who is also Penang Chief Minister, said overseas voter turnout was not encouraging, adding that there was "much more room" in gaining support from this group.
He estimated that there were over 500,000 overseas Malaysians who were eligible voters.
The Ubah Network, he said, would be headed by DAP international secretary and Batu Gajah MP V. Sivakumar.
On another matter, the DAP central executive council has appointed vice-chairman Teresa Kok as Selangor political liasion officer, similar to a post held by PKR secretary-general Saifuddin Nasution.
"Teresa's proposed appointment is to ensure parity and that DAP is an equal partner in the state government," he said, adding that PAS should also have its own political liasion officer.
The DAP also appointed publicity secretary Tony Pua, state exco member Teng Chang Khim, and legal bureau chairperson Gobind Singh Deo to the 10-man Selangor Pakatan Rakyat Leadership Council chaired by Selangor Mentri Besar Tan Sri Khalid Ibrahim.
The decisions were made during DAP's CEC meeting on June 5.
Two surrender over allegedly insulting King on Facebook
Posted: 07 Jun 2013 02:34 PM PDT
(The Star) - Two individuals, among those wanted in a case for allegedly insulting Yang di-Pertuan Agong Tuanku Abdul Halim Mu'adzam Shah, surrendered themselves at the Dang Wangi district police headquarters here Friday.
According to a police spokesman, the two individuals, a man and a woman in their 30s, had their statements taken.
It is understood they were accompanied by a lawyer when they surrendered at 3pm.
Last Saturday, a Facebook user was alleged to have issued statements insulting the speech of Tuanku Abdul Halim. Other comments uploaded to the social page also allegedly insulted the King.
A 32-year-old woman was detained on Tuesday in the Ampang area here in connection with the case. Four other individuals were also being hunted by police over the case.
Former DAP man Tunku Aziz files police report over alleged death threat
Posted: 07 Jun 2013 02:27 PM PDT
(The Star) - Former DAP vice-chairman Tunku Abdul Aziz Ibrahim filed a police report at the district police headquarters here Saturday, claiming that someone had made threats against his life.
He said that he received a call to his personal mobile from a 013 number at around 10.10pm Friday while he was at home.
"The person who called had a male voice. The conversation was very short. I asked him who he was and he said 'I kill you' and hung up," he said.
Though not pointing fingers, Tunku Aziz said he believed the threat was politically motivated based on the criticisms he has been making against DAP, his former party, lately.
"Of course everyone knows I have been raising issues on the 753 delegates that should have been invited for the DAP elections in Penang in December.
"I've been threatened with legal action before but this is a totally new threat. I fear for my life and the safety of my family," Tunku Aziz said.
The Star called the number Tunku Aziz claimed made the threat, and a woman.
After The Star explained the details of the press conference, the woman replied:
"You are lying. You are lying. I kill you," before hanging up.
Tunku Aziz, who was also former Transparency International Malaysia (TI-M) president, joined DAP in 2008 and was appointed vice-chairman of the party in in 2009.
He quit the party in May 2012 following "irreconcilable differences" with the party leadership on their stance of the Bersih 3.0 rally.
He has since been an outspoken critic of the party.
Jeffrey: Double Six tragedy fallout continues
Posted: 07 Jun 2013 02:19 PM PDT
The plane crash on June 6 1976 which killed then Sabah Chief Minister Fuad Stephens and his cabinet, changed the course of history leading to a lopsided oil agreement.
Queville To, FMT
The plane crash that killed former Sabah chief minister Fuad Stephens and 10 others including members of his state cabinet continues to cast a pall over the state 37 years on.
Sabah State Reform Party (STAR) chief Jeffrey Kitingan is among those who sees it as one of the key turning points in Sabah's history.
He wants the crash to be not merely remembered as a tragic event, but also as a disaster that should now be used to chart Sabah's future course.
Speaking after state dignitaries and relatives of the victims paid their respects at a memorial at the site of the crash, he said the crash that took place on June 6, 1976 is still felt today not only by their families but by all Sabahans.
More tragically, said the state assemblyman for Bingkor, the crash changed the course of Sabah and brought about dire consequences in which all Sabahans are still suffering from until today.
"We need to reflect on some of the events like the signing of the Sabah Oil Agreement a mere eight days after the crash which until today altered Sabah's wealth inheritance," he said.
He lamented that this lopsided agreement led to a massive 95% loss in oil revenue, and a wholesale failure of development.
"As a result, today, we see that Sabah lost RM17.88 billion in oil revenue in 2012 (with Sabah getting only a pittance RM941.25 million) and became the poorest state in Malaysia from 2010," he said.
Rectify past mistakes
He said this after attending the memorial service organised by STAR Sabah at the Double 6 Monument in Sembulan, on Thursday.
"We need to acknowledge the mistakes of the past and learn from the painful and bitter lessons of the tragic Double Six and its consequences.
"We need to remember the tragedy to avoid making the same mistakes and at the same time to rectify whatever past mistakes and use the lesson learnt to chart Sabah's future," he further stressed.
Mum wants Islamic Centre to reverse conversion of her kids
Posted: 07 Jun 2013 12:13 PM PDT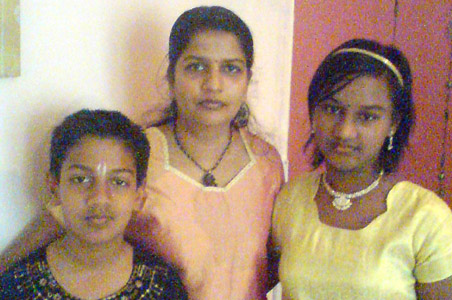 M. Indira Gandhi went through it in 2010. And now another ... 
(The Star) - A 29-year-old woman whose estranged husband allegedly had their two children converted to Islam without her knowledge wants the Islamic Centre here to reverse the decision.
She claimed that staff from the Islamic Centre had converted her children, aged five and eight, following allegations by her 30-year-old husband that she was a woman of loose morals.
"I didn't even know that he had converted to Islam until early this year," she said at the office of Hindraf national legal adviser S. Karthigesan.
The couple got married in 2004. They were estranged from February last year.
About two months ago, the woman went to check on her son at his preschool class in Titi.
"When I got there, a staff member told me that my husband had taken him away. Since my husband had converted to Islam, I decided to go to the Islamic Centre in Seremban to report that my kids and I would not be embracing Islam," she said.
However, she was shocked when she saw her lorry driver husband and their two children at the centre.
"He even picked up my daughter from school and took both of them to the centre where they were converted. I argued with an ustaz and my husband there that this was unconstitutional but I was told by the ustazto come back another day to reverse the decision."
She said that when she returned the following day, the ustaz told her that the matter was beyond them and that she would have to go to the Syariah Court to seek redress.
Karthigesan said he would file an application in the civil court to reverse the decision.
"This is clearly ultra vires the Federal Constitution. We need to put a stop to such acts," he said.
State Hindraf chief S. Sivakumar expressed regret that such incidents were still occurring despite assurances by the authorities that the fundamental rights of all Malaysians would be safeguarded.
Singapore's Websites Call for Saturday Protest
Posted: 07 Jun 2013 12:08 PM PDT
Communications Minister Yaacob communicates 
Blogs "go dark," protest launched against Internet restrictions
Asia Sentinel 
More than 160 Singaporean websites are calling for concerned citizens to assemble Saturday in Hong Lim Park, the site of the city's Speaker's Corner, to protest stringent new licensing requirements imposed by the Media Development Authority (MDA) on bloggers and other websites last week. 

More than 160 bloggers closed down their sites Thursday for 24 hours to protest implementation of the new laws.

The bloggers have launched a campaign using the Twitter hashtag #FreeMyInternet to spread the word about the campaign. Online commentators have expressed concern over the breadth of the definition of "online news sites," warning that it could sweep in blogs that discuss a wide range of issues, and websites that enable users to discuss online content. 

The new regulations, promulgated at the behest of Communications and Information Minister Yaacob Ibrahim, have been condemned internationally by the Committee to Protect Journalists and Reporters Without Borders. Today the New York-based Human Rights Watch joined in condemning the regulations, saying that "The Singaporean government should withdraw an onerous new licensing requirement for online news sites. The new rules will further discourage independent commentary and reporting on the Internet."

The Singapore government usually doesn't back away from its implementation of regulations, no matter how stiff the protest. 
"Singapore's new licensing requirement casts a chill over the city-state's robust and free-wheeling online communities, and will clearly limit Singaporeans' access to independent media," said Cynthia Wong, senior Internet researcher at Human Rights Watch. "Websites will be forced into the role of private censors on behalf of the government." 
Read more at: http://www.asiasentinel.com/index.php?option=com_content&task=view&id=5485&Itemid=181 
Posted: 07 Jun 2013 11:55 AM PDT
For more than two decades the New Zealand public has been sold the claim that "speed kills" - now new international road crash data is showing higher speed limits may actually save lives 
Ian Wishart at Investigate Magazine
When New Zealand drivers turn on their tel-
evision sets each evening, chances are 
they'll see at least one advertisment featur-
ing a car slamming into a car/pole/wall/child. The inherent message? The same as it's been since 1974 - "Speed Kills". Sure, the pictures may have become more graphic, but the underlying tone has always been that speed of any kind kills.
So haunting are the images that there is probably not a mother in the country who doesn't think about it. But what if it was all a crock? What if the researchers behind the road safety campaigns had jumped to the wrong conclusions about road fatalities two decades ago, and created a very slick, very persuasive advertising message that was utterly wrong? As New Zealanders who remember the erroneous "one father in four is a child rapist" Telethon campaign of 1988 already know, neither Governments nor advertising agencies are infallible, and the old computer adage "put junk in, get junk out" applies.
So let's get to the crunch: cold hard facts on the effect of speed on the road toll.
In the early 1970s, as a result of the 1973 oil shock, both New Zealand and the United States imposed new, lower speed limits in an effort to save fuel. In New Zealand's case the limit dropped from 60 mph (100ks) to 50mph (80ks), while in the US it dropped to 55 mph - the so-called "double nickel".
In the ten years leading up to the drop in the New Zealand speed limit, an average of 608 New Zealanders had died on the roads each year.
In the ten years that followed the drop from 100 kph down to 80 kph, an average of 707 New Zealanders died on the roads each year: in other words, the new, lower New Zealand speed limit coincided with a 17% increase in road deaths. Starting to get the picture?
Then, in 1985, the New Zealand Government decided to raise the speed limit again, from 80kph back up to 100kph. The result?
Well, admittedly there was a big jump in road deaths that year as people got used to driving their cars faster, but it also coincided with boom times in the economy and a big increase in drink-driving offences.
However, over the next ten years, the average number of New Zealanders killed on the roads each year was 699, a slight drop when compared with the ten years under a lower speed limit.
Could it actually be that allowing cars to drive faster decreases the road toll overall? Sure, the chances of surviving a crash at a higher speed were much slimmer for those involved, but perhaps the higher speeds contributed to smoother traffic flows and less road rage.
One of the reasons that road toll statistics supplied by the old Ministry of Transport, and latterly the LTSA, have been misleading is because the LTSA does not measure "deaths per vehicle kilometre travelled", which is the only true measure of whether the road toll is really going up or down.
For example, if 1000 people die on the roads each year, during which time the nation's cars have travelled a million kilometres, the ratio is one death per thousand kilometres. You can then compare that figure to a subsequent year when, perhaps, 1100 people were killed but (because of cheaper petrol maybe) the nation's cars travelled 1.3 million kilometres.
The LTSA would simplistically tell the public "the road toll has increased", without realising that the "death per kilometre ratio" has dropped to 1 per 1181 kilometres. The truth in such a situation is that the road toll has dropped in real terms, by about 20 percent.
The closest New Zealand gets to any worthwhile statistics at all are the figures that measure the ratio of deaths to the number of cars on the road.
Read more at: http://www.investigatemagazine.com/july00speed.htm 
And more at the National Motorists Association in the US: http://www.motorists.org/ma/kill.html 
And at: http://www.motorists.org/press/montana-no-speed-limit-safety-paradox 
The 4 Types of People on Welfare Nobody Talks About
Posted: 07 Jun 2013 11:43 AM PDT
Getting off of welfare is considered a loss. If you've had a source of income, no matter how small, for your entire life, and suddenly someone took that income away, it's a financial disaster. So when you start to earn more money through your actual job, there's this weird tipping point
John Cheese, Cracked.com
What do you imagine when you hear the word "welfare"? Most of us think of a minority living in a filthy house with five kids running around while an alcoholic dad sleeps it off face down on the couch ... if there's even a dad at all. I talked in another article about the things politicians will never understand about poor people, but it's not just Washington elites who treat the poor like an alien species. Hell, I find myself thinking in "welfare queen" stereotypes, and I grew up among them.
The problem is that everyone -- from the news media to well-meaning activists -- refer to "the poor" as one group having the same problem, when in reality no two people are in the category for the same reason, and almost none fall neatly into the stereotype. Right now there are millions of people out there who are using government assistance because they are ...
#4. People in a Temporary Emergency 
Want to know kind of a cool fact that politicians tend to leave out of the rants when they're tossing around numbers like a monkey throwing its shit? Nineteen percent of people on AFDC (one of the most common forms of government aid) are on it for less than seven months.
That's pretty damn important in my book, because it's a huge demographic that never, ever, ever gets covered by the news. And why would it? That statistic doesn't help support any political points because it ... well, it's kind of boring. It shows that this part of the system is working exactly as it should. People get into some trouble and need some help, the government supplies that help, the people get back on their feet, and everyone walks away happy. Problem solved. Eat a butt-fart, poverty.
I've decided to start saying "butt-fart." I'm sorry.
Jupiterimages/Goodshoot/Getty Images
Yep, that one's on me, gentlemen. Enjoy the new world behind the door I've opened.
I've known many people who have been in situations where they've lost their jobs (hey, nowhere in the company handbook does it say we can't do "ninja flips" off of the forklift), and unemployment simply wasn't enough to live off of -- or was denied altogether. Or maybe the company flat-out closed. Maybe there was an injury or an illness, and the job doesn't pay sick time. Put yourself in those shoes: In the ensuing clusterfuck, you realize that you were making just enough money to survive, even while working a 40 (or more) hour job. There is no savings. At least not one that can support you and a family for any extended period.
So you swallow your pride, head down to the public aid office, and get set up with your "just got wallet-fucked by a company dildo" check, and then you bust your ass looking for a new job. Shit happens. Learning to deal with it is what makes you an adult. Don't let the government bullshit you into thinking that welfare is a system they handed you out of the goodness of their own hearts, using their own money that they pulled out of thin air. The checks you've received from all of the (legal) jobs you've ever worked have paid into this system. It's yours to benefit from when you need it.
David Woolley/Lifesize/Getty Images
"Thank God, I didn't know how I was going to fill the tank this week!"
And like almost everyone who has ever had to be on this assistance, they hate every second of it. They can't wait to get off of it because every time you use a Link card to buy food or a medical card to pay for the removal of the LEGOs you glued to your neck (or whatever it is that people go to the doctor for), you feel like a failure. The sooner you can stop depending on that shit, the better. Regardless of what the extremists say, getting government assistance is not like finding buried treasure -- it's like digging coins out of the bottom of a sewer.
"Well if so many people get off of welfare so quickly and easily, why do we still have such a massive problem with it? Are the politicians and media just lying?" Well, no, not really. See, a frighteningly large number of welfare recipients are ...
#3. People Trapped in (and by) the System
In my last article on poverty and welfare, I cited a staggering statistic, and it bears repeating here ... and in every article I ever get a chance to bring it up: 91 percent of welfare benefits go to the elderly, the disabled, and working households. And that number I quoted earlier in this article? The 19 percent who get off of AFDC in less than seven months? Well, it turns out that pretty much the same amount stay on it for more than five years. There's a reason, and it's a pretty common one.
Free hookers.
Well, no, not really. Getting out of poverty requires massive sacrifices. This is the part that seems to be the hardest for others to understand, because the easy answer is "Well, no shit, I sacrifice hobbies, sleep, and even time with my family for my career. If I can do it, you can do it, too, Poor Person!" But urging someone to sacrifice is making a huge, unspoken assumption: that they have something to sacrifice in the first place. If they're unemployed, they're in a Catch-22 where they need a car and a working phone to get a job, but they need a job to afford a car and a working phone (and yes, if you are lacking both of those things, your application is almost certainly going in the trash -- they won't hire somebody they can't call in for work on short notice).
Stockbyte/Stockbyte/Getty Images
"I've got 50 people waiting to take your job, mister. Now go on, that garbage isn't going to eat itself."
And if they are employed, it's actually worse. This is why that stat about how most of the poor have jobs is so important -- it's one thing to ask somebody to sacrifice sleep and bong time in order to get a job, but it's another to ask them to sacrifice their paying job in favor of college classes or an internship that won't pay anything. At that level, the current employer doesn't give two shits what else you're trying to fit into your schedule. Throw kids into the mix, and it gets more complicated still. You can't get ahead because all of your time, money, and energy are being poured into just maintaining the life you're currently living.
That's how they get stuck in perpetual welfare. They're using 100 percent of their time, money, and efforts to maintain this level of basic life -- including the government assistance. Without some kind of outside intervention, they just never break free. This isn't theory -- I've seen it happen. I grew up with it. And it's terrifying to see that machine in action. After continually fighting it for so long, people just give up and resign themselves to that life.
Stockbyte/Stockbyte/Getty Images
Pretty sure this is how that crazy dump Muppet from Labyrinth was born.
And this is where it gets really crazy, because once you introduce children to this cycle, you get ...
#2. People Who Have Been Trained to See It as Normal


Read more at: http://www.cracked.com/blog/the-4-types-people-welfare-nobody-talks-about_p2/#ixzz2VaaEsUbz
Kredit: www.malaysia-today.net