Klik GAMBAR Dibawah Untuk Lebih Info
Sumber Asal Berita :-
---
Prosecution wins appeal against Yazid Sufaat's acquittal over terror charge
Posted: 17 Jun 2013 08:54 PM PDT
(The Star) - The Court of Appeal has ordered the terrorism case of former Internal Security Act (ISA) detainee Yazid Sufaat to be heard before a new High Court judge.
The panel led by Justice Abu Samah Nordin allowed the prosecution's appeal against the Kuala Lumpur High Court's decision to acquit and discharge Yazid and cafeteria helper Muhammad Hilmi Hasim of charges of promoting acts of terrorism in strife-torn Syria.
"The learned judge had erred in his interpretation of the charges. It did not refer to acts of terrorism outside the country," Justice Abu Samah said Tuesday.
He added that counsel for Yazid, Amer Hamzah Arshad had conceded that threats to security could come from within or outside the country.
"The judge also misconstrued Article 149 (of the Federal Constitution), the charge against the respondents (Yazid and Muhammad Hilmi) are within the scope of Article 149," ruled Justice Abu Samah.
The panel, which also included Justices Zawawi Salleh and Azhar Mohamed, remitted the case back to the Kuala Lumpur High Court and fixed June 24 for next mention.
The court also set Aug 5 for the case mention of religious teacher Halimah Hussein, charged with abetting Yazid in the same case.
Counsel Amer applied for a stay of proceedings, saying that the High Court had ordered all three be tried together pending the appeal.
Deputy public prosecutor Datuk Mohamad Hanafiah Zakaria raised no objection to the application, which was allowed by the panel.
The Court of Appeal had, on May 31, issued a warrant of arrest for Halimah, who is the second respondent in the prosecution's appeal and has so far failed to appear in court.
Amer had submitted that even if the case was ordered to go to trial, it should be done through the Criminal Procedure Code, not the Security Offences (Special Measures) Act 2012 (Sosma) which would deny the accused certain liberties in the trial.
"Let us see their witnesses face to face, so we can cross examine them, not have them hidden behind some veil of secrecy," said Amer.
Under Sosma, the prosecution would be allowed to use witness testimony without requiring the witness to attend court.
On Feb 8, Yazid was charged with promoting acts of terrorism in Syria.
Halimah and Muhammad Hilmi were later charged with abetting Yazid at a house in Ampang between August and October, last year.
The three were alleged to have "threatened the public in Syria" with these acts, the penalty for which is up to 30 years' jail and a fine under Section 130G (a) of the Penal Code.
They were the first people to be arrested under Sosma.
On May 20, High Court Judge Kamardin Hashim ruled that the Act could not be used against the three, as it was went beyond the scope of Article 149 of the Federal Constitution, which covered only domestic terrorism.
He said Sosma could not be used as a procedure to prove the charge against Yazid, 49, Muhammad Hilmi, 33, and Halimah, 52.
Yazid was detained under the ISA in 2001 for seven years on suspicion of being involved with the Jemaah Islamiyah militant group.
Dr Mahathir regrets internet freedom
Posted: 17 Jun 2013 08:46 PM PDT
Md Izwan, TMI
Tun Dr Mahathir Mohamad admitted today he might have made a mistake in giving guarantees for internet freedom, which has been blamed for empowering and enabling opposition parties to win more seats in Election 2013.
The former prime minister said if he had the opportunity to do so again he would reconsider his decision to grant absolute freedom for the internet when setting up the Multimedia Super Corridor (MSC) in 1996.

"When I headed the MSC, I was asked by an American woman whether we would block the internet.

"I told her no, we will be very free... but now I will think twice about it," Dr Mahathir said at the closing of the CEO Forum 2013 at the Berjaya Times Square in Kuala Lumpur today.
Bar Council: Translating Constitution causing confusion
Posted: 17 Jun 2013 08:33 PM PDT
The Malaysian Bar president Christopher Leong claims that the Bahasa Malaysia translation of the Federal Constitution is leading to a lot of misinterpretation.
G Lavendran, FMT
Malaysian Bar president Christopher Leong claims that the Bahasa Malaysia version of the Federal Constitution is causing a lot of confusion when translated.
He said the act of translating the Federal Constitution was not an amendment of the Federal Constitution.
He said this following the case of V Mithran,5, and V Sharmila,8, who were allegedly converted forcefully by their estranged father N Viran.
Viran had converted to Islam and also converted the children without the consent of their mother, only known as Deepa.
Highlighting the two articles within the Federal Constitution Christopher said the unilateral conversion of minor children to any religion by a parent, without the consent of the non-converting parent creates social injustice and violates the rights of the non-converting parent.
Article 12(3) of the Federal Constitution states that "No person shall be required to receive instruction in or to take part in any ceremony or act of worship of a religion other than his own.
Article 12(4) provides that "For the purposes of Clause (3), the religion of a person under the age of eighteen years shall be decided by his parent or guardian." (emphases added)
"Article 160 of the Federal Constitution explains the rules of interpretation.
"It is stated that words importing the masculine gender include females and words in the singular includes plural and vice versa," he said in a statement.
"Accordingly, unilateral religious conversions of any minors in breach of this are unconstitutional," he added.
Christopher said there was presently confusion in the Bahasa Malaysia version of article 12(4) when the translation is done directly without any further contemplation.
PKR: Black 505 rally at Padang Merbok
Posted: 17 Jun 2013 03:56 PM PDT
With four days to go before the Black 505 rally in Padang Merbok, PKR is going ahead and making preparations for the event on Saturday.
Leven Woon, FMT
PKR has started making preparations to use Padang Merbok in Kuala Lumpur as the venue for the Black 505 rally on Saturday.
PKR strategic director Rafizi Ramli told FMT today that they had set up a technical team headed by the rally chief organiser Johari Abdul and PAS deputy president Mohd Sabu.
Asked what if the field is fenced up later this week, he said they would still congregate at Padang Merbok.
"Our technical team will make contingency plans, including crowd control for the day," he said.
The Kuala Lumpur City Hall (DBKL) has reject PKR's application to use the venue last week saying that the Olympic Council of Malaysia (OCM) need to use it on Saturday to prepare for a charity run the next day, preserve the landscape surrounding Padang Merbok and to avoid traffic congestion.
Both the parties met last Friday but failed to come to an agreement, with PKR saying they would consult the NGOs involved before making the final decision.
Rafizi said today the rally slated for noon on Saturday would not coincide with the scheduled preparations of OCM which would only begin after 6pm.
"As far as we are told by the DBKL, OCM can only put up things after 6pm. That's no such thing that our rally will interfere with OCM's preparations.
"Besides, they will not even use the field while the run will begin and end at Dataran Merdeka," he said.
He also said NGO leaders such as Anything But Umno's Haris Ibrahim and Solidariti Anak Muda Malaysia's Badrul Hisham Shaharin had agreed to the arrangements.
Pakatan Rakyat has been organising a string of Black 505 rallies nationwide in protest of the alleged frauds in the recent 13th General Election.
There's no plan to topple Government
Posted: 17 Jun 2013 03:13 PM PDT
(The Star) - Organisers of an Opposition rally here on Saturday say they are not out to create an "Arab Spring" and have no intention to bring down the Government.
"This is our end route to call for free and fair elections," said social activist and blogger Badrul Hisham Shaharin.
He added that the organisers would comply with police directives at the rally and hand over any troublemaker during the event.
The so-called "black" rally at Padang Merbok, however, is deemed illegal because the organisers have allegedly failed to meet the requirements of the Peaceful Assembly Act and get approval from City Hall to use the field.
Furthermore, the Olympic Council of Malaysia had booked the field in preparation for an Olympic Run that would be held on Sunday.
Mayor Datuk Ahmad Phesal Talib had suggested that the rally be held at a stadium but the proposal has been shot down by the organisers.
(The Arab Spring refers to the wave of demonstrations that led to riots and civil wars in the Arab world since 2010, forcing governments to fall in Tunisia, Egypt, Libya and Yemen.)
Badrul Hisham, who chairs NGO Solidariti Anak Muda Malaysia (SAMM) and blogs under the name Chegubard, said some supporters planned to camp at Padang Merbok and the nearby Dataran Merdeka ahead of the rally.
"As SAMM chairman, I support this but I will meet these groups to see how we can plan this (camping out) in an organised manner," he said.
He reiterated that the rally would demand for the resignation of the entire Election Commission and make calls for fresh polls in constituencies where there were alleged irregularities.
Posted: 17 Jun 2013 02:00 PM PDT
"Whoever believes the statements and actions of the King and his kin cannot be disputed, that means he has made a human being a God" 
(FMT) - While openly disagreeing with the Yang di-Pertuan Agong is permissible, there is a limit to it, says ex-mufti.
Openly disagreeing with the Yang di-Pertuan Agong and royal family is permissible but criticisms have to be constructive and polite, a former mufti said today.
Ex-Perlis mufti Mohd Asri Zainul Abidin said today it was not wrong to disagree with the King and kin, as they are "not Allah and the prophet (Muhammad), but human beings like the rest of us".
Mohd Asri's statement follows numerous reports of individuals being arrested for seditious remarks against the king Tuanku Abdul
Halim Mu'adzam Shah. However, he stressed that comments and criticisms had to be polite and respectful.
"I am a free man. I may give an opinion that is different from them, but that does not mean I do not respect them. I respect them as a
ruler, but they are not Allah and rasul (prophet)," Mohd Asri told FMT.
He explained his need to clarify the issue as he claimed both Muslims and non-Muslims alike believe Islam forbids its followers to speak out against the King.
"I am performing my role as a scholar. I do not want to intervene politically, but want to give the right opinion on Islam so that people do not misunderstand," he said.
"Only Allah and His book (the Holy Quran) are free from criticism. Even the prophet Muhammad was faced with open criticisms and differences in opinion during his lifetime unless delivering His divine messages.
Read more at: https://www.freemalaysiatoday.com/category/nation/2013/06/18/okay-to-disagree-with-king/ 
'Standing man' inspires silent demonstration in Turkey
Posted: 17 Jun 2013 01:53 PM PDT
(CNN) - A single man stood silently in Istanbul's Taksim Square for hours Monday night, defying police who broke up weekend anti-government protests with tear gas and water cannon and drawing hundreds of others to his vigil.
For more than five hours, he appeared to stare at a portrait of Kemal Ataturk, the founder of the modern Turkish state. Police eventually moved in to arrest many of those who joined him, but whether Erdem Gunduz -- a performance artist quickly dubbed the "standing man" -- was in custody was unclear early Tuesday.
Turkey has been wracked by more than two weeks of protests against the government of Prime Minister Recep Tayyip Erdogan. But many of those who joined Gunduz late Monday said they were standing only for peace, not taking sides.
"I'm standing against all violence," said Koray Konuk, one of those arrested. "I'm standing there so that the events that we've been witnessing and the events taking place over the last two to three weeks can come to a standstill."
Konuk, 45, told CNN that police put him on a bus with up to 20 other people who had joined Gunduz, but Gunduz was not with them.
"I was just standing. They arrested a man who was just standing," he said. "That is absurd."
Monday's hushed tableau came two days after police swept into Taksim Square and neighboring Gezi Park to clear out anti-Erdogan protesters. The demonstrators tried to return to the park on Sunday, only to be driven back by police.
Trade unions put fresh pressure on Erdogan earlier Monday, mounting a nationwide strike. But a crowd that marched on Taksim Square dispersed when faced with riot squads backed by water cannon.
The protests started at the end of May over authorities' plans to turn Gezi Park, central Istanbul's last green space, into a mall. They quickly turned into large anti-government demonstrations that included calls for political reforms.
'There is a level of desperation'
Read more at: http://m.cnn.com/primary/cnnd_fullarticle?topic=newsarticle&category=cnnd_latest&articleId=cnn/2013/06/17/world/europe/turkey-protests#page2 
Posted: 17 Jun 2013 01:50 PM PDT
(The Malay Mail) - Two MIC appointees in Perak govt fail to show up citing professional reasons 
THE unsettled business between MIC president Datuk Seri G. Palanivel and Perak Menteri Besar Datuk Seri Zambry Abdul Kadir (pic) regarding the position of the state legislative assembly speaker is taking a new twist.
While Palanivel is adamant his party would reject any posts in the Perak government if it was not given the speaker's chair, two of his men have been offered positions in the state government to represent the Indian community.
On Friday, in a press statement from the menteri besar's office Lumut MIC division chief V. Elango was named adviser to menteri besar while MIC national Youth secretary-general C. Sivaraj for the position of a special officer effective last Saturday.
Both were supposed to report for duty yesterday but did not show up to sign their letters of appointment.
Both claimed that they needed more time.
"I am still attached to Yayasan Bina Upaya Darul Ridzuan as the 1Malaysia unit manager and I need to resign before I take up a new position," Sivaraj told The Malay Mail.
He said he needed time to handover most of his responsibilities in the party to his assistant before taking up the position.
Although Elango and Sivaraj have cited professional reasons for the delay, party insiders have indicated the duo are tied down by the party's stand.
"The party will have to deliberate on the matter before they are allowed to take any positions offered. The party is still firm on their stand in wanting the speaker's post," he said.
It is learnt that MIC central working committee (CWC) was expected to discuss the matter today.
"That's why both are bidding for more time. They want to make sure they do not offend any side. But it will be sticky if they have to choose either one," he said.
The senior member said although most party members hoped Palanivel and Zambry would sort their differences as soon as possible, the chances are looking slimmer by the day.
"The battle is getting tougher with each one trying to outdo the other," he said. 
Posted: 17 Jun 2013 01:47 PM PDT
(FMT) - If the grassroots insist, the MCA president may defend his post in the coming party polls.
There is a possibility that MCA president Dr Chua Soi Lek may change his mind and defend his post in the next party polls, said a MCA insider.
"In politics, anything is possible. If the grassroots want Chua to remain, he may just do that," he told FMT.
On May 6, Chua announced that he would not be defending his presidency in the party polls scheduled to be held end of the year.
The decision was triggered after MCA performed poorly in the general election.
In addition, Chua also upheld the party's resolution in not accepting any government posts due to the dismal performance, which caused friction among party leaders.
Describing Chua as a tactical genius, the party insider said that the former health minister had always been effective in usurping his rivals "at the last minute".
"Look at Chua's track record. Despite being marred with a sex scandal, he managed to become MCA deputy president in 2008 after resigning from all posts.
"And in the 2009 party polls, he managed to dislodge then party president Ong Tee Keat and former party president Ong Ka Ting to become MCA president. Don't underestimate him," said the source.
The party insider added that those opposed to Chua must remain on high alert as the vocal party leader had been very quiet in recent times.
"It means Chua has something up his sleeve," said the source.
Read more at: https://www.freemalaysiatoday.com/category/nation/2013/06/18/chua-may-defend-his-post/ 
No future in hate: what Mandela taught us all
Posted: 17 Jun 2013 01:38 PM PDT
(Rappler) - Mandela chose forgiveness as a tool to liberate himself from the shackles of resentment and in so doing, inspired his fellow South Africans to do the same. He helped the African National Congress, the ruling party, to transition from a liberation struggle party to one that governs and accepts a government in which ex-revolutionaries sit alongside ex-enemies.
You have probably read the news by now.
Nelson Mandela, South Africa's iconic liberation hero and father figure, is once again in hospital fighting a persistent lung infection. With this being his fourth hospitalization in six months, the prognosis for our 94-year-old former president is not good.
Our nation is now facing the psychological battle of acknowledging and accepting the inevitably imminent passing of our beloved 'Madiba.' In the face of political and economic uncertainty, South Africans are holding on to our ailing hero as the remaining thread of consistency in our miracle 'rainbow nation' story.
Although President Mandela left the political stage in 1999 after one term as Head of State, one would be hard-pressed to find a South African today, fourteen years later, who has not been profoundly influenced by the world's most famous political prisoner. His 27 years spent behind bars fighting the apartheid regime followed by his reconciliatory efforts after the historic national peace and constitutional negotiations of the early 1990s, has earned him respect and admiration the world over.
For the average South African like myself, he has become the symbol of our better nature—the personification of humanity, forgiveness and non-racialism.
As a resident of Johannesburg, I often have the privilege of taking my international friends around the city when they visit. The sight I am often most excited to show off is Vilakazi Street in Orlando West, Soweto.
Why? My family's first home was in the area and I was born into a resilient but deeply traumatized community.
Vilakazi Street also housed a powerful symbol of liberation in the form of Mandela's first home—a very modest four room house that was often petrol-bombed and raided by members of the police force under the apartheid regime. Vilakazi Street also was and continues to be Archbishop Desmond Tutu's residence, thus making it the only street in the world that has housed two Nobel Peace Prize Laureates.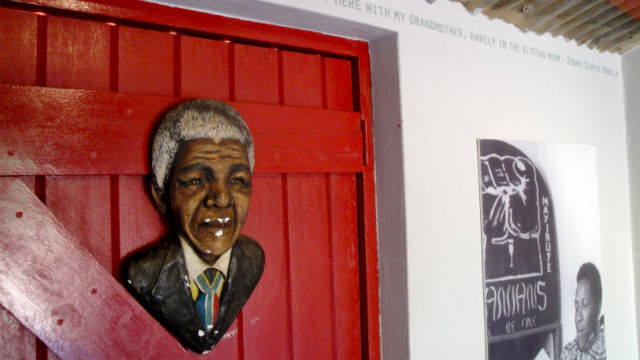 HOME. On Vilakazi street, one can find Mandela's first home which has now been turned into a museum. Photo by Zanele Hlatshwayo
This street is steeped in history and every time I visit I am reminded of both the injustices of apartheid but also of the overwhelming ability of human beings to endure, to overcome and most importantly, to forgive. A bloodless and democratic post-apartheid South Africa has been nothing short of a miracle. We have Madiba to thank for this.
His insistence on replacing anger and resentment with forgiveness and tolerance following his release from prison elevated him to iconic status. In response to a question in 1993 regarding South Africa's post-apartheid future, Mandela famously responded 'I see a country for everyone, a rainbow nation, a country at peace with itself and with the world. I see no future in hate'.
This remarkable human being was able to see the humanity in the faces of the prison warders who tortured him, of the police officers who ruthlessly killed his friends and comrades and, of the indignant westerners who turned their backs on non-white South Africans at a time when they needed them most.
Mandela chose forgiveness as a tool to liberate himself from the shackles of resentment and in so doing, inspired his fellow South Africans to do the same. He helped the African National Congress, the ruling party, to transition from a liberation struggle party to one that governs and accepts a government in which ex-revolutionaries sit alongside ex-enemies.
Simply put: Mandela helped birth a unique leadership and magnanimity which astonished and impressed the international community in equal measure.
As a proud South African who grew up with Madiba as a second father, it is tempting to paint him and his role in the liberation struggle in rainbow colors. However, in the interest of remaining objective, it is important to highlight the fact that Mandela, as revered as he is, is human and thus fallible. As a disciplined and astute politician, he made decisions and compromises that were not always seen to be ideologically aligned. However, much like other global icons – like Mahatma Ghandi and Aung San Suu Kyi—Mandela believed in practical politics but still applied his values consistently.
Read more at: http://www.rappler.com/move-ph/ispeak/31429-no-future-hate-mandela-taught-us-all 
Thai Buddhist monks criticized for lavish behavior
Posted: 17 Jun 2013 01:15 PM PDT
(WKRN) - The images from the video contrasted with the abbot's message on the temple's homepage that read: "The true core of those who preach Buddha's teachings is to not to own any objects at all." 
Thailand's Buddhism body said it is monitoring monks nationwide for any inappropriate behavior after a video showed monks using luxurious personal items while flying on a private jet.
The YouTube video showed one of the monks was wearing stylish aviator sunglasses, carrying a luxury brand travel bag and sporting a pair of modern-looking wireless headphones. It attracted criticism from Buddhists nationwide.
Office of National Buddhism director-general Nopparat Benjawatananun said Monday that the agency saw the video early this year and had warned the monks from a monastery in Thailand's northeast not to repeat the lavish behavior.
A country with the world's largest Buddhist population, Thailand has attempted to help Buddha's 2,600-year-old doctrine stand the test of time through a variety of means, including banning the sale of alcohol on religious holidays. The efforts, however, are sometimes tainted by the Buddhist monks themselves.
Read more at: http://www.wkrn.com/story/22615400/thai-buddhist-monks-criticized-for-lavish-behavior 
Asean ministers to discuss haze problem
Posted: 17 Jun 2013 01:03 PM PDT
(The Star) - Ministers from several Asean countries will meet here to discuss ways to tackle the return of the haze to the region and the likelihood of it worsening due to the hot and dry weather.
Natural Resources and Environment Minister Datuk Seri G. Palanivelsaid he would chair a meeting on Aug 20 with his counterparts from Indonesia, Brunei, Singapore and Thailand.
"We will also study several proposals on early fire detection mechanisms through satellite technology and a fire danger rating system," he said yesterday.
He said the National Haze Action Plan would come into action where key departments and agencies would move to handle the fires depending on the different alert levels based on the Air Pollutant Index (API).
Science, Technology and Innovation Minister Datuk Dr Ewon Ebin said the ministry was mulling over cloud seeding if dry weather persisted.
Satellite images from the Asean Specialised Meteorological Centre revealed that hot spots in Sumatra had increased from 46 on Friday to 136 on Sunday, while 113 were recorded as of 8.30am yesterday.
The air quality in Malaysia, however, has improved slightly, with four places recording unhealthy levels yesterday compared with six on Sunday.
The API readings showed unhealthy levels for Balok Baru (110) in Pahang and Kemaman (121) in Terengganu with other parts of the country reading good to mode- rate levels.
Under the air quality index, readings of between 0 and 50 are classified as Good, 51 to 100 (Moderate) 101 to 200 (Unhealthy), 201 to 300 (Very Unhealthy) and 300 and above (Hazardous).
In Kuala Terengganu, the levels in Paka were 92 and Kuala Terengganu at 70.
In Nusajaya, Johor Mentri Besar Datuk Seri Mohamed Khaled Nordin said the state government would keep the people posted on the matter if the situation worsens.
In Penang, state Environment Department director Datuk Hassan Matsaid the API levels on the is-land was 53 yesterday, while visibility in Bayan Lepas, Prai and Butterworth stood at between 9km and 10km. 
Election law amendments top Private Member's Bill proposals
Posted: 17 Jun 2013 12:26 PM PDT
(fz.com) -
Pakatan Rakyat parliamentarians have lined up a series of Private Members' Bills on various matters including reforming the Election Commission (EC).
The first session of the 13th Parliament which convenes on June 24 is expected to see a number of Private Members' Bills on electoral reform and custodial deaths tabled.
Pakatan Rakyat parliamentarians who have been relentless in their push for electoral changes have lined up a series of Private Members' Bills on matters such reforming the Election Commission (EC) and cleaning up the electoral role.
Second-term Klang MP Charles Santiago is expected to table a bill calling for the removal of Section 9A of the Elections Act 1958 which stipulates that no changes can be made to the electoral roll after it has been gazetted.
The provision was introduced after an Election Court invalidated the 1999 general election result for the Likas state seat following an election petition filed by Parti Bersekutu's Datuk Harris Mohd Salleh.
The court ruled in favour of Harris after it was proven that the EC did not hold a public inquiry after a voter filed an official objection over the inclusion of "questionable" names in the electoral roll, and the police had not investigated reports lodged against the dubious names.
"It is related to the case we took up against the EC but the case was thrown out because of Section 9A," Charles toldfz.com, referring to the case of Dinesh Siva Kumar.
About one month prior to GE13 on May 5, a
judicial review
was filed at the Shah Alam High Court by Dinesh to remove his name from the electoral roll as he had never applied to be a voter.
"We wanted to prove that people who didn't apply to become voters were in the gazetted electoral role but after (Tun Dr) Mahathir (Mohamad) changed the law in 2001 and included Section 9A - the names are there to stay," said Charles.
Charles said  Prime Minister Datuk Seri Najib Razak was aware of the need for electoral reform  
"But when Najib talks of reform of the EC by putting in under the purview of Parliament, it puts its legitimacy into question – he recognises that there is a problem but he thinks the solution is to put the EC under Parliament.
"But this is not enough. Parliament must withdraw Section 9A to give the commissioners powers to remove doubtful names… but the current commissioners must also go," he stressed.
Charles said his Private Member's Bill would be ready for inclusion in the order paper midway through the first sitting which is expected to continue until mid-July.
Read more at: http://www.fz.com/content/election-law-amendments-top-private-members-bill-proposals#ixzz2WXDljwX3
Kredit: www.malaysia-today.net