Klik GAMBAR Dibawah Untuk Lebih Info
Sumber Asal Berita :-
---
Mirzan Mahathir does not own shares in Petron Malaysia
Posted: 05 Jun 2013 12:32 AM PDT
(Bernama) -- Petron Malaysia Refining & Marketing Bhd (Petron Malaysia) today disclosed to Bursa Malaysia that Mirzan Mahathir does not own any shares nor does he have any role in the company.
Petron Malaysia made the statement in response to a question from a stockholder at its annual general meeting pertaining to Mirzan's shareholdings in Petron Malaysia and its parent company, Petron Corporation, and the ultimate holding company, San Miguel Corporation.

The company clarified that Mirzan is a board member of its parent company, Petron Corporation of the Philippines.

He was elected as a Director of Petron Corporation on Aug 13, 2010 and holds 1,000 shares.

Under the company's by-laws, a person has to be a shareholder to qualify as a Director. Petron Corporation has 9.4 billion shares listed on the Philippines Stock Exchange.

Prior to the directorship in Petron Corporation, the company said Mirzan was a Director of San Miguel Corporation for a brief period from Sept 1, 2009 until April 15, 2010.

He currently holds 5,000 San Miguel shares. San Miguel Corporation has a total of 3.3 billion shares listed on the Philippines Stock Exchange.

"We hope these facts will put an end to all the speculations in connection with Mirzan, which are unfair to Dr Mahathir's family.

"The shares held by Mirzan in San Miguel Corporation and Petron Corporation are essentially qualifying shares for directorship," Petron Chairman and Chief Executive Officer Ramon S. Ang said in a statement.

"San Miguel, Petron Corporation and Petron Malaysia are public-listed companies, adhering to the strictest standards on governance," Ang added.
Failed to become Prime Minister; the West is abandoning Anwar Ibrahim
Posted: 04 Jun 2013 08:03 PM PDT
Nur Eisha Fatihah, Malaysia News

After finishing his nationwide tour to protest the 13th General Election, Anwar Ibrahim now knows that he is being abandoned by his allies. Formation of the Penang and Kelantan state government after the results of the election was announced shows that the PAS and DAP leaders were against Anwar's action.
Anwar was having a nervous breakdown when he lost his last chance to become the Prime Minister. This however differs for PAS and DAP as although they failed to take over Putrajaya, all of them were quite satisfies with their members overall performance in the last general election. Now Anwar Ibrahim seems to be swirling into the political abyss while only being helped with one or two PKR leaders that is still rooting for him. The same song is sang by Anwar Ibrahim. He keeps on blaming the Barisan Nasional and the Election Commission for his failure in the last election. 
It can be clearly seen that 97% of Chinese voters were cheated by Anwar Ibrahim. They were voting for the DAP without bearing in mind that the Malay voters are seeing this as a traitorous act. Younger Chinese still attends illegal rallies organized by Anwar even though they knew that they have been cheated by the former Deputy Prime Minister himself. Ironically, even as one of the major party in Pakatan Rakyat, there are only a few PAS members and supporters   inclined to join the rally. 
Anwar Ibrahim did not only lie to his followers but also he lied to his western allies. Looking at the current situation in Malaysia, the western media and Jewish lobbyist that before this was a strong supporter of Anwar sinister agenda are gradually withdrawing their support. Indonesian former Deputy President, Jusuf Kalla exposes Anwar Ibrahim's lies by saying that Anwar himself has broken the promise that he made with the Prime Minister of Malaysia Datuk Seri Mohd Najib Bin Tun Abdul Razak, shows to the west that he is not an honest person, and he is definitely not the one who would help the west to obtain their agenda in Malaysia. 
Anwar's attitude of not keeping his promises made it difficult for the west to continue their support in his "struggle" to become the prime minister of Malaysia. It can be said that Jusuf Kalla's action of exposing Anwar Ibrahim in the Wall Street Journal has an implicit message to the west. 
Jusuf actually telling the American and all other western countries that it is time to leave Anwar Ibrahim with his fantasies of becoming the Prime Minister of Malaysia. 
The western agenda to ensure Anwar Ibrahim becomes a living puppet that can be exploited to their whims has come to an abrupt end. For the west, Anwar Ibrahim has now become more of a liability then a benefit to the westerners. 
Maybe the message that was conferred by Jusuf is understood by the westerners. After the interview he did with the Wall Street Journal, the Economist that is know as the mouthpiece of the western world stated that, at the age of 66 years old, time is not on Anwar's side for him to be the champion of the western world. 
The Economist even predicted that Anwar's political future is getting bleak when he failed to lead the opposition to overthrow the Barisan Nasional government. The west seems to be using Anwar's failure in the 13th General Election as evidence that the hope that they have given Anwar in the last 40 years proves to be nothing. 
Since 1998, when Anwar Ibrahim was banished by Tun Dr Mahathir, the west was seen as a very strong ally of Anwar. The west was openly stating their support in Anwar's "reformasi" movement and Anwar was even known as "the west best friend".
Maybe in that time the west was underestimating the calibre of Barisan Nasional under the helm of Prime Minister Tun Dr Mahathir Mohammad. They were confident that Anwar Ibrahim was able to overthrow the government through street demonstration. 
However the west was wrong as Anwar was directly thrown into Sungai Buloh Prison, but they were still sure of that their golden child will succeed in taking over the government. After being released from prison in 2004 and getting back in the political saddle in 2008, Anwar Ibrahim continues his promises to the west that he will become the Prime Minister eventually but in 2013 his last attempt failed. 
This is his last attempt and after this he would not have any other chance to realize his dream. Maybe the west is currently seeking the next puppet in the opposition that can be groomed to help them secure their interest in the country, but surely that person is not Anwar Ibrahim.

400 Myanmars hauled up to avoid religious clashes
Posted: 04 Jun 2013 07:49 PM PDT
(The Sun Daily) - Hundreds of Myanmar workers here were hauled up by police for questioning in a pre-emptive step to avoid violent confrontations resulting from a spillover of sentiments from the racial unrest in Myanmar.
Kuala Lumpur deputy CID chief ACP Abdul Aziz Zakaria said a joint mopping operation with the immigration department was launched on Sunday after several bloody clashes that resulted in the deaths of three Myanmar men, while several others were injured.
He said the ongoing operation was being carried out to avoid other untoward incidents involving foreigners.
Abdul Aziz said to date about 400 foreigners have been detained. However he said most of them were released after their identities and particulars were recorded.
Police sprang into action to contain the matter after more than 10 cases were reported in Kuala Lumpur and Selangor since May 31.
Three Myanmar men were killed in Jinjang, Selayang and Ampang while a dozen others suffered injury when they were set upon by their fellow countrymen.
Police said the attacks were triggered by the escalating friction between Muslims and Buddhists in Myanmar.
Police have called up community leaders among Myanmar workers of both religions to discuss ways to prevent further issues of violence among them.
Three cops charged with murder of detainee Dharmendran
Posted: 04 Jun 2013 07:36 PM PDT
(The Star) - Three policemen were charged in the Magistrate's Court here Wednesday with causing the death of detainee N. Dhamendran in lock-up.
The accused - Sjn Jaffri Jaafar, 44, Kpl Mohd Nahar Abd Rahman, 45, and Kpl Mohd Haswadi Zamri Shaari, 32 - confirmed that they understood the charges, although no plea was recorded.
The three with one other still at large are accused of colluding to cause the death of Dhamendran.

The men, who were dressed in plain clothes, black jackets and jeans, were charged.

The lawyers for the were Datuk Hazman Ahmad, Datuk Baljit Singh Sidhu and Geethan Ram Vincent, respectively.

Under Section 302 of the Penal Code for murder, the three face the gallows if convicted.

Magistrate Nur A'minatul Mardiah Md Nor fixed July 9 for mention to hand in documents, including the chemist's and post mortem reports.

The courtroom was packed with relatives of the deceased and reporters.

Lawyers N. Surendran and Latheefa Koya held a watching brief for the family of the deceased.

City CID chief Senior Asst Comm Datuk Ku Chin Wah was also present during the proceedings.
Confusion arose when the courtroom allocated was changed twice, resulting in the crowds of people in the public gallery to have to move between different courtrooms.

Dhamendran's wife Marry Mariya Susay told reporters said she was satisfied that the suspects had been charged.

"Why did they try to cover this up, saying he suffocated, saying he had a heart attack.

"Now the coroner's report is out, only then are they taking action," she said.

Earlier Wednesday, Attorney-General Tan Sri Abdul Gani Patail said in a statement that police personnel who were allegedly involved in the death of detainee Dhamendran, 31, would be charged in the afternoon with murder.

He said the dedicated task force established by the Inspector-General of Police to investigate the matter completed its investigation and submitted the relevant investigation papers to the A-G's Chambers on Monday.

"Based on the evidence gathered through the investigation, I have decided to proffer a murder charge under Section 302 of the Penal Code against the police personnel involved.

"The police personnel concerned are to be indicted in court this afternoon, June 5, 2013," he added.

He said although the events involved were regrettable, the swift police action on the matter was nonetheless commendable.

Dhamendran was found dead in his cell while in police custody at the D9 Branch Lock-Up at the Kuala Lumpur Contingent Headquarters (IPK Kuala Lumpur) on May 21.

He had been arrested on May 11 on suspicion of attempted murder involving firearms and held under remand from May 12 until his death.

Based on the post mortem examination conducted at the Kuala Lumpur General Hospital on May 22, the cause of death was determined to be "diffused soft tissue injuries due to multiple blunt force trauma".
Royal Insult: FB suspect believed to be Melissa Gooi released
Posted: 04 Jun 2013 07:33 PM PDT
(Malaysian Digest) - The 32-year-old woman who was detained for allegedly insulting the Yang di-Pertuan Agong on Facebook has been released.
City deputy CID chief Asst Comm Aziz Zakaria said she was released on the same day after police recorded her statement.

"The investigation is still ongoing," he told a press conference here Wednesday.

ACP Aziz said the suspect was believed to have been in hiding after her identity was revealed on the Internet following the alleged insults.

"We are tracking down four other individuals to assist police in the investigation.

"They are Weennee Tan, Shuh Chien Loo, Hun Keat Wong and Carol Tay," he said.

The woman was picked up in Taman Nirwana, Ampang, at 9.30am on Tuesday.

Malaysian Communications and Multimedia Commission (MCMC) in collaboration with the police, successfully tracked down the suspect, who was said to have insulted Yang di-Pertuan Agong Tuanku Abdul Halim Mu'adzam Shah on Facebook.

The woman is being investigated under Section 4(1) of the Sedition Act 1948.
Chegubard charged over May 25 Padang Timur rally
Posted: 04 Jun 2013 06:09 PM PDT
(The Star) - Rembau PKR chief Badrul Hisham Shaharin, or "Chegubard", was charged in a Sessions Court Wednesday with failing to inform the police before organising a DAP thanksgiving gathering here last month.
Badrul Hisham later claimed trial before judge Yasmin Abdul Razak.
He was charged with failing to tell the Petaling Jaya District police chief 10 days before the "Appreciation Programme for Voters in Selangor".

The offence was allegedly committed at Padang Timur, Dataran Petaling Jaya in Jalan Timur here between 5pm and 12 midnight on May 25.

Badrul Hisham was accused under Section 9 (1) of the Peaceful Assembly Act 2012 and punishable under Section 9 (5) of the same act.

Deputy public prosecutor Wan Shaharuddin Wan Ladin said this was a bailable offence under Section 387 of the Criminal Procedure Code and later offered bail in one surety.

Badrul Hisham, who was unrepresented, had asked for a reasonable bail, saying that he had given his cooperation to the police before he was brought to the court.

Judge Yasmin said this was only a summons case but Badrul Hisham was required to come to court each time his case was mentioned.

She did not fixed any bail but set July 9 for mention.
High court date set for Anwar's sex video defamation case
Posted: 04 Jun 2013 06:05 PM PDT
(ST) - The high court will hear on January 27 Malaysian opposition leader Anwar Ibrahim's 100 million ringgit Papa Gomo defamation suit.
Mr Anwar is alleging that Wan Muhammad Azri Wan Deris, as owner of the Papa Gomo website, posted defamatory words on the website back in March and a weblink to sex video footage implied to be of Mr Anwar and another man.
Mr Wan Muhammad Azri has denied that he owns the Papa Gomo blog.
Mr Anwar is seeking general, aggravated and exemplary damages, interests, costs and other relief deemed fit by the court, as well as an injunction to restrain the defendant from further posting the defamatory words and images, according to Bernama news agency.
Posted: 04 Jun 2013 05:54 PM PDT
The de facto Hindraf leader chooses not to appeal the sentence
(FMT) - The Hindu Rights Action Force (Hindraf) de facto chief P Uthayakumar has been sentenced to 30 months jail for publishing seditious material in 2007.
The sentence was handed down by Sessions Court judge Ahmad Zamzaini Mohd Zain this afternoon.
The Hindraf leader was found guilty of publishing seditious material via a letter written between Nov 15 and Dec 8, 2007 to the then British Prime Minister Gordon Brown.
In the letter, Uthayakumar also alleged that the state sponsored social 'ethnic cleansing' of the Indian poor in Malaysia.
The letter was widely circulated and posted in several blogs and websites.
On Monday, Uthayakumar had refused to continue with his defence on grounds that the circumstances of this case did not allow him to proceed.
He also refused to make submissions this morning, choosing to remain silent in court, not even applying for a stay of sentence.
He had earlier said that he would not file for an appeal or mitigate the case.
FMT learnt that he is now being transferred to the Kajang Prison.
Earlier in delivering the verdict, Ahmad Zamzani said Uthayakumar had failed to raise a reasonable double in the prosecution's case.

When asked to make a plea in mitigation, he just said that he had already said what he wanted to twice during this morning's session.
Every time he was asked to address the court, Uthayakumar kept repeating:"Because of the circumstances of this case and in protest against institutionalised racist government policies in Malaysia victimising in particular the Indian poor, I am unable to proceed further with my defence, re-examination, calling further witnesses, submitting a close of case and mitigation."
He also asked to be handcuffed after the hearing. Soon after being secured with handcuff, he started posing to photographers despite repeated warnings from court officials that photography was prohibited in courts.
His lawyer M Manogaran told reporters later that he has not received any instructions to appeal the decision.
The sentence begins today.
Not all election petitions filed will be heard in court, says EC
Posted: 04 Jun 2013 04:23 PM PDT
(The Star) - Not every election petition filed by candidates and political parties to challenge the results of a general election will make it to the hearing stage in court.
This is because the petitions would be vetted to ensure they met the legal requirements before they could be allowed for a hearing, said Election Commission (EC) deputy chairman Datuk Wan Ahmad Wan Omar.
"I believe this is the reason why no candidate or political party has yet to file petitions even though the June 12 deadline is approaching; they want to make sure their petitions can stand up in court," he said.
Wan Ahmad said the EC had made all the necessary preparations to handle the filing of petitions, with EC's legal adviser working closely with lawyers from the Attorney-General's Chambers, who will be representing the EC in court.
"Of the 29 election petitions filed to challenge the 2008 general election results, only one was successful," he said.
Hashim Jasin, who was the PAS candidate for the Sanglang state seat in Perlis, had filed a petition to challenge the results after Barisan Nasional's Abdullah Hassan was declared the winner with a 149-vote majority.
Hashim filed his petition on grounds that the election result was contrary to the figures stated in EC's Form 14, which showed that he had won with a 47-vote majority.
Form 14 is the form that records the results for the respective streams, with signatures from the polling stations' presiding officers and counting agents. Subsequently, the Federal Court declared Hashim as the rightful winner.
In another case, the Election Court in Kota Kinabalu nullified the 2008 general election results for the Pensiangan parliamentary seat which Barisan's Tan Sri Joseph Kurup had won uncontested. However, the Federal Court in June 2010 overturned that decision.
Meanwhile, Federal Court corporate communications and international relations head Mohd Aizuddin Zolkeply said election judges, as in the past, would not be allowed to hear cases from their own states to avoid conflicts of interest.
He added that the election judges were High Court judges appointed specially to hear election petitions.
"I hope that the plaintiffs would make sure that all of their papers and evidence are in order," he said when contacted.
Chief Justice Tun Ariffin Zakaria had previously said that the election petitions must be disposed within six months of filing to ensure that the petitioners receive fair hearing of their cases.
Previously, it would take almost a year to settle these cases.
According to the law, the Election Court is only empowered to nullify or uphold the election results. It is then up to the EC to decide on whether to hold a by-election.
But the ruling of the Election Court can be challenged at the Federal Court. The Federal Court's decision will then be final.
Record number of polls petitions
Posted: 04 Jun 2013 04:18 PM PDT
(The Star) - Malaysia could see a record number of election petitions – close to 100 – being filed before the June 12 deadline.
In a last-ditch effort, both Barisan Nasional and Pakatan Rakyat are hoping to change the outcome of the 13th general election results through the petitions.
Pakatan Rakyat is 23 seats away from forming a government while Barisan Nasional is 15 seats away from having a two-thirds majority in Parliament.
Barisan secured 133 of the 222 parliamentary seats while DAP won 38 seats, PKR 30 and PAS 21.
PKR is taking up the lion's share of Pakatan's election petitions with almost 20 cases while DAP is optimistic about filing five cases.
PAS secretary-general Datuk Mustafa Ali said the party would file "four or five" election petitions for the state seats in Terengganu, where Pakatan is just two seats away from forming the state government.
The party is expected to file close to 15 throughout the country.
"We know that our track record with election petitions is not very good. In fact, we have not won any so far, but we will see this time," Mustafa said yesterday.
A total of 29 election petitions were filed after the 2008 general election but only one was successful.
Umno secretary-general Datuk Seri Tengku Adnan Tengku Mansor (pic) was reported to have said that the party would file election petitions in more than 50 parliamentary and state seats before the deadline, but he did not disclose the seats concerned.
He also said Umno was studying whether to file petitions in another 37 seats.
DAP national organising secretary Anthony Loke said his party's election petitions are all in seats where they lost marginally, such as Bentong (379 votes), Cameron Highlands (462 votes), Labis (353 votes) and the Paloh state seat in Johor (103 votes).
He acknowledged it would be an uphill battle to win a by-election if the election results were nullified.
"Preparing the evidence and documentation is not easy, but this general election was different. The demand by voters and public pressure is so great that it's our duty to use every channel we can," Loke said.
It was reported that Chief Justice Tun Arifin Zakaria had given the assurance that the petitions could be settled within a year if everything proceeds smoothly.
He said judges selected to preside over the cases had been advised to dispose of the cases within six months.
"Otherwise, it will not go in line with the law and the decision will be late. This is because there is still the appeal process, which would take another six months," Arifin said.
Let Umno's grassroots decide Najib's presidency, says ex-NSTP boss
Posted: 04 Jun 2013 03:33 PM PDT
Clara Chooi, TMI
Umno's grassroots should get to decide the fate of Datuk Seri Najib Razak as party president when internal polls are held at the year's end, former New Straits Times (NST) group editor-in-chief Datuk A. Kadir Jasin said today.
The political commentator appeared to disagree with suggestions from state-level leaderships that the party's top two posts not be contested, saying their views must take into account that it was likely Umno's grassroots leaders and members who helped save Barisan Nasional (BN) from losing Election 2013.
Without their support, he said in a blog posting today, Umno may not have scored the 88 federal seats it won during the divisive polls ― a significant nine seats more than the 79 it won in Election 2008.
"It would only be reasonable to give them the right to decide if they want Najib's presidency challenged because Umno would not have won those precious 88 seats if its members or supporters had not resolved to vote for BN on May 5.
"They should also be given the space and opportunity to decide among themselves if they want Najib, whose achievements were lower, to be retained as president (and subsequently as prime minister) when they showed Tun Abdullah Ahmad Badawi the exit after a greater victory in 2008," Kadir wrote.
BN survived Election 2013 with a weaker majority, scoring only 133 seats to Pakatan Rakyat's (PR) 89 ― a notable seven-seat margin smaller than the previously worst performance in Election 2008.
The polls saw the emergence of a divided Malaysia, a trend that was fuelled further when top leaders in Umno characterised the election results as a Chinese-versus-Malay contest.
Najib, in his victory speech on May 6, described the vote trend as a "Chinese tsunami", noting that an even greater percentage of the country's second-largest ethnic group had fled to the opposition's fold, leaving BN's non-Malay parties with a greatly reduced parliamentary representation.
Only Umno showed improvement when it took 88 parliamentary seats at a time when their coalition partners were nearly wiped out from the august House.
Today, Kadir highlighted that Najib had led a presidential-style campaign all through the polls, attempting to use his popularity as a reformist to woo support for BN.
The clear "essence" of the BN campaign, he said, was Najib's 1 Malaysia platform and the prime minister's portrayal of himself and his team as all-inclusive, particularly when rallying the Chinese and Indian voters.
But when the poll results saw these communities flee BN's side and Umno's popularity soar, Kadir said questions arose over why the vote had gone the direction it did.
"The question is, did Umno perform better because its top leaders placed priority on the party and the Malays, or were the Malays themselves afraid their powers would weaken if the Chinese parties in BN chalked bigger victories?" he asked.
Black 505 rally to be held at Padang Merbok
Posted: 04 Jun 2013 03:21 PM PDT
Pakatan Rakyat, the rally organisers would submit formal requests to the police and the Kuala Lumpur City Hall later today, in compliance with the Peaceful Assembly Act. 
G Vinod, FMT
Pakatan Rakyat today had set its sight to hold the Black 505 rally on June 15 at Padang Merbok, Kuala Lumpur.
PKR strategy director Rafizi Ramli said that the organisers would submit official applications to the Kuala Lumpur City Hall (DBKL) and the Dang Wangi police headquarters later today.
"Intially we thought Dataran Merdeka would be the best place but in order to avoid lengthy exchanges with the authorities, we opted for Padang Merbok," said Rafizi at a press conference.
Also present by his side were PAS deputy secretary general Syed Azman Syed Nawawi, DAP national organising secretary Anthony Loke and PKR MP Johari Abdul.
Since the general election, PKR had embarked on a series of rallies, claiming Barisan Nasional (BN) had 'stolen' the electoral victory from the opposition.
The rally organisers also demanded for the current Elections Commission (EC) officials to resign, as well as halting the redelineation process pending a new team is selected to head the electoral body.
Yesterday, Home Minister Ahmad Zahid Hamidi said that Pakatan could hold its rally in Kuala Lumpur as long as they comply with the Peaceful Assembly Act (PAA).
Rafizi said that they were still keen to hold the rally in Dataran Merdeka but would heed advise from DBKL and the police on the matter.
In a show of support, Pakatan leaders Azman and Loke announced that they would get their party members and supporters to attend the rally as well.
On related matter, Rafizi voiced his reservations on news that Prime Minister Najib Tun Razak would place the EC under a parliamentary select committee.
Calling it a delaying tactic, Rafizi said that the select committee may serve to sidestep the real issue at hand, which is the fraudulent electoral process and the EC commissioners' complicity in the act.
"Besides, we went through the last select committee on electoral reforms but look what happened. The committee will be dominated by BN leaders.
"What we need now is for the current crop of EC commissioners to resign and be replaced with a new team, with full power to facilitate the electoral reforms," he said.
'No need for EC members to resign'
Posted: 04 Jun 2013 03:13 PM PDT
"I think it is ironic because last time Pakatan wanted parliament to oversee the EC. Now that PM has agreed the say the want EC head to resign before they join the committee."
Lisa J. Ariffin, FMT
There is no reason for current Election Commission (EC) members to resign, Barisan Nasional leaders have said today.
They were responding to PKR vice president Tian Chua's statement yesterday that Pakatan Rakyat will only be involved in the special committee to oversee the EC if the current members were to resign.
"I think it is ironic because last time Pakatan wanted parliament to oversee the EC. Now that PM has agreed the say the want EC head to resign before they join the committee," Kedah Gerakan Youth Chief Tan Keng Liang told FMT.
"What does it (asking EC members to resign) have to do with the proposal?" he asked.
Tan said Tian Chua's statement was "very unbecoming of a leader" and was "getting personal towards a person".
"They are getting personal towards the EC and blaming their loss on a person," he said.
"He (EC chairman Abdul Aziz Mohd Yusof) is just carrying out the task of implementing what the people want. Pakatan is just finding scapegoats for their loss," he added.
Kinabatangan MP Bung Mokhtar Radin shared the same sentiments and said he saw no reason why the current EC lineup should resign.
"(It's a) pity Pakatan always think they're right. I see no reason for EC members to resign," he told FMT.
Tan said Tian Chua's remarks were "not relevant at this state" and Pakatan was "preempting issues.
"If there really is a need for them to resign, then let the committee decide," he said.
"If you don't want to go into the committee, how are you going to give
your views?"
'Impossible to win an election petition'
Posted: 04 Jun 2013 03:07 PM PDT
This is the first of a three-part article on PKR strategy director Rafizi Ramli views on the election petitions,why rallies are needed and his hopes for the Pandan parliamentary consistuency 
G Vinod, FMT
It is almost impossible to win an election petition as the standard of proof is 'beyond human capacity', said PKR strategy director Rafizi Ramli.
Elaborating on the matter in an interview, Rafizi said that those filing an election petition could so under three categories, namely:
1) being involved in general bribery
2) conduct against electoral procedures
3) if a candidate is caught giving inducement to candidates to skew votes.
Rafizi said that as for general bribery, the party filing the petition should prove that the opposing side had given inducements or intimidate voters to influence their ballots.
"But let's say if I lost in a place with 1,700 votes, I have to get about 1,000 people to come forward to sign statutory declaration and lodge police reports to back up the allegation.
"It is almost impossible to get 1,000 voters to so do. At most, probably we can get about 10 people to come forward," he said.
Rafizi added that even if he does manage to bring 1,000 voters, it would be futile as the opposing side could argue that the voters wanted to cast their ballots for the latter anyway.
"Plus, I have to bring in significant amount of voters to prove that the election results could have turned otherwise. If not, the petition will get thrown out in the preliminary stage itself," said Rafizi.
As for going against electoral procedure, Rafizi said that blackouts during vote tallying, tampered ballot boxes, wrong counting and others could be grouped in that category.
"Again,I have to prove that sufficient number of votes were compromised due to the irregularity that could have turned the results otherwise. If not, the case will not stick," he said.
He cited an example where the contest for the Balik Pulau parliamentary seat where Pakatan Rakyat agents found an additional 126 votes coming from one stream.
"The case will not stand as the number is not substantial," said Rafizi.
As for the third category, Rafizi said that it will be impossible for a candidate to be caught giving out money to voters as such works are sub-contracted to third parties.
"In Penang, there were allegations that money was given by some NGOs and even the underworld. When we take pictures or videos, obviously they will not attach the party logo on them.
"In other words, the clause requires us to catch the candidate or his agent red-handed in giving out inducements," said Rafizi.
On that note, the Pandan MP said that the electoral laws in Malaysia are skewed  to allow and tolerate discrepancies, unless it hits a criticial level that can alter the election results.
"That is why I am not confident we can win the petitions but it is part of the process to push for electoral reforms," he said.
New licensing regime will not limit public discourse: Yaacob Ibrahim
Posted: 04 Jun 2013 11:57 AM PDT
(Today Online) - Those critical of Govt will not be targeted if they get facts right, says Minister
News reports and comments that are critical of government policies will not be targeted under the new licensing regime for news sites, as long as they are factual and not misleading, said Minister for Communications and Information Yaacob Ibrahim yesterday.
In his most extensive reply thus far on numerous concerns raised by some, including fears that the Media Development Authority's move last week could be "the first step" towards tighter regulation of the Internet, Dr Yaacob stressed that the Government's "light touch" approach has not changed. "Our approach has been, and remains, that the Internet is not exempt from the rules of society," he added.
Dr Yaacob also sought to clarify the guidelines on restricted content. "Nowhere do the guidelines state that news sites cannot question or highlight the shortcomings of government policies, as long as the assessments are well-intentioned, and not based on factual inaccuracies with the intention to mislead the public," he said.
On the perception among many in cyberspace that the new licensing regime is an attempt to limit public discourse, Dr Yaacob felt that time would prove this view wrong. "I expect that the sites will continue to operate as before," he said. "In fact, I hope that the activists who are today making this far-fetched claim will be honest enough to admit it when the time comes."
Yesterday was the second time in the space of a few days that Dr Yaacob had moved to address concerns over the new licensing scheme. Last Friday, he took to Facebook to address the online backlash , but many within the online community were not convinced, and a group of bloggers said they would be organising a protest on Saturday against the new requirements.
The debate on the new requirements carried on last night, when Acting Manpower Minister Tan Chuan-Jin appeared as a guest on Channel NewsAsia's Talking Point programme and fielded phone-in questions from several callers.
The new licensing regime, which kicked in last Saturday, affects websites which have "significant reach" — defined as having 50,000 unique visitors from Singapore each month over a period of two months — and publish an average of at least one article a week on "Singapore's news and current affairs" over the same period.
Operators of these news sites will be given 24 hours to remove content deemed objectionable by the MDA, and are also required to put up a "performance bond" of S$50,000. If they defy the order to apply for a licence, they can be fined up to S$200,000 or jailed up to three years or both.
Read more at: http://www.todayonline.com/singapore/new-regime-will-not-limit-public-discourse-yaacob 
Motorway middle-lane hoggers to face higher fines
Posted: 04 Jun 2013 11:47 AM PDT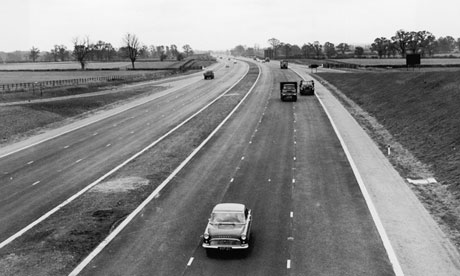 (The Guardian) -  You should always drive in the left-hand lane when the road ahead is clear. If you are overtaking a number of slower-moving vehicles, you should return to the left-hand lane as soon as you are safely past. 
[Malaysians, on the other hand, hog not just the middle lane, but the right-most lane when there are no other cars ahead of them. - MTadmin]
Drivers who needlessly hog the middle lane on motorways face fines of £100 as well as three penalty points under new government measures designed to crack down on careless motoring.
Fines for a number of other offences on the road – including using a handheld mobile phone while driving, or jumping traffic lights – are also expected to be increased from £60 to £100 after the unveiling of the package on Wednesday.
Traffic police will decide when motorists are considered to have been hogging the middle lane and issue on-the-spot fines to offenders.
Although some commentators have argued that fines are not necessarily the right approach for careless driving because cases are often not clear-cut, motoring organisations have long called for better lane discipline by drivers, which they say could dramatically solve congestion problems.
The Highway Code states: "You should always drive in the left-hand lane when the road ahead is clear.
"If you are overtaking a number of slower-moving vehicles, you should return to the left-hand lane as soon as you are safely past.
"Slow-moving or speed-restricted vehicles should always remain in the left-hand lane of the carriageway unless overtaking."
Read more at: http://www.guardian.co.uk/uk/2013/jun/05/middle-lane-hoggers-face-tougher-fines 
Kredit: www.malaysia-today.net