Klik GAMBAR Dibawah Untuk Lebih Info
Sumber Asal Berita :-
---
UMNO won the most seats because the Malays had no choice – Tun M
Posted: 03 Jun 2013 08:25 PM PDT
(ABN News) - Former Prime Minister Dr Mahathir Mohamad said UMNO won the most seats in GE13 not because the Malays still support UMNO, but because they had no choice.
"We may pat ourselves on the back because Umno is still the party that won the most (seats) in the 13th general election. But this was not because Malays still support Umno.
"In fact, Umno's victory in the GE13 is because they had no choice. They feared what would happen if Anwar Ibrahim, won together with DAP," Mahathir said in his latest blog post.
He warned that this trend was unlikely to continue in the next general election.
"If Umno does not clean itself from corruption and self-interest, the Malays will look for other champions," he said.
"Many Malays are angry with Umno, they see it as irrelevant and a party that must be rejected. Why? Because Umno no longer fights for race, religion and country. Umno is seen to fight for the interests of certain people and its members only.
"Umno fights for positions and rank, to enrich themselves, for reward and their own pockets," he said.
He attributed the party's decline to the refusal of its current leaders to rope in fresh talent, who could pose a threat to their position.
"They work to reduce the possibility of them being challenged, to reduce the likelihood that they will be replaced by people who are more qualified.
"There is no need for new members because the existing members need to protect their share of the rewards. If there are too many members, more must be shared and it will be less than before," Mahathir said.
"By allowing only less talented people into the party so that they are not a threat, these people will eventually replace the existing leaders when they retire, thus creating a cycle of decline."
He added that talented people have opted to join the Opposition.
PKR: We are Bangladeshi-friendly
Posted: 03 Jun 2013 07:54 PM PDT
Zaid: Pakatan should get its act together on leaders now, not later
Posted: 03 Jun 2013 07:49 PM PDT
Sean Augustin, fz.com
Datuk Zaid Ibrahim feels that the Pakatan Rakyat coalition needs to address the issue of leadership now, not later.
In his blog today, the former Umno minister said the 'let's-win-first-and-think-later' stance should be done away with. The people, he said, want leaders that can be accepted and embraced.
"It's no use pretending that all is well on this front," Zaid penned, referring to PAS' rumoured link-up with Umno and DAP's lack of Malay membership.
The lawyer turned politician said PAS members needed to ask themselves if they wanted to win the next general election with Pakatan or Umno. The party, he said, has to decide "once and for all," otherwise, they would be better off continuing their preaching.
DAP, Zaid suggested, could implement a PAS-style Supporters Club and work harder to dispel its image as a chauvinistic Chinese party.
"Simply denying it isn't enough, only having substantial numbers of Malay supporters and members is the answer. 
"Perhaps DAP should consider wooing PAS leaders who are clearly non-ulama and probably have no future in PAS," Zaid said, adding that there could be many young Malay leaders in PKR who may be interested in joining DAP.
The night the refugee boat sank: victims tell their stories
Posted: 03 Jun 2013 06:58 PM PDT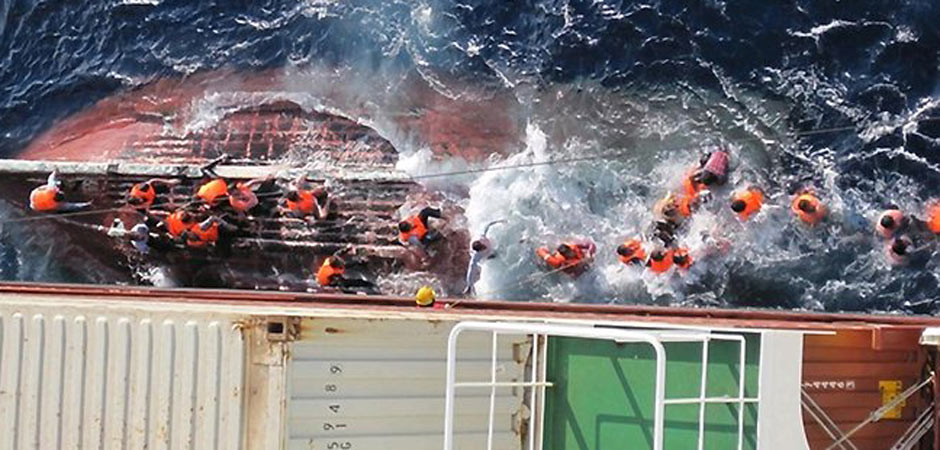 (The Guardian) - On 21 June 2012 a boat carrying refugees on the 6,000-mile journey from Pakistan to Australia sank with the loss of 94 lives. The Guardian spoke to the survivors and tells the story of international criminal networks and a web of corruption across the far east. Their accounts reveal the plight of desperate refugees forced to pay exorbitant sums
21 June 2012
There was almost no warning. The boat had stopped about 10 minutes earlier. Since then it had rocked gently in the swell, settling lower in the water. Its Indonesian crew shouted to one another, increasingly agitated.
On the roof of the open wooden outsize fishing boat, Mohammed Ishaq was shaken awake by another refugee. "Get up, the boat is sinking," he was told. But even as he stood, the 31-year-old Afghan-born Pakistani felt the deck tilting sharply under his feet. He slid, fell and hit the water.
It was 21 June 2012. The boat was 107 nautical miles from the nearest land. Of the 204 refugees aboard, almost all from Afghanistan or Pakistan, 94 would die.
It was one of the worst of the growing number of sinkings involving illegal immigrants attempting the 6,000-mile journey to Australia from Pakistan and Afghanistan. Only now can the full story be told.
On one level it involves thousands of men, women and children, transnational criminal networks, tens of millions of dollars and a corroding web of corruption across the far east and further afield. On another, it means hundreds of drowned fathers, brothers, sons, daughters, mothers and babies, and thousands of bereaved relatives.
Only a week before Ishaq was plunged into the water, 93 died when another boat making its way to Christmas Island had sunk. There have been many more shipwrecks since, Afghan community representatives in Australia say, in which around 300 men, women and children have drowned. There are others which go unreported. Up to 600 have died in the past two or three years, they say, though they point out that the true figure is impossible to know.
This summer thousands more will attempt the perilous journey.
Officials from the governments of Pakistan, from where most of the refugees come, and of Indonesia, through which most of the refugees transit, privately admit they cannot stem the flow. Australia is trying to discourage prospective asylum seekers with new laws, offshore processing centres and with offers to take more refugees who choose to enter the country legally. But such measures appear to have little impact. The only barriers currently are natural – not man-made.
Read more at: http://www.guardian.co.uk/world/interactive/2013/jun/03/night-refugee-boat-sank-victims#part-one 
PKR stands by phantom voter claims, blames EC for xenophobia
Posted: 03 Jun 2013 06:48 PM PDT
A member of a Malaysian opposition party shows a video recording of a man he says is not a Malaysian showing his finger marked with indelible ink after casting his vote.  
(TMI) - They have refused to probe so it strengthens the perception that there are phantom voters from overseas 
PKR has stood by its allegations that foreign nationals of Bangladesh origin had voted illegally in Election 2013 despite the denial made by the country's High Commissioner here yesterday, insisting that it has proof to back its claims.
The Pakatan Rakyat (PR) party added that the Election Commission (EC) should also take full responsibility for the hostilities shown towards Bangladeshi migrant workers since its failure to deal with complaints of phantom voters had strengthened accusations that the government had won the May 5 polls through fraud.
"We accept their statement, that is their right but you have to ask this question: if majority of our people have been talking about it for a long time, I don't think your normal Malaysians would go and create news out of nothing and more importantly the integrity of an election is sacred and so important to our country.
"The way I look at it is that if there are any allegations about phantom voters whether they are Bangladeshis, Indonesians, Filipinos… what is more important is the authorities and the parties responsible for it which is the EC must take it seriously and investigate fully.
"But they have refused to probe so it strengthens the perception that there are phantom voters from overseas," PKR strategic director, Rafizi Ramli, told a press conference at the party's headquarters here.
Read more at: http://www.themalaysianinsider.com/malaysia/article/pkr-stands-by-phantom-voters-claims-blames-ec-for-xenophobia/ 
Gerakan ready to merge with MCA and Umno
Posted: 03 Jun 2013 04:34 PM PDT
Opalyn Mok, TMI
Gerakan is ready to merge with the MCA or even Umno as long as the parties change their constitution to open membership to all races, said Gerakan national speaker Tan Sri Dr Chin Fook Weng.
"MCA can change to Malaysian Citizens Association instead of Malaysian Chinese Association or Umno can be United Malaysians National Organisation," he said at a press conference this morning.
Stating that Gerakan has been a Malaysian party open to all races from the start, Chin revealed that the party had contemplated merging with the MCA if the latter was willing to change its party constitution to allow other races to join the party.
"We can't ask our non-Chinese members to join other parties so MCA has to open to all races before we merge with them," he said.
Commenting on a proposal for Barisan Nasional (BN) to become a single party, Chin felt that it was time that BN changed when the younger generation was asking for change.
"BN may even need to change its party logo from the 'dacing' to something else or its blue party colour to another colour like green.
"It is time that we changed to follow the aspirations of the people to be relevant at this time," he said.
He said Gerakan was formed with the intention to be a Malaysian party so merging all BN components into one is an eventuality that will be good for the coalition especially when the younger generation wants a change.
However, Chin felt that it would be difficult for BN to merge into one party now as there are going to be challenges and differing opinions by different groups.
"If it is easy, it would have been done a long time ago so that's why they need more time to study and mull over it," he said.
Listen to the King, Anwar told
Posted: 03 Jun 2013 04:25 PM PDT
BN men tell the opposition leader to cancel the June 15 rally.
Lisa J. Arifin, FMT
Barisan Nasional leaders have urged Anwar Ibrahim to heed the King's recent speech, in which he called on Malaysians to accept the May 5 polls results.
They were reacting to the Pakatan Rakyat leader's insistence on going ahead with a rally in Kuala Lumpur on June 15 to protest against the alleged rigging of the 13th general election.
Anwar alleged yesterday that the Prime Minister's office prepared the text of the royal address,   which was broadcast on the eve of the official celebration of the Yang di-Pertuan Agong's birthday.
"Pakatan must respect the King's speech and recognise the GE13 results as determined by the rakyat," Kedah Gerakan youth chief Tan Keng Liang told FMT.
"Pakatan should accept the King's advice that if there is a difference in opinion, they need to use proper channels to resolve their issues as stated under the Federal Constitution and the nation's laws.
"If they still go ahead with their Black 505 rally on June 15, then their action will be seen as challenging the King's remarks and treason against the throne.
"Pakatan should not sow doubts and provoke the rakyat using the results of GE13. They should instead help build the country and promote peace for the nation's stability."
Kinabatangan MP Bung Mokhtar Radin said Anwar should adopt the attitude taken by PAS and "accept the rakyat's decision".
He was referring to a statement last month by PAS secretary-general Mustafa Ali that the current government was "formed by the winning side" and that the election results were "balanced".

Labis MP Chua Tee Yong accused Anwar of dismissing the King's advice in pursuit of a selfish interest.
"He just wants to be PM regardless of whatever method used," Chua said.
He said the King had only the good of the country at heart.  "I believe the King mentioned the fact of accepting the results for the sake of the nation's stability, peace and security."
Singapore bloggers to protest Internet restrictions
Posted: 03 Jun 2013 03:18 PM PDT
(AFP) - Singapore bloggers are planning a rally and an 'Internet blackout' this week to protest controversial new rules they say will muzzle freedom of speech, organisers said yesterday.
A coalition of 34 prominent bloggers called 'Free My Internet' will stage the rally on Saturday, a week after the surprise regulations kicked in on June 1 requiring news websites — including one operated by US-based Yahoo! — to obtain licences from the city-state's official media regulator.
The bloggers will also replace their homepages with black screens featuring the words 'Freemyinternet' for 24 hours on Thursday.
"There is a need for this physical protest because numerous dialogues with the government over the last five years about liberalisation and deregulating the Internet have actually concluded in the opposite," said Choo Zheng Xi, a spokesman for the group.
"We want the government to know that the people need to be consulted, and that parliament needs to be consulted before sweeping changes are made to legislation," said Choo, the co-founder of popular political website The Online Citizen.
Volunteer-run blogs have gained popularity as an alternative news and opinion source in Singapore, where the mainstream media is widely perceived as pro-government.
The Media Development Authority (MDA) last week sought to allay fears that the new rules were aimed at the city-state's feisty blogging community, pointing out that blogs were not considered news portals.
"The licensing framework only applies to sites that focus on reporting Singapore news and are notified by MDA that they meet the licensing criteria," the regulator said Friday.
Choo however said the authority's public assurances did not tally with the broad powers of the new rules.
"If they wanted to limit the impact of the new regulations, they would have passed something that is limited in its scope," he said.
Under the new rules, websites that have at least 50,000 unique visitors from Singapore every month and publish at least one local news article per week over a period of two months must obtain an annual licence.
Websites granted a licence will have to remove 'prohibited content' such as articles that undermine "racial or religious harmony" within 24 hours of being notified by the authorities.
Licenced websites will also have to put up Sg 50,000 (US$39,500) as a 'performance bond' that can be forfeited if the regulations are not followed.
Choo said the organisers expected many ordinary Singaporeans to join Saturday's protest, but declined to comment on their expected turnout.
Protests in Singapore are restricted to a free-speech park called Speakers' Corner in line with strict laws against street demonstrations.
Two major rallies against the government's immigration policy held earlier this year in the officially designated protest zone garnered crowds of more than 3,000, making them the country's biggest protests in decades.
'Tanda Putera': Let the public decide, say legal activists
Posted: 03 Jun 2013 03:14 PM PDT
Tan Yi Liang, The Sun Daily
Show the movie Tanda Putera and let the public decide – as to do otherwise would amount to stifling freedom of speech, say legal activists.
Asked about the decision to allow the screening of the controversial movie, Malaysian Centre for Constitutionalism and Human Rights coordinator Edmund Bon told theSun that on principle, free speech should only be prohibited under two circumstances – if it incites hatred or war.
"Barring those two exceptions, free speech should be upheld and a right of reply should be given," said Bon.
He had been asked about the announcement by Communications and Multimedia Minister Datuk Seri Ahmad Shabery Cheek that Tanda Putera would be released in Malaysian cinemas on Aug 29 – two days before Merdeka Day.
Ahmad Shabery told reporters that the screening was previously postponed due to certain controversies at the time. Thus, the cabinet decided not to run the film for a while, he said.
As the controversy had ended and the elections are over, he said the film should be screened.
"I think Tanda Putera is a product of our filmmakers which should be seen from the perspective of art. On the question of how people view (that) perspective, it is based on their interpretation. Most importantly, we want more local films screened in this country, and (see) whether they could be marketed outside the country," he said.
Meanwhile, Bar Council Human Rights Committee chairman Andrew Khoo echoed Bon's sentiments when he said: "As a matter of freedom of expression, I do not recommend a ban. The movie only depicts the position of the writers and director as to what happened."
He said that all films should be shown, and the audience left to make up their own minds about the accuracy of events.
Tanda Putera, directed by Datin Paduka Shuhaimi Baba, revolves around the events of the May 13, 1969 riots.
He called on the Malaysian government to use the opportunity presented by the screening of Tanda Putera to release all information related to the riots – information that is currently protected under the Official Secrets Act.
"This is so that Malaysians can know the truth," said Khoo.
The RM4 million movie on Malaysia's second prime minister Tun Abdul Razak Hussein and his deputy Tun Dr Ismail Abdul Rahman which carries a PG-13 rating, was produced by Persona Pictures Sdn Bhd in 2011.
Special panel a diversion in an attempt to deflect the public's attention, says Pakatan
Posted: 03 Jun 2013 02:36 PM PDT
(The Star) - Pakatan Rakyat has branded the Government's announcement to set up a special panel to oversee the Election Commission as "a diversion from the EC's failings".
PAS secretary-general Datuk Mustafa Ali alleged the suggestions made to improve the EC now were an attempt to deflect the public's attention from what it claims was a fraudulent general election.
"Just settle the matter of fraud first," he told reporters after the Pakatan Leadership Council meeting here yesterday.
However, Mustafa stopped short of saying they would boycott the panel.
Prime Minister Datuk Seri Najib Tun Razak said on Saturday that the Government would form the special panel and that representatives from both Barisan Nasional and Pakatan would be invited to sit in it.
On the Yang di-Pertuan Agong's call for everyone to accept the general election results, PKR adviser Datuk Seri Anwar Ibrahim, who also attended the meeting, said that while he appreciated the King's concerns, he claimed that the speech was written by the Federal Govern-ment.
"The King's speech is normally written by the Prime Minister's Department and cleared by the Prime Minister himself for the consideration of the King.
"We are considering writing to him directly to explain our situation," Anwar said.
Anwar also said that Pakatan would organise another rally to protest against the EC, this time in Kuala Lumpur on June 15.
He said the rally's venue would be decided later.
Did Pairin ask for Nurul's ban?
Posted: 03 Jun 2013 02:03 PM PDT
Tongues are wagging in Sabah that PBS, which had lost six seats to Pakatan Rakyat in the May 5 polls, did not want Nurul Izzah Anwar usurping them with her presence at Kaamaatan celebrations. 

Luke Rintod, FMT
KOTA KINABALU: The use of Kaamatan or Harvest Festival celebration last week as a political football is becoming more and more obvious and less and less defensible.
The ban on Lembah Pantai MP Nurul Izzah Anwar, who is also a PKR vice-president, from entering Sabah has now been lifted, according to Sabah police commissioner Hamza Taib.
However, no reason was given for banning Nurul from entering Sabah and then lifting it.
Questions are now being raised if Huguan Siou Joseph Pairin Kitingan, the PBS president who is a Deputy Chief Minister of Sabah, had a hand in the decision by Chief Minister Musa Aman to bar the MP from entering Sabah on the first day of the climax of the Kaamatan celebrations.
The question has become pertinent after the PBS information chief Johnny Mositun came out to explain that the bar order was only for one day, to disallow  Nurul from attending the state-level Tadau Kaamatan or Harvest Festival hed on May 30-31.
Mositun, in saying that PBS fully supported the order, explained: "I believe this is not a total ban, it was for only that day because of the threat to the state's security".
But Mositun's explanation has instead raised speculations that it was PBS who requested the barring for the young MP, who is the daughter of former deputy prime minister Anwar Ibrahim who is now leading the opposition.
In the May 5 general election, PBS lost half (six) of its assemblymen to PKR and DAP and it explains how the party came to view Nurul as a threat.
The six seats PBS lost are: Matunggung, Kadamaian, Tamparuli, Inanam, Api-Api and Sri Tanjung. It nearly lost its Keningau and Kota Marudu parliamentary seats too which they won by default after a split in the opposition votes.
Penampang MP Darrel Leiking had invited Nurul to attend the Kaamatan celebration at the iconic Hongkod Koisaan where Pairin happened to be at the same time and her attendance would have detracted from his.
Kredit: www.malaysia-today.net