Klik GAMBAR Dibawah Untuk Lebih Info
Sumber Asal Berita :-
---
Reinvigorating rural Malaysia – new paradigms needed
Posted: 23 Jun 2013 12:25 PM PDT
The current method of identifying development projects at a district or state level within the bureaucracy and then Federally funding it is skewed towards meeting personal interests of vested parties. Real community consultation is not sought, where new projects generally lack any sense of community ownership and pride, often becoming 'white elephants' and abandoned. 
Murray Hunter, New Mandala 
As urban Malaysia has grown and prospered, the rural hinterlands have generally declined. Back in the 1980s approximately 70% of Malaysia's land was considered rural, where today 72% of Malaysia is urbanized with a growth rate of 2.4%. With this, the rural-urban divide within Malaysia has been growing, where substantially very little is being done to directly alleviate the problem.
Rural sector development has not been debated very much over the last few decades, even though the primary sector still represents almost 12% of GDP and employs more than 11% of the population. There are many rural issues that affect the future of Malaysia in much greater magnitude than the rural contribution to GDP and employment. The sustainability of Malaysia as an eco(n)-system, the country's cultural basis, and even political destiny is tied up with rural evolution. But the current "health"of rural Malaysia leaves a lot to be desired.
Forest cover in Malaysia is decreasing on a daily basis. Conservation has lost out to greed and development. Palm oil, rubber plantations, and urban expansion are eating into the forests, with very poor land enforcement on the ground. Well connected businesses are able to get concessions that are extremely financially lucrative, at great environmental cost. Roads and new townships have divided rural habitats, playing havoc with biodiversity.  These man-made barriers hold flood waters inland during the monsoons, preventing dispersion of water to the sea, causing flooding. Many animal species are in danger of extinction through poaching in the quest to supply the lucrative Chinese medicinal market.
Increasing population and new townships are putting pressure on rivers and waterways through increased domestic sewage, the dumping of garbage, and processing waste from livestock and other agro-based industries. Quarrying has silted many rivers. Soil erosion is depleting soil fertility quicker than it can be regenerated. Burning off around the region is producing thick unhealthy smog, which is affecting the whole country.
Yet with all this development there are still distinct infrastructure deficits in Malaysia. Most of the rural areas within Sabah and Sarawak are remote, where transport is costly. Some regions in Terengganu and Kelantan are still relatively isolated with very few perceived economic opportunities, as is with Perlis and parts of Kedah. The cost of goods in these areas are more expensive than the major cities. Sabah and Sarawak are legally deprived of the ability to ship goods by sea directly to other countries, as they must be trans-shipped through the Peninsula, thus handicapping the development of new export industries.
Even with rising urban populations within Malaysia, food production is not keeping pace with this growth. Malaysia is a net importer of food and animal feed, and the relatively high prices industrial crops like oil palm verses food crops deters food crop expansion. As Jared Diamond professed in his seminal book Collapse, a country which fails to provide for self sufficiency in food production and animal feed is destined to doom just like the Mayan civilization of a long gone era.
There is a general lack of research and development in new crops and the effects of climate change on existing crops. Crop research is undertaken on a national rather than regional level, where there is little support for developing new industries in specific areas. Currently most agricultural research is undertaken centrally by the Malaysian Agricultural Research and Development Institute (MARDI), which follows a national research agenda formulated by policy rather than market considerations.
High urban wages have created a labor shortage in rural areas, and the rising cost of petroleum inputs is increasing the cost of production making food production uncompetitive.
Rural development has been undertaken with little appreciation of ecosystems within the concept of sustainability. The current method of identifying development projects at a district or state level within the bureaucracy and then Federally funding it is skewed towards meeting personal interests of vested parties. Real community consultation is not sought, where new projects generally lack any sense of community ownership and pride, often becoming 'white elephants' and abandoned. Many of the drivers of economic growth have been public sector orientated and consequently unsustainable projects, in most cases at the expense of the environment.
Rural Malaysians have been introduced to debt through loans and credit cards as a means to acquire goods and services to increase their standard of living, creating a debt trap. This burden is partly to blame for the lack of micro-SME development, due to the inability to pursue opportunities because of the lack of capital.
This is the biggest crisis, the crisis of opportunity. The incidence of entrepreneurial opportunity  in rural areas is low, particularly for the youth, who are migrating to the cities.
Read more at: http://asiapacific.anu.edu.au/newmandala/2013/06/23/reinvigorating-rural-malaysia-new-paradigms-needed/ 
Smoke gets in our eyes: A way out
Posted: 23 Jun 2013 12:19 PM PDT
Similar initiatives in community policing and monitoring of the environment to ensure that it is not degraded or harmed in various ways have been successfully practised in many parts of the world. One wonders why they have not been pursued in our part of the world.
Dr. Lim Teck Ghee 
Returning to Kuala Lumpur after several weeks abroad, the pea soup of polluted air that greeted our descent was the worst I have ever experienced. It seemed to stretch interminably for miles on end far beyond the horizon. The acrid smell of burnt wood induced bouts of coughing amongst fellow passengers as we queued for our taxi ride. "Welcome to foggy Malaysia", someone remarked in a futile attempt at raising everyone's spirits.
On board our taxi, the friendly Pak Cik driver asked where we had come from and how long we had been away. He was quickly absorbed in talking about the number one topic currently on the minds of millions in Malaysia, Singapore and Indonesia as lungs continue to be assailed by the smoke coming from the Sumatra fires.
The taxi driver's point was indisputable although diplomatically expressed. Neighbours in an apartment or kampong should keep their own as well as the common environment hazard-free and clean. They also need to watch out for each other.
Clearly Indonesia needs to do more to get its act together to prevent the illegal burnings that are an annual occurrence. But as noted by the former Singapore Prime Minister, Goh Chok Tong: "Forest and peat fires are not easy to put out. They are not like our lalang or bush fires, small and confined. They burn and smoulder over thousands of acres in remote places far from the reach of fire fighters. So it is best to prevent man-made, illegal fires from being started in the first place."
Past attempts at preventing illegal fires have failed miserably – not only in Indonesia but also Malaysia. Because they have failed, tens of millions of ringgit and thousands of billions of rupiah have been spent purchasing the latest haze monitoring equipment to keep us informed and fire fighting and rain inducing equipment to help put the fires out. In the meantime, incalculable sums are being lost in terms of the impact on productivity, health, tourism revenue, and other knock-on effects. If the haze persists for a few months, we may be talking of losses of billions of dollars and perhaps even a few points shaved off the region's GDP.
Read more at: http://english.cpiasia.net/index.php?option=com_content&view=article&id=2533&catid=228&Itemid=196 
Protesters gather in front of Parliament, cops ask group to disperse (Update 1)
Posted: 23 Jun 2013 12:07 PM PDT
(The Star) - A small group has gathered in front Parliament, ahead of the swearing-in ceremony of MPs on Monday.
Police personnel stationed at the entrance to the House to monitor the situation have asked the group to disperse.
However, the organisers have told protesters to sit on the sidewalk. They have a memo to hand to the Prime Minister, on the issue of the Election Commission being under Parliament.
Those in the group carried banners, calling for the Election Commission (EC) panels to resign and over issues concerning deaths in police custody.
Lawmakers from both sides were seen entering the House.
Meanwhile, activists who had camped out since Saturday at Padang Merbuk nearby, have joined the group in front of Parliament. 
According to The Malaysian Insider: Led by Batu MP Tian Chua, the group are demanding for the resignation of the Election Commission commissioners. 
The group, carrying banners and placards also urged Tian Chua to boycott the swearing in ceremony as a sign of protest against election fraud. 
Roadshows not to hit out at MCA leaders, Liow told
Posted: 23 Jun 2013 12:04 PM PDT
(The Star) - Datuk Seri Dr Chua Soi Lek has advised his deputy Datuk Seri Liow Tiong Lai not to use the party's nationwide roadshows as an avenue to hit out at other leaders.
"He should understand that he has a responsibility to carry out. This is not to be used as a platform to attack each other," he said, referring to MCA's roadshows from now till July 13 to seek grassroots' feedback on how to move the party forward after its poor showing at the general election.
The party president said he had no intention to engage in a media war with fellow MCA leaders, following a public spat with Liow.
It was the hope of its members that leaders would work together to strengthen MCA, Dr Chua added.
"We need to convince our members and continue our own transformation programmes in line with the current needs," he told reporters after launching Koperasi Jayadiri Malaysia Bhd's (Kojadi) 31st annual general meeting.
Liow had criticised Dr Chua on Thursday for censuring vice-president Datuk Donald Lim Siang Chai in the media after Lim said the party president had made the wrong decision in the rejection of government posts.
Dr Chua said he had appointed Liow and secretary-general Datuk Seri Kong Cho Ha to lead two committees which would oversee the upcoming party elections and get nationwide feedback from the grassroots.
He stressed on the importance of preserving democracy in the polls, adding that he did not want to see any controversy such as what had happened in DAP.
On the issue of MCA members who had taken up government posts, he said the people should understand the difference between posts recommended by the party and the Government.
He pointed out that in the case of Johor executive councillor Datuk Tee Siew Kiong and vice-president Datuk Seri Dr Ng Yen Yen, their posts were not recommended by the party.
"If they accept (the posts) and people are not happy, then they can write in and complain to the disciplinary board. The party is very transparent," he said.
Dr Ng was appointed Malaysian Tourism Promotion Board chairman at the behest of Tourism and Culture Minister Datuk Seri Nazri Aziz. 
Posted: 23 Jun 2013 12:01 PM PDT
Singapore went proactive once PSI hit 400. We took 3 hours and 29 minutes after it hit 746 in Muar. That is worse than being bloody reactive! 
Sea Demon 
At 7am on Sunday, 23rd June 2013, the Air Pollution Index (or Pollution Standards Index) in the coastal town of Muar, Johor, hit 716. For those without idea of what that means, let me provide you with some notes:
It clearly states that a state of emergency will be declared the moment the API exceeds 500 points. Guess when did the Minister finally declared emergency in Muar?
That was 3 hours and 29 minutes later.
Painfully slow.
Now that emergency has been declared, what are the residents of Muar supposed to do? I quickly went into the Department of Environment's website and found nothing on what are people supposed to do once emergency has been declared.
I went into the Ministry of Health's website, there was just an info page on how to deal with the haze conditions, but of course I don't expect them to come up with a plan because the emergency was declared by the Minister of Natural Resources and Environment.
I guess the government has yet to learn the lessons of Ops Daulat etc. Obviously the Ministry of Natural Resources and Environment has failed in both Risk Management and Crisis Management. In the Risk Management aspect, there should have been a Haze Risk Management Committee set-up and a Risk Assessment done by this committee that involves the Department of Environment, the Meteorological Department, Remote Sensing to determine the hotspots, wind directions, weather and wind patterns on a strategic (long-term) level.
Read more at: http://seademon.wordpress.com/2013/06/23/hazy-direction/ 
Smoking gun in Malaysian hands
Posted: 23 Jun 2013 11:59 AM PDT
(Jakarta Post) - Plantation companies have often ordered local people to burn forest or peatland near their concessions, hoping that the fire will spread onto their land. "Once the fire takes hold of their concessions, the companies shift the blame onto the local residents as if the fire had accidentally and spread to their land.
Preliminary investigations have singled out eight plantation companies owned by Malaysian investors as the source of forest fires in Riau that have caused Southeast Asia's worst ever air pollution crisis.
The fires have started a diplomatic war of words between Indonesia, as the source of the problem, and Singapore and Malaysia, as the countries receiving the brunt of the smog. 
Environment Minister Balthasar Kambuaya suggested on Saturday that the eight palm-oil companies were using illegal slash-and-burn methods as the cheapest way to clear land for cultivation. 
"The ministry is still gathering more evidence and verification in the field. The fires are, for sure, on their concessions," said Balthasar, in Riau's capital Pekanbaru. 
"I will immediately meet my Malaysian counterpart to inform him of the findings and seek ways to resolve the current issue and stop recurrence in the future," he said. The allegations will be followed up by Riau Police.
The companies in question are PT Langgam Inti Hibrida, PT Bumi Reksa Nusa Sejati, PT Tunggal Mitra Plantation, PT Udaya Loh Denawi, PT Adei Plantation, PT Jatim Jaya Perkasa, PT Multi Gambut Industri, and PT Mustika Agro Lestari. 
Tunggal Mitra is a unit of Minamas Plantation, subsidiary of Malaysia-based Sime Darby Plantations, while Adei Plantation is owned by Kepong Berhard. The Jakarta Post's emails for clarification to these companies have gone unanswered.
The Environment Ministry's deputy for environmental degradation and climate change, Arief Yuwono, said that under the environment law, the penalties for causing illegal forest fires are a maximum of 10 years in prison and fines of up to 5 billion rupiah (US$504,000).
Six other companies are also involved, but Balthasar refused to name them.
Read more at: http://www.thejakartapost.com/news/2013/06/23/smoking-gun-malaysian-hands.html 
Haze: Impact on economy minimal, say experts
Posted: 23 Jun 2013 11:56 AM PDT
(The Star) - The economy could suffer due to the haze currently polluting some parts of the country, says an economist.
The problem, however, would not be serious enough to affect the country's gross domestic product (GDP), said RAM Holdings Group chief economist Dr Yeah Kim Leng.
He said tourism, leisure and restaurant businesses stood to lose the most at this point.
"Malaysians only need to worry if the haze grows to hazardous levels over the next few weeks or months," he said.
Dr Yeah said the losses in the current haze situation could be in the millions of ringgit but "not hundreds of millions".
He also pointed out that reduced sunshine could have negative effects on plantations, while critical haze levels could delay construction projects.
"The concern now is that if no immediate action is taken, the situation will get worse," he added.
Ambank Group chief economist Anthony Dass said that although work productivity and consumer spending would take a hit due to the haze, the economic impact was "minimal and negligible".
He added that the haze situation could be considered tolerable now as many people could still be seen going about their daily activities.
"However, if the haze worsens and the Government takes drastic precautionary measures like asking people not to go outdoors, we may see a more serious impact to our daily life," he added.
Malaysian Association of Tour and Travel Agents (MATTA) deputypresident John Tan said a prolonged haze would impact in-bound tourism.
"If the haze worsens, foreign tourists will return to spread word about the situation here and this will affect our tourism industry," he added.
On the other hand, he believes more Malaysians would travel overseas to escape the haze. 
Prolonged haze 'may hit Singapore's competitiveness'
Posted: 23 Jun 2013 11:54 AM PDT
(The Straits Times) - THE haze would "almost certainly" have an impact on Singapore's economy, especially on the tourism industry here, Foreign Minister K. Shanmugam said yesterday.
One small but clear example of this already happening is a nuclear energy forum that was to be held on Tuesday, but has since been cancelled because of the haze, he said.
This after three prominent American speakers, all in their 80s, decided that it was better to cancel the trip.
The three were former Senator Sam Nunn, former Defence Secretary William Perry, and former Secretary of State George Shultz.
"There would be an impact to the image of Singapore. Because they think of Singapore now, during this period, many people will associate it with the haze. One small illustration is this cancellation," said Mr Shanmugam, at the sidelines of a community event yesterday.
He added that the tourism industry is likely to be hit and that would have other secondary effects on the rest of the economy.
Other business leaders and analysts agreed, noting that a prolonged period of haze could put Singapore's reputation as a leading international centre for business and talent at risk.
The Singapore Business Federation's chief operating officer, Mr Victor Tay, said that one of Singapore's key competitive strengths has always been the clean environment but this has come under threat with the haze.
" Companies move their regional headquarters here because their senior managers like the place. This prolonged haze exposure is certainly putting the country's reputation at risk," said Mr Tay.
Read more at: http://www.stasiareport.com/the-big-story/asia-report/singapore/story/prolonged-haze-may-hit-singapores-competitiveness-20130624 
Election Court judges to preside over polls petitions next week
Posted: 23 Jun 2013 11:51 AM PDT
(The Star) - Petitions could be settled within a year if everything goes smoothly.
The case management of about 80 petitions filed over the general election results will begin next week.
Chief Justice Tun Arifin Zakaria said 58 election petitions had been filed in the peninsula and about 20 in Sabah and Sarawak.
He said 13 High Court judges had been appointed as Election Court judges and each would preside over five cases to ensure no delays.
"During case management, parties will be called to determine the number of witnesses and dates that the lawyers are available as there should be no postponement or we will not be able to meet the time frame," he said after he opened a seminar for Justices of Peace.
It was reported that the Chief Justice had given the assurance that the petitions could be settled within a year if everything goes smoothly.
He had said that judges selected to preside over the cases had been advised to dispose of the cases within six months or it would not go in line with the law, resulting in late decisions as there was still the appeal process which would take another six months.
The deadline to file an election petition ended on June 12.
In his speech, Arifin asked that Justices of Peace take on new approaches in reaching out to the public and widen their role to also educate the society on the rule of law, respect and loyalty to the king and country aside from the commendable social and welfare work.
"It is important that our multi-racial society, particularly the younger generation, have a good understanding on the rule of law as this will help ensure the safety and stability of the country.
"It is also important for them to know the Federal Constitution to better appreciate it and this is where Justices of Peace can play their part," he added. 
Cultivating Sarawak's timber industry
Posted: 23 Jun 2013 11:45 AM PDT
(The Borneo Post) - There is no doubt the timber industry is undergoing a transformation process whereby it is expanding into different types of timber rather than relying only on indigenous species. 
Chief Minister Pehin Sri Abdul Taib Mahmud who highlighted this, noted implementation of planted forests will enable timber enterprises to continue thriving despite the state's deficit in raw materials.
For decades, the timber industry has played a pivotal role in the development and economic growth of Sarawak.
Despite growing contributions and importance of other sectors such as oil and gas, construction and various industries, timber remains a key node to the state's socio-economic growth.
This was affirmed by Second Minister of Resource Planning and Environment Datuk Amar Awang Tengah Ali Hassan who underscored Sarawak's timber industry contribution of about RM7.5 billion (seven per cent) in export earnings in 2012 – an increase of five per cent over the previous year.
"At the national level, Sarawak's timber sector accounted for 36 per cent of Malaysia's total timber export earnings of RM20 billion in 2012.
"The demand for Sarawak timber has been well accepted internationally, having also successfully gained access to many emerging markets in the Middle East, Asia and Africa amidst stiff competition in the global market.
"Today, the industry is capable of producing diversified timber products mainly to cater for the export market, enabling Sarawak to become the biggest producer of tropical plywood in the region," he said.
Industry update
The Sarawak Timber Association (STA) revealed that as at 2012, the state's timber trade had received a big boost, totalling RM7,455 million – the highest since 2010.
Plywood timber products constituted the largest amount of exports with 52.6 per cent of the overall total logs and timber exports, followed by logs (24.15 per cent) and sawn timber (10.53 per cent).
STA also reported that Sarawak's logs and timber products were exported mainly to Japan which recorded 38.27 per cent of the total export, followed by India and Asia (excluding China, Korea, Taiwan and Japan) which imported 15.99 and 10.69 per cent of Sarawak's logs and timber, respectively.
According to STA, overall logs production totalled 9,458,563 cubic metres in 2012 – a decrease from 9,610,434 cubic metres in 2011.
Meanwhile, the Sarawak Timber Industry Development Corporation (STIDC), in its annual timber statistics report, noted that the timber industry is seeing a positive forward trend.
It explained that the industry had seen an increase in the overall volumes of sawn timber, plywood, veneers, mouldings, dowels, fiberboards, particle boards as well as woodchips.
However, it pointed out that there were decreases in the value of logs (two per cent), laminated board-floorings (2.5 per cent) and blockboards (27 per cent).
"Total export values of plywood, logs and sawn timber were at RM4 billion (54 per cent), RM1.8 billion (24 per cent) and RM758 million (11 per cent) respectively.
"This contributed 88 per cent to the total export value of logs and timber products to the state in 2012."
However, despite its success, mirrored by the increase in total export earnings, the industry will not be able to sustain itself if it relies solely on slow-growing, depleting traditional, natural timber forests.
As such, the state government has initiated several measures to ensure sustainability of Sarawak's forestry, including a commercial scale programme for fast-growing planted forests.
Sustaining timber industry
There is no doubt the timber industry is undergoing a transformation process whereby it is expanding into different types of timber rather than relying only on indigenous species.
Chief Minister Pehin Sri Abdul Taib Mahmud who highlighted this, noted implementation of planted forests will enable timber enterprises to continue thriving despite the state's deficit in raw materials.
"We have embarked on a planted forest programme which ought to supplement the country's timber supply. In fact, it ought to double the supply of raw materials for the industry," he said.
From the planted forests, fast-growing timber species are expected to be harvested with the potential to yield five times as much timber as natural forest-traditional timber forest.
Oscar Johin Ngayop, assistant director of Planted Forest in the Forest Department of Sarawak, in his presentation on 'Sustaining the future supply of raw material for the development of the timber downstream processing industry in Sarawak', said uptrend on export earnings of timber and wood-based products was not due to increase in supply from natural forests but production and export of value-added end-products.
"In 1991, Sarawak showed the highest log production at 19 million cubic metres but a decline trend ensued thereafter.
"The downstream processing industry has to diversify and find a new source of raw materials as an alternative to supplement the deficit in timber supply from the natural forests," he explained.
He pointed out that the government had taken the initiative to embark on commercial-scale forest plantations.
According to Oscar, there are now 43 licensed planted forests throughout the state with a gross area of 2.8 million hectares, out of which only one million hectares are considered as plantable areas.
"The establishment of planted forests is a long-term strategy towards providing a new source of wood materials for the wood-based industries in Sarawak.
"It also acts as a leverage to cope with the increasing demand of raw materials as the industries cannot depend solely on timber from the natural forests," he stressed in his presentation at an International Timber Conference.
"The planted forests will also help relieve harvesting pressures on the natural forests and, at the same time, increase the state's forest cover to reduce the greenhouse effect," he pointed out.
Oscar noted that the planted forests will also help rehabilitate and ameliorate degraded soil areas, caused by abandoned or shifting cultivation.
He said among the main objectives of the planted forests was the production of 15 million cubic metres of timber annually from one million hectares of forest plantation, adding that the planted forests could also cater to the needs of local processing industries and contribute to the socio-economic development of Sarawak.
However, he noted that the planted forests were not without issues and challenges as the development of forest plantations involved huge investments, compounded by the long gestation period.
To tackle this issue, he stressed assistance in the form of incentives was critical and had to be made available.
He observed that the issue of multiple land use was still occurring and had to be addressed to avoid misunderstanding and ensure project implementation did not lag behind.
Research and development as well as collaboration between licensed planted forest holders and the related agencies had to be enhanced to resolve the issue of shortage of high quality planting materials, he added.
As manpower shortage is another issue facing the planted forest industry, Oscar urged the government to help mitigate the situation. Presently, most of the industry's manpower is sourced from foreign countries.
He cautioned that Sarawak's topography could also hinder the progress as well as reduce the areas of planted forests.
"Moreover, in some cases, the existing timber licences can affect the rate of planting progress in licensed planted forest areas, especially when the owner of the timber licence is not the holder of the licence for planted forests."
However, he said, the estimated production of 15 million cubic metres of timber annually was possible with the establishment of one million hectares of planted forests, adding that to achieve this target by 2020, the industry had commit to planting about 90,000 hectares per year.
Meanwhile, Oscar disclosed relevant laws had been implemented to provide a legal framework for establishing, regulating and monitoring the development of planted forests in Sarawak.
"In 1996, the Forest Ordinance was amended under Section 65B for the establishment of planted forests in Sarawak. Under this section, The Forests (Planted Forests) Rules 1997 were enacted under Section 95 (1) (w) and (x) of the Forests Ordinance."
He said implementation of these laws was ensure the capacity of planted forests to sustain the timber industry.
Regulations to sustain future timber outlook
A major stumbling block within the industry remains the lack of regulations.
Without a legal framework to sustain timber forests and combat illegal logging, Sarawak – as well as Malaysia – could face various social, environmental and economic problems.
Malaysian Timber Certification Council (MTCC) chairman Datuk Dr Freezailah Che Yom said Malaysia was taking steps to develop the timber legality assurance system to ensure the legality of logs harvested from state's land forests as well as that of uncertified permanent reserved forests, hence strengthening the country's sustainable forests management.
"Malaysia is supportive of the European Union's (EU) initiative to implement the Forest Law Enforcement, Governance and Trade (FLEGT) Action Plan to tackle illegal logging through Voluntary Partnership Agreements (VPAs) and we are currently negotiating with the EU to conclude the FLEGT to ensure all our exported timber products are legal.
"Under the VPAs, Malaysia agrees to implement a Timber Legality Assurance System (TLAS) to verify that timber products for shipment to EU are legally produced."
He pointed out that TLAS was based on the definition of legality – which is "timber harvested by a licensee from approved areas and timber products exported in accordance with the laws,regulations and procedures pertaining to forestry, timber industry and trade of Malaysia."
TLAS development is also based on existing laws and regulations governing forest harvesting, mill processing and trade of timber and the current licensing system on these activities.
According to Dr Freezailah, TLAS comprises six agreed principles and its associated criteria which are formatted into 24 tables to facilitate compliance auditing by third party monitor.
The planning for TLAS implementation will be phased from the planted forests in peninsular Malaysia, Sabah and eventually Sarawak.
"Under the VPA, once the TLAS is fully operational, all timber products exported to the EU will be accompanied by a FLEGT Licence," he revealed.
This could potentially smoothen international timber trade between Malaysia and European countries as well as create a generic legal system to combat illegal logging, hence sustaining the overall timber industry.
Dr Freezailah said the establishmemt of FLEGT VPA was now in its final stages.
"Pending the conclusion and the signing of VPA, Malaysia had decided to implement the TLAS as MYTLAS, beginning February 1, 2013, purely as its own initiative to meet EU Timber Regulation of Due Diligence for peninsular Malaysia."
Additionally, to ensure MYTLAS sustainabilty, a Compliance Audit was conducted in March 2013 by an independent third party auditor (SIRIM QAS).
Dr Freezailah said the audit was based on a set of established Checklist and Guidelines developed by another independent consultant.
The outcome of the audit demonstrated a high level of compliance with the criteria in the 24 tables of the TLAS, he added.
However, he noted there were some TLAS criteria/tables which were rated as partial compliances.
Such anomalies, he said, would be discussed by the Implementing Agency Coordination Committee and remedies would be made.
Utilising the planted forest The Forest Research Institute Malaysia (FRIM) has identified several ways to utilise fast-growing species of timber in planted forests.
Dr Mohd Nor Mohd Yusoff, deputy director general of FRIM noted that wood are greatly used in countless of things which include building contruction, flooring, interior finishing and other uses.
In Malaysia, the wood-based sector is seen as thriving on the back of its export values which is reported to have more than RM20 billion, he pointed out.
Inspite of that, Dr Mohd Nor said, there is a shortage in wood supply driven by competition from other types of downstream products and increasing demands of the wood products.
He pointed out that FRIM had determined several fast growing timber species, several of which are suitable to be planted in Sarawak's rich tropical forest.
Several species which FRIM had named are Acacia mangium (including Acacia hybrid), Tectona grandis, Khaya ivorensis, Khaya senegalensis, Rubberwood (5 clones), Azadirachta excelsa, Paraserianthesfalcataria, Neolamarckia cadamba and Octomeles sumatrana.
Dr Mohd Nor noted that Octomeles sumatrana and Eucalyptus are fast-growing timber ideal for Sarawak and Sabah planters. He also highlighted that the Acacia mangium has been identied as the most favourable forest species for its fast growth feature.
According to Sarawak Planted Forest Sdn Bhd, Acacia mangium's growth rate and yield in seven years is 26 cubic metre per hectare, per year. Also, in seven years, the Acacia mangium has a total standing volume of 177.40 cubic metre, per hectare.
Other than sustainable fast growing timber species, Dr Mohd Nor encouraged wood-based industries to look for other alternate raw resources such as agricultural plantations (for example; oil palm biomass, bamboo and rattan).
"High-valued products from more efficient and ecofriendlier processing could lead to industry competitiveness," he pointed out.
Looking ahead, on the prospects of the timber industry, STIDC said in its annual report, demand for timber and timber products in 2013 is forecast to be as much as it was in 2012.
It noted, "Plywood, logs, sawntimber and veneer are still the main export commodities and made up 92 per cent of the total export volume in 2012."
The corporation further added, Sarawak's timber and timber products are still depending on the demand from traditional markets such as India as importer of logs, Japan (plywood), Thailand (sawntimber) and Taiwan (veneer).
"In addition, Middle East countries such as Yemen, Bahrain, Saudi Arabia, and United Arab Emirates (UAE) will certainly drive demand in 2013 for timber product in Sarawak, significantly."
STIDC said despite the global challenges, there are still positive factors in favour of the industry, now whereby demand is expected to pick up steadily by early next year.
Mat Sabu: Pakatan perlu menang sokongan Melayu untuk memerintah Malaysia
Posted: 22 Jun 2013 07:14 PM PDT
Mohd Farhan Darwis, TMI
Umno berjaya menanam persepsi parti itu adalah pejuang dan pelindung Melayu, dan Pakatan Rakyat (PR) perlu menghapuskan persepsi sedemikian daripada komuniti Melayu jika mahu mengambil alih pemerintahan negara, kata Timbalan Presiden PAS Mohamad Sabu.
Mohamad yang lebih dikenali dengan nama Mat Sabu berkata Umno berjaya dianggap pelindung survival Melayu dan Islam, yang menjadikan masyarakat Melayu yakin parti majoriti Melayu itu sahaja yang akan mempertahankan Islam, termasuk penggunaan kalimah Allah oleh bukan Islam.

"Umno masih dianggap pelindung Melayu dan Islam ... inilah kalau kita lihat keputusan (pilihan raya) bahawa orang Melayu masih bimbamng kalau Umno kalah bagaimana apa akan terjadi kepada orang Melayu, Islam.

"Ini kejayaan persepsi yang ditanam sejak merdeka, yang menjadikan rakyat takut mengalahkan Umno, termasuk menjaga nama Allah," kata Mat Sabu ketika berucap di Konvensyen Pakatan Rakyat (PR) di Ampang.

Justeru itu, Mat Sabu menggesa rakan komponen PR dari DAP, dan PKR memberi bantuan sewajarnya bagi memastikan persepsi berkenaan dapat dihapuskan.

"Bantuan semua kaum khasnya DAP yang memperolehi undi besar nak buang persepsi Umno pejuang Melayu ... macam mana nak buang dalam masa, tiga atau empat tahun akan datang," katanya di hadapan 400 penyokong PR yang hadir hari ini.

Menurut Mat Sabu, perkara itu perlu diambil berat, termasuk kenyataan-kenyataan beberapa pihak yang dieksploitasi, dan memberi kelebihan kepada Umno.

"Kadangkala itu membantu Umno mendapatkan kerusi, ia perlu diperhalusi, kita merayakan kemenangan tetapi kita hadapi kekurangan di satu pihak lain."

"Peranan wakil rakyat kita perlu dipertingkatkan, memahami daya dan juga inspirasi kaum dan mengubah persepsi terhadap satu perkara," katanya lagi.

Pemimpin-pemimpin PR sebelum ini pernah bertelagah berhubung beberapa perkara seperti pelaksanaan hukum Islam, Hudud sekiranya mereka berjaya memerintah.

Cadangan daripada PAS itu telah ditolak bulat-bulat beberapa pemimpin DAP seperti Pengerusinya, Karpal Singh, yang kemudiannya mencapai konsensus mereka setuju untuk tidak bersetuju.

Isu penggunaan kalimah Allah juga pernah dibangkitkan Setiausaha Agung DAP Lim Guan Eng ketika perutusan Krismas hujung tahun lalu, yang mana kembali menjadikan isu berkenaan suatu perdebatan dan mengambil perhatian ramai pihak.

"Secara umumnya, orang Melayu ini kuat, percaya kepada takdir walaupun cara kepercayaan itu boleh diperbahas," kata Mat Sabu lagi. 
Black 505: No more rallies for now, says Anwar Ibrahim
Posted: 22 Jun 2013 07:06 PM PDT
He also chided some Pakatan leaders for suffering from the 'fatigue syndrome' with regard to the protests.
(The Star) - Pakatan Rakyat does not plan to hold more Black 505 rallies at the present time.
"For now no, but I cannot speak for the non-governmental organisations.
"For Pakatan, we have to move on," Datuk Seri Anwar Ibrahim told a press conference after officiating the Pakatan Rakyat Leadership Convention here.
He said Pakatan's protest would still go on in respect of the election petitions. He said they would continue to work with foreign countries to expose incidents of fraud during the recent polls.
He was asked to comment if Pakatan would shift its strategy in view of the poor response to Saturday's rally in Padang Merbok.
Asked if the haze contributed to the lower turn out, Anwar said the turn out was 'good' although hampered to a certain extent by the weather.
He said elderly supporters, those with chronic respiratory condition, and young children were told to leave the event earlier as a precaution.
Anwar also urged Kuala Lumpur City Hall to act in a more humane manner with regard to the treatment of protestors and not resort to "locking the public toilets".
He also chided some Pakatan leaders for suffering from the 'fatigue syndrome' with regard to the protests.
On a separate issue, Anwar said in principle, Pakatan does not oppose the signing of the Trans Pacific Partnership Agreement but was against the provisions that would be detrimental to the nation's best interest.
For every action, there is an equal and opposite reaction
Posted: 22 Jun 2013 05:58 PM PDT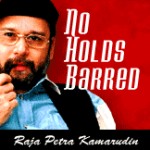 Yet, again, I was sent home and this time I asked the barber at Malay Street to give me an American GI crop and reported back at the headmaster's office. Murugesu took one look at my skinhead and gave me a tight slap. (I wonder why they call it 'tight slap' when it actually loosens everything in your head). He then screamed at me, "Go home and don't come back till your hair grows again".
NO HOLDS BARRED
Raja Petra Kamarudin
Newton's laws of motion
Newton's laws of motion are three physical laws that together laid the foundation for classical mechanics. They describe the relationship between a body and the forces acting upon it, and its motion in response to said forces. They have been expressed in several different ways over nearly three centuries, and can be summarised as follows:
First law: An object at rest remains at rest unless acted upon by a force. An object in motion remains in motion, and at a constant velocity, unless acted upon by a force.
Second law: The acceleration of a body is directly proportional to, and in the same direction as, the net force acting on the body, and inversely proportional to its mass. Thus, F = ma, where 'F' is the net force acting on the object, 'm' is the mass of the object and 'a' is the acceleration of the object.
Third law: When one body exerts a force on a second body, the second body simultaneously exerts a force equal in magnitude and opposite in direction to that of the first body.
********************************************
Godfrey Kneller's 1689 portrait of Isaac Newton (as at age 46: Newton died at age 84)
Sir Isaac Newton was a British Member of Parliament, physicist and mathematician who lived around 300 years ago (1642-1727) and who conjured the 'laws of motion' above. This, of course, is different from the other law of motion: if you got to go, you got to go (and which would apply if you ate a plate of 'seasoned' fish-head curry rice for lunch today and your tummy is rumbling like hell).
Sadly, though, the more polite 'passing motion', 'seeing a man about a dog', or 'answering the call of nature' are terms no longer used today. Today, they call it pooping -- and peeing for the more liquid type -- although if you ate a bad plate of fish-head curry the poop and pee will more or less look the same.
Anyway, the Indians had come out with this same theory thousands of years earlier than that Englishman named Newton. And the Indians called it the law of karma -- you receive the same reaction that befits your action. Hence the Indians were already extremely enlightened at the time the 'Whites' still believed in witches, relics of 'holy men', and all such nonsense.
In fact, at the time of Newton, the English were still burning witches alive at the stake and it was reported that the last known witch killing in England (John and Ruth Osborn) was in 1751 and in America (Salem, Massachusetts) in 1692.
Hence the 'Whites' were not really very clever people and I was constantly reminded about this when our Victoria Institution (VI) headmaster, Murugesu, caned me because of my Beatles hairstyle. "Why do you want to ape the West?" Murugesu screamed at me as he laid six-of-the-best upon my very delicate bum. "Don't you know that civilisation started in the East?"
I was then sent home to get a haircut. I then reported to the headmaster's office as instructed and received another six-of-the-best when my haircut still did not meet Murugesu's satisfaction.
Yet, again, I was sent home and this time I asked the barber at Malay Street to give me an American GI crop and reported back at the headmaster's office. Murugesu took one look at my skinhead and gave me a tight slap. (I wonder why they call it 'tight slap' when it actually loosens everything in your head). He then screamed at me, "Go home and don't come back till your hair grows again".
I think Murugesu may have been a closet opposition supporter. Long hair also cannot, no hair also cannot…sigh. Anyway, those were the days when teachers could physically abuse you and you could not take them to court and sue them for RM1 million.
Today, 65 Pakatan Rakyat lawyers would rush to that school to serve a writ of summons on the 'criminal' concerned with the Prime Minister and Education Minister being jointly sued plus the Human Rights Commission (Suhakam) calling for a Royal Commission of Inquiry (RCI) and mass 'Black Slap' demonstrations being simultaneously organised all over Malaysia.
'Black Slap' demonstrations? Well, Murugesu is 'Black' and he did slap me. And did the VI boys not call Murugesu 'Black Hitler'? And the chap who called him 'Black Hitler' was none other than another Indian, Rajadurai -- who we called 'Tengku' because of the 'Raja' in front of his name. (He was 'Tengku' and I was 'Aneh' -- so as to not confuse people by calling both of us 'Tengku').
Anyway, enough digressing. What I want to talk about today is the 'emergency' being declared regarding the air pollution in some parts of Malaysia (plus Singapore), the result of the forest fires in Indonesia. And why do the forest fires always occur around this same time of year?
Simple! This is because at this time of the year the winds blow from the Southwest: from Indonesia towards Malaysia. At year-end it blows from the other direction (the Northeast or from the South China Sea). Hence we get the East Coast monsoons at year-end.
So this is the best time of the year for the slash-and-burn operation since the wind would blow the smoke away from Indonesia towards Malaysia. Indonesia would then be spared the pollution and since the plantations are mostly Malaysian-owned it makes sense to send the smoke back to Malaysia. (If not then Jakarta would be smokey instead).
That is what is meant by karma. 
An Indian doctor friend of mine in Kuala Terengganu who smoked said that it is better for a smoker to live in Kuala Terengganu than for a non-smoker to live in Kuala Lumpur. A non-smoker in Kuala Lumpur has a higher chance of getting lung cancer than a smoker in Kuala Terengganu. 
I am beginning to suspect that this is true. When I used to live in the Kelang Valley from 1994 to 2009 I would be perpetually on antihistamines. I would have them beside my bed, in my pocket, all over the place, so that I can pop them into my mouth when I suffered an attack of sneezing.
And I would be sneezing so much and most of the time that it gave me a migraine. Hence I would also need to pop two Panadols into my mouth and could not survive with less than six of those tablets each and every day.
Since I came to Manchester four years ago, I have not had a sneezing attack and have not needed any antihistamines or Panadols. So maybe it is true that the air in Kuala Lumpur is very bad.
So, smoking has been banned in public places -- to be kind to those who do not smoke. However, every Malaysian is in reality a smoker and has a higher chance of getting lung cancer than a smoker in Manchester. Is this not ironic?
In fact, Manchester is sometimes called Winchester (after that famous gun manufacturer from the US) because it seems there are more guns than people in Manchester (at least in some parts of Manchester such as Salford). However, you are in more danger of getting shot to death in Kuala Lumpur than in Manchester. Ironic, is it not? 
And how does karma come into all this (the subject of today's article)?
Well, according to the police, they are slightly handicapped in combating hardcore criminals since the removal of the detention without trial law (and I am not talking about the ISA).
In the past, the police just rounded up the hardcore criminals and detained them without trial. Today, because of the human rights issue, they can't do that. So crime is becoming a bigger problem. Is that, therefore, not what we call karma? Human rights improves but crime goes up.
I suppose the same goes with the school system. In the past, people like Murugesu could cane me twice a day and give me a 'tight slap' for good measure (which he did for even minor offences like when he did not like my hairstyle). Today, because of human rights, school kids take over the schools and beat up the teachers instead.
Can you imagine in our days in the 1960s the students beating up the teachers? In fact, even the prefects had so much power that we feared them as much as we did the teachers or headmaster. In one incident when I was in the Malay College Kuala Kangsar (MCKK), one prefect, Azizan Abbas, came to my dormitory with two pairs of boxing gloves and invited me to meet him behind the swimming pool for a one-on-one.
In the UK it is even worse. Kids here are more brutal than the triad members in Malaysia. They can literally get away with murder because even their own parents cannot physically punish them. Do you know you also cannot physically accost a robber who comes into your house? If you do you would be sent to jail.
In one incident here in the UK, a robber who was breaking into a house fell down and broke his leg. He then sued the homeowner and won the case. The robber was awarded damages even though he was committing a crime at that time and it was his own fault that he broke his leg. 
I suppose the old English saying, 'spare the rod and spoil the child', holds true here. We are more concerned about the human rights of the criminal than the human rights of the victims. And this is the problem with both Malaysia and the UK. People of my generation were well-disciplined and that is why we turned out the way we are…hmm…come to think of it, that did not do any good either seeing how we turned out…sigh….
Black 505: Campers pledge to stay but will take down tents
Posted: 22 Jun 2013 03:35 PM PDT
Muzliza Mustafa, TMI
The protesters who camped out at Padang Merbok last night will take down their tents, following the eviction notice this morning from City Hall.
But the protesters themselves will stay on, declared Solidariti Anak Muda Malaysia chairman Badrul Hisham Shahrul, who is also known as Chegu Bard.
"We do not want them to deviate the attention of others from the real issue here. So we will dismantle the tents in stages as requested in the notice," said Chegu Bard.
He stressed that although the tent structures will be removed, the group of protestors will continue to be here until the first sitting of the 13th Parliament of Malaysia tomorrow. "Our stand remains the same. Our presence here is to put pressure against the Election Commission and the top two to quit," said Chegu Bard.
He said the tents will be removed in stages as some of them belong to individuals while some belong to other non-governmental organisations.
He said political activist Haris Ibrahim had a discussion with enforcement officer Nasarudin Daharun on the matter.
"He has agreed to give us more time to allow us to remove the tents structure," said Chegu Bard.
Posted: 22 Jun 2013 03:08 PM PDT
The era of Datuk Nik Aziz Nik Mat is over, the next echelon has moved to centrestage in Kelantan politics, and Umno is looking forward to closer ties with PAS leaders.
However, Umno has accepted the election result in Kelantan with an open heart and is hoping for a warmer and more cooperative relationship with PAS under the new Mentri Besar. With Nik Aziz out of the picture, they see greater prospects for cordial ties between the state and federal governments.
Joceline Tan, The Star
IT was hard to read what was going through Datuk Nik Abdul Aziz Nik Mat's mind when the PAS side tabled a motion of thanks to him for his role at the helm of the Kelantan government.
The former Mentri Besar looked impassive, his chin resting lightly on his hand, as he listened to Kadok assemblyman Azami Mohd Noor offer "thousands of thanks" for his leadership at the first session of the new Kelantan Legislative Assembly earlier last week.
Nik Aziz's decision not to continue as Mentri Besar took his party, including the top leaders, by surprise because everyone thought he would only go in mid-term.
A party insider confided that a few days after the general election, Nik Aziz had written to party president Datuk Seri Hadi Awang saying that he did not wish to continue as Mentri Besar.
Nik Aziz is from the old world. He is not into the Internet or email and the hand-written letter was delivered by hand to Hadi. The letter contained a single request – that the incumbent deputy Datuk Ahmad Yakob be moved up to the top post.
The 82-year-old leader had delivered the state and it was time to go, something he had been looking forward to.
The political transition has been quite smooth. Ahmad and the new Deputy Mentri Besar, Datuk Nik Amar Nik Abdullah, hail from the ulama class of PAS. Both men are sons of famous Tok Gurus and that is the way the PAS grassroots like it.
Ahmad, or Datuk Mat as he is known, is somewhat of a mystery despite his years in politics. He kept a low profile throughout his time as Nik Aziz's No. 2 and some said it was because Nik Aziz is such a big star that he eclipses everyone else.
Ahmad has a serious demeanour but is not unfriendly. He is also quite good-looking except one can never be sure whether he is looking at you because his right eye always seems to be going sideways.
However, reporters in Kelantan have found him to be a bit of a nightmare when it comes to news gathering. Like many ulama, he is not comfortable with the media. No one is quite sure about his political views or what he thinks about issues like the economy, the environment or even his party's direction.
On Wednesday, a team from Harakah was on the way to Kota Baru to do an extensive interview with Ahmad. Many in his own party are keen to know more about the new man in charge of their flagship state.
He is also said to be a reluctant politician. He once said he did not aspire to be Mentri Besar because he did not wish to "commit sin". The implication was that being in power requires one to make decisions that may hurt people and lead to adverse consequences.
But he has found himself in the seat of power and having to fill the big shoes left behind by Nik Aziz.
As Kok Lanas assemblyman Datuk Alwi Che Ahmad pointed out: "Nik Aziz is a Tok Guru and it was tough to take him on. Datuk Mat is an ustaz and that makes it easier for us."
Ahmad received a warm reception from the Umno side during the Assembly sitting. His stern face dissolved into broad smiles several times during the debate especially when the Umno side congratulated him for making history in Kelantan.
Apparently, he is the first Deputy Mentri Besar in Kelantan's history to succeed in becoming Mentri Besar. There have been a total of six deputies from both sides in the past and all of them, as they say, have only been the bridesmaid but never the bride.
The Umno side joked that the jinx had been lifted. They told Ahmad that if his PAS colleagues tried to bully him, the 12 Umno assemblymen on the opposition bench would rush to his aid.
The whole House erupted into laughter when they playfully warned him that because he had set the precedent for the Deputy Mentri Besar to move up to the top post, he would have to keep a close eye on his current deputy Nik Amar.
But there was also a tense moment when Zaki Ibrahim, the Kelaboran assemblyman from PAS, claimed that Barisan Nasional had distributed "pil kuda" (syabu) and ketum leaf beverages to secure the young votes. It was the type of outrageous nonsense that one hears at political ceramah.
Zaki, despite his baby-face looks, is famous for his "mulut tak ada insurans," meaning that he is prone to making outlandish statements. He is also best remembered for a near fist-fight with Umno's Paloh assemblyman Datuk Nozula Mat Diah inside the House a few years ago.
Old feelings die hard and Nozula, who is now the state Opposition Leader, jumped up to tell off Zaki.
"It looks like your heart is not pure. You say you fight for Islam but when you stand up, you only accuse and condemn others," Nozula said.
Popular figure
Nozula is very popular in Paloh because he is one of the few assemblymen who would call up both his own Umno supporters as well as representatives from PAS to ask them what they needed for their kampung and try to find the allocation for them. As a result, his majority of win shot from 2,833 in 2008 to 3,937 in the recent polls.
Umno was deeply disappointed that it failed to get back Kelantan and it does look like state Umno chief Datuk Seri Mustapa Mohamed has missed another chance to be Mentri Besar. He will be 67 by the time the next election rolls around and that will be rather old even if Nik Aziz broke the national record for oldest Mentri Besar.
However, Umno has accepted the election result in Kelantan with an open heart and is hoping for a warmer and more cooperative relationship with PAS under the new Mentri Besar. With Nik Aziz out of the picture, they see greater prospects for cordial ties between the state and federal governments.
"People have asked whether the federal government wants to help Kelantan. I said yes, 100 times yes. We open our arms to them as fellow Muslims. We want to see good water supply in the state. Every year, there are floods, people see water everywhere but they still suffer from water cuts.
"We also want to solve the oil royalty issue in an amicable way, according to the law and what was agreed, without playing politics. We are looking forward to working with a Mentri Besar who does not utter curses against us," said Alwi.
However, many were curious as to what has happened to Nik Aziz's blue-eyed boy Datuk Husam Musa who was once seen as a future Mentri Besar. Husam rose to prominence when Nik Aziz was up there but his stars have dimmed and he is not even in the state exco.
Husam, who is Salor assemblyman, caused a stir when he sent word that he could not attend the swearing-in and asked to be excused from the Assembly proceedings.
But the night before the swearing-in, he was at the Kelantan 505 rally, breathing fire and brimstone alongside Datuk Seri Anwar Ibrahim. They are kindred spirits in the sense that both are frustrated that they have not got what they wanted.
"I don't know what is going on with Husam. Even Tok Guru came with his tongkat to be sworn in," said Alwi.
Husam's Facebook indicated that he was somewhere at the Syrian border, visiting a refugee camp. He posted a picture of himself with a handkerchief tied over his nose and mouth with the posting: "Hot weather, dry wind, dust blowing."
Many in PAS are also disturbed at the way he has lashed out at his colleagues in Kelantan for not supporting the 505 rally in a bigger way. They said he should know that party leaders have accepted the overall election outcome.
A number of PAS leaders have privately indicated that they are suspicious of Anwar's motives in holding street protests in the name of election fraud. They think it is Anwar's way of destabilising the government with a view to toppling it.
Moreover, as the ruling party in Kelantan, PAS is acutely aware that it cannot be part of any move to topple an elected government through street politics. If they do that to others, the same could happen to them when the tide shifts.
PAS leaders are also concerned that Husam is behaving like he is in the opposition. He had made veiled attacks against Nik Abduh who is now Pasir Mas MP.
Nik Abduh, whose political views are quite independent of his father Nik Aziz, had urged PAS members to accept the general election result and said that it was God's will. He said he is not against demonstrations but it should not be used to bring down a government.
Nik Abduh is the man to watch in PAS. He has the steely resolve of his father, he is not a yes-man and he wants to see PAS return to its original roadmap.
The above party insider said Husam was well aware that the Kelantan Palace has issues with him. The party had tried to help him get out of state politics by offering him Kubang Krian, a sure-win parliamentary seat. But he insisted on defending the Salor state seat and also lobbied to contest Putrajaya. He lost in Putrajaya and he is in a sort of political limbo.
Some leaders had appealed to Nik Aziz to speak to Husam but the elderly man had said: "Let him be."
"He is attacking our own family in PAS and that is not good. He should be a team player," said Nik Amar.
A few days ago, former Umno/PKR politician Datuk Zaid Ibrahim tweeted: "The future of Pakatan depends on where Husam is placed. PAS has to be led by Husam for there to be progress. Without progress in PAS, Pakatan will reach a dead end."
The tweet was widely seen as encouragement for Husam to go for the PAS presidency at the party election in November and it gave Husam a much-needed morale boost.
The Nik Aziz era has finally come to an end and the next echelon has moved up. A new chapter lies ahead although no one can quite tell whether life without Nik Aziz up there will be better, worse or the same old story. But it will be interesting to watch.
PAS vice-president held over martyr remarks
Posted: 22 Jun 2013 03:02 PM PDT
Police Husam's previous comments that those who died while attending the rally would be martyrs.
(The Star) - PAS vice-president Datuk Husam Musa was detained by police for alleged sedition.
Ampang OCPD Asst Comm Ami­ruddin Jamaluddin said the arrest had nothing to do with the Black 505 rally at Padang Merbok.
"He was detained at Kampung Pandan at 4pm and brought to the Ampang district police headquarters," he said, citing Husam's previous comments that those who died while attending the rally would be martyrs.
A posting on Husam's Facebook page said his arrest could be related to his remarks published in Hara­kahdaily.
It also said he would be brought to Kelantan to be investigated under the Sedition Act.
Police said Husam was arrested under Section 4 of the Sedition Act.
Meanwhile, activist Khalid Mohd Ismath, 22, was also arrested for the same offence at his house in Klang at 5.30pm yesterday.
Federal CID director Comm Datuk Hadi Ho Abdullah said Khalid had allegedly written a blog posting inciting participants of the rally to attack security personnel.
Get on with your duties, Pakatan leaders told
Posted: 22 Jun 2013 02:56 PM PDT
(The Star) - Pakatan Rakyat's rally at Padang Merbok failed to attract the anticipated 300,000 crowd targeted, said Barisan Nasional Youth chief Khairy Jamaluddin.
He said that while the haze probably played a part in the much fewer numbers, most Malaysians did not attend the gathering because they wanted to move on instead of dwelling on the results of the 13th general election.
"Most Malaysians want Pakatan to be an effective Opposition and stop behaving like sore losers," said Khairy.
He said Pakatan should take heed of the failure to bring out the promised numbers.
"Pakatan leaders should accept the election results and get on with performing their duties," he added.
PKR strategy director Rafizi Ramli had earlier said 300,000 people would attend the rally.
However, several online news portals yesterday estimated a much lower turnout, with Malaysiakini stating it was a "lower than expected" 30,000 and the Malaysian Insider estimating it at "20,000-plus".
Harakahdaily, however, quoted the gathering's key organiser Johari Abdul as announcing that it drew a crowd of over 55,000.
Free Malaysia Today reported that the gathering lost steam after only about 30,000 people attended, with some participants seen leaving as early as an hour after going to Padang Merbok.
MCA Youth chief Datuk Dr Wee Ka Siong said the event was a failure because the turnout was only 10% of the promised 300,000 figure.
He said the gathering was a "political gimmick" by Pakatan to validate the many allegations against the Election Commission.
"By using the word black' in the gathering, the organisers were also trying to associate the event with Pakatan's claims about fraud in the polls outcome, such as the allegation of blackouts during vote counting," said Dr Wee.
Federal Territory Umno secretary Datuk Seri Syed Ali Alhabshee said he was disappointed with the authorities for allowing the gathering to take place.
"I'm also worried because if this matter is not handled well, then we could see illegal gatherings taking place throughout the next five years," he said.
He said the organisers were attempting to portray to the outside world that the country was unstable when many Malaysians were in fact opposed to street protests.
PAS central committee member Dr Dzulkefly Ahmad defended the rally, estimating the turnout to be about 35,000 people, which he said was a success.
"More importantly, it was a gathering of the rakyat that cut across ethnic, religious and cultural differences," he said.
DAP adviser Lim Kit Siang said that despite fears that untoward incidents might occur, people still attended the gathering "in the tens of thousands".
"The people are unhappy with the election results because of electoral irregularities. In order to start anew, a total revamp of the electoral system must be done," he said.
Now, we cannot even eat in peace
Posted: 22 Jun 2013 02:51 PM PDT
Crime is an issue that unites the people, but for the wrong reasons. One thing is clear we are sick and tired of living in fear.
Crime is our number one concern, according to a survey by the International Islamic University, and that certainly is not news to us. There is this strong perception that following the repeal of the Emergency Ordinance, the hardcore criminals, including former detainees, have been emboldened to return to the streets. Talk to the police officers and many are angry that they have lost their power to rein in these devious criminals.
Wong Chun Wai, The Star
IF you live in Petaling Jaya, you would probably have heard of it. Three armed men rushed into a famous chilli crab restaurant shortly after closing time and they were not looking for food.
They held up the cashier in this cash-only restaurant and cleaned out the till while the restaurant helpers ran helter-skelter, for fear of being slashed by the parang-wielding robbers. An accomplice was waiting inside a car nearby. Luckily, there were no customers at the usually packed restaurant.
Not too long ago, the restaurant opposite, famous for its fish head curry, had also fallen victim to such criminals.
What is frightening and most unfortunate is that this is one part of Petaling Jaya that is busy and vibrant, even after midnight. It is a hive of activity because the food court and several outlets nearby are open 24 hours.
Word has gone around Petaling Jaya that it is no longer safe for the people to patronise eateries during late hours.
In fact, at least one restaurant operating in Section 17 has taken the unusual step of locking its doors even when it is open for business. Only customers who have made reservations or those who can prove they are bona fide customers are allowed in.
It's the same with many hair salons, which have taken to locking their doors as they are often the target of such hoodlums.
In Cheras, it was reported that people eating on the pavement outside a restaurant were also robbed. For many of us, crime has worsened.
This newspaper reported on June 13 that a group of armed robbers had been terrorising customers of seafood and mamak restaurants in Kuala Lumpur, hitting five eateries in Cheras, Jinjang and Brickfields since January.
The group of at least 10 parang-wielding men would use stolen cars, conceal their faces with crash helmets and target the restaurants to rob customers of their money and valuables.
The police, according to the report, claimed to have made a breakthrough in the case following the arrest of three men, in their 20s, who had attempted to strike at their sixth target, a seafood restaurant in Kampung Subang.
The point is this why must Malaysians continue to live in fear? To be more precise, it seems that Malaysians cannot even eat in peace now!
The promises and assurances made at the many anti-crime campaigns will not be taken seriously until the people feel safe. Forget about the statistics that tell us that snatch theft incidents have actually gone down.
Don't think that our Cabinet members and police chiefs do not know about the actual situation. I know for a fact that the family members of several Cabinet members have been robbed. So have the children and relatives of our top police officers.
I hope the Prime Minister would issue an order for the Cabinet and police top brass to watch the most recent robbery cases captured on CCTV that have been uploaded on YouTube and shared on Facebook.
Many of these robberies, which take place in broad daylight, happen right in front of the homes of Malaysians. The most vulnerable victims are women who, upon alighting from their cars, have their bags snatched by the robbers on motorcycles. In some cases, the victims are dragged along the road when they resist.
Video clips of such incidents are shocking and guaranteed to make our blood boil. The fact that cameras are being installed in so many homes now is testimony to the fact that many of us don't feel safe even in our home surroundings.
Crime is our number one concern, according to a survey by the International Islamic University, and that certainly is not news to us.
The Dewan Rakyat begins its meeting proper on Tuesday after the oath-taking ceremony on Monday. I hope that our Members of Parliament would find time to deliberate on this issue. We are not interested in them scoring points, but to propose concrete solutions, especially with regard to legislation.
There is this strong perception that following the repeal of the Emergency Ordinance, the hardcore criminals, including former detainees, have been emboldened to return to the streets. Talk to the police officers and many are angry that they have lost their power to rein in these devious criminals.
No doubt, there have been allegations of abuse of power by the police in the past, which was one reason why this piece of legislation was repealed. But now we learn of many cases of robberies involving ex-detainees who probably no longer fear being detained or banished.
The harsh reality is that the police do not expect hardcore criminals to volunteer information or confess to their crimes when arrested. It is difficult to build up a case under such circumstances but human rights lawyers expect the police to try harder instead of using the EO to close their files.
But the pressure is piling up on the government, not just the police, because we want our authorities to clean up our streets.
We are sick and tired of living in fear. We have elected our politicians into the highest legislative chamber and now we expect them, as law-makers, to do their job well. So please get on with it.
Rally doesn't live up to its bill
Posted: 22 Jun 2013 02:44 PM PDT
(The Star) - A throng of protesters gathered at Padang Merbok for Pakatan Rakyat's 'Black 505' rally ahead of the opening of the 13th Parliament tomorrow, although the number was nowhere near the 300,000 targeted by the organisers.
The rally was held to call for the immediate resignation of all Election Commission (EC) commissioners, re-elections to be held in at least 30 parliamentary seats and to stop the EC from conducting redelineation exercise or review electoral laws pending appointment of new commissioners.
Besides Pakatan leaders and its supporters who were mostly dressed in black, the crowd also comprised orang asli groups, Anti-Lynas activists and NGOs fighting for heritage preservation.
The crowd, which gathered as early as 9.30am at Padang Merbok, started to grow in numbers only after noon as various groups marched to the field from six gathering points in the city.
Pakatan leaders who led the groups were PKR deputy president Azmin Ali, Selangor PAS Commissioner Dr Abdul Rani Osman, PAS central committee member Dr Dzulkefly Ahmad as well as PKR supreme council member and key organiser of the rally, Sungai Petani MP Datuk Johari Abdul.
DAP leaders, including party adviser Lim Kit Siang and Batu Gajah MP V. Sivakumar, also attended the rally in spite of party chairman Karpal Singh's earlier statement that the DAP was not involved.
Lim, Bersih 2.0 steering committee co-chairman Datuk Ambiga Sreenevasan and PKR leader Datuk Seri Anwar Ibrahim were among the key speakers.
Despite the rally being officially declared illegal and warnings to the public not to take part, police allowed the participants to gather.
Before it started, Federal Territories Minister Datuk Seri Tengku Adnan Mansor made a final appeal for participants to gather at Merdeka Stadium, as it was "a much safer venue".
"We allowed them to use the stadium but they were adamant on using Padang Merbok. We will lodge a police report because City Hall denied them the use of the field," he said.
Most of the crowd dispersed by about 6pm. However, some of the participants, who had set up tents in the field before the rally, vowed to stay until the opening of the Dewan Rakyat tomorrow.
City police chief Deputy Comm Datuk Mohmad Salleh said the rally was largely incident-free, except for a scuffle after two City Hall personnel tried to dismantle the tents.
"The situation was under control with no arrest made. However, there were traffic jams around the city centre, especially along Jalan Tuanku Abdul Rahman and Jalan Parlimen."
biMpLuX_ZZM 
City Hall acts against Padang Merbok campers - they have two hours to leave
Posted: 22 Jun 2013 02:34 PM PDT
Muzliza Mustafa, TMI
The protesters who set up tents at Padang Merbok in Kuala Lumpur after yesterday's Black 505 rally received eviction notices from City Hall at 10am today.
A City Hall spokesman said they were there to carry out their duty and have given the activists two hours to leave.
"If they are still here, we will inform our superiors and wait for further instruction," he said.
There were more than 100 tents on site at the time. About 240 campers have been at the field since last night.
Solidariti Anak Muda Malaysia chairman Badrul Hisham Shahrul said they are going to let City Hall finish issuing notices before deciding the next course of action.
Posted: 22 Jun 2013 02:20 PM PDT
Saifuddin Nasution lost the previous election contesting in Kulim-Bandar Baharu, Kedah. The loss in Kedah should be treated as an important issue and PR must realise that the people will not hesitate to vote PR out if they failed to perform.
FMT LETTER: From Natesan Visnu, via e-mail
The recent statement made by Saifuddin Nasution rejecting PSM from joining Pakatan Rakyat shows political immaturity. The statement does not reflect the true spirit of the coalition. That leads us to a question on PR's political strategy and reasons for rejecting PSM. In response to Saifuddin's statement, we Malaysians would like to remind that Pakatan Rakyat is for all Malaysians. The leaders are servants of the people and the people's aspiration should be the top priority. The country is in a political dilemma and PR should take into consideration the sentiments of Malaysians and formulate strategies that work for the people not against the people.
PSM – A hardworking political party
PSM has proven its worthiness as a political party with integrity. Malaysians have not forgotten the debacle by PKR before the elections by fielding candidates to contest against PSM. PSM continued its struggle for the working class despite the pre-election fiasco and were firm with their stand against Barisan Nasional. In period of political uncertainty, PSM had the option to join the Barisan Nasional coalition. PSM chose the long hard road to continue its struggle with one goal in mind, to serve the people.
Dr Michael Jayakumat won the Parliamentary seat for two terms defeating MIC giants in 2008 (Samy Vellu) and 2013 (S Devamany). Dr Jayakumar and PSM members were arrested under Emergency Ordinance before the Bersih 2.0 rally fighting for electoral reform.
PSM shares a similar ideology with PR on issues pertaining to workers' rights, eradication of neo-liberal policies, affordable housing, multiracial society, combat corruption and stopping destruction of the environment. On that note, the rejection of PSM from join the PR coalition is not justified and a review on their position must be considered. PSM has proven its leadership capabilities by continuing to serve the Malaysian people.
Winning Kedah again
Saifuddin Nasution lost the previous election contesting in Kulim-Bandar Baharu, Kedah. The loss in Kedah should be treated as an important issue and PR must realise that the people will not hesitate to vote PR out if they failed to perform. Since Saifuddin has experience contesting in Kedah, he should be given the task to win Kedah again in the next election. With his vast experience in politics, PR should send him on a mission to recapture Kedah to prove his political abilities.
The people of Kedah were sentimental to support BN because two of the country's Prime Ministers originated from Kedah. With appointment of Mukhriz Mahathir as the Chief Minister, PR's battle in Kedah for the next election will be an uphill task. The groundwork for the next election should start now. Defeating BN in Kedah in the next election should be PR's top priority not rejecting PSM from the coalition.

PSM – Reformism
PSM could be viewed as an evolutionary social reformist party with an ideology for gradual changes within society in many areas. In tandem with PR's aspiration for change, PSM has the support of poor working class, marginalised community and urban poor. The presence of a socialist political ideology provides the 'check and balance' for a capitalist system.
Leftist ideologies are a necessity for maturing democracy and the role of social reformist balances the democratic system. PR's rejection of PSM will further weaken the strength of PR. From strategic perspective, the rejection means PR has not matured as a democratic coalition.

Why PSM matters?
As a note of reminder, the PR leadership needs to realise that by rejecting PSM, they are indirectly paving the way for PSM to become the third force. The political ideology of PSM appeals to the poor and PSM has the capability to strengthen itself in years to come. If PR stands firm on the decision, the support from rural voters will reduce and capturing Putrajaya will be an uphill task in the next election. Indirectly PR is paving way for BN to stay in power.
Learning from GE 13, despite the election fiasco, the rural voters are a votebank for BN. PSM has good track record with the urban poor, plantation workers, industrial workers and peasants. PR should look into the possibilities of capitalising on PSM's strengths.
Posted: 22 Jun 2013 02:13 PM PDT
For Umno to blame the lack of progress of the Malays on the non-Malays is engaging in delusion of the highest order. 
A turn towards a religious or return to a feudalistic future would be to the detriment of the great majority of Malays, though the leaders of the old order would welcome it.
By Koon Yew Yin, FMT
Zaid Ibrahim's latest effort at redefining the Malay agenda is an interesting exercise coming as it is just ahead of the Umno general assembly meeting.
Although directed at Umno leaders and members, I am sure that he intends to provide food for thought for everyone.
Like him, I hope it also opens the door to an honest, open and transparent appraisal of not just the party's role in leading the Malays but also of where the Malays would like to go from their present situation and what needs to be done to help the Malays succeed in their aspirations.
Let me summarize what Zaid has written.
Firstly, he reminds that Chinese or Indian bashing – whether about the election results or the failure of Malay youth to be gainfully employed or for any Malay problem – is a waste of time and misplaced. I cannot agree more. In fact, I would use stronger words to condemn race hatred and baiting wherever it stems from and whoever it is aimed at.
Secondly, he scolds the nuttier ones within the party (and I assume this refers to the party's leaders too) who seek a strengthening of Islam and the Malay rulers as if more power for the ulama and rulers are the magic bullets that would bring about the salvation for the Malays.
A turn towards a religious or return to a feudalistic future would be to the detriment of the great majority of Malays, though the leaders of the old order would welcome it.
As Zaid succinctly puts it: "If Malay leaders could be honest enough to admit it, they would recognise that giving more power to the Malay Rulers and "strengthening Islam" (whatever that means) will not solve [their] problems."
Thirdly, Zaid is on the same page as many others in recognizing that the Malay bureaucracy is a major source of inefficiency and corruption.
However in calling for Umno to address this problem, he conveniently omits to mention that Umno itself is the starting as well as end point of much of the petty and grand corruption found in the country.
No Malay bureaucrat would dare to engage in selling licences, permits or other favours for personal gain without the support of their political patrons in Umno.
Much of what Zaid has opined is not new or original. Neither are the solutions that he has proposed such as for Umno not to be fixated by the numbers game in education through pushing for even higher quotas for Malays in higher education.
As he correctly points out, churning out hundreds of thousands of poor quality graduates through the public universities is a pointless exercise when they are not able to meet the demands of a competitive market place.
Some home truths
Even worse for Umno, these unemployed or under-employed youth are a ticking time bomb that could bring about the demise of the party.
In his words which are useful for the Education Minister to ponder on: "just to increase the number of graduates so we have more than the Chinese is a silly strategy unless the standards are high and employment is assured. Learn from Singapore where they limit the number of graduates as a proportion of their population. Unemployed graduates and especially the unemployable ones are ripe for street marches."
While there is much that is thoughtful from Zaid's opinion post, my main concern is in his unwillingness or inability to be fully honest with the delegates and party chiefs that he wants to reach out to.
The following are some inescapable home truths that need to be elaborated as reminder to Umno's leaders and apparachik.
1. Malays control and dominate in the political, administrative and social sphere of life in the country. They form the majority in parliament, judiciary, army and police, the MACC and all other important political bodies. In the socio-economic and educational sphere, they control the public universities; civil service; etc. For Umno to blame the lack of progress of the Malays on the non-Malays is engaging in delusion of the highest order.
2. Due to Umno and Malay domination, the Malays have made tremendous strides since the 1970s in the economic sphere too. For example they control Bank Negara and all the major banks (except for Public Bank); all the GLCs; Petronas; as well as comprise the majority in the top professional and best paying occupations in the private sector. It would not be incorrect to say that the Malays also call the shots in the running of the economy.
3. Umno and Malay leadership of a country blessed with natural and human resources during the past 50 years has greatly benefitted the Malay and non-Malay elite such as Zaid and the Umno party leaders. Millions more Malaysians could have also become beneficiaries if not for Dr Mahathir's squandering of thousands of billions of our petro dollars in his projects of superficial grandeur and his support of cronies, many of whom he helped with expensive bailouts.
Umno's delegates went along with Mahathir as he allowed the systematic looting of the country's treasury and tolerated the culture of leakages, wastage and inefficiency.
Zaid has lamented this but fails to point the finger of responsibility towards those who are guilty.
Despite all his wrong doing Mahathir is still considered the king maker. He recently said that Umno's top two posts should not be contested to avoid internal party squabbles and most likely Umno's delegates will accept his opinion.
The measure of the worth of political parties and their leaders is if they can learn from their mistakes and not repeat them.
Operasi DBKL Menyuruh Peserta Untuk Cabut Khemah Di Padang Merbok, Ketika Ini..
Posted: 22 Jun 2013 01:20 PM PDT
Beratus Penguatkuasa DBKL sedang menyaman khemah kami, kejadian ini memecah rekod dunia pertama kali berlaku kejadian Khemah di saman, Only in Malaysia!!
Cananglahnie 
TERKINI : Operasi DBKL Menyuruh Peserta Untuk Cabut Khemah Di Padang Merbok, Ketika Ini... Peserta Cuba Berbincang Untuk Bertahan... Semakin Ramai Hadir Memberi Sokongan... ::.kikiki.::
Jika lihat asap..jangan cerita pasal asapnya...
Cari dimana api dan mengapa api menyala..
Jika lihat DBKL pungah khemah..jangan marah petugasnya..marahlah siapa bug bos yg arah mereka buat tugas tu..siapa dibelakang tabirnya..arahan dari siapa..turun kpd siapa..dan kenapa diarah?
Begitu juga kita..kita berdemo bagai tak mau marahkan SPR..mihon SPR letak jwatan...namun andaikan SPR letak jawatan..apa jaminan pegawai baru tu akan lebih baik dari sekarang? 
Read more at: http://btmmari.blogspot.com/2013/06/terkini-operasi-dbkl-menyuruh-peserta.html 
Kredit: www.malaysia-today.net