Klik GAMBAR Dibawah Untuk Lebih Info
Sumber Asal Berita :-
---
Two, who allegedly insulted the Prophet on Facebook, identified
Posted: 08 Jun 2013 09:04 PM PDT
(Bernama) - The Communication and Multimedia Ministry has identified the two individuals who allegedly insulted Prophet Muhammad through Facebook on Friday.
Its minister Datuk Seri Ahmad Shabery Cheek said Sunday they were registered as 'Calvin Gani' and 'Rakyat Anarki' in their respective Facebook accounts.
He said the cases had been submitted to the police for further investigation and action.
He stressed that the ministry viewed Internet abuse seriously, particularly the spread of defamation and sedition that could potentially arouse antagonism and uneasiness among the communities in the country.
"I wish to remind Internet users in the country that they will not escape the law even though their actions or statements in social websites such as Facebook, Twitter and blogs may have been made on a personal basis," he told reporters after a community function at Felda Neram Satu here.
When asked whether Malaysia would ban social websites such as Facebook, Ahmad Shabery said there was no necessity to do so, as the medium could be used positively for various benefits such as access to speedy information, business networks and to strengthen inter-racial harmony.
"But I would not dismiss the possibility of the government having to seek the views of the people on whether it should, if the incidences of negative usage is so prevalent leading to anger and tension among the people," he said.
Emotional and greedy Chinese will hurt own race, says Utusan
Posted: 08 Jun 2013 03:05 PM PDT
Syed Jaymal Zahiid, TMI
Chinese voters will hurt their own race if they continue to be "emotional and greedy", Utusan Malaysia warned today, as it continues with its attack against the community more than a month after the divisive May 5 general election.
Under the headline "Sedarlah Cina (Wake up Chinese)", Awang Selamat, which is the nom de plume representing the collective voice of the paper's editors, appeared to suggest that the majority of the Chinese community are overly demanding and ungrateful for voting against a government that has done much to serve them.
The column also described the majority of Chinese as racist because they were purportedly influenced by the DAP to hate other races despite having been treated favourably in Malaysia and quoting academic Dr Teo Kok Seong as saying Malaysian Chinese, especially the educationist group Dong Zong, should instead be grateful as no other country would have allowed the community to preserve its identity and "live as 'Chinese'".
"Amid the thick racist sentiment of the majority of the Chinese, as a result of the political game played by the most racist party, the DAP, there are voices from the more open and rational Chinese," the columnist wrote, referring to Teo, a researcher with University Kebangsaan Malaysia (UKM).
"He has openly reminded the Chinese, especially the Chinese educationist group, Dong Zong, that there are no other countries in the world that would have allowed this race to live as 'Chinese', except for Malaysia," the writer added.
The column further noted that Teo's supposed advice came at the right time. Although the writer gave no explanation, it is believed that he was referring to Election 2013 where the majority of the Chinese were perceived to have voted against the ruling coalition.
Since the results were announced, the Malay broadsheet and Umno's right-wing elements have constantly attempted to frame the May 5 ballot at a Chinese-vs-Malay contest.
Polls data, however, showed a significant swing in Malay votes towards Pakatan Rakyat (PR), especially among the middle class in urban areas, with many analysts agreeing that the Election 2013 results pointed more towards an urban-rural and class divide, instead of a communal rift.
Utusan has, however, continued with its push to influence the post-May 5 polls discourse with anti-Chinese sentiments, labelling the community as "deserters" and "ungrateful" for voting against a government that has done its best to serve the community.
"In the context of Malaysian politics, Awang would like to (say) that any Chinese who are emotional and rakus (ravenous) will hurt their own race despite having control of the economy," the columnist wrote today.
The writer further cited Teo's criticism of Dong Zong's demands for recognition of its Unified Examinations Certificate (UEC) as "extreme" in what appeared to be a veiled allegation that the Chinese are too demanding.
Awang reminded the community that to continue living in a multi-racial Malaysia, the Chinese must accept the Malay majority as the country's dominant political force.
Teo was also quoted on his opinion of Dong Zong's alleged criticism towards ministers who spoke poor Mandarin in a bid to prove allegations of deep chauvinism among the Chinese community.
"This matter is too much when the issue of the Chinese community's poor grasp of Bahasa Melayu has not once been raised.
"The Chinese themselves have not done anything to rectify this. I suppose this is the time to really discuss, what exactly are the purpose of the Chinese living in Malaysia," the UKM academic was quoted as saying.
Adnan: Allow contest for top Umno posts
Posted: 08 Jun 2013 02:53 PM PDT
(The Star) - Pahang Mentri Besar Datuk Seri Adnan Yaakob has disagreed with calls for Umno's top two positions to be left uncontested in the coming party polls.
Umno, he said, was a democratic party and should not be exclusive if it wanted to remain relevant to youths and the educated.
"I do not agree with the statements for the positions to be uncontested," he told reporters after visiting TV3's Jom Heboh carnival at the MPK2 field here yesterday.
"For me, it must be open. We can support Datuk Seri Najib Tun Razak for the president's post. But how can the posts for the president, deputy president, Youth chief and Wanita chief all be left uncontested?
"It's better that we do not do this because it will show that we are becoming autocratic," he said.
However, Adnan said this did not mean that he was not loyal to both the party president and deputy president.
It was reported that Umno Youth chief Khairy Jamaluddin had expressed a wish for the party's top two posts to be won uncontested.
Several Umno leaders, including vice-president Datuk Seri Dr Ahmad Zahid Hamidi and information chief Datuk Ahmad Maslan, had also supported the call.
Asked if he would be contesting, Adnan said he was "already old and would like to focus on doing what must be done".
In Kota Kinabalu, Deputy Defence Minister Datuk Abdul Rahim Bakri said the top two posts should not be contested to preserve solidarity among members of the party, which he said was the pillar of Barisan Nasional's strength.
"Opening contest for key posts in Umno will create the setting up of camps. Based on past experiences, it is feared that this will lead to internal bickering and continuous politicking, which will only weaken the party," he said.
Instead, he said efforts should be made to enhance solidarity and unity among party members in preparation for the 14th general election.
Meanwhile, in Muar, Umno deputy president Tan Sri Muhyiddin Yassin said it was "still too early" to comment on the issue, stressing, however, that Umno was a democratic party.
No boycott of Parliament sitting, say DAP and PAS
Posted: 08 Jun 2013 02:36 PM PDT
(ST) - DAP and PAS have snubbed PKR's suggestion to boycott the opening of the 13th parliament sitting.
DAP national organising secretary Anthony Loke said that the party had no plans to boycott parliament, while PAS deputy ulama chief Datuk Dr Mahfodz Mohamed said that such a move would be like snubbing the rakyat who had elected the MPs.
They said this in response to PKR adviser Datuk Seri Anwar Ibrahim's suggestion for the boycott to protest against the results of the 13th general election.
Anwar made the suggestion following calls by some non-government organisations to boycott the sitting that starts on June 24.
"Our position is the same as that of the one taken by (party adviser) Lim Kit Siang," said Loke.
Lim was quoted in news portals as saying that DAP had no plans at the moment to boycott parliament.
Dr Mahfodz said that it was the duty of those who won the elections to attend parliament sessions.
"We shouldn't snub parliament, as it is akin to snubbing the rakyat," said Dr Mahfodz, who had contested and lost the Gambir state seat in Johor.
Dr Mahfodz, who is also Johor PAS commissioner, said that those who were not satisfied with the election results should file petitions in court.
Asian Strategy and Leadership Institute (Asli) director Tan Sri Datuk Dr Ramon Navaratnam urged Anwar to rethink his plans to boycott parliament.
"It will be bad to boycott parliament, as elected representatives are obliged to represent the people.
"Even his (Anwar's) party was elected by the people to the parliament, and they do not have the mandate from the people to boycott parliament," he said.
In Halim Saad suit, Pakatan suggests a Mahathir legacy of graft and cronyism
Posted: 08 Jun 2013 12:42 PM PDT
The tycoon is considered a Bumiputra corporate posterboy of the Mahathir era. 
(TMI) - Tycoon Tan Sri Halim Saad's massive legal suit against the government underlines the widespread corruption that typifies the Mahathir-era where the line between business and politics was blurred to help the ruling Umno amass an empire of wealth, said Pakatan Rakyat (PR) leaders.
Opposition leaders believe the suit, set to be one of the biggest corporate battles in the country, will also test the Najib administration's seriousness in tackling high-level corruption as they expect the legal battle to expose more gruesome details on Umno's dirty corporate ties.
"This is yet another legacy of Tun Dr Mahathir (Mohamad)," DAP lawmaker Liew Chin Tong told The Malaysian Insider, referring to the longest-serving former prime minister whose administration had spearheaded a Bumiputra corporate advancement project that helped create a pool of Malay tycoons like Halim.
"When it comes to corruption and cronyism, we know Umno is corrupt and filled with cronies. What we want to know now is, who is getting all that money. That's what the people want to know," he added.
Halim has mounted a massive legal challenge against the government to demand full settlement of an over RM2 billion deal that forced him to relinquish his controlling stake in Renong Bhd more than a decade ago.
According to digital business magazine, The Edge Review, Halim, once the sole corporate nominee of the ruling Umno, was offered RM1.3 billion in cash and property as well as control of a private waste management company, roughly valued at RM2 billion, in exchange for his disposal of Renong in the 2001 agreement.
Citing people familiar with Halim's suit, the magazine reported that the business magnate had since only received RM165 million despite giving up his business empire and is seeking the remainder.
The move comes as a shock since Halim's tenure in Renong was marred by questionable decisions. It is widely perceived that he had failed to rein in Renong's growing debts, which allegedly forced the government to take over his stake in the conglomerate through state investment arm, Khazanah Nasional Bhd.
Liew said the Halim saga was among the many failures of Dr Mahathir's Bumiputra corporate advancement project, citing other controversies like the legal battle between national carrier MAS and its former chief executive officer Tan Sri Tajuddin Ramli and the Forex scandal in 1983.
Read more at: http://www.themalaysianinsider.com/malaysia/article/in-halim-saad-suit-pakatan-suggests-a-mahathir-legacy-of-graft-and-cronyism/ 
Bikinis banned at 2013 Miss World pageant in Indonesia
Posted: 08 Jun 2013 12:36 PM PDT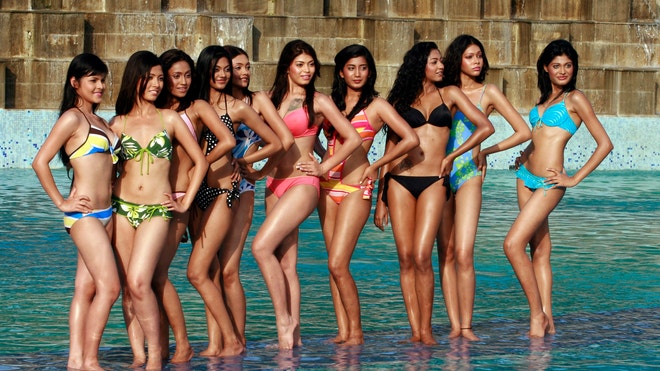 (Fox News) - Miss World has axed the famed bikinis from this year's pageant in Indonesia, replacing the skimpy swimsuits with conservative beach sarongs amid mounting protests from hard-line Muslim groups, organizers said Thursday.
All of the more than 130 contestants will be required to wear Bali's traditional long sarongs instead of the sexy bikinis that are historically part of the competition, said Adjie S. Soeratmadjie of the RCTI, the official broadcaster and local organizer.
The pageant will be held Sept. 28 on the resort island of Bali and in Sentul, an area near the capital, Jakarta. Indonesia is the world's most populous Muslim country.
"There will no bikini in this year's Miss World pageant to respect our traditional customs and values," Soeratmadjie said, adding that the London-based Miss World Organization is on board with the decision.
"This is a sensitive issue in Indonesia. We have discussed it since last year and they have agreed," he said.
The chairwoman of the Miss World Organization, Julia Morley, confirmed that none of the 137 contestants would wear a bikini.
"Indonesia is designing for us a very beautiful one-piece beachwear, and I'm very happy with them," she told The Associated Press by phone from London, adding that the pageant will include a special beachwear fashion show.
"I don't think Indonesia is the only country that has that culture," Morley said. "But we like to work in the manner respectful to every country, and I cannot see why when you go to somebody's country you should not behave respectfully."
Read more at:
http://www.foxnews.com/entertainment/2013/06/06/bikinis-banned-at-2013-miss-world-pageant-in-indonesia/#ixzz2VgdU4tOn
Bloggers stage protest, call on new MDA rules to be withdrawn
Posted: 08 Jun 2013 12:32 PM PDT
(Today Online) - "The government refuses to put it into law, that non-commercial sites will never be regulated... What isn't said speaks louder"  
A group of bloggers expressed deep-seated concerns over the newly introduced licensing regime for news sites at the Free My Internet protest on Saturday, despite the Government's recent assurances that it maintains a "light touch" approach to the Internet and the new rules would not limit public discourse.
The 15 speakers at the three-hour long protest at Hong Lim Park called on the Government to withdraw the new rules, which kicked in on June 1.
Key among the bloggers' concerns was that future governments might not abide by the present Government's recent stand that criticism of government policies will be allowed. Minister for Communications and Information Yaacob Ibrahim had said on Monday that news reports and comments critical of government would not be targeted under the new regime, as long as they are accurate and not misleading.
This puts "too much trust in the regulators", according to blogger Visakan Veerasamy. "Even if they make perfect decisions, who's to say that future politicians won't exploit the flimsiness of this policy? How can we be sure that such authority won't be abused? The best medicine is self-government."
He likened it to parents teaching their children how to use the Internet responsibly, instead of through punitive measures.
Many speakers also criticised the broad definition of what constitutes a news website, which the Media Development Authority had given as "any programme containing any news, intelligence, report of occurrence, or any matter of public interest, about any social, economic, political, cultural, artistic, sporting, scientific or any other aspect of Singapore in any language".
Former Nominated Member of Parliament Siew Kum Hong, who sent a message to be read out at the protest as he is overseas, felt that despite Dr Yaacob's assurances, they have not been written into the regulation, thus creating more uncertainty.
Read more at: http://www.todayonline.com/singapore/bloggers-stage-protest-call-new-mda-rules-be-withdrawn 
Kredit: www.malaysia-today.net