Klik GAMBAR Dibawah Untuk Lebih Info
Sumber Asal Berita :-
---
DAP's Tony Pua claims Dr M and Umno are the 'real racists'
Posted: 06 Jun 2013 06:50 PM PDT
Ida Lim, TMI
The DAP's Tony Pua has accused Tun Dr Mahathir Mohamad and Umno of being the "real racists", slamming the former prime minister for "gibberish" statements in his alleged attempt to paint the DAP as a racist party.
Pua also claimed that Dr Mahathir is leading Umno's "Demolish and Destroy DAP (DDD) brigade", a secret plot which the DAP's Lim Kit Siang had this week claimed was hatched to destroy the opposition party.
Pua questioned Dr Mahathir's logic at pointing to the Chinese community's high turnout in rallies and their high level of support for the DAP at the polls as proof of racism.
"When Malays vote overwhelmingly for Umno in the past, it is never 'racism'. When a 100 per cent Malay crowd hold weekly protests against the Pakatan Rakyat government in Penang, it is not 'racism'. When Chinese voted for MCA in the past, that can't be racism. When Chinese also voted strongly for PAS and PKR in the current elections, PAS and PKR are not accused of racism," the DAP publicity secretary said in a statement today.
"When Malays increased their support for the DAP candidates in the same election, Dr Mahathir accused DAP of spreading 'propaganda' that influenced educated Malays into perceiving the Barisan Nasional (BN) government as corrupt.
"However, when the Chinese also voted strongly for DAP, that is proof of DAP 'racism'. When many Chinese turn up at Pakatan Rakyat events, that is beyond shadow of a doubt Chinese 'racism'. What type of senile perverted logic is that?" he asked.
Pua (picture) claimed that the dictionary definition of the word "racism" showed that Dr Mahathir, Umno and the alleged DDD brigade are the real racists of the country.
He quoted Dictionary.com which said racism is "a belief... usually involving the idea that one's own race is superior and has the right to rule others" or "a policy, system of government, etc, based upon or fostering such a doctrine; discrimination."
"By the above definition alone, it is proof that the real racists of this country are Umno, Dr Mahathir and his DDD brigade. In fact, the multi-million ringgit DDD brigade has via influential blogs and the Umno mouthpiece Utusan Malaysia completely rewritten the definition of 'racism' to fit their own political objectives," the Petaling Jaya Utara MP said.
He pointed out that Umno fights for "Ketuanan Melayu" (Malay supremacy) while saying that the DAP fights for equal opportunities and justice for all races.
Pua claimed that Umno has been targeting the DAP because of its objection to Malay supremacy, alleging that a lot of funds were used in the anti-DAP plot to destroy the opposition party.
Speed cameras reduce fatal and serious road collisions by a quarter
Posted: 06 Jun 2013 06:36 PM PDT
(The Huffington Post) - Speed cameras reduce the number of fatal and serious collisions in the areas they are installed by more than a quarter, a study found.
The RAC Foundation studied 551 fixed cameras in nine areas of England and found that such incidents dropped by 27% after speed cameras were put in place.
But the research found that at 21 camera sites the number of collisions appeared to have increased. The foundation has written to 11 local authorities to find out why and to suggest they examine whether the cameras should be moved.
Professor Stephen Glaister, director of the RAC Foundation, said that a report it published in 2010 found that without speed cameras there would be about 800 more people killed or seriously injured each year.
He told the BBC: "Safety cameras are contentious, people dispute whether they work.
"But in fact the general public as a whole like them because they want these roads to be made safer.
"If cameras were turned off overnight there would be something like 80 people killed extra a year and 800 people killed or seriously injured.
"So the evidence is very good that on average they do work, they are effective."
The study looked at data from speed cameras in Cambridge and Peterborough, Leicesterhire, Lincolnshire, Merseyside, South Yorkshire, Staffordshire, Sussex, Warwickshire and the Thames Valley.
Pakatan urged to demand share in power
Posted: 06 Jun 2013 06:22 PM PDT
BERSIH's Wong Chin Huat urged Pakatan to disclose its current "game plan" so that its supporters could see what it intended to do beyond organising the protest rallies.
Lisa J. Ariffin, FMT
A Bersih leader has urged Pakatan Rakyat to seek power sharing with Barisan Nasional instead of continuing with mass rallies against alleged vote rigging in the recently concluded general election.
That would be the most viable way forward, said political scientist Wong Chin Huat, who sits in the Bersih steering committee.
Apart from that option, he added, the opposition alliance had only two other choices: continue to protest "in a constructive way" or "just forget about the struggle".
"I don't think either will work," he said.
He urged Pakatan leader Anwar Ibrahim to "take an offensive move" to demand power sharing.
Noting that Barisan Nasional received only 47% of the popular vote in the May 5 polls, Wong commented that Najib Tun Razak was "a prime minister elected by the Election Commission" and Anwar a "PM elected by voters".
"So I suggest for Anwar to lay it down clearly and say that he holds the majority. He should demand that Najib sit down and negotiate power-sharing via Parliament."
While acknowledging that it was unlikely for Najib and Anwar to come to an agreement, he said he hoped Malaysians would realise that his proposal was viable and would allow Pakatan to contribute significantly in Parliament.
He envisaged a new arrangement in which Pakatan's parliamentary voice would be more significant through membership in select committees and through changes in the parliamentary power structure, such as having one of its MPs sit as speaker or deputy speaker.
"Anwar would be working closely with Najib and every policy implemented by the government would have general consensus. There will be balance in governance."
6/6: Mohd Noor Mansoor still at a loss over tragedy
Posted: 06 Jun 2013 03:50 PM PDT
Yong gestures to highlight something to Mohd Noor and other SAPP leaders, after paying their respect to the fallen heroes at the annual Double Six Memorial service.
Prisce Bell, Borneo Insider
Former Berjaya strongman, Datuk Haji Mohd Noor Mansoor still shudders in cold sweat each time he recalls the Double Six tragedy in 1976 which propelled him to a full ministership.
"I was shocked when I heard the news," he said when met Thursday at the Double Six memorial. "I was just released from 'house arrest' under the Internal Security Act at the time.
"But there are question marks as to what really happened. We can only speculate and as for me, I am still curious as to what happened to my Berjaya colleagues who lost their lives just like that."
Mohd Noor who was named Finance Minister after the crash, taking over from Datuk Salleh Sulong who was among those who perished that fateful Sunday afternoon.
Mohd Noor said those who died were men of strong character and political leaders with a vision hence their involvement with Berjaya that came to power barely a few weeks earlier.
He said he lost good friends and colleagues; men of integrity who were willing to fight for the rights of the people. "They gave up their lives for the people of Sabah," he said poignantly.
Apart from then Chief Minister, Tun Mohammed Fuad Stephens, three other state Cabinet ministers who perished along with him were Datuk Salleh Sulong (Minister of Finance), Datuk Peter Mojuntin (Minister of Local Government and Housing), and Datuk Chong Thien Vun (Minister of Works and Communications).
Also killed was Assistant Minister to the Chief Minister, Datuk Darius Binion, as well as top civil servants, Datuk Wahid Peter Andu (Permanent Secretary of the Finance Ministry) and Dr Syed Hussien Wafa (Economic Planning Unit Director).
Sabah's political scenario changed drastically following their demise. Harris Salleh, who was instrumental in setting up Berjaya, became the new Chief Minister.
He recalled with a tinge of sadness the Federal Government promising to present a White Paper on the crash in Parliament.
"Unfortunately they never did," he said.
"I know they were in Labuan to discuss on the petroleum agreement with (Tengku) Razaleigh (Hamzah who was then Petronas chairman)
Mohd Noor, who was to become Berjaya secretary-general added: "until today, no one seems to know what were the terms negotiated (on the petroleum agreement) and also why the negotiation did not work out."
However, days after the tragedy, Harris who was by then the Chief Minister, signed the agreement, thereby giving Petronas a giant's share of the petroleum wealth, with Sabah getting a meagre five per cent in royalty.
Mohd Noor, who helmed Berjaya after the 1985 defeat to Parti Bersatu Sabah and made a brief comeback after a by-election that same year, later quit the party. He now serves as an Advisor of the opposition Sabah Progressive Party.
His last remark was at that time very few people questioned the tragic incident, and accepted whatever was told to them.
6/6: Donald Mojuntin, then 11, recalls plane calamity
Posted: 06 Jun 2013 03:46 PM PDT
Daddy's boy: "If he had been around, I would have had the benefit of his guidance".
Samantha Rae, Borneo Insider
An 11-year old Donald was playing badminton with his younger brother Charles to kill time while waiting for their Minister dad, Peter Mojuntin to return from Labuan.
Dad never returned home that day. The next time Donald and family saw Peter, he was lying in a Sabah flag-draped casket.
Instead, the Mojuntin siblings saw an ashen-faced and anxious maternal grandfather, Datuk Lidwin Mobijohn who drove to the house compound and got his daughter Nancy (wife of Peter) to come into the house.
The 'Golden Son of the Kadazan' had died.
Peter was among 11 people which included then Chief Minister Tun Fuad Stephens and two other Cabinet colleagues who perished in the Double Six tragedy in 1976.
Despite that incident taking place 37 years ago, Donald who went on to emulate his father by winning the Penampang Parliament seat (2004) and the Moyog State seat (2008) vividly recalls that tragic day.
"Dad had an engagement later that evening as he was to officiate at the finals of the Datuk Peter Mojuntin Shield (football) in Penampang. As you know, he never made it.
"We were waiting for him to come back from Labuan where we only knew he was on official state business. The next thing we knew, granddad and mum got back into the car and drove off. Mum was in tears," said Donald when met at the Double Six memorialWednesday.
"We were not told anything then but later found out that mum was taken to the hospital to wait for the bodies of dad and his colleagues which were being extricated from the crashed plane.
"Soon people started streaming to the house, all grim-faced and rather quiet. They were all sad and we knew something (bad) had happened.
"It was all a blur after that. The body was brought home from the hospital. Dad looked like he was asleep as he was the only one who had the least injury from the impact.
July 19 court mention of Tian Chua's sedition trial
Posted: 06 Jun 2013 03:38 PM PDT
(NST) - The Sessions Court fixed July 19 for mention of PKR vice-president Tian Chua's sedition case over his statements in relation to the intrusion in Lahad Datu.
Judge Norsharidah Awang set the date yesterday after deputy public prosecutor Mohd Farizul Hassan Al-Bakri informed the court that Tian Chua's application to strike out the charge would be heard on July 4 at the High Court.
Tian Chua was represented by counsel Michelle Yesudas.
Tian Chua, 50, had on March 14 pleaded not guilty to accusing Umno of being behind the Lahad Datu intrusion. He was charged with making statements that:
THE shooting in Lahad Datu was believed to be a conspiracy by the Umno government to divert attention and intimidate the people;
THE incident had raised many questions and doubts as a drama staged by the Umno government;
THE intrusion in Lahad Datu was a drama by the government to intimidate the people and make it seem like Sabah was not peaceful; and,
THERE was a conspiracy by the Umno government to divert the attention of Sabahans, particularly over the issuance of identity cards to foreigners.
Tian Chua allegedly committed the offence at No. 62-2-A, Fraser Business Park, off Jalan Metro Pudu, Jalan Loke Yew, here at 11am on March 1. The offence carries a maximum fine of RM5,000 or jail of not more than three years or both.
Halim Saad sues government over sour Renong deal
Posted: 06 Jun 2013 02:48 PM PDT
"Businessmen familiar with the situation say that Dr Mahathir told Halim that he had been informed by Nor Mohamed that the assets taken over by Khazanah belonged to Umno." 
Clara Chooi, TMI
Tycoon Tan Sri Halim Saad has mounted a massive legal challenge against the government to demand full settlement of an over RM2 billion deal that forced him to relinquish his controlling stake in Renong Bhd more than a decade ago.
According to digital business magazine The Edge Review, Halim, once the sole corporate nominee of the ruling Umno, was offered RM1.3 billion in cash and property as well as control of a private waste management company, roughly valued at RM2 billion, in exchange for his disposal of Renong in the 2001 agreement.
But citing people familiar with Halim's suit, the magazine reported that the business magnate had since only received RM165 million despite giving up his business empire and will be demanding the remainder.
Halim attempted to pressure the government into full settlement, the magazine wrote, but in 2010, former Prime Minister Tun Dr Mahathir Mohamad told him the agreement would not be honoured.
"Halim held numerous meetings with Dr Mahathir — even after the latter quit as premier in November 2003 — and Nor Mohamed to push for a full settlement but he was repeatedly fobbed off," the article said.
"Some time in April 2010, Halim met with Dr Mahathir to try to seek a resolution to the matter but was told that the government would not be honouring the agreement.
"Businessmen familiar with the situation say that Dr Mahathir told Halim that he had been informed by Nor Mohamed that the assets taken over by Khazanah belonged to Umno," it added.
The Edge Review said Halim then met with Tan Sri Nor Mohamed Yakcop, then a minister in the Prime Minister's Department in charge of the Economic Planning Unit, who confirmed Dr Mahathir's words.
According to the magazine and StarBiz today, Nor Mohamed, the Malaysian government and state-owned strategic investment fund Khazanah Nasional Bhd have been named as defendants in multibillion ringgit suit that was filed in April this year.
In the statement of claim sighted by StarBiz, Halim is alleging that the parties had signed the 2001 and/or another 2003 agreement with him with "an intent to deceive him or induce him to enter into both agreements".
The Edge Review said the suit, set to be one if the biggest corporate battle in the country, will expose for the first time the "behind-the-scenes dealings in several multibillion dollar transactions and contract awards that shaped corporate Malaysia between the mid-1980s and the early part of this decade".
"Among other things, the executives say that Halim's suit will provide insights into how Umno created a political money-making machine around Renong and its associated concern, United Engineers Malaysia Bhd (UEM).
"It will offer Halim's account of how he ceased to be a business nominee of Umno and also provide a personal confession of the gruelling years the businessman went through as he battled to keep debt-laden Renong afloat," the magazine wrote.
Halim, who was in 1984 taken in by former Finance Minister Tun Daim Zainuddin to become Umno's sole corporate nominee, had built Renong and UEM into Malaysia's largest conglomerate, with ventures in the banking, construction, telecommunications, real-estate development and tolled-roads industries.
The Asian financial crisis of 1997 led to the fall in Renong's share prices and according to The Edge Review, exposed the conglomerate's poor cash flow and large debt burdens.
According to StarBiz, a business manoeuvre that year in UEM's purchase of a 32.5 per cent block of shares in Renong did not go down well with the investing public.
Pakatan unlikely to boycott parliament
Posted: 06 Jun 2013 02:34 PM PDT
Pakatan leaders refused to give a straight answer when asked whether they would boycott the Parliament swearing-in on June 26.
Anisah Shukry, FMT
Despite mounting a nationwide protest against the "fraudulent" general election results, Pakatan Rakyat MPs today expressed hesitance in boycotting the Parliament's swearing-in ceremony on June 26.
This was following pressure from a coalition of NGOs yesterday demanding elected representatives from Pakatan strengthen their months-long protest by snubbing the Parliament sitting.
"We have no plans at the moment (to boycott parliament)," said Gelang Patah MP and DAP advisor Lim Kit Siang when contacted.
When asked whether DAP would discuss the issue among themselves or with party allies PKR and PAS, Lim repeated they had no plans, and declined to elaborate on the matter.
The usually vocal PAS vice-president Mahfuz Omar was equally curt – when FMT posed the question, he quickly interrupted to say that he was in no position to comment.
"I cannot say. You must ask the Pakatan secretariat. Assalamualaikum," the Pokok Sena MP said, hastily ending the conversation.
But when FMT asked who in PAS could speak on this matter, he said to refer to party present Abdul Hadi Awang.
Abdul Hadi could not be contacted for a response.
Meanwhile, PKR vice-president Tian Chua said the party "would consider [the idea] seriously" as it was a request from civil society.
"We have to meet to discuss with other Pakatan members. This is something we have to think carefully, give serious thoughts because there are serious implications," said the Batu MP.
But he said it wasn't an urgent issue because they had until June 24 to decide.
"Our decision also depends on what happens in between. Our demand is very clear – to have the Election Commission resign. So if they do before June 24, then the issue of us boycotting parliament may not occur," said Tian Chua.
Don't breach 'zero censorship' pledge, govt told
Posted: 06 Jun 2013 02:26 PM PDT
The proposal to regulate the Internet, says Lim Guan Eng, is not progress but regression.
Athi Shankar, FMT
Any regulation on online portals violates the Multimedia Super Corridor (MSC) Bill of Guarantees that there will not be any internet censorship, said Penang Chief Minister Lim Guan Eng.
He said DAP regretted that Communications and Multimedia Minister Ahmad Shabery Cheek was breaking the federal government's earlier promise of not censoring the internet in wanting to regulate online portals.
"Such proposed regulation is not progress but regression. Where is BN's Janji ditepati?" asked Lim in his blog statement, calling on Putrajaya not to emulate Singapore in regulating online portals.
As Ahmad Shabery now considered online portals to be the mainstream media, Lim said the minister wanted to control cyber media in the same way BN controls the mainstream media.
Lim said the minister's suggestion to regulate the internet showed that he was worse than his predecessor Rais Yatim in failing to take a national or international perspective, and pandering to Umno in preparation for the party election this year.
The DAP secretary-general said this appeared to be the main agenda after online news portals were blamed for causing BN to lose the popular vote for the first time in history in the 2013 general election.
"BN appears to blame everyone except itself, from the Chinese community to the online news portals," he added.
Lim wanted Ahmad Shabery to grant press freedom instead of trying to further choke any limited space of press freedom found on the internet.
"Why should Malaysia follow Singapore in regulating online portals when Singapore performed worse than Malaysia in press freedom?" asked Lim.
Posted: 06 Jun 2013 12:53 PM PDT
(FMT) - Party deputy president Azmin Ali has been asked to quit the state liaison chief post
Nearly a month after sweeping to victory in Selangor, Pakatan Rakyat, especially, PKR, has still not settled its internal bickering in the state.
The latest controversy involves the appointment of party secretary general Saifuddin Nasution as the Menteri Besar Khalid Ibrahim's political liaison officer.
Party insiders claim that the Saifuddin's appointment has not gone down well with PKR deputy president Azmin Ali, who seems "uneasy" with the appointment.
"Azmin also feels that the appointment is causing friction among grassroot leaders in the state. He also feels that the job should have been given to someone from Selangor instead. Saifuddin is a Kedahan," said the source.
However, Kapar PKR division member Dr V Neduchellian said Azmin should step down and let Khalid lead the state PKR liaison committee.
It is an open secret that Azmin and Khalid had been on a head on collision since the conclusion of the general election. The naming of the Selangor Menteri Besar was delayed because Azmin wanted the state's  top post.
He however relented after talking to PKR de facto leader Anwar Ibrahim. Khalid has since been sworn in as Menteri Besar for a second consecutive term.
"Looking at the current political situation, it is time for Azmin to give way to Khalid since Khalid is the MB. Saying that a Kedahan cannot hold a post in Selangor is laughable.
"Azmin himself is born in Singapore but is serving as Gombak member of parliament and state assemblyman in Bukit Antarabangsa. Why can't we have Kedah born Saifudin in Selangor.
Read more at: https://www.freemalaysiatoday.com/category/nation/2013/06/07/sgor-pkr-the-rift-continues/ 
PSM fails in its bid to get into Pakatan
Posted: 06 Jun 2013 12:38 PM PDT
(The Star) - Parti Sosialis Malaysia's application to join opposition coalition Pakatan Rakyat has been shot down by the component parties.
According to PKR secretary-general Datuk Saifuddin Nasution, PAS, PKR and DAP had met before the general election to discuss PSM's application.
"We discussed it before elections, the decision was negative," he told The Star Online when contacted.
When asked for the reasoning behind the decision, he declined to comment.
He added that "he supposed" the small party had been informed of the decision by someone from the Pakatan secretariat.
However, when contacted earlier, PSM's parliamentary leader Dr Michael D Jeyakumar said no-one from the party had been updated regarding the application status.
"We assume from their silence we weren't accepted, but we haven't heard anything official."
PSM formally applied to join Pakatan Rakyat in September 2012.
During GE13, PSM and Pakatan had many clashes over seat allocations, resulting in multi-corner fights in three state seats.
PSM secretary-general S Arutchelvan told the press last month that the party would be reevaluating its ties with Pakatan after losing the supposedly 'safe' seat of Kota Damansara, and not winning Semenyih or Jelapang.
PSM's only electoral victory was in Sungai Siput, with Jeyakumar retaining his position as MP.
In Kota Damansara, PSM president Nasir Hashim had to face off not only an Umno candidate and three independents, but also PAS' Ridzuan Ismail despite Nasir running on a PKR ticket.
In Semenyih, Arutchelvan used PSM's clenched fist logo and ran against Umno's Johan Abdul Aziz and PKR's Hamidi Hassan.
In Jepalang, PSM's M Sarasvathy faced down an MIC candidate and an opponent from DAP. 
Collapsed Second Penang Bridge section built by local contractor
Posted: 06 Jun 2013 12:20 PM PDT
(TMI) - The section of the Second Penang Bridge that collapsed yesterday evening was the Batu Maung Interchange, a separate package from the main bridge, undertaken by local contractor Cergas Murni Sdn Bhd.
The company, which is registered with the Construction Industry Development Board (CIDB) as a Class G7 contractor, was awarded the interchange project in 2010 and it took over site possession on May 19, 2010.
The Batu Maung Interchange is Package 3A of the Second Penang Bridge project.
The RM152 million interchange project involves the construction of four directional ramps to form the Batu Maung Interchange to connect the existing Bayan Lepas Expressway to the Second Penang Bridge and marine main bridge.
It was a section of one of the ramps (Ramp Two) that collapsed yesterday. It is feared to four people could have been killed in the rubble while three people were injured.
The interchange was originally expected to be completed in December last year but it was delayed and the latest completion date was slotted for next month.
Cergas Murni, which began operations as a Class B registered contractor in 1991 and is now a Class A contractor, has several large projects under its belt — the East Coast Highway Phase Two Package 9A (RM202 million), Package 9B (RM86 million), Package Three (RM224 million) and the Bukit Kuang Bridge under the Eastern Corridor Economic Region project (RM190 million).
The company has also received ISO 9001:2000, ISO 14001:2004 and OSHAS 18001:2007 certification since 2005.
Read more at: http://www.themalaysianinsider.com/malaysia/article/collapsed-second-penang-bridge-section-built-by-local-contractor/ 
Pakatan MPs to boycott parliamentary briefing in reforms protest
Posted: 06 Jun 2013 12:17 PM PDT
(TMI) - Pakatan Rakyat (PR) MPs are expected to boycott next Tuesday's parliamentary briefing as a symbolic gesture to show the pact's seriousness in its push for electoral reforms.
The DAP's Anthony Loke (picture) confirmed the decision, which was made earlier this week by the PR leadership council, saying the move comes on the back of the string of rallies held nationwide to protest against Barisan Nasional's (BN) alleged use of fraud to win the just-concluded Election 2013.
He noted that the pact was also planning another mammoth protest in Padang Merbok here next Saturday and attending the briefing would appear to contradict the purpose of the rally.
"The PR leadership council felt that we need to exert as much pressure as we can to get the government to respond to our demands for electoral reform.
"So at the moment, we feel we should not be attending the briefing... on the one hand we are planning a major rally, so on the other hand we should not be attending the briefing," he said when contacted.
Read more at: http://www.themalaysianinsider.com/malaysia/article/pakatan-mps-to-boycott-parliamentary-briefing-in-reforms-protest/ 
Church Of England Drops Opposition To Gay Marriage Bill
Posted: 06 Jun 2013 12:14 PM PDT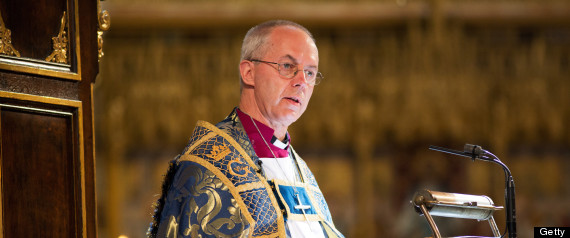 (Huff Post) - Bishops in the Church of England, who had strenuously opposed a bid to allow same-sex marriage, signaled that they won't try to derail the bill after an overwhelming vote of support in the House of Lords.
Church of England spokesman Steve Jenkins said that in the same way the church will eventually allow women bishops, England will eventually allow same-sex marriage.
"It doesn't mean the Church of England is happy, but that's where our government is going," Jenkins said. "Now it's about safeguarding people's right to hold religious beliefs."
The Right Rev. Tim Stevens, the Bishop of Leicester who leads the bishops in the House of Lords, issued a statement on Wednesday (June 5), one day after the parliament's upper house voted 390-148 against an amendment to kill the gay marriage bill.
Read more at: http://www.huffingtonpost.com/2013/06/06/church-of-england-drops-opposition-to-gay-marriage-bill_n_3398796.html?ncid=edlinkusaolp00000003 
Kredit: www.malaysia-today.net