Klik GAMBAR Dibawah Untuk Lebih Info
Sumber Asal Berita :-
---
Idris Jusoh to sue PKR and Mohd Rafizi for slander
Posted: 24 May 2013 02:41 AM PDT
(Bernama) - Second Education Minister Datuk Seri Idris Jusoh will sue Parti Keadilan Rakyat (PKR) and its strategy director Mohd Rafizi Ramli for slander.
Mohd Rafizi alleged that 24 Election Commission (EC) staff were locked up on polling day to ensure they voted in Besut parliamentary in 13th general election (GE13).
"I'm studying the allegation with lawyers to ensure it does not tarnish my image as member of parliament for Besut. I will sue them for making a public statement without proof to discredit me and the party," he told a victory function organised by Gong Nering district polling station in Kampung Gong Guchil, Jerteh here yesterday.
Idris said he did not know where they sourced the allegation spread via Facebook and Blog Keadilan 'exposed' by PKR secretary-general Datuk Saifudin Nasution Ismail as quoted by party organ Keadilan Daily.
"The allegation is baseless because how could the EC staff be locked-up. They must be responsible for the allegations," he added.
Barisan Nasional (BN) should be given the chance to implement promises made in its manifesto and the opposition should not continue to destroy the peace of the country just to achieve Anwar Ibrahim's ambition to become Prime Mminister.
"We may have lost the cyber war in GE13 but BN won right to form the government and all parties should be respect the election results," said Idris.
In GE13, Idris beat Riduan Mohamad Nor of PAS to win Besut parliamentary seat with a majority of 8,342 votes.
Khairy says 'not one shred of evidence' to suggest polls fraud
Posted: 24 May 2013 02:33 AM PDT
(TMI) - Khairy Jamaluddin has defended the manner in which Elections 2013 was conducted, arguing in a letter to international current affairs magazine The Economist that there was not "one shred of evidence" of fraud in the polls.
The newly-appointed sports minister also took a swipe at Datuk Seri Anwar Ibrahim, by accusing the opposition leader of not accepting the results because "of his own personal, lifelong ambition to become prime minister."
"Allegations that foreign nationals were paid as 'phantom voters' have proved to be false, with not even one recorded case on polling day. All votes were cast and counted in front of representatives from all the contesting parties who signed off on the results.
"If any evidence of fraud does emerge the government encourages the relevant party to file an election petition in the courts to allow due process to take course."
Khairy's (picture) letter to The Economist was in response to a scathing report last week in the magazine of Malaysia's elections.
The Umno Youth leader has been given the task of improving the Barisan Nasional (BN) government's image abroad and his first job recently was to soft pedal the angry reaction by Umno politicians towards Chinese Malaysians in the aftermath of GE13.
In its reports, The Economist noted that national reconciliation appears a distant dream post-Election 2013 for a country scarred by the "nasty, divisive" electoral campaign led by Umno and BN in the rural heartlands.
It observed that Umno, to shore up its base of rural Malay voters, had alienated the Chinese and other communities already fed up with the alleged cronyism and corruption associated with affirmative action policies that favour the country's largest ethnic group.
"Mr Najib has said he wants to be prime minister for all Malaysians. Sadly, however, he presided over an ugly campaign by his... Umno, the main component of Barisan," the magazine wrote, referring to Datuk Seri Najib Razak, who was sworn in for his second term as prime minister after BN emerged victors again for its 13th general election running.
"In the rural Malay heartlands, Umno was as negative, racially divisive and pro-Malay as ever," it added.
Adding salt to wound, The Economist said blaming BN's losses on a "Chinese tsunami" had been unwise of Najib as the vote trend had clearly shown a massive swing in votes from the young and rising urban middle class, which cut across racial lines.
"Casting the election in such racial terms is neither wise nor accurate," the magazine wrote in one article titled "A dangerous result".
"Despite professing to promote a multi-ethnic Malaysia, Barisan's election strategy has left the country more divided than ever, both along ethnic lines and between urban and rural areas," it said in another, titled "A tawdy victory".
Posted: 24 May 2013 01:42 AM PDT
Tuaran PKR chief Ansari Abdullah is deeply disappointed that the party did not follow the "due process" in suspending him.
Queville To, FMT
KOTA KINABALU: Suspended PKR Tuaran chief Ansari Abdullah today announced he has resigned from the party which he joined 14 years ago.
In a brief statement posted on his Facebook this morning, he noted that he had decided to quit politics much earlier, but out of respect to the requests from friends, he withheld the announcement until today.
"I have lost faith in the party's leadership. I am now suspended as a member without any time period. I did not receive a 'show cause letter'. So much for justice and due process," he added.
"I criticised the leadership since they were wrong in allowing 2/3 of the seats in Sabah to be contested under Parti Keadilan's (PKR) symbol by non-members in the form of APS (Angkatan Perpaduan Sabah) and PPPS (Pertubuhan Pakatan Perpaduan Sabah)," he explained.
He went on to note that both APS and PPPS lost in all the parliamentary seats they contested and each won a state seat (Tamparuli and Klias).
Ansari, a practising lawyer, has also had a troubled relationship with other PKR members and leaders in the past.
In the run-up to this month's elections on May 5, Ansari made a preemptive attempt the day after the dissolution of Parliament to push through the seven divisions' list of candidates which included himself for the Tuaran constituency.
When his 'proposal' was shot down, he accused Pakatan Rakyat de facto leader Anwar Ibrahim of not being sincere in wanting to return political autonomy to Sabah when PKR rejected a move by him to nominate seven candidates to contest for PKR.
He said the rejection of three-quarters of the candidates proposed by the seven divisions in the Sabah west coast north zone, showed that the party's headquarters was adamant about maintaining control of the state from Kuala Lumpur.
Posted: 23 May 2013 06:03 PM PDT
(Bernama) - Preliminary investigation by the Election Commission (EC) revealed that a photograph posted on the internet showing that a blackout purportedly occurred during vote-counting for the 13th general election (GE13) was an act recorded even before the GE13.
EC deputy chairman Wan Ahmad Wan Omar said this conclusion was arrived at after a thorough scrutiny by him together with his officers.
"They had staged the act even before the election to spread it on the internet as a ploy to show that a blackout had purportedly occurred, whereas it was a lie.
"The photograph showed that EC staff were purportedly counting the ballot papers and had to use a auxiliary lamps whereas the staff were not wearing the EC uniform," he told Bernama when met recently.
He said the most obvious proof was when the photograph showed that there were many reporters and photographers present in the vote-counting area whereas no one was allowed into the area except for the EC staff and agents of the candidates.
"The Standard Operating Procedure (SOP) and work procedure shown on the photograph were totally incorrect…they have forgotten, (they) want to cheat but do not understand the work procedure and were immature.
"In fact the tray used for placing the ballot papers on were also not the EC trays, the material and size were different…(there were) many things in the photograph that did not follow EC SOP," he said.
Wan Ahmad said so far there had been no police report lodged regarding the alleged 'blackout' which showed that it was clearly a slander and concocted story.
"If there had been a blackout, certainly the party agents would have lodged police reports. They represented the candidates, they were present at the counting venues. If there had been a blackout, they would have been the first to lodge police reports, but there were none," he said.
Meanwhile, commenting on an allegation by an opposition newspaper that 24 EC staff in Besut, Terengganu had been confined to mark their ballot papers, Wan Ahmad said he left it to the police to investigate the allegation.
Meanwhile, Wan Ahmad said the proposal by the opposition that a People's Tribunal be set up was dangerous because it ignored the national constitution and law.
"Who will represent the People's Tribunal? Their people, NGO (non-governmental organisation) leaders who have been against the system and the general election all this while? Those who are spreading unhealthy culture to the young generation?" he asked.
Magistrate rejects remand request, Tian Chua, Tamrin, Haris released
Posted: 23 May 2013 05:44 PM PDT
Ida Lim, TMI
The police today released three men who were detained for a probe under the Sedition Act 1948 and the Penal Code after a magistrate rejected requests for further remand.
Pakatan Rakyat (PR) had earlier described the arrests as part of a national crackdown on the federal opposition.
Politicians Chua Tian Chang, Tamrin Ghafar, political activist Haris Ibrahim were arrested for sedition yesterday and held overnight at the police lockup in Jinjang, purportedly for a probe under section 4(1)© of the Sedition Act and section 124 of the Penal Code.
"We praise a very courageous magistrate. A brave magistrate has heard the legal arguments and decided that our detention is without basis," said Chua after walking out of the lock-up with his lawyers, referring to magistrate Norashikin Sahat.
"That's why we were released without condition," said the PKR vice-president who was the last to walk out, with Tamrin and Haris walking out together earlier on.
Earlier today, a small group of supporters had staged a mini-protest outside the lockup, shouting slogans and holding up placards to demand the release of the trio.
Haris's lawyer Gobind Singh Deo yesterday said he was not yet informed of which "seditious statements" his clients or the two others were detained over.      
All three were believed to be detained over their involvement in a forum on May 13 over the results of the just-concluded general election.
Yesterday morning, student activist Adam Adli Abdul Halim was charged with sedition for his involvement in the same forum where he was accused of rallying Malaysians to take to the streets to topple the BN government.
The 24-year-old pleaded not guilty and was released on RM5,000 bail with his trial set for a mention on July 2.
Despite the release of the three today, Chua claimed to have knowledge that more people would possibly be arrested.
"With the same arguments, we hope that the court will take firm action to defend not just the rights of individuals, but also the basic principles of the law," said the Batu MP popularly known as Tian Chua.
Still waiting for Khalid to name state exco line-up
Posted: 23 May 2013 01:34 PM PDT
(The Star) - Selangor remains the only state whose exco line-up has yet to be named following the impasse over the number of seats to be allocated to the respective Pakatan Rakyat member parties.
Speculation is rife as to who will make it to the highest decision-making body in the state government and how the 10 exco seats are to be divided between PAS, DAP and PKR.
So far, DAP has expressed disappointment over the three exco seats allocated for it as announced by Mentri Besar Tan Sri Khalid Ibrahim recently.
Khalid's political secretary Faekah Husin said the mentri besar was expected to arrive home from Frankfurt, Germany, today after seeking treatment for an old leg injury.
She said Khalid would immediately seek an audience with the Selangor Sultan over the appointment of exco members.
Selangor DAP deputy chairman Tony Pua, meanwhile, said the party was still in discussion with PAS and PKR over the distribution of exco positions.
"We met twice again recently. Our discussions have been friendly.
"Now we are just waiting for the MB to come back for some confirmation," he added.
DAP previously expressed shock and puzzle when Khalid announced the party would be getting three exco positions and also the Speaker's post.
Khalid also said PAS would get four exco positions and PKR three.
Pua was reported to have said previously that DAP was promised four exco seats.
Meanwhile, it is speculated that most PKR exco members would be replaced with new faces.
PKR's previous exco members were Dr Yaakob Sapari (Kota Anggerik), Elizabeth Wong (Bukit Lanjan), Dr Xavier Jayakumar (Sri Andalas) and Rodziah Ismail (Batu Tiga).
Among PKR new names tipped to join the exco rank was Seri Setia assemblyman Nik Nazmi Nik Ahmad. For PAS, new names mentioned include state commissioner Dr Abdul Rani Osman.
Bukit Antarabangsa assemblyman and PKR deputy president Azmin Ali was earlier speculated to be an exco member, but this idea has been shot down by a party source.
Stockholm riots continue for a fifth night
Posted: 23 May 2013 01:24 PM PDT
Residents of areas largely populated by immigrants are suffering from segregation, anthropologist Carlbom told AFP. "Living as a young person in these segregated areas can be very hard in many ways. You have virtually no contact with other Swedes and a lot of times I don't think you have a good understanding of Swedish society," he said.
(AFP) - STOCKHOLM: At least nine cars, two schools and a police station were set ablaze as riots swept through Stockholm's immigrant-dominated suburbs early Friday for the fifth straight night, police and firefighters said.
The riots, which have shattered Sweden's image abroad as a peaceful and egalitarian nation, have sparked a debate about the assimilation of immigrants, who make up about 15 per cent of the population.
Many of the immigrants who have arrived due to the country's generous refugee policy struggle to learn the language and find employment, despite numerous government programmes.
Early Friday, police told Swedish news agency TT eight people had been arrested so far for the night's rioting, but no injuries were reported.
In Rinkeby, one of the city's immigrant-dominated areas, firefighters rushed to put out flames that engulfed six cars parked alongside each other. 
Five cars were totally gutted, according to an AFP photographer on the scene.
Three more cars were torched in the Norsborg suburb, and a police station in Aelvsjoe was set on fire but quickly extinguished, police said.
Firefighters meanwhile said a school in another immigrant-heavy suburb, Tensta, was set ablaze but quickly extinguished, and a nursery school in the Kista suburb was also on fire.
And police in Soedertaelje, a town south of Stockholm, said rioters threw stones at them as they responded to reports of cars set alight.
The previous night, the fire brigade had been called to some 90 different blazes, most of them caused by rioters.
"We are gradually becoming more like other countries," said Aje Carlbom, a social anthropologist at Malmoe University.
The troubles, which began on Sunday in the Husby suburb, are believed to have been triggered by the fatal police shooting of a 69-year-old Husby resident last week after the man wielded a machete in public.
The man had fled to his apartment, where police have said they tried to mediate but ended up shooting him dead in what they claimed was self-defence.
Local activists said the shooting sparked anger among youths who claim to have suffered from police brutality. During the first night of rioting, they said police had called them "tramps, monkeys and negroes."
Police meanwhile downplayed the scale of the events.
"Every injured person is a tragedy, every torched car is a failure for society... but Stockholm is not burning. Let's have a level-headed view of the situation," Ulf Johansson, deputy police chief for Stockholm county, said Thursday.
Residents of areas largely populated by immigrants are suffering from segregation, anthropologist Carlbom told AFP.
"Living as a young person in these segregated areas can be very hard in many ways. You have virtually no contact with other Swedes and a lot of times I don't think you have a good understanding of Swedish society," he said.
For example, some 80 percent of the 12,000 residents in Husby are immigrants.
Due to its liberal immigration policy, Sweden has in recent decades become one of Europe's top destinations for immigrants, both in absolute numbers and relative to its size.
In the past decade, it has welcomed hundreds of thousands of immigrants from Iraq, Afghanistan, Syria, Somalia and the Balkans, among others.
This is not the first time the Scandinavian country has seen riots among immigrants.
In 2010, up to 100 youths threw bricks, set fires and attacked the local police station in the immigrant-dominated suburb of Rinkeby for two nights.
And in 2008, hundreds of youths rioted against police in the southern Swedish town of Malmoe, sparked by the closure of an Islamic cultural centre in the suburb of Rosengaard that housed a mosque.
Integration Minister Erik Ullenhag attributed the violence to high unemployment and social exclusion in Sweden's immigrant-dominated areas.
"We know that there is discrimination in these areas, and these events don't improve the image of these areas, where there is a lot of positive stuff going on but which is totally eclipsed right now," he told TT.
In Husby, overall unemployment was 8.8 per cent in 2012, compared to 3.3 per cent in Stockholm as a whole, according to official data.
And a total of 12 per cent in Husby received social benefits last year, compared to 3.6 per cent in Stockholm as a whole.
The riots have received international media attention, with some comparisons being drawn to similar problems assimilating immigrants in other European countries such as Britain and France.
At Pakatan thanksgiving rally, leaders give hope for change
Posted: 23 May 2013 12:41 PM PDT
Meena Lakshana, fz.com
Amidst a crackdown on political dissent, Pakatan Rakyat leaders implored about 4,000 people gathered at the field opposite Amcorp Mall to keep their hopes for a better Malaysia alive.
In a passionate speech last night, PKR vice-president and Lembah Pantai MP Nurul Izzah Anwar said Malaysians should not fear the crackdown on political dissent and keep fighting for change.
"If they (Barisan Nasional) think they can kill our dreams, hope and aspirations, they better think again," she said at the Pakatan Rakyat appreciation dinner for the people of Selangor.
"We will show what good governance and moral principle is all about. We shall prevail and overcome this. We will conquer a racist and corrupt government.
"Do not lose hope. Do not be afraid, because the real people who should be afraid are the cowards in Putrajaya," she added.
Sedition Act
She was referring to the arrest of Anything But Umno (ABU) chief Haris Ibrahim, PKR vice-president Tian Chua and PAS' Datuk Tamrin Ghafar Baba.
All three individuals will be detained at the Jinjang police station overnight for investigation under Section 4(1)(c) of the Sedition Act and Section 124 of the Penal Code.
They are believed to be held for remarks made at the May 13 forum, the same event which also featured student activist Adam Adli Abdul Halim.
Adam Adli was charged with sedition in the Duta High Court yesterday.
Tamrin was scheduled to open the thanksgiving rally with his speech but instead, a video of Tamrin speaking at a ceramah in Taman Nusantara, Johor, on April 29, during the 13th general election campaign trail was shown to attendees.
"Tunku Abdul Rahman had written in his column in The Star two years before he died that the May 13 1969 crisis was a mini-coup staged by several Umno leaders," Tamrin said in the video.
More arrest warrants
Nurul Izzah said she had received news that 27 more arrest warrants will be issued for opposition leaders in the near future.
She said Prime Minister Datuk Seri Najib Abdul Razak had reneged his promise to repeal the Sedition Act 1948, which he had announced in July last year.
Najib had said the government would table a National Harmony Act in place of the Sedition Act.
Earlier, DAP adviser Lim Kit Siang said he was rejuvenated by the young generation of Malaysians who are so eager to see a change in the government of the day during the 13th general election.
"This is about the politics of the future against the politics of the past – a 56-year past defined by racism, corruption and cronyism," he said, adding he will be launching a Malaysian Dream Movement campaign soon.
Lim said the authorities are seeking to question him over a prediction about BN's performance in the 13th general election.
However, he also hit out at the police for practising double standards in apprehending individuals who had made contentious statements.
"I understand BN is looking for me because I said BN will lose in the 13th general election," he said.
"But I was merely quoting reports conducted by the (Malaysian government intelligence agency) Special Branch that Pakatan will win 148 seats but I also said I do not think it is true.
"When former (Appeals Court) judge Mohd Noor Abdullah had said those very racial statements, which was so irresponsible, incendiary and fiery, did the police question him?" he added.
Lim also said Malaysians have the right to be unhappy with the country's electoral system and criticised Home Minister Datuk Seri Ahmad Zahid Hamidi for saying Malaysians who are unhappy with the country's political system should emigrate to other republic countries.
"If Zahid Hamidi is not happy with the people's view, then he should emigrate," said Lim to uproarious claps.
Redelineation exercise
DAP publicity chief and Petaling Jaya Utara MP Tony Pua, who received a standing ovation for his speech, called on Najib to set up a Parliamentary Select Committee to ensure a fair redelineation exercise is conducted by the Election Commission (EC) in the upcoming Parliament sitting on June 24.
"The committee must have an equal number of Pakatan and BN leaders to determine the boundaries of the constituencies," he said.
"We will fight tooth and nail to make sure the redelineation exercise is fair," he added.
The opposition and civil society have criticised gerrymandering, the manipulation of boundaries of constituencies, as the main weakness of the electoral system.
Pua said the unfair delineation of constituencies was a great disadvantage to the opposition, which failed to take over Putrajaya despite securing 52% of the popular vote.
"Our constituencies are delineated in a way that we (Pakatan) won't win Putrajaya even if we get 55% of the popular vote," he said.
"A study conducted revealed Pakatan can only take over Putrajaya if we win 58% of the popular vote," he added.
He also criticised the Najib and Umno organ Utusan Malaysia for fanning racial sentiments by attributing BN's poor performance in the May 5 polls on a "Chinese tsunami".
He said Pakatan's strong mandate in Selangor was contributed by people of all races, as mirrored by DAP's win in Sungai Pelek and Kuala Kubu Baru, both of which have only about 30% Chinese voters, respectively.
"I want to tell Utusan Melayu, the Chinese don't want anything. The Chinese only want a free and fair election. The Chinese only want all races to be treated equally," he said.
"The Chinese do not hate the Malays, they only want aid to be given to the poor and not BN cronies," he added.
He also rapped Minister in the Prime Minister's Department Paul Low for his statements regarding tackling corruption in the government, saying so far the minister had failed to safeguard the people's hope in him to implement concrete solutions towards stemming graft.
Other leaders who spoke at the gathering include Parti Kesejahteraan Insan Tanah Air (Kita) founder Datuk Zaid Ibrahim, Sungai Pinang DAP assembly member Datuk Teng Chang Khim, Selangor DAP chief Teresa Kok, and PAS Selangor deputy commissioner III (and Shah Alam MP) Khalid Samad.
Pope to 'intolerant' Catholics: Good atheists exist
Posted: 23 May 2013 11:33 AM PDT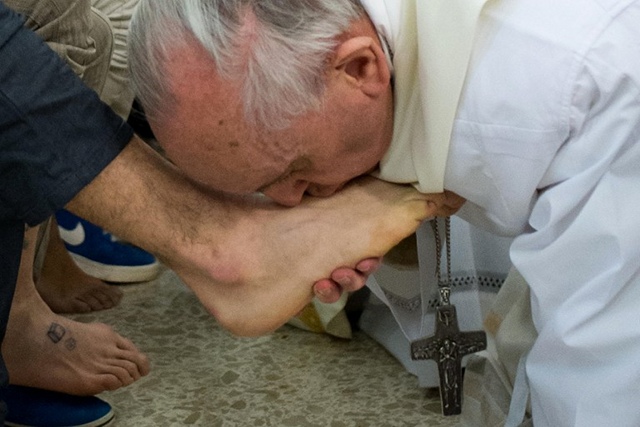 (Rappler) - 'OPEN' CHURCH. Pope Francis kisses the feet of prisoners, including a Muslim, in this year's Holy Thursday service. 
Having blasted a self-centered Catholic Church, Pope Francis on Wednesday, May 22, criticized "intolerant" believers who think, "If he is not one of us, he cannot do good."
The Pope said all human beings, whom God created, "have this commandment at heart: do good and do not do evil." He stressed this applies to "all of us."
"'But Father, this is not Catholic! He cannot do good.' Yes, he can. He must. Not can: must! Because he has this commandment within him," Francis said in Wednesday's homily at the Domus Santae Martae, his modest papal residence.
The Pope, who has consistently urged the Church to "come out of herself," said intolerance will do the Church no good.
"Instead, this 'closing off' that imagines that those outside, everyone, cannot do good is a wall that leads to war and also to what some people throughout history have conceived of: killing in the name of God. And that, simply, is blasphemy. To say that you can kill in the name of God is blasphemy."
'Let's meet'

Despite differences between believers and non-believers, he said their common denominator is doing good. He said the commandment to uphold goodness is a "beautiful path towards peace."
"If we, each doing our own part, if we do good to others, if we meet there, doing good, and we go slowly, gently, little by little, we will make that culture of encounter: we need that so much. We must meet one another doing good," Francis said.
He continued, with an atheist's possible response in mind: "'But I don't believe, Father, I am an atheist!' But do good: we will meet one another there."
Read more at: http://www.rappler.com/world/29788-pope-atheists-good 
Malaysian Man Accused Of Rape Marries 13-Year-Old Victim; Attorney General Vows To Pursue Charges
Posted: 23 May 2013 11:13 AM PDT
Dz-RnaDRPo0 
(Huffington Post) - This man has given a platform for other men to act (rape) and then get away with it (marry the victim). 
Or watch at: http://www.youtube.com/watch?v=Dz-RnaDRPo0 
In an unfortunate turn of events in a Malaysian rape case, a 40-year-old man accused of rape has married the teenage victim.
Riduan Masmud was charged with raping a 13-year-old girl last February. On Monday, his counsel Loretto Padua revealed to the court that Masmud is now married to the young girl he was accused of assaulting. As The Daily Express notes, Padua had previously told the court that Masmud was in the process of seeking a lawful marriage to the teen in Syariah Court -- a separate court system that has jurisdiction over matters pertaining to Islamic law.
While the prosecution must make a decision by June 6 on whether to pursue the statutory rape charge in light of the news, on Wednesday, Malaysian Attorney General Tan Sri Abdul Gani Patail vowed to press on in the case, Ntv7 News reports.
Malaysia's Ministry of Women, Family and Community Development is also advocating that Masmud be prosecuted. Minister Datuk Rohani Abdul Karim told Bernama, Malaysia's national news agency, the ministry is concerned that Masmud's action may set an example by providing an escape route in cases of statutory rape.
"In order to protect public interest and prevent such incidents, the Ministry urges that the man be charged under Section 376 of the Penal Code in the Sessions Court or Section 80 of the Sabah Syariah Offences Enactment 1995 in the Syariah Court for having sex outside of marriage," she told the news agency.
The rape, which allegedly took place in a parked car in Sabah around 10 a.m. on Feb. 18, was not brought to light until the 13-year-old's aunt filed a police report. Masmud, who has four children with his first wife, was charged with the crime 10 days later; however the teen later withdrew her report of rape on April 18, The Star reports.

Masmud, for his part, is defending the marriage. Outside the courtroom Monday, he explained to reporters that the marriage was consensual.
"There are many cases of men marrying underage girls. I do not see why my case should be any different," the man said, according to The Star.
Read more at: http://www.huffingtonpost.com/2013/05/22/malaysian-man-rape-marries-victim_n_3321086.html?ncid=edlinkusaolp00000003 
KL police: We don't tolerate candlelight vigils
Posted: 23 May 2013 10:54 AM PDT
(fz.com) -
KL police chief Mohmad Salleh warns that candlelight vigils - such as the one (pix) for student activist Adam Adli - will no longer be tolerated.
Kuala Lumpur police today warned that they will not hesitate to arrest those who take part in candlelight vigils for detainees. 
KL police chief Datuk Mohmad Salleh issued the warning when explaining the arrest of 18 people during a candlelight vigil for student activist Adam Adli outside the Jinjang police station last night.
He said the 18 were arrested because the event was "unlawful". 
"As police we cannot tolerate (the vigil), as it will only cause agitation among the public in the surrounding area," he told reporters at the KL police headquarters. 
Those detained would be brought to court, he said, adding that police will let the courts determine if they were guilty or not. 
"Taking to the streets is not the solution. Let the courts resolve it," said Mohamad. 
"We seek the public's cooperation. We are merely implementing laws which have been passed in parliament by lawmakers. It's simple," he added.
Claiming that the majority of Malaysians were against such gatherings, Mohamad said if there were more protest rallies, the police were prepared to face the situation. 

Read more at: http://www.fz.com/content/kl-police-we-dont-tolerate-candlelight-vigils#ixzz2UAfabM2e

Opposition Figures Are Detained in Malaysia
Posted: 23 May 2013 10:51 AM PDT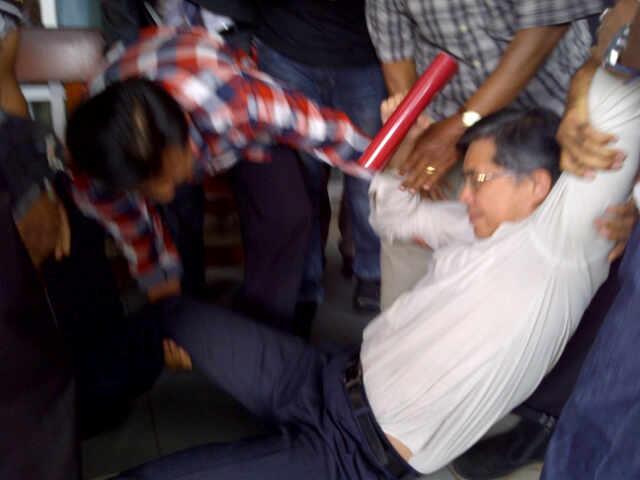 (New York Times) - The Malaysian government began a crackdown on political opponents on Thursday, arresting three government critics, including a prominent member of Parliament, and charging a student activist with sedition.
The arrests come two and a half weeks after elections that showed the governing party, which has been in power since independence from Britain in 1957, losing support from broad portions of the electorate.
The crackdown may be an attempt to pre-empt a demonstration planned for Saturday to protest accusations of fraud in the election, analysts said.
The opposition, which is led by a former deputy prime minister, Anwar Ibrahim, won the popular vote in the May 5 election but failed to take control of Parliament because of a lopsided electoral system that gives a stronger voice to rural areas, where the governing party is strongest.
Mr. Anwar says the election victory was fraudulent and has been leading rallies across the country since the election results were announced; the demonstration on Saturday is being organized by a coalition of several dozen civic organizations.
The member of Parliament arrested on Thursday, Tian Chua, is Mr. Anwar's deputy in a multicultural party that is challenging the dominance of the single-race United Malays National Organization.
Mr. Chua, who won re-election to Parliament May 5, posted on Twitter as he was being arrested Thursday, "No dictators could ever repress the rise of people's power." He said a police officer told him that he was being charged with sedition.
The two other people arrested are Haris Ibrahim, who leads an antigovernment group, and Tamrin Ghafar, the son of a former deputy prime minister who is a member of an Islamic party that is allied with Mr. Anwar. In addition, Adam Adli, the student activist, was charged with sedition on Thursday and released.
The Malaysian government, which has begun numerous crackdowns against dissidents during its decades in power, issued a statement late Thursday calling the arrests "a matter for the police."
"The detentions came after the police received numerous reports against the defendants by members of the public," the statement said. "In such circumstances the police are required to investigate and are following due and proper process."
Read more at: http://www.nytimes.com/2013/05/24/world/asia/malaysian-opposition-figures-are-detained.html?_r=3& 
Malaysian Opposition face full force of the Sedition Act
Posted: 23 May 2013 10:47 AM PDT
They have used this archaic and draconian Sedition Act, even though the Prime Minister, the government has said before that they would repeal this act, because it's no longer relevant in the modern setting, but unfortunately, it's not repealed and they continue to use this draconian act to stifle dissent.
Sen Lam interviews Fadiah Nadwa at Radio Australia 
Listen at: http://www.radioaustralia.net.au/international/radio/program/asia-pacific/malaysian-opposition-face-full-force-of-the-sedition-act/1135426 
Malaysian authorities have arrested a high-profile Opposition politician and three others under the country's controversial Sedition Act.
Malaysian prime minister Najib Razak pledged last year to strengthen civil liberties, including possibly repealing the Sedition Act.
The law has been described as oppressive by critics, who say it's been invoked often in the past to silence dissent.
Human rights lawyer Fadiah Nadwa is representing one of the four men detained. She spoke to me from Kuala Lumpur.
Presenter: Sen Lam
Speaker: Fadiah Nadwa, lawyer representing student activist Adam Adli, one of four Malaysians charged with sedition
FADIAH: The four people are Tian Chua, the vice president of (opposition) Parti Keadilan Rakyat. The second person is Thamrin Ghafar, he's a PAS member (Parti Islam SeMalaysia), the Islamic party, PAS, and the third person is Haris Ibrahim, he's the chief of this movement called 'Anything But UMNO'. And the fourth person is Adam Adli and Adam has been charged this morning, and he has been released on bail. These four people are now in the Jinjang remand centre.
LAM: You represent Adam Adli, who was detained five days ago, but he's out on bail, is that right?
FADIAH: Yes, correct. Basically, they're just punishing him for speaking his mind and they have used this archaic and draconian Sedition Act, even though the Prime Minister, the government has said before that they would repeal this act, because it's no longer relevant in the modern setting, but unfortunately, it's not repealed and they continue to use this draconian act to stifle dissent. So Adam Adli has been detained for five days, after being arrested last Saturday - they (police) applied for a remand order from the magistrate, and the magistrate granted five-day remand against Adam Adli, and he was subjected to continuous interrogation even though he kept telling the police that they could have just referred to the video that contains his speech. They (the police) are just trying to send a message to the Malaysian people, Do not say something that's not favourable to the government, or else you'll be arrested and detained under the Sedition Act.
LAM: And Fadiah, can you tell us what is it exactly that Adam Adli had allegedly said that was considered so seditious?
FADIAH: Adam Adli basically called for the Malaysian people to go to the streets to protest against the fraud committed during the (May 5th) elections.
LAM: Tian Chua is of course the high-profile spokesman and also VP of the opposition Parti Keadilan. The opposition of course has been holding meetings about alleged electoral fraud - do you think Tian Chua's arrest might fuel emotions that're already running in Opposition ranks?
FADIAH: Yes, I believe so, because I think right now, after the elections, the government is obviously very insecure with how the Malaysian public is reacting to the allegations of fraud in the elections and how the Malaysian people are assembling to protest against the recent arrest of Adam Adli. The government is using the power that they have to tell the Malaysian public that they will do anything they can to stop the Malaysian public from expressing themselves, from protesting, from participating in peaceful assemblies and so on.
LAM: Prime Minister Najib prior to this month's elections, had vowed to strengthen civil liberties, including the possibility of getting rid of the Sedition Act. Do you think he's having second thoughts now?
FADIAH: I believe so, I think for political survival, the government knows that by having this (Sedition) Act, they can try to instil fear, because it's been used for so long. The Sedition Act is the legacy of the British and it has been used to stifle dissent. It's very, very clear that people who get arrested under the Sedition Act are people who're very vocal and critical of the government. So, this is a very powerful tool that is being used by the government, to stifle dissent, because the Sedition Act is very broad and wide. It can cover everything, and that's why it's being abused by the government, to stop people from speaking out.
LAM: One of the reasons the government had given for the need for the Sedition Act, was that it was relevant to multi-racial Malaysia, and there is a great need to keep racial harmony. You don't think the Sedition Act has a role or a place in Malaysian society?
FADIAH: No, I don't think that the Sedition Act is relevant. We can clearly compare this to the seditious statements issued by some people who're calling for racial hatred, racial violence, for example, recently. But no one was subjected to this Act. But when it comes to the Opposition, when it comes to the activists, the authorities are very fast to take action under the Sedition Act. So you can selective prosecution, and also how the government is not really serious in trying to build harmony and trying to deter racial hatred and also racial violence. So if they're very, very serious, they should repeal this Act and they should come up with new legislation that can deal with hate speech, for example, that can deal with racial violence, racial discrimination, in line with the international standard, International Covenant on the Elimination of Racial Discrimination, in order to ensure that everyone has the civil and political rights. 
Kredit: www.malaysia-today.net